Looking for easy menu ideas for the upcoming Diwali party? Want to use your instant pot to simplify the planning and preparation? Here I am sharing a variety of dishes to impress your guests including appetizers, entrees, and desserts to include in your instant pot Diwali menu.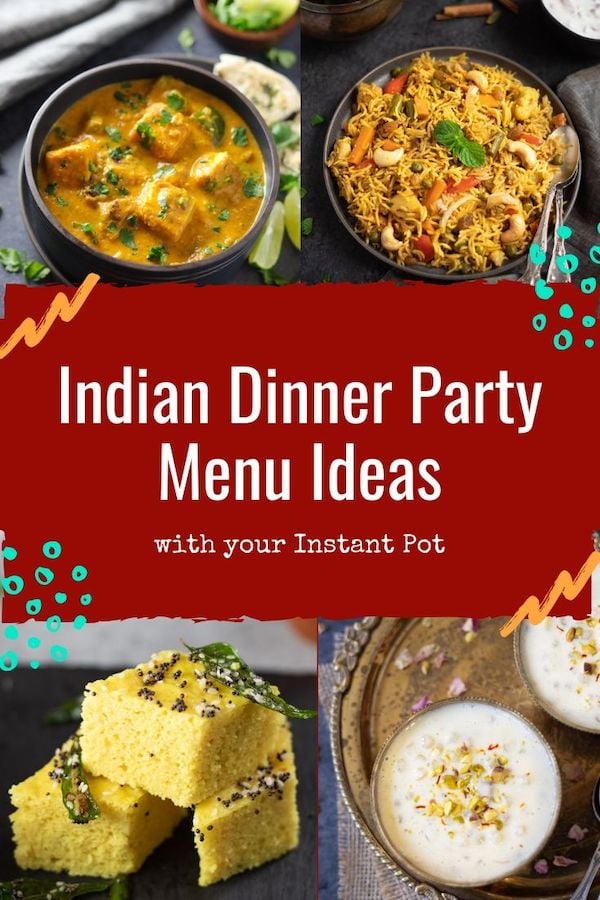 Planning an Indian dinner party menu might seem daunting at first, but really it is not that hard. There are a few basics to remember and you can plan a party menu easily.
Tips to plan an Indian party menu
What to include in the menu?
Most Indian parties or dinners include a 3 course meal, which includes appetizers, main course and desserts. You want to keep the menu simple.
Before deciding the menu, get a head count and consider any dietary restrictions eg, vegan, gluten free.
1-2 appetizers and a beverage. This will keep the guests occupied while everyone arrives and also not keep them super hungry while waiting. You can potentially skip appetizers for a lunch, depending on the event.
1-2 dips and pickle
One curry with a gravy and one without a gravy (plus one meat dish if applicable)
One lentil or bean dish
One rice dish
One raita or Dahi Vada. This is important to include as it goes well with the spices in indian food.
Some type of bread to eat with the curry. To make preparation easier, use frozen or store-bought bread such as naan which can be easily warmed up.
1-2 desserts
How to prepare for an elaborate Indian dinner party?
Planning 2-3 days before the party can help to relieve a lot of stress on the day and has a better chance for the host to get to enjoy the party!
2-3 days before the party

Decide the menu
Make a list of all the ingredients for the items in the menu. Check what you already have in your pantry and cancel them out from the list.
Shop the ingredients.

1 day before the party

Chop all the veggies (or marinate the meat).
Soak the beans/chickpeas. Bean/Chickpea curries can also be made the day before, as they get better the next day as they rest and soak in the flavors. eg. Chana Masala, Dal Makhani, Rajma.
Any dishes where boiling is needed, can potentially be pre-boiled and refrigerated. eg, potatoes.
For any curries, onion-tomato masala (or curry base) can be prepared and refrigerated. eg. if making paneer tikka, you can make the curry sauce and on the day just heat and add the paneer.
Prepare the chutneys/dips. These are typically easy to refrigerate.
Prepare any desserts that get thicker/creamier as they rest. eg. Kheer
Get the dinnerware and silverware ready. If using paper plates, have them ready.

On the day

Prepare the dishes and put them in the serving dish. For dishes, that need reheating just before serving, plan the serving dish accordingly.
Have the table ready depending on it is sit-down dinner v/s a buffet style.
Pro-tips
Think about the quantity of each dish not in isolation, but as part of the whole menu. When multiple dishes are included at a party, the quantity of each can be adjusted down as people will try so many dishes. Also, many people fill up on appetizers and not each much of the main course. But everyone eats dessert!
I try to include more dishes that can be made in the instant pot, so that less of my active time is needed in cooking. Also with the instant pot, you can easily cook larger quantity at one time.
Indian Appetizer Ideas
Instant Pot Appetizer ideas:
More Appetizer Ideas:
Samosas - Store-bought or homemade
Paneer Puffs - Make these in the oven so you can make a large batch to serve a party!
Indian Beverage Ideas
Indian Entrees Ideas
Main Course which consists of lentils, beans and paneer or vegetables curries. All of the options below can be made in an instant pot.
Lentil & Bean Entree Options
Paneer Entree Options
Vegetable Entree Options
For more vegetarian curry ideas made in the instant pot, check out this collection of Instant Pot Indian Vegetarian Recipes.
Meat/Seafood Entree Options
Indian Rice Dish Ideas
For more rice ideas made in the instant pot, check out this collection of Indian Instant Pot Rice Recipes.
Yogurt Side Dish Ideas
Indian Breads
For a party, Naan is my preferred choice. You can buy plain or garlic naan from Trader Joes or Indian grocery stores.
If you are inclined to make the bread at home, here is my roti and paratha recipes.
Indian Party Dessert Ideas
For more dessert ideas made in the instant pot, check out this collection of Indian Instant Pot Dessert Recipes.
Other Dessert/Sweet Ideas:
Plan your next Indian dinner party with these vegetarian ideas. If you are looking to include a chicken curry, check out the Chicken options here.
I would love to hear what are your favorite dishes to make for your parties and potlucks. Comment below to let me know!