Looking for authentic, refreshing Indian drinks? Check out these 15+ best Indian beverage recipes. These recipes will not only help you to beat heat this summer, but will also keep you warm in cold winters.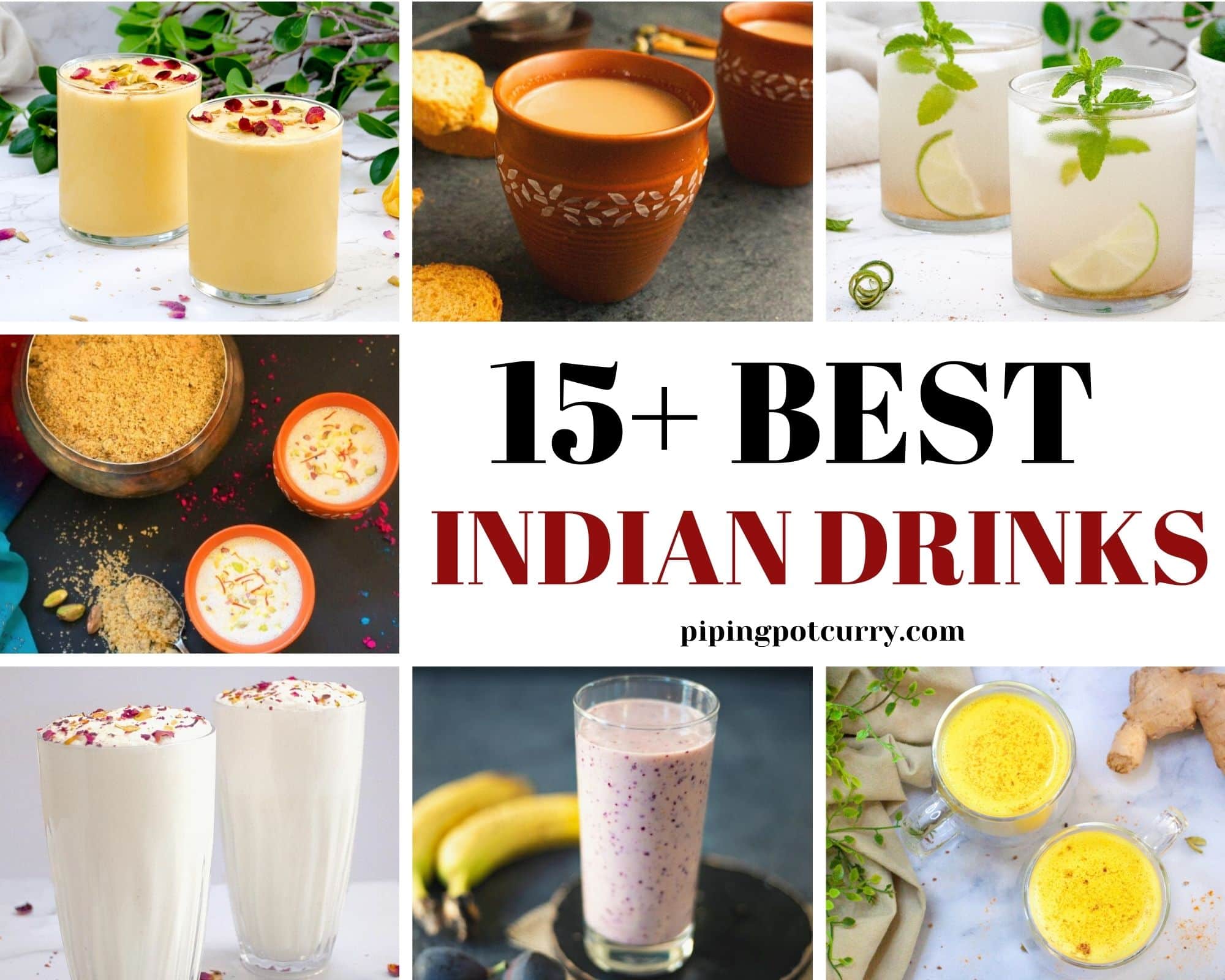 Be it any weather, whether a hot day where you need something that cools down your body and helps to fight the heat, or a cold chilly day where you are looking for hot drinks to keep you warm, I have got you covered.
These non-alcoholic Indian drinks list has it all. I have included both cold and hot authentic Indian beverages. Indian drinks are so comforting, refreshing and flavorful, just perfect for summer and winter days.
These traditional drinks are perfect as a welcome drink for any guests or just to enjoy on a relaxing afternoon or cozy evening. You can pair these drinks such as masala chaas with lunch or dinner, and have a mango lassi for breakfast or an afternoon snack. Haldi doodh is perfect to end the day on a cold evening.
Jump to:
Cold Drinks
Mango Lassi
Fresh Mango Lassi made with just a few ingredients, is so creamy and refreshing. This Mango Lassi is a favorite to enjoy at Indian restaurants, can be easily made at home in no time!
Shikhanji Nimbu Pani (Indian Lemonade)
This homemade Indian lemonade, also known as Shikanji or Nimbu Pani, is so refreshing, flavorful, and helps to beat the summer heat. Made with lime juice, sugar, water, and spices.
Masala Chaas (Indian Spiced Buttermilk)
This staple Indian spiced buttermilk drink is a refreshing, delicious, and healthy summer drink. Made with buttermilk, spices, and herbs, it takes only 5 minutes to make and can be served after lunch, dinner, or any time of the day.
Sweet Lassi
This popular homemade sweet lassi is a refreshing, creamy, and cooling drink for summer. Made with a blend of yogurt, sugar and cardamom, it perfectly complements the spices in Indian food.
Thandai (Almond Saffron flavored Milk)
A delicious drink made of milk flavored with nuts, seeds and spices. It is the traditional drink for Holi – the festival of colors.
Aam Panna (Mango Panna)
Aam Panna is a popular summer drink across North India. A delightful, natural coolant prepared with green mango pulp, sugar, spices, and mint leaves. It instantly hydrates and aids in battling the scorching heat.
Kokum Juice
It is a cooling summer drink, popular from Goa in India. It involves preparing the concentrated kokum syrup, which is diluted with water and served with cold ice.
Solkadhi
Solkadhi (solkadi) or kokum curry is a soothing digestive drink popular in the coastal regions of Goa and Maharashtra. It is made from dried kokum fruit and coconut milk. It can be relished as a drink or a curry.
Jaljeera
Jaljeera is a popular drink from north India. It is a cooling drink ideal for hot Indian summers. Jal jeera is also used often for its digestive properties.
Anjeer Banana Milkshake (Banana Fig Smoothie)
This Fig Banana Smoothie has a wonderful, creamy taste, and delicious sweet flavor. Made with fresh or dried figs, ripe banana and milk, this smoothie is a refreshing nutritious breakfast or snack!
Strawberry Lassi
This easy-to-make Strawberry Lassi is so creamy and refreshing. Made with fresh strawberries, yogurt, milk, and cardamom, it is a perfect cooling summer drink.
Mango Milkshake
This creamy, delicious mango milkshake is so tasty. Made with milk, mangoes, and spices blended together until it becomes frothy. It makes a delightful treat for all.
Cold Coffee
Lear how to make cafe-style cold coffee by blending instant coffee with cold milk and ice. This delightfully sweet and foamy cold coffee made in a blender is perfect to enjoy on a hot day.
Hot Drinks
Indian Masala Chai
A warm cup of authentic Indian Masala Chai, prepared with aromatic spices and ginger, to refresh and brighten your morning!
Haldi Doodh (Golden Turmeric Milk)
This popular Ayurvedic Haldi Doodh, also known as Golden Turmeric Milk, is a healthy and healing drink. Made with adding turmeric and spices to boiling milk, it is a cup of wellness used to treat the common cold.
Badam Milk
Badam Milk is a delightful Indian drink made with ground almonds, cardamom powder, and saffron. This aromatic & flavorful Badam Doodh can be served cold in the summer or hot in the winter.
Kashmiri Kahwa
Kahwa is a fragrant, mild green tea made with whole spices, saffron and almonds. Kahwa is a warming tea and always had hot. Using whole spices and saffron makes Kashmiri Kahwa warming for the body which is perfect for the cold climate of Kashmir.
Soothing Honey Lemon Ginger Tea
Try this soothing lemon ginger tea as a relief to all your winter woes – cold, cough and flu. Learn how to make simple detoxifying drink along with all the health benefits of the drink.
I hope you try these Indian drinks recipes from all over India. Let us know which one you're most excited to make, and share this roundup with your friends, and when you make it, don't forget to tag #pipingpotcurry.
You might also like –