Thandai is a delicious drink with milk, flavored with nuts, seeds and spices!  March is the season of Holi, the festival of color, similar to the beautiful colors of spring. This is the Indian festival welcoming spring.  In different regions of India, people perform different rituals. In North India, the day before Holi people burn a holy fire, called Holika Dahan.
As a child, I prepared for Holi starting early in the morning. Filling balloons with water, getting the variety of colors ready. Then as the day started, all friends and family would get together to play Holi. Put lots of colors on each other and throw the balloons, get everyone wet. Here is a bollywood video that might give you can idea of what Holi is like. Okay, to be fair we don't sing and dance as much 🙂
But guess what, I don't miss Holi much anymore. Here in the bay area, we have many Holi celebrations. One of the popular one's which has been going on for more than 10 years is the Asha Holi at Stanford. I enjoyed this while I studied and lived there. Now there are many more Holi celebraions that happen almost all weekends in the month of March. Here is a video of the real Holi at Stanford in 2015.
Now let's discuss the food for Holi. The favorite drink is Thandai. Traditionally, people served Thandai with a dose of bhaang (a preparation of cannabis) to adults. Thandai is also called Sardai in some parts of India. Thand means cold, so Thandai is a cool and refreshing drink. Thandai is made with a special spice mix, which is mixed in chilled milk. We will make the Thandai powder and then the Thandai Milk in this recipe.
You can also buy Thandai mix at the Indian grocery stores and mix that in milk. However it is only a few ingredients and can be easily made at home. It is great to have at hand. As you can see they are all nutritious ingredients. You can mix with a glass of milk anytime and have tasty Thandai ready quickly.
How to make Thandai Powder?
Thandai is made using a number of nuts/spices which have a cooling effect on the body. I use Almonds, Cashews and Pistachios in equal quantity, half cup each. Along with the nuts, I use fennel seeds, poppy seeds and melon seeds in equal quantity, two tablespoon each and cardamom, black peppercorns and cinnamon. The most important step with making Thandai powder is collecting all the ingredients.
You will easily find most of the ingredients. The only ingredient I thought was a bit tricky was melon seeds (or charmagaz). I found this at the Indian grocery store, however my backup plan was to use unsalted pumpkin seeds. So that is an option if you can't find melon seeds.
Just add all the ingredients to a blender or spice grinder. I used Vitamix to grind the ingredients as it can grind to a fine powder.
Some people like to soak the nuts and poppy seeds before grinding them to a paste. I prefer the powder as it is easier to store. Transfer it to an airtight container and use for a couple of months.
How to make Thandai?
The ingredients to make Thandai now are – Milk, Thandai powder, Sugar, Saffron and optionally dried rose petals (or rose water). Add about one tablespoon of thandai powder per glass of milk (about 8oz) and one tablespoon of sugar (adjust to taste).
Again here some people prefer to boil milk and then add in the ingredients. Then refrigerate the milk for 2-3 hours as Thandai is served chilled. However to make it easy, I just warm a small portion of the milk (about 1/4 cup) in the microwave, mix in the saffron in it. Then combine with the rest of the milk, and add sugar and thandai powder. Note that this works if you are using pasteurized milk. If using raw milk, it is recommended to boil it. You can also prepare Thandai the night before and let the milk soak the flavors while it is cooling in the refrigerator.
Most recipes also strain the milk after mixing the thandai powder, as the course powder could affect the delicious experience. I prefer easy recipes with less steps, so I prefer to grind the thandai powder very fine (hence the Vitamix) and skip the straining. Also, why lose the awesome nutrients in the strainer. However if you prefer, you can always strain the thandai and then enjoy it chilled. Another preference could be have a stronger yellow color for the Thandai. You can add yellow food color or much more saffron.
Enjoy Thandai during this Holi! It would be a great addition to a Holi together 🙂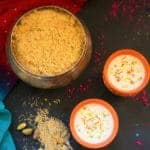 Thandai for Holi (Almond Saffron flavored Milk)
A delicious drink with milk flavored with nuts, seeds and spices. The traditional drink for Holi - the festival of colors.
Cuisine:
Indian, North Indian
Diet:
Gluten-free, Vegetarian
Method:
Blender/Food Processor
Ingredients
For Thandai
2

cups

Milk

preferably pasteurized whole milk, divided

1

tbsp

Sugar

adjust to taste

2

tbsp

Thandai powder

1

tsp

Rose Water

(optional) or dried rose petals

8-10

strands

Saffron (Kesar)

1

tsp

Pistachios

sliced, to garnish
Instructions
Add all ingredients for Thandai powder in a blender and make a fine powder.

Heat 1/4 cup of milk in the microwave. Add saffron strands to it and let it rest for 5-10 minutes.

In the rest of the milk, mix the Thandai powder, sugar and rose water.

After 10 minutes, pour the saffron infused milk in the rest of the milk and stir well. Refrigerate for 30 minutes to 8 hours.

(Optional) Strain the Thandai.

Garnish with sliced pistachios and saffron. Serve chilled.
Recipe Notes
Raw milk: If using raw milk, boil the whole milk and add the ingredients to it. This will require more cooling time. Let the milk come to room temperature, then refrigerate it. 
Soaking Nuts: Some people like to soak the nuts and poppy seeds before grinding them to a paste. I prefer the powder as it is easier to store. Transfer it to an airtight container and use for a couple of months.
If you prefer, you can also boil the whole milk and then add Thandai powder, saffron, sugar to it. 
If you want a stronger yellow color for the Thandai, you can add yellow food color or much more saffron.
♥ Spread the Love If you make this recipe, share your food photo with hashtag #pipingpotcurry on Facebook or Instagram, so we can see it and others can enjoy it too! Thank you ♥
Subscribe to my Youtube Channel for more tasty videos. Looking for Instant Pot recipes, check out my Instant Pot Recipes board on Pinterest.
Pin it for later: 
Disclosure: This post contains affiliate links, which means I can earn a small commission if you purchase through the link at no additional cost to you. Thank you for your support!