Looking for easy Indian breakfast recipes? Take a look at these 15+ delicious Indian breakfast recipes that will help you to start your day right. This wide collection of breakfast recipes is from all over India and can be prepared in a jiffy.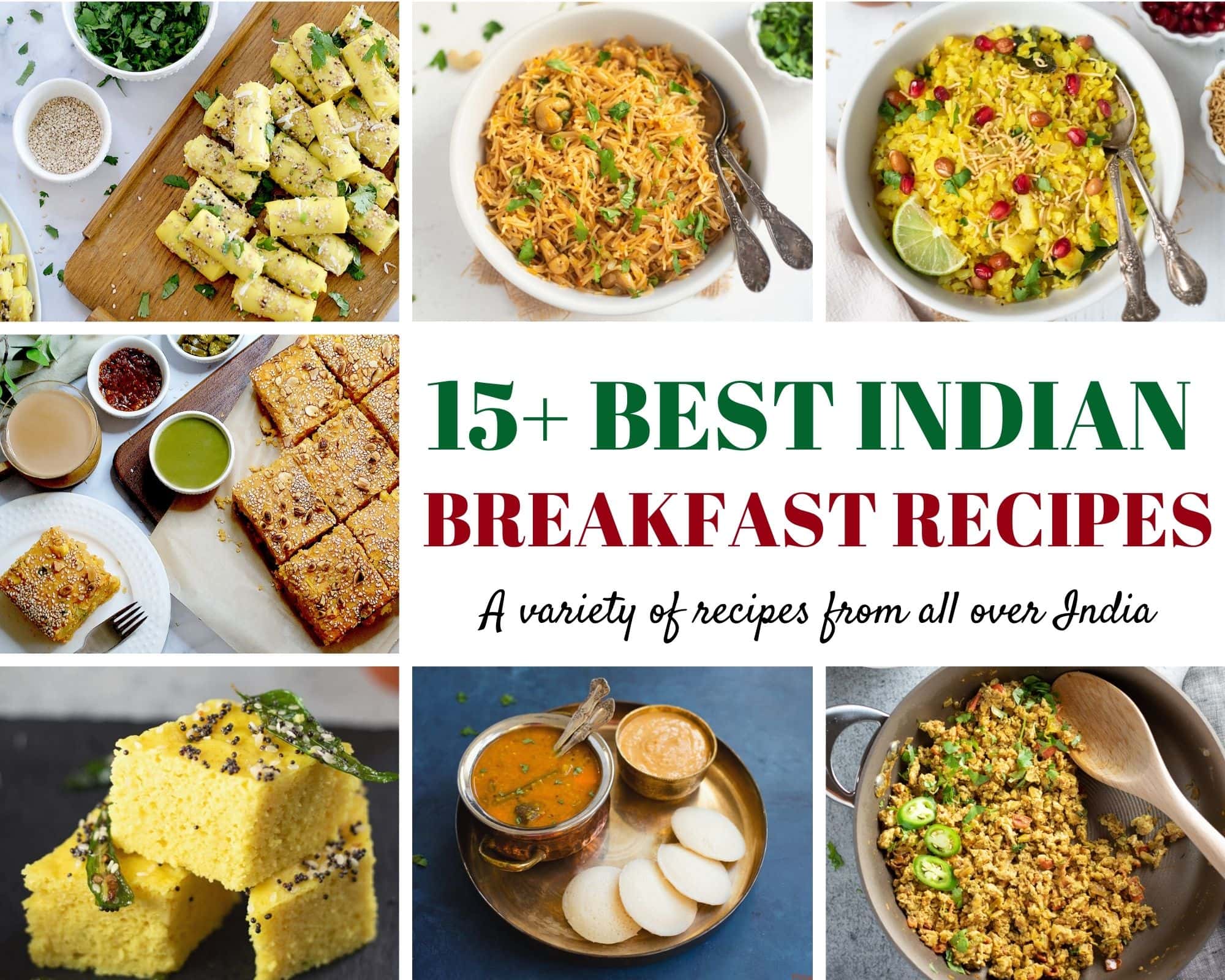 Whether it is a busy weekday morning or a lazy one, you can never go wrong starting the day with a good breakfast! It is my family's favorite meal of the day. We have found, that it truly sets the tone for the rest of the day. We have more energy when we've fueled up in the morning.
Breakfast means breaking the fast from the night before. It is important to have a good healthy breakfast to fuel your body and kickstart your metabolism.
There are so many varieties when it comes to Indian breakfast – Poha and Vada Pav from Maharashtra, Idli and Upma from South India, Parathas and Sabudana Khichdi from North India, Dhokla and Khaman from Gujarat.
It's easy to get stuck in a breakfast rut. Sometimes you just need a few ideas to get the wheels turning.
What do Indians Eat for Breakfast?
A typical breakfast in India varies a lot by state and region. Each region has it's own specialty, which can depend on the weather and popularly used ingredients in the region.
North India: A breakfast plate in North India might include paratha with pickle and yogurt. The breakfast in Northern parts of India is usually heavier. This could be as the weather there can get colder, and traditionally many worked in fields which meant they needed more energy.
South India: A breakfast plate in Southern India might have dosa (lentil & rice crepes) or idli (steamed savory rice cakes) along with sambar and chutney. Or Upma made with semolina or vermicelli. This is typically a lighter breakfast, filled with essential nutrients to start the day.
Central & Western India: The popular choice for breakfast here is poha. In the western state of Gujarat, dhokla and the largest are popular choices. In Maharashtra, Vada Pav is a popular & humble breakfast choice.
All over India, breakfast is enjoyed with tea (chai) or coffee.
Popular Indian Breakfast Recipes
Below I am sharing my favorite Indian Breakfast Recipes from all over India. As you explore this round-up of excellent Breakfast Recipes, I hope you find some inspiration to try something new!
Most of the Indian breakfast recipes are vegetarian, and many vegan. These recipes are great for a filling brunch too!
Poha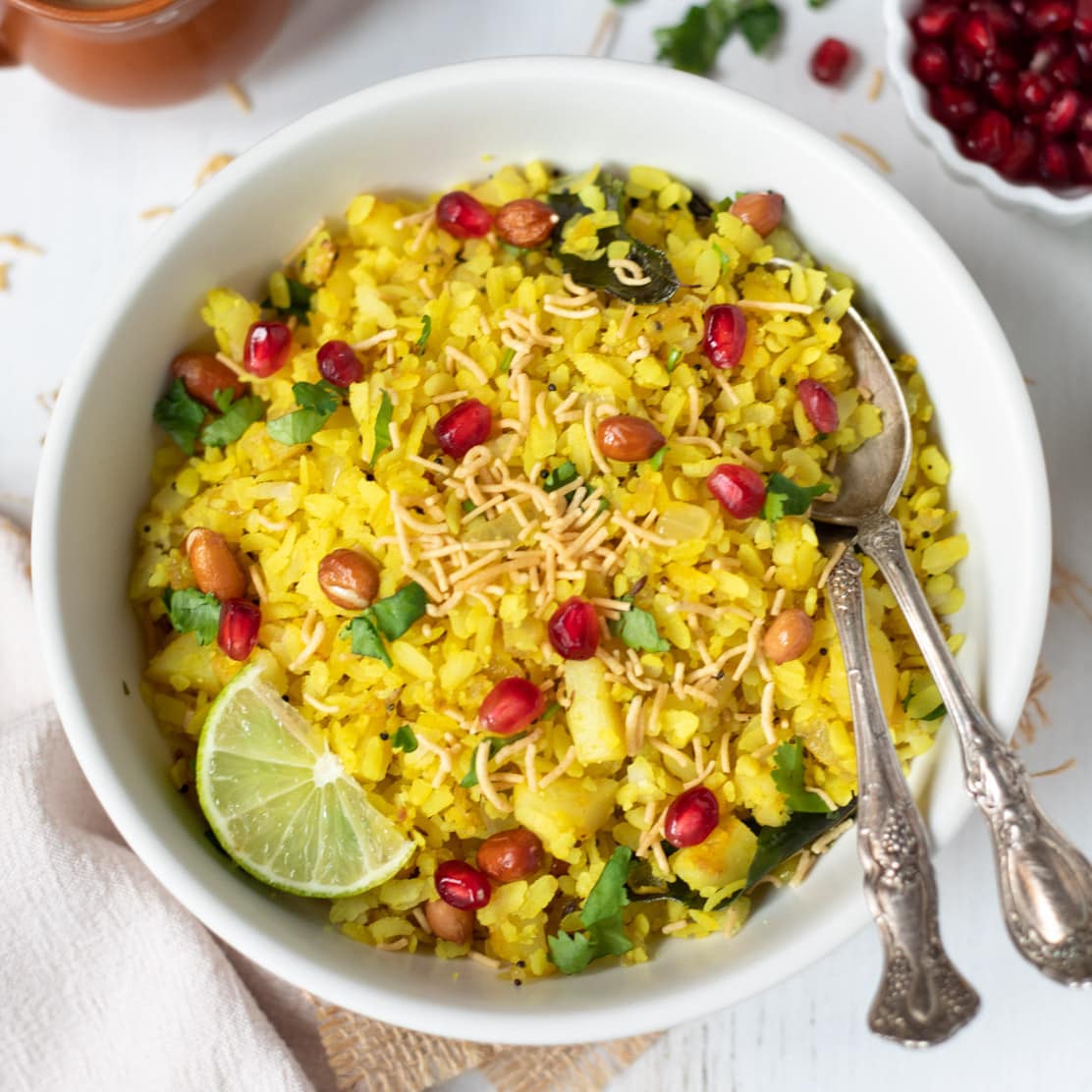 Poha is an easy and delicious Indian breakfast recipe popular in western and central India.
Made with flattened rice, onion, potatoes, and seasoned with mild spices, curry leaves, peanuts and cilantro, this recipe also makes up for a quick mid-day snack.
Idli (Savory Rice Cakes)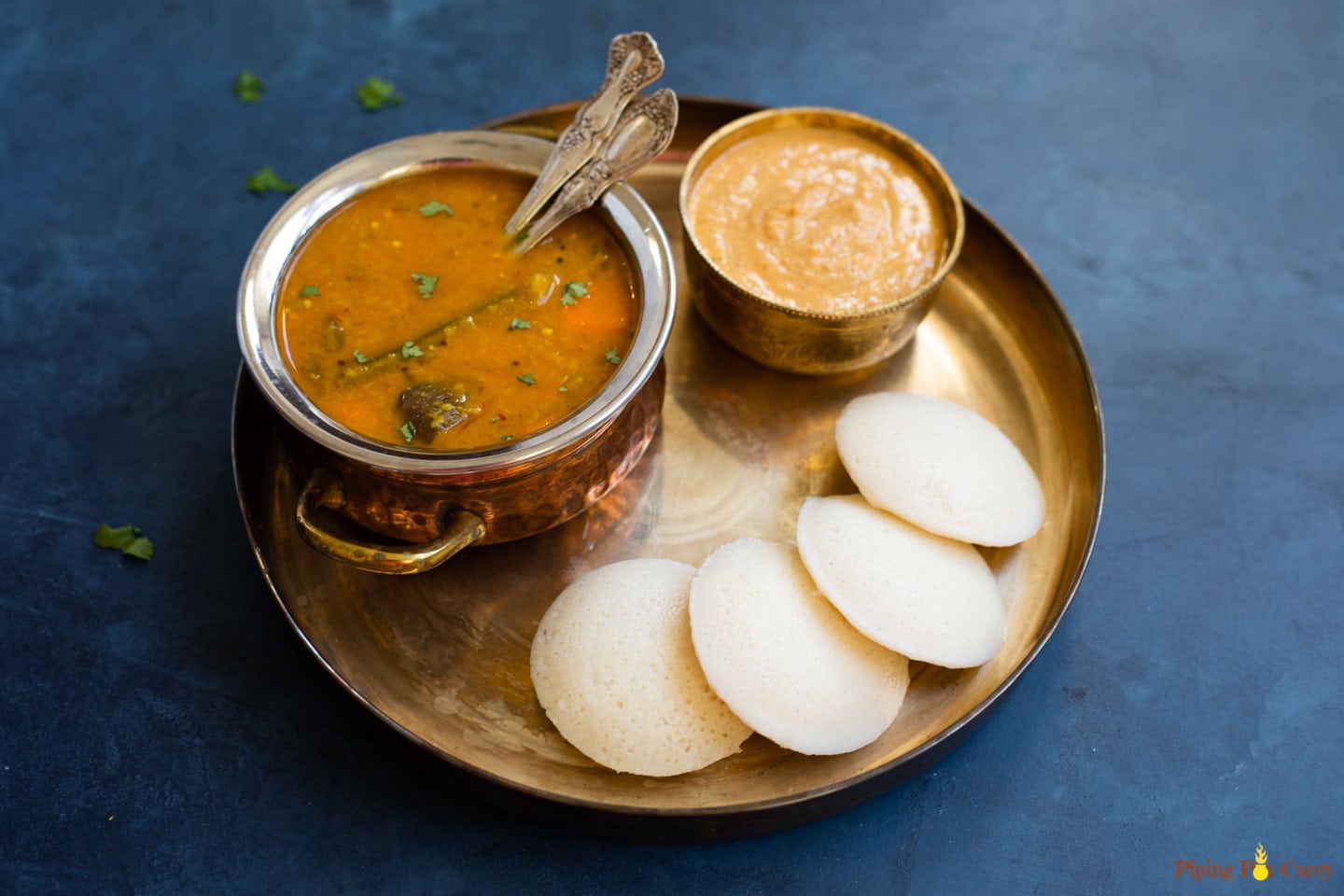 Idli is the quintessential South Indian breakfast, which is also popular across India. Learn how to make the perfect soft and fluffy idli's!
Enjoy it with wholesome sambar and coconut chutney.
Paratha Recipe (Pan-fried Indian flatbread)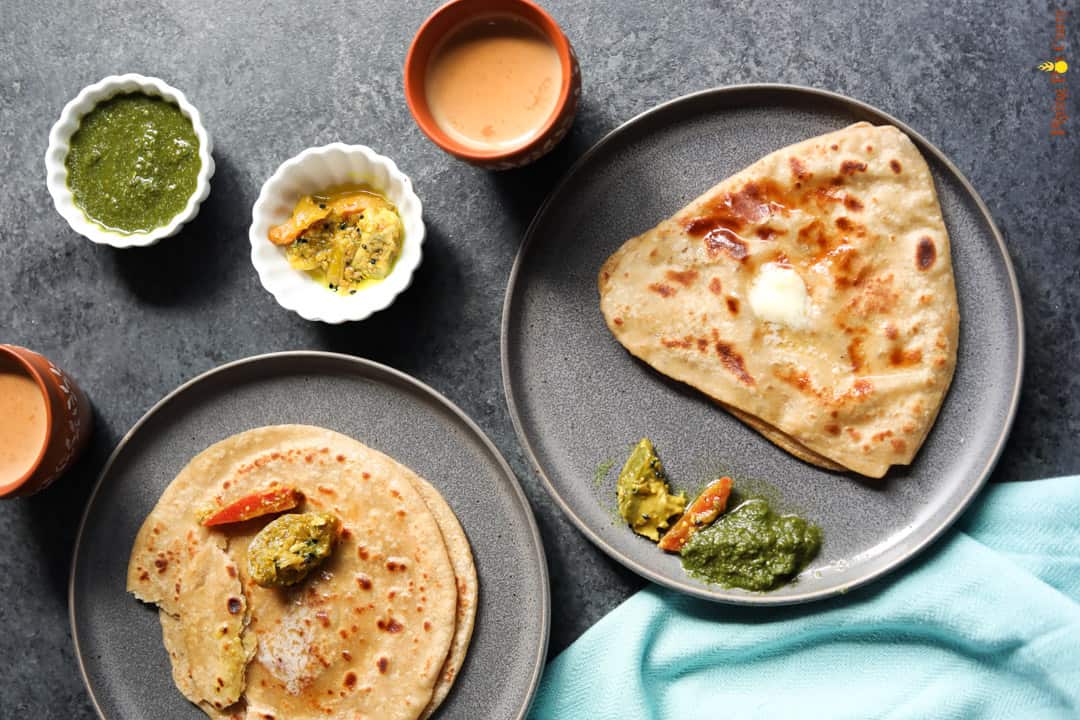 Paratha, one of the most popular unleavened flatbreads from India, is perfect to enjoy with pickle and a hot cup of chai for breakfast or alongside curry and yogurt raita for lunch or dinner.
Parathas are typically made from whole wheat flour by layering and rolling the dough, then cooking on the griddle with ghee or oil.
The basic paratha or a variety of stuffed parathas are popularly enjoyed for breakfast in North India.
Khaman Dhokla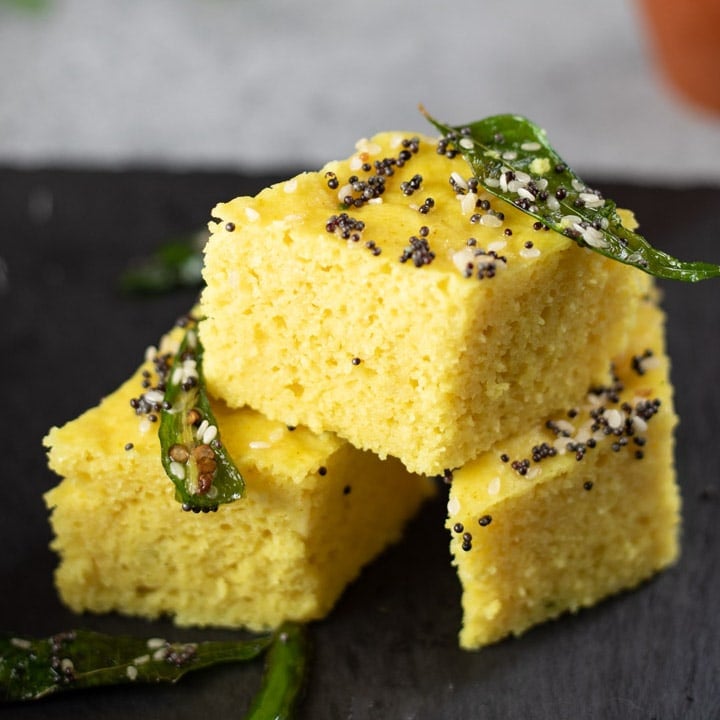 Soft and fluffy Khaman made in the pressure cooker or stovetop.
Khaman, is a popular Gujarati snack, made from ground gram flour or besan (also called chickpea flour). These are steamed savory chickpea flour cakes, which are enjoyed with green chutney and tamarind chutney for breakfast.
Gujarati Khandvi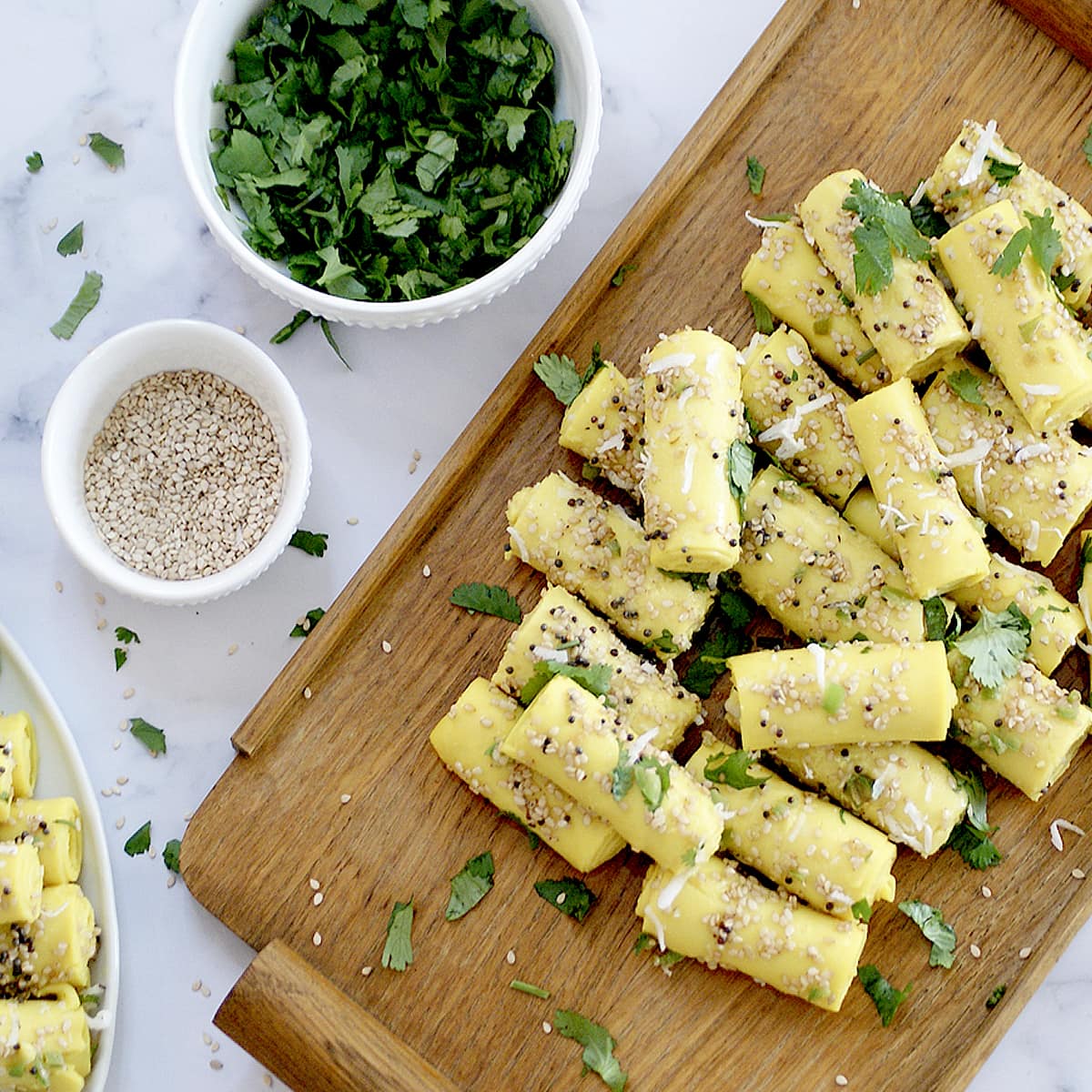 Learn how to make this popular healthy snack from Gujarat – Khandvi rolls.
These melts in the mouth, soft and flavorful rolls are made with basic ingredients of gram flour, yogurt and then tempered with mustard seeds, sesame seeds, ginger, and garnished with fresh cilantro leaves and grated coconut.
These attractive yellow rolls are perfect to enjoy for breakfast or as a snack.
Healthy Sabudana Khichdi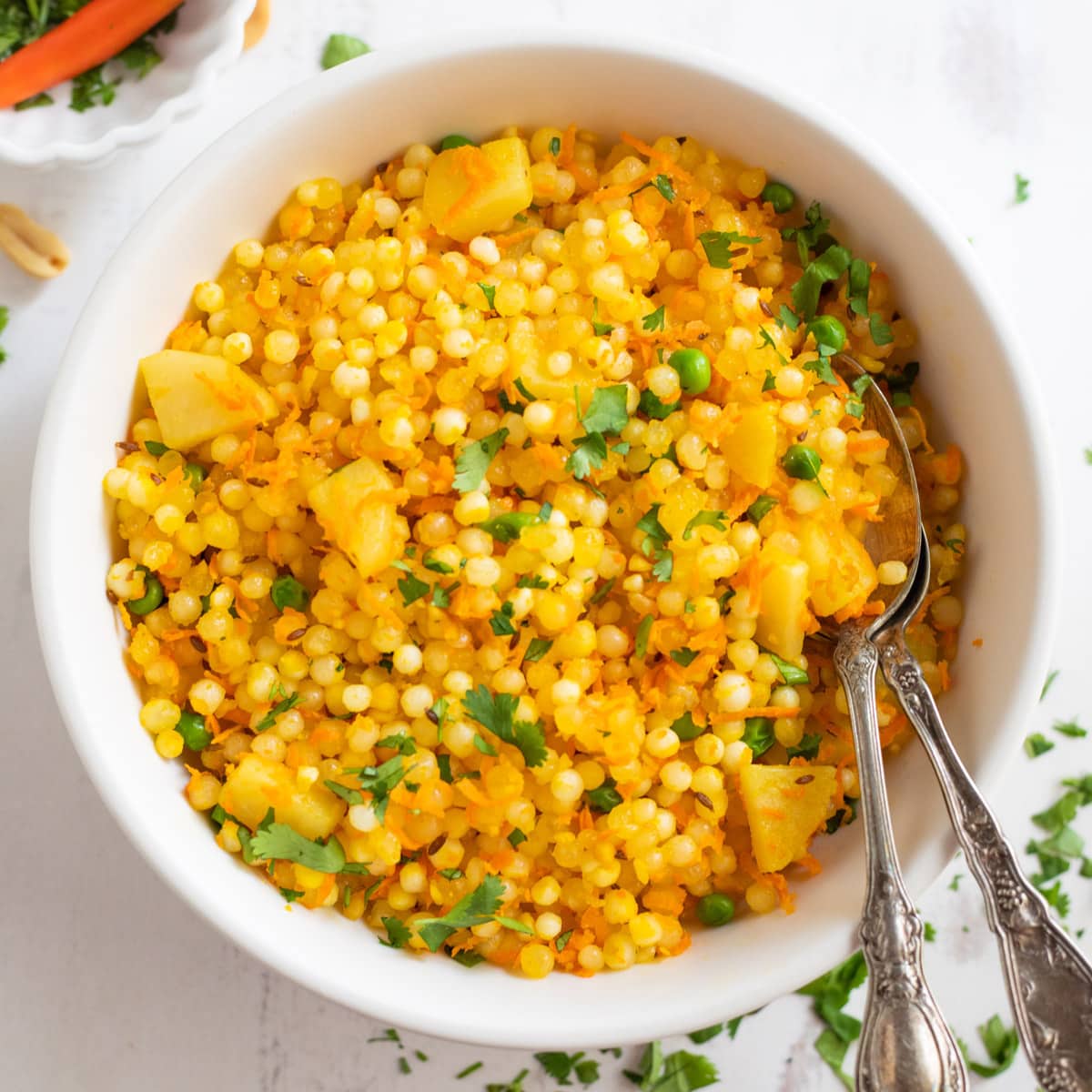 A healthier Sabudana Khichdi recipe – Tapioca pearls/Sago cooked with potatoes, carrots, green peas and crushed peanuts.
This popular vegan and gluten free dish is like a pilaf or upma made with tapioca pearls. Enjoy it for breakfast or an afternoon snack with tea.
Crispy Dosa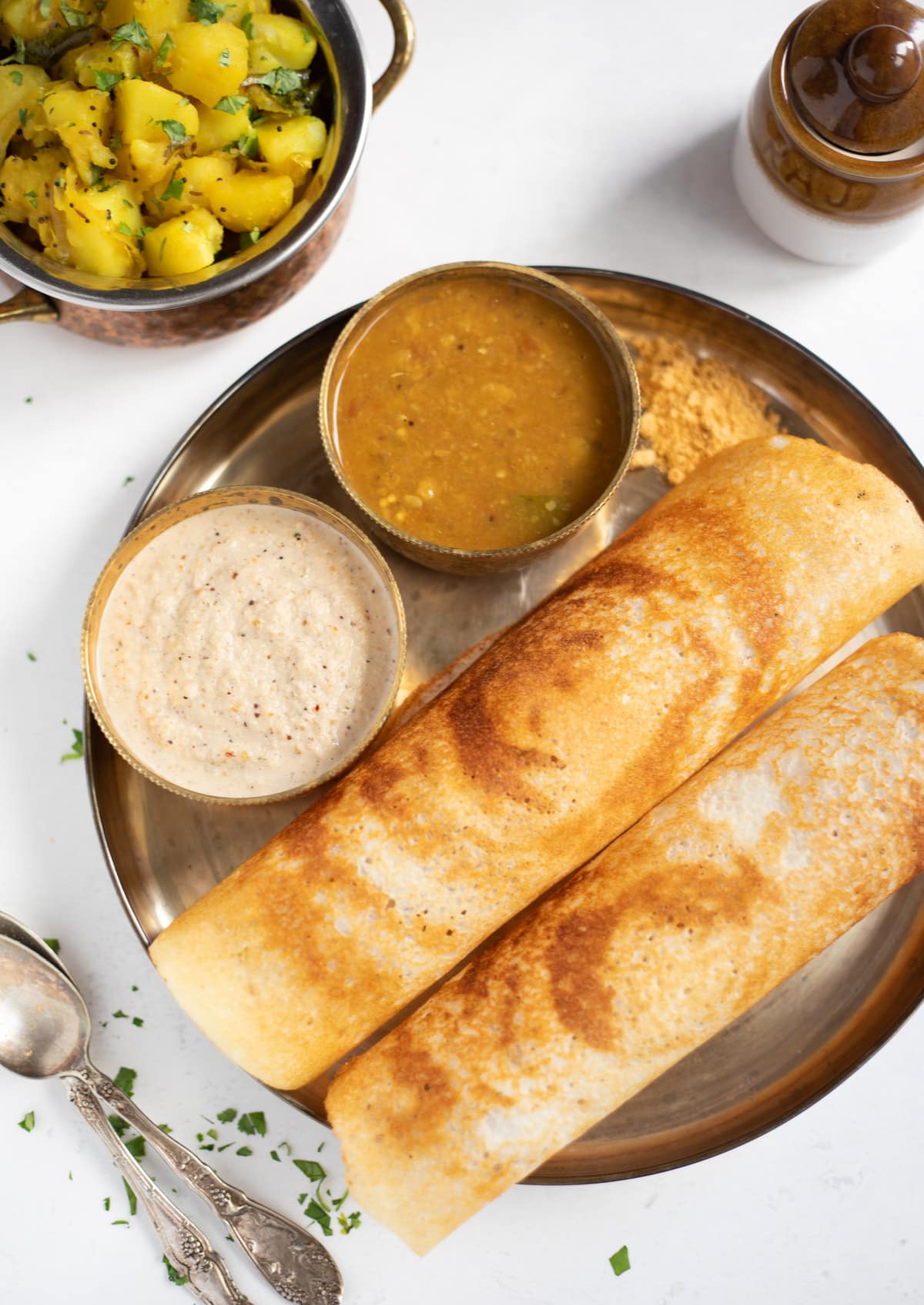 Learn how to make the best crispy dosa's from scratch with homemade dosa batter, along with all the tips and tricks to get the perfect crispy dosa's every time!
This is the plain dosa or sada dosa recipe. You can easily tailor this recipe to make masala dosa by stuffing potato masala.
You can also make healthy quinoa dosa for breakfast.
Aloo Paratha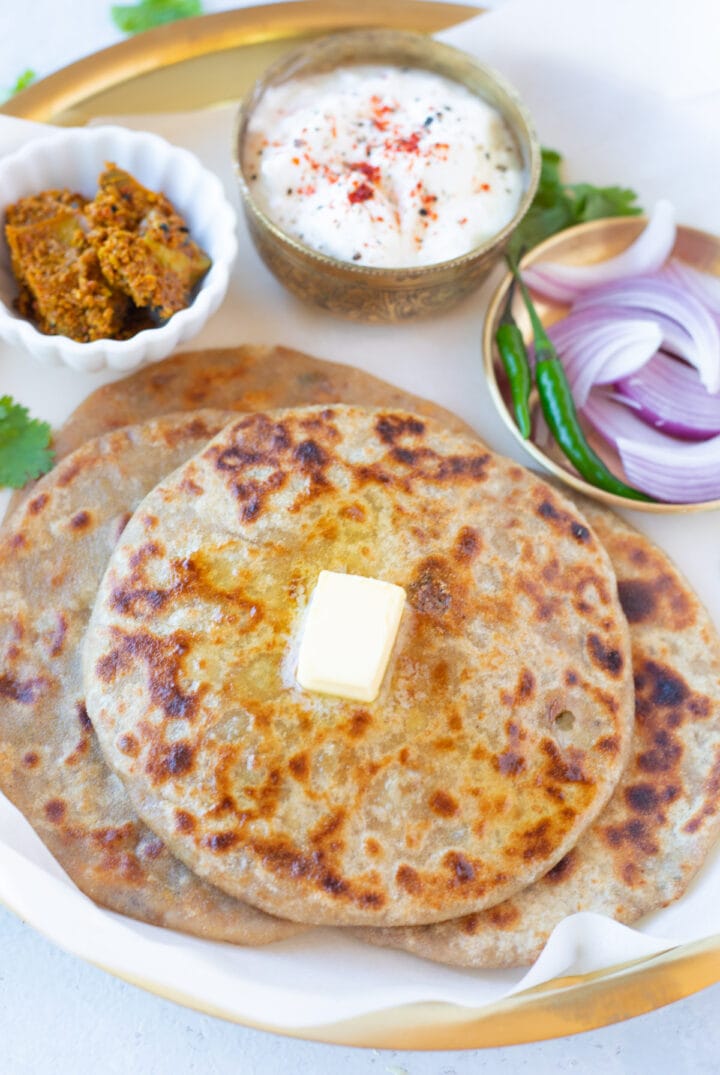 Aloo Paratha is a popular North Indian layered flatbread stuffed with spiced mashed potatoes. The parathas are roasted on the hot griddle until crisp and brown on the outside.
Serve them with pickle and yogurt for an authentic Punjabi breakfast.
Indian Masala Oats (Savory Oatmeal)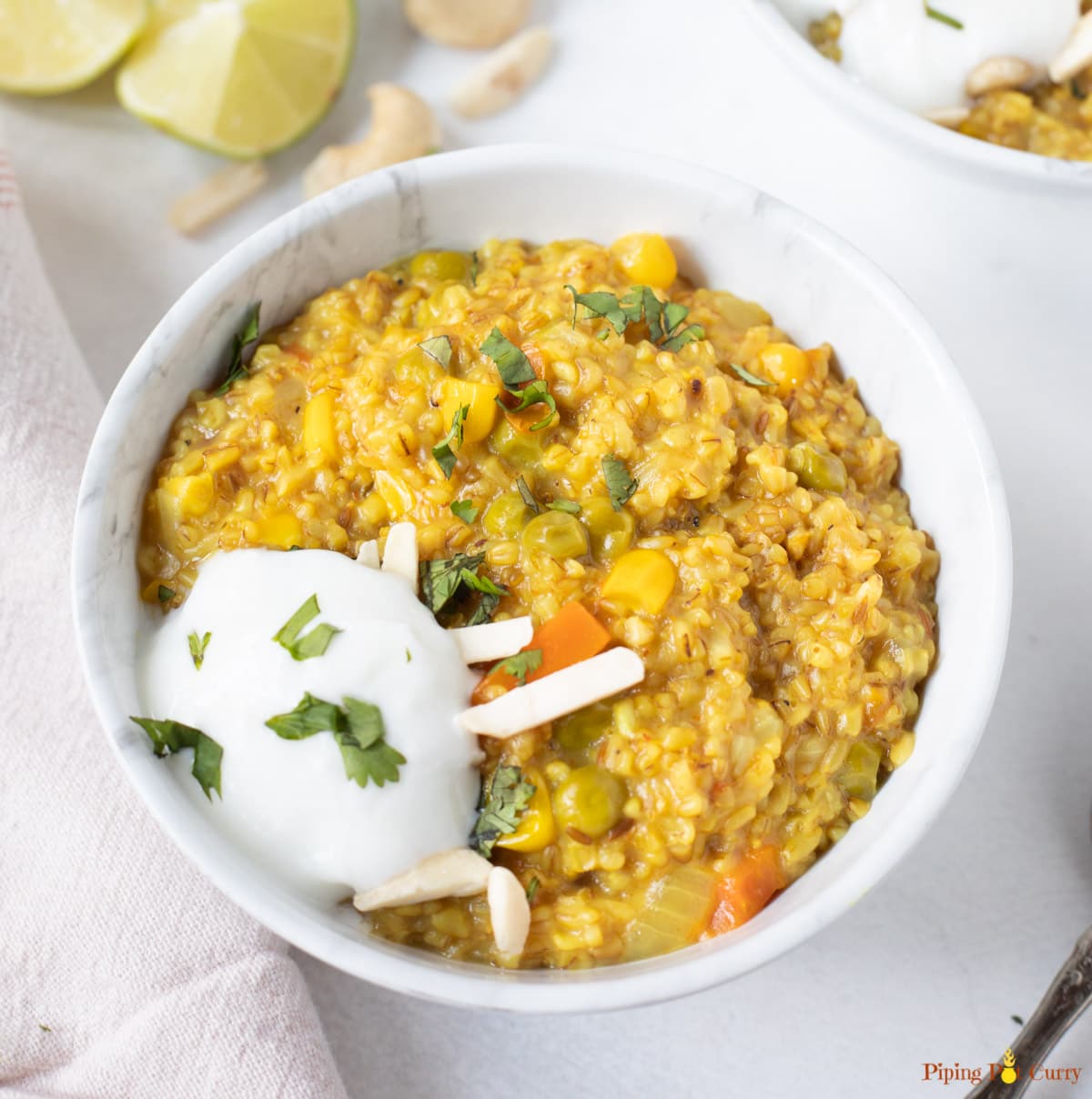 Masala Oats is a savory oatmeal breakfast porridge cooked with lots of vegetables and aromatic Indian spices. A healthy & delicious vegan breakfast recipe.
This healthy oatmeal recipe is made with wholesome veggies, so it is a great breakfast option and an excellent way to start the day.
Moong Dal Chilla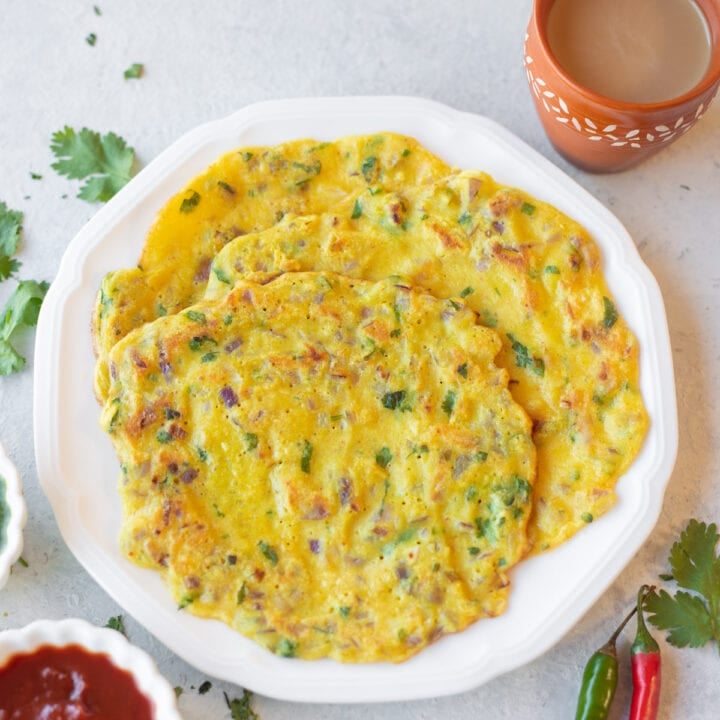 Moong Dal Chilla is a delicious protein-packed Indian breakfast made with yellow moong dal mixed with simple spices and herbs, including chilies and onions.
These savory lentil pancakes are a nutritious, vegan and gluten-free breakfast.
Semiya Upma (Vermicelli Upma)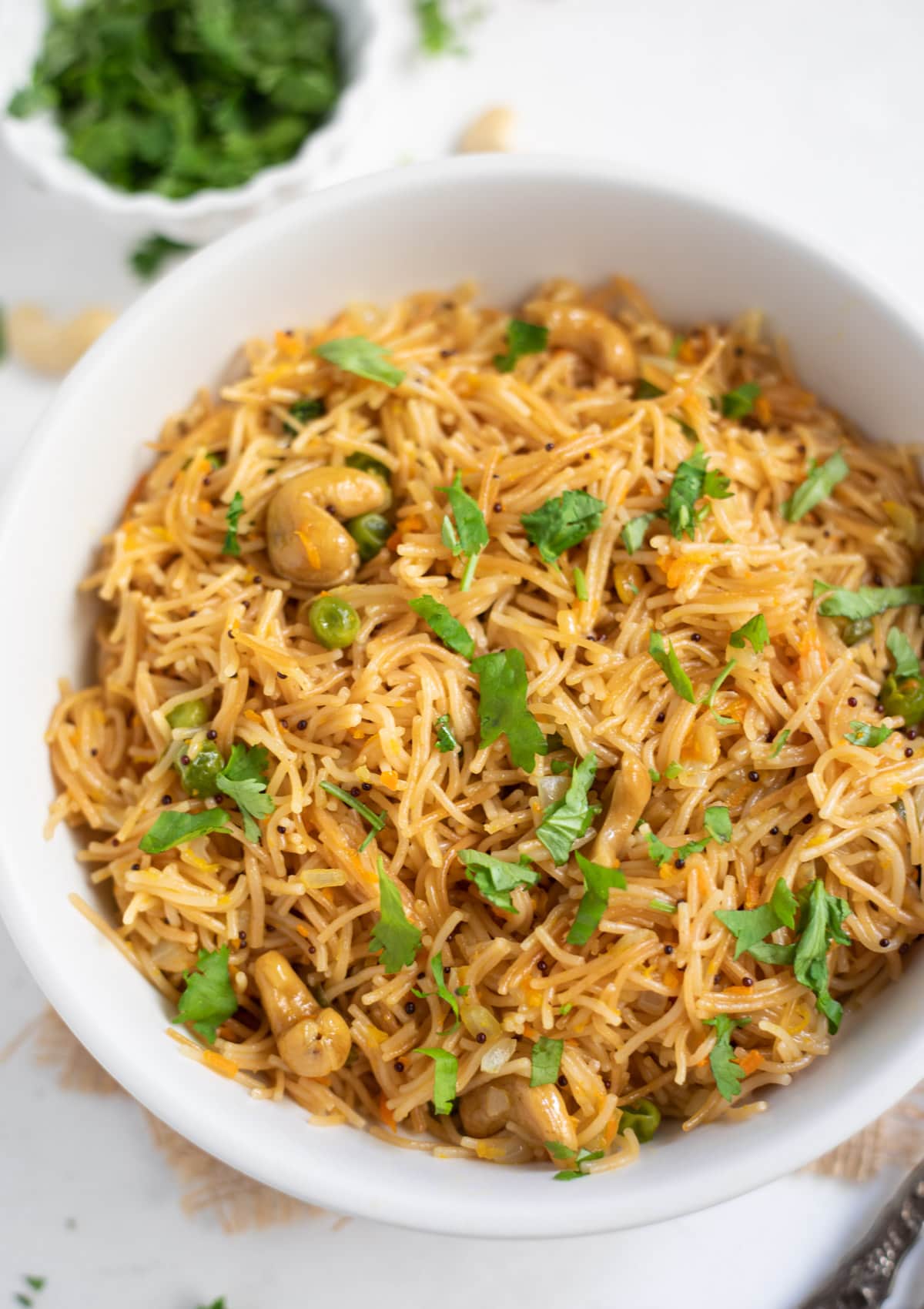 This Semiya Upma is a traditional South Indian breakfast. Made with vermicelli and vegetables, this upma is mildly spiced, and an easy one-pot recipe.
Make it on the stovetop or in the instant pot in less then 25 minutes, and enjoy with chutney!
Ven Pongal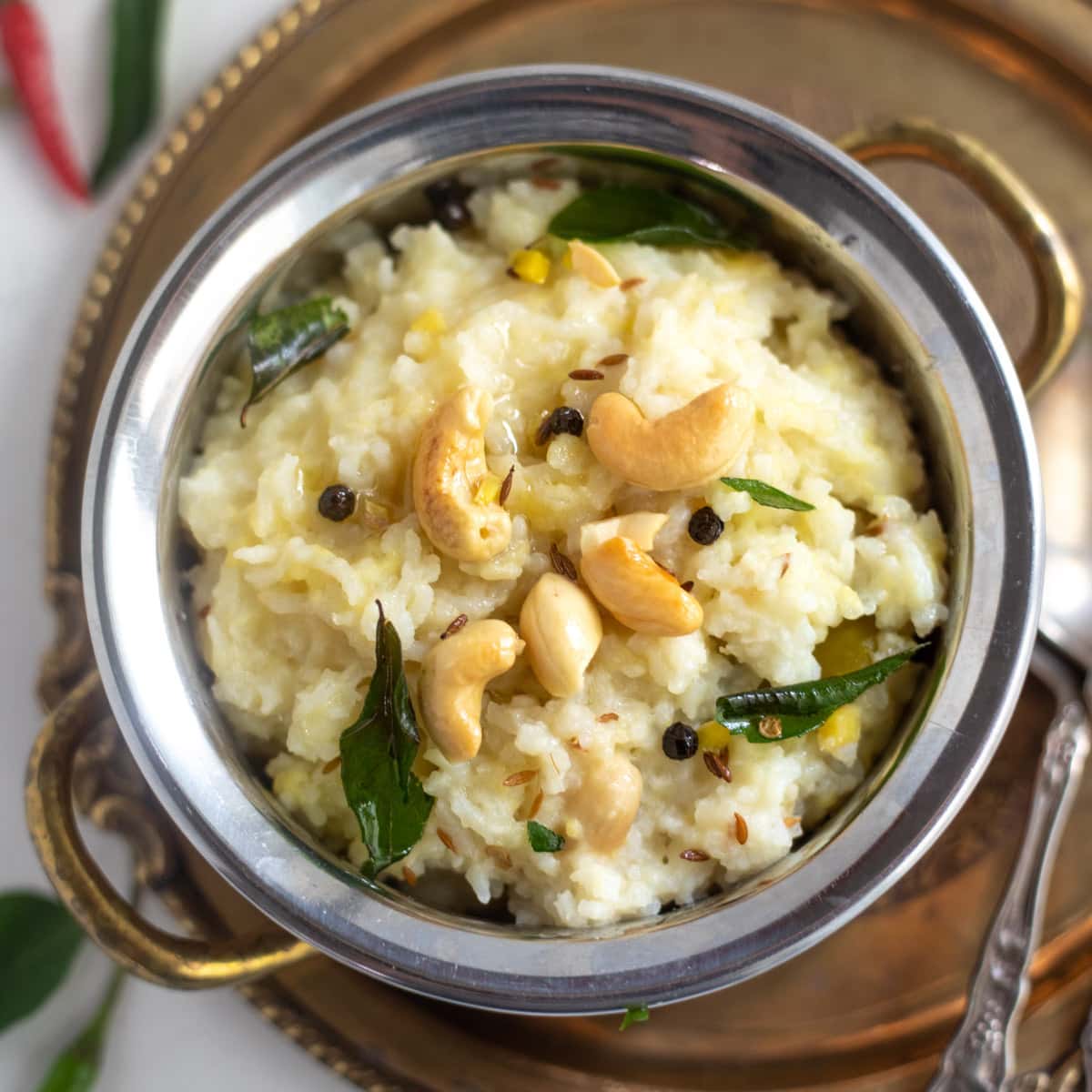 Made with rice and lentils, this satisfying South Indian breakfast recipe, Ven Pongal, is enjoyed with sambar and chutney.
Deliciously seasoned with curry leaves, cumin seeds, and black pepper, this vegetarian and gluten-free recipe is a wholesome meal.
Vada Pav (Potato Fritter Sliders)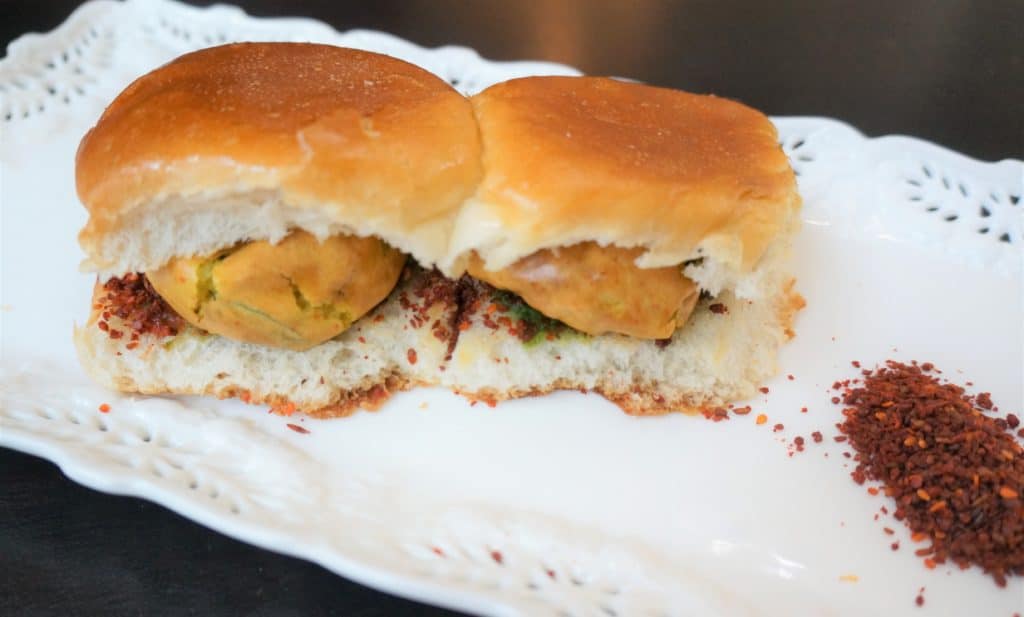 Vada Pav is the humble street food of Mumbai. A fried potato fritter or vada, is stuffed in between mini-burger buns called pav, along with sweet and spicy sauces or chutney.
It is also known as Batata Vada, where Batata is potato in Marathi and Pav is bread, similar to dinner rolls. They are typically served with a spicy garlic chutney.
Rava / Sooji Upma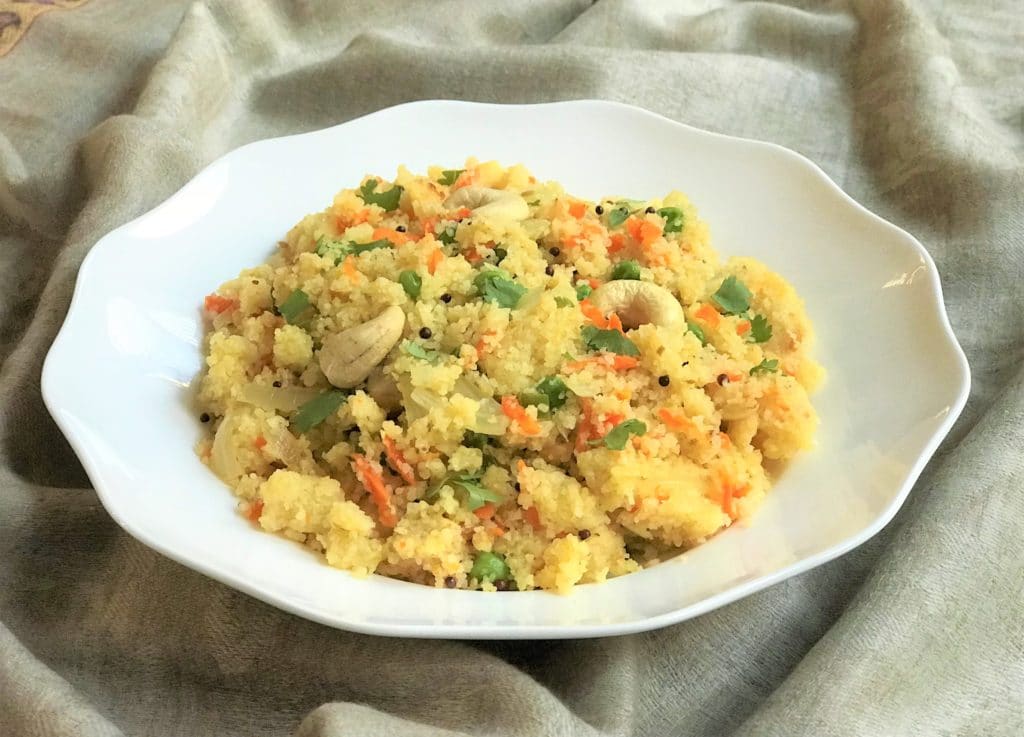 An easy and popular South Indian breakfast – Upma.
Rava Upma is a thick porridge made from dry roasted semolina, cooked along with various vegetables and seasonings. This is a delicious and warm breakfast, a great way to start the day along with a hot cup of coffee or tea.
Egg Bhurji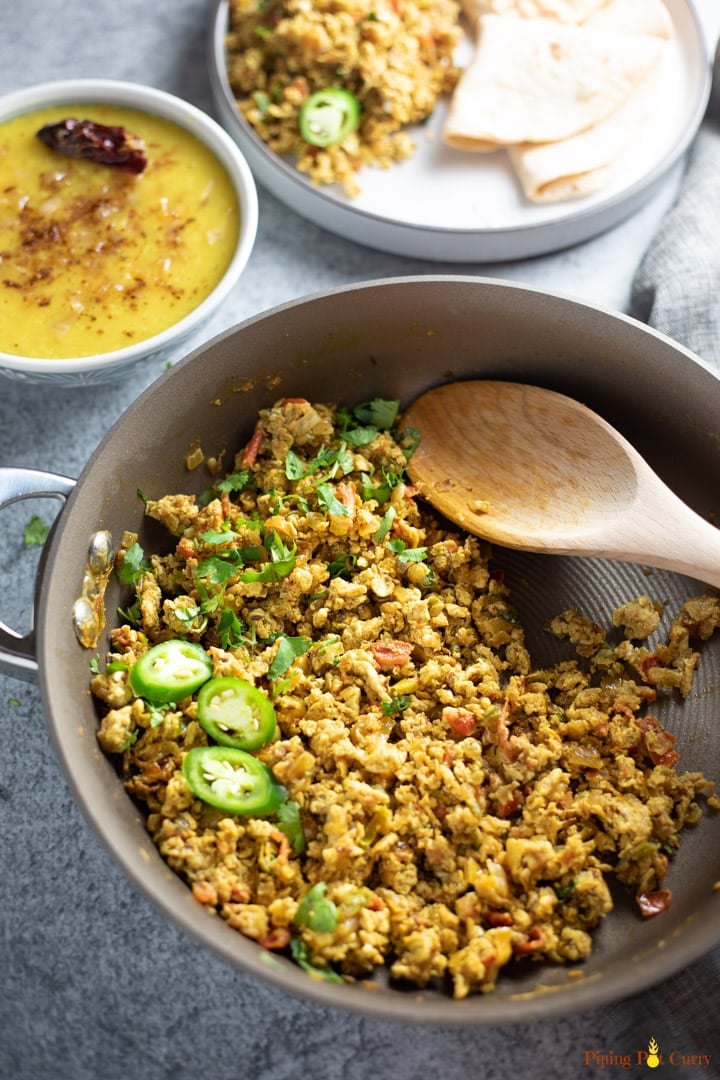 Egg bhurji is the Indian twist to scrambled eggs. Packed with the right amount of flavor and spice, these delicious Indian scrambled eggs are perfect for any meal of the day!
Rava Dhokla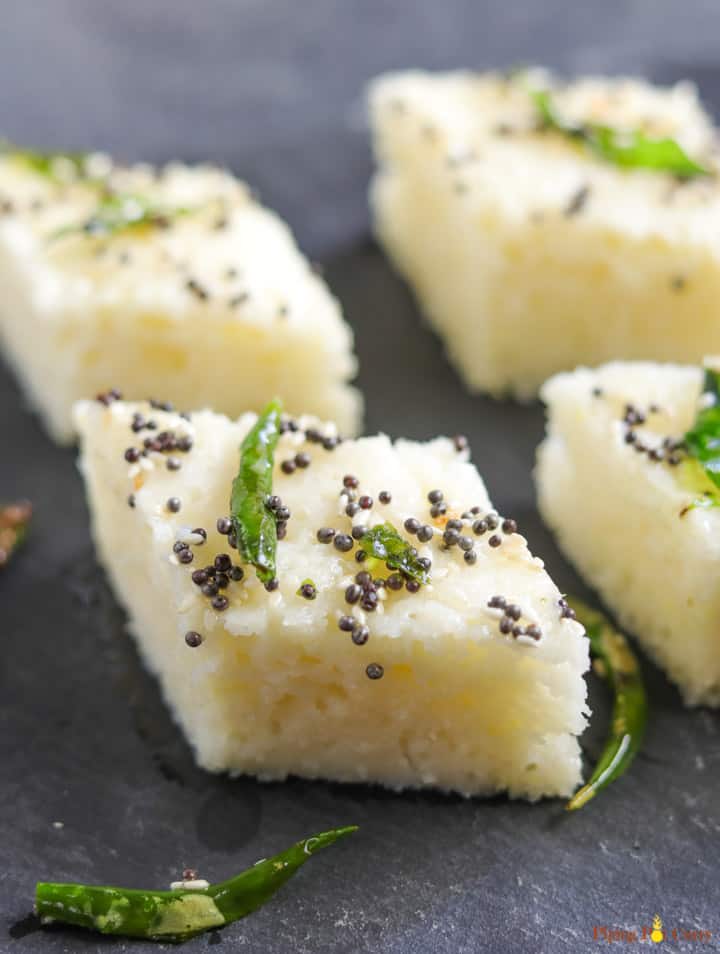 Soft and fluffy Rava Dhokla, are delicious savory semolina cakes. This popular Gujarati delicacy is perfect to enjoy for breakfast or snack!
You will love this easy instant Dhokla for breakfast with a hot cup of chai. They are little spicy with the addition of ginger and green chili's. This is also one of my favorites to serve if we have guests over.
Oats Kheer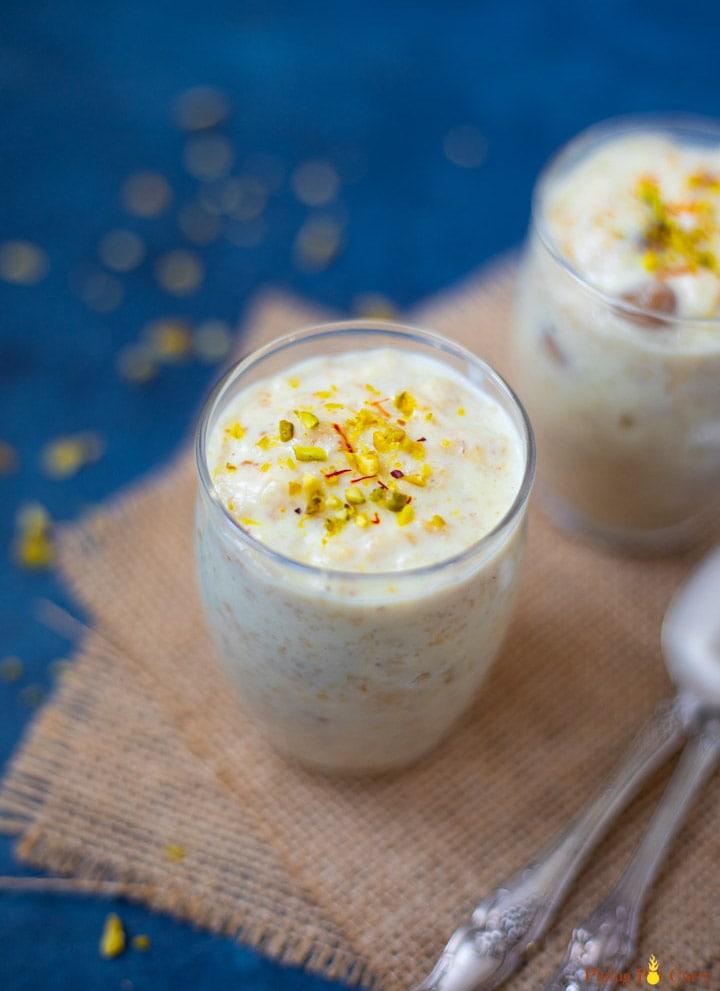 Oats Kheer also known as Oats payasam is a delicious twist of using oats in Indian dessert recipes.
Oats Kheer is a healthier version of the traditional rice kheer, but with the same rich and creamy taste. It is great to enjoy for breakfast too.
Made with oats, milk, sugar and cardamom, this healthy recipe can be cooked in the pressure cooker or on the stovetop.
Gujarati Handvo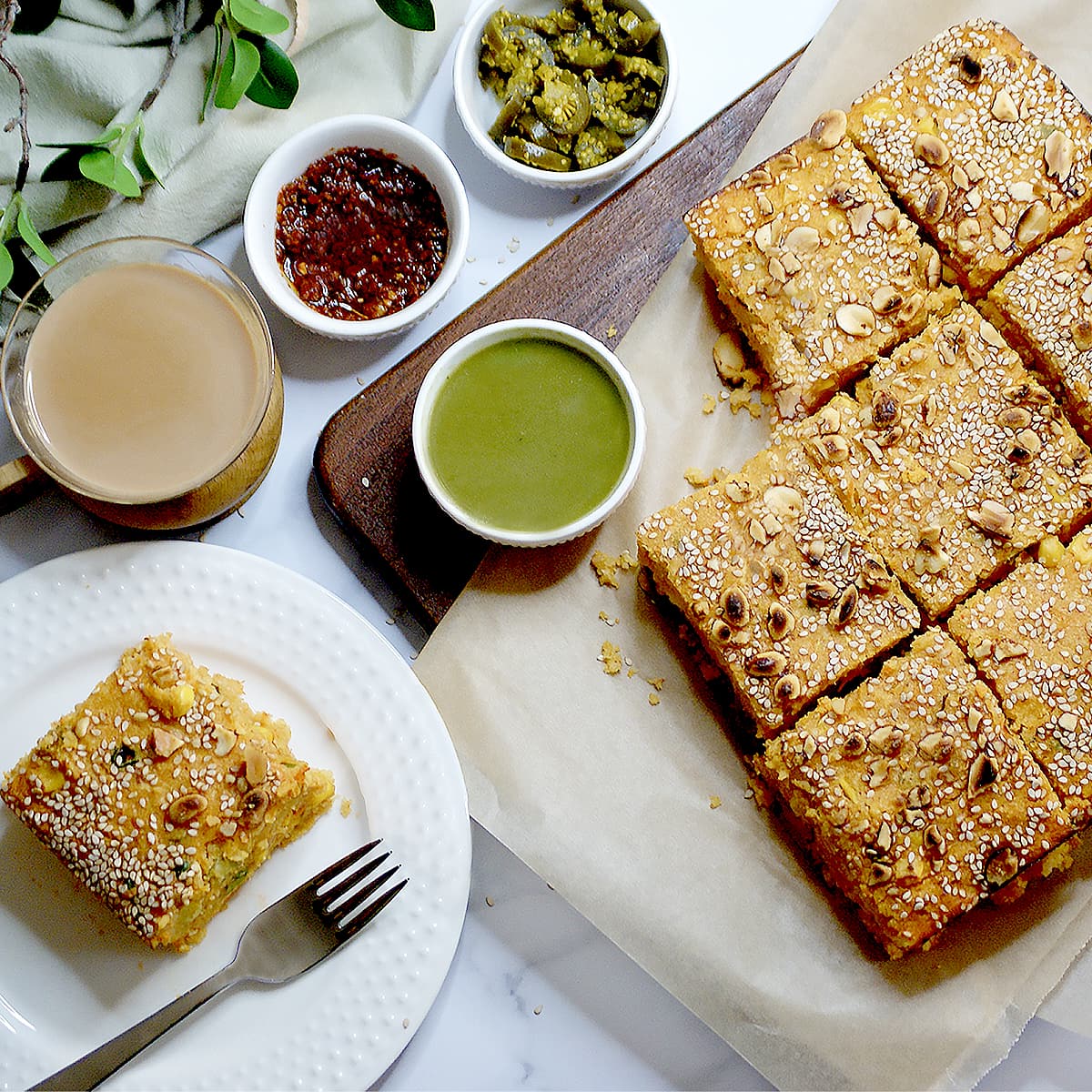 Handvo is a classic Gujarati one-pot dish made from rice, lentils, and loaded with mixed vegetables and aromatic Indian spices is so delicious and healthy.
It is a flavorful breakfast with crispy edges and a soft fluffy texture. It is a protein packed, healthy and easy to make dish.
Serve it with green chutney or pickle along with a cup of tea.
Besan Chilla (Savory Gram Flour Pancakes)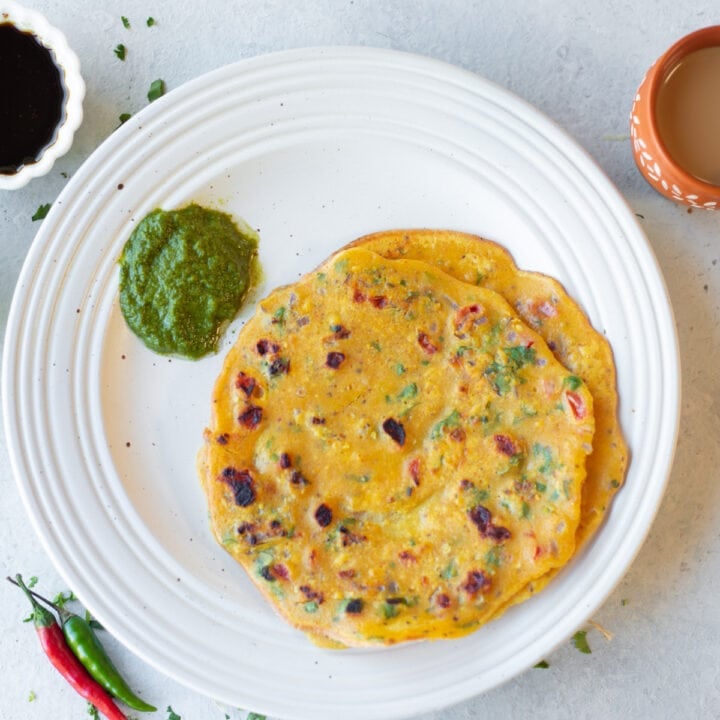 Besan Chilla is a family favorite, known for its characteristic earthy flavor from besan/ gram flour and simple Indian spices and herbs, including chilies and onions. These savory gram-flour pancakes are nutritious and vegan! Perfect to enjoy with your favorite pickle or chutney!
Paneer Paratha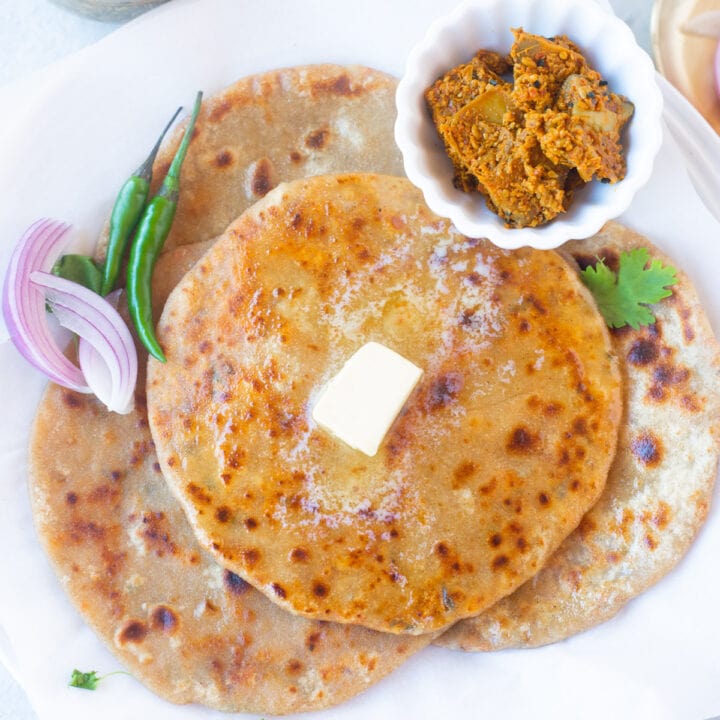 Paneer Paratha is a delicious, whole wheat flatbread stuffed with Indian cottage cheese, aromatic herbs, and spices.
These stuffed parathas are wholesome and make for a satisfying breakfast or brunch. They is kid approved and make for a great lunch box option too.
I hope you have found your favorite Indian breakfast to make! Let me know what you are most excited to make, and when you make it, don't forget to tag #pipingpotcurry.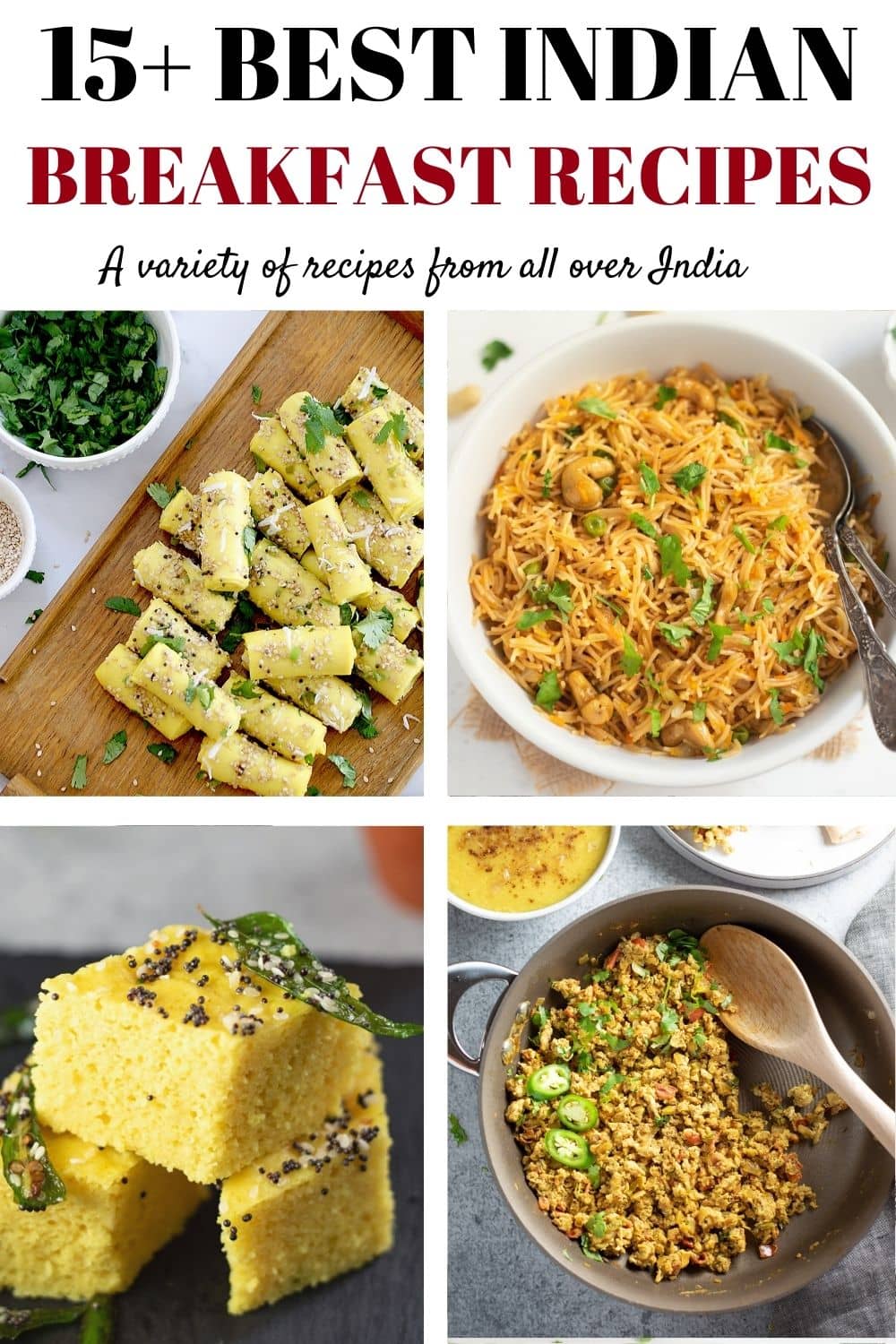 Here are more recipe collections you will love: