Looking for Vegan Indian recipes? Check out these 65+ amazing vegan Indian dishes. This collection has everything from breakfast, sides, mains, and desserts that you'll love.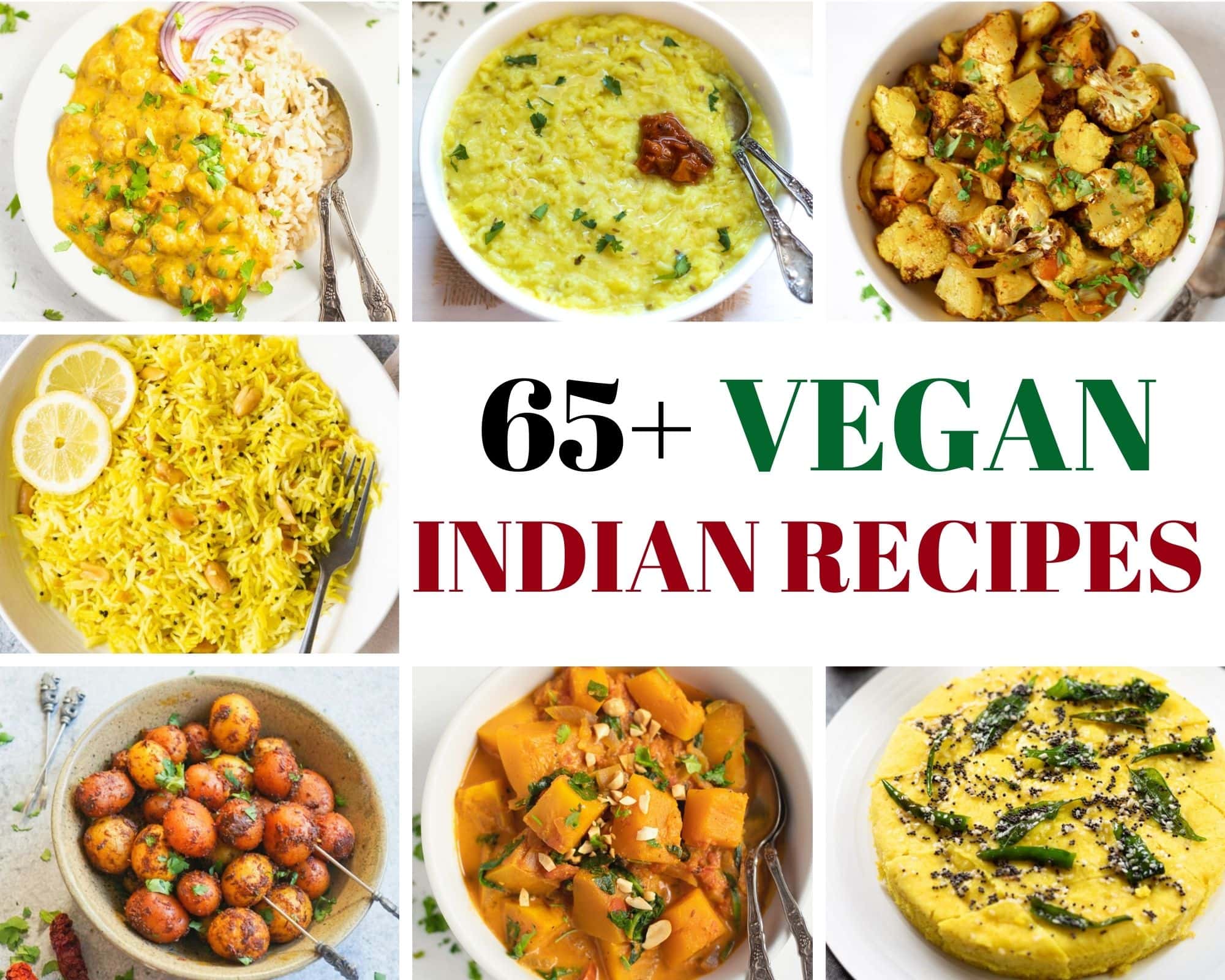 When it comes to vegetarian and vegan recipes, Indian food is the best. So many Indian dishes are naturally vegan and healthy, and don't need any meat substitutes for them to taste amazing.
Here you will not only find all the popular curry recipes that you might have enjoyed at your favorite Indian restaurant, but also authentic dishes that Indians most enjoy at home. They are flavorful, tasty, and quick to make!
All of these recipes are of course dairy-free, and most of the dinner recipes below are also gluten-free. If you are looking for more gluten-free ideas, check out these 50+ Gluten-free Indian Recipes.
Check out 200+ vegan recipes on Piping Pot Curry.
Jump to:
Success Tips for Indian Cooking
Indian food can seem daunting to many with the number of ingredients, spices and steps involved. Here are some of my tips and meal prep ideas that will make Indian cooking much easier for you.
Fill your pantry with these basic spices
Here I share the must-have spices to get started with Indian cooking. I cook most of the regular Indian meals with just these 5 spices.
Cumin Seeds
Turmeric
Red Chili Powder
For a comprehensive list of spices that can be a part of your pantry, check my Indian Spices post.
Prep these basic Ingredients
Some of the other often used ingredients in Indian cooking can be prepared ahead. Here are some of them, along with ways to use and store them.
If you love to meal prep, check out my Bhuna Masala recipe. This basic curry sauce is a base for many indian dishes and can make everyday cooking much easier.
How to Veganize Indian Recipes?
You will find that many indian dishes are naturally vegan. However many Indian dishes are vegetarian, which means they might include ghee, yogurt, paneer, cream or milk.
Let's see how you can replace these ingredients in Indian dishes to make them vegan:
Ghee: One of the most popular ingredient used in India, Ghee, is basically clarified butter. You can replace it with vegan butter or plant based oil of your choice.
Yogurt/ Curd: Yogurt is used as a condiment in raita or in marination in many Indian dishes. You can replace it with plant based yogurt of your choice.
Milk: Use your choice of plant milk to replace dairy milk in indian dishes.
Paneer: It is a popular choice for vegetarians. Firm tofu is a great substitute for Indian curries.
Cream: Often used to get a creamy texture to curries I suggest to replace cream with full-fat coconut milk.
Main Dishes (Lentils & Curries)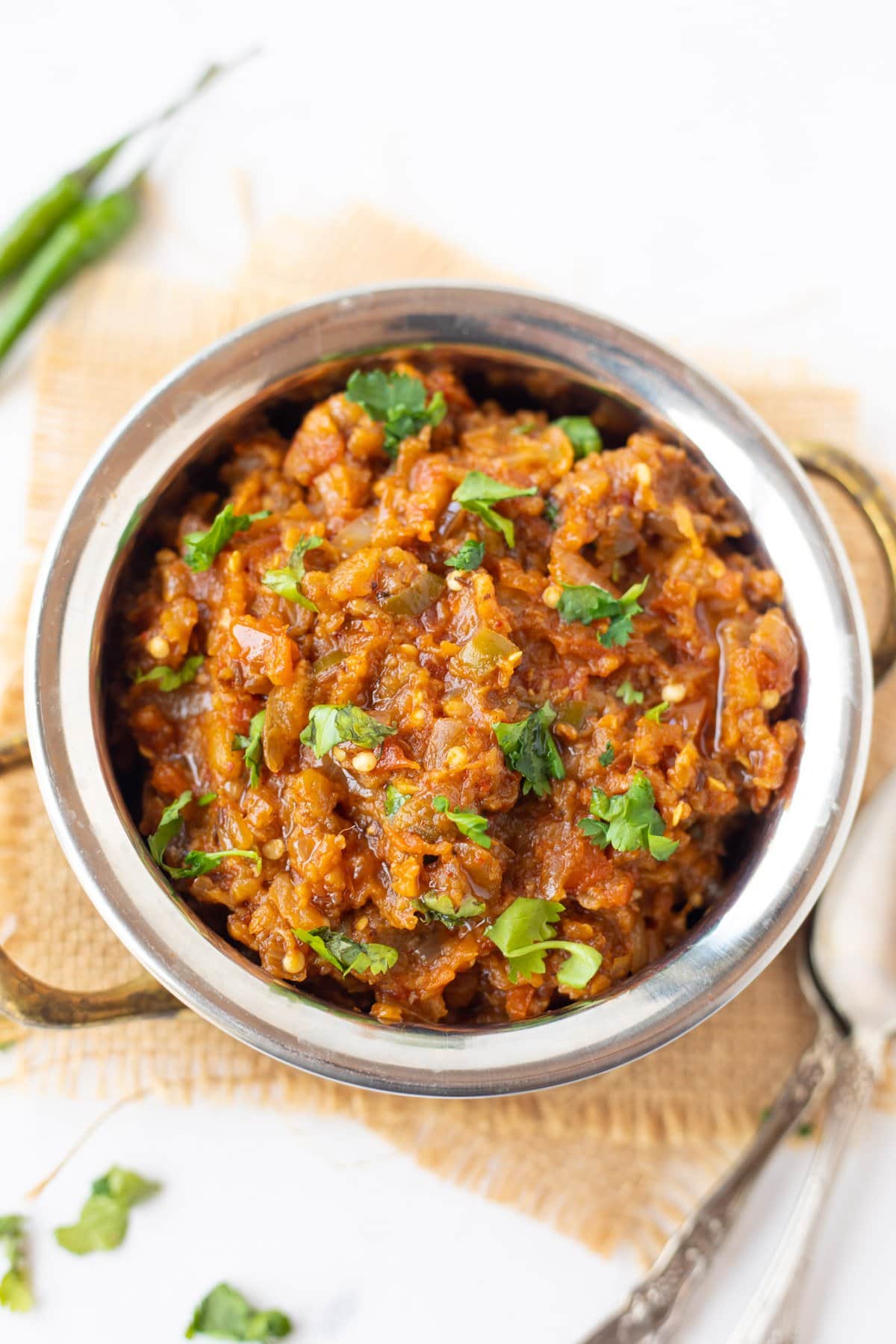 Baingan Bharta, a popular smoky and zesty dish from North India, is made with roasted mashed eggplant sauteed in onion, garlic, tomatoes, and Indian spices. Vegan & Gluten-free.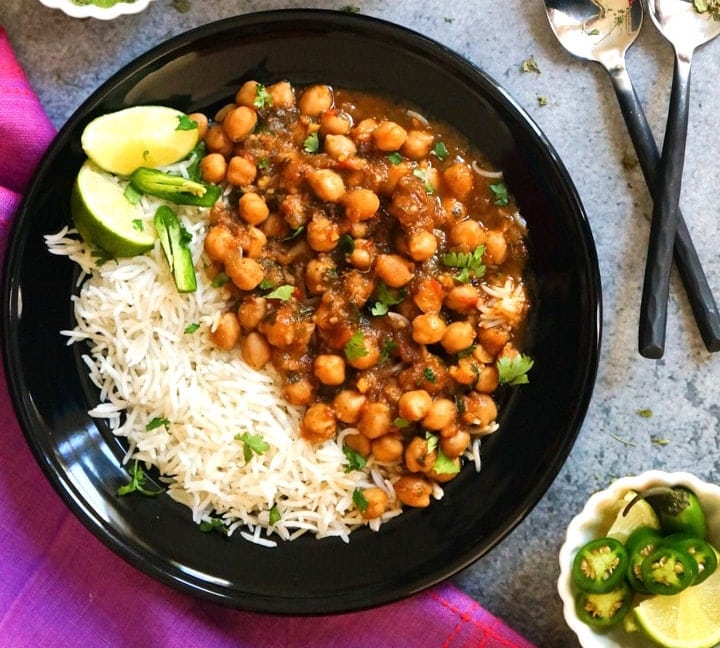 Punjabi Chole Masala or Chana Masala is an Indian favorite chickpea curry. This one-pot recipe for the authentic Chana Masala is a healthy protein-rich vegan and gluten free chickpea recipe.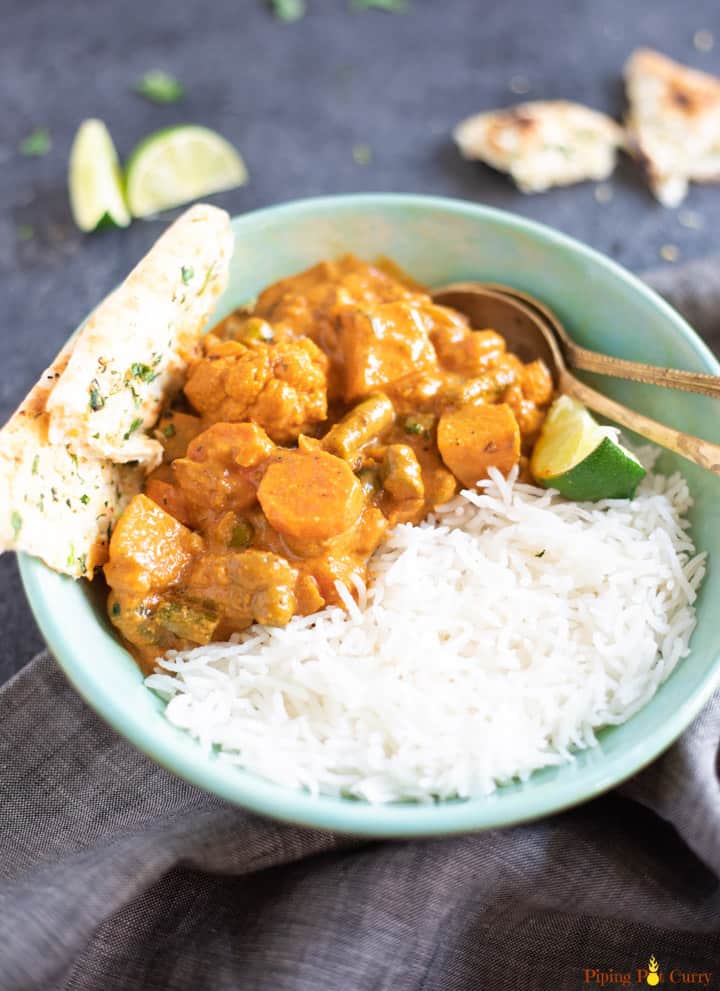 Easy & Creamy Vegetable Korma made in the Instant Pot. This restaurant style creamy vegetable korma curry is a perfect blend of vegetables with a creamy coconut based sauce. A vegan & gluten free curry that pairs perfectly with naan or rice.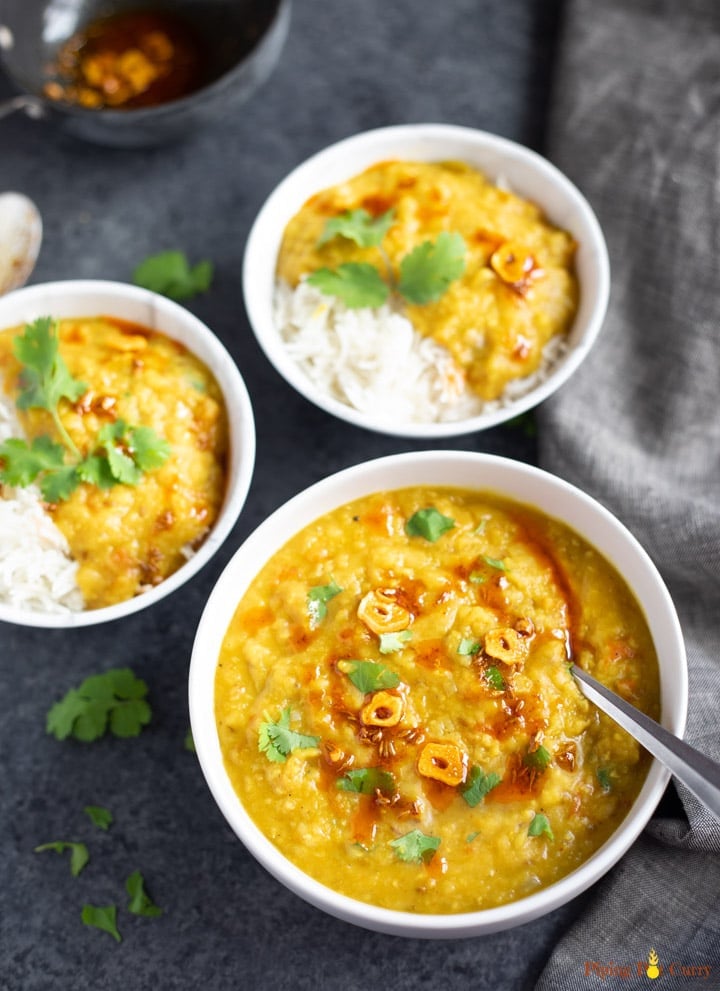 Quick and easy Red Lentil Curry, also known as Masoor Dal. This super delicious, healthy and budget friendly vegan meal can be made in less than 30 minutes!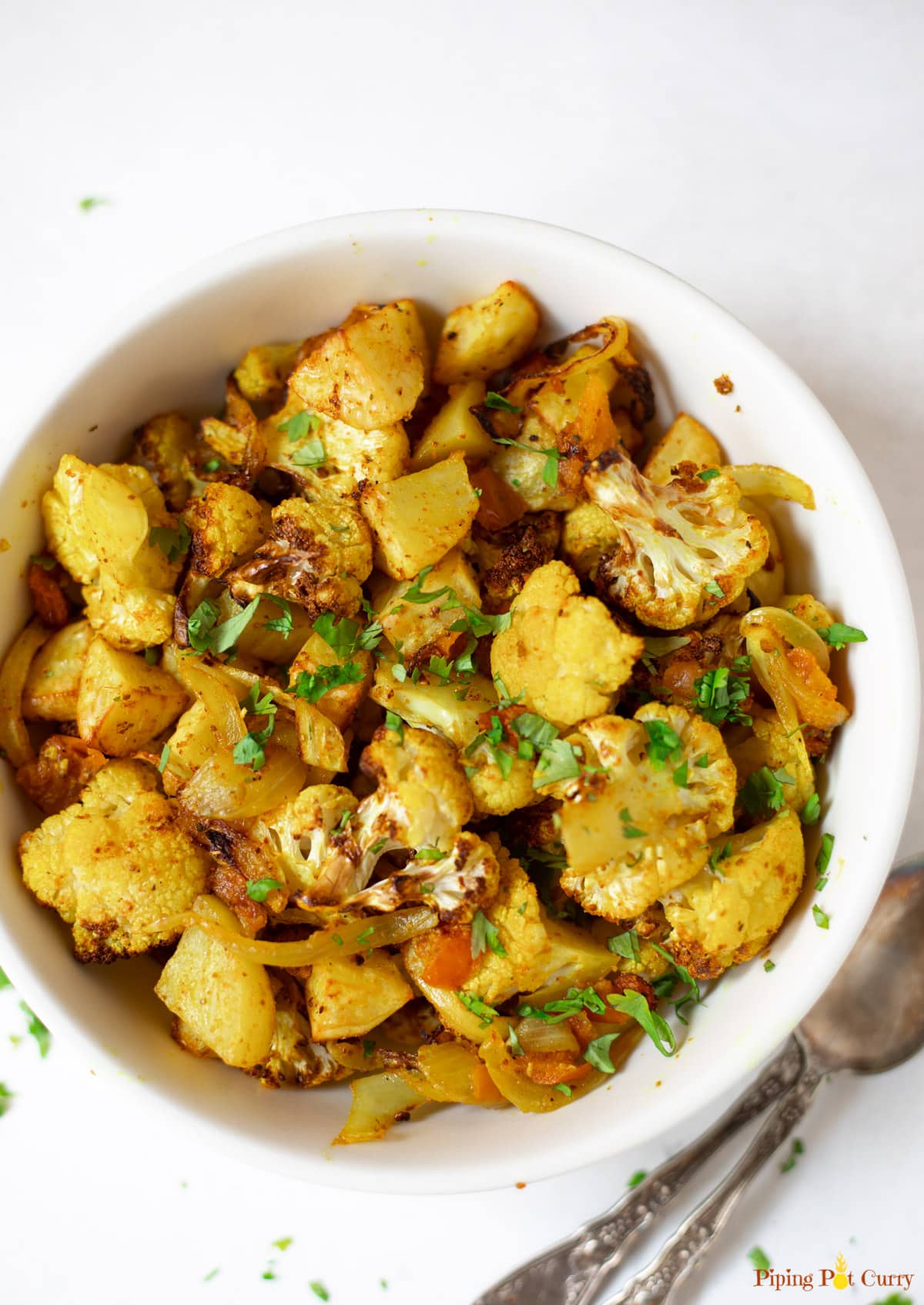 This Roasted Aloo Gobi is so good! All you need to do is toss cauliflower and potatoes in spices, and roast in the air-fryer or oven, and you have the perfect Indian veggie dish. No mushy cauliflower and takes less than 20 minutes to put together!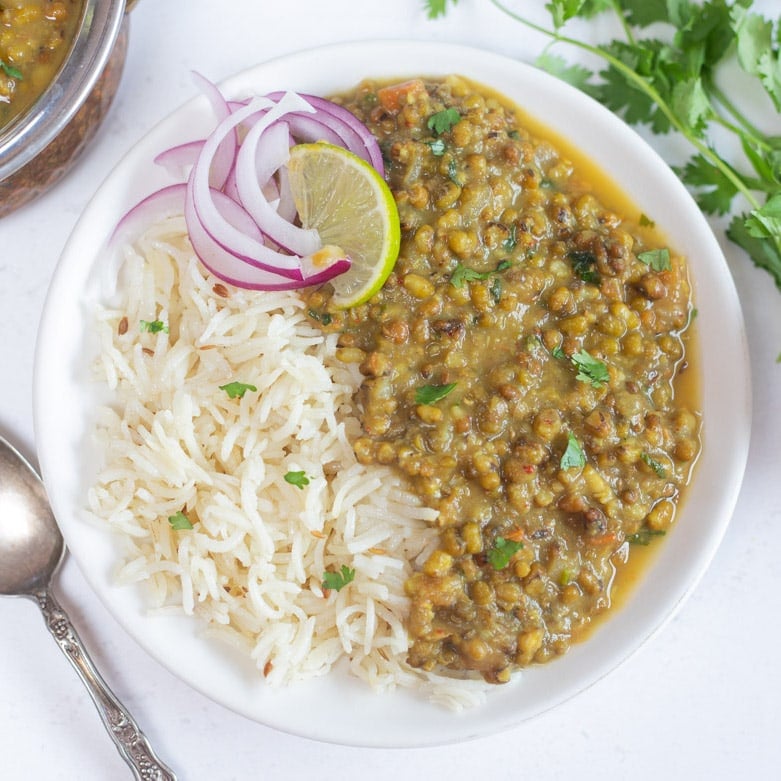 Wholesome Green Moong lentils simmered is the classic Indian dal. A protein rich dish, enjoy as a lentil soup along with a side of rice.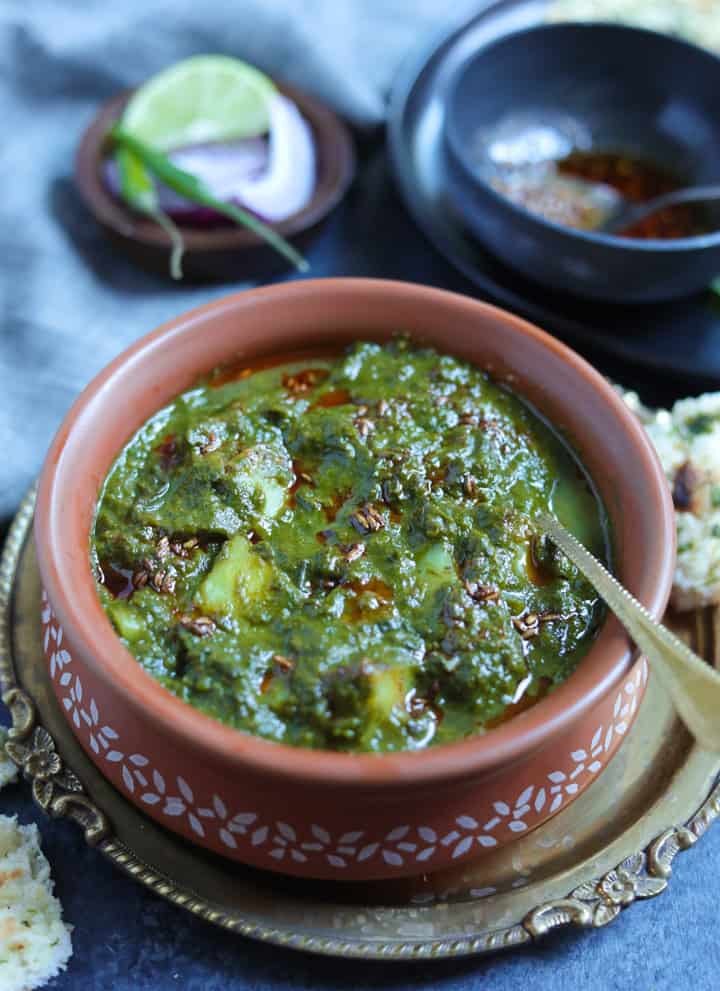 Saag Aloo, a popular delicious North Indian Curry, made with spinach and potatoes cooked with ginger, garlic, onions and aromatic spices. This is a simplified one-pot version of the authentic Saag Aloo which takes just 30 minutes to make.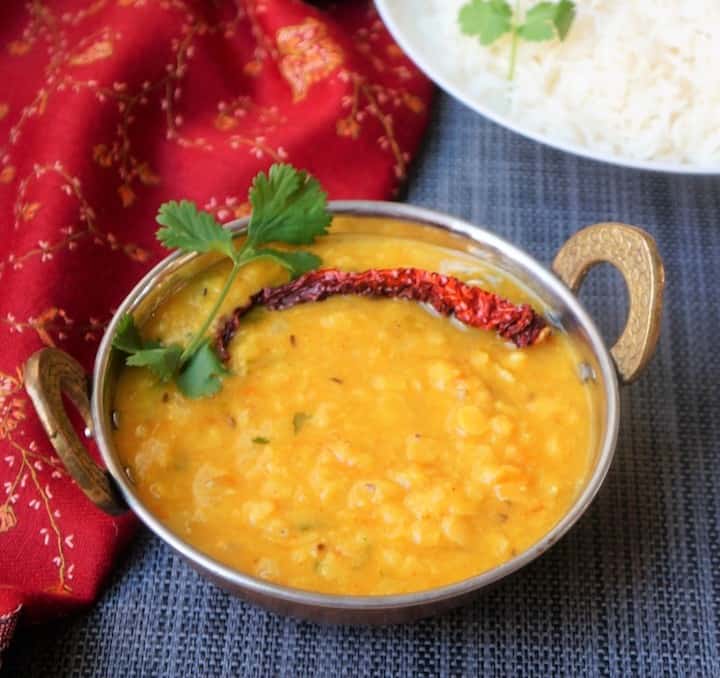 A simple yet flavorful yellow dal tempered with cumin, curry leaves and spices. This is an everyday Indian lentil enjoyed with rice.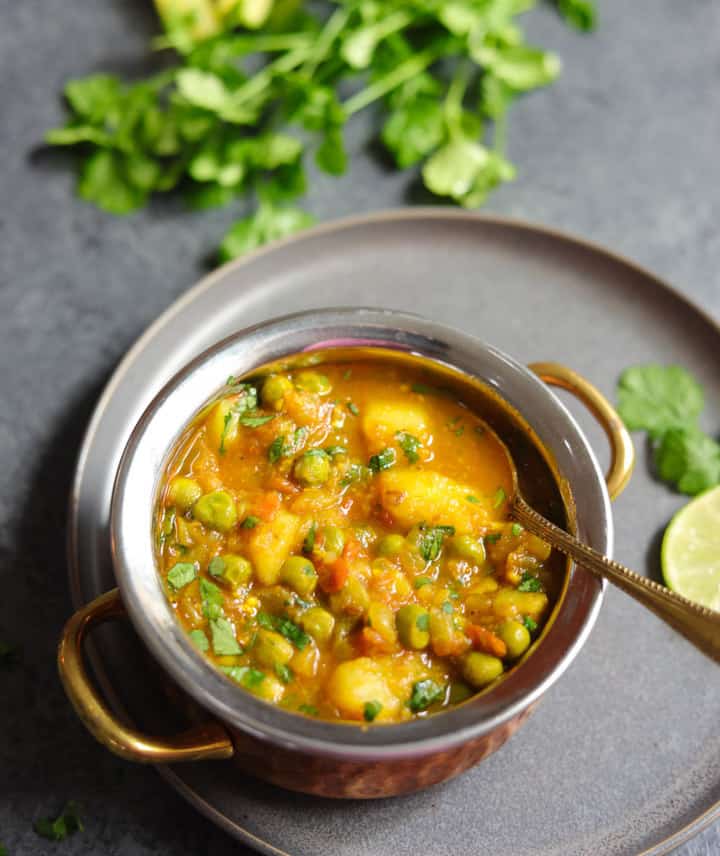 Aloo Matar is a quick and easy potatoes and peas curry. This vegan and gluten free Aloo Matar Masala is perfect for a delicious warm weeknight dinner!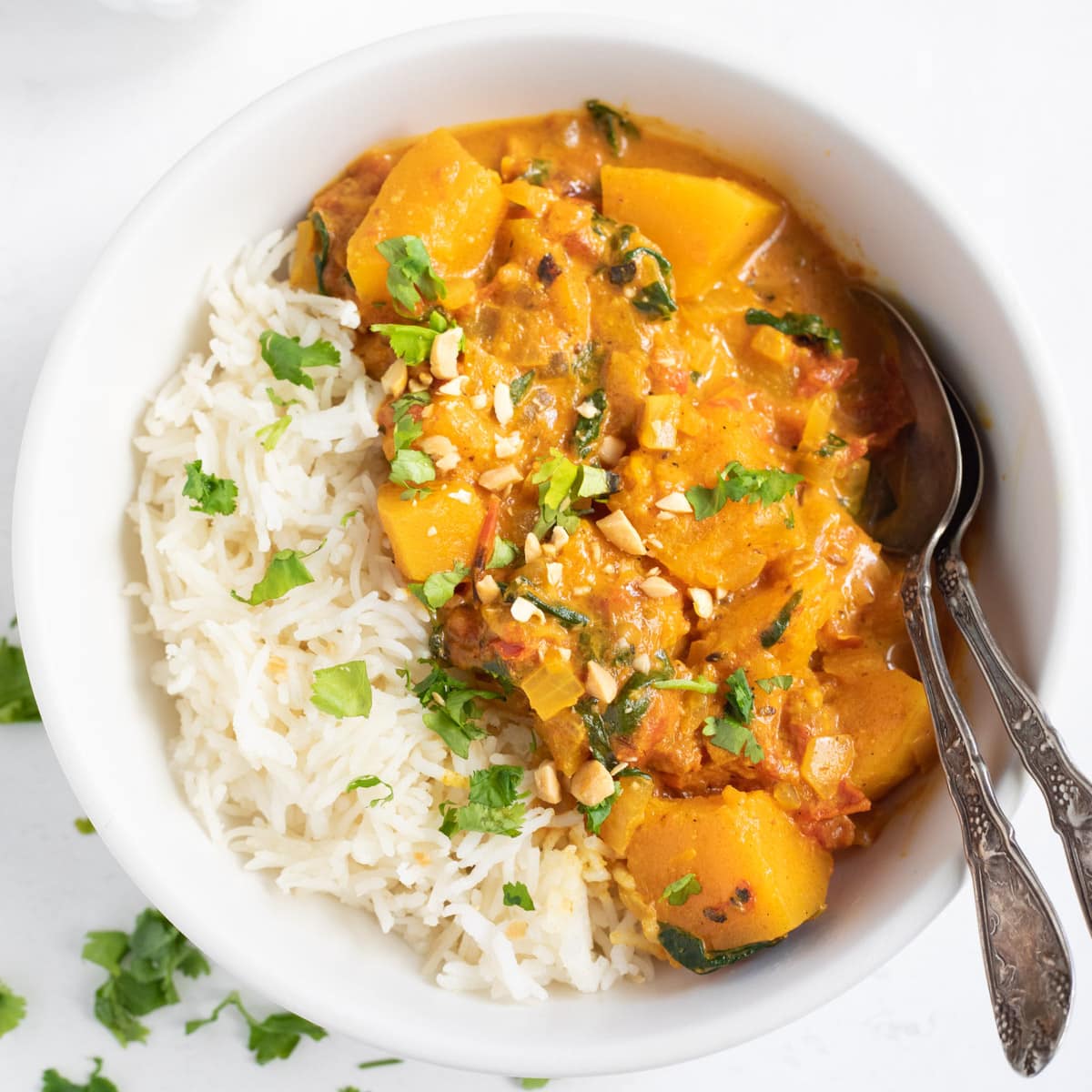 This Butternut Squash Curry is a creamy vegan curry, filled with goodness of squash, coconut milk and spinach. This cozy and comforting curry is perfect for Fall dinners!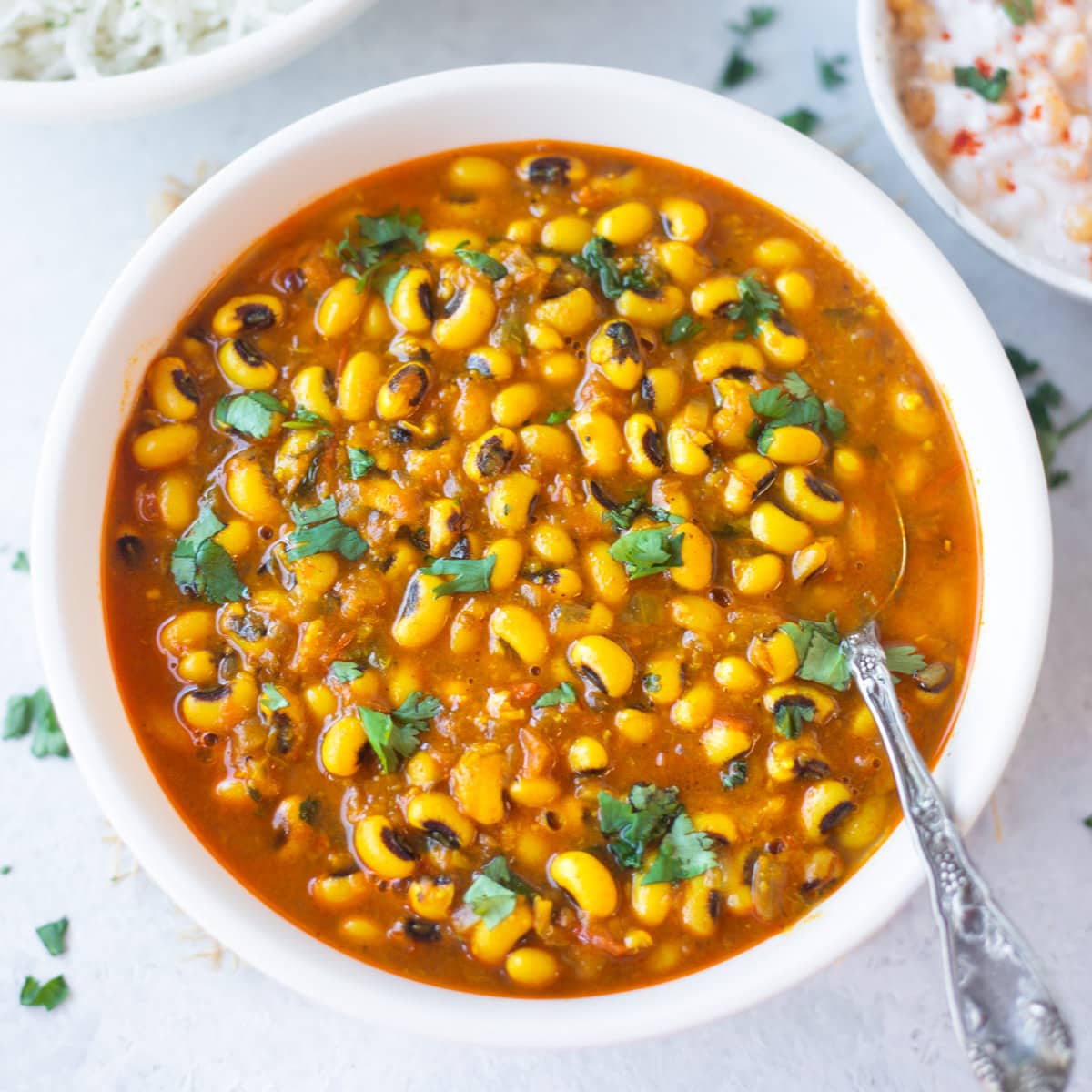 Black Eyed Peas Curry or Lobia Masala is a North Indian favorite. Black eyed peas cooked with onion, tomato, ginger, garlic and aromatic spices.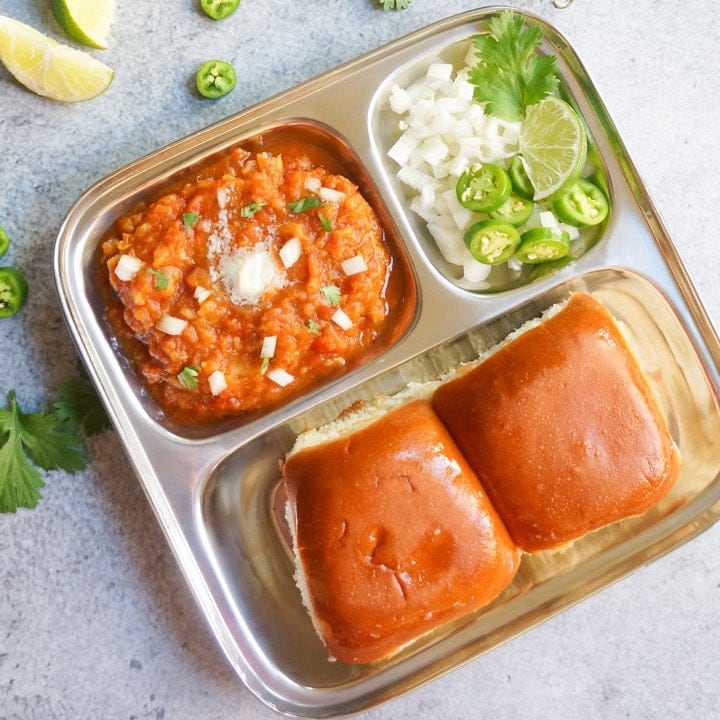 An easy one-pot recipe for the most popular Indian street food, Pav Bhaji. It is a spiced mashed vegetable curry topped with chopped onions, cilantro, lemon and enjoyed with dinner rolls.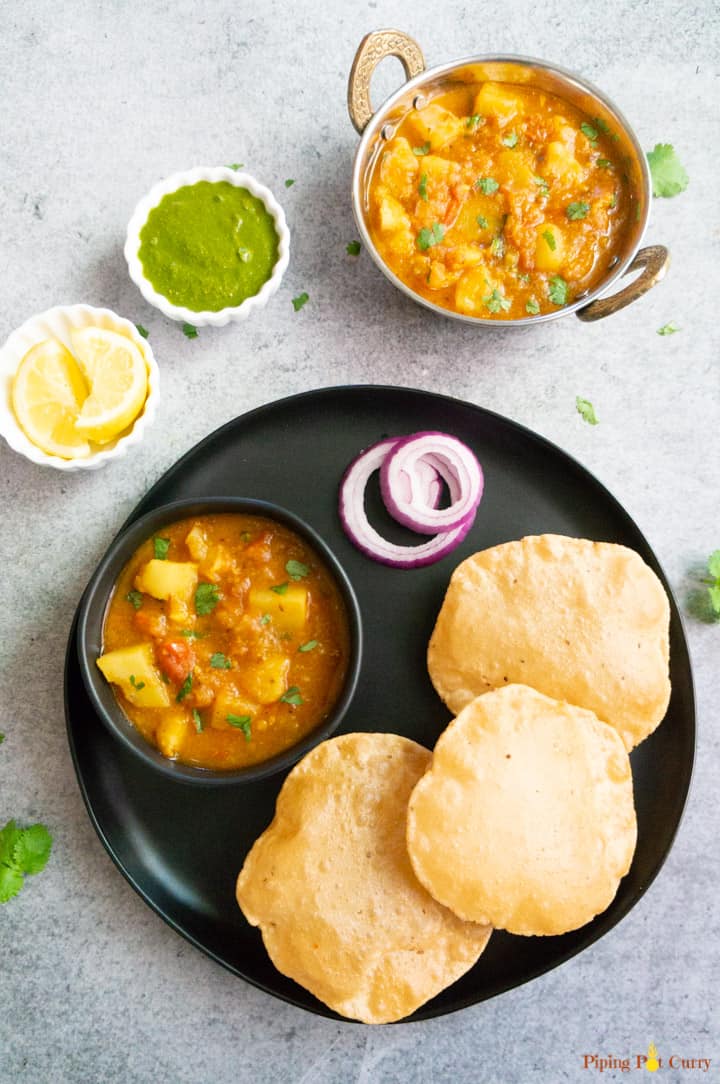 Easy and comforting Potato Curry in Tomato Gravy. This North Indian Potato Curry is popularly known as Aloo Rasedar. Aloo means potato and Rasedar is a thin tomato gravy.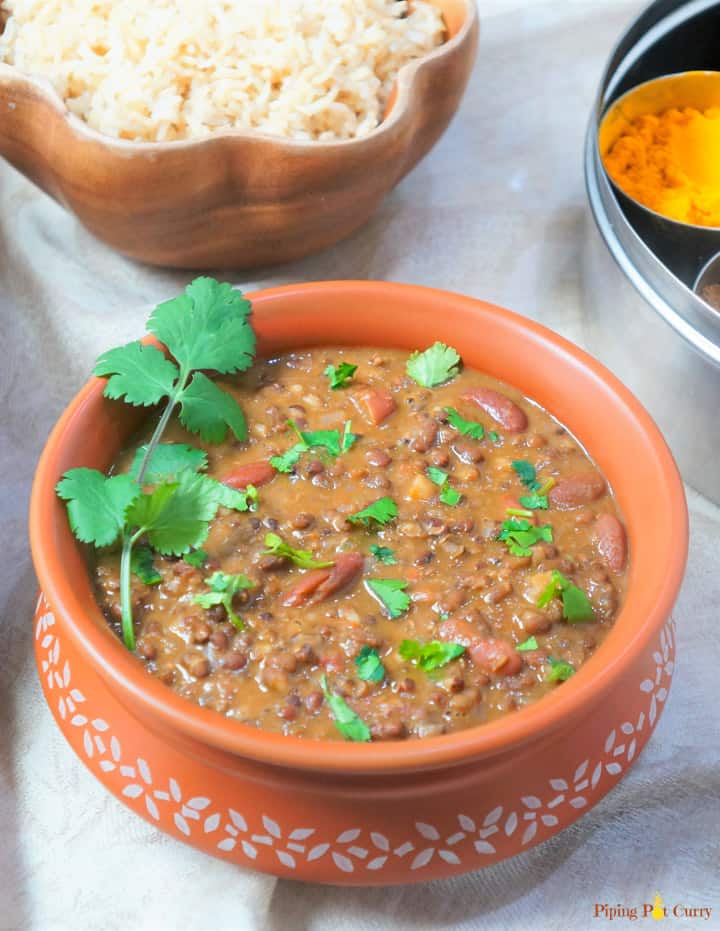 Authentic Punjabi Dal Makhani (Madras Lentils) made in Pressure Cooker. This restaurant style Dal Makhani is rich, creamy and flavorful.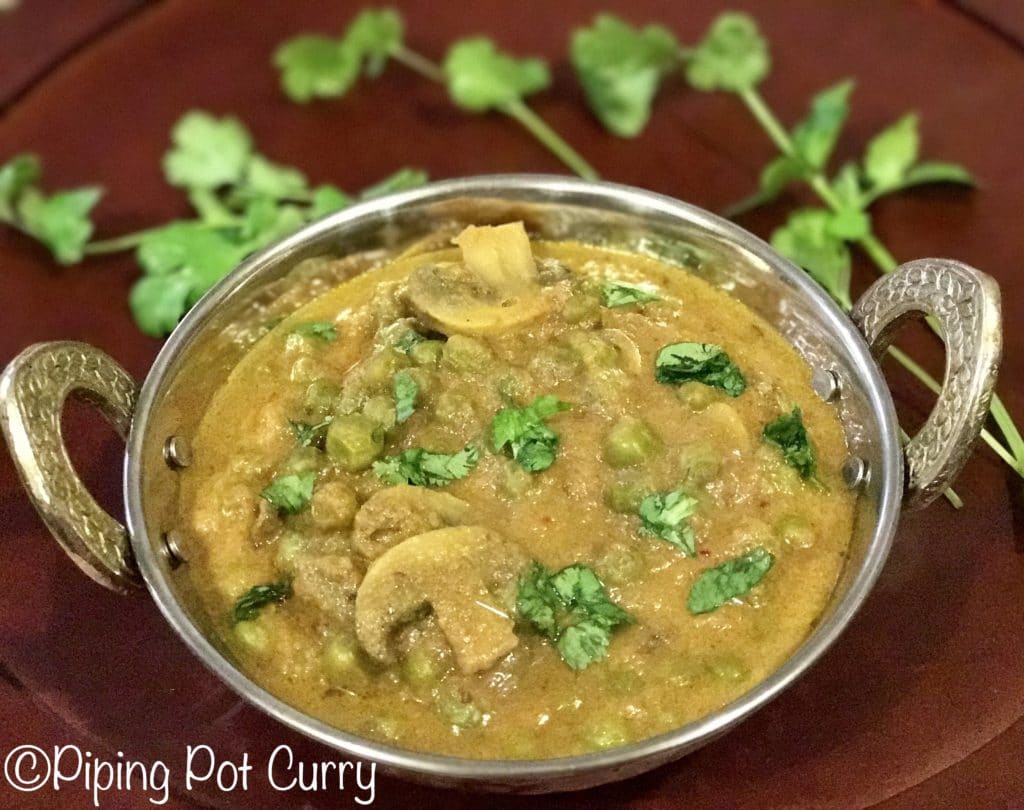 Green Peas and Mushroom curry made in a creamy onion and tomato gravy. This restaurant favorite Mushroom Masala is easy to make in less than 30 minutes!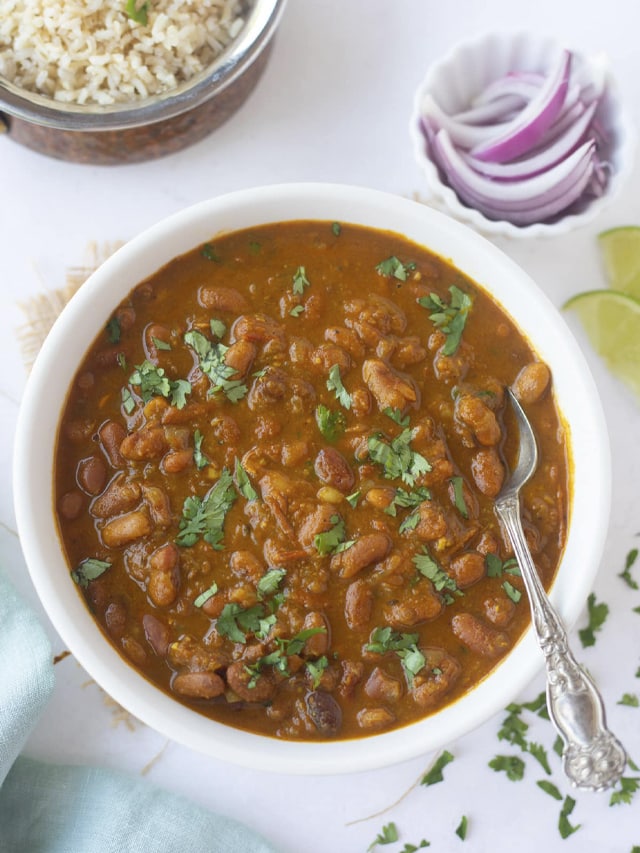 Delicious Instant Pot Rajma Masala (Red Kidney Beans Curry) is a favorite comforting meal with rice for North Indians. Make it with pot-in-pot brown rice for a complete meal.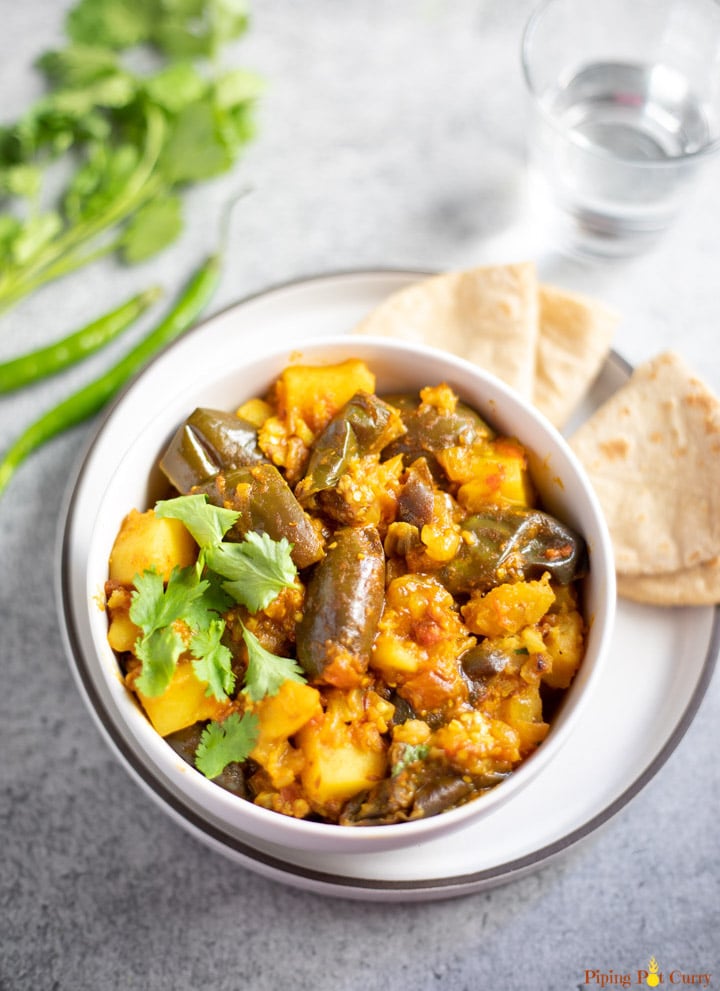 Aloo Baingan Masala is an easy one-pot curry made with potatoes, eggplants, and aromatic spices. A vegan and gluten-free Potato & Eggplant Curry is a perfect dish with roti, naan or parathas.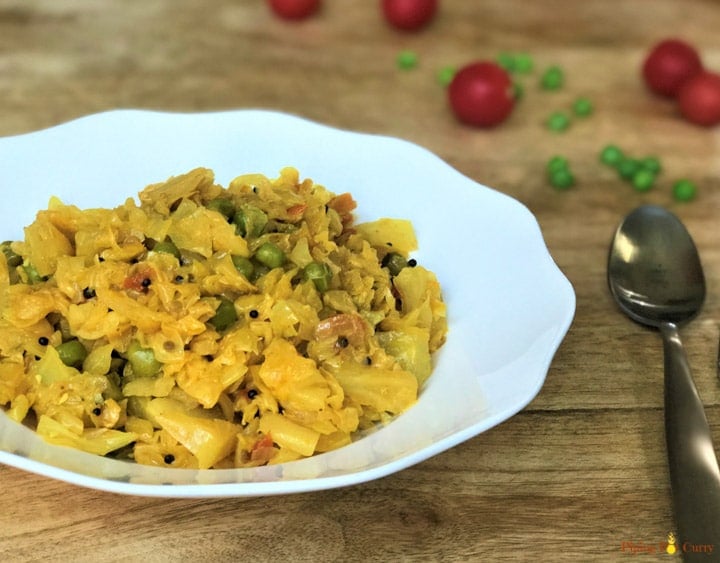 Cabbage and Green Peas cooked with garlic, tomato and spices. A simple comfort dish you might not find in restaurants, but is a regular in Indian homes!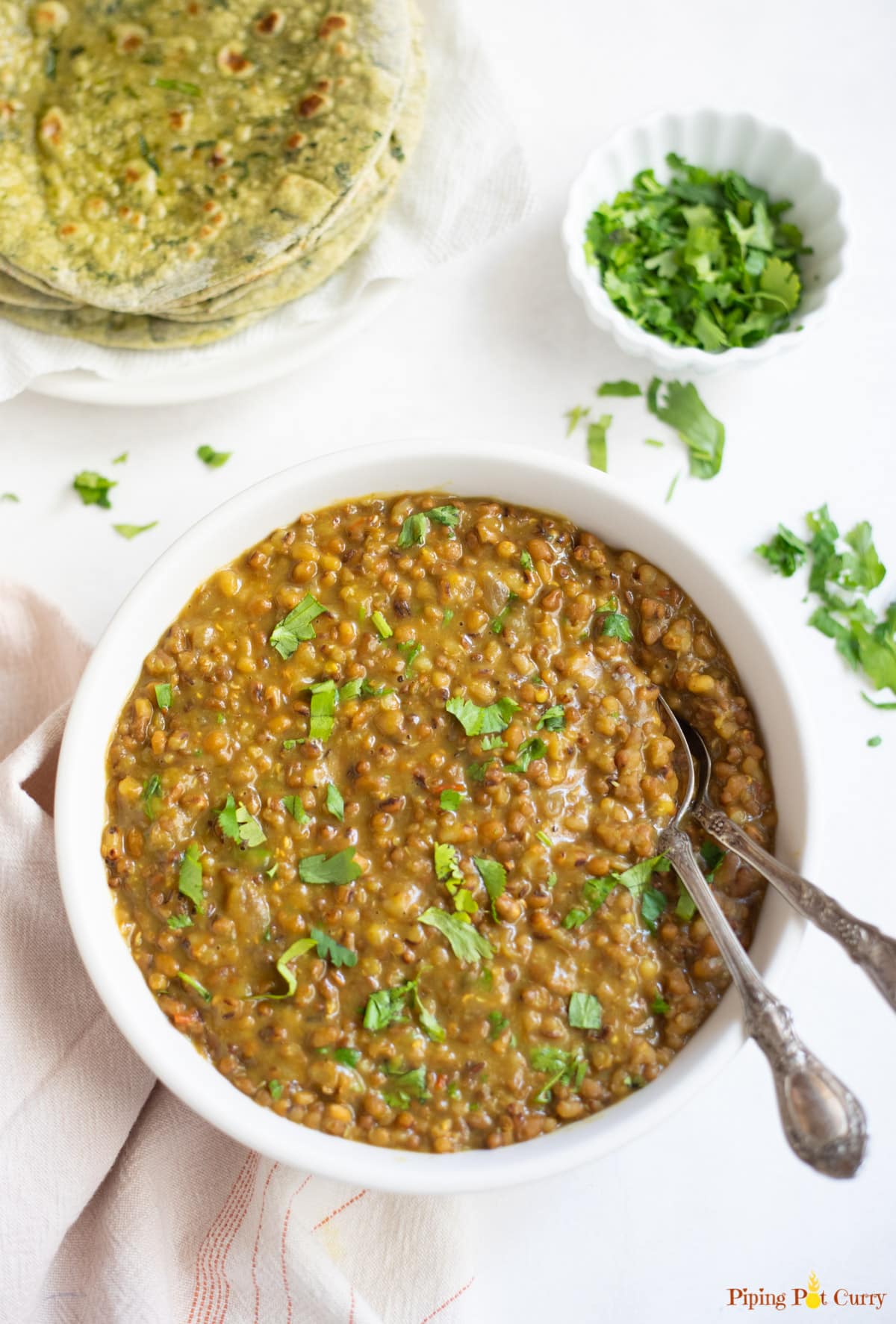 A delicious, comforting, and wholesome Moth Beans Curry. Full of flavor and nutrition, this Punjabi style Moth Dal can be made in just 30 minutes!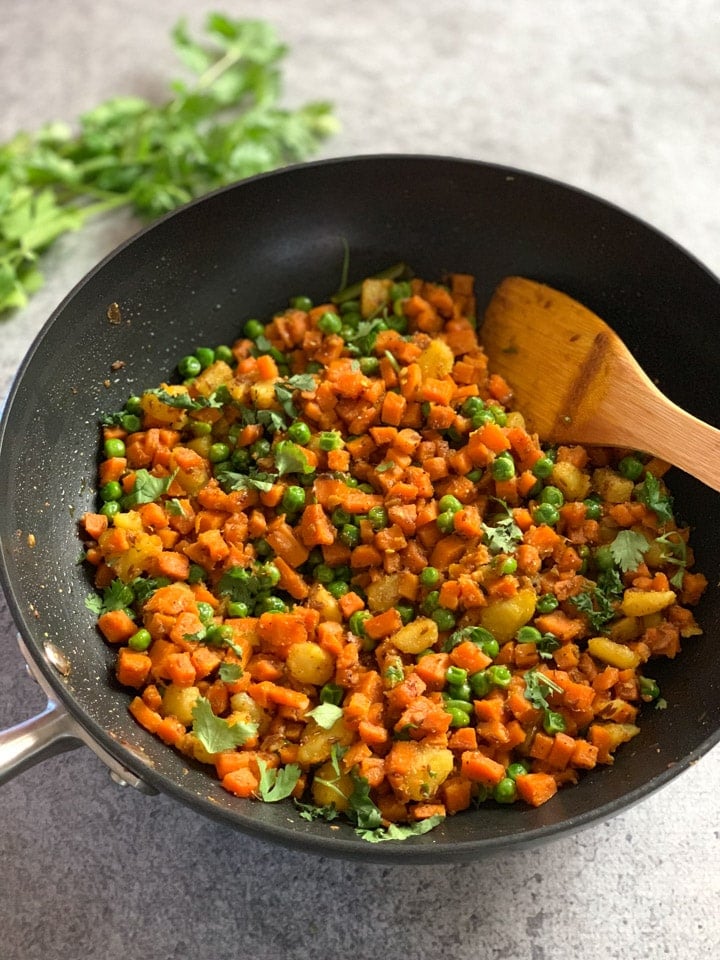 Aloo Gajar Matar is a simple, nutritious, and quick stir fry with potatoes, carrots and green peas. This North Indian dry curry is perfect for a delicious weeknight dinner!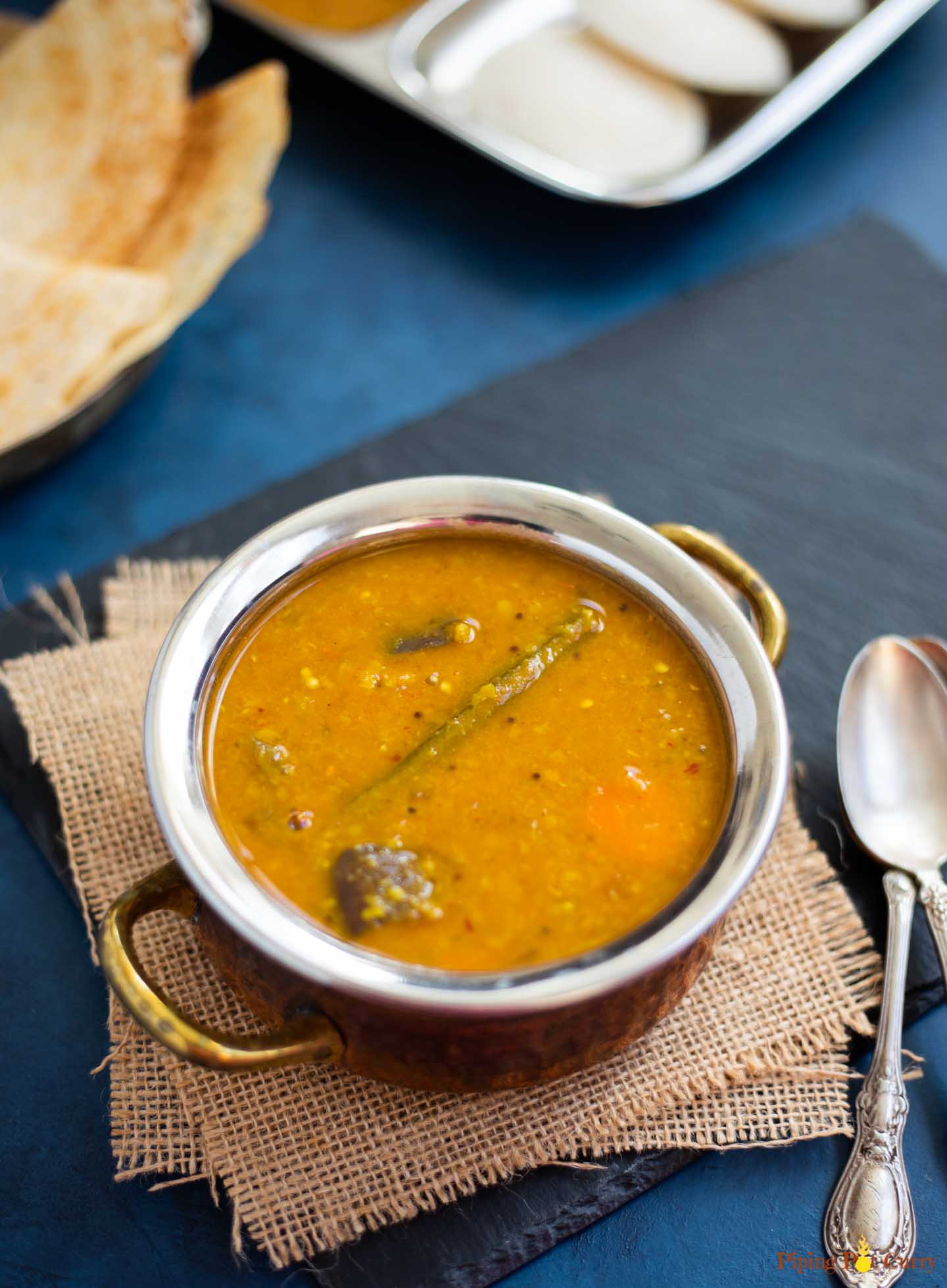 Sambar, a flavorful South Indian Lentil Stew made with lentils, vegetables, tamarind, curry leaves and spices. Pair with dosa, idli, or rice for a comforting meal!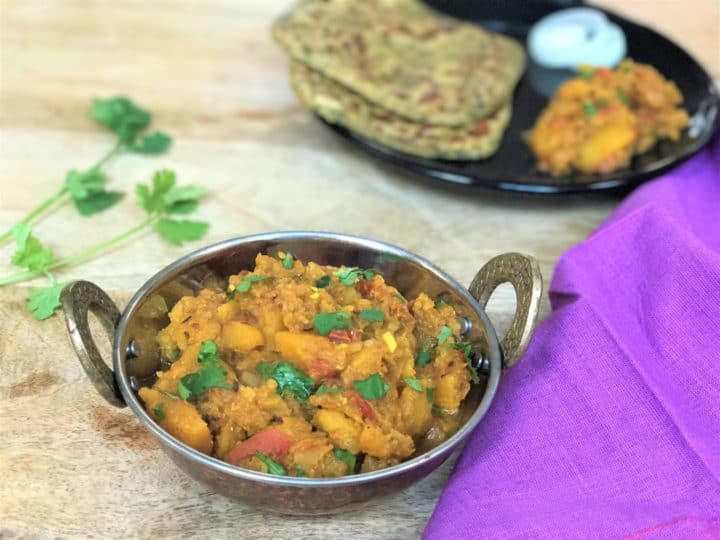 North Indian sweet and sour pumpkin curry is a delicious and healthy vegetable curry to add to your meal. Vegan & gluten free!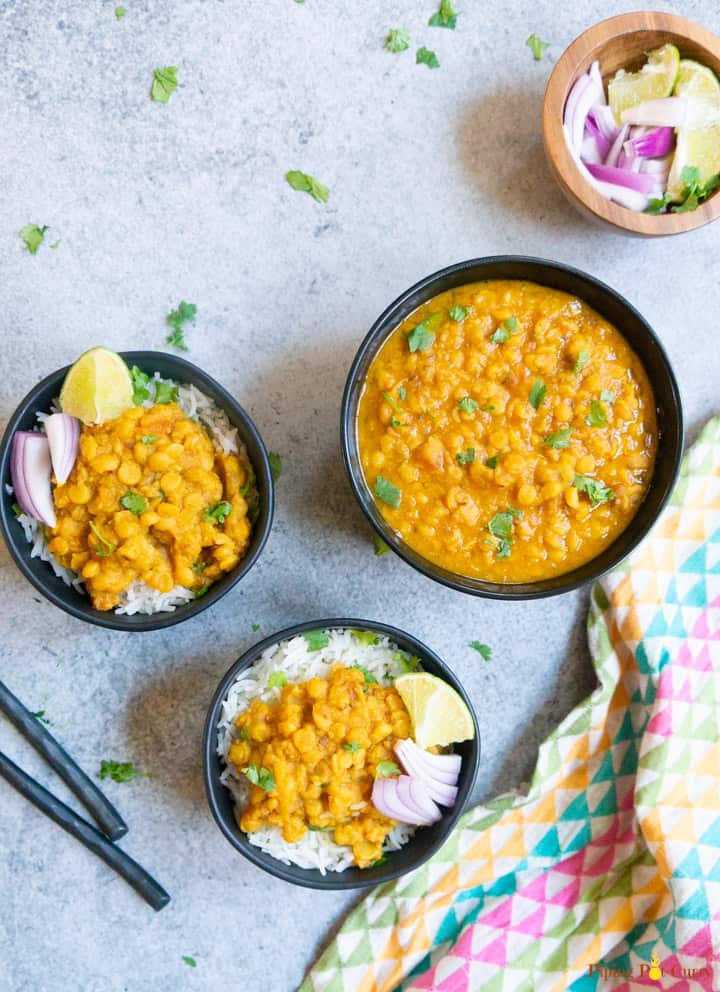 Easy & Delicious Chana Dal made in the Pressure Cooker. Split Chickpeas cooked with ginger, garlic, onion, tomato and flavorful spices, to make a comforting soup. Vegan & Gluten free.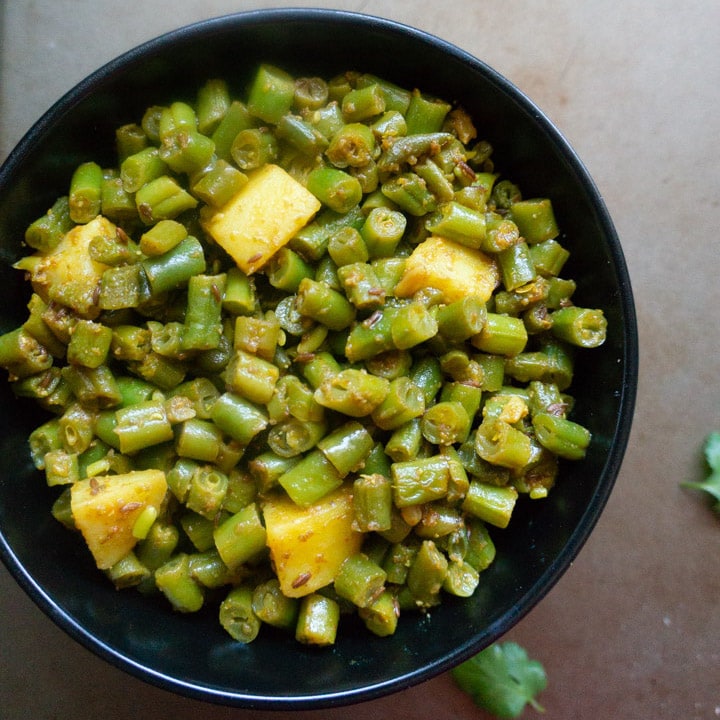 Easy Aloo Beans or Indian Green Beans Curry recipe prepared with cumin, garlic and spices in just 15 minutes. Vegan & Gluten free vegetable side dish.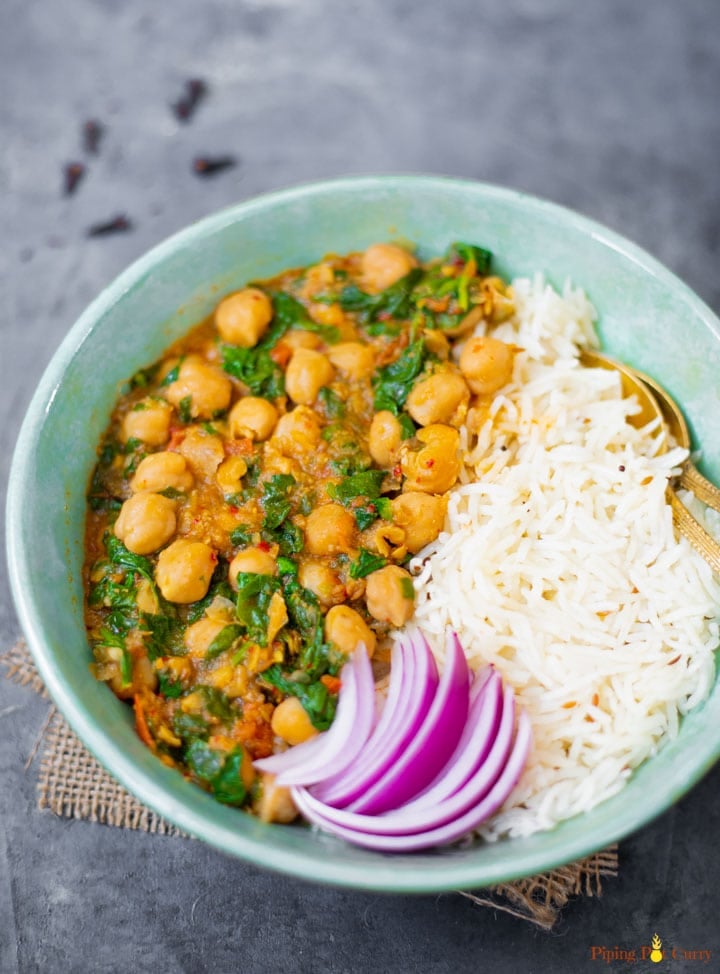 This easy one-pot Spinach Chickpea Curry, also known as Chana Saag is a healthy vegan and gluten-free curry. Serve it with rice, quinoa, or naan for a perfect weeknight dinner!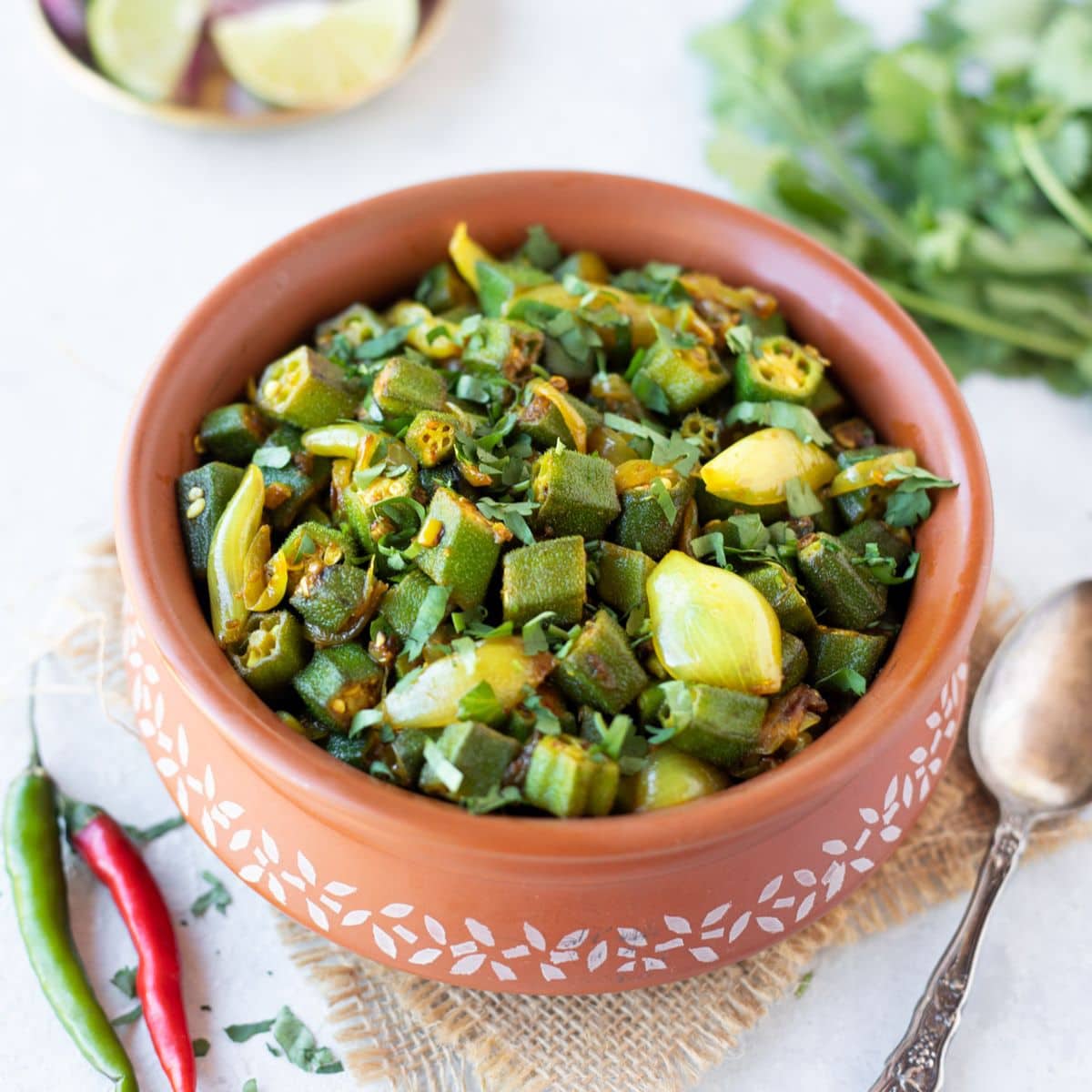 A Indian favorite Okra Stir Fry. Okra is cooked with onions, tomato, garlic and spices, and guess what…it is not mushy and so delicious!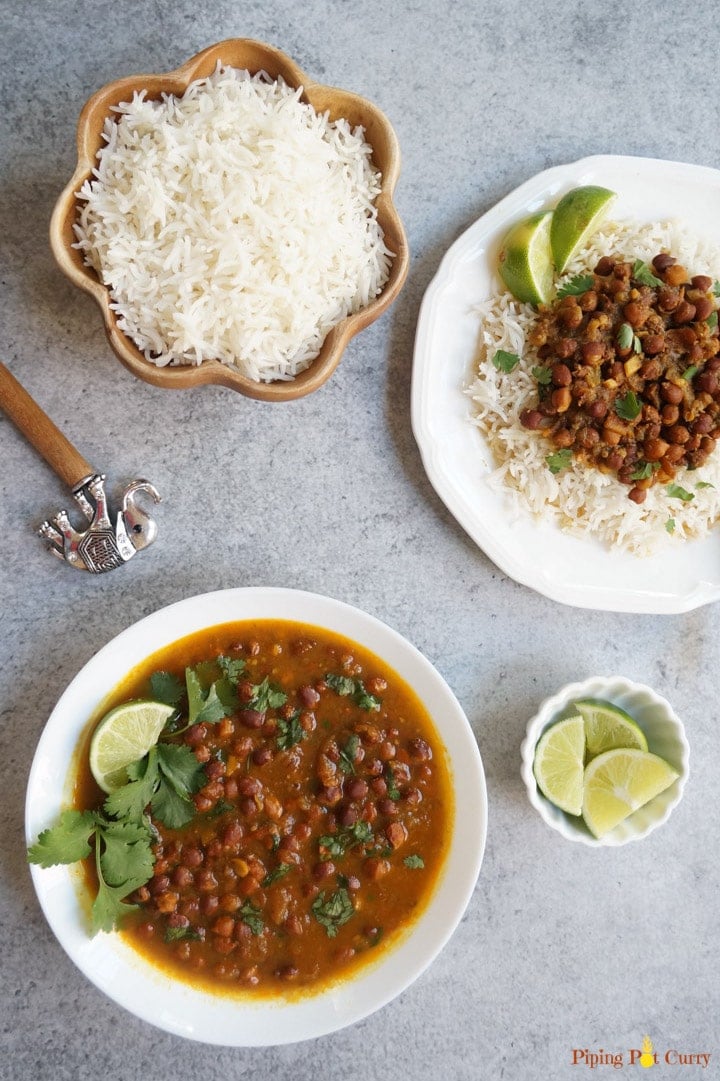 Kala Chana is a mildly spiced black chickpeas curry. This is a simple everyday Punjabi curry, made in a onion-tomato gravy with ginger and garlic.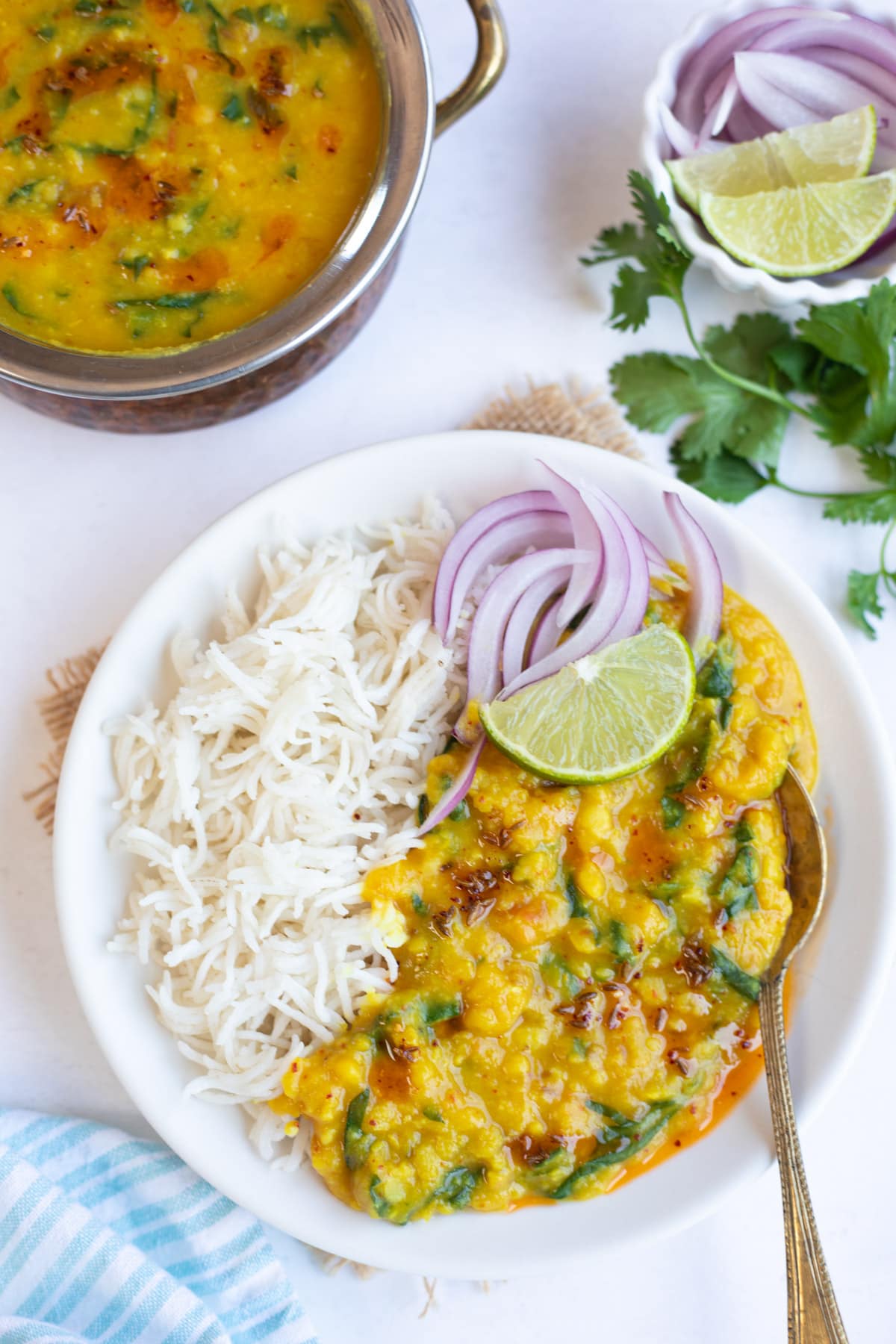 A comforting lentil dish with added spinach made in the Pressure Cooker. Enjoy with rice or as a soup.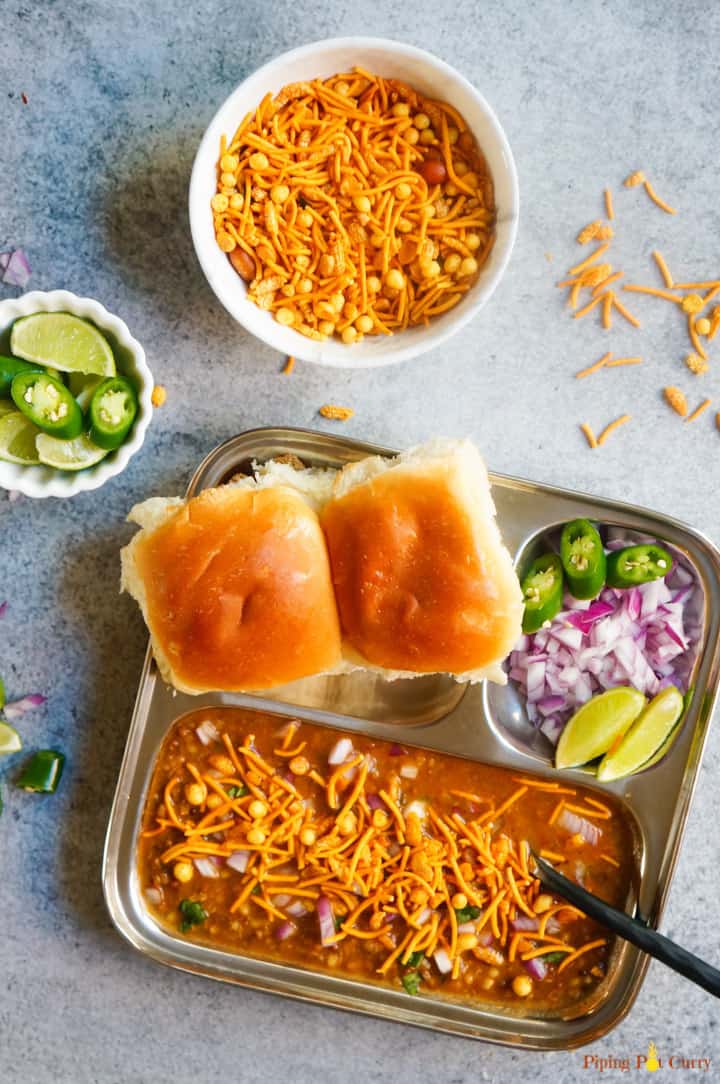 A delicious Maharashtrain dish, Misal Pav made as a one-pot recipe. Misal is a spicy sprouts curry (usal) cooked with onions, tomatoes, ginger, garlic and coconut. This is then topped with diced onions, lemon juice, farsan and enjoyed with pav (dinner rolls).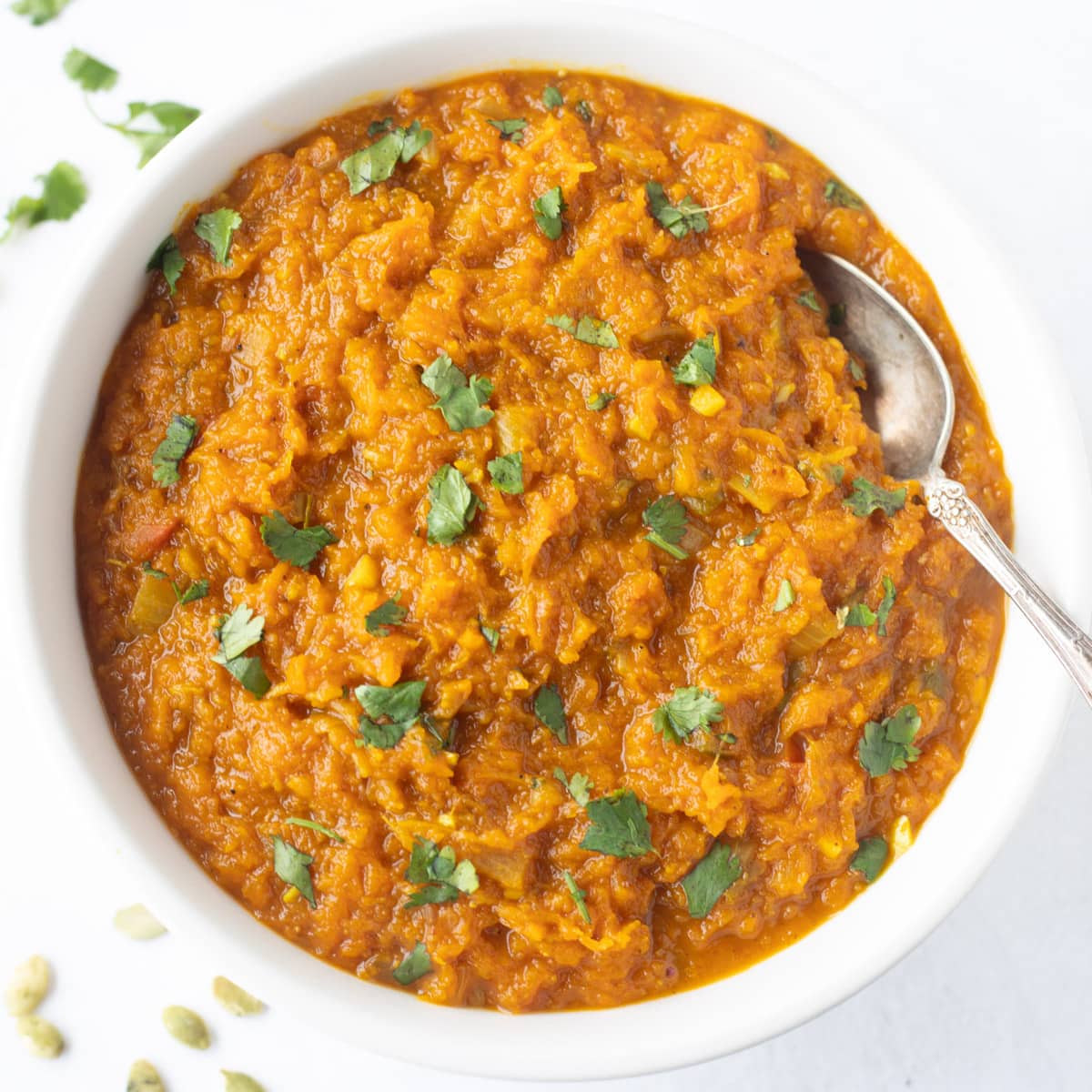 This Indian mashed pumpkin curry is a delicious and healthy vegetable curry that can be made in less than 30 minutes for a weeknight dinner.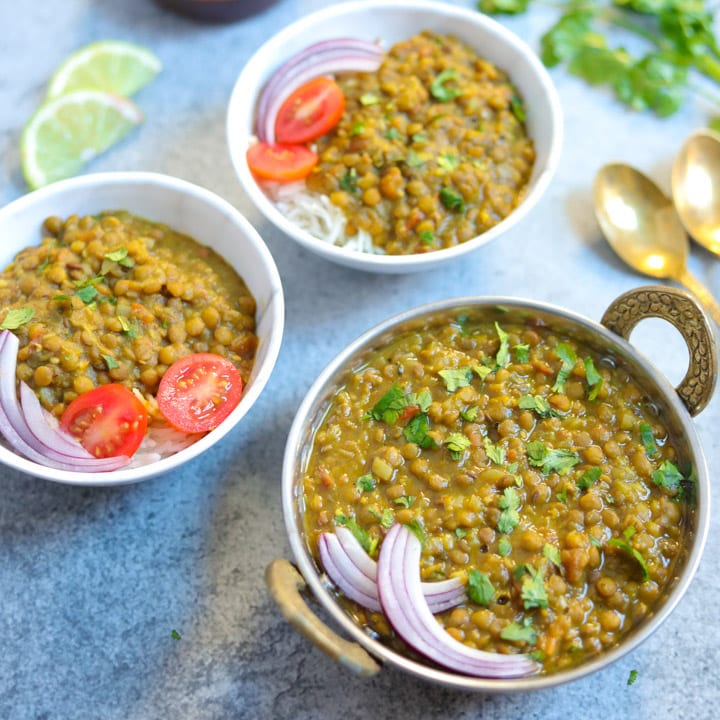 Enjoy this delicious & healthy Whole Masoor Dal, also known as Brown Lentils Curry, made in the Instant Pot or Stovetop Pressure Cooker. Vegan & Gluten Free.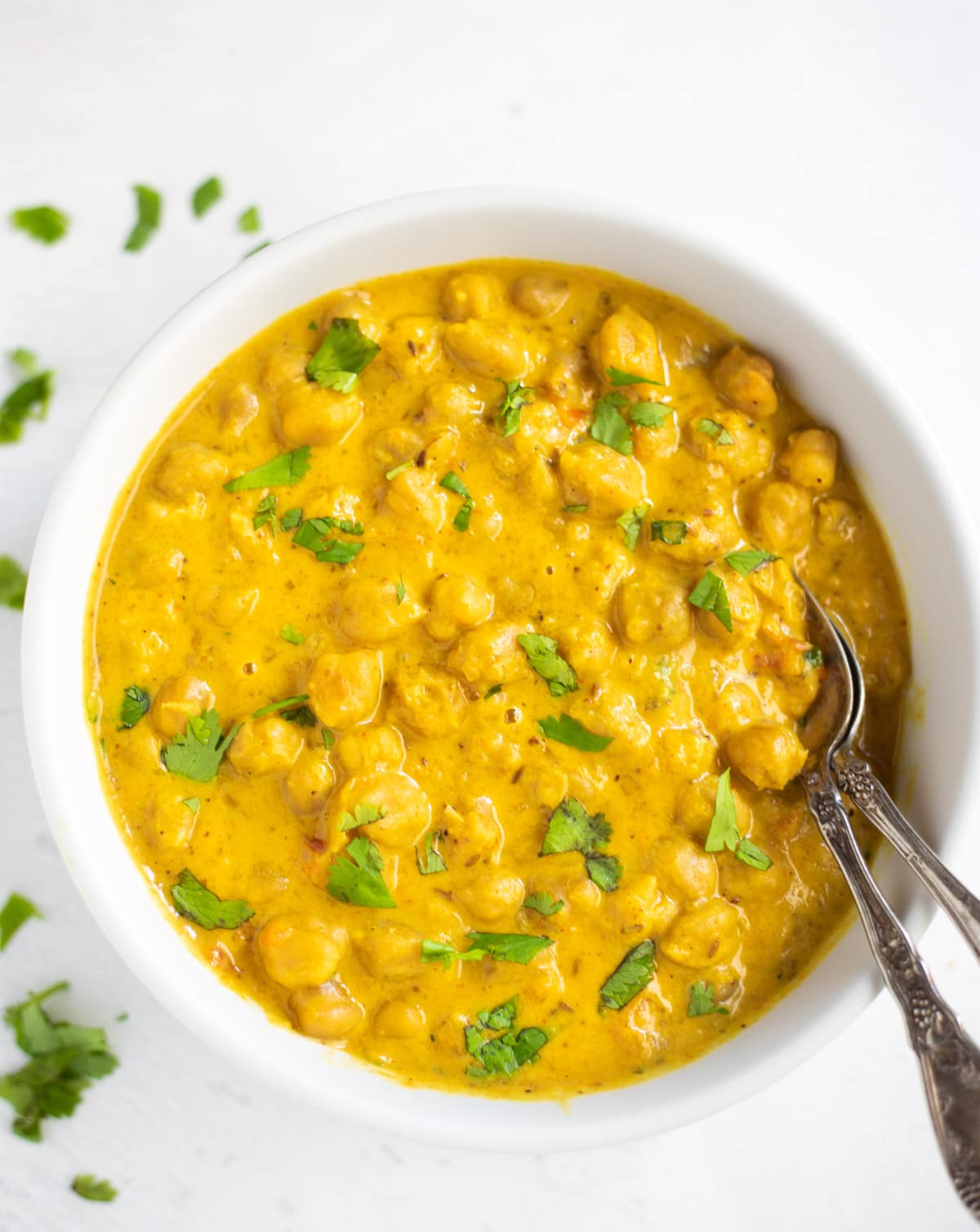 This Coconut Chickpea Curry is a creamy vegan curry, perfect for those busy weekdays. Made with staple pantry ingredients, this one-pot meal with pot-in-pot brown rice will make up for a perfect wholesome meal.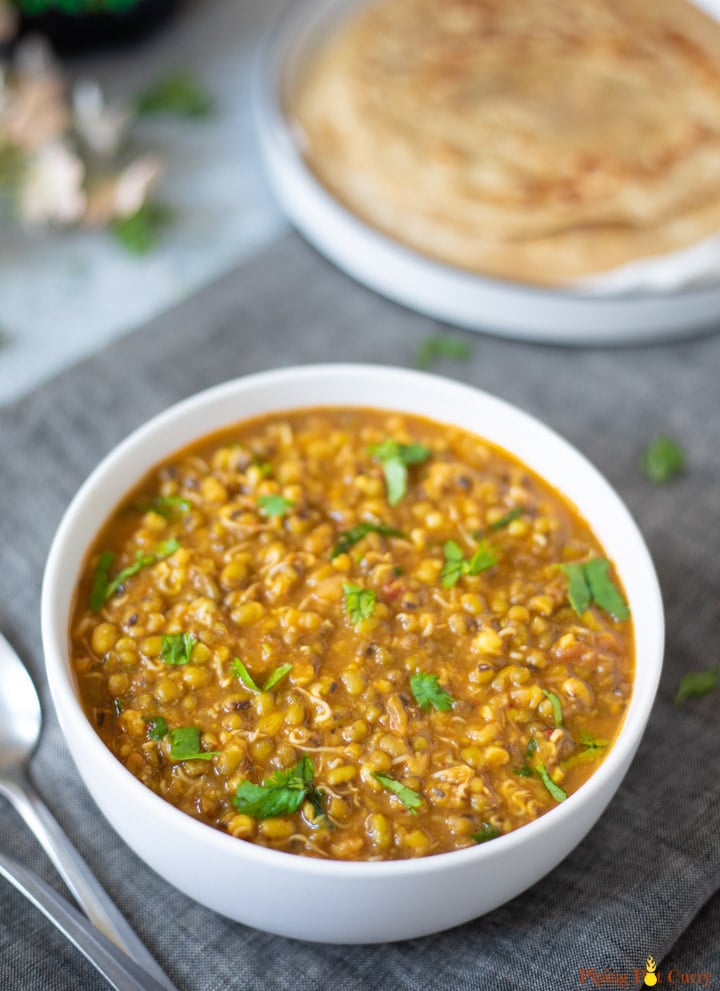 Sprouted green lentils curry is packed full of nutrition. Mung bean sprouts cooked in an onion-tomato sauce with ginger, garlic and aromatic spices. This curry goes perfectly with roti, paratha or rice.
Rice Dishes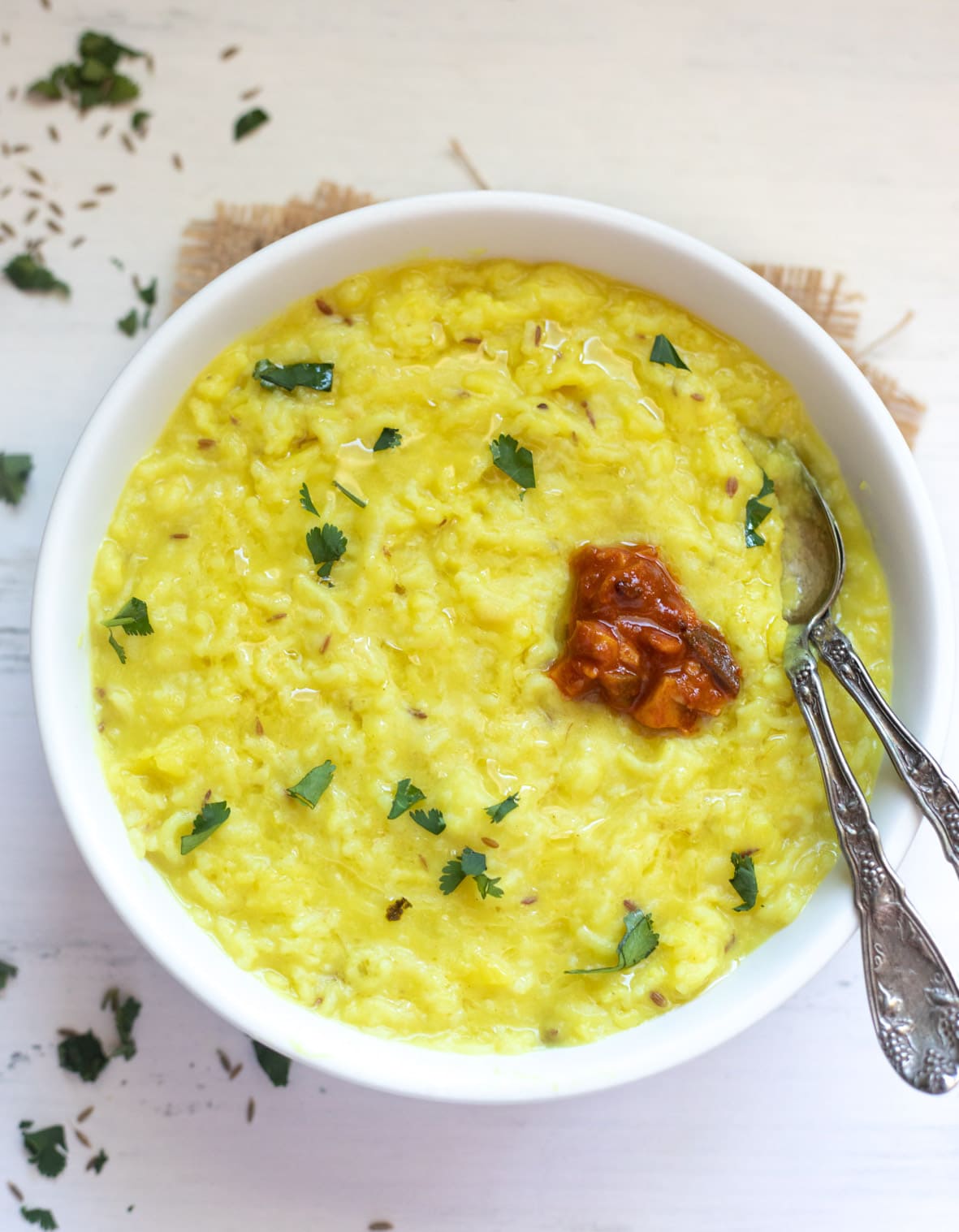 Moong Dal Khichdi, or Kitchari is a simple dish made with rice and lentils, tempered in ghee with cumin seeds and turmeric. It takes less than 30 minutes to make and is a perfect comfort meal for weeknights or when someone is under the weather!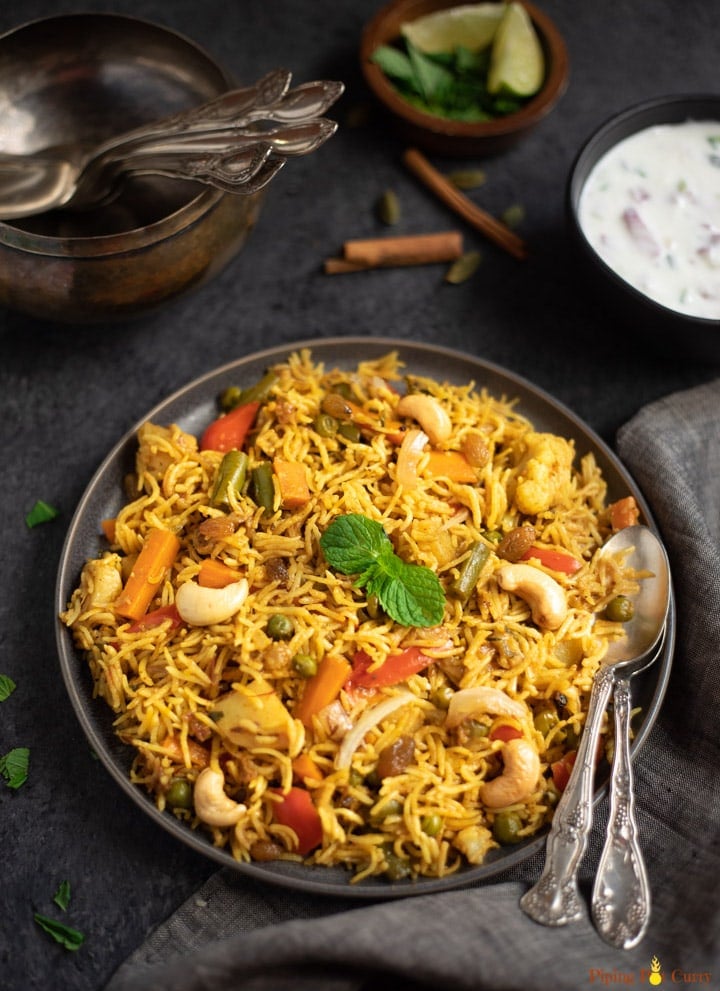 One-pot Vegetable Biryani is so easy to cook with the same authentic flavors! Fragrant basmati rice cooked with lots of vegetables, and aromatic whole spices and herbs. This delicious flavorful Veg Biryani ready in less than 30 minutes, and is perfect for a weeknight dinner with a side of raita or for special occasions.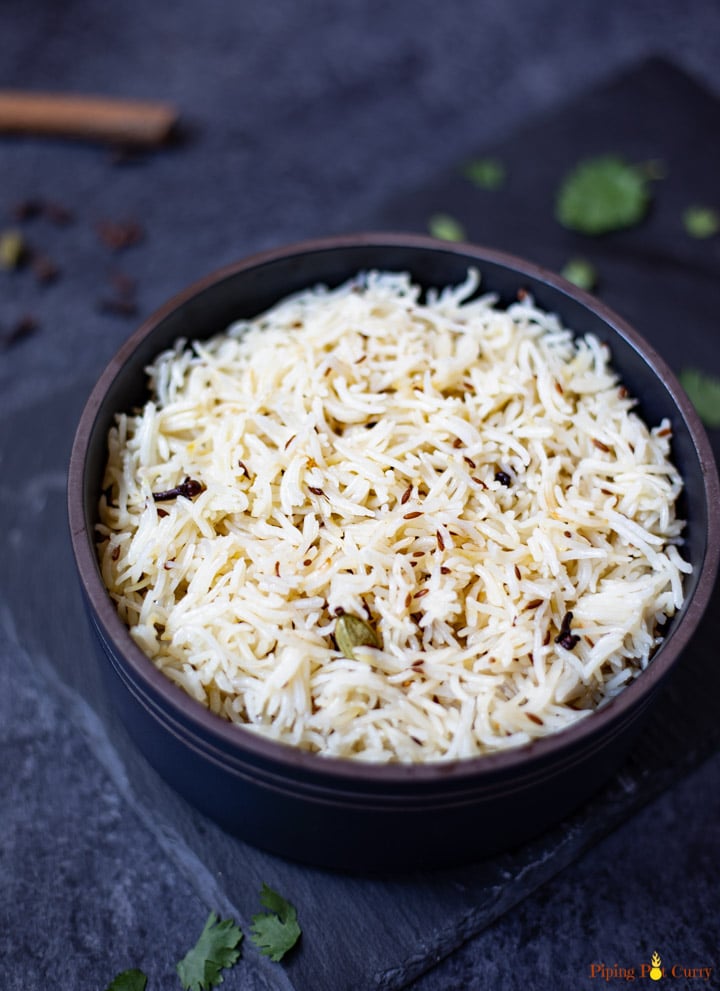 Perfectly cooked Basmati Rice flavored with cumin and whole spices. Enjoy these aromatic Jeera Rice (Cumin Rice) with any curry or lentil.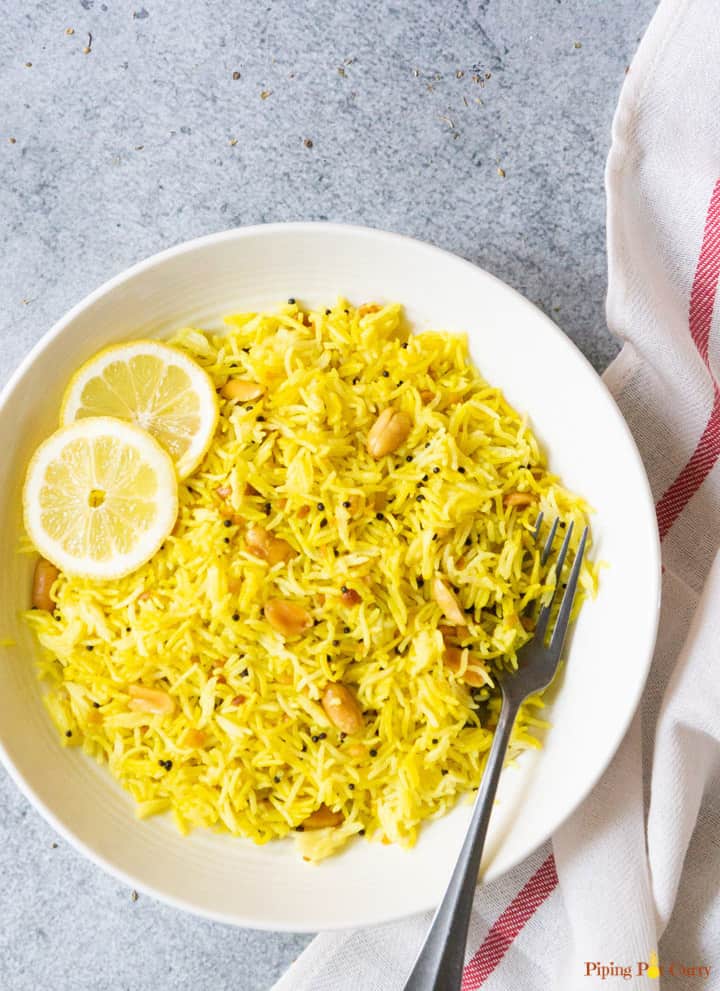 Flavorful, tangy and crunchy Lemon Rice from South India, made as a one-pot dish in pressure cooker. Aromatic Basmati Rice flavored with lemon juice, mustard seeds, ginger and topped with roasted peanuts.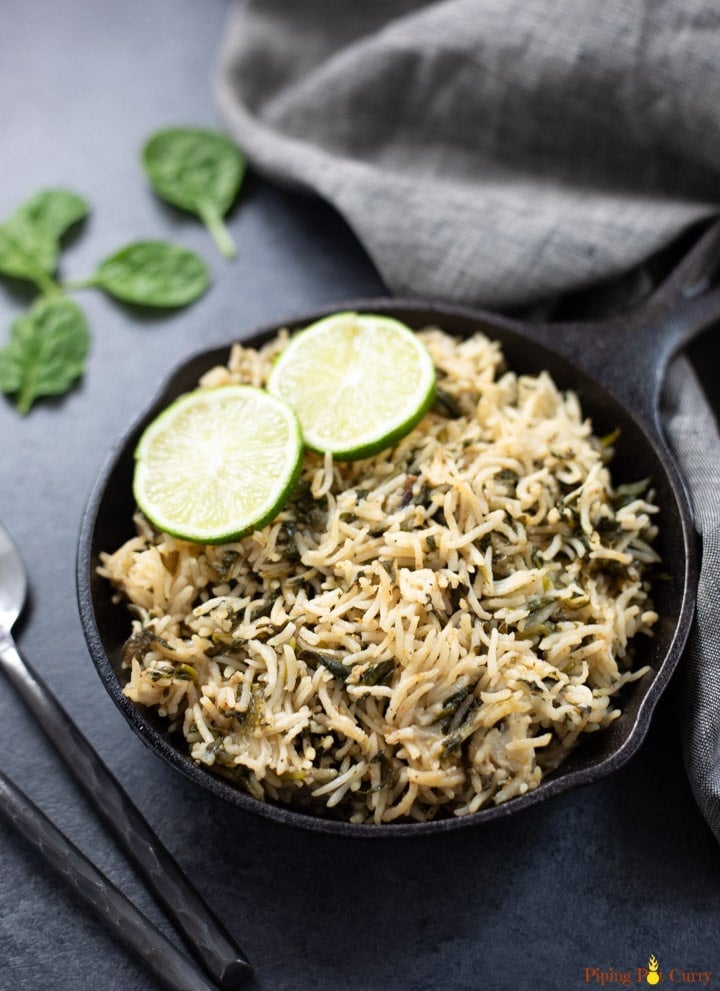 Aromatic basmati rice, with spinach and spices, make this Spinach Rice flavorful and healthy!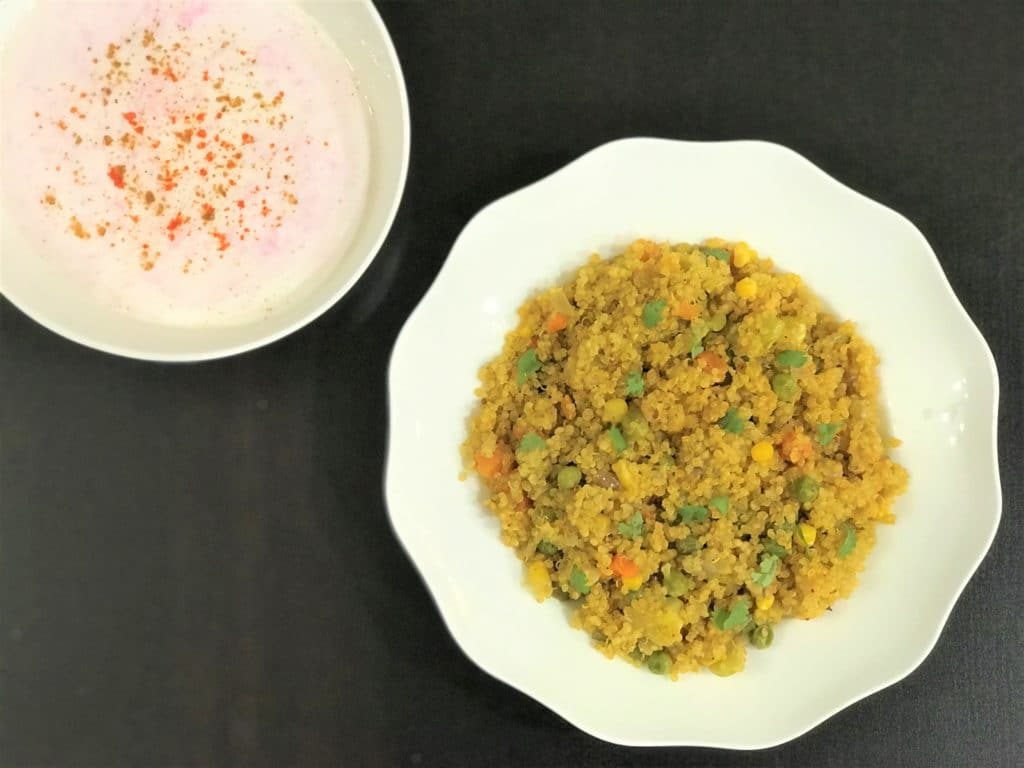 Easy and healthy quinoa with veggies made as a one-pot meal.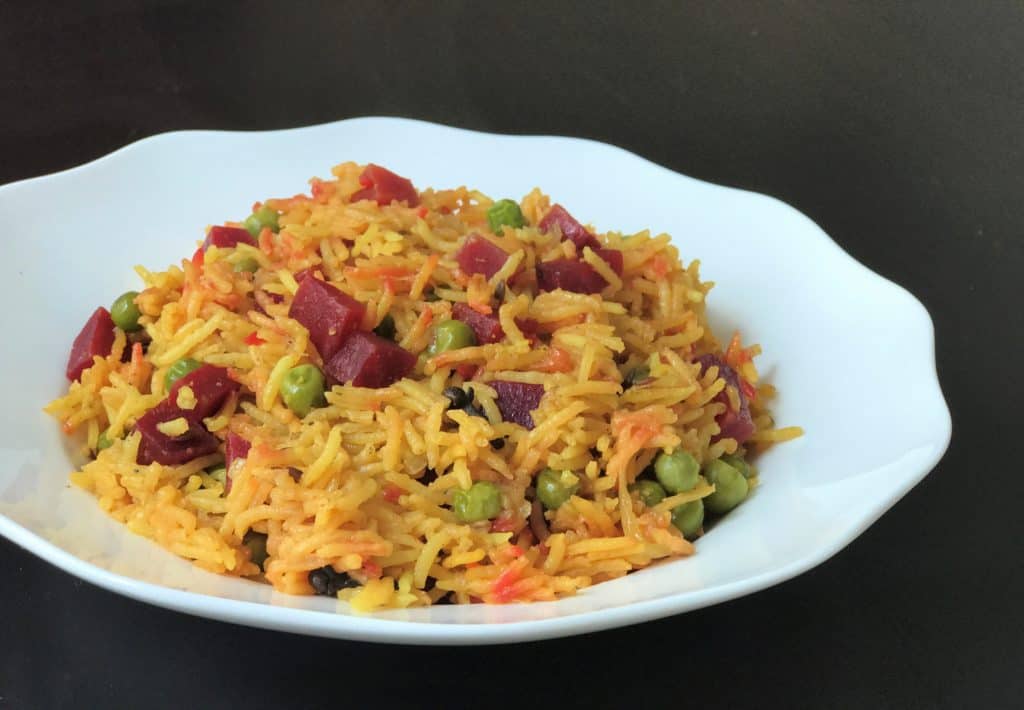 A mildly flavored rice pulao with beets, green peas and aromatic spices. You will love the wonderful bright colors in this rice!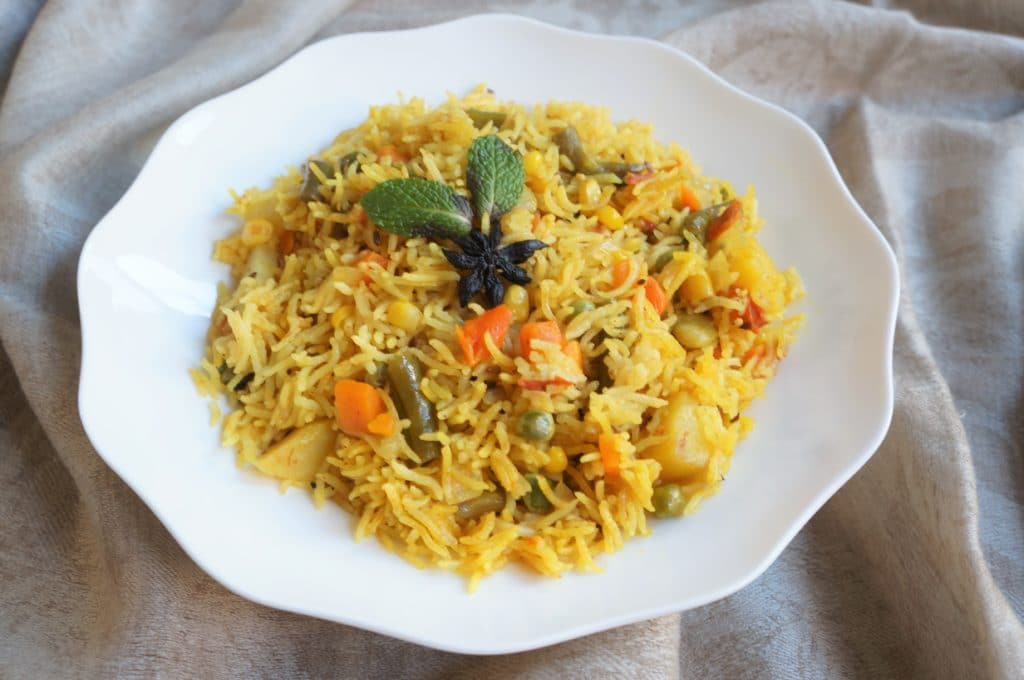 Veg Pulao or Vegetable Pilaf is an easy one pot rice dish mixed with a variety of vegetables and mildly flavored with spices.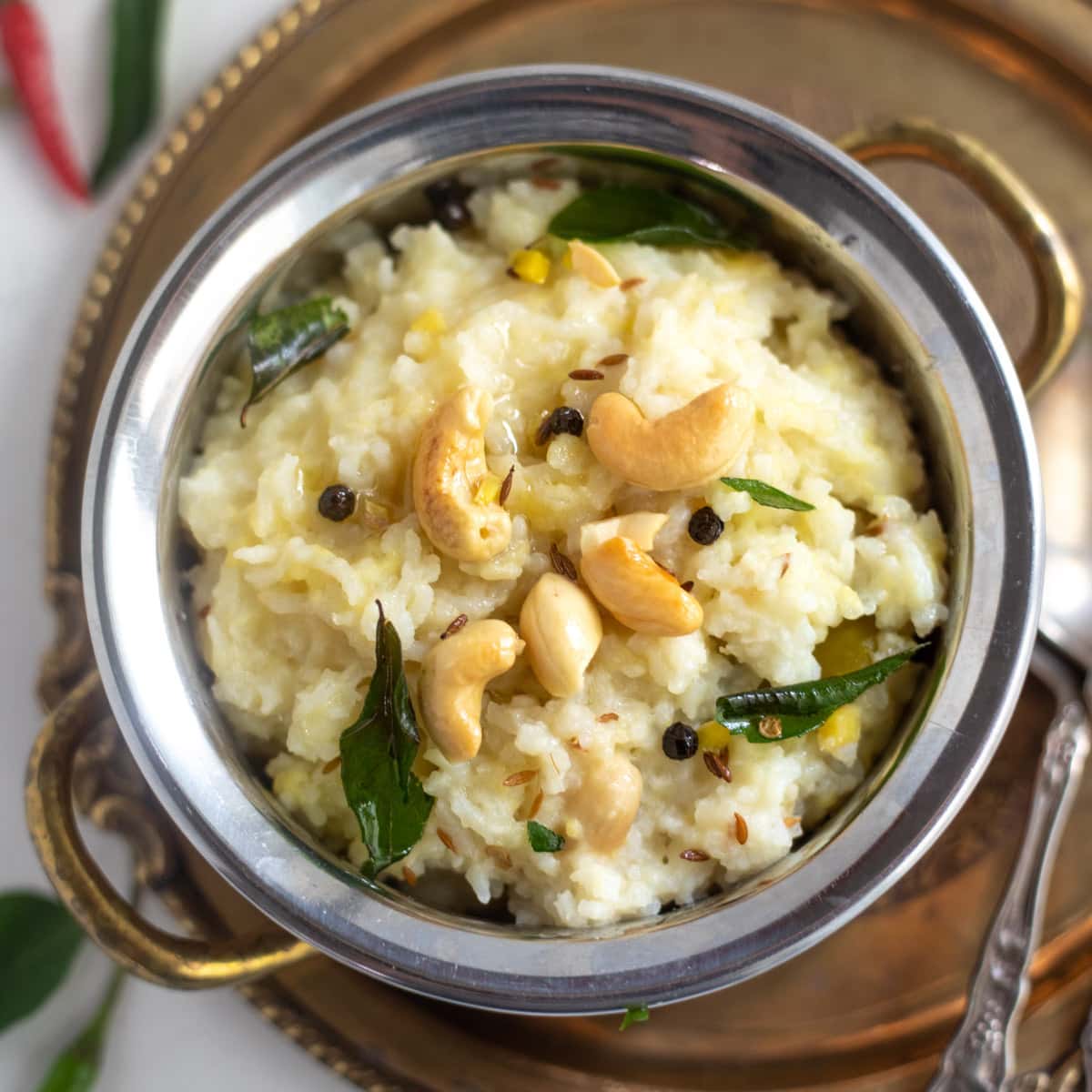 Made from rice and lentils, this satisfying South Indian breakfast recipe, Ven Pongal, is enjoyed with sambar and chutney. Deliciously seasoned with curry leaves, cumin seeds, and black pepper, this vegetarian and gluten-free recipe is a wholesome meal.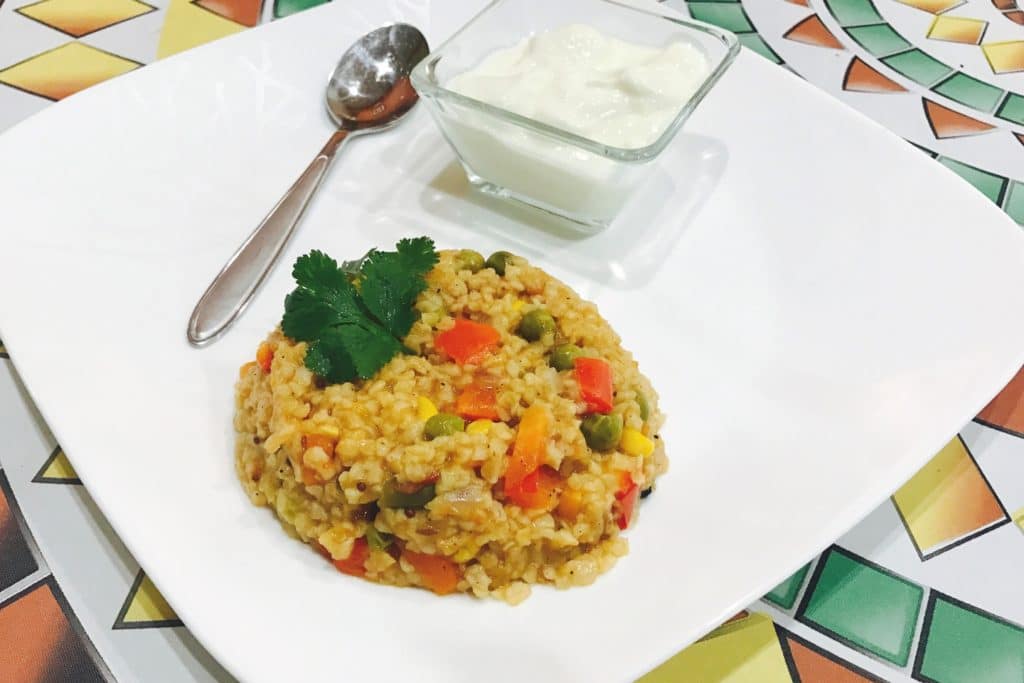 A simple, healthy and delicious Bulgur or cracked wheat pilaf cooked with lots of veggies.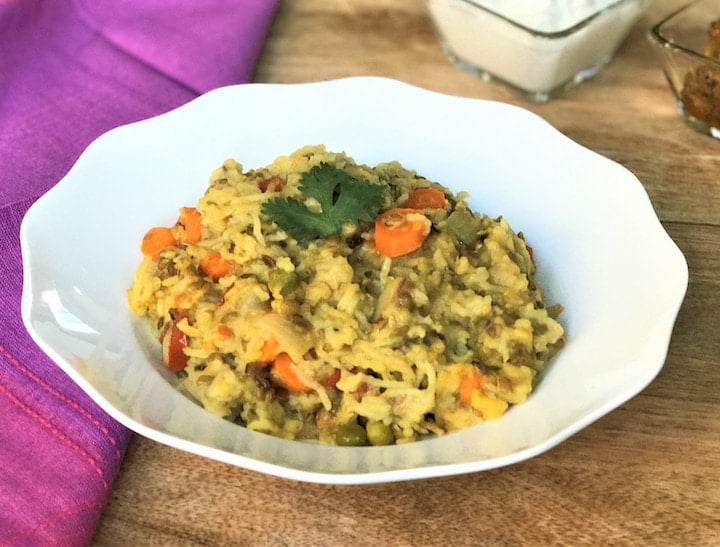 A one-pot dish made with lentils, rice and vegetables along with simple spices and ghee. The epitome of comfort food all over India.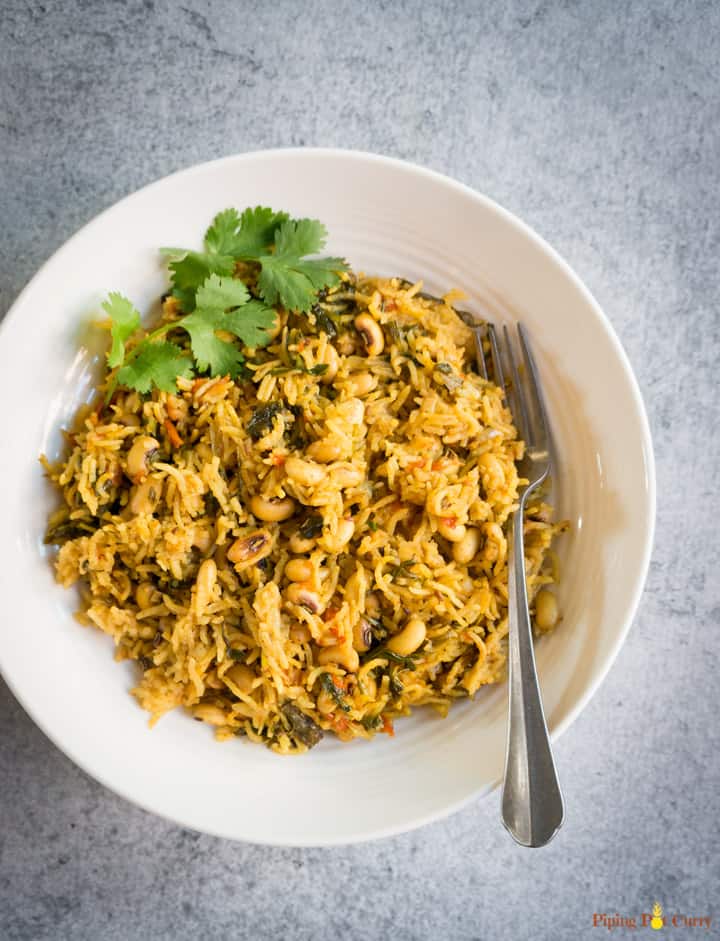 One-pot Black-Eyed Peas and Spinach Rice is a healthy and wholesome dish, perfect for weeknight meals. This vegetarian and gluten free dish is easy to make in the Instant Pot.
Breads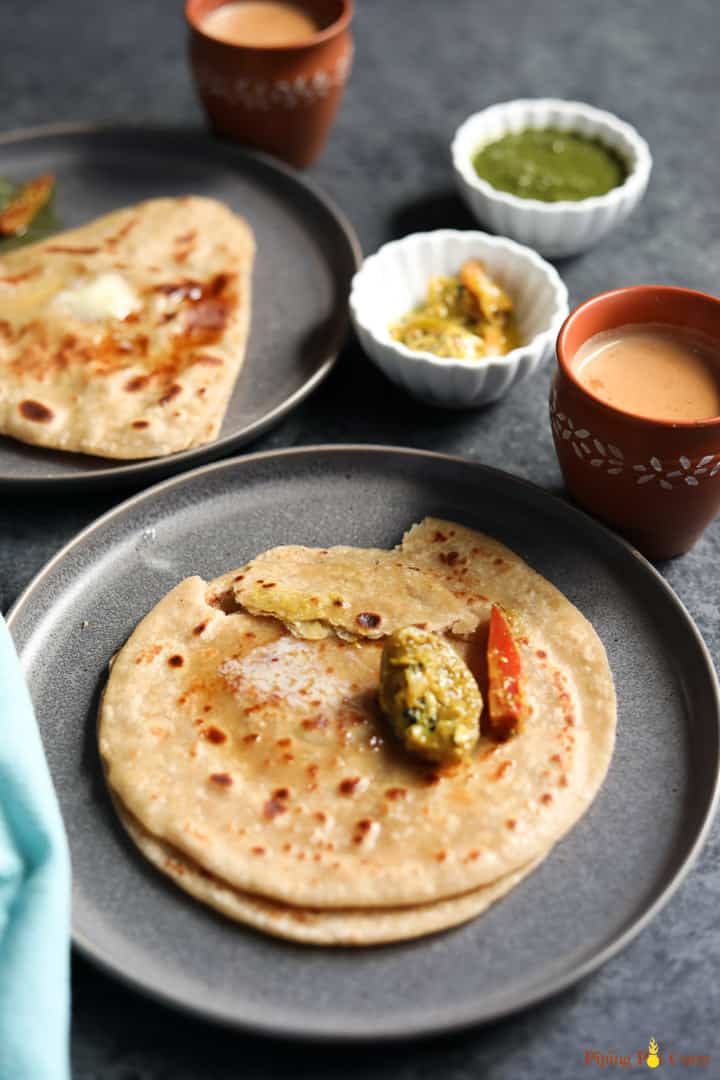 Paratha, one of the most popular unleavened flatbreads from India, is perfect to enjoy with pickle and a hot cup of chai for breakfast or alongside curry and yogurt raita for lunch or dinner.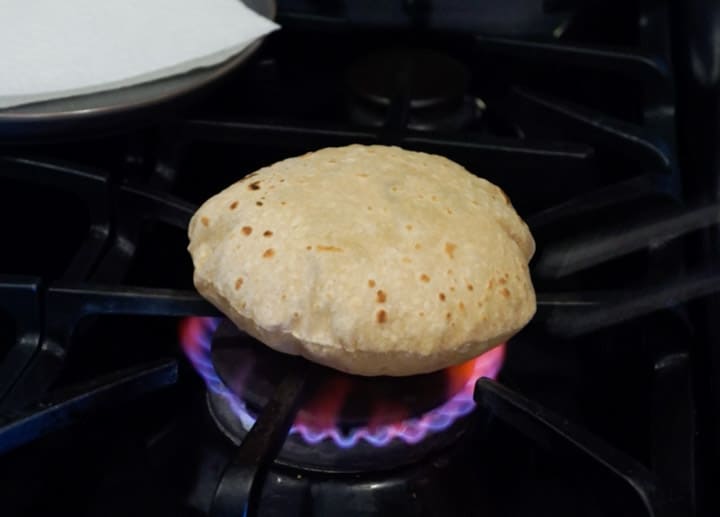 Roti, also known as Chapati or Phulka, is a staple in most Indian homes. This whole wheat Indian flatbread is typically enjoyed as a side with curries or lentils.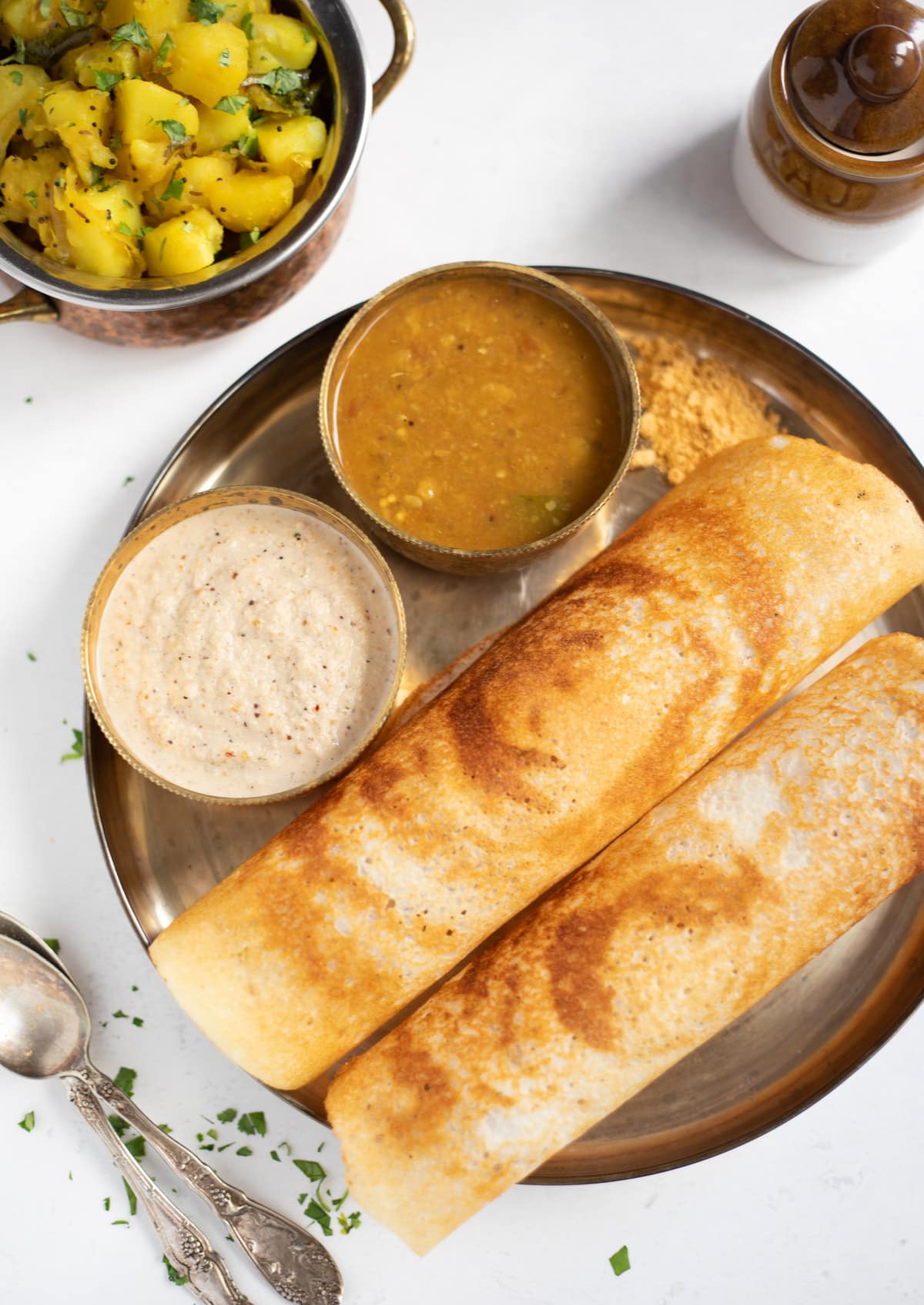 Learn how to make the best crispy dosa's from scratch with homemade dosa batter, along with all the tips and tricks to get the perfect crispy dosa's every time!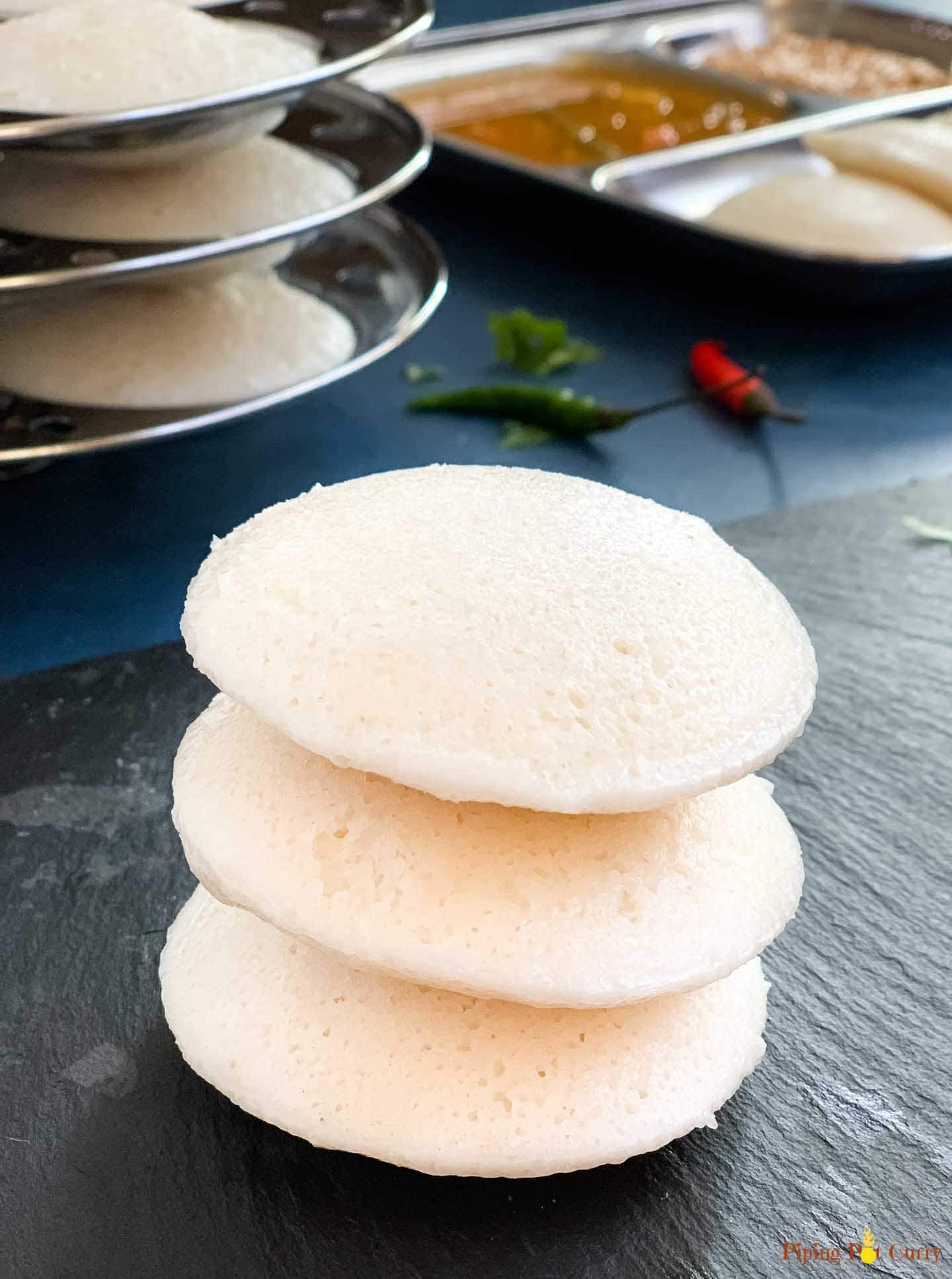 Idli is the quintessential south indian breakfast, which is also popular across India. Learn how to make the perfect soft and fluffy steamed idli!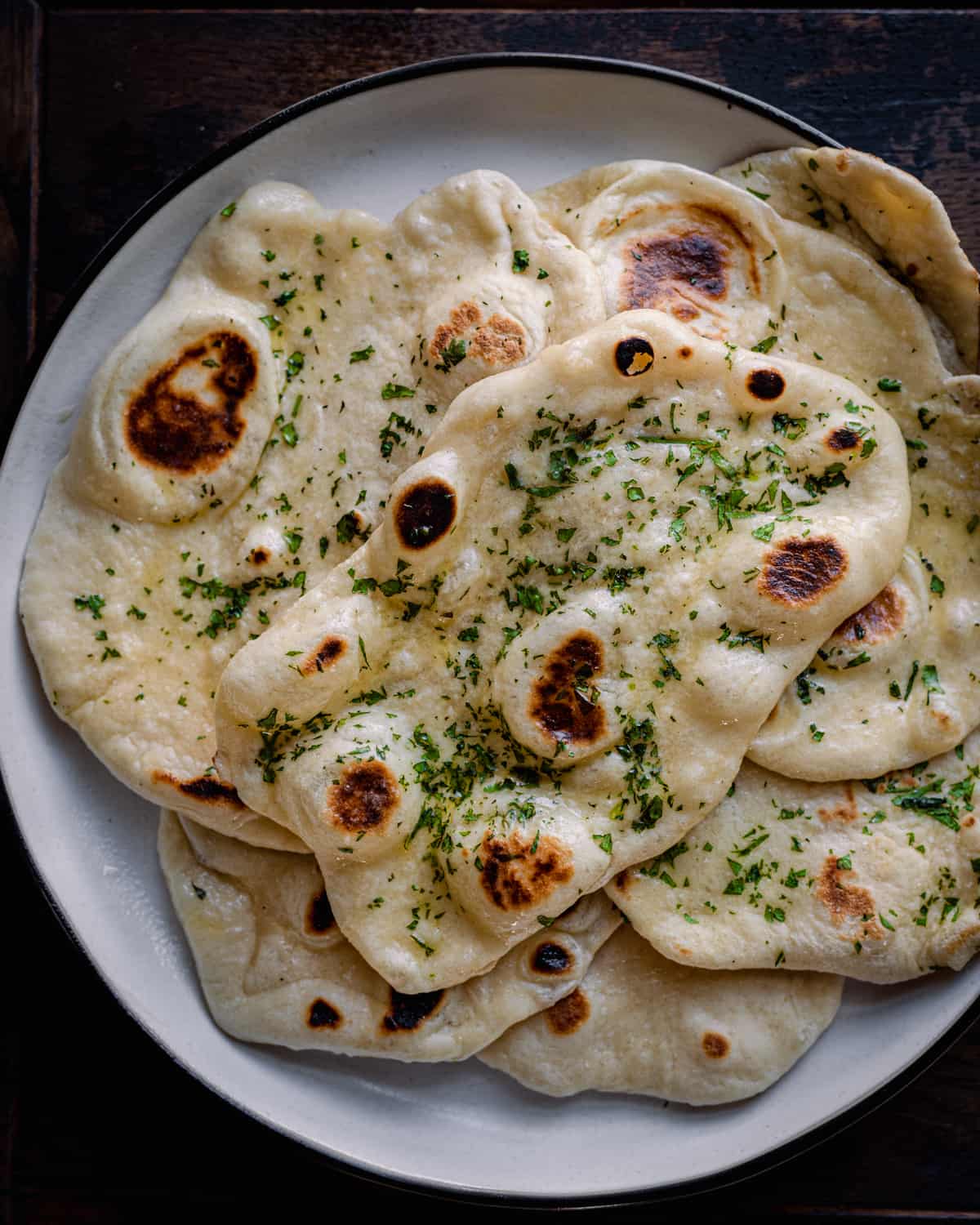 Naan is a popular Indian leavened flatbread, which is mostly enjoyed at restaurants. This vegan version is just as tasty as the regular naan bread.
Salads, Chutneys & Condiments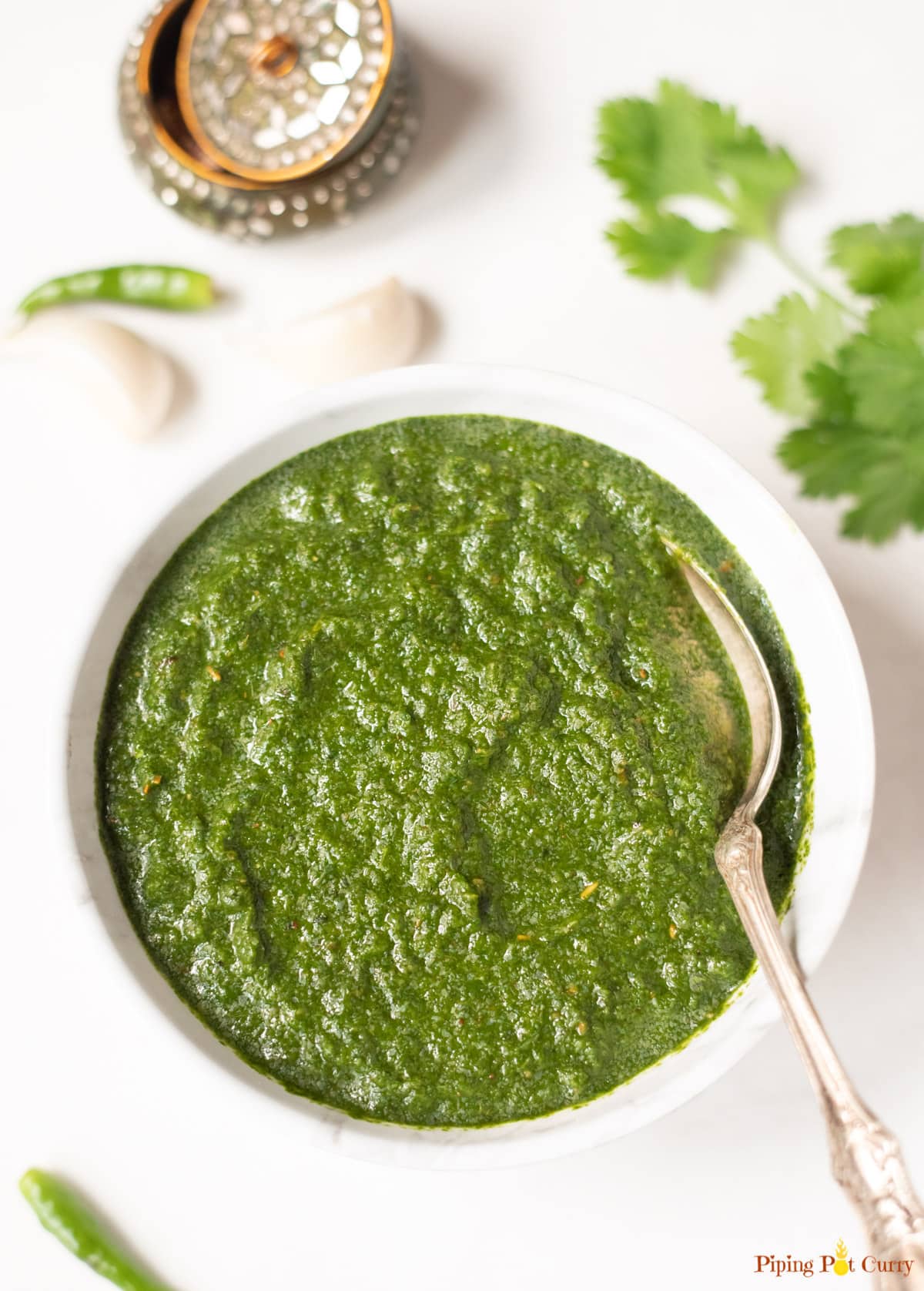 A cool, spicy and tangy green chutney. This no-cook mint cilantro chutney is a must try accompaniment to Indian food such as samosa, chaat, kebabs and sandwiches.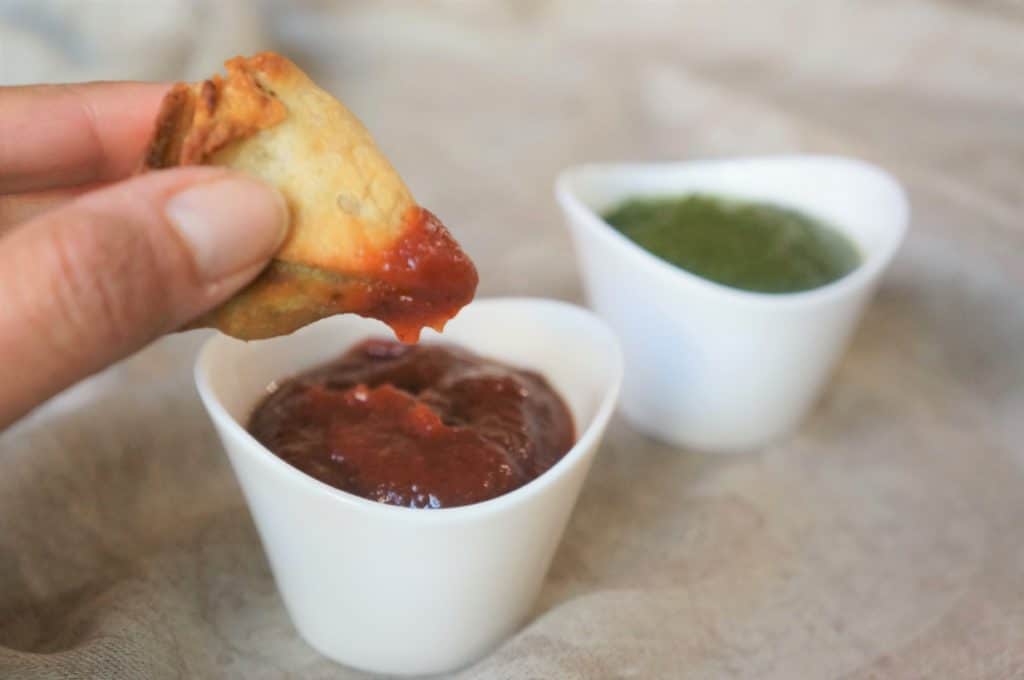 A delicious and easy dip that is both sweet and tangy at the time, prepared with tamarind, dates, jaggery and spices. This chutney is served along with appetizers such as samosa and many chaat dishes such as dahi puri or ragda patties.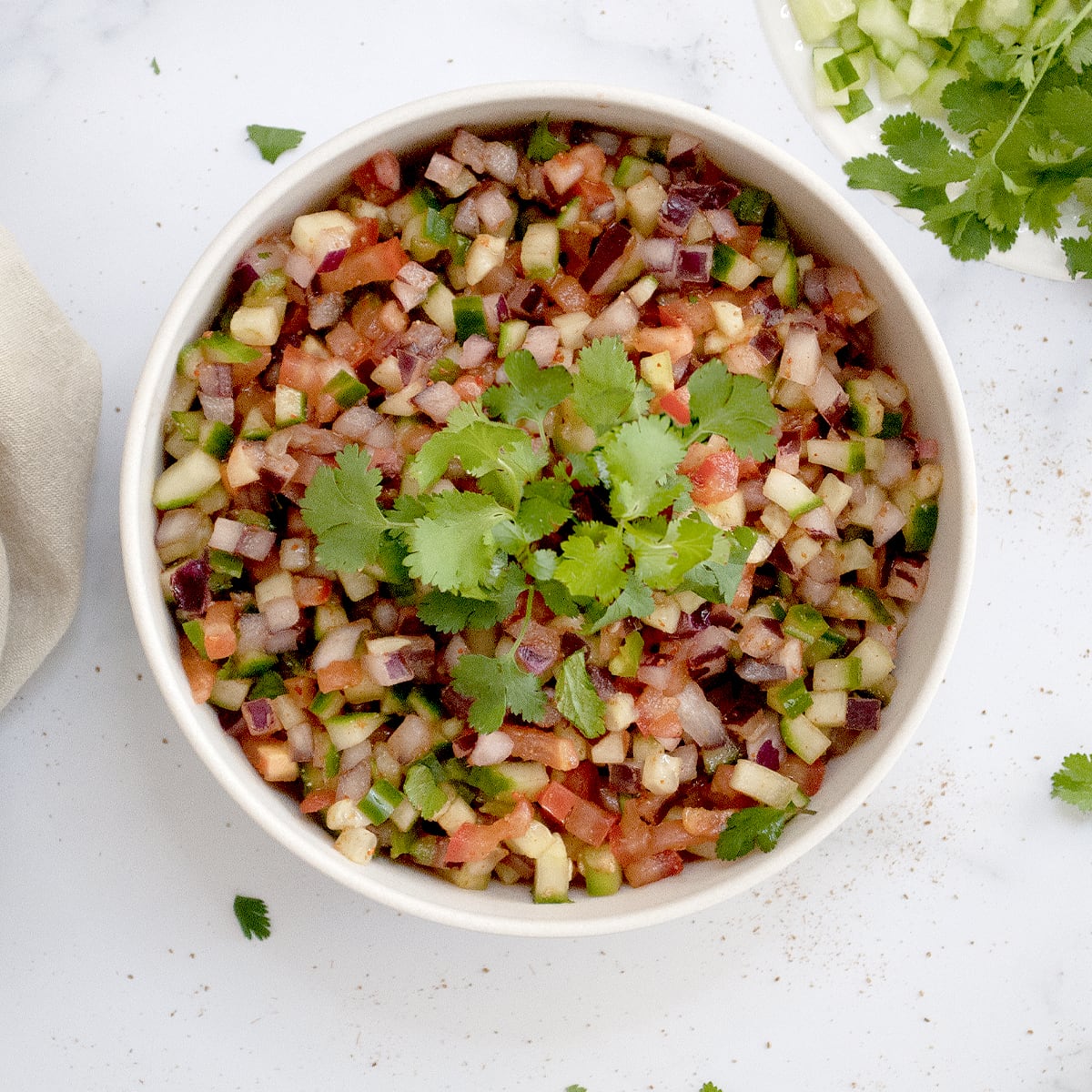 This healthy satisfying kachumber salad is so easy and refreshing. Made with chopped veggies and seasoned with spices, serve it as a side with any Indian food. It is vegan, oil-free, and gluten-free.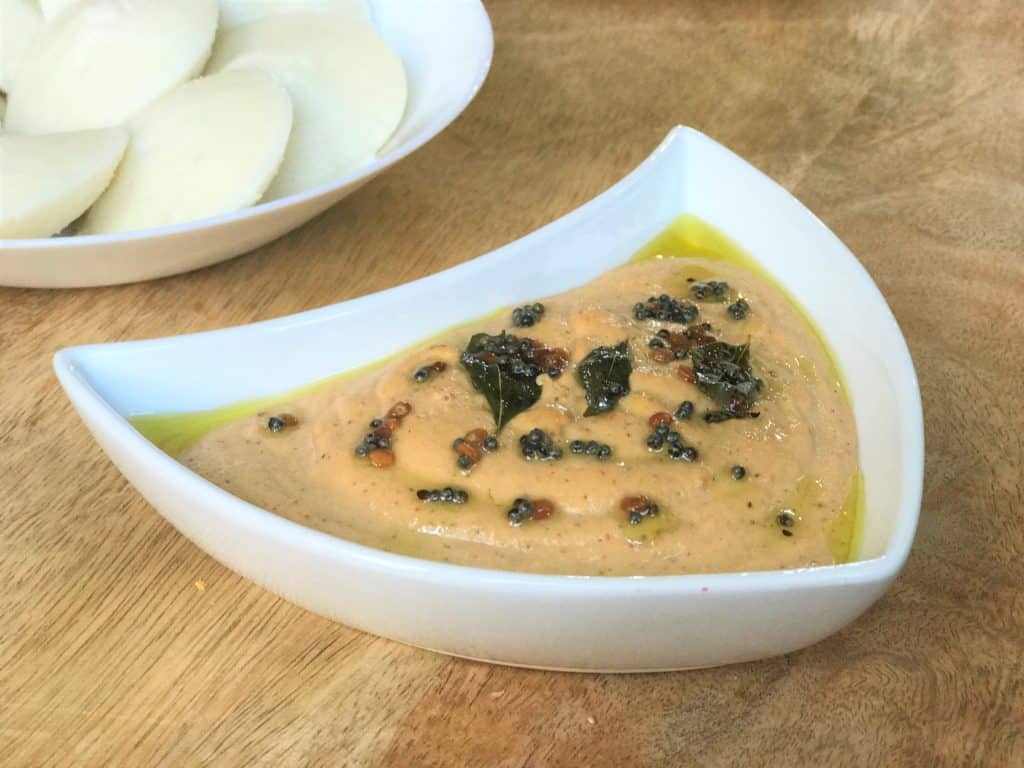 Super easy Peanut Chutney or Groundnut Chutney. A delicious and nutritious accompaniment to south indian favorites – idli and dosa.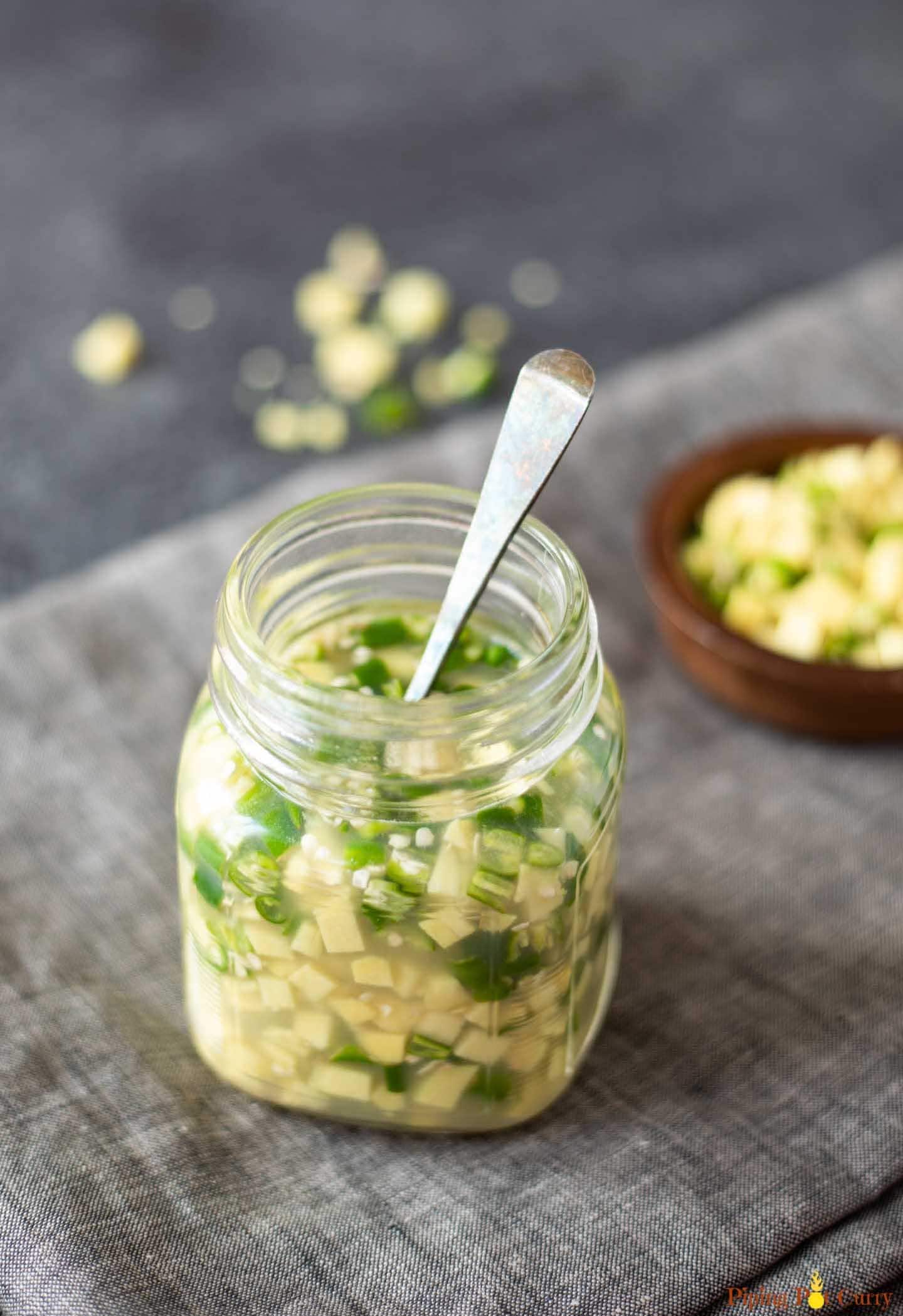 An easy ginger chili pickle that tickles your tastebuds with it's wonderful flavors. This fresh ginger chili pickle can be made within minutes with staple ingredients in your home.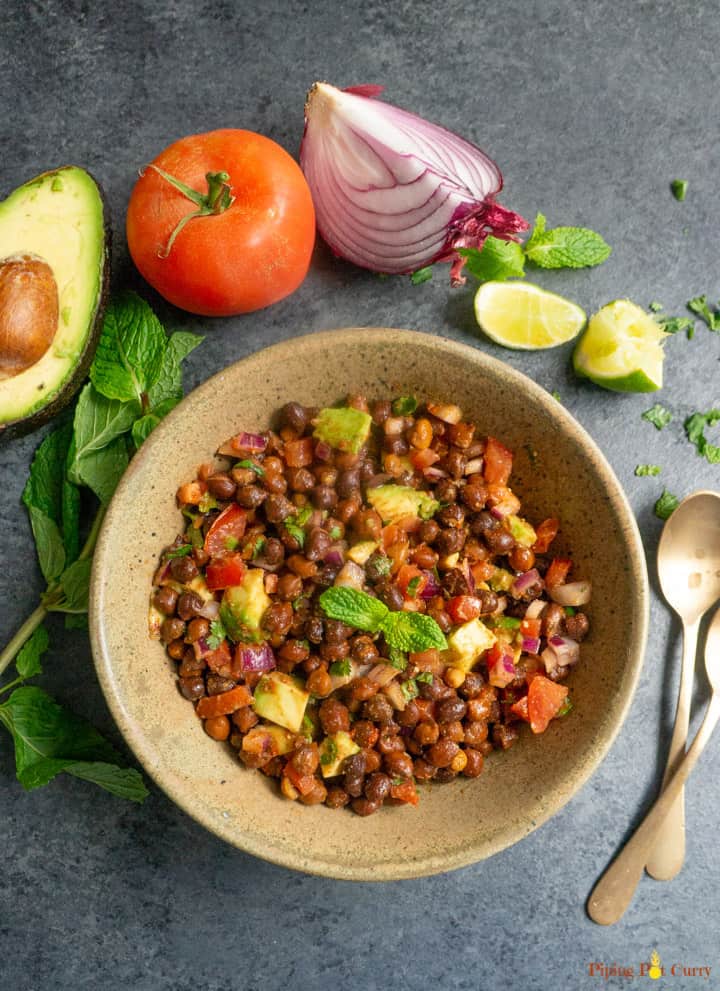 A nutrition packed Black Chickpea Salad made with black chickpeas, crunchy onions, tomatoes, avocado and spices. This refreshing salad has fresh and tangy flavors, and can be enjoyed as a great protein rich breakfast or snack.
Appetizers & Snacks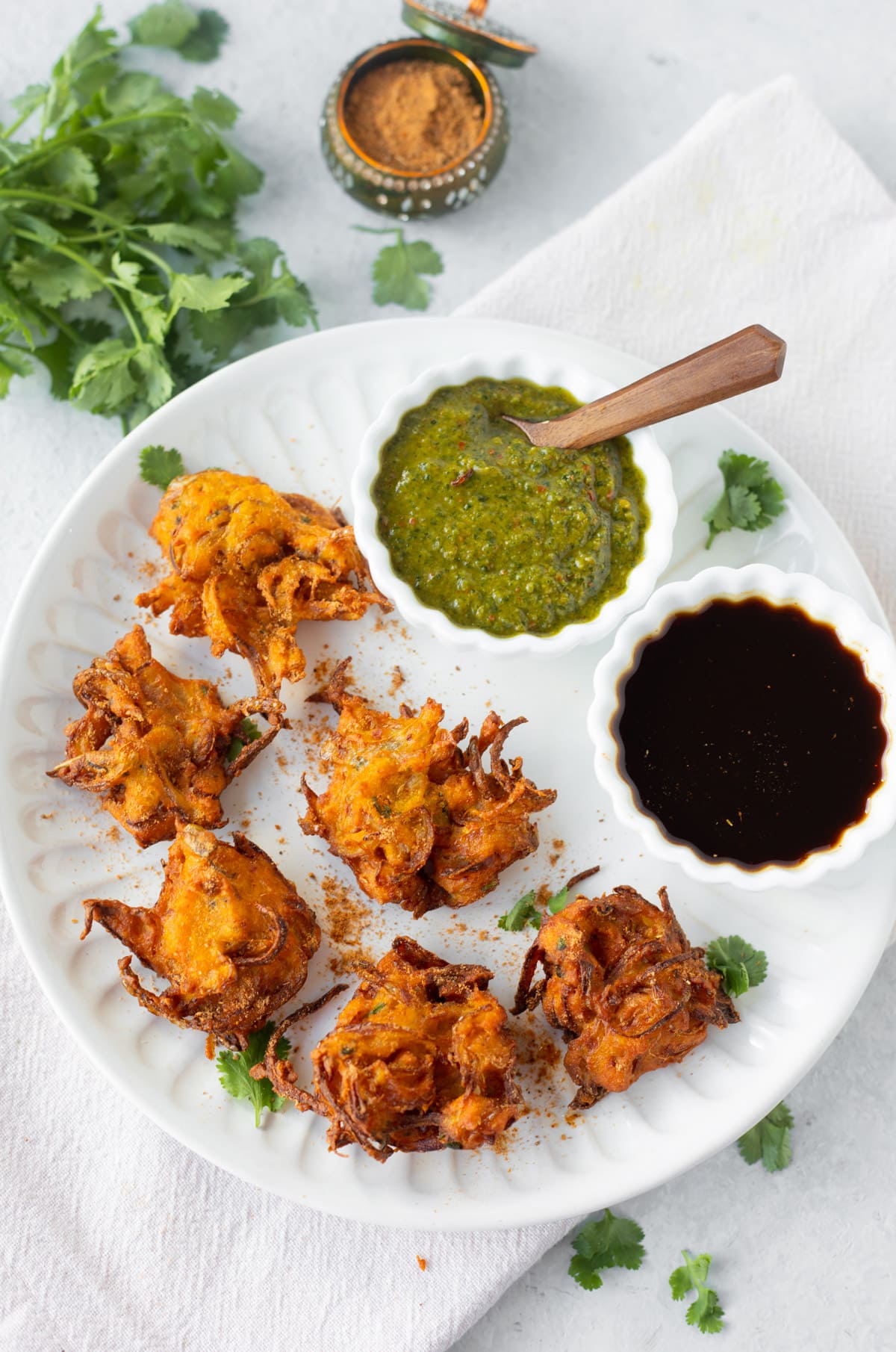 Learn how to make this traditional fried Indian snack called Onion bhaji (or Kanda Bhaji). These crispy onion fritters are made with gram flour, onions, and spices from your pantry. These vegan & gluten-free onion pakoras are addictive!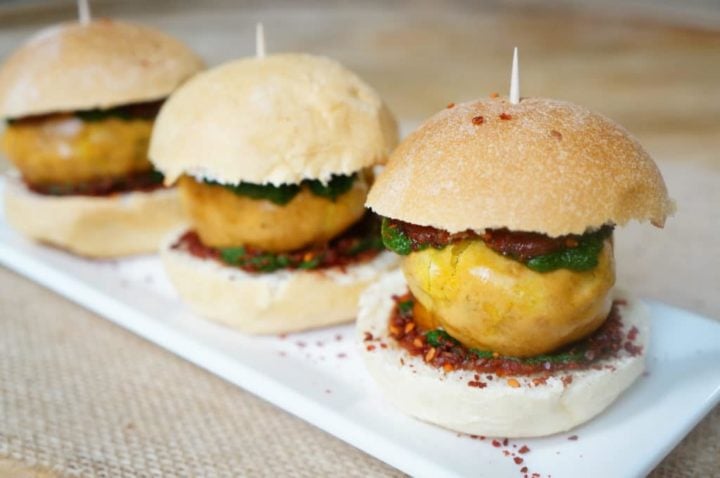 Potato Fritter Sliders, is a game day twist of the humble Mumbai street food, Vada Pav. A fried potato fritter is stuffed in between dinner rolls, along with sweet and spicy sauces or chutney.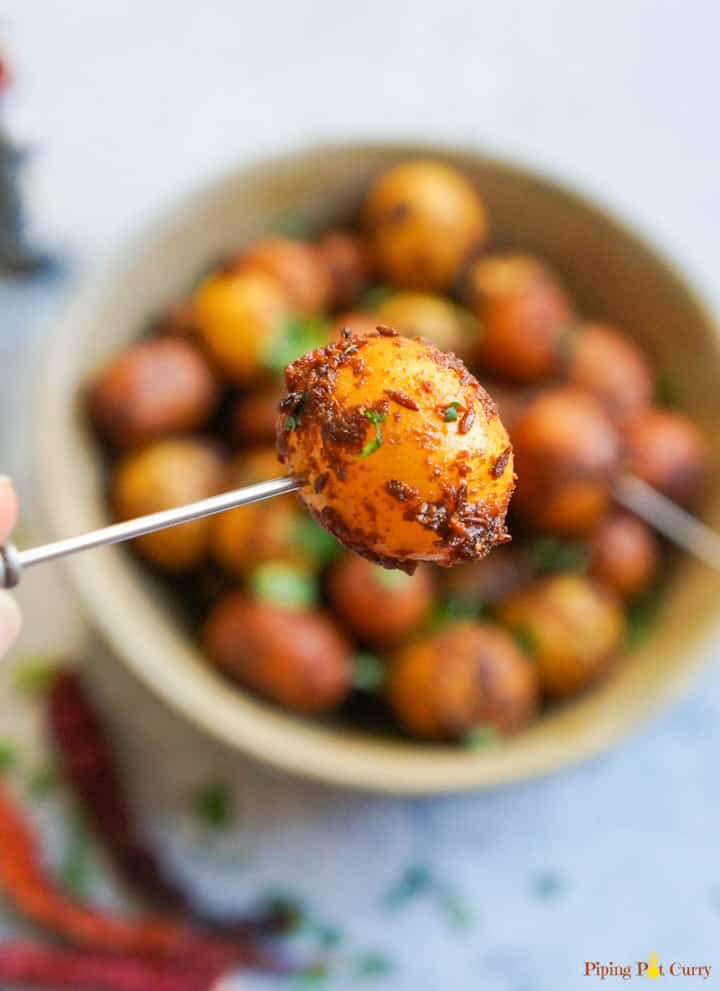 Baby Potatoes cooked with aromatic spices, as a one-pot dish, are perfect to serve as an appetizer or a side dish. These delicious and easy Bombay Potatoes take just 20 minutes to make.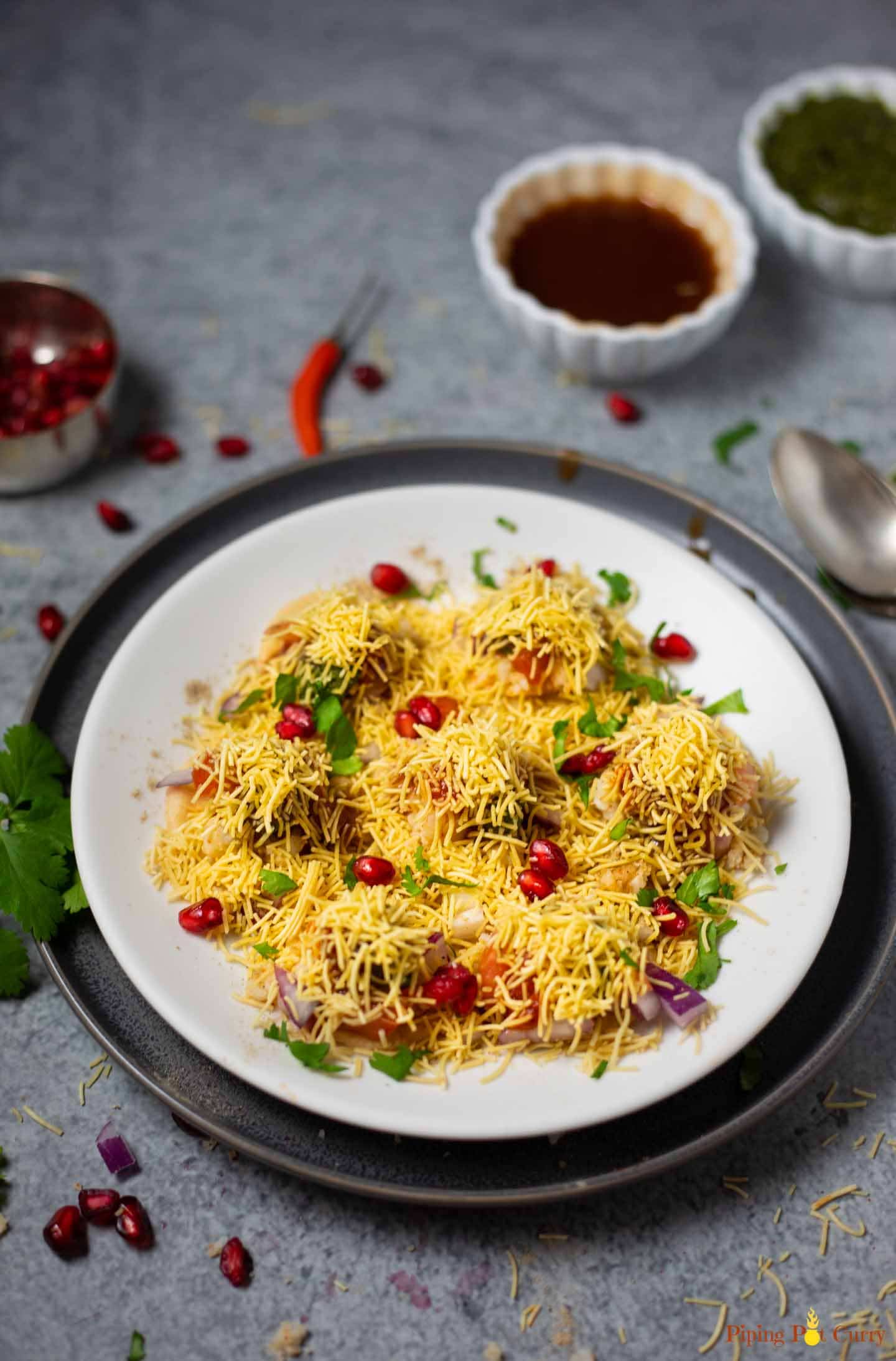 A popular Mumbai street food, Sev Puri is a sweet, spicy and tangy chaat. Sev Puri is made with crispy puri (whole wheat crackers) topped with potatoes, onions, tomatoes and a variety of chutneys, and finished with sev (thin gram flour noodles). This no-cook chaat recipe is a favorite snack to enjoy with your evening tea!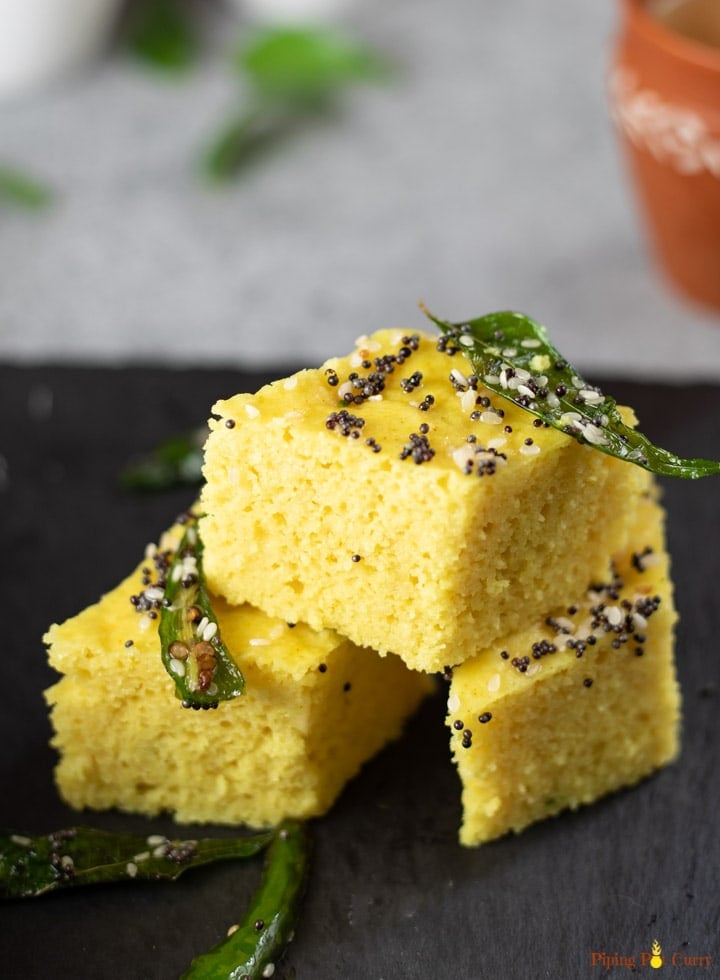 Soft and fluffy Khaman Dhokla are delicious steamed savory chickpea flour cakes. They are a popular Gujarati delicacy, perfect to enjoy for breakfast or snack!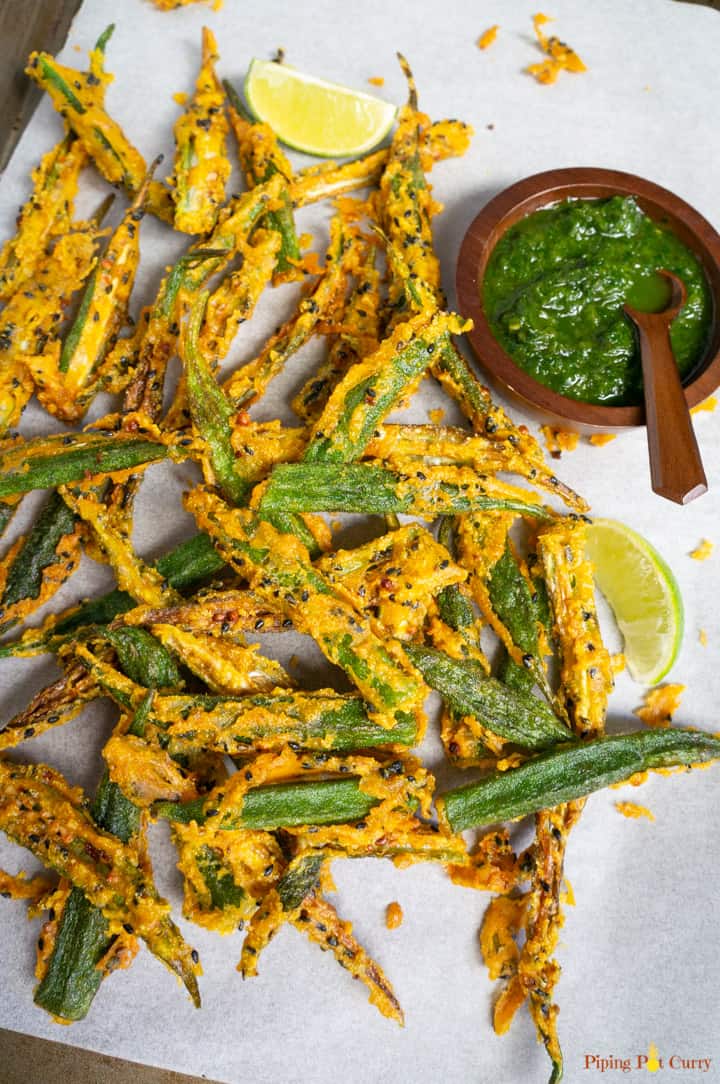 Kukuri Bhindi, called Kurmure Bhendi Bhaja in Bengali, is sliced okra coated in spices and fried until crunchy. This crispy fried okra is so good, you cannot stop eating it!
Breakfast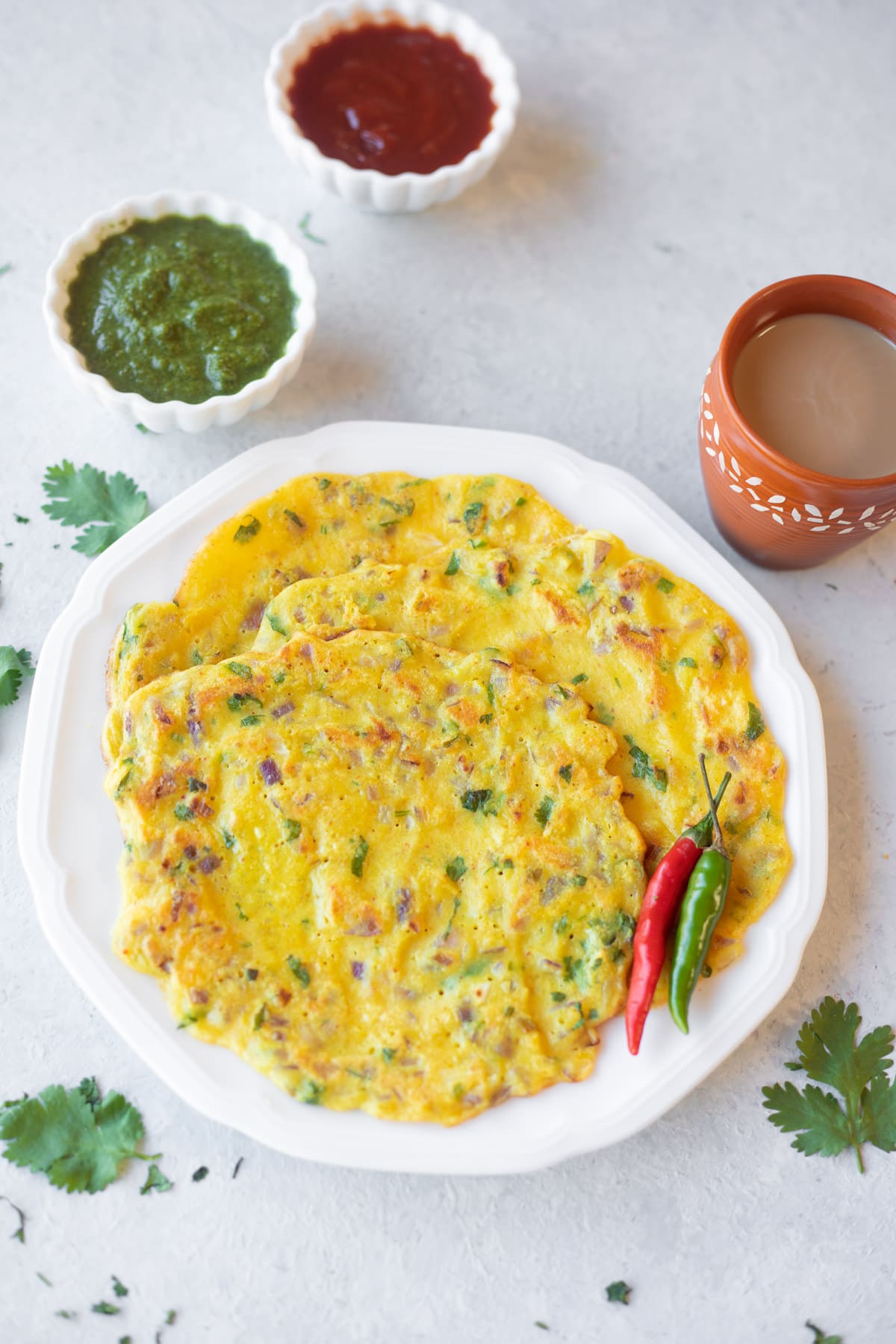 Moong Dal Chilla is a delicious protein-packed Indian breakfast made with yellow moong dal along with simple spices and herbs, including chilies and onions. These savory lentil pancakes are nutritious, vegan and gluten-free.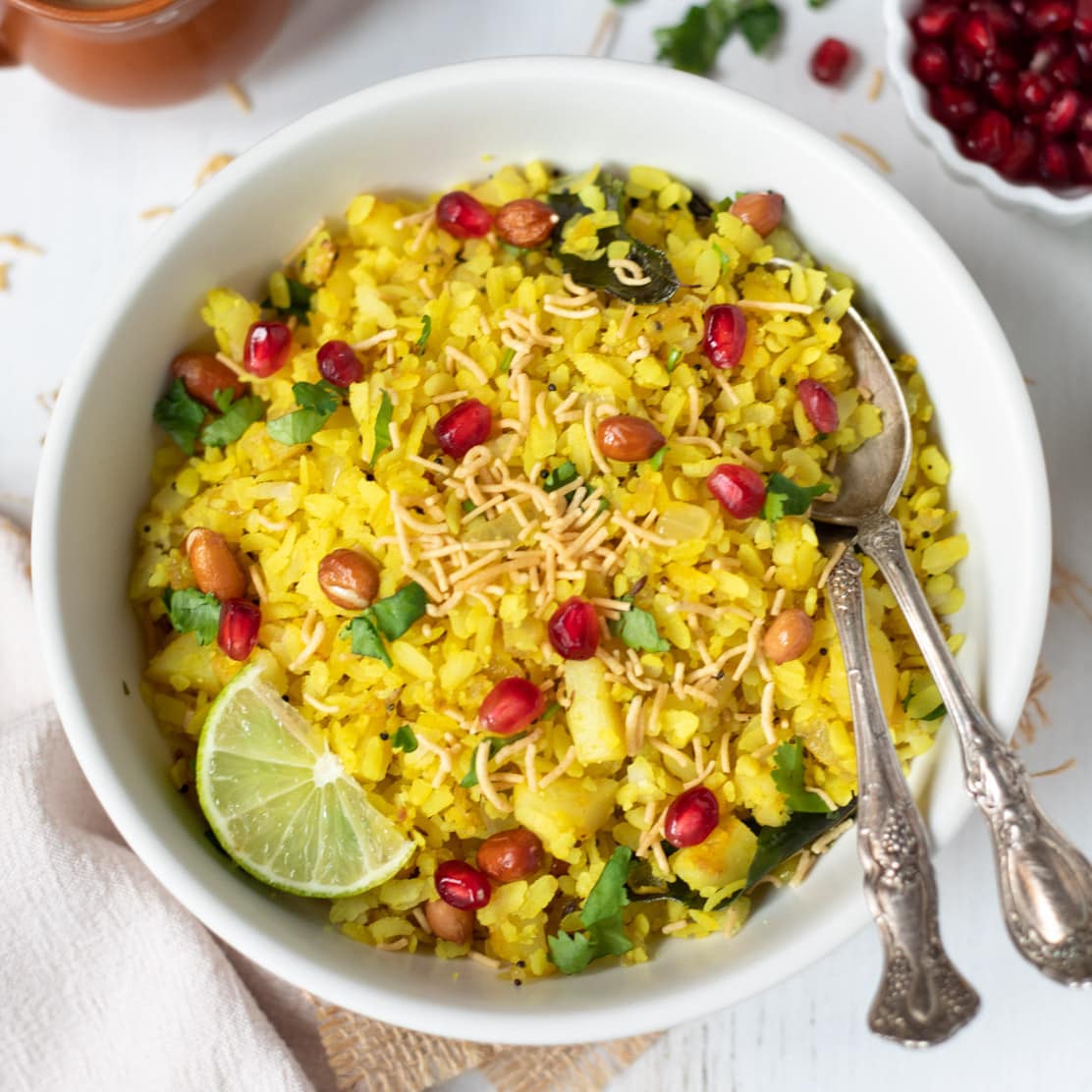 Poha is an easy and delicious Indian breakfast recipe popular in western and central Indian. Made with flattened rice, onion, potatoes, and seasoned with mild spices, curry leaves, peanuts and cilantro, this recipe also makes up for a quick mid-day snack.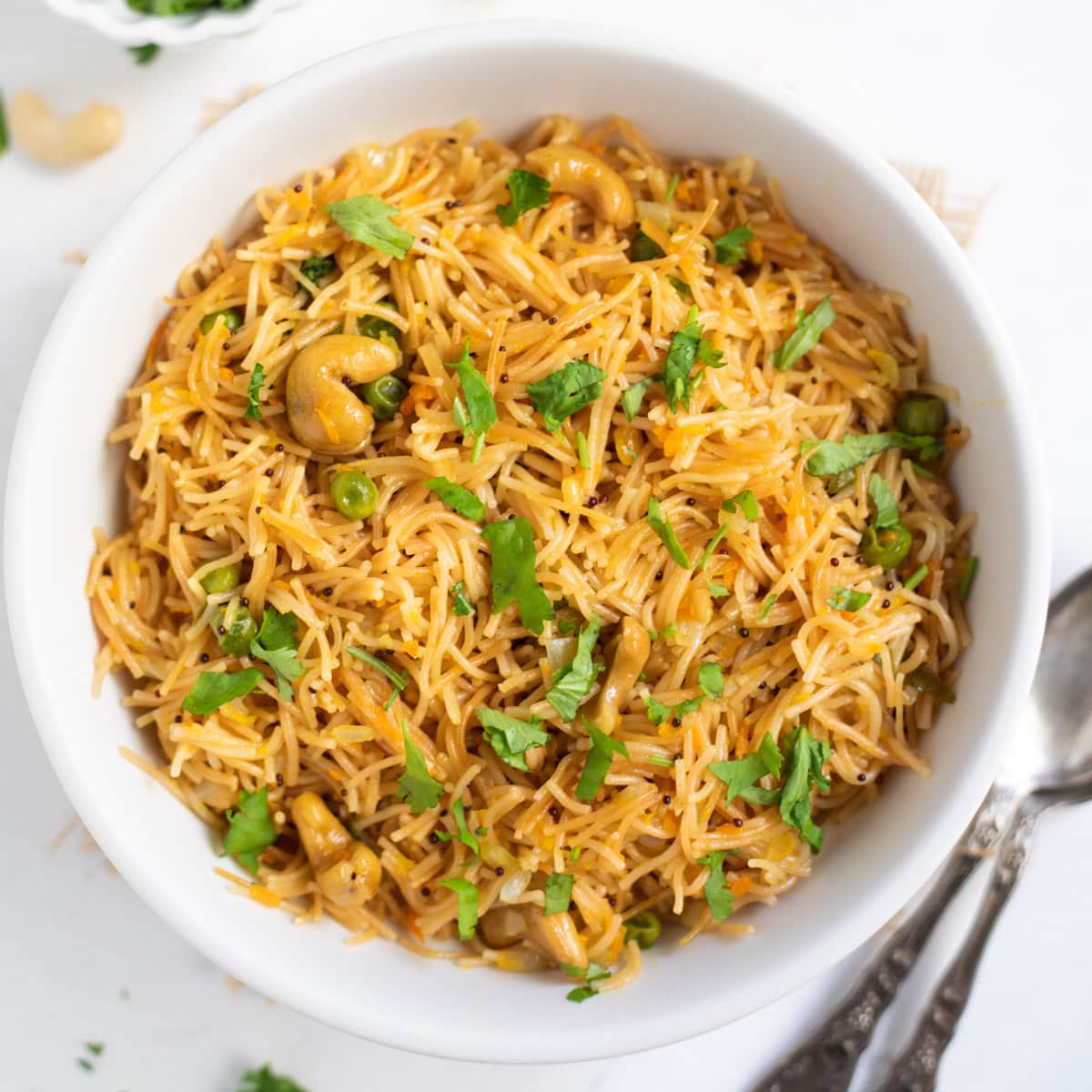 This Semiya Upma is a traditional South Indian breakfast. Made with vermicelli and vegetables, this upma is mildly spiced, and an easy one-pot recipe. Make it on the stovetop or in the instant pot in less then 25 minutes!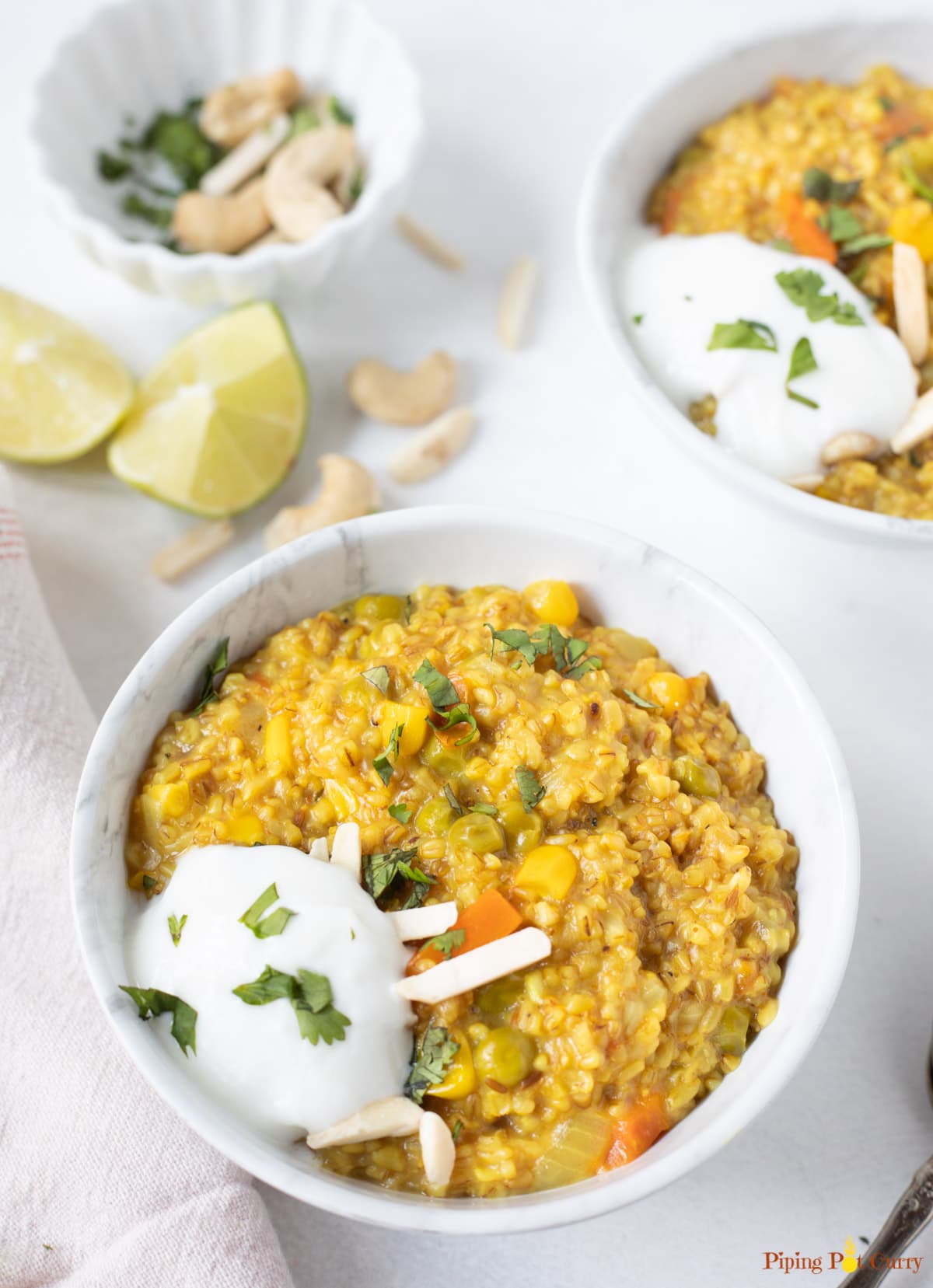 Masala Oats is a savory oatmeal breakfast porridge cooked with lots of vegetables and aromatic Indian spices. A healthy & delicious vegan breakfast recipe.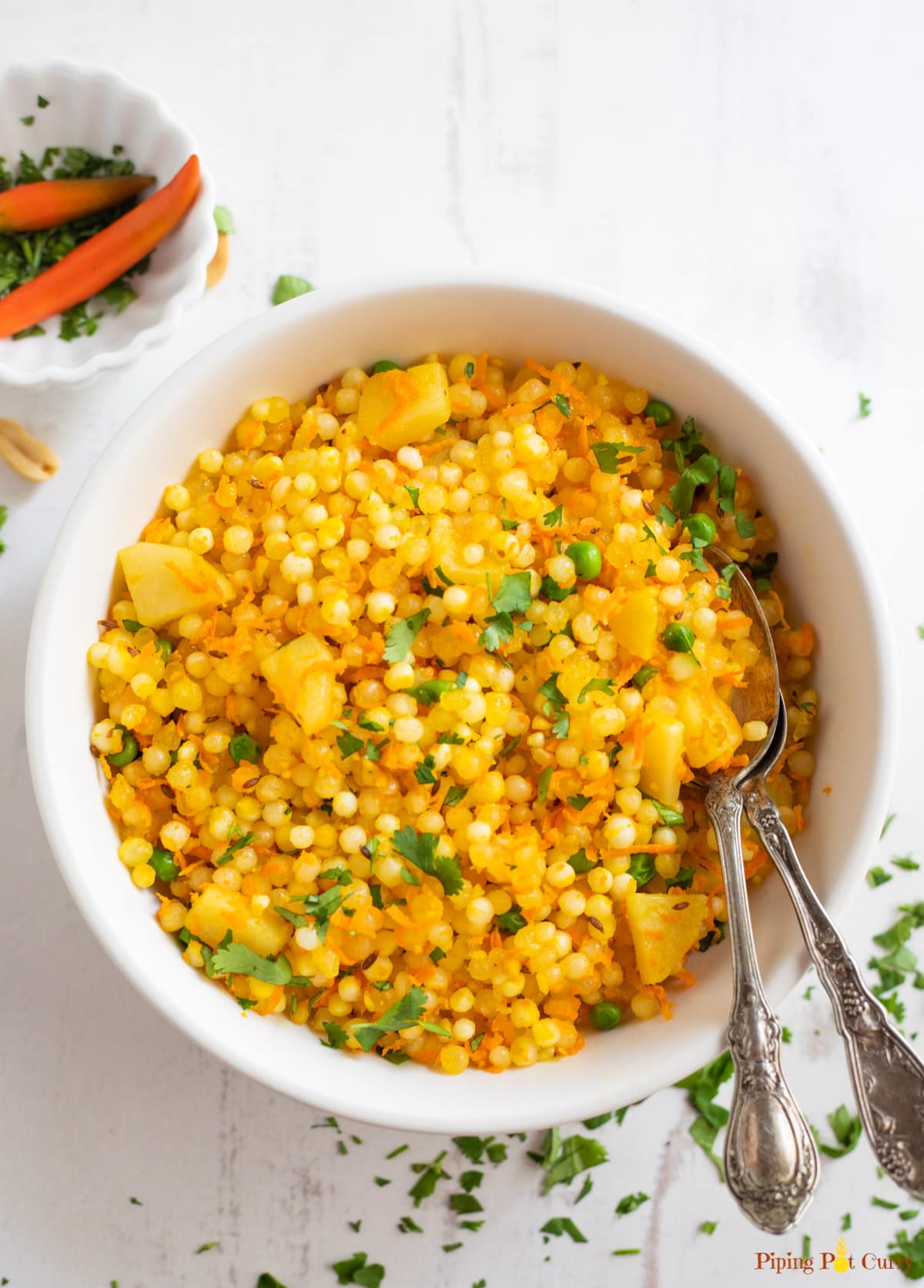 A healthier Sabudana Khichdi recipe – Tapioca pearls/Sago cooked with potatoes, carrots, green peas and crushed peanuts. This popular vegan and gluten free dish is like a pilaf or upma made with tapioca pearls. Enjoy it for breakfast or an afternoon snack with tea.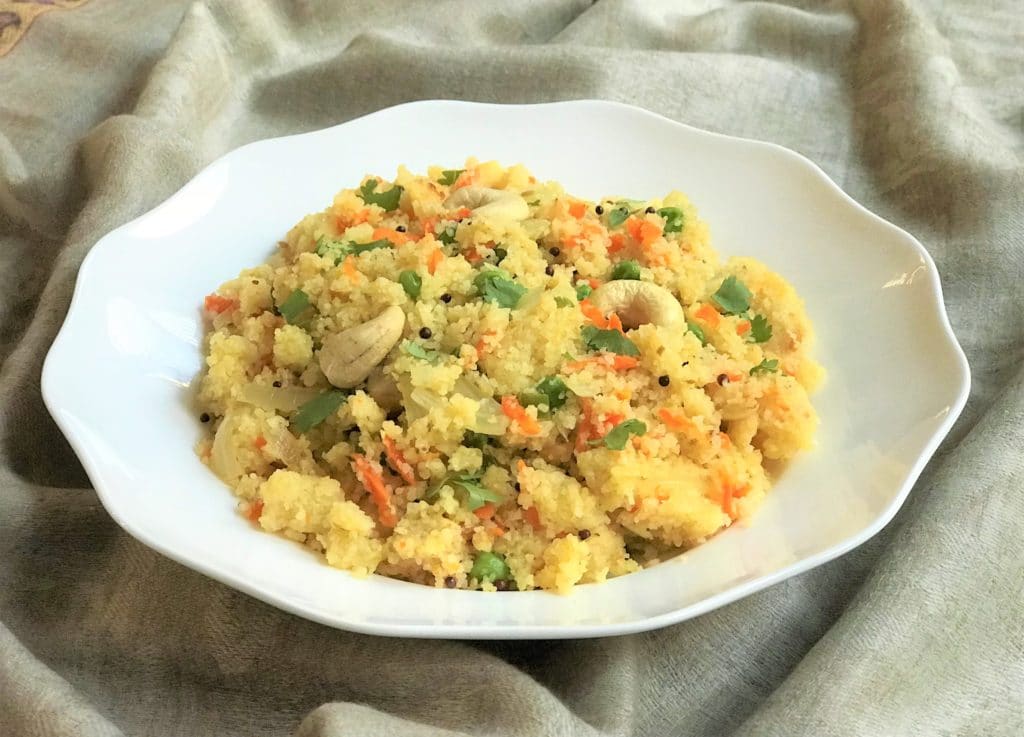 An easy and popular South Indian breakfast. Upma made from dry roasted semolina, cooked along with various seasonings and vegetables, perfect for a quick and nutritious breakfast.
Desserts
Coconut Pumpkin Halwa, also called as Kaddu ka Halwa is an Indian pumpkin dessert made with pumpkin, sugar, ghee, coconut and nuts. It can be cooked in a pressure cooker on the stovetop or Instant pot and takes less than 30 minutes to make this delicious dessert!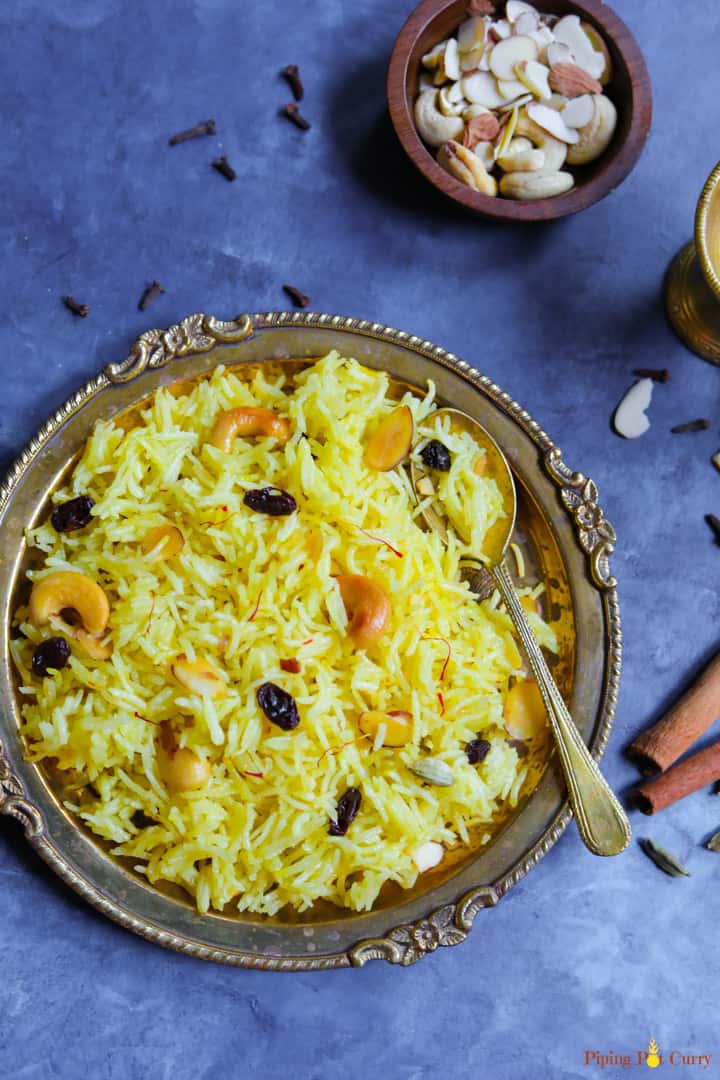 Meethe Chawal or Zarda Rice is a sweet and rich rice preparation loaded with dry fruits, sugar and ghee. This aromatic sweet saffron flavored rice is royal dessert made on special occasions and festivals.
Wow…so many wonderful vegan Indian dinner recipes. I hope you add these to your menu. If you are planning a Indian dinner party for your family and friends, check out this post for Indian Dinner Party Menu Ideas.
Let us know which one you're most excited to make, and share this roundup with your friends, and when you make any of these indian dishes, don't forget to tag #pipingpotcurry.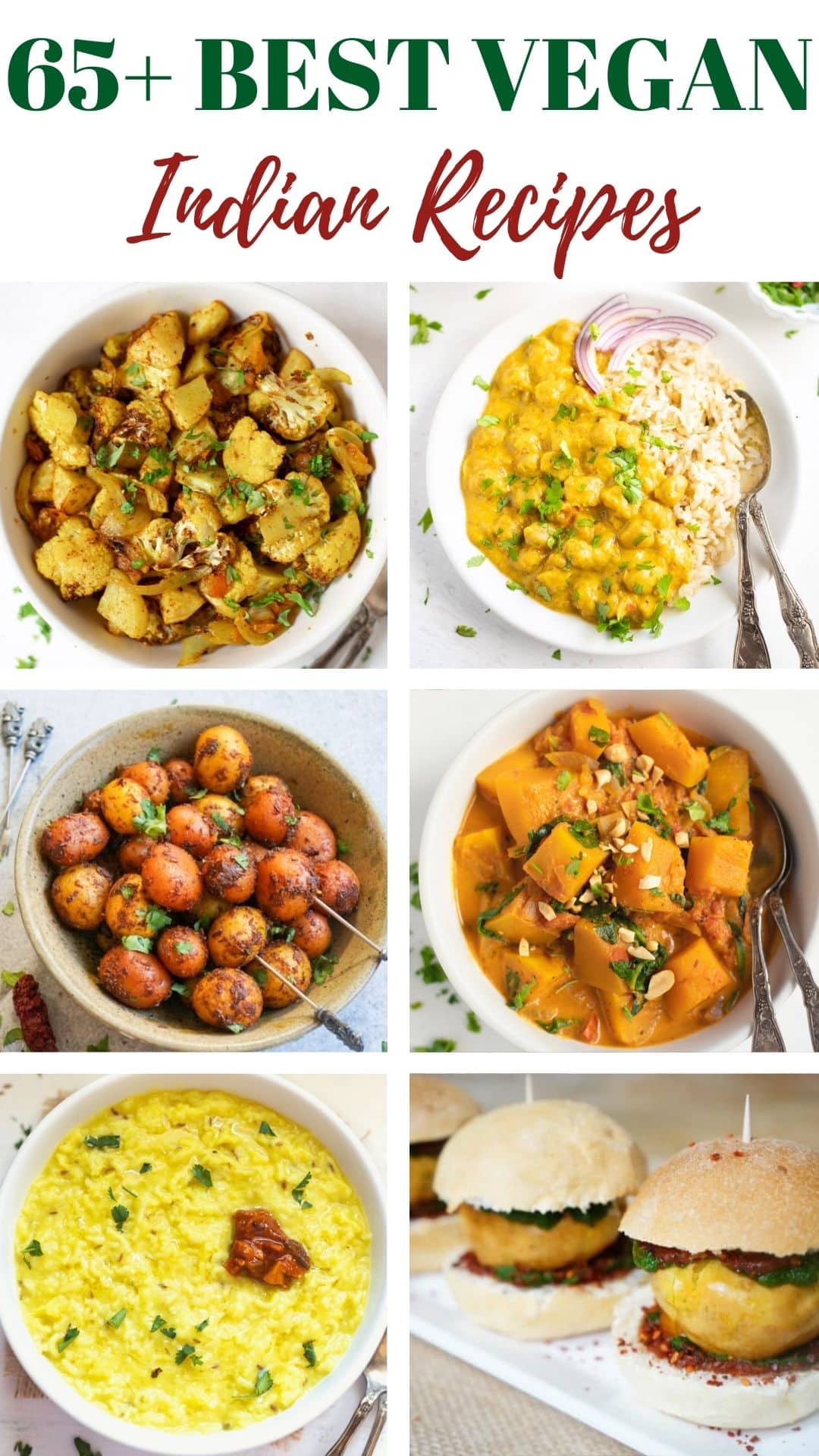 More Indian Recipes Collections you might enjoy: