Looking for Gluten-free Indian Recipes? Check out this 50+ amazing gluten-free dishes. You can find recipes for every meal: breakfast, sides, entrees and desserts that you'll love.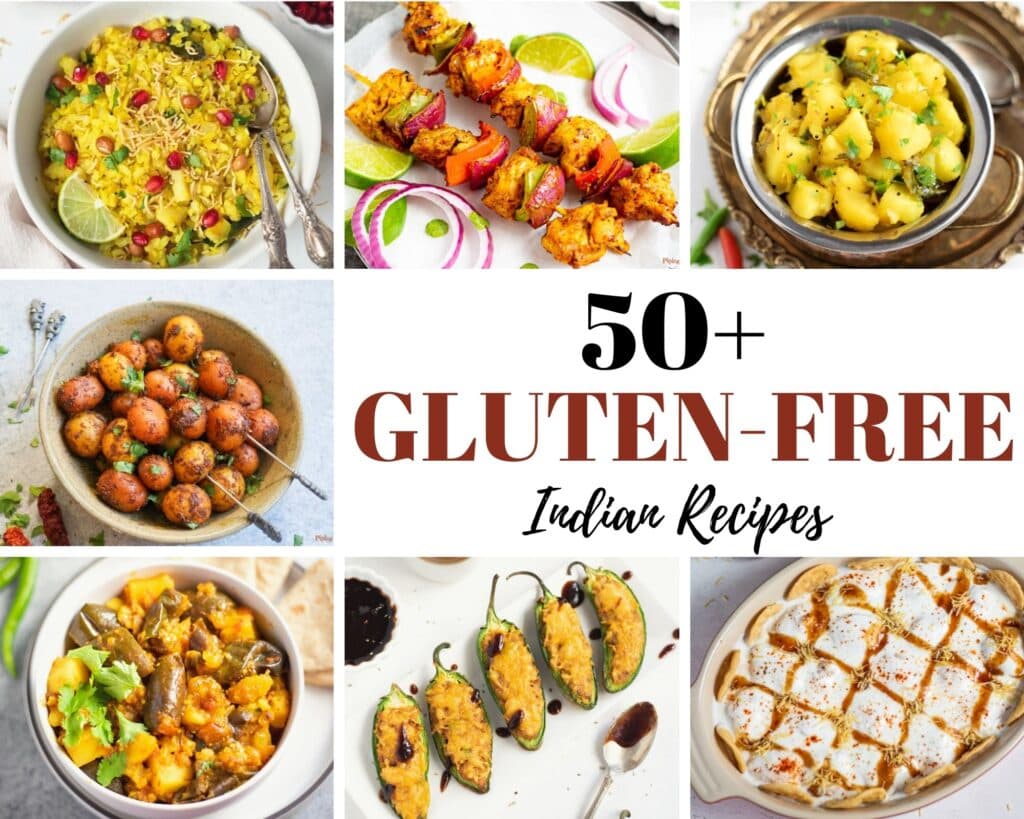 Looking out for gluten-free recipes in Indian cuisine is actually easy. Most of the main dishes are curries with vegetables/meat or lentils and beans. Sides are mostly rice, pickles and yogurt, lot of which are naturally gluten-free.
In Indian meal the main gluten dish is the flatbread – which is mostly made out of whole wheat flour. You can replace it with brown rice or can make gluten free flatbread with maize flour/corn flour (Makkai ka atta) or millet or sorghum flour.
Sharing lots of recipes below that are naturally gluten-free. There are also 200+ gluten-free recipes on the blog.
What is Gluten? Who needs to avoid it?
Gluten is a type of protein found in wheat, rye, oats and barley. Out of these wheat is most commonly used flour. When wheat flour is mixed with water, it forms a sticky glue like consistency. Basically it is the protein that gives flatbread a chewy texture and elasticity which is called gluten.
It is not necessary or recommended to avoid gluten unless you have allergies, gluten sensitive or celiac disease. But if you do have gluten-sensitivity, there are lots of gluten-free options in Indian cuisine.
Are Indian spices gluten-free?
Pure spices whether it is Indian or other cuisines, they are naturally gluten-free. I still recommend, if you are buying spices from a store check all the ingredients.
You might want to avoid asafoetida (hing), as it has gluten-added in the powdered form. If you buy compounded asafoetida, that is generally gluten-free and can be prepared at home to use in recipes (it is a bit tedious process).
Tips to make a gluten-free Indian meal
Avoid wheat flour, all purpose flour (maida), semolina, rye, oats and barley flour these are gluten rich flours. Instead have rice, quinoa, or can make gluten free flatbread with maize flour/corn flour (Makkai ka atta).
Avoid Asafoetida(hing) or use the gluten-free version.
Breakfast Recipes
Appetizers and Snacks
Main Dish (Vegetarian)
Lentils, Beans & Chickpeas
Main Dish (Eggs & Meat)
Rice Recipes
Condiments
Desserts
I hope you add these Gluten-free Indian Recipes to your menu. Let us know which one you're most excited to make, and share this roundup with your friends, and when you make it, don't forget to tag #pipingpotcurry.
You might also like –