Broccoli paratha is a nutritious and delicious variation of stuffed paratha made with a spicy and savory broccoli filling. Serve these broccoli parathas for breakfast with pickle and yogurt.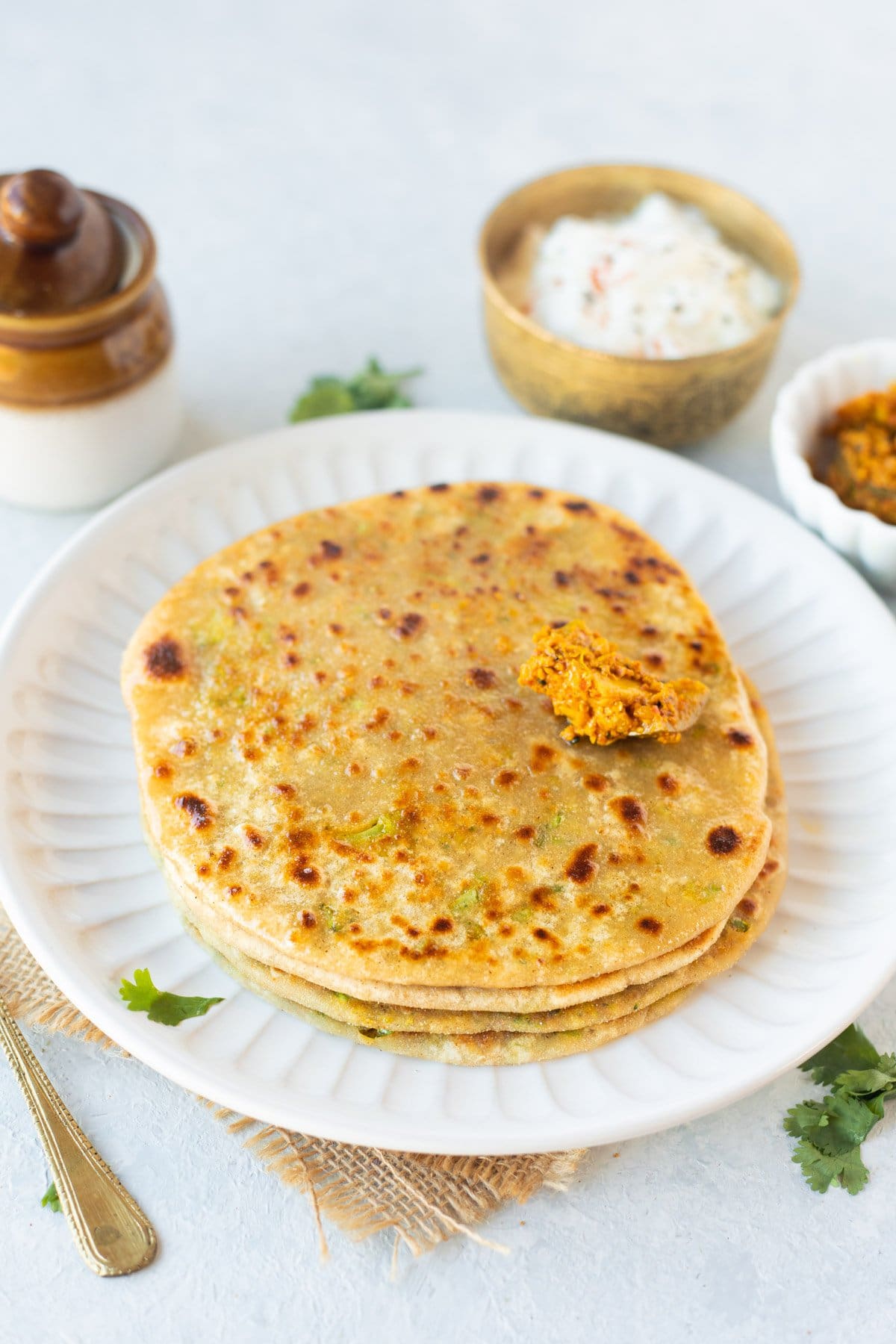 Numerous types of parathas are prepared in the Indian household, such as Aloo Paratha, Paneer Paratha, Methi Paratha, Mooli Paratha, or Ajwain Paratha. All of them are incredibly nutritious.
'Broccoli Paratha' is one such delectable paratha. This paratha is a filling breakfast made with broccoli, ginger, wheat flour, and spices.
I find broccoli parathas more flavorful as compared to cauliflower paratha. And guess what, my kids love them too. They enjoy these stuffed parathas in their lunch box, just like their favorite Cheese Paratha.
Once you prepare these, they'll become a regular feature in your household.
Jump to:
Why Make Broccoli Paratha?
Broccoli has numerous health advantages. It lowers cholesterol, promotes heart health, is an effective antioxidant, and is also a good source of protein.
This vegetable's high fiber content improves digestion, reduces constipation, and keeps blood sugar levels low. Make this paratha and pack it in your kids' lunchboxes.
Why You'll Love This Recipe?
It's a tasty, nutritious, and healthy paratha recipe.
This is a no-onion-garlic recipe
It is easy and quick to put together
It can be made for breakfast, lunch, or dinner
You can try different variations to add variety
It is enjoyed by kids and adults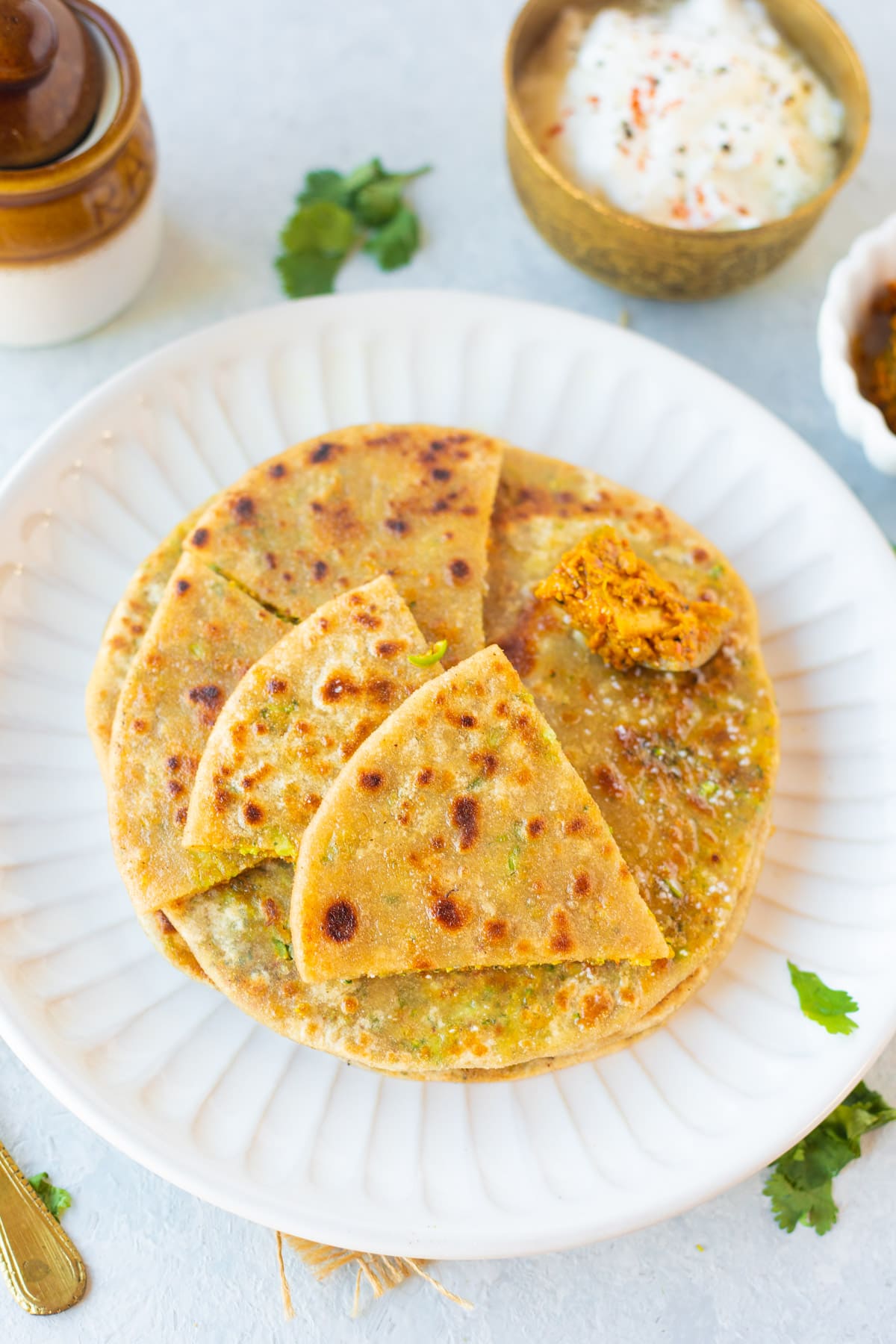 Ingredients
Paratha is made up of two main components – dough and stuffing.
Atta (whole wheat flour): This is a common ingredient in Indian households. Atta is available in Indian grocery stores. Sujata Gold, Aashirwaad, and other well-known brands are available.
Broccoli: Use fresh broccoli. Grate using the grater's medium hole. Any thick stalks must be discarded because they contain too much moisture and will also tear the paratha.
Ginger: I always use freshly grated ginger when making broccoli paratha. It adds a ton of flavor to the dish. It is also fantastic for digestion.
Green Chilli: Use finely chopped green chili to add a fantastic flavor and kick to the paratha. I like to use Thai green chilies, but you can use any. Skip green chili if making parathas for little kids.
Spices: I have used only three spices in this recipe – Jeera powder (ground cumin), Haldi (Turmeric powder), and red chili powder. You will already have these in your pantry.
Oil/ Ghee: For the dough and roasting the parathas. Use any vegetable oil or ghee. I prefer to use ghee, especially when making parathas for kids. Avoid ghee if you are vegan.
How To Make?
Step 1: Make the dough.
Mix the whole wheat flour, oil, and salt in a large mixing bowl. Add water in increments and knead the contents into a soft dough.
Knead for 8-10 minutes to form a smooth, soft dough. Cover and set aside the dough for around 30 minutes to rest.
You can even make your dough in the food processor or stand mixer. Here is a post for how I make roti dough using Kitchenaid stand mixer.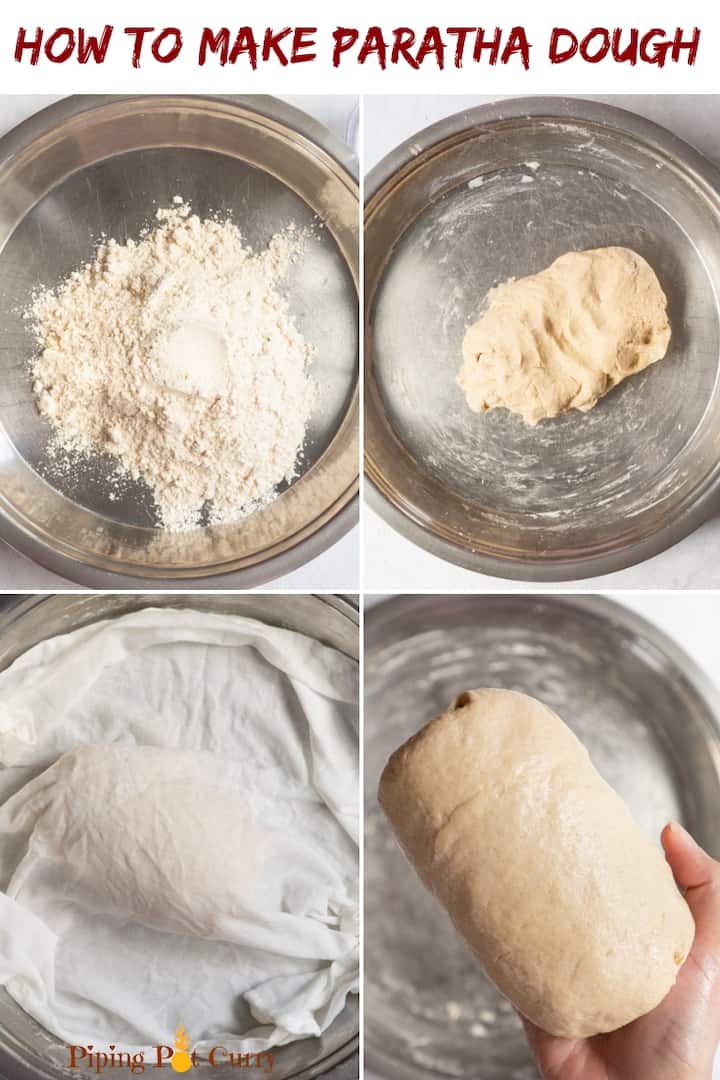 Step 2: Make the stuffing
Wash the broccoli head under running water. Let the broccoli dry, and then grate the broccoli using a grater. Use can grate the whole broccoli head or cut it into large florets and grate.
Mix ginger, green chili, and spices with the grated broccoli to prepare the stuffing.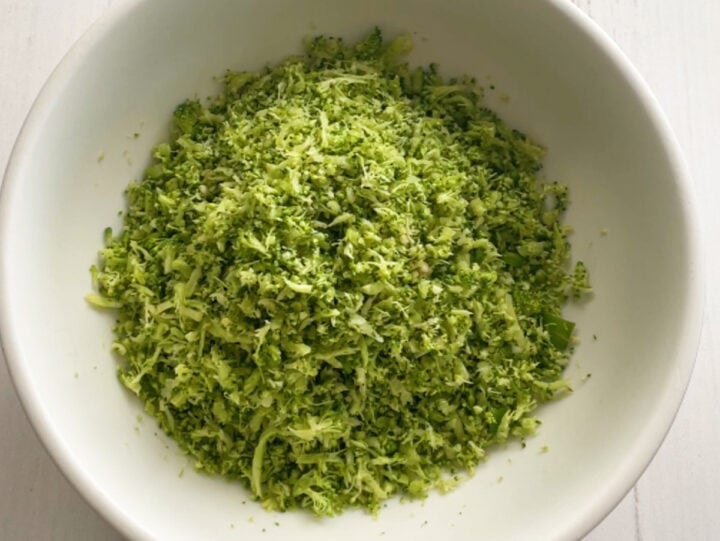 Step 3: Make the parathas.
Take a medium-sized dough ball. Roll it and then flatten it lightly with the help of your palms. Roll out a roti of about 5 inches in diameter, dusting it with flour.
Optionally spread some ghee on the rolled dough. I like to do this, especially when making parathas for kids.
Place a little stuffing on the disc in the center. Gather the edges, form pleats, and form a dumpling.
Next, flatten this dumpling in the center, sprinkle some flour, and roll it. Make sure the edges are not very thick.
Pro-tip: Sometimes you have parathas that have thicker dough at the center. To avoid that, you can remove any extra dough at the top of the dumpling. This makes sure that the filling spreads evenly throughout the paratha.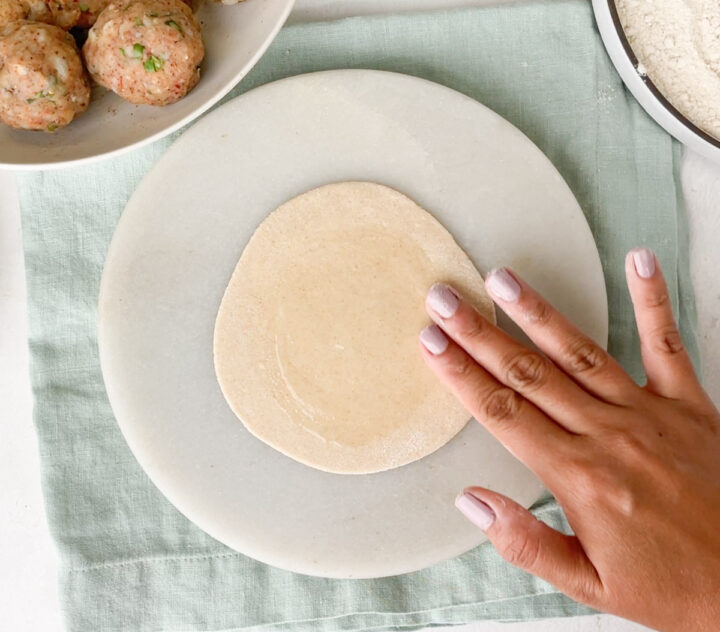 Step 4: Cook the parathas on both sides.
Heat a skillet/ tawa. Place the paratha on a heated tawa. Cook until both sides of the paratha have brown spots.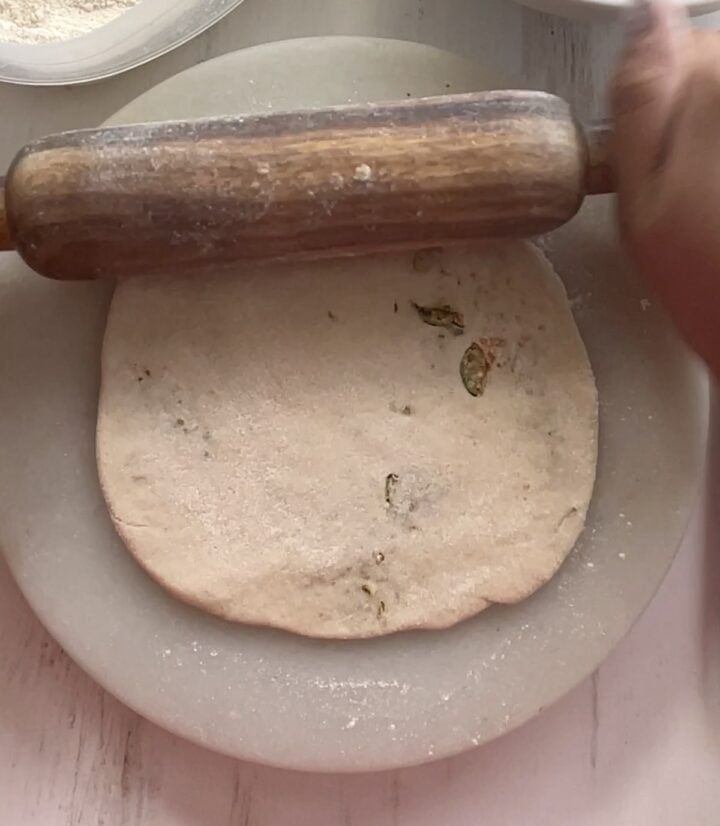 The broccoli paratha is ready. Make more parathas the same way!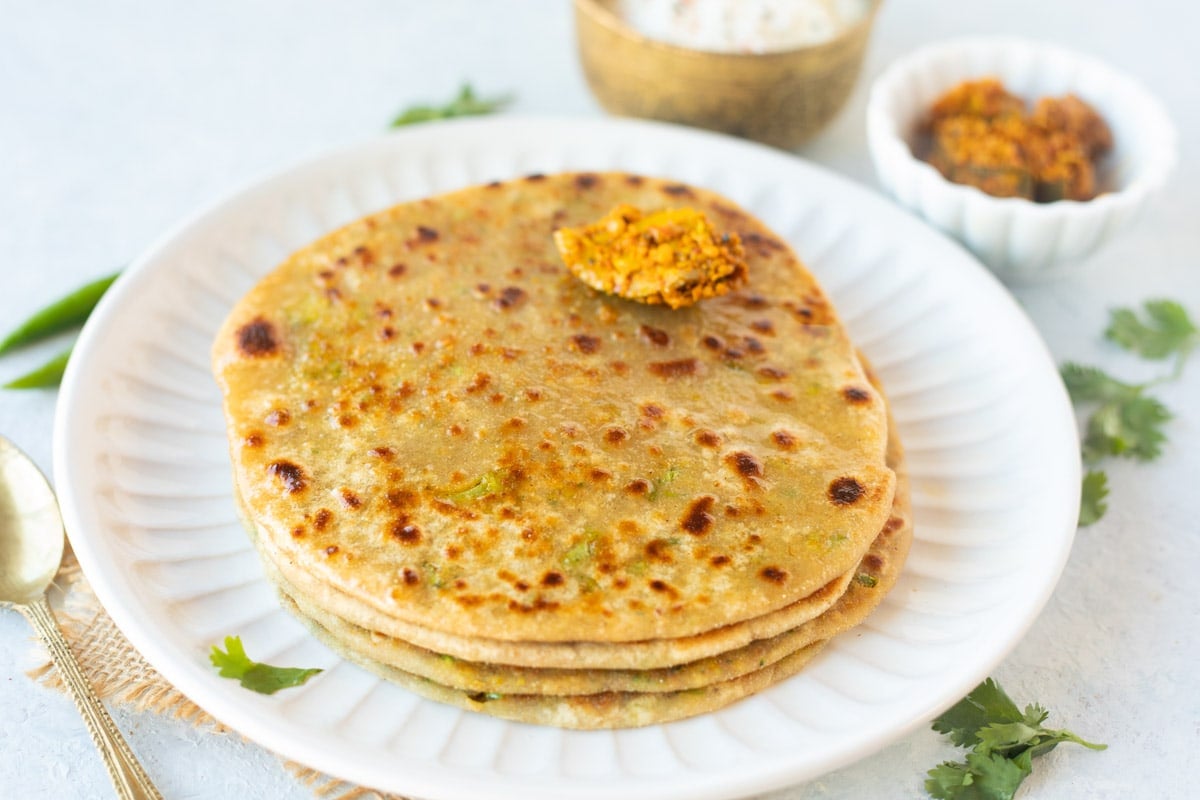 Variations
Mix grated broccoli, green chili, ginger, and spices with whole wheat flour, then make a soft dough. This way, you don't have to stuff the parathas, which is an easier option, especially for beginners.
Add boiled, mashed potato along with grated broccoli to make the stuffing.
Adding paneer (Indian cottage cheese) to broccoli makes delicious parathas.
When added to broccoli, finely chopped onions make a nice crunchy stuffing.
I also love adding lots of chopped cilantro to the broccoli for a fresh earthy flavor.
Pro-Tips
The dough should be soft and smooth, and let it rest for 15-30 minutes before you start making the parathas.
Only use fresh broccoli. Do not use frozen broccoli, as it oozes out lots of moisture and will break the parathas.
Don't be tempted to overstuff the parathas with the stuffing, as they tend to break when rolling. Also, make sure the parathas are not under-stuffed.
This recipe is easily scalable, and the quantity can be increased or decreased.
It is essential to keep in mind that the broccoli is finely grated. Larger gratings or shreds can tear the paratha when rolling.
Adjust the spice level with less or more green chilies to taste.
The griddle/tawa should be heated enough for the parathas to be tender and crispy.
Cooking the parathas on medium-high heat is recommended. Low heat will not produce crisp parathas.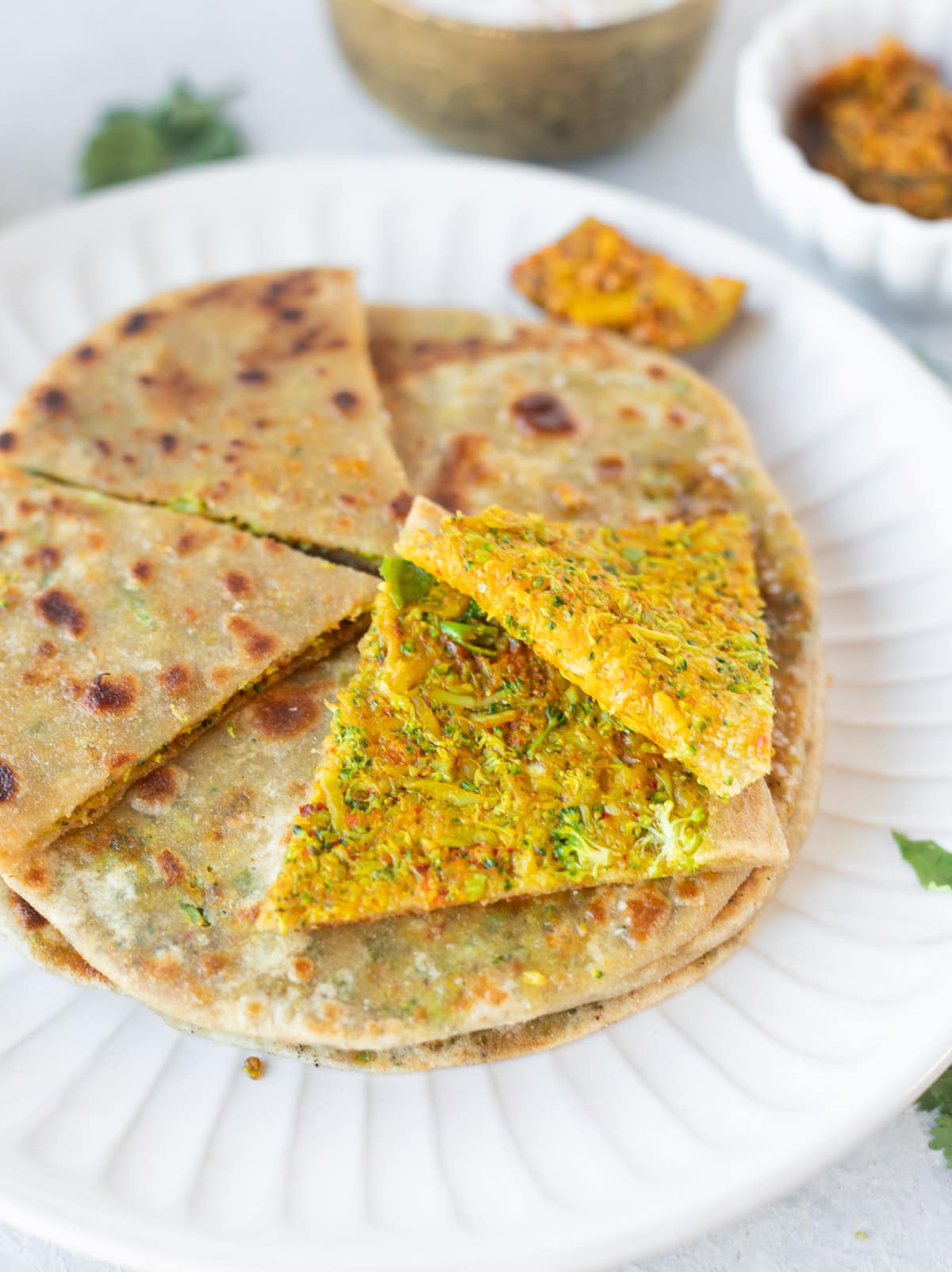 How To Serve?
Broccoli paratha tastes excellent on its own!
Stuffed parathas are traditionally served with a dollop of white homemade butter, pickle, and plain homemade yogurt or sweet lassi, and believe me, this is the most excellent way to eat them.
A cup of masala chai with broccoli paratha is comforting.
It's usually made for breakfast, but my kids love it for lunch or dinner.
Serve this delectable paratha with your favorite spicy dal or curry for a complete meal.
To enjoy this paratha, serve it with this Ginger Chilli Pickle or mango pickle or this mint cilantro chutney and chilled raita such as boondi raita or cucumber raita.
Storage Suggestions
The filling and dough will keeps well in the fridge for about 2-3 days. Store them separately in air-tight containers. If storing the stuffing, do not add salt.
Whenever you want to make broccoli paratha, take the stuffing out of the fridge 15 minutes ahead and press out any excess water. Add salt and use the stuffing to make the paratha.
Broccoli paratha freezes well. Cool them after cooking and then freeze them in ziplock freezer bags. Place a piece of parchment paper between each paratha to prevent them from sticking together. When ready to serve, defrost and cook on a Tawa with a little more oil.
Is this Paratha Vegan?
Traditionally parathas are cooked with ghee. But you can use vegetable oil of your choice to make them vegan.
Other North Indian Recipes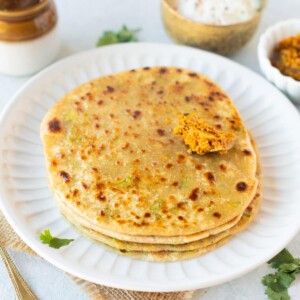 Broccoli Paratha
Broccoli paratha is a nutritious and delicious variation of stuffed paratha made with a spicy and savory broccoli filling. Serve these broccoli parathas for breakfast with pickle and yogurt.
Ingredients
For the Dough
For the Stuffing
1

Broccoli

,

medium head, washed and dried

1

teaspoon

Ginger,

grated

1-2

Green chilli finely chopped

,

optional

1/4

teaspoon

Turmeric powder (Haldi)

1/2

teaspoon

Red Chilli Powder

,

adjust as desired

1/2

teaspoon

Ground Cumin (Jeera powder)

1

teaspoon

Salt
Instructions
Make the Dough
In a large bowl, combine atta (whole wheat flour), 1 teaspoon oil and salt.

Add enough water (in small increments) and knead to make a soft and smooth dough. Make the dough smooth by kneading it with your fist. Add some water to your hand and knead 2-3 times. When you press your finger against the dough, it should leave an impression. This is the right consistency of the dough.

Cover with a damp cloth or plastic wrap and let the dough rest for at least 15 mins and up to 30 mins while you prepare the filling.
Make the Broccoli Stuffing
Using a grater, grate the broccoli in a plate/bowl. You can grate the head or cut into large florets and grate it. Use the medium/small side of the grater, so that the grated broccoli can be easily stuffed in the paratha. Stop grating when you reach the stalks.

Combine all stuffing ingredients to the grated broccoli. Mix well.
Rolling the Paratha
Make equal portions of the dough (about 55-60 grams). Roll with your palms into a smooth ball and flatten it. Dust the dough ball with dry flour. Roll it out into a 5 inch disc with a rolling pin.

Next, optionally spread some ghee on the rolled dough. Then scoop some stuffing in the centre of the disc, leaving about 1 inch of space from the sides.

Gather the edges and form pleats and form a smooth ball out of the stuffed dough. When the pleating is complete, the stuffing will not be visible and it'll look like a dumpling.

Next, flatten this dumpling in the center, sprinkle some flour and roll it evenly.

While rolling the dough, use light and even pressure to prevent the paratha from breaking. Roll from one side to the other, dusting with dry flour as needed.

If by chance any filling comes out, simply cover the torn end with a small piece of dough. The paratha is typically 7-8 inches in diameter.
Making the Paratha
Heat the tawa (skillet or griddle). Place the rolled paratha on the hot tawa. Cook until you start seeing small air pockets and the color of the dough starts to change.

With a flat spatula, flip the paratha and top with ghee just enough to make the surface of the paratha greasy (about ½ teaspoon). Spread the ghee or vegetable oil evenly over the paratha with the back of the spoon. Now we want to cook until there are some brown spots on the paratha.

Flip the paratha and top with ghee/oil on the other side. Spread it evenly over the surface. Cook until there are brown spots while pressing gently with the spatula.

Spread ghee/ oil on the second side and press the edges of the paratha till it is evenly brown and well cooked.

When both sides have golden brown spots, transfer the paratha to a plate lined with a paper towel.

Repeat these steps till all the parathas are cooked. You can keep parathas in an insulated container or in a roti basket wrapped in a towel. This will ensure they stay warm by the time you are ready to eat. Serve hot with white butter, pickle, raita or a cup of hot chai.
Notes
Make sure the dough is rested before your start rolling.
Roll the parathas slowly to avoid tearing and the filling coming out.
Add salt to the broccoli filling when you are ready to make the parathas. This helps to not make the filling too moist, which can make it hard to roll the parathas.
You can also add finely diced onions to the broccoli filling.
Vegan Variation: Simply replace the ghee with your favorite vegetable oil in the recipe.
Best flour for paratha: I prefer Sujata Chakki Atta or Aashirvaad Select Sharbati Atta or Aashirvaad Whole Wheat Atta.
Nutrition
Calories:
146
kcal
Carbohydrates:
27
g
Protein:
6
g
Fat:
3
g
Saturated Fat:
0.4
g
Polyunsaturated Fat:
1
g
Monounsaturated Fat:
1
g
Sodium:
484
mg
Potassium:
356
mg
Fiber:
5
g
Sugar:
2
g
Vitamin A:
515
IU
Vitamin C:
69
mg
Calcium:
49
mg
Iron:
2
mg