Besan Chilla is a family favorite, known for its characteristic earthy flavor from besan/ gram flour and simple Indian spices and herbs, including chilies and onions. These savory gram-flour pancakes are nutritious and vegan! Perfect to enjoy with your favorite pickle or chutney!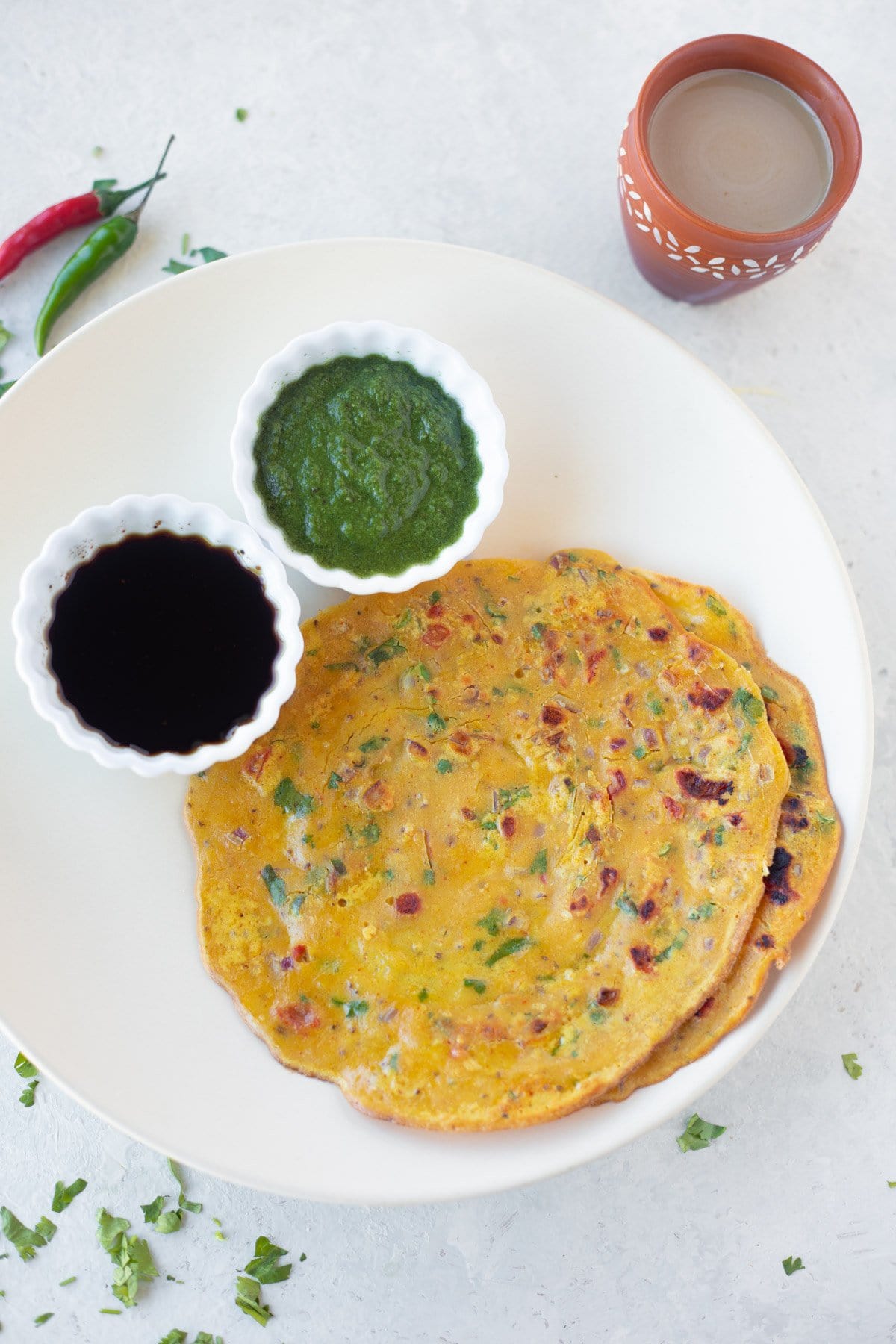 I have lots of memories of eating this as a child. My mom made it often for breakfast and sometimes even packed it for my school lunch.
Besan chilla is a great alternative for a quick breakfast if you don't eat eggs. It is the vegan eggless omelette.
Besan is a versatile ingredient to use – It can be used for savory and sweet recipes, from the main courses to desserts to snacks – you name it, and can find so many uses.
Here are some of my favorite recipes using besan/gram flour: Khaman, Besan Barfi, Paneer Pakora, Gujarati Kadhi, and Besan Halwa.
Jump to:
What is Besan Chilla?
Besan cheela also known as besan chilla, besan ka chilla, puda, pudla is an Indian savory pancake prepared from besan or gram flour. It is also known as an "eggless omelette" – as it resembles the Masala omelette.
In India, you can make a cheela from different flour – rice flour, semolina (sooji), oats flour, millet flour, soaked pulses/ lentils like moong dal etc. Here is my recipe for moong dal chilla.
Besan Pudla is a traditional recipe that can be made quickly and easily with a few basic ingredients in your pantry.
Besan cheelas can be prepared in any kind of nonstick pan or a griddle/ Tawa, but I prefer to cook them on a cast iron pan.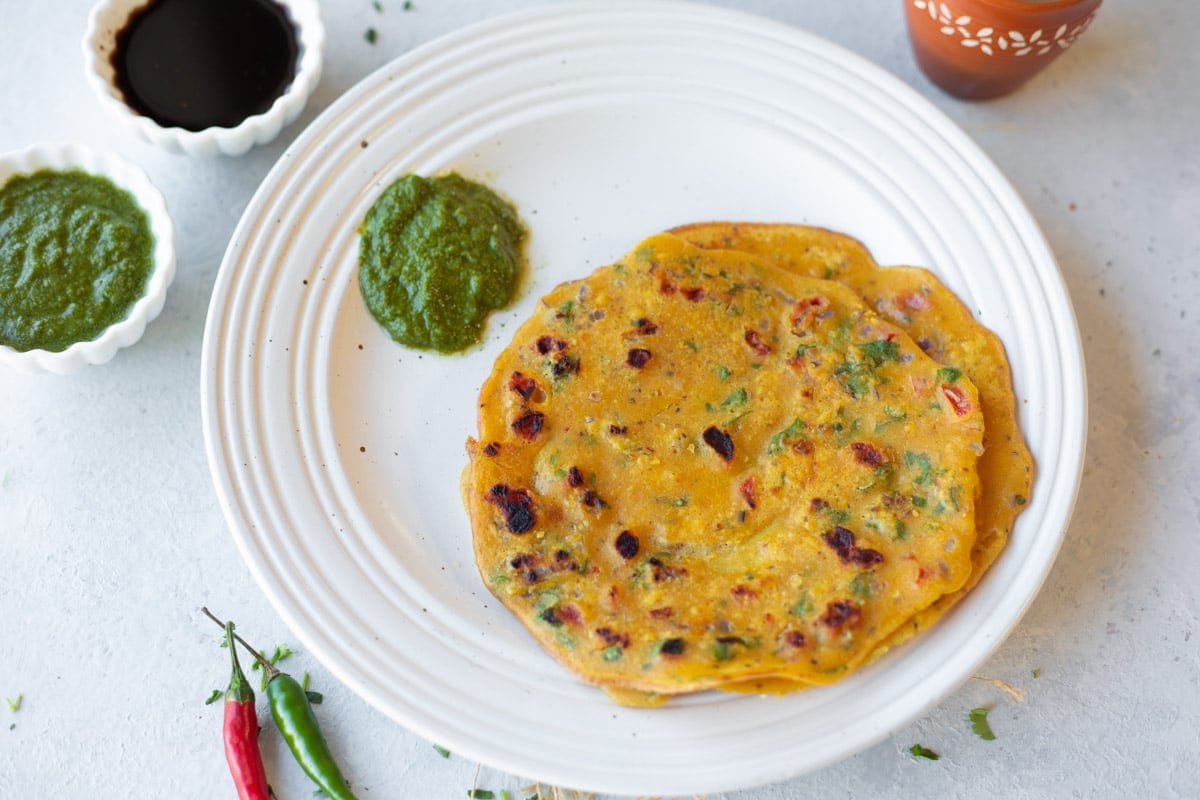 Why You'll Love This Recipe
It's an amazing snack or breakfast
It makes a wholesome meal
it is vegan and gluten-free
it is super easy to make and requires no prior planning
great way to use lots of different vegetables
it is kid friendly
Nutrition of Besan (Gram Flour)
According to USDA food composition database, 100g of chickpea flour contains – 22.4 g protein, 57.8 g carbohydrate, and 10.8 g fiber.
Like other legumes, besan is a great source of plant-based proteins and fiber that help to slow down digestion, make you feel fuller, control your weight, and keep heart disease at bay.
The low glycemic index of gram flour aids in controlling blood sugar levels.
Besan also contains many heart-healthy nutrients like phosphorus, zinc, folate, thiamine, magnesium, and potassium. Folate is essential during pregnancy.
Learn how to make this nutritious gram flour at home.
Ingredients
Gram flour (Besan): Is flour obtained from chana dal. You can easily find it at the Indian grocery store or on Amazon.
Green chilies: Finely chopped green chilies add a kick to the bland gram flour. Adjust the level based on your tolerance.
Ginger: freshly minced or grated ginger adds aroma to the chilla. It also aids with digestion.
Onion: Finely chopped red onions add a lot of flavor to the cheela
Tomatoes: Tomatoes add juiciness and color to the dish.
Cilantro: Freshly chopped cilantro adds a ton of fresh, earthy flavor
Spices: Ajwain (carom seeds), Turmeric powder (haldi), and Kashmiri Red chili powder are the only spices you need.
Salt: Use salt according to taste.
Water: it is needed to make the batter.
Oil: Use any vegetable oil of your choice. You can also use ghee if you are not a vegan.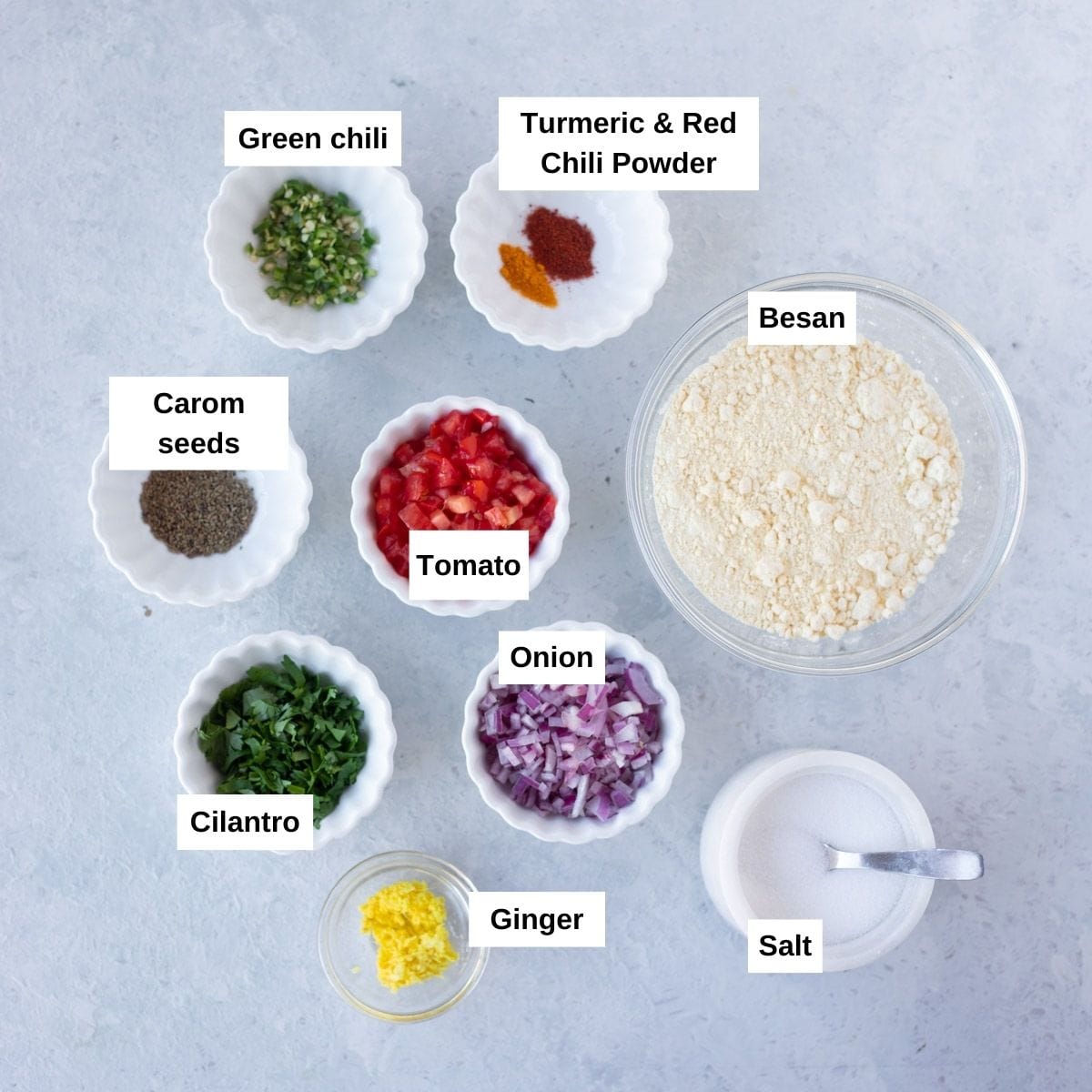 How to Make Chilla?
You have to try this once to know how simple it is to make.
In a mixing bowl, combine all ingredients – besan, spices, and veggies
Add the water gradually and whisk until you have a smooth, flowy batter.
On a heated Tawa/ skillet, add a ladle full of the batter in the center and using the ladle, spread the batter in a circular clockwise direction.
Allow the batter to set on medium heat till a pancake is formed.
Drizzle some oil over the top of the pancake and cook for 2-3 minutes, until the edges turn golden brown or separate from the pan.
Cook the pancake for another 1-2 minutes on the other side. To flip, use a thin spatula.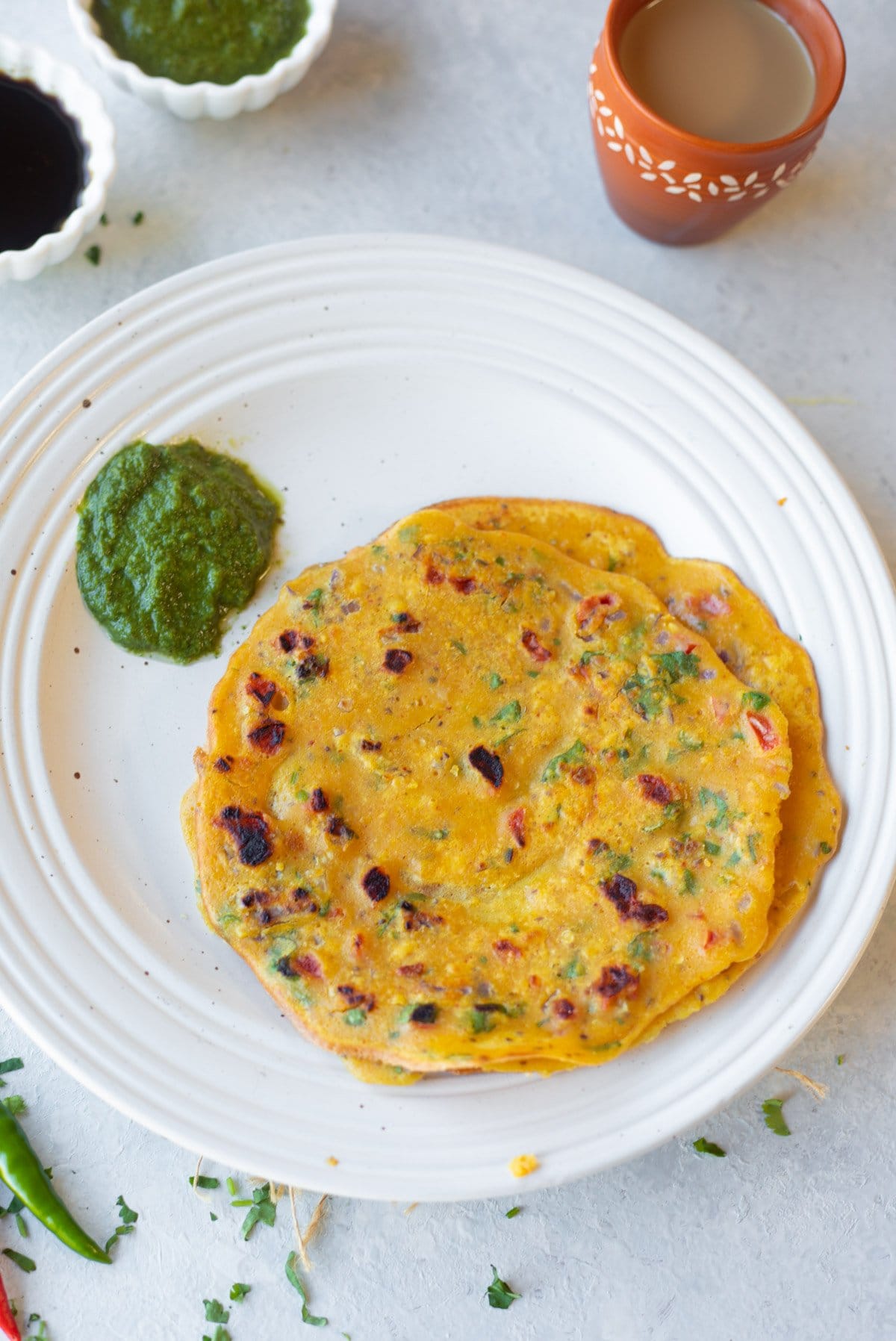 Expert Tips
The batter must be of the right consistency – not too thick nor too watery. It must be thin to get crispy chillas. It's best to test a small sample before start making.
The amount of water to be added will depend on the quantity of besan and the type and quantity of vegetables. It's best to add water slowly with constant whisking. The vegetables will also release some water.
It is super important to note that the Tawa/ pan must not be too hot otherwise, the batter doesn't spread well and sticks to the pan.
If the Tawa is extremely hot, turn down the flame, cool it by sprinkling some water, waiting for it to evaporate, and then spreading the batter. Sometimes, I just wipe it with a wet paper towel.
Don't want oil – just make it on a non-stick pan. A little oil enhances the flavor and makes it crispier.
Variations
Vegetable Chilla: I love to add grated carrot, beetroot, zucchini, finely chopped green bell paper, and cabbage to the batter – depending on what I have in the fridge.
Spinach Chilla: Add lots of finely chopped spinach or spinach puree. If adding puree, adjust the water accordingly.
Methi Chilla: I love the combination of methi and besan. Finely chopped methi leaves add a ton of flavor.
Paneer Chilla: Add grated paneer to your batter and then make your chilla. Many people also like to make stuffed chilla. Add a stuffing of paneer bhurji to the chilla.
Cheesy Chilla: Add grated cheese to the chilla after it is cooked. Fold the chilla in half. The kids love this version.
How To Serve?
Besan ka chilla is usually served for breakfast or snacks. But I also make it often for lunch or dinner.
It tastes best when served hot/ warm with mint cilantro chutney or tomato ketchup.
Have it with your evening tea/ coffee, or sweet lassi.
Place the chilla between 2 bread slices and have this chilla sandwich with tomato ketchup.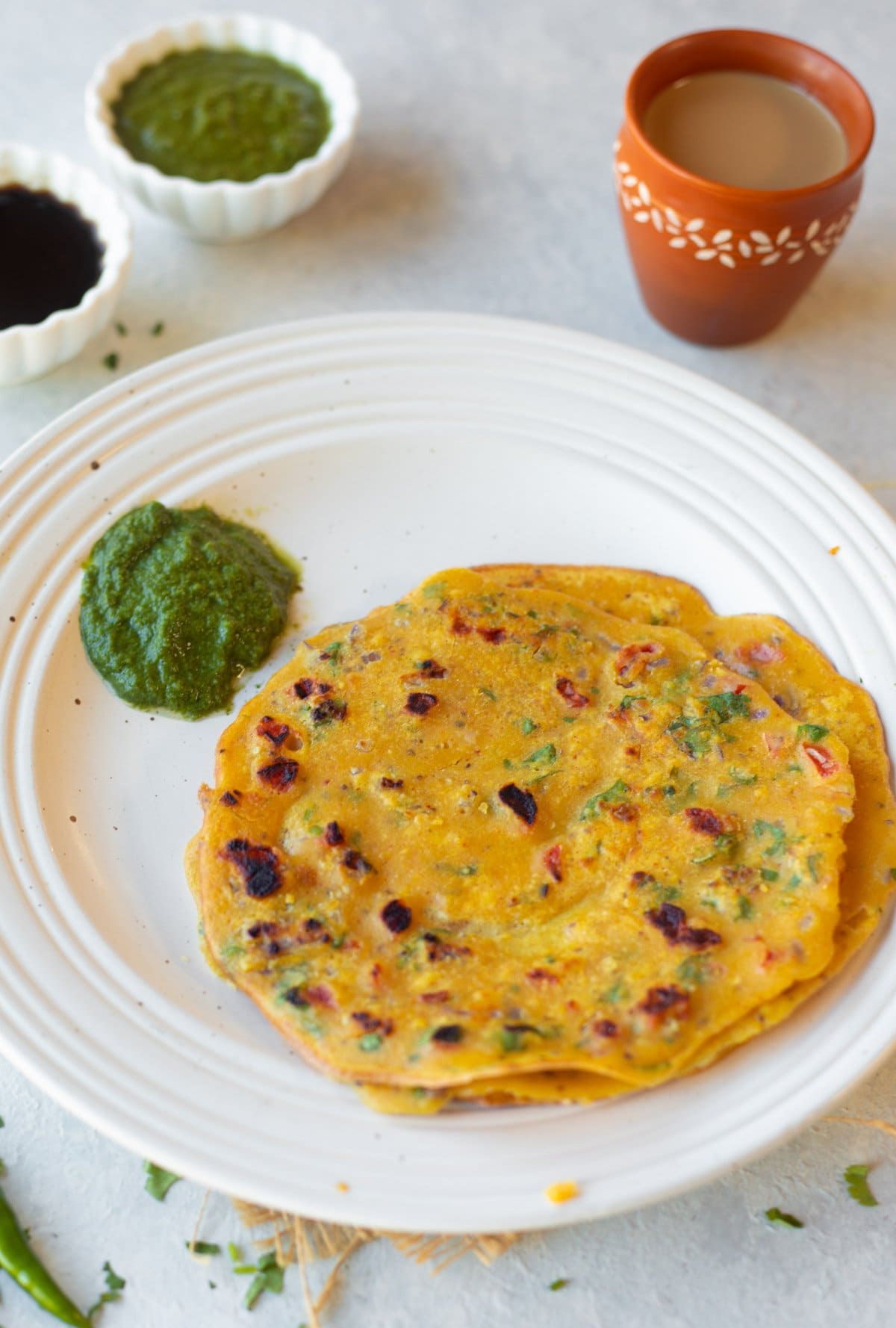 Can I Make Besan Chilla Ahead Of Time?
I do not recommend making the pancakes ahead of time because they will not be crisp. And it doesn't take very long to prepare these so you can enjoy them fresh and hot.
For busy mornings, you can prepare the batter the night before and make the chillas in the morning. However, add the chopped vegetables to the batter in the morning.
The besan batter can easily last in the refrigerator for 3-4 days.
Is Besan Chilla Healthy?
Gram flour has an excellent nutritional profile. To make this healthier and lighter on the stomach, you can experiment with different vegetables and adapt the chilla to your likes.
More Breakfast Recipes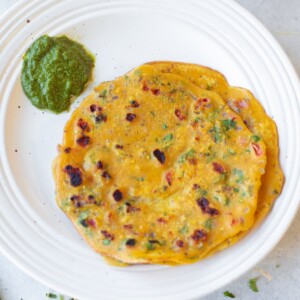 Besan Chilla (Savory Gram Flour Pancakes)
Besan Chilla is a family favorite, known for its characteristic earthy flavor, which is provided by besan/ gram flour and simple Indian spices and herbs, including chilies and onions. These savory gram-flour pancakes are nutritious and vegan! Perfect to enjoy with your favorite pickle or chutney!
Instructions
In a large bowl, add besan, ajwain, green chili, ginger, onion, tomato, cilantro, salt, turmeric and red chili powder.

Add water little at a time while whisking to form a medium thick batter. Make sure the batter is not too thick or too runny, it should have a pouring consistency.

Heat a iron skillet or non-stick pan on medium heat. Once the skillet is hot, take a ladle full of the batter, and pour it at the center of the pan.

Using the same ladle, spread the batter on the tala in a circular motion to make a round chilla.

Drizzle some oil at the edges of the chilla and at the center on the top. Total of about 3/4 to 1 teaspoon.

Cook the chilla on one side for a couple of minutes, then flip it using a spatula. You should see some golden spots on the top of the chilla after it was flipped.

Now press with the spatula and cook the other side for 1-2 minutes.

When the chilla is well cooked on both sides, remove to a plate. Same way make all the chilla's.

Serve besan chilla right way with chutney or tomato ketchup, and a cup of chai!
Notes
The batter must be lump-free, smooth and flowy
Use any vegetables of your choice
If you do not like the flavor of ajwain, use cumin seeds instead
The tawa should be heated well to prevent the batter from sticking.
Nutrition
Calories:
170
kcal
Carbohydrates:
21
g
Protein:
7
g
Fat:
7
g
Saturated Fat:
1
g
Polyunsaturated Fat:
2
g
Monounsaturated Fat:
4
g
Sodium:
391
mg
Potassium:
299
mg
Fiber:
4
g
Sugar:
5
g
Vitamin A:
178
IU
Vitamin C:
5
mg
Calcium:
19
mg
Iron:
2
mg