We present to you the best air fryer accessories – oil mister, cake pans, basting brushes, tongs, and much more to help with air frying your favorite meals!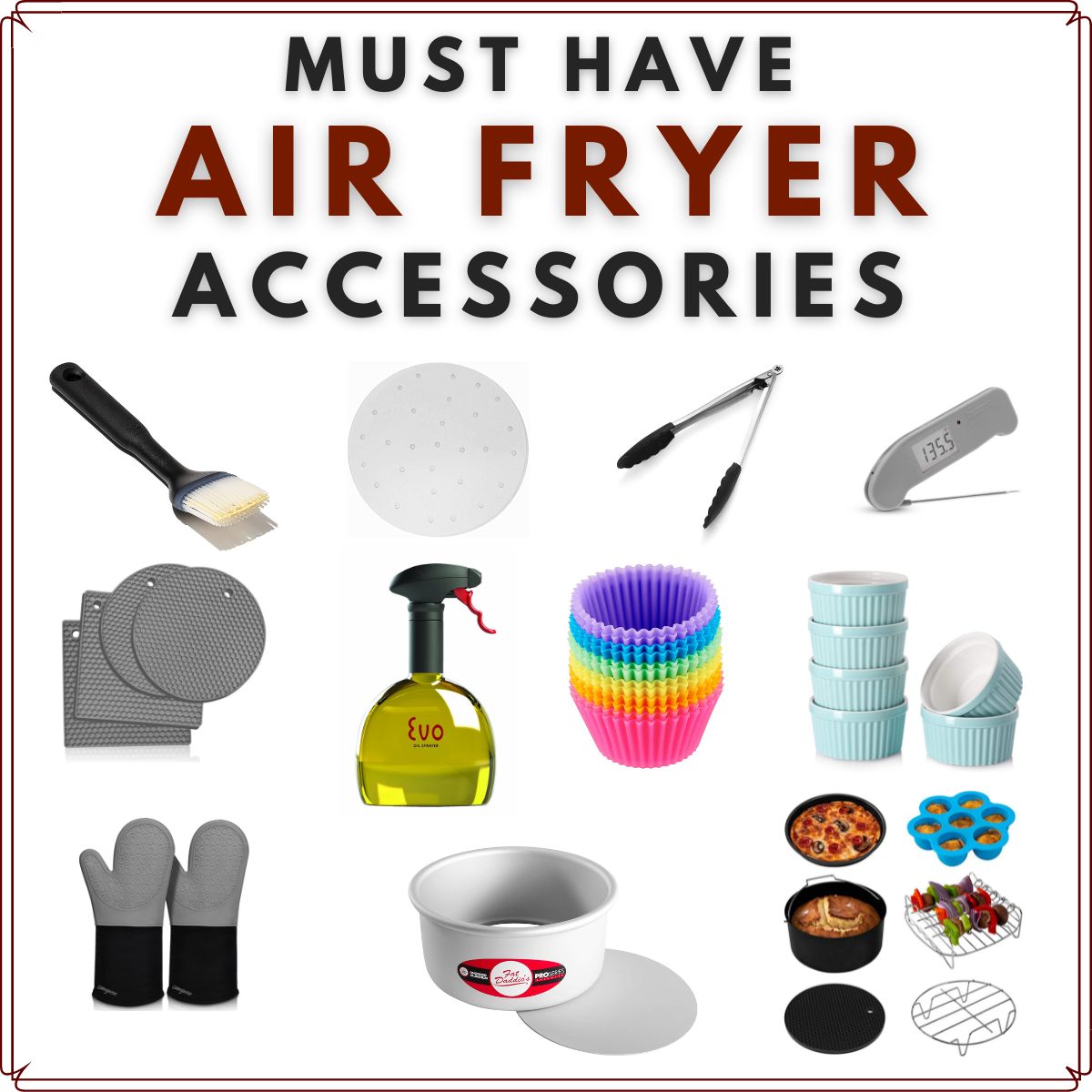 You can use your air fryer for a variety of purposes if you have the right accessories. Because of the plentiful options of accessories available, such as pans, brushes, and even a thermometer, you can cook a wide range of dishes with this useful appliance.
It can be challenging to decide which air fryer accessories to use as so many options are available. Keep in mind the model you have and accordingly invest in the accessories. I am listing down a few that are most essential and used frequently.
Check out my guide for 5 things to consider when choosing an air fryer and how to use the air fryer.
Do You Need Air Fryer Accessories?
It just depends on you and what you intend to cook to determine whether or not you need air fryer accessories. If you're only using it to make french fries, or warm up pizza or naan bread, samosa etc., the answer is probably no. However, a good pair of tongs and silicone mitts will be useful to protect your hands.
If you're a more experienced air fryer user, enjoy trying new recipes, or want to give your oven or deep fryer a break, you'll want to pick up some of these air fryer accessories to elevate your air fryer experience.
Tips for Choosing Must-Have Accessories For The Air Fryer
Check in your kitchen what you might have in your kitchen and what else you need and like to add to your collection
You need to keep in mind if these accessories will be compatible with your air fryer i.e. must be oven-proof and be able to withstand high temperatures
The accessories must be able to fit in your air fryer and not come in contact with the heating element
The accessories must also be nonstick to prevent the foods sticking on it
The accessories should be easy to clean
Try to find good deals on the accessories and save some money
Are Air Fryer Accessories Universal?
I would say that most models have slight differences and they aren't created equal. The air fryer baskets vary in size and shape (round or square). Also if you have a small air fryer, you can't use a large cake pan in it.
But some accessories can be used universally. These universal air fryer accessory sets are easily available and include a variety of pans and other accessories.
But before purchasing a set of accessories, make sure to check the dimensions of your air fryer and get the largest set that will fit.
What Air Fryer Accessories Do I Need?
I just searched my kitchen cabinets and drawers and checked and what would fit in the air fryer to find the accessories I will need on a regular basis. It is very likely that you might already have a few of these if you use an oven regularly.
11 Essential Air-Fryer Accessories
Whether you own a Philips, Ninja, Instant Vortex, or Cosori air fryer, you will need a few essential accessories to maximize your air frying experience. I recommend the following accessories that you must have:
Parchment sheets come really handy for certain foods like fried chicken, wings, and other meats. These prevent the foods from sticking to the basket and makes the cleaning process much easier after use.
These parchment paper have small holes to help air circulate and come in different sizes to fit almost any fryer. After use, simply discard them in the garbage.
Of course, you can also punch holes in regular parchment paper at home. However these sheets are so inexpensive, I just prefer to buy them.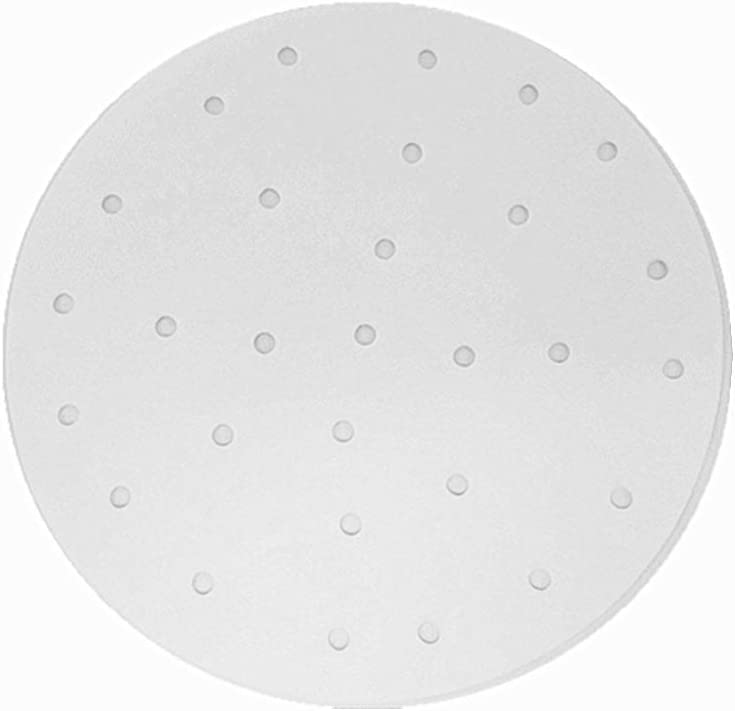 Some people prefer using a silicone basket as the paper liners have burnt and they also fly if the food isn't kept properly on it. So, with that in mind, a silicone basket works better. After cooking, simply throw it in the dishwasher.
This in my opinion is non-negotiable. The mister spritzes a very thin layer of oil to the food you're cooking, resulting in crispy food without drowning it in oil.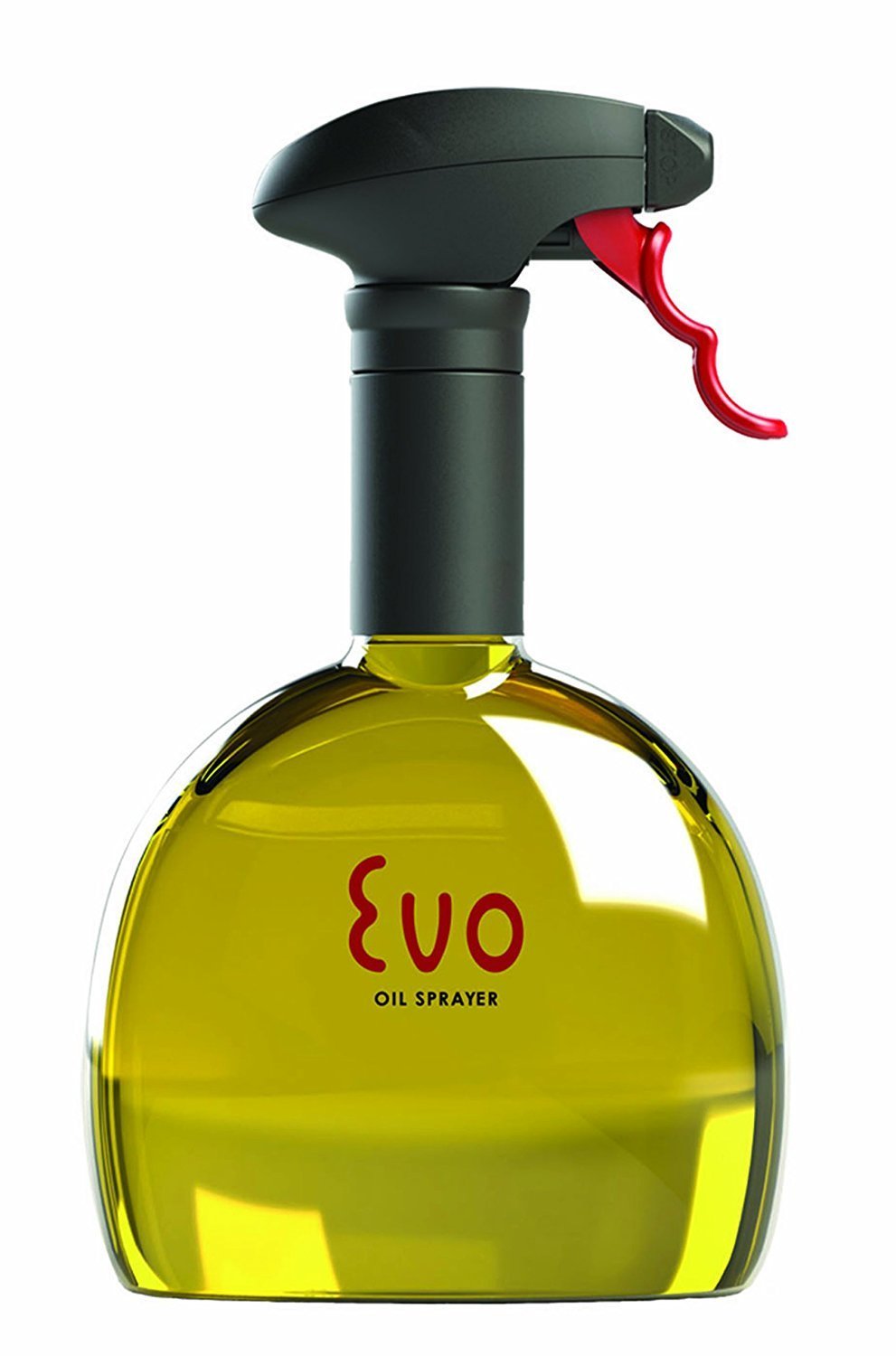 But it is absolutely fine if you don't have a mister. You can also oil your food with a brush!
If you're marinating something, you don't need to spray or brush it with oil. Simply place the food in a bowl and drizzle the oil on top, or use however much the recipe calls for.
It's a versatile tool that can be used with any cooking method. But it's most helpful when you use your air fryer to cook meat.
One thing to keep in mind is that the meat should be cooked all the way through and this thermometer will help keep your food safe.
This thermometer reads temperature in just 1-2 seconds. It is very accurate, waterproof. and has a large LED screen.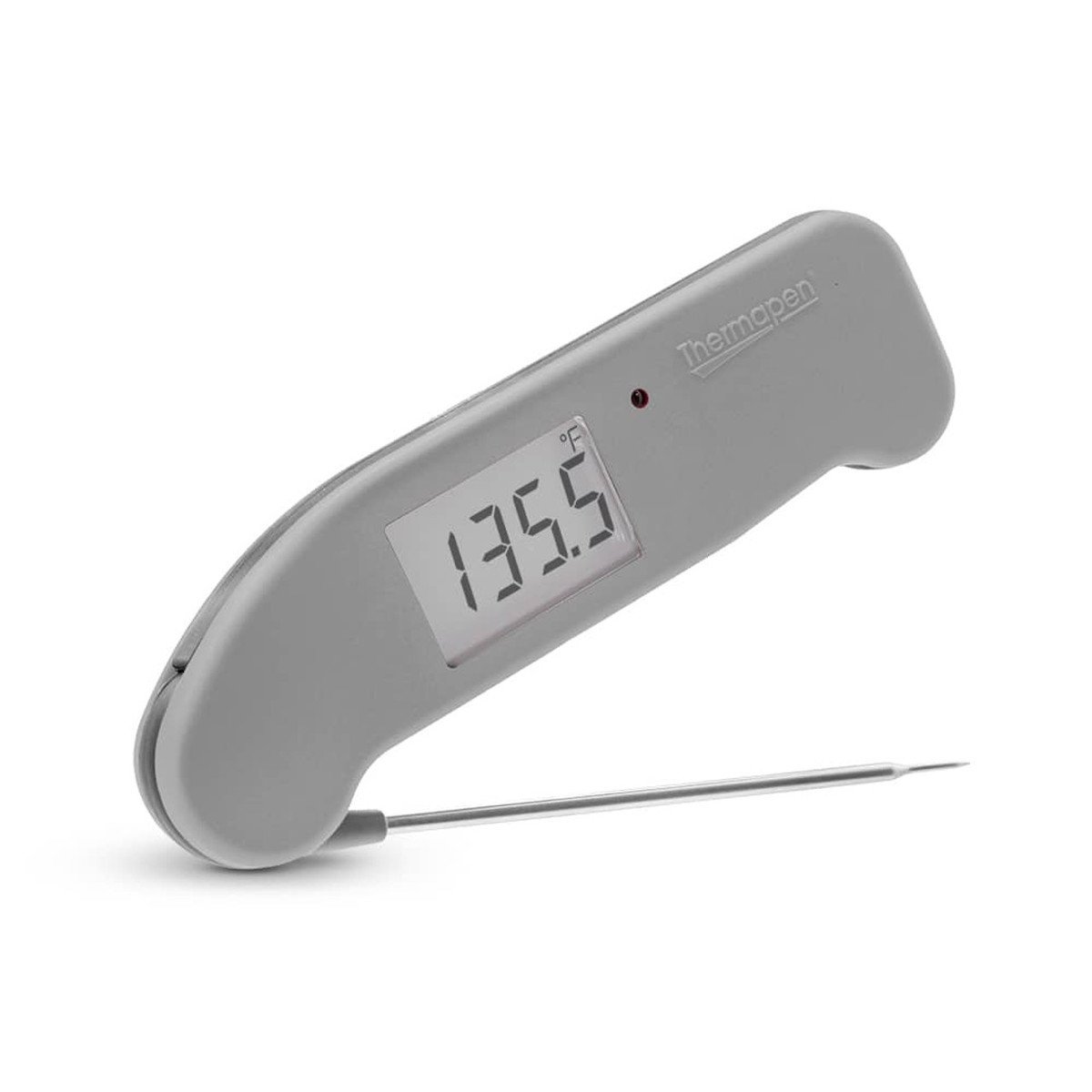 These pans for air fryer are great for making cheesy dips, saucy dishes, as well as baking small cakes. During air frying, the high sides keep the contents from boiling over.
Below is the popular Fat Diddio Cheesecake pan 6″ by 3″. I love this pan for making mini cakes. It fits perfectly in my instant pot and air fryer.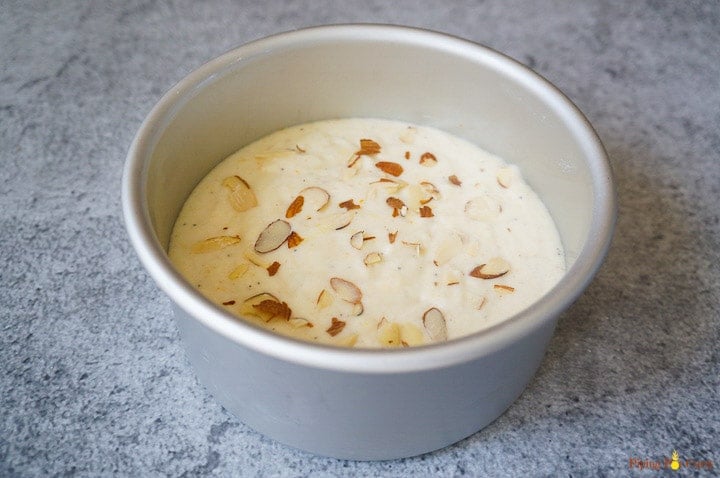 A good accessory kit is a great investment especially if you just bought an air fryer and do not have any accessories from before. It'll allow you to cook almost anything in an air fryer.
A kit usually comes with everything you need to get started with cooking in an air fryer, including stand, a cake pan, skewers, muffin cups or egg bite molds, a pizza pan, and silicone mat. All of it will be extremely useful.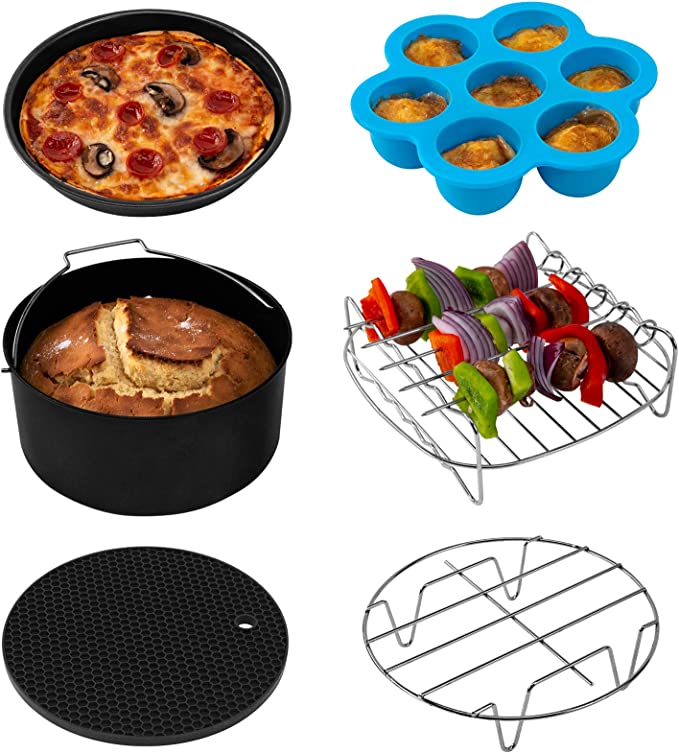 Air fryers are extremely hot. so you want to be safe by using mitts when using them. Now you might already have oven mitts at home, and you can certainly use them.
If you are looking for new ones, these long oven mitts are manufactured of heat-resistant silicone and can withstand temperatures as high as 450 degrees Fahrenheit. They are also textured, which improves your grip. I love how my hands and forearms are protected with these mitts.
This is a must have and you might already have one. Heat-resistant tongs are an excellent way to move food in, out, and around the air fryer basket.
A good pair of stainless steel tongs with silicone heads are sturdy and dishwasher-safe, making it easy to grip food while protecting your fingers and arms.
Note: you want to have tongs with silicone heads to use in the air fryer, as most air fryer have a non-stick coating which with spoil if you use metal tongs.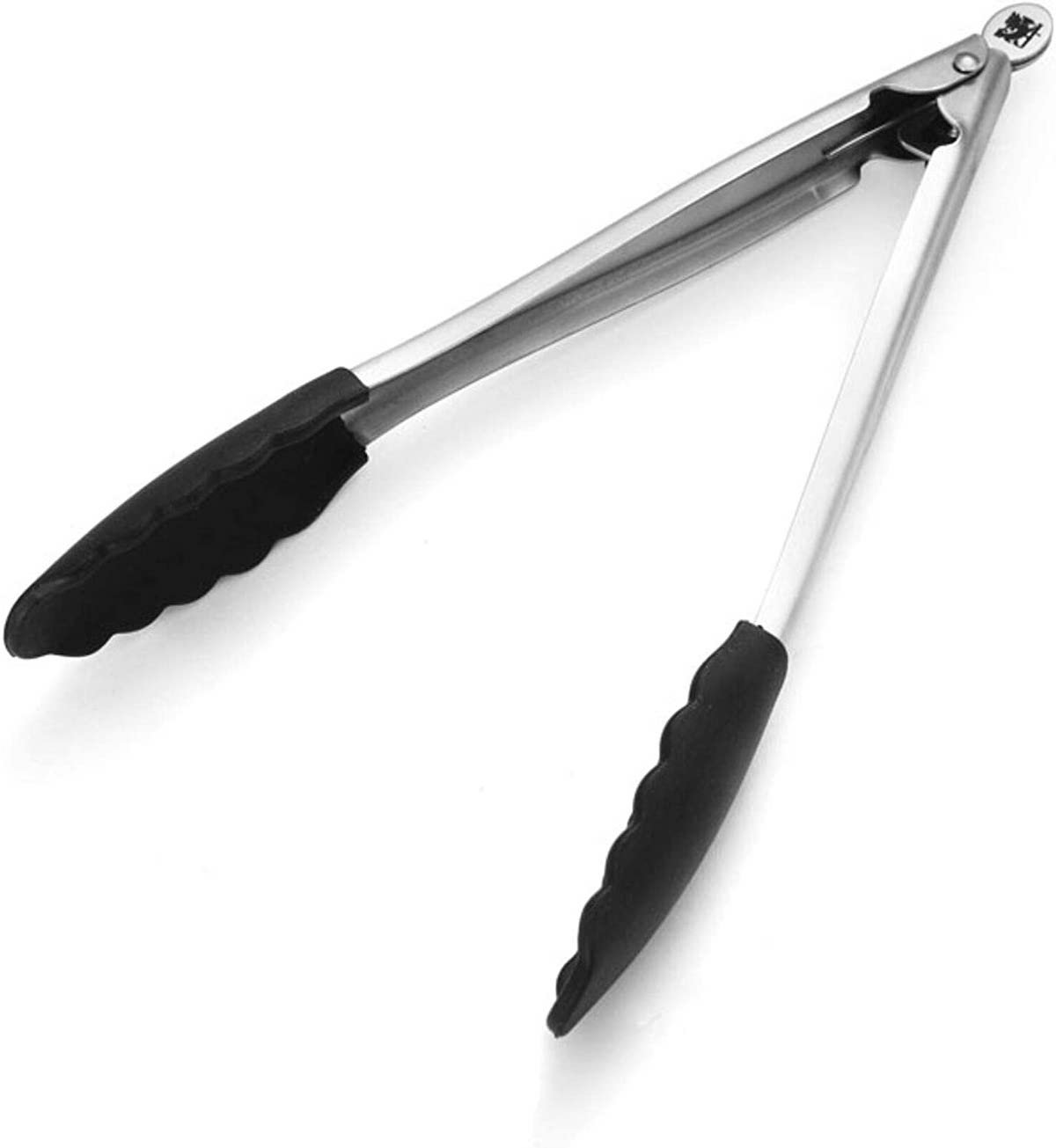 Silicone cupcake liners are ideal for use in an air fryer. I like to use them not only for muffins but individual portions of pies, frittatas etc. These hold their shape wonderfully in the air fryer and can be used with any air fryer.
The silicone basting brushes will come in handy when brushing oils, sauces, and marinades onto your air fryer dishes.
I use them for brushing oil when I am air frying frozen samosas or when I make paneer tikka. These are safe to use as they are non-toxic and there are no bristles falling into your food. They are super easy to clean and are also dishwasher safe.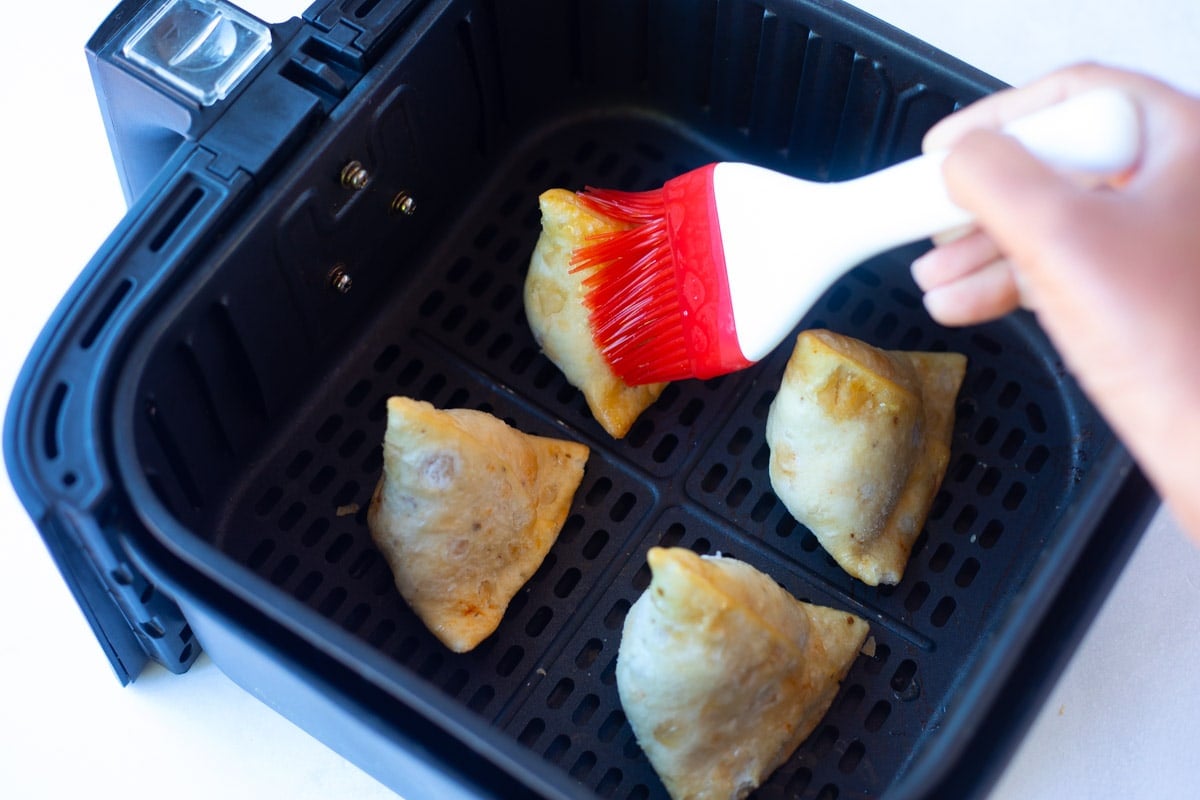 If you want to make mini-chocolate cakes or lava cakes in the air fryer, these ramekins could be your friend. They look great for serving and are the perfect portion size for one.
As the air fryer basket can be rally hot when you take it out with the cooked food, you want to use silicone pad or mats to avoid spoiling your countertop.
FAQs
Where to buy air fryer accessories?
Air Fryer accessories can be easily found in the kitchen and utensils section in supermarkets. Walmart, Target, William Sonoma, Costco etc. all stock up on these accessories. If you want to avoid a trip to the store, you can also easily find them online on Amazon.
What containers can you use in an air fryer?
The best part is that you can use any oven-safe container or mold in the air fryer, such as ceramic, glass, metal, or silicone. You can also use silicone or paper cup molds to bake cupcakes or muffins.
Can you put stainless steel in air fryer?
A stainless steel bowl is not a great conductor of heat and results in uneven heat and therefore cooking. You can use a stainless bowl however ensure that the stainless steel container is oven-proof. Also, the bowl must be plain and not painted or have a design (artwork) as the heat can melt the paint and compromise the safety.
Can I use silicone accessories in an air fryer?
Yes, it is safe to use silicone accessories to cook food in an air fryer. The silicone cookware can withstand temperatures of up to 450 degrees Fahrenheit. The silicone accessories can withstand the fluctuations in heat and cold well.
What non-stick spray can you use in an air fryer?
Considering how convenient they are to use, nonstick cooking sprays are very popular. Sadly, over time, these sprays may cause damage to the air fryer baskets' non-stick coating and may be unsafe to use.

My personal experience is to use canola oil, extra virgin olive oil, or avocado oil. I use a regular spray bottle or a EVOO mister. Also, if I am using oil, I like to spray it directly on the food and not in the basket.
Does PAM spray ruin air fryer?
PAM cooking spray is a type of aerosol spray. This non-stick spray contains oil as a lubricant, soy lecithin as an emulsifier, and a propellant such as propane.
These chemical ingredients begin to erode the nonstick coating on your air fryer basket. Therefore, as time passes, the air fryer basket will begin to flake and chip and the food will begin to contain tiny basket fragments, which is obvisously not safe. Hence it is best to not use this cooking spray for your air fryer.
With these essential air fryer accessories, you can make the most of your meals! With these useful tools, you'll be able to keep your favorite kitchen gadget clean, determine whether your meal is properly cooked, and, most importantly, avoid getting burned.