These decadent Lemon Blueberry Muffins can be made from scratch in under an hour. Made using fresh blueberries, buttermilk, and a squeeze of lemon juice, these muffins come out of the oven sweet, moist, and healthy enough to enjoy as a grab & go breakfast!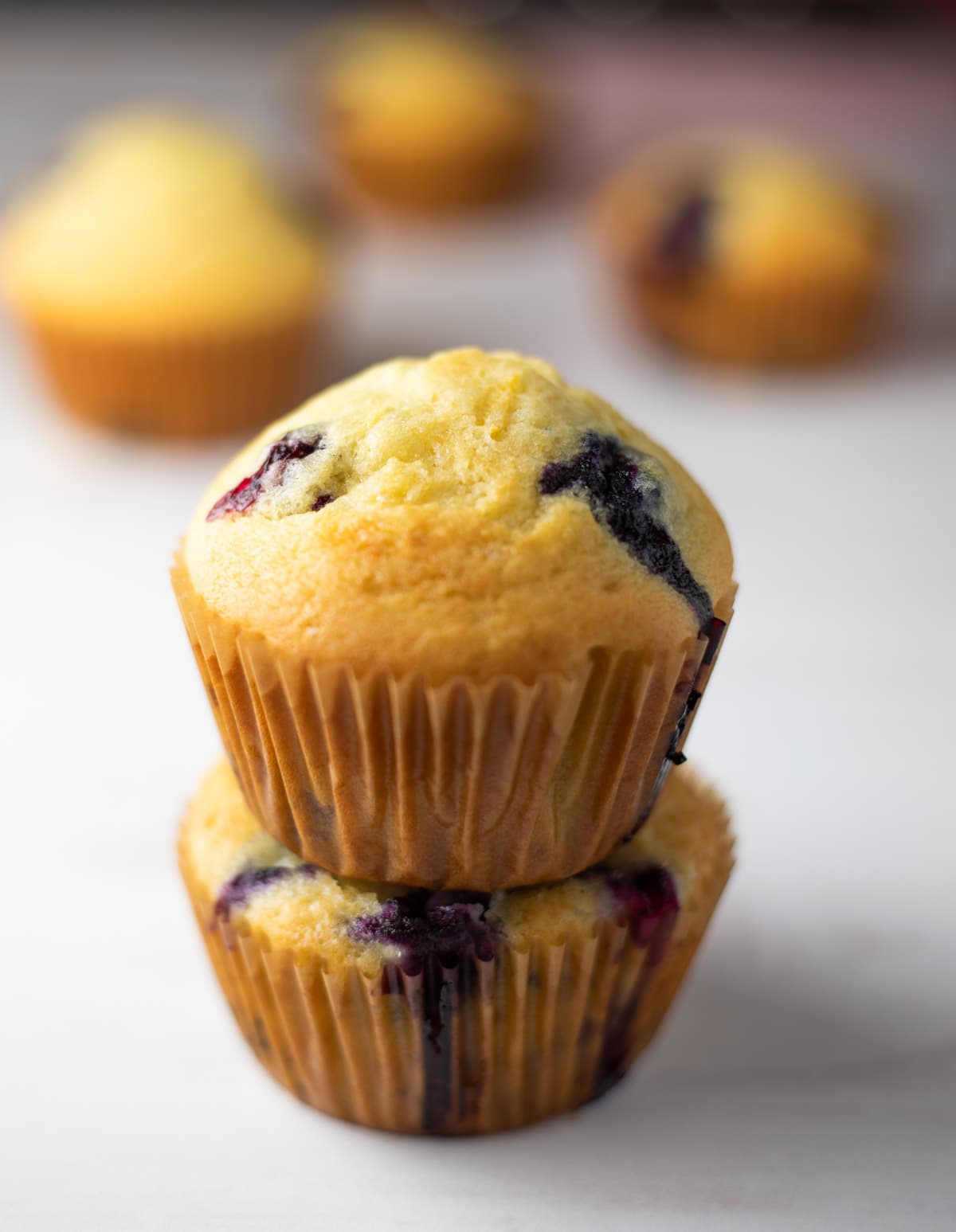 I enjoy cooking and baking with produce that is in-season, since it is better for the environment, and often fresher than buying groceries that are out-of-season. So, these muffins are one of my favorite ways to use readily-available blueberries throughout the summer. Anyways, what better way to get kids to enjoy fruit than through a delicious baked good!
The lemon zest enhances the fresh taste of the blueberries, and together they are a match made in heaven. When we bake these muffins, our house smell like a bakery. Who would have thought mixing a sweet and sour fruit would result in such a wonderful flavor!
I used buttermilk to make these muffins, however they can be made with milk or sour cream too. I find that buttermilk worked really well and we got the perfect soft muffins.
So easy to bake, yet so delicious!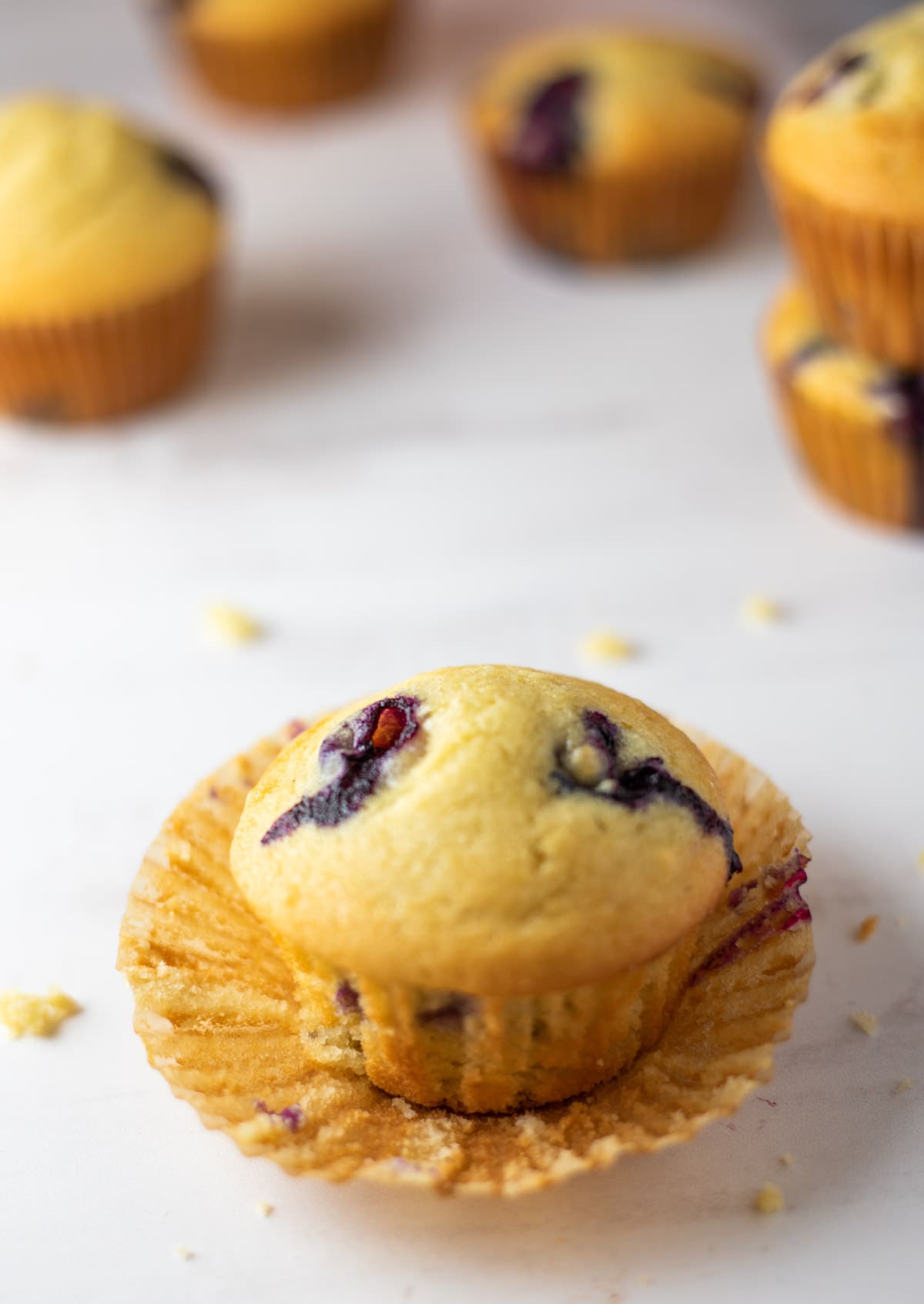 How to make Blueberry Muffins with lemon zest and buttermilk?
Begin by preheating the oven to 425°F and lining a 12-count muffin tin with liners.
Mix all dry ingredients and set aside.
Using an electric mixer, or a whisk, add sugar and lemon zest. Lemon zest is the outermost, yellow part of the skin; you can use a zester or grater to take it off the lemons. Mix for a few seconds.
Add the oil and egg to this mixture, and mix until everything is well incorporated and fluffy.
Next add in the buttermilk and lemon juice, and mix again.
Gently fold in the blueberries, being careful to not over mix. I went light on these, but you can absolutely increase the quantity if you'd like. I used fresh blueberries since they are in season, and bursting with flavor! If they aren't available for you, frozen ones work just as well! You don't even have to defrost them.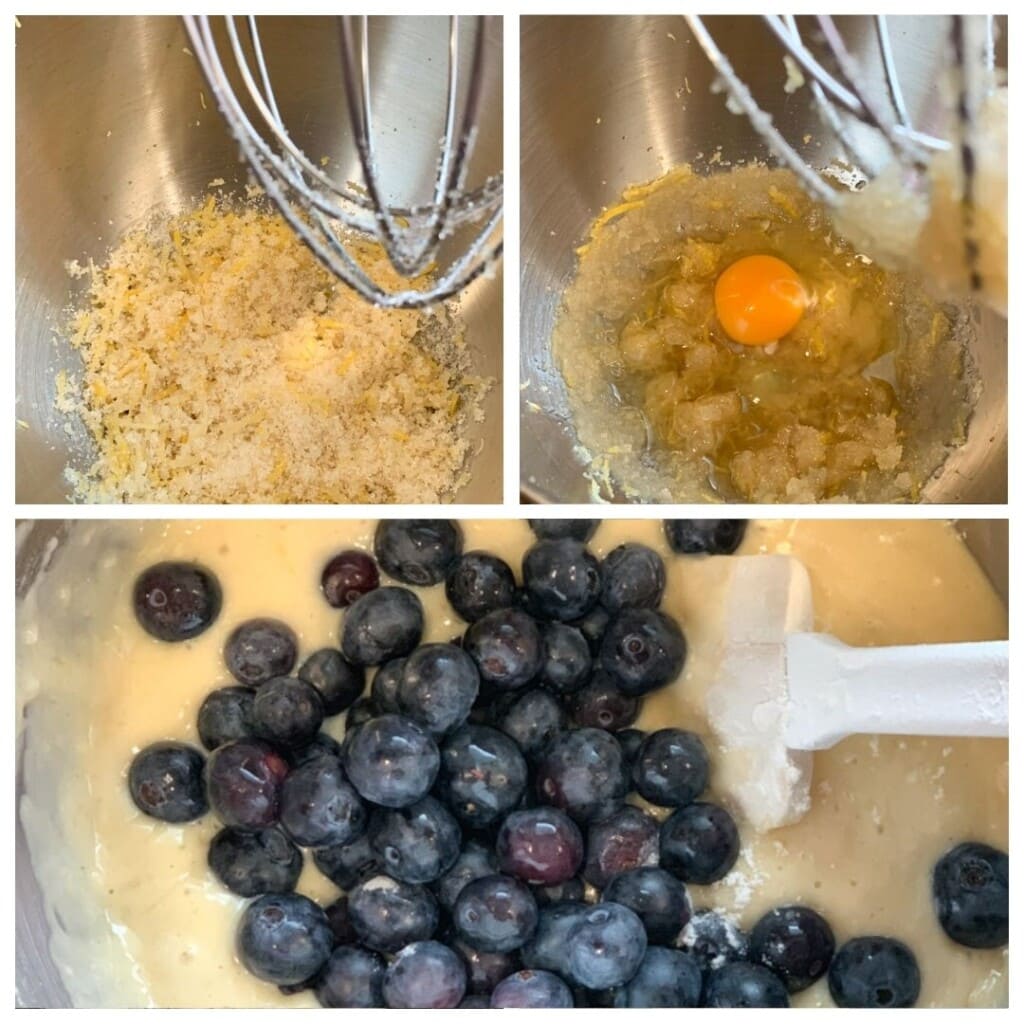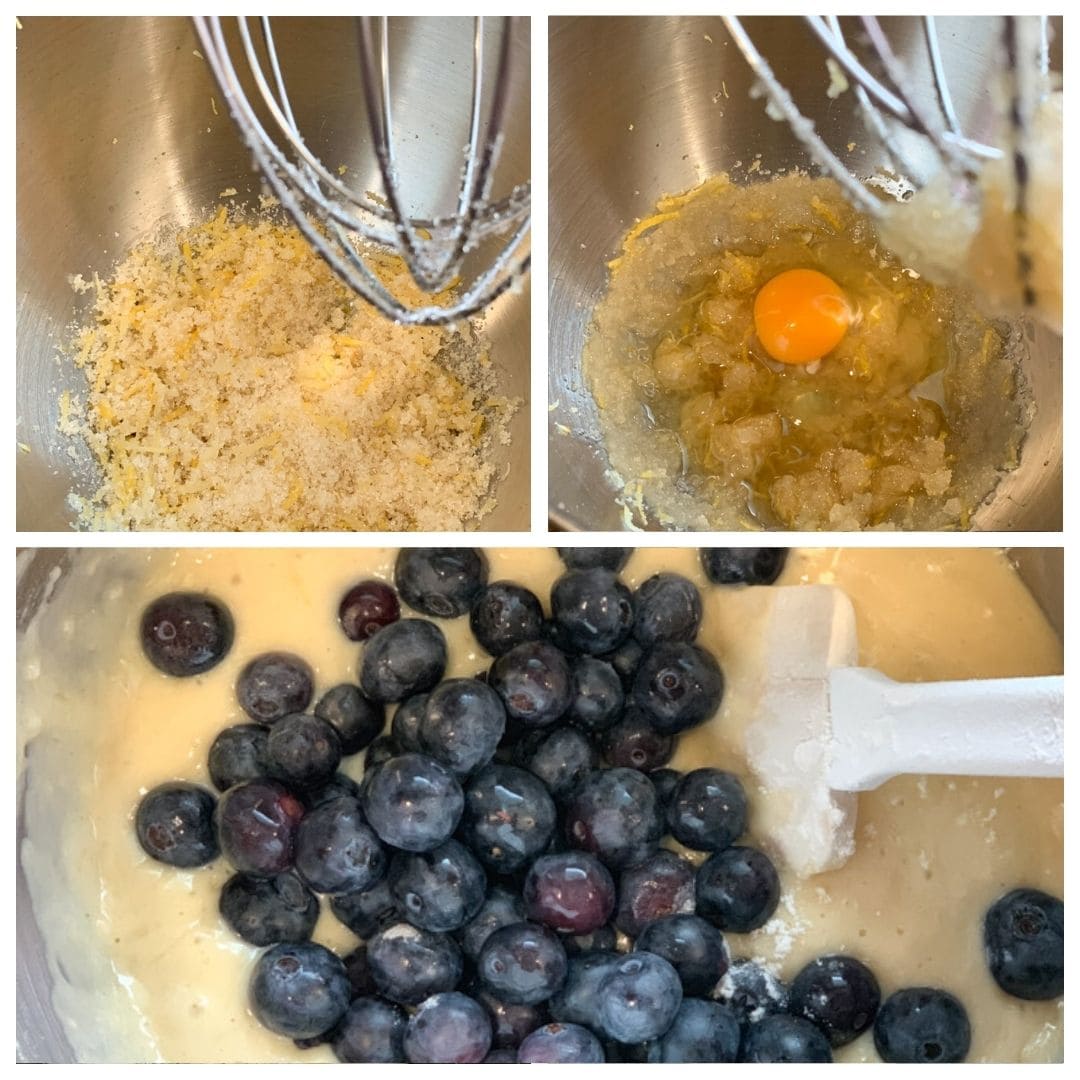 Spoon the batter into each muffin liner. You can top each muffin with a few more blueberries before popping the tray into the oven. This makes them appear more colorful once they are done.
Bake for 7 minutes at 425°F, then reduce the temperature to 375°F and bake for another 10 minutes. This gradual decrease in temperature is how you get that bakery-style dome look on muffins!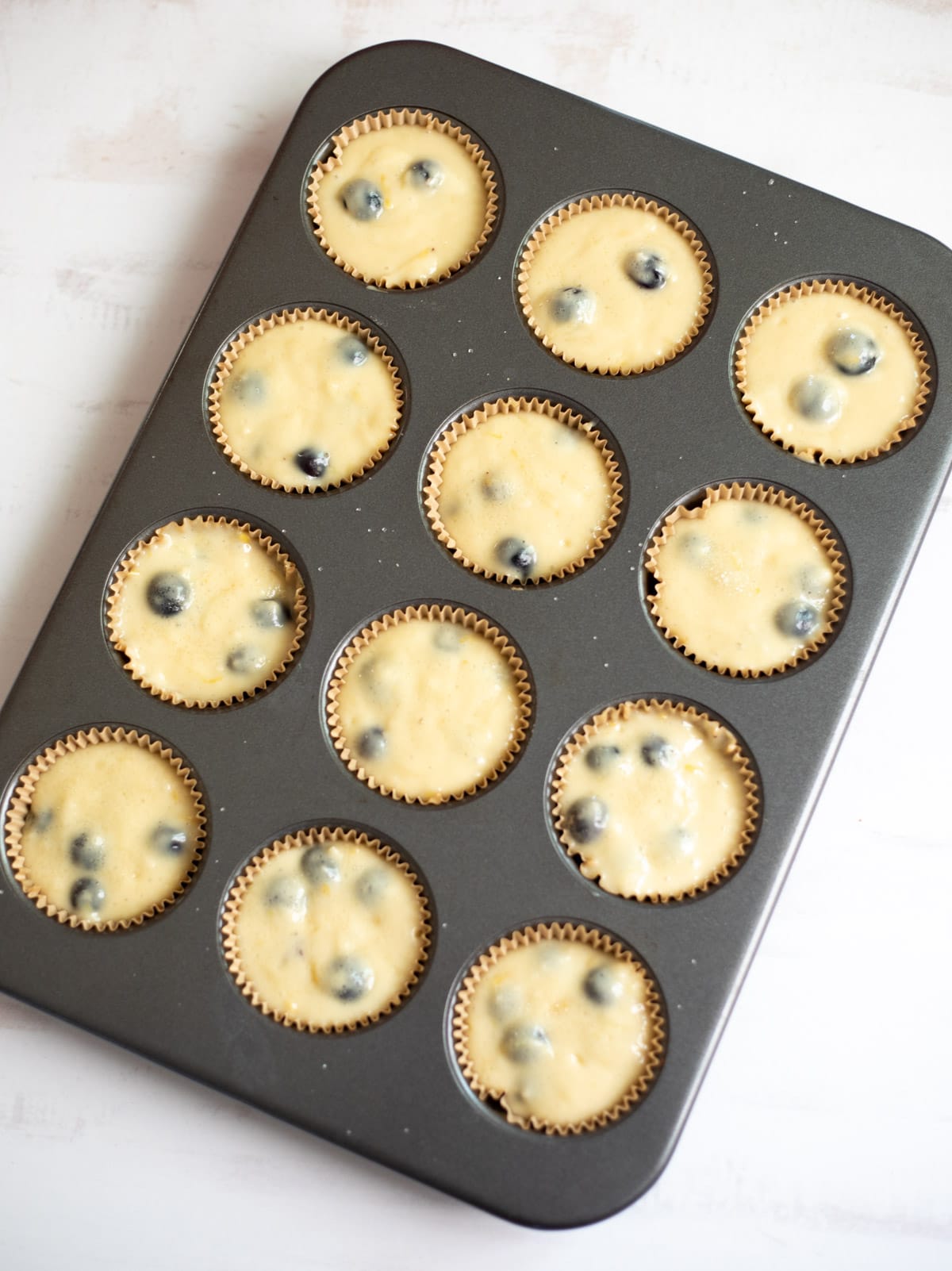 Use a toothpick to test whether the center of the muffins are done. Then remove from the oven, cool, and enjoy!
If there are any leftovers (there probably won't be!) you can store them in an airtight container to maintain their freshness.
I have kept these muffins very simple, but you can choose to add a Streusel topping, or sugar to get a bakery style look.
This recipe yields about 12 muffins, so you will need a 12-cup muffin pan. I use paper liners to keep the batter from sticking to the pan, and fill the batter evenly.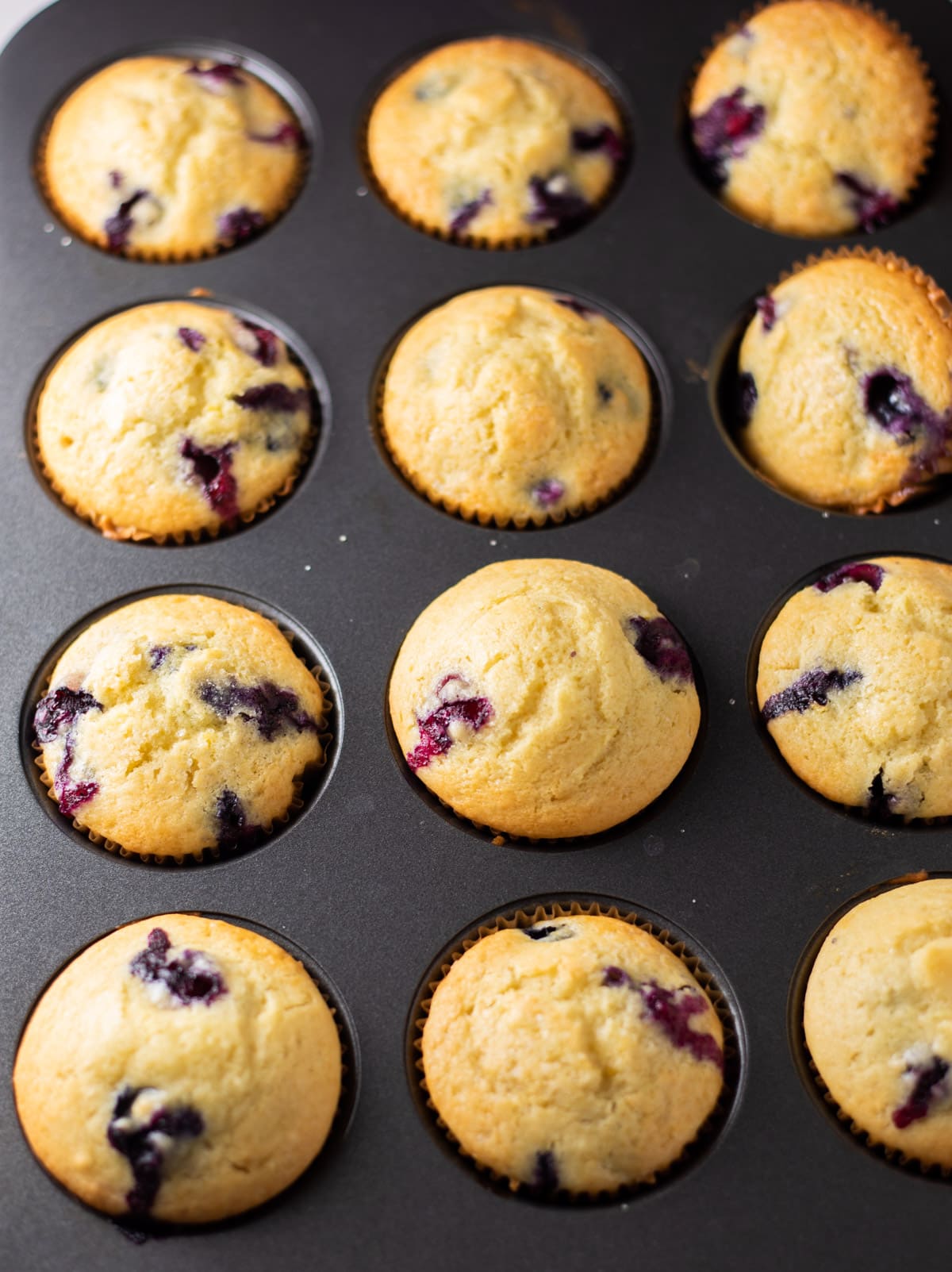 I love the bakery style domed muffin tops. The best way to get them is to increase the baking temperature initially, then reduce it down a bit and bake for more time.
In my house, these muffins are usually devoured on the same day we bake them, so I don't get much opportunity to freeze them! However, they will certainly last when stored in an airtight container for up to three days, and can even be frozen in this style.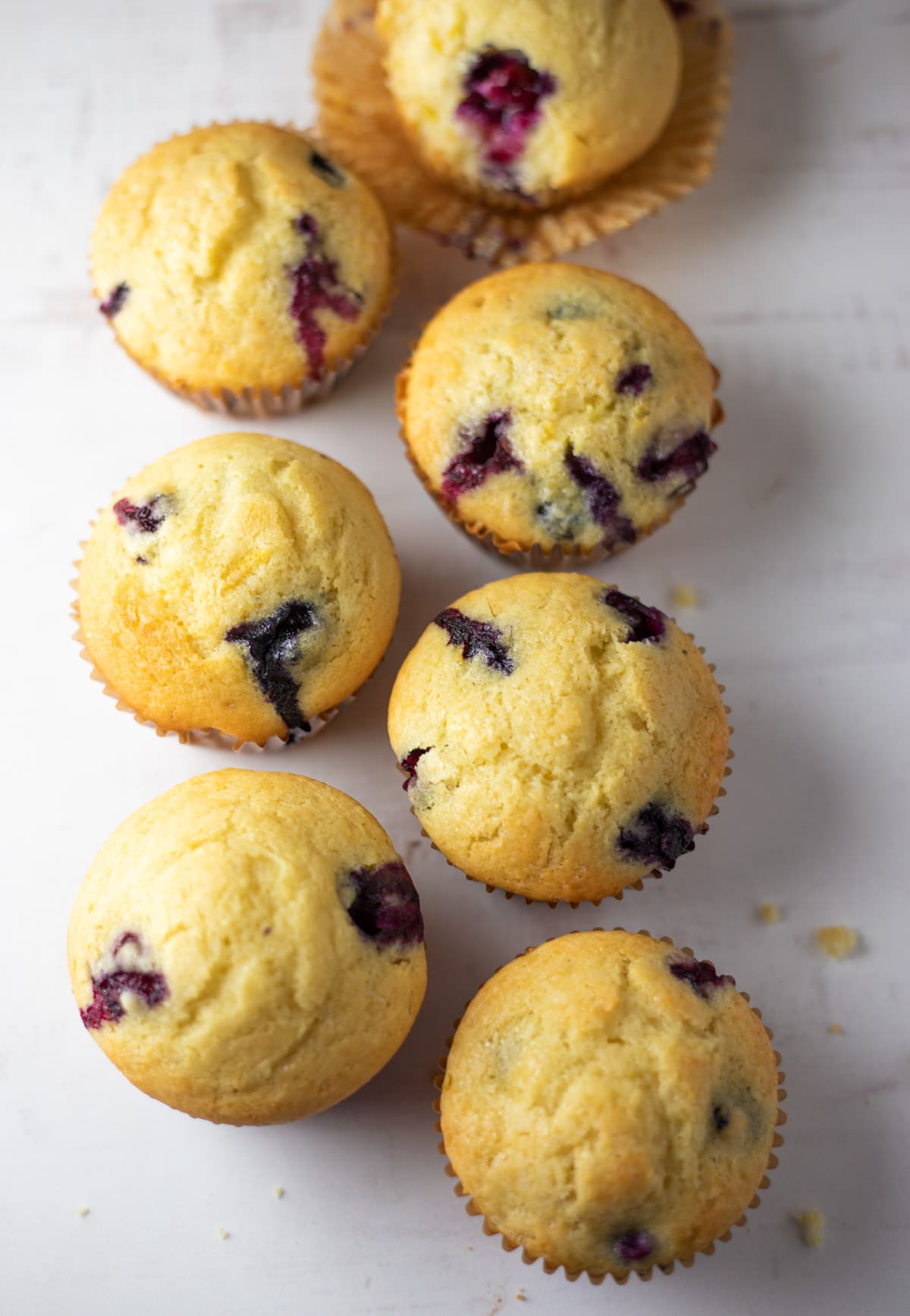 Pro-tips for Lemon Blueberry Muffins
Having all ingredients at room temperature gives a better result.
Fresh blueberries are best for these muffins, but if they are not available, frozen berries work too. Do not thaw before adding to the recipe.
You can also change up this recipe by adding other berries.
Once you combine the wet and dry ingredients, do not overmix.
You will love these muffins –
They are easy to make with basic ingredients
They are great for snack or breakfast
They are a way to incorporate seasonal fruit in your baking
We also love to make Zucchini Chocolate Chip Muffins, Healthy Carrot Muffins, and Whole Wheat Pumpkin Oatmeal Muffins. All three of these are kid-friendly, and super nutritious – be sure to give them a try!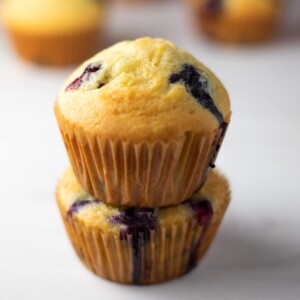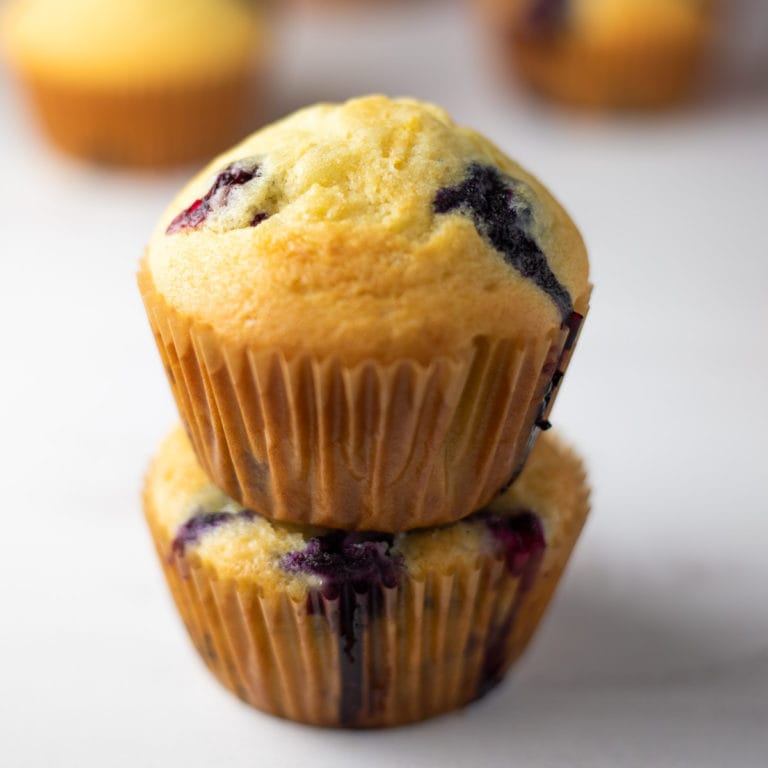 Easy Lemon Blueberry Muffins
These decadent Lemon Blueberry Muffins can be made from scratch in under an hour. Made using fresh blueberries, buttermilk, and a squeeze of lemon juice, these muffins come out of the oven sweet, moist, and healthy enough to enjoy as a grab & go breakfast!
Instructions
Preheat the oven to 425°F (220°C). Line a 12-count muffin pan with liners.

Mix all dry ingredients in a bowl – all purpose flour, baking powder, baking soda and salt. Set aside.

In the bowl of an electric stand mixer, add sugar and lemon zest. Mix for few seconds in the stand mixer.

Add oil and egg. Mix the mixture until the ingredients are combined and fluffy.

Add the buttermilk and lemon juice. Mix until combined.

Add the flour mixture and mix on low just for a few seconds until all are combined, then remove bowl from stand mixer.

Fold in blueberries. Do not overmix.

Spoon the batter evenly into each liner on the muffin pan.

Bake in preheated oven for 7 minutes then reduce oven temperature to 375 degrees and continue to bake 10-12 minutes until a toothpick inserted into center comes out clean.

Remove from muffin pan and let the muffins cool completely on a wire rack and enjoy! Store muffins in an airtight container.
Nutrition
Calories:
177
kcal
Carbohydrates:
26
g
Protein:
3
g
Fat:
7
g
Saturated Fat:
1
g
Cholesterol:
15
mg
Sodium:
121
mg
Potassium:
94
mg
Fiber:
1
g
Sugar:
13
g
Vitamin A:
50
IU
Vitamin C:
3
mg
Calcium:
39
mg
Iron:
1
mg