Shrimp is a favorite food for many people in India, and there are many Indian shrimp recipes from different regions in India. From delicious curries to zesty appetizer recipes, you will find the best Indian prawn recipes here!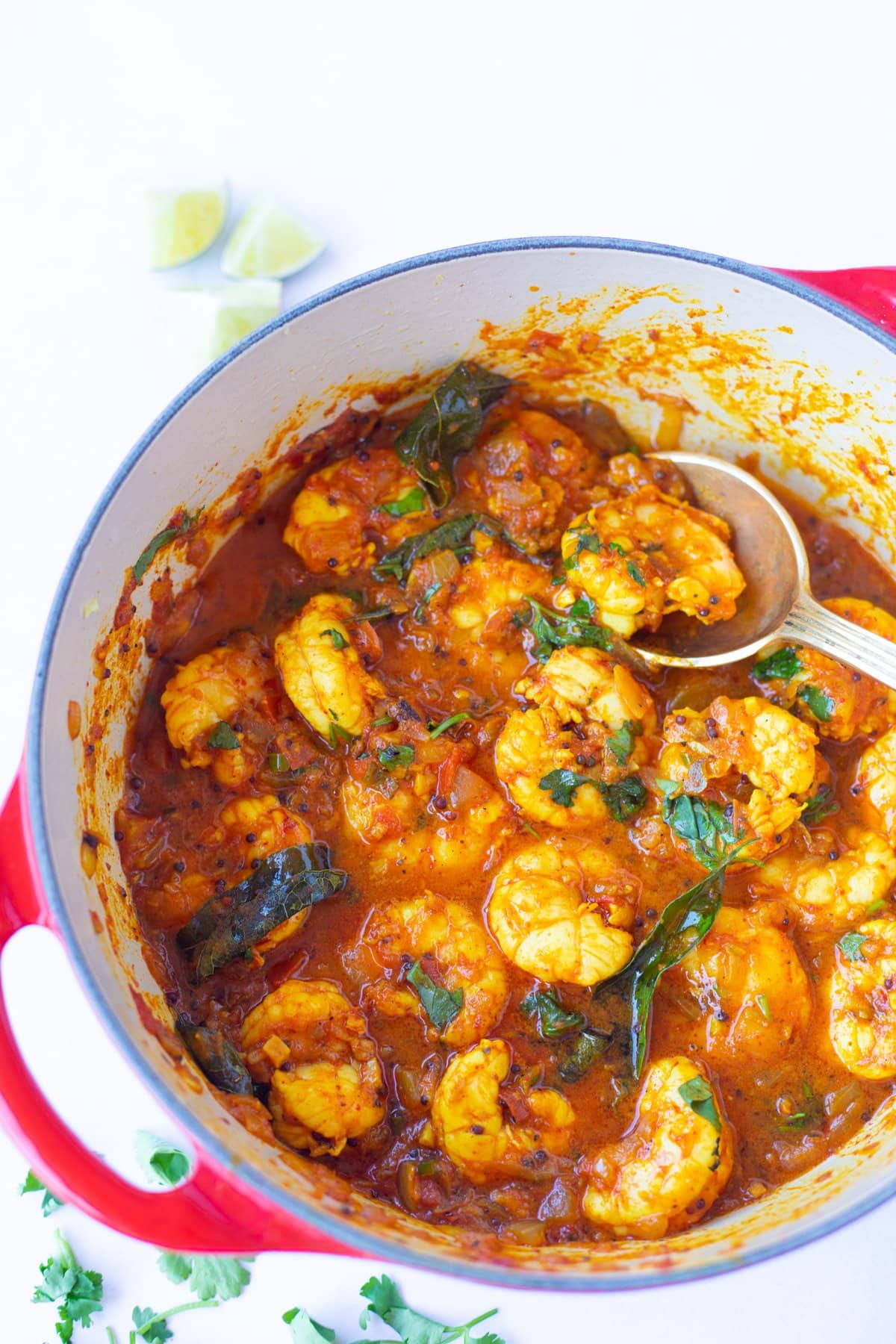 In India, we usually use prawns, while in the US and UK, shrimp is more popular for cooking purposes. However, they can both be used interchangeably in most recipes.
Let's see the differences and similarities between prawns and shrimp, and also find the best Indian dishes made with them.
Jump to:
Shrimp Vs. Prawns
Both shrimp and prawns are part of the crustacean family. There are some differences in anatomy and size between them.
Shrimp is typically 1-6 inches in size, while prawns can be larger, even up to 10 inches long. Shrimp have two pairs of claws, while prawns have three.
The main reason why prawns are popular in India and other Asian countries may be because prawns are usually found in the Atlantic ocean. Shrimp is usually found in warmer seas near the gulf of Mexico and the Caribbean.
That said, it is great that you can use either one interchangeably for cooking purposes. You won't notice much difference in taste or texture; they are even similar in nutritional content.
Indian Shrimp Appetizers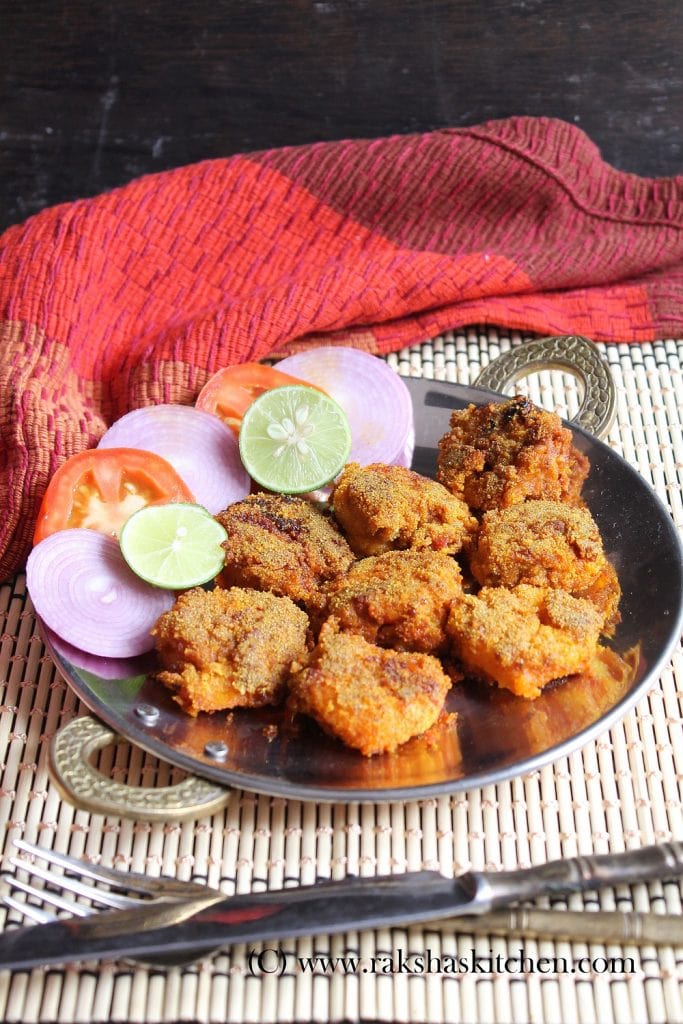 Fresh and juicy prawns are marinated in spicy masala and then coated with semolina and shallow fried to perfection on low flame. Serve them as a party starter or as a side dish with rice and curry.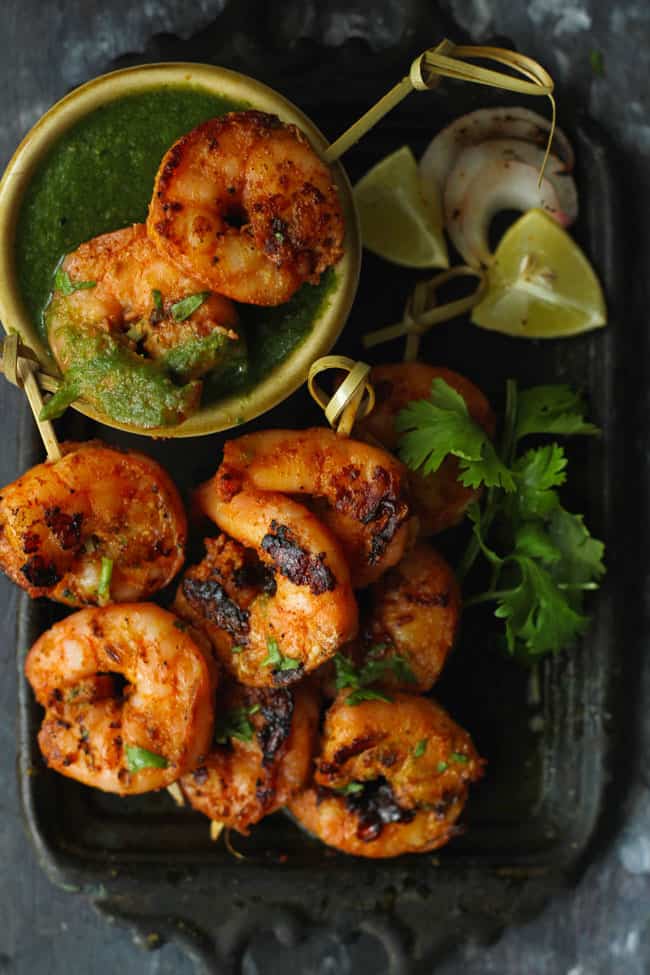 Tandoori Prawns are grilled shrimp skewers loaded with bold Indian flavors. They are perfect for enjoying at barbecue parties. These juicy, grilled Tandoori Prawns pair perfectly with mint cilantro chutney.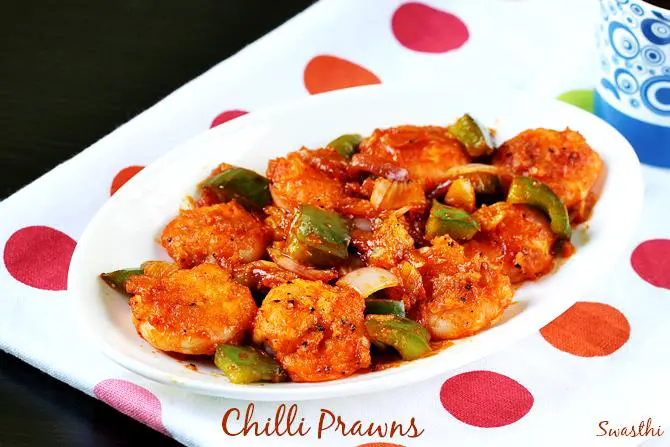 Indo-Chinese chili prawns can be served as an appetizer or a side with fried rice or noodles. This delicious combination of prawns and bell peppers, with Chinese sauces, is super flavorful.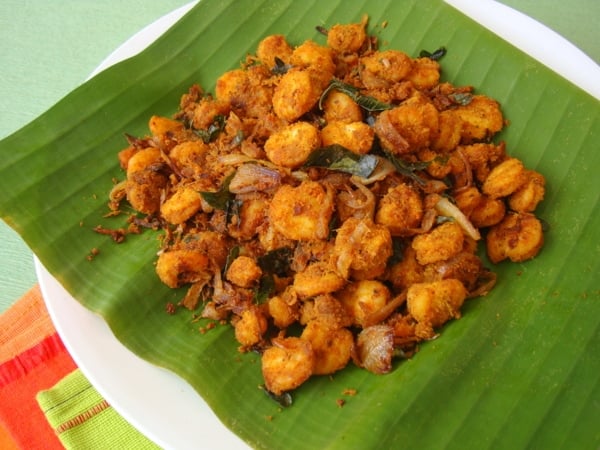 The classic Andhra recipe made with shrimp or prawns, Royalla Vepudu, aka Prawn Fry, can be made in less than 20 minutes. It works great as a starter for a party or as a side with rice.
Indian Shrimp Curries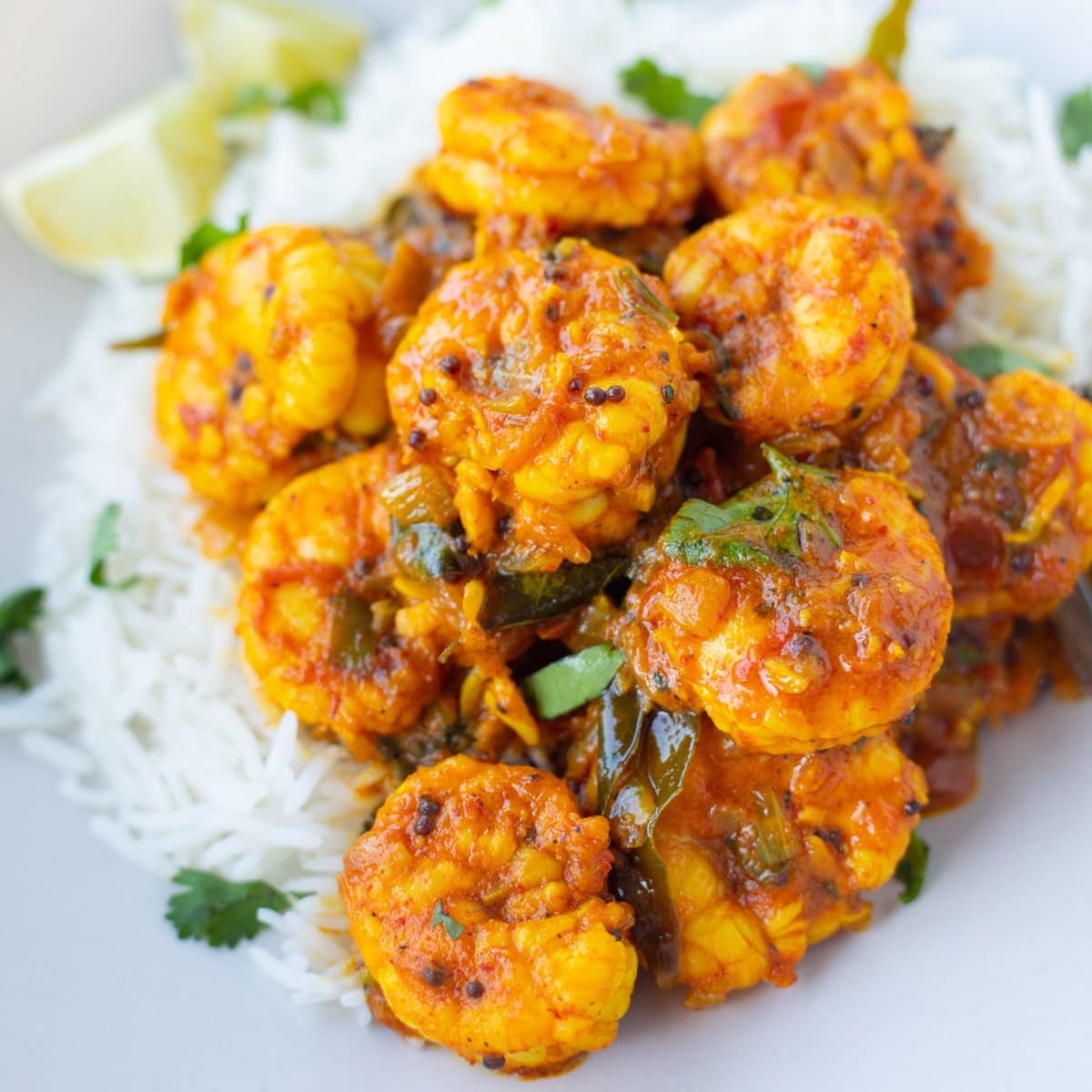 Tasty and tender shrimp masala is cooked in a rustic Indian sauce made with onions, tomatoes, and aromatics such as ginger, garlic, and spices.
Make this authentic Indian curry with shrimp or prawns in 30 minutes, and enjoy it with naan or rice!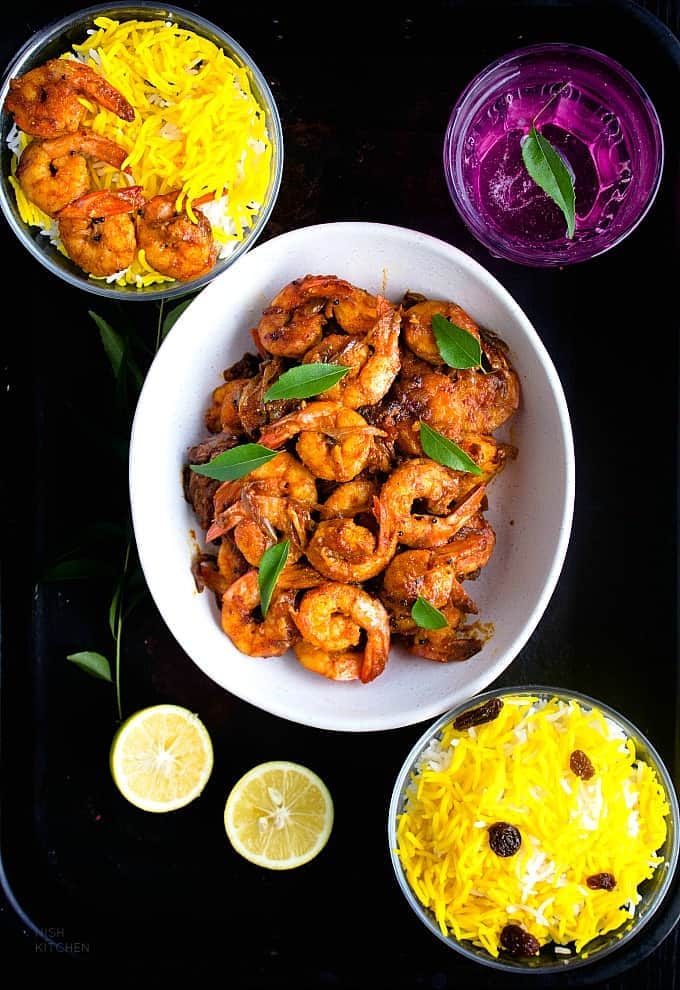 This prawn roast is packed with spices and tastes great with rice or Indian flatbreads. It is made by frying marinated prawns and then sauteed in a spicy sauce. The tip for making perfect prawns? Do not overcook them.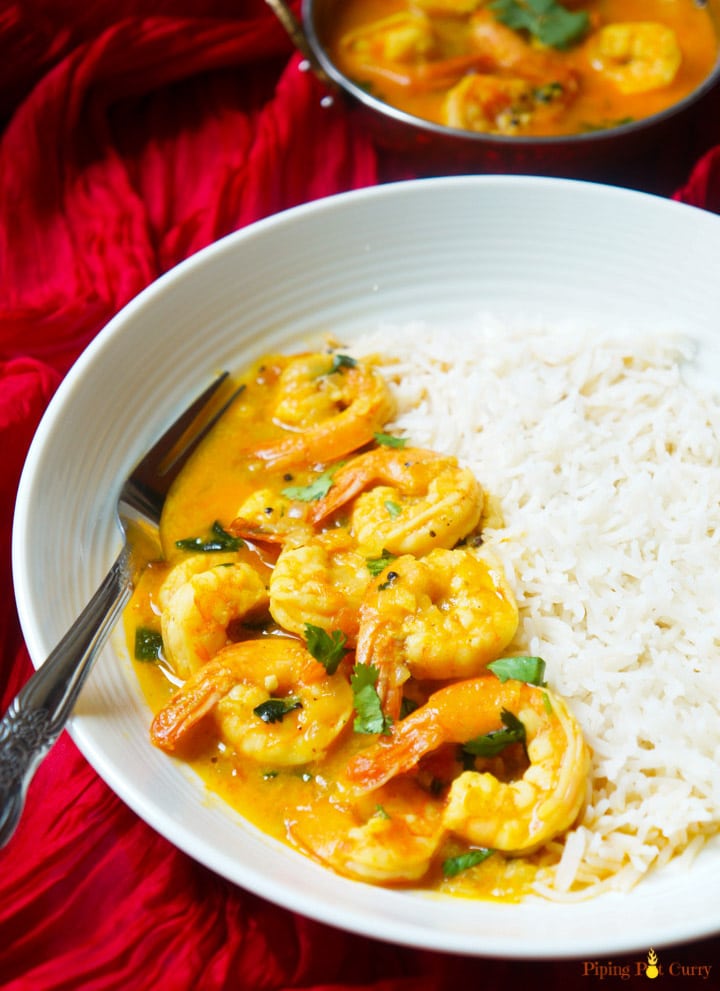 Easy and Flavorful Coconut Shrimp Curry that can be made in just 20 minutes. This is the simple Indian shrimp curry made with ginger, garlic, onions, and tomatoes cooked in flavorful spices and finished with coconut milk. Pair this low-carb curry with rice for a perfect experience.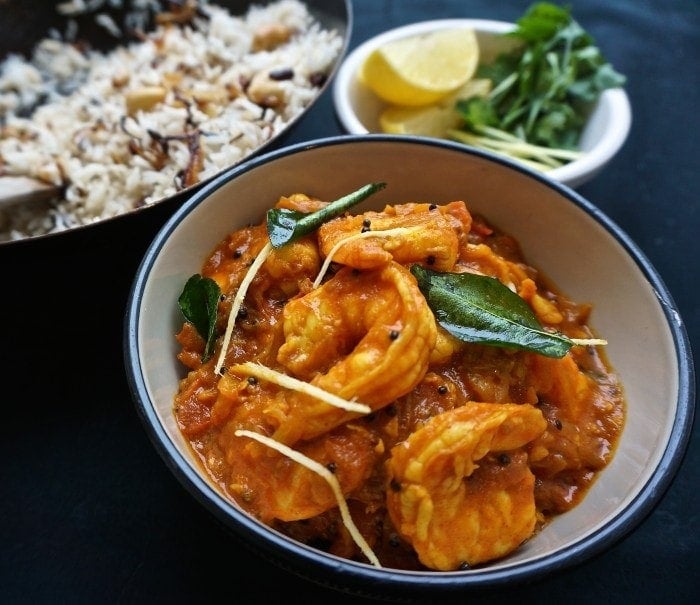 This is a popular seafood curry from the Malabar region of Kerala. This delicious Malabar Prawn curry is spicy, sour, hot, sweet, and tangy all at the same time.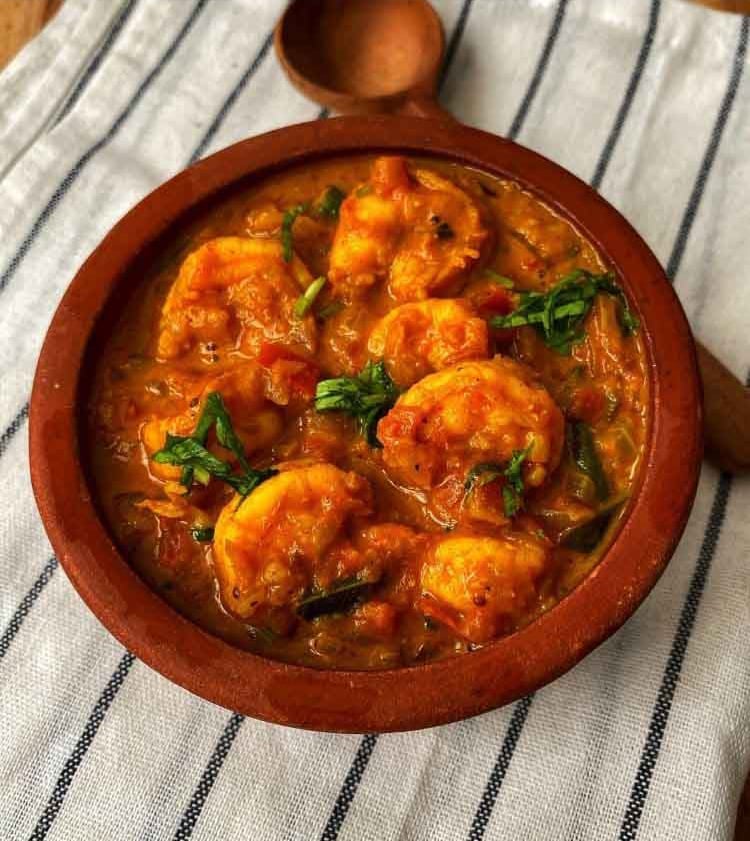 Prawn Thokku is a deliciously spicy and tangy dish from Tamil Nadu in South India. Prawns are cooked in an onion–tomato spicy masala gravy. Enjoy this with rice for a wonderful meal.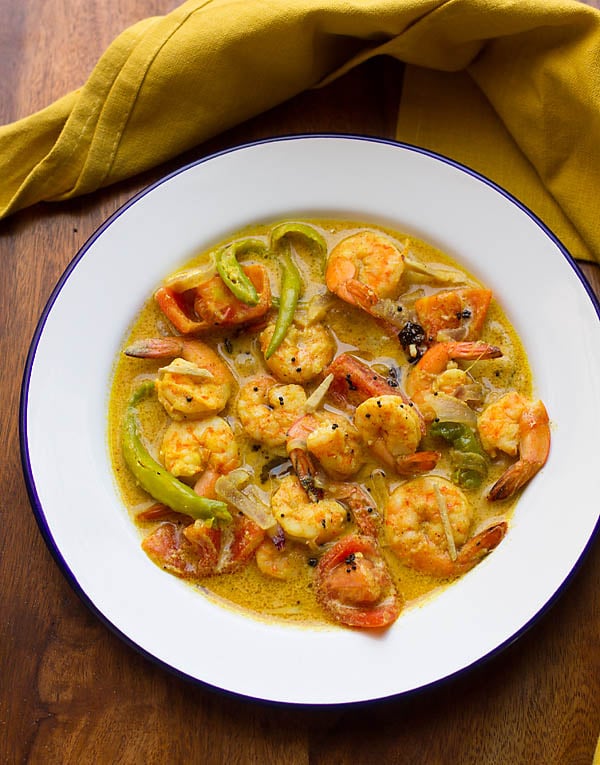 Prawns moilee is a curry made with coconut milk, spices, and prawns. This curry hails from the Kerala region. Mainly made with fish fillets, but can also be made with prawns, which are known as chemeen in Kerala.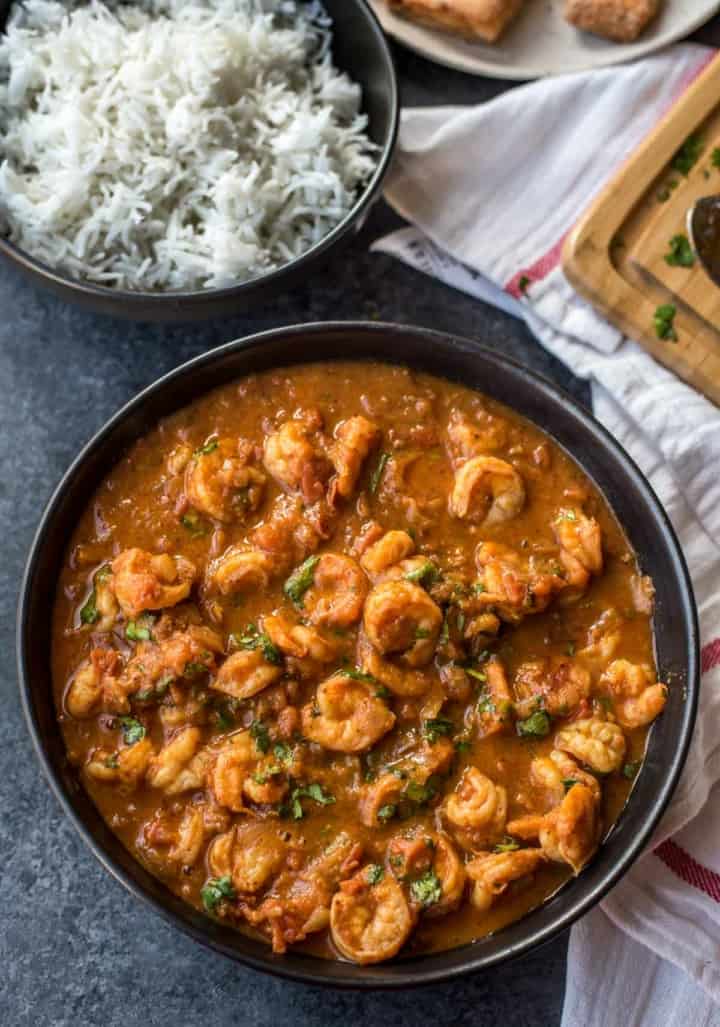 Prawns Balchao is a spicy dish from Goa in India. Prawns are stir-fried, then added to a pickled curry sauce to create this mouthwatering dish.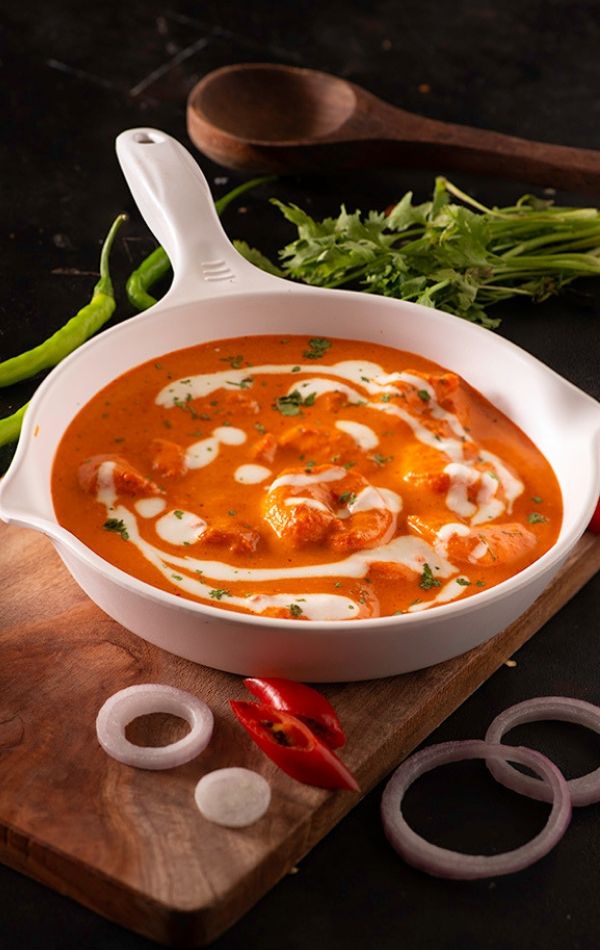 Prawns are cooked in a velvety, aromatic Makhani gravy, similar to butter chicken. Serve it with plain steamed rice, roti, or paratha for a satisfying dinner.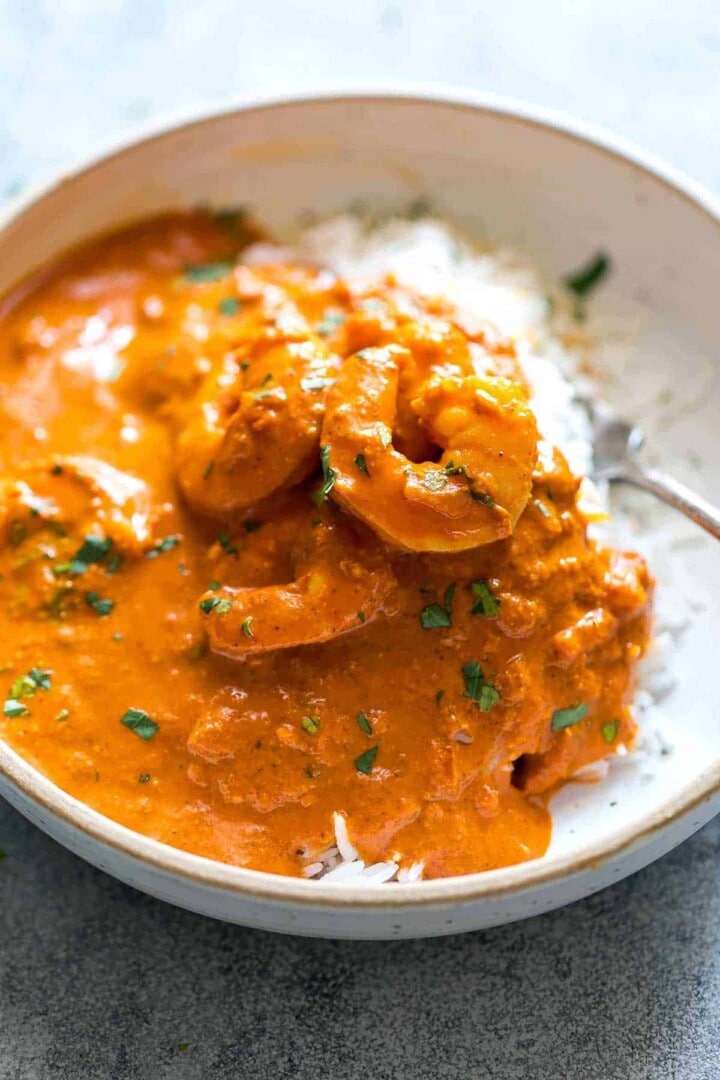 Goan Prawn Curry with Coconut is a spicy, sour curry from Goa called Ambot Tik. This curry can be made in under 30 minutes. Serve this with steamed rice, and you have a truly satisfying meal!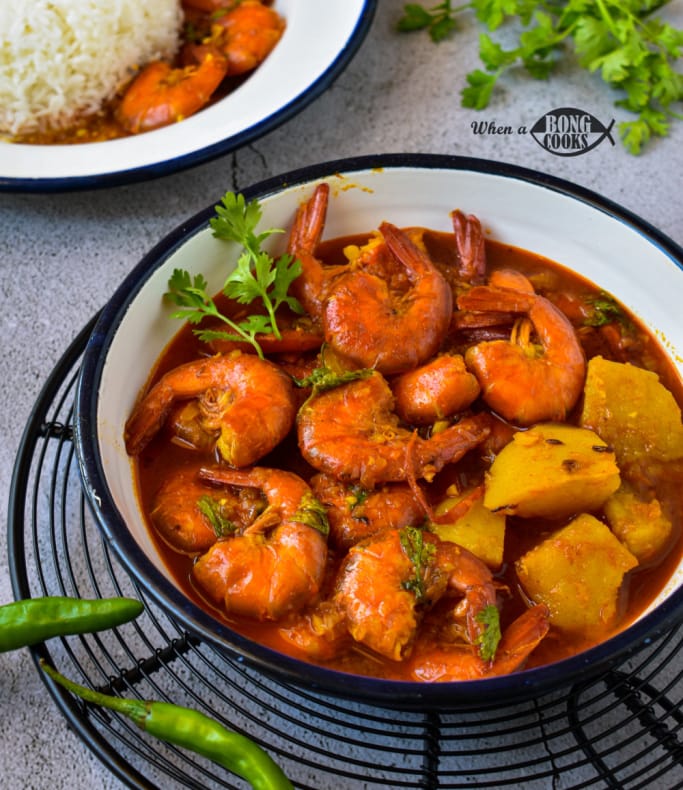 This Bengali shrimp curry, called Chingri Macher Dalna, is one of the most popular shrimp curries in Eastern India. It is made with shrimp, and potatoes, cooked in aromatic spices.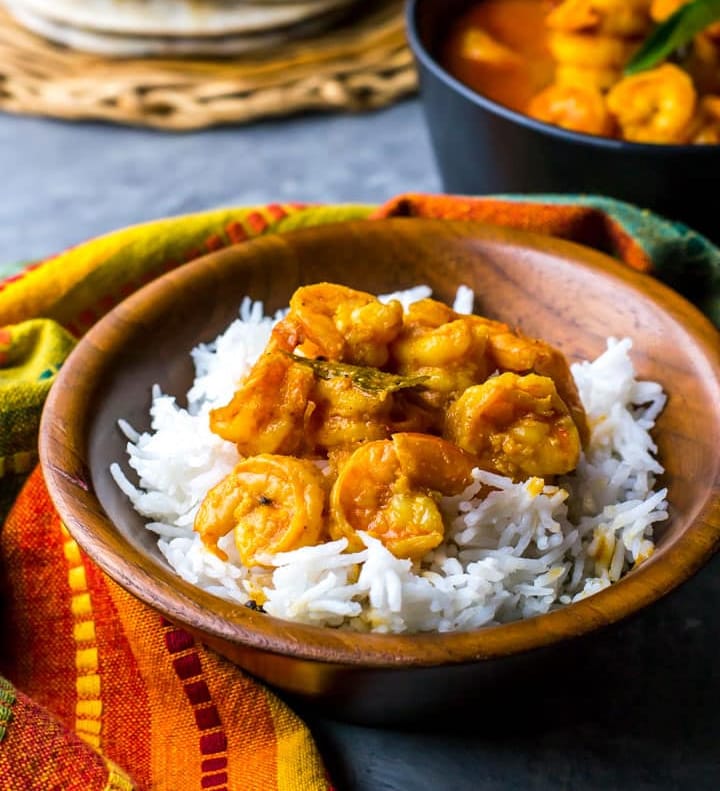 Authentic and flavorful, this Mangalorean-style shrimp curry (Prawn gassi) is a wonderful gastronomic experience. Serve it over steamed rice or with dosas.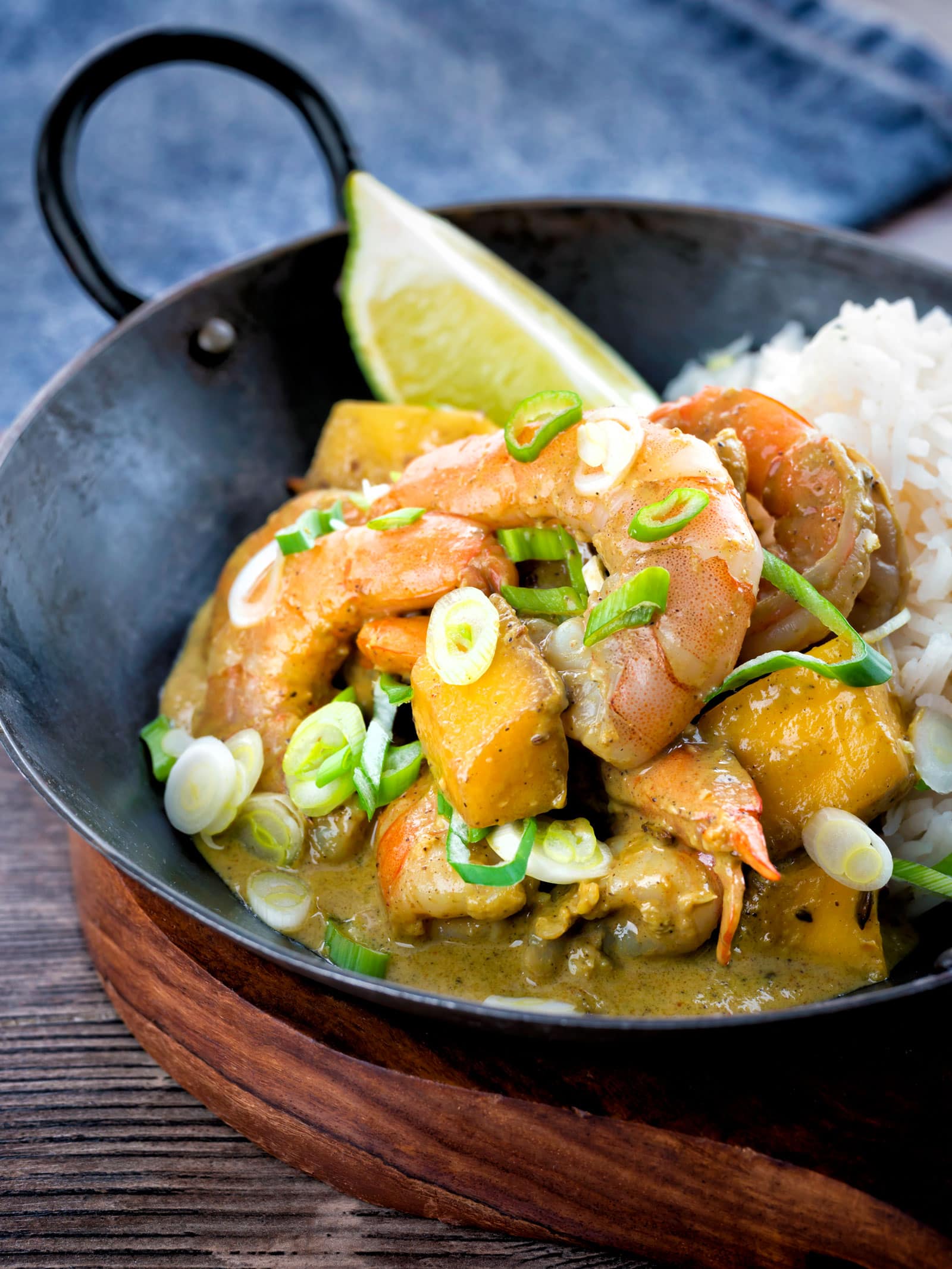 This Indian prawn and mango curry is loosely based on a Kerelan chemmeen manga curry, and it all cooks in under half an hour. Serve with steamed rice for an authentic experience.
Indian Shrimp Rice Dishes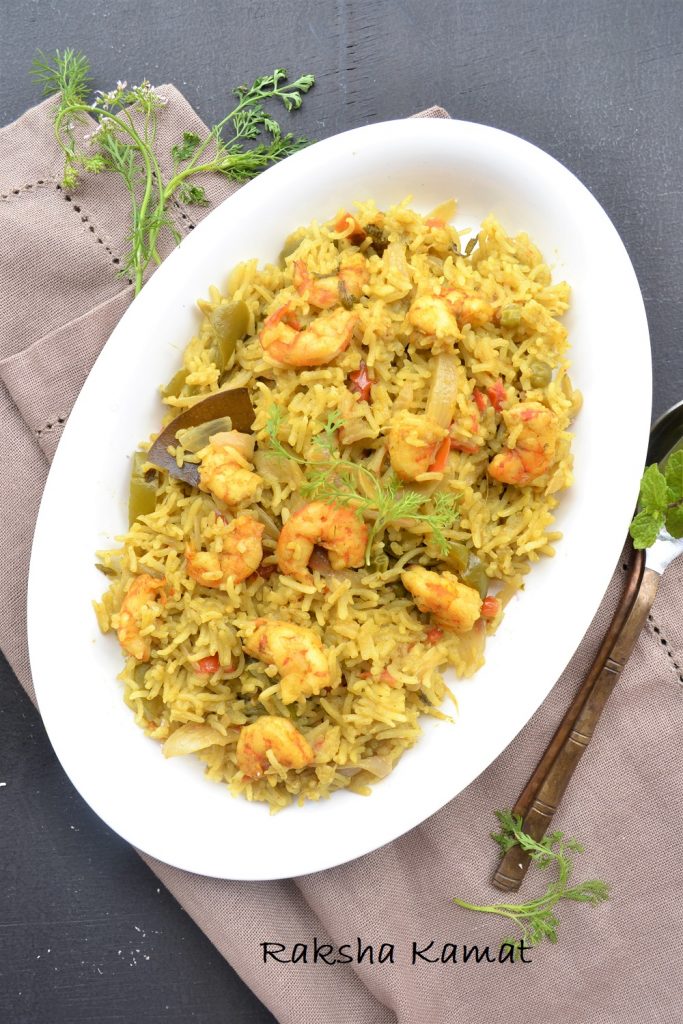 Goan prawn pulao is a quick and easy Indian rice recipe made with shrimp and coconut milk. This mildly spiced pulao recipe with prawns is kid- friendly too.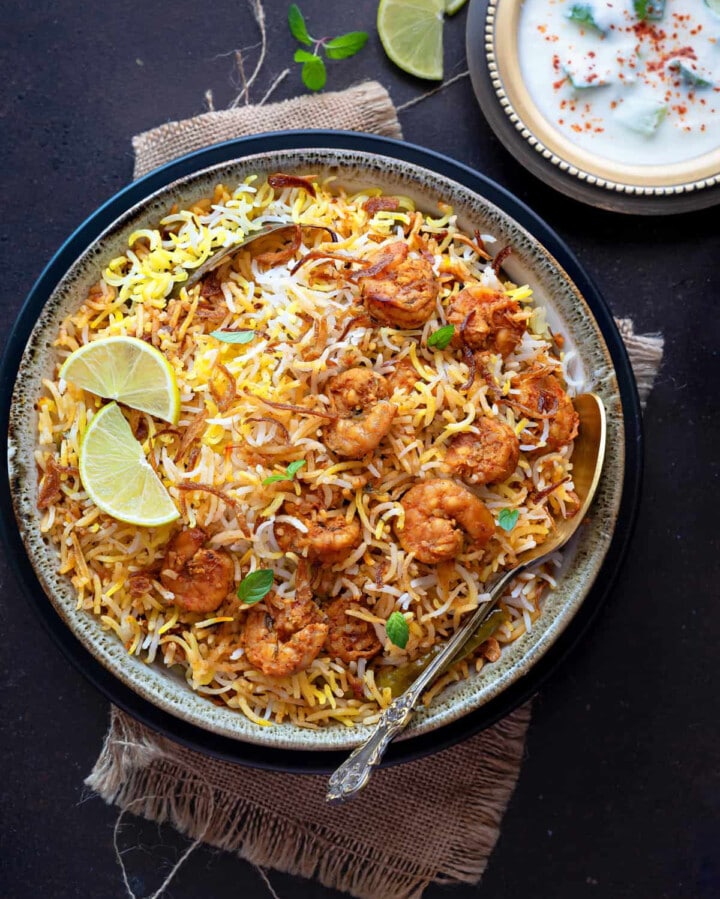 Prawn Biryani is a delightful restaurant-style layered prawn dum biryani recipe. It is a simple, easy, and fragrant rice dish with shrimp that your entire family will enjoy.
I hope you enjoy these Indian shrimp recipes. Whether it is an appetizer, entree, or rice, you will find the best Indian prawn recipes in this list. Share in the comments which one is your favorite!