Baked Feta Pasta is a quick and easy meal perfect for weeknights! Blistered cherry tomatoes mixed with feta to make the perfectly creamy sauce for your pasta. It's the recipe that everyone is trying!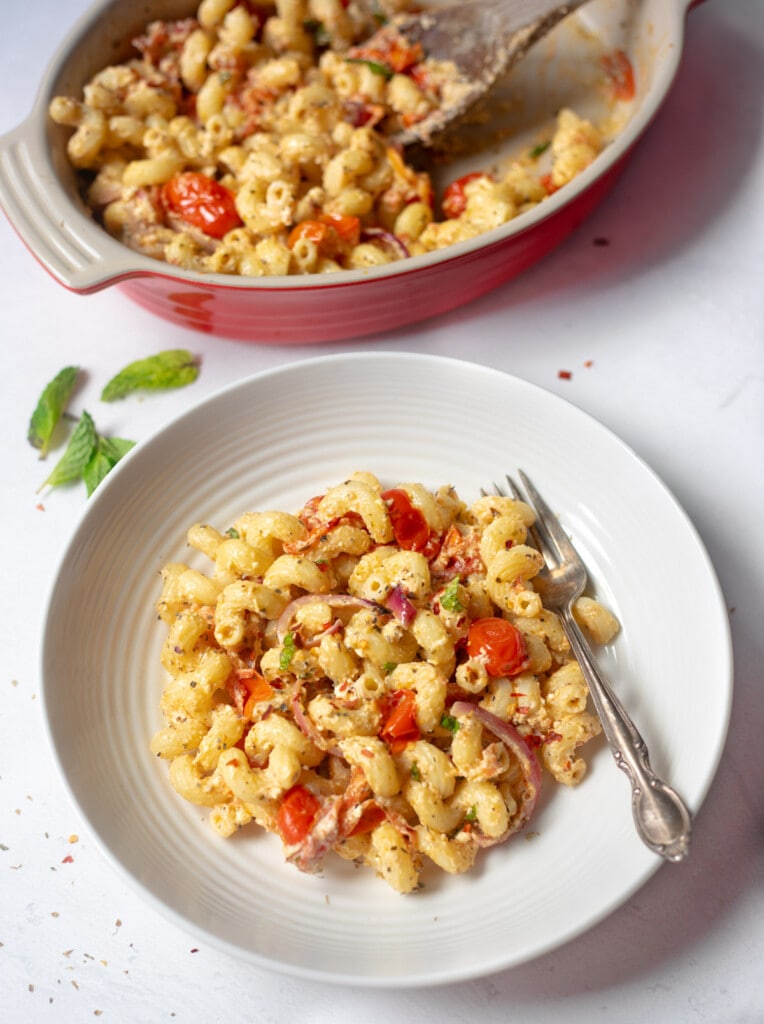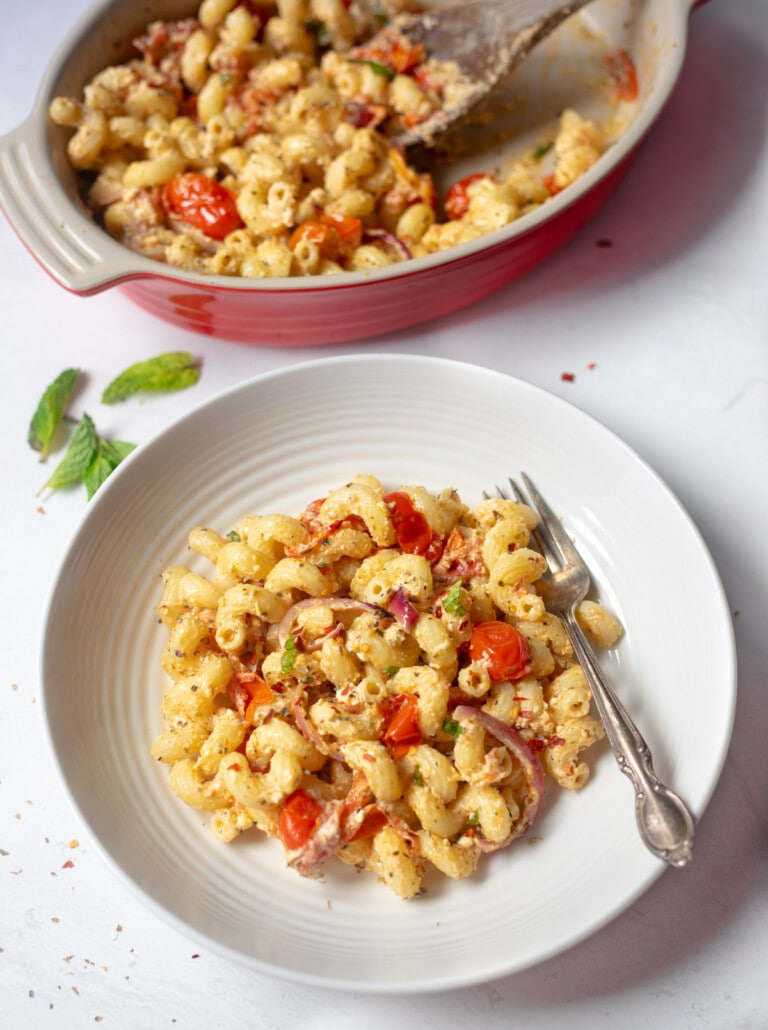 If you like checking out food stories on TikTok or Instagram, you've no doubt come across Baked Feta Pasta. It's a quick and easy recipe that went viral on social media from a food blogger based in Finland.
This simple recipe consists of baking cherry tomatoes with a block of feta cheese. As the tomatoes burst, they release their juices to help create a sauce mixed into the melted feta. Simply add your cooked pasta to the baking dish and add basil and other seasonings to taste.
We love making pasta at my house, so naturally, I had to try this out to see if it was worth the hype. While there are mixed reviews for the original recipe, I decided to modify this to our taste by reducing the amount of feta.
So how did I like the pasta – I really enjoyed this pasta. It had the fresh tangy taste. With the reduced amount of feta, I felt this had the perfect taste, and was not too sour for our taste buds.
Why you will love this pasta?
It is so easy to make! It takes no time to prep this meal.
Since it's basically a one-pan meal, preparation and clean-up are a breeze.
This is a pasta dish for feta lovers! The tangy cheese pairs perfectly with the sweet cherry tomatoes.
It's a crowd-pleaser! Everyone who loves cheesy pasta will enjoy this recipe.
Ingredients
I like this baked feta pasta recipe because most of the ingredients I already keep stocked in my pantry. Here is what you will need to create my version of this dish.
Cherry Tomatoes – This recipe uses lots of cherry tomatoes. This is what makes the sauce along with the melted feta cheese. You must use fresh cherry tomatoes in this recipe. I dont recommend to substitute them.
Feta Cheese – You must select a block for this dish. You may be able to use crumbles, but the block gives the perfect melty texture.
Red Onion – Optional but gives better flavor to the dish, almost like a creamy pasta salad!
Garlic Cloves – I love garlic, so it is a favorite to add to pasta dishes. As we are baking the feta, it is great to cook the garlic cloves along and mash them in the sauce.
Pasta – Any pasta shape will work.
Olive Oil – This recipe needs a lot of olive oil. Don't hesitate, you need the quantity suggested. I recommend good quality extra virgin olive oil for this recipe.
Italian Seasoning – I use Italian seasoning. You can also use oregano and/or rosemary to taste.
Basil – For garnish and fresh flavor
Red Chili Flakes – Optional but gives a great kick for a garnish.
How to make Baked Feta Pasta?
Start by preheating your oven at 400 degrees and prepare your ingredients for the cherry tomatoes and feta sauce.
To a baking dish, combine your tomatoes, red onions, garlic, olive oil, Italian seasoning, and salt and pepper. Add your feta block in the middle and bake for 35 minutes.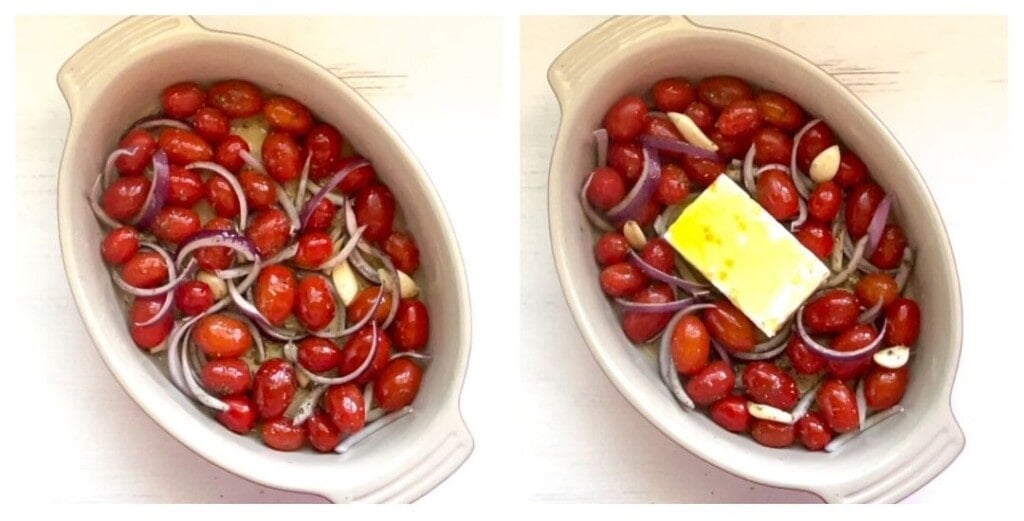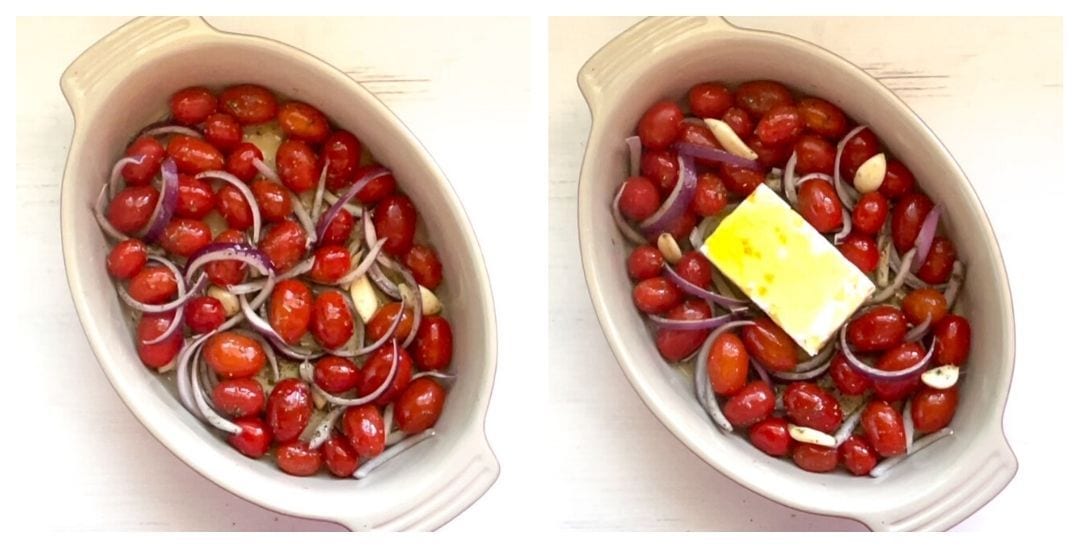 Meanwhile, cook your pasta according the package and be sure to reserve some of the cooking liquid.
When the feta and tomatoes are done cooking and the tomatoes have burst, use a fork to mash all the ingredients together.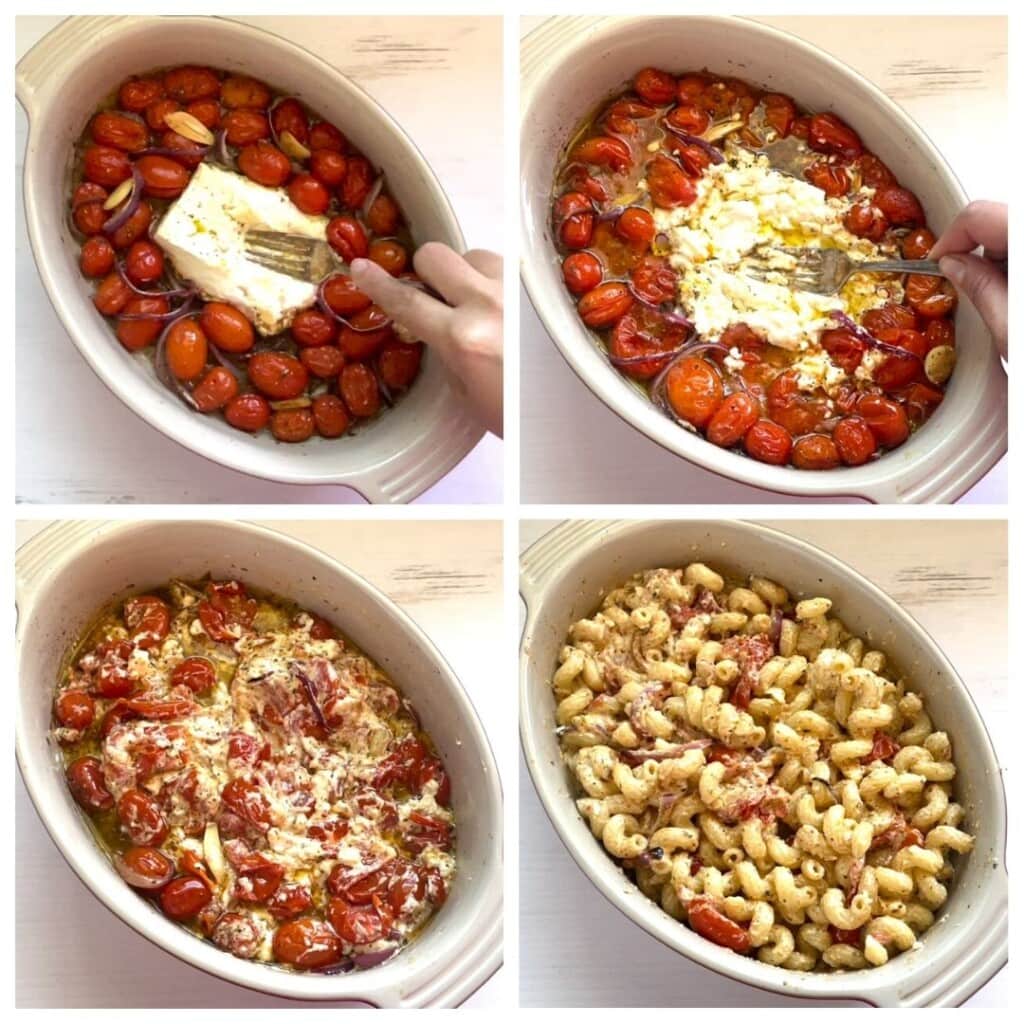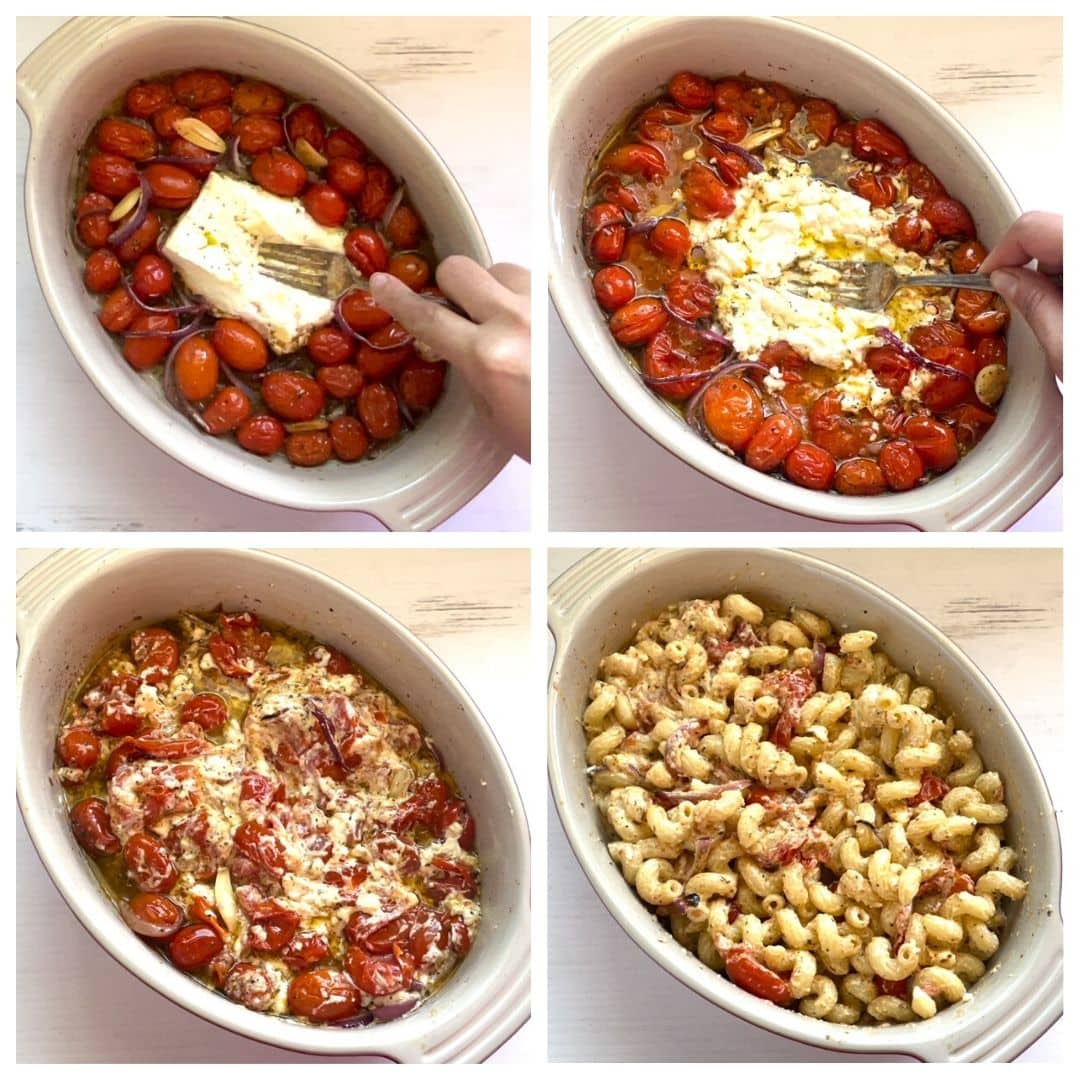 Add your pasta and mix well, adding reserved pasta water in case the pasta looks dry.
Garnish with basil and red chili flakes and enjoy!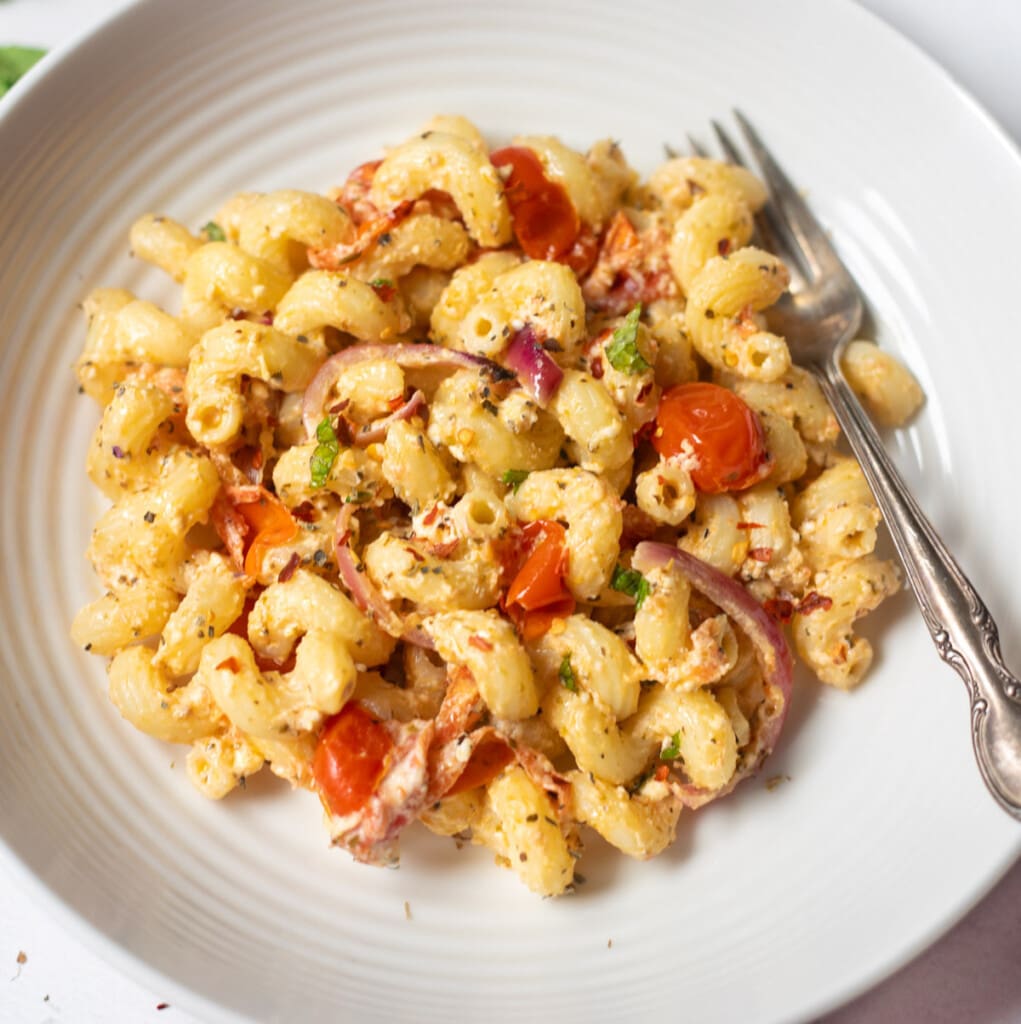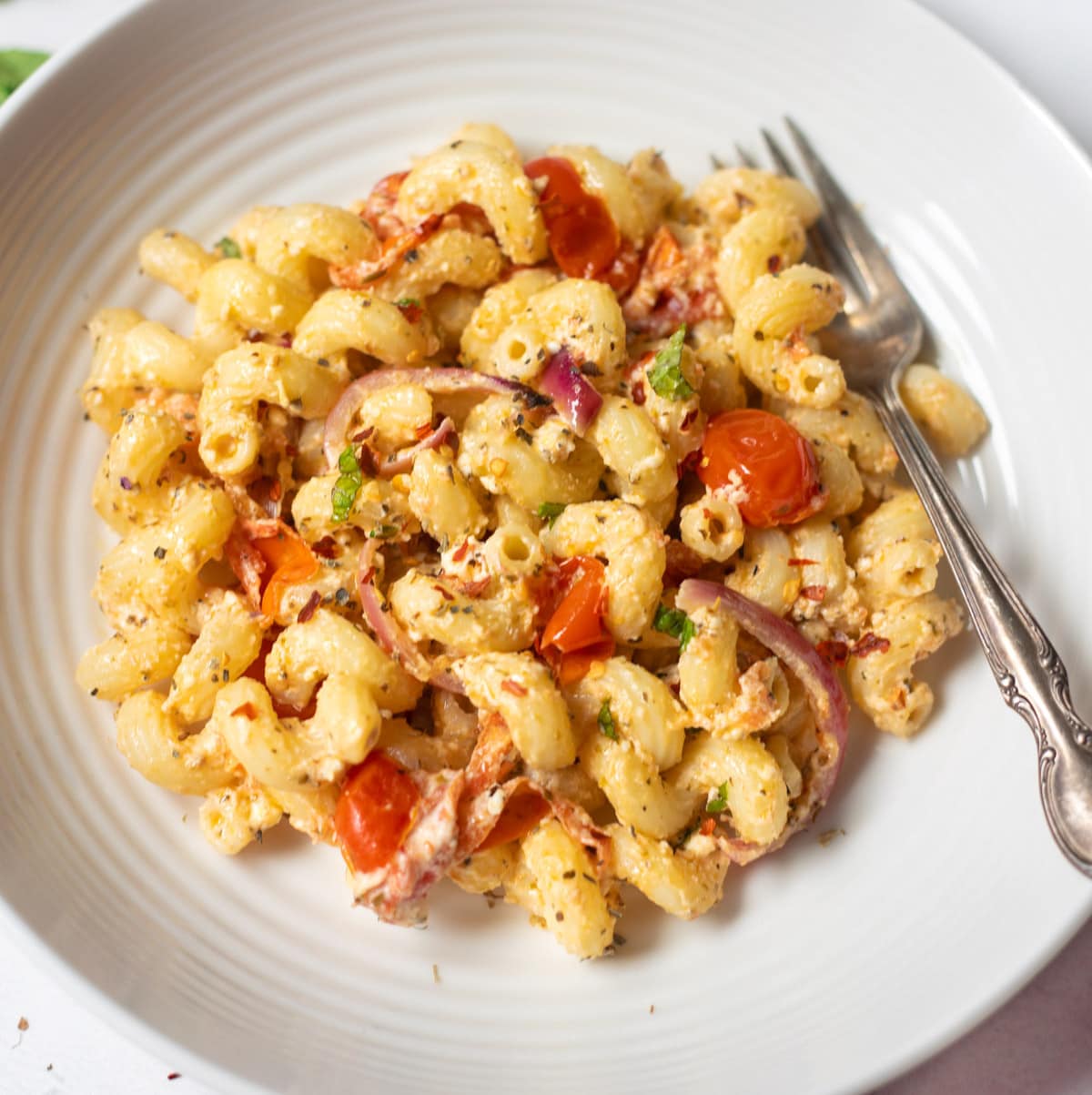 Tips
Olive Oil: High-quality olive oil is important for baked feta pasta. Also, don't reduce the amount of oil as it helps to cook the tomatoes and give the pasta a saucy texture.
Baking dish: A 3-quart baking dish is a perfect size for this dish. Anything larger and your tomatoes might not cook well enough to provide enough juices for the sauce.
Tomatoes: If you want your tomatoes blistered for added taste, place the baking dish under the broiler for the last few minutes of baking.
Pasta Water: Don't forget to save the pasta water! It will come in handy if you need more liquid for your feta tomato sauce.
Veggies: You can also add other vegetables to this dish like spinach for more nutritional value and color.
Tangy? If you find that the pasta is too tangy from the feta, you can add some pesto or even other cheese like mozzarella to counterbalance.
Variations
This baked feta pasta recipe is really customizable! Here are some other ideas you can add to this dish.
Kalamata Olives
Arugula or Spinach
Additional cheese like Parmesan or mozzarella
Grilled Chicken for added protein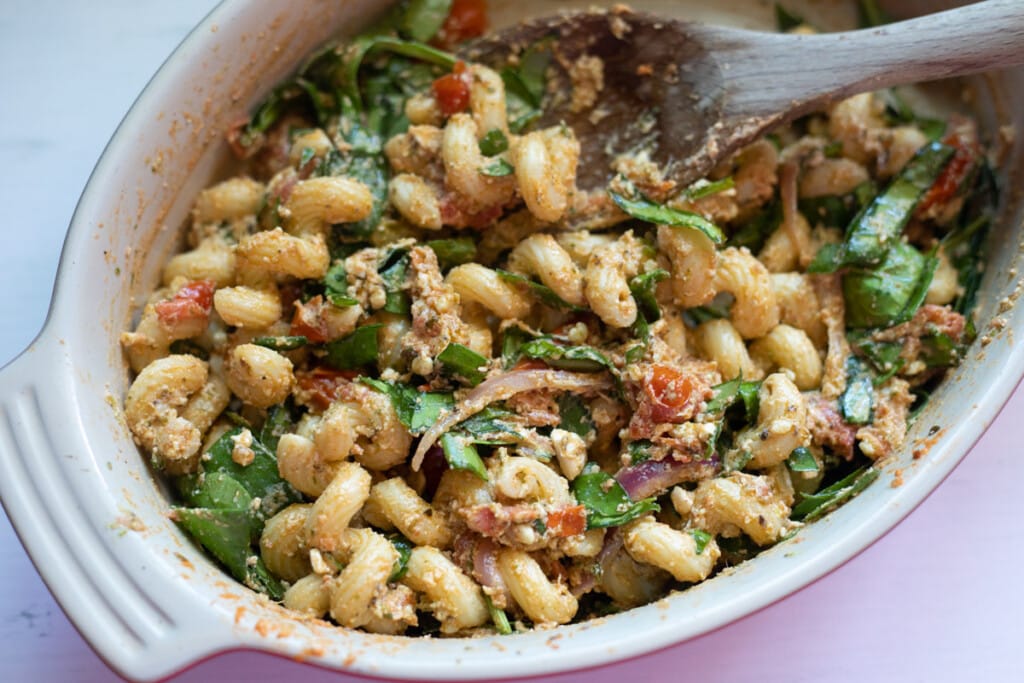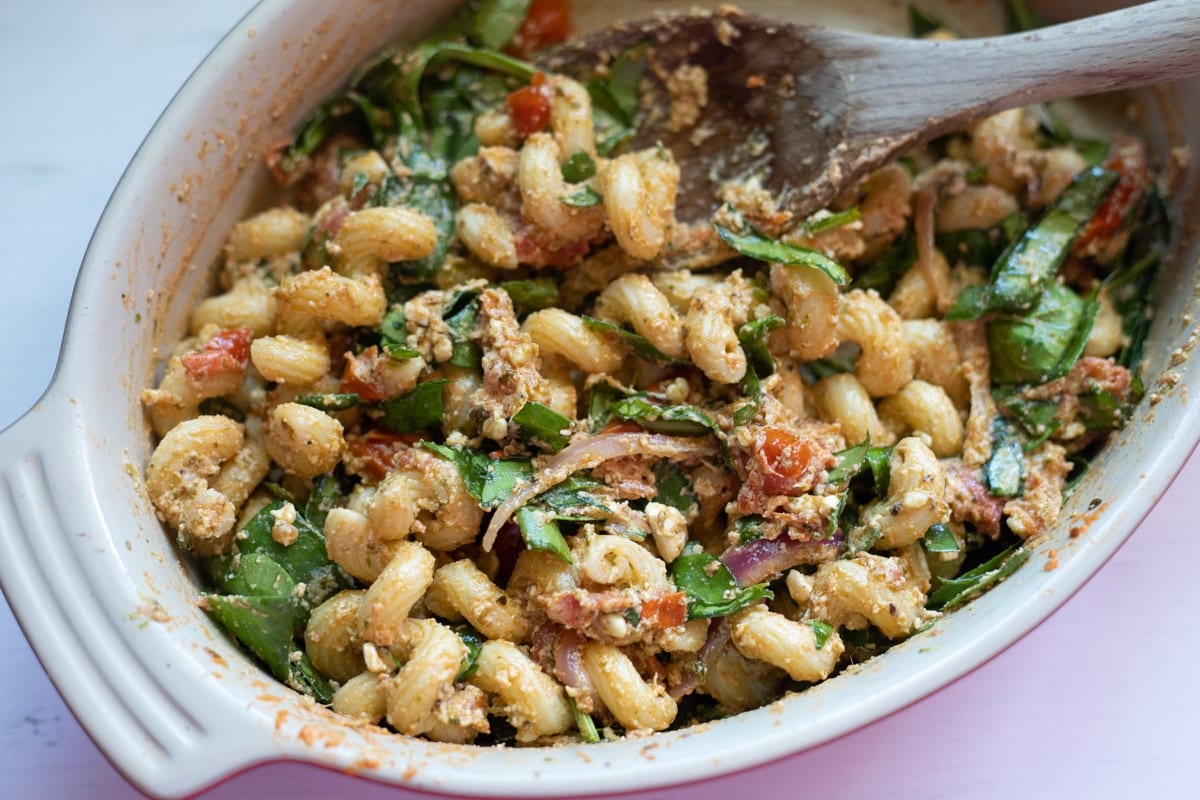 Common Questions
Can I use crumbled feta?
Crumbled feta has additives to prevent clumping. Therefore, using a whole block is important here to achieve a melty sauce for your pasta.
Which type of pasta can I use?
Any pasta will work here. However, short pasta like penne or cavatappi are easier to mix into the sauce. Use what you have on hand!
Can I store feta pasta?
This dish is best served immediately. Leftovers can be refrigerated for up to 2 days. To reheat, microwave for 30 seconds to a minute.
More Pasta Recipes
If you like this recipe, please check out my other favorite pasta recipes!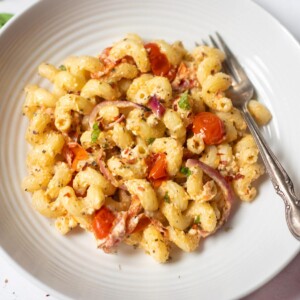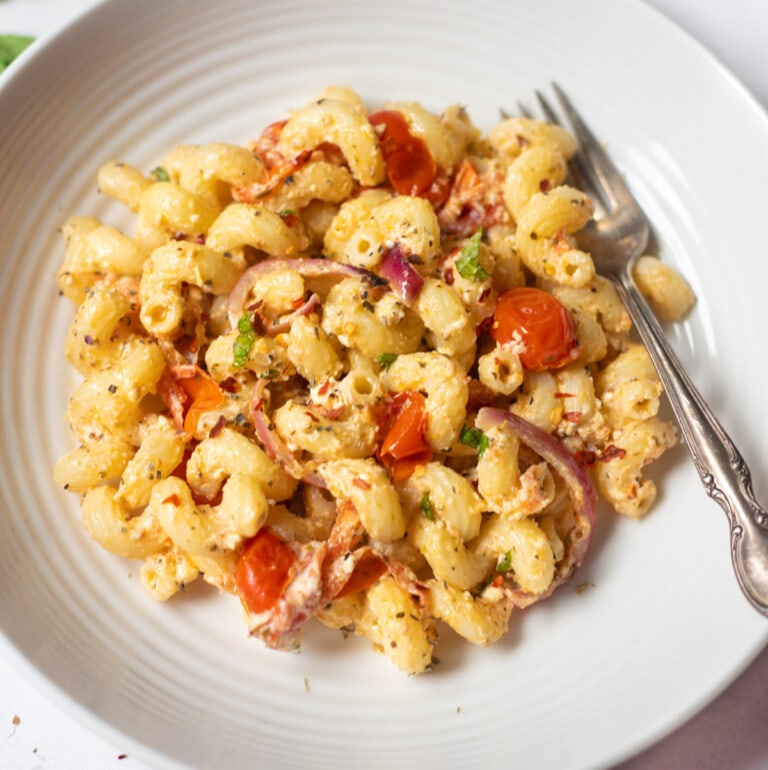 Baked Feta Pasta (with cherry tomatoes)
Baked Feta Pasta is a quick and easy meal perfect for weeknights! Blistered cherry tomatoes mixed with feta to make the perfectly creamy sauce for your pasta. It's the recipe that everyone is trying!
Instructions
To a 3qt baking dish, add cherry tomatoes, red onions, garlic, 1/4 cup of the olive oil, italian seasoning, salt and pepper. Mix it all together

Make some space in the center of the baking dish and place the block of feta cheese. Drizzle the remaining olive oil on the feta block.

Bake at 400°F for 35 minutes.

Boil the pasta according to package directions. Save 1/2 cup of the pasta water. Drain the rest and set aside.

Take the baking dish out of the oven. Check that the tomatoes have burst. Using a fork or spatula, mash the feta, tomatoes and garlic. Mix it all together.

Add the prepared pasta and mix well. If the pasta looks dry, add some pasta water. Add little at a time as needed.

Garnish with fresh chopped basil leaves and enjoy!
Video
Notes
Pasta: Any pasta shape would work, especially the ones which have holes and curves, so the delicious sauce clings to the pasta.
Feta Cheese: I used a little less Feta than in the original recipe. This was the perfect amount for our taste buds, and gave a good tangy taste.
Crumbled Feta: A block of feta works better in this recipe, but in a pinch you can use crumbled feta. Place it all at the center of the baking dish as in the recipe.
Variations:
You can add other veggies of your choice to this pasta – bell peppers, olives, mushrooms. I tried with adding chopped spinach after mixing it all up and it worked great.
Basil Pesto is a great addition to this pasta, especially if you find the taste of feta overpowering.
Use spaghetti squash for a healthier version in place of pasta
Note: Recipe adapted from Grilled Cheese Social and Feel Good Foodie.
Nutrition
Calories:
401
kcal
Carbohydrates:
35
g
Protein:
10
g
Fat:
25
g
Saturated Fat:
7
g
Polyunsaturated Fat:
2
g
Monounsaturated Fat:
15
g
Cholesterol:
25
mg
Sodium:
424
mg
Potassium:
290
mg
Fiber:
2
g
Sugar:
5
g
Vitamin A:
427
IU
Vitamin C:
17
mg
Calcium:
171
mg
Iron:
1
mg