Best ever banana flaxseed muffins that can be made from scratch in just 30 minutes. Packed with healthy ingredients such as banana, flax meal, and whole wheat flour, these muffins are a family favorite!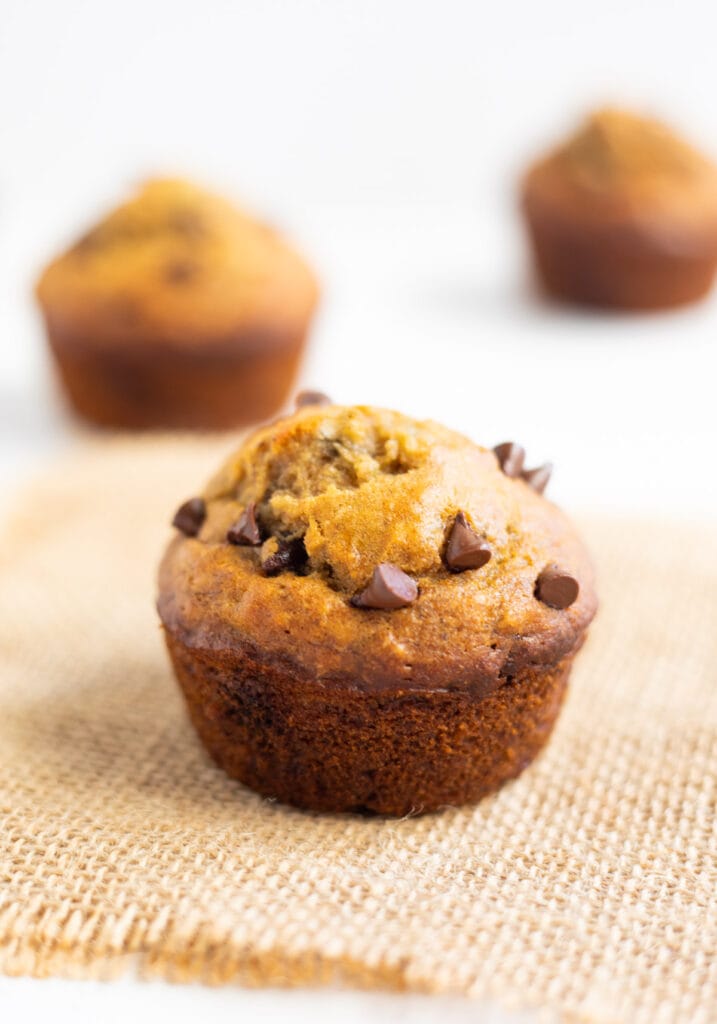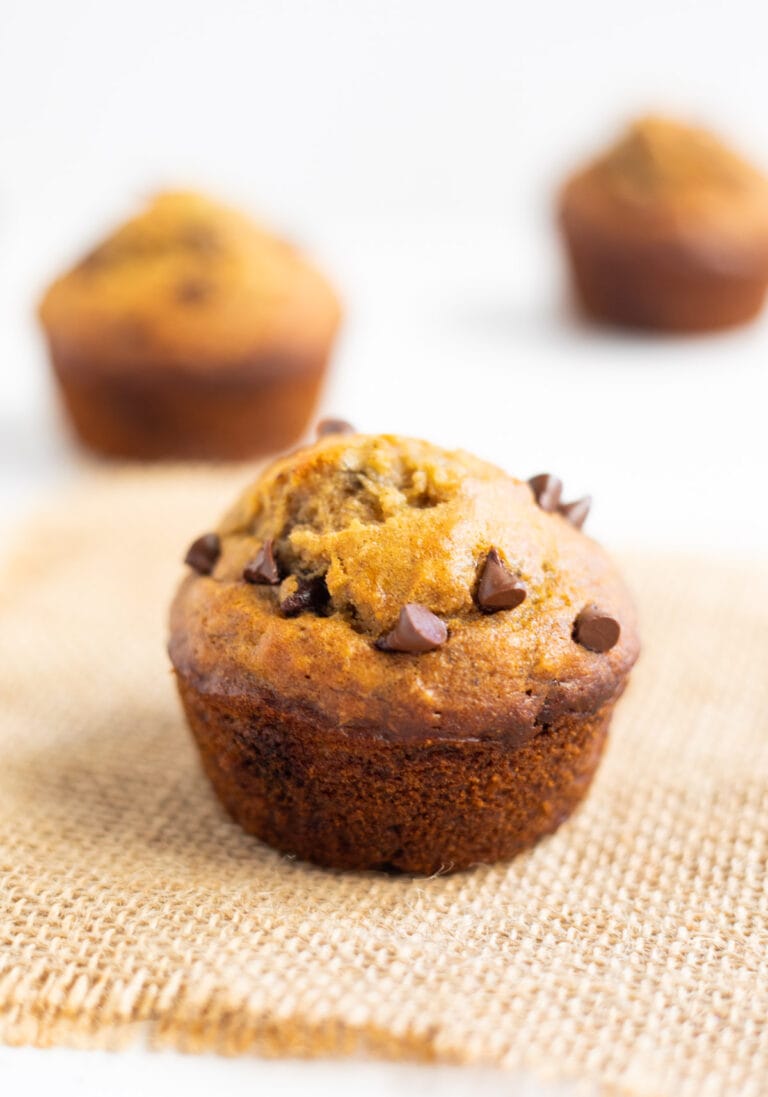 These banana muffins make a quick, easy, and healthy choice for breakfast, snack, or dessert. Made from whole wheat and ground flaxseeds, they carry loads of nutrition, and kids will love their decadent taste, similar to my healthy almond flour banana muffins.
These banana flaxseed muffins are also toddler-friendly. As bananas are the main ingredient of this dish, it comes with its natural sweetness, and I add agave or maple syrup for additional sweetness.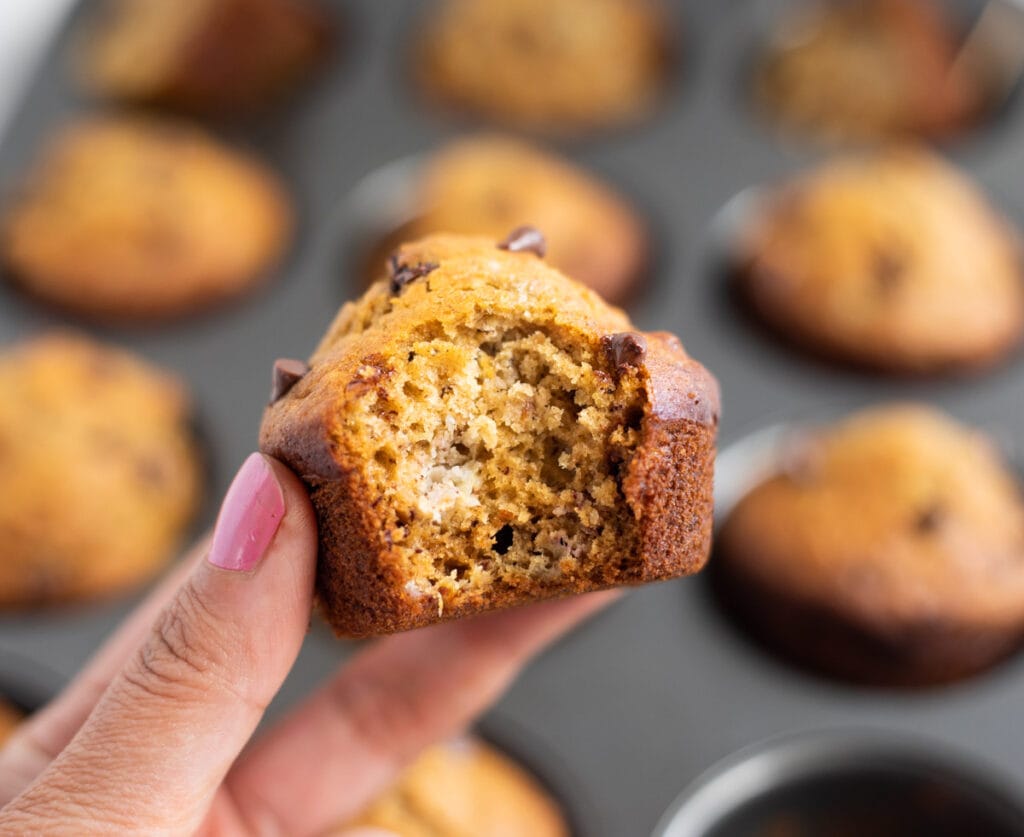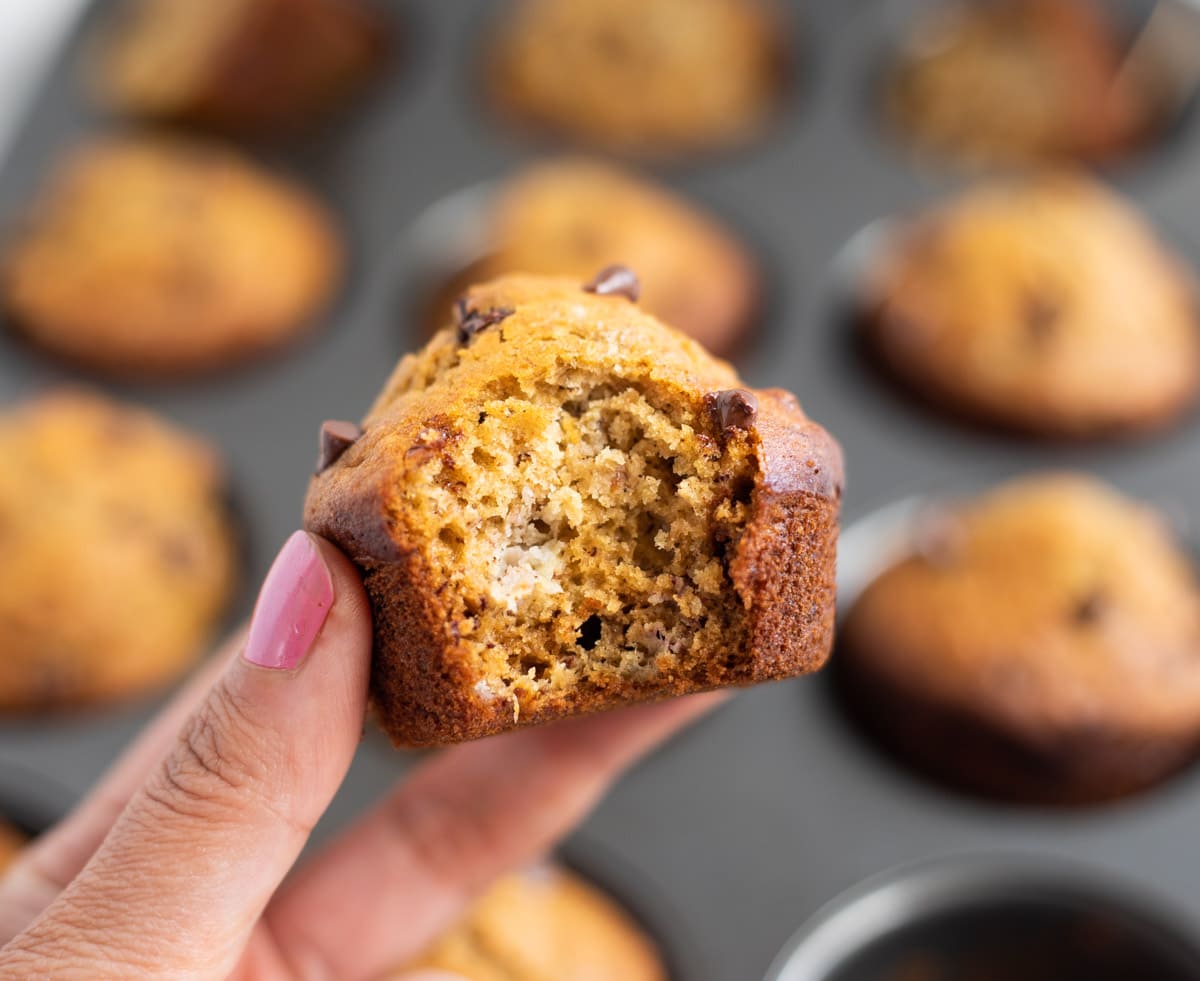 What is Flaxseed? Why add it to your diet?
Flax seeds are tiny brown or golden seeds that come packed with nutrition. Their origins date back thousands of years and were widely cultivated in the Middle East. In fact, for centuries, these tiny seeds have retained their place as a superfood and are part of many cuisines worldwide.
They have a high content of heart-friendly, healthy Omega-3 fibers and so much more benefits. If you are still thinking about why flaxseeds are good for your diet, here are some more health facts about this super-food:
They come loaded with nutrients like Thiamine, Copper, Magnesium, and Phosphorous. All of which is a must for healthy body functions.
They are a good source of protein, so it is a superfood for those following the vegan diet.
The Omega-3 not only keeps the heart healthy but also reduces inflammation
They contain soluble fiber that helps in keeping your hunger pangs at bay.
It lowers your blood pressure and improves digestion.
These Healthy Banana Flax Muffins are:
Just like the power-packed flax seeds, these whole wheat banana muffins come with great benefits like:
They are made with wholesome ingredients available right in your kitchen
Made with 100% whole wheat flour, it is extra healthy than the all-purpose flour.
As bananas are the primary ingredient, they keep the muffin overly moist and delicious.
They are also not overly sweet, as the recipe calls for maple syrup instead of refined sugar.
You can skip the chocolate chips if you want only the natural sweetness of the banana.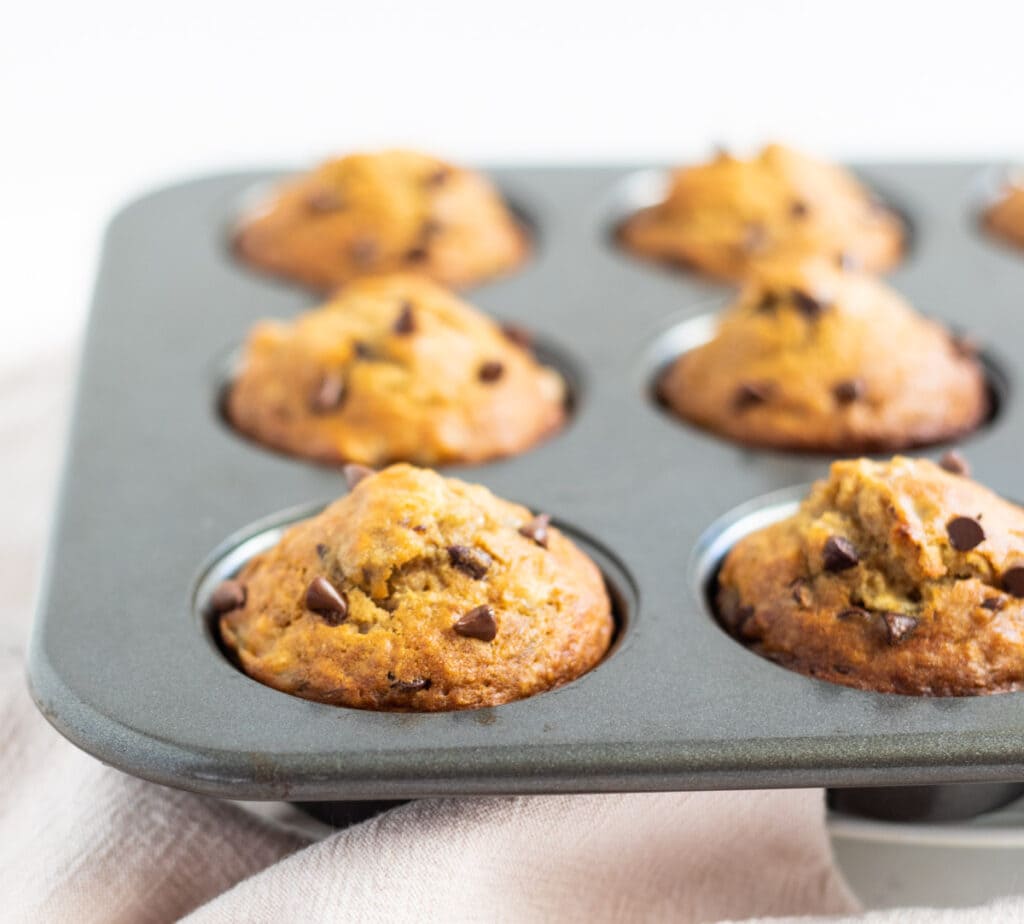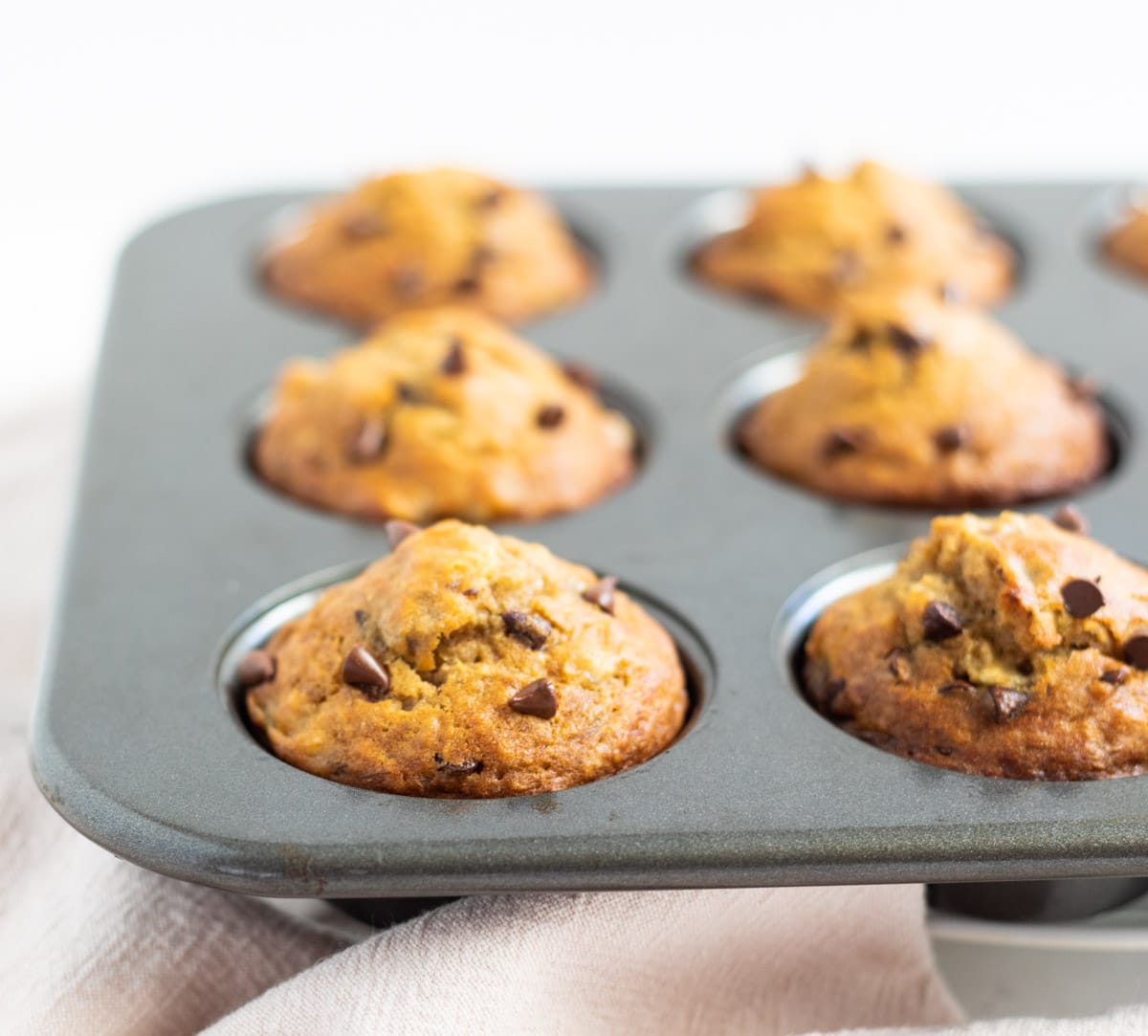 How to make Healthy Whole Wheat Banana Muffins?
This wholesome banana breakfast muffin calls for no other appliances except the oven. All you need is a large bowl to thoroughly blend all the ingredients together. To make this muffin, overly ripe bananas are the best. You know, the one with all brown spots over them, the more the spots, the sweeter the banana.
Before you get started with the ingredient mix, make sure you preheat the oven to 425°F (218°C). Also, grease a 12-count muffin pan. If you have liners, you can use them instead of greasing the pan.
Take a large bowl and add the peeled bananas. Mash them with a fork. Depending on your preference, you can mash them well or a bit coarse if you like chunks in your muffins.
Then, add avocado oil or any other vegetable oil to the mashed bananas. As they don't add any flavor, avocado oil is a great choice for baking.
Then add the maple syrup, eggs, vanilla extract, and yogurt to the mashed bananas and mix well.
Add a pinch of salt along with cinnamon, baking soda, whole wheat flour, and flax meal. Fold all the ingredients gently till they are mixed. But take care so that you don't overmix.
Add the mini chocolate chips to the mix and save some to top the muffins in the baking pan.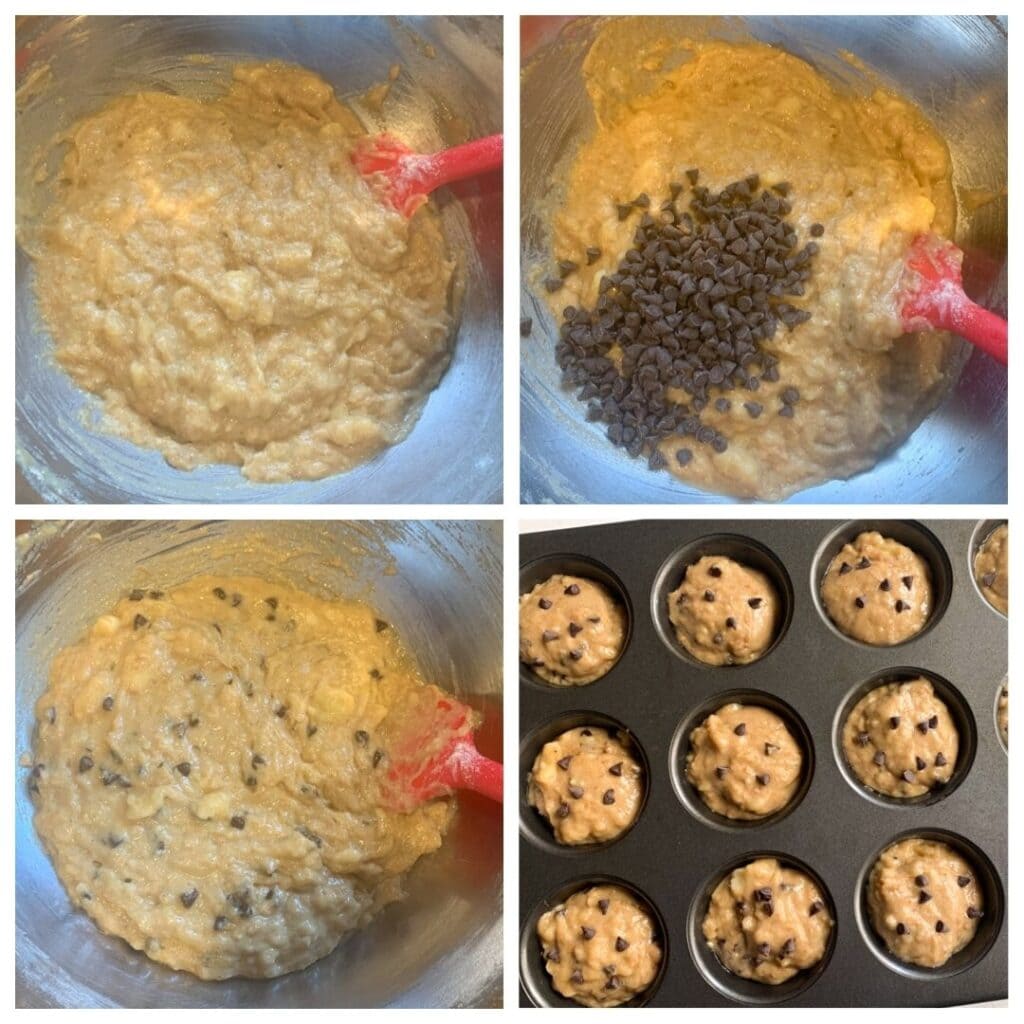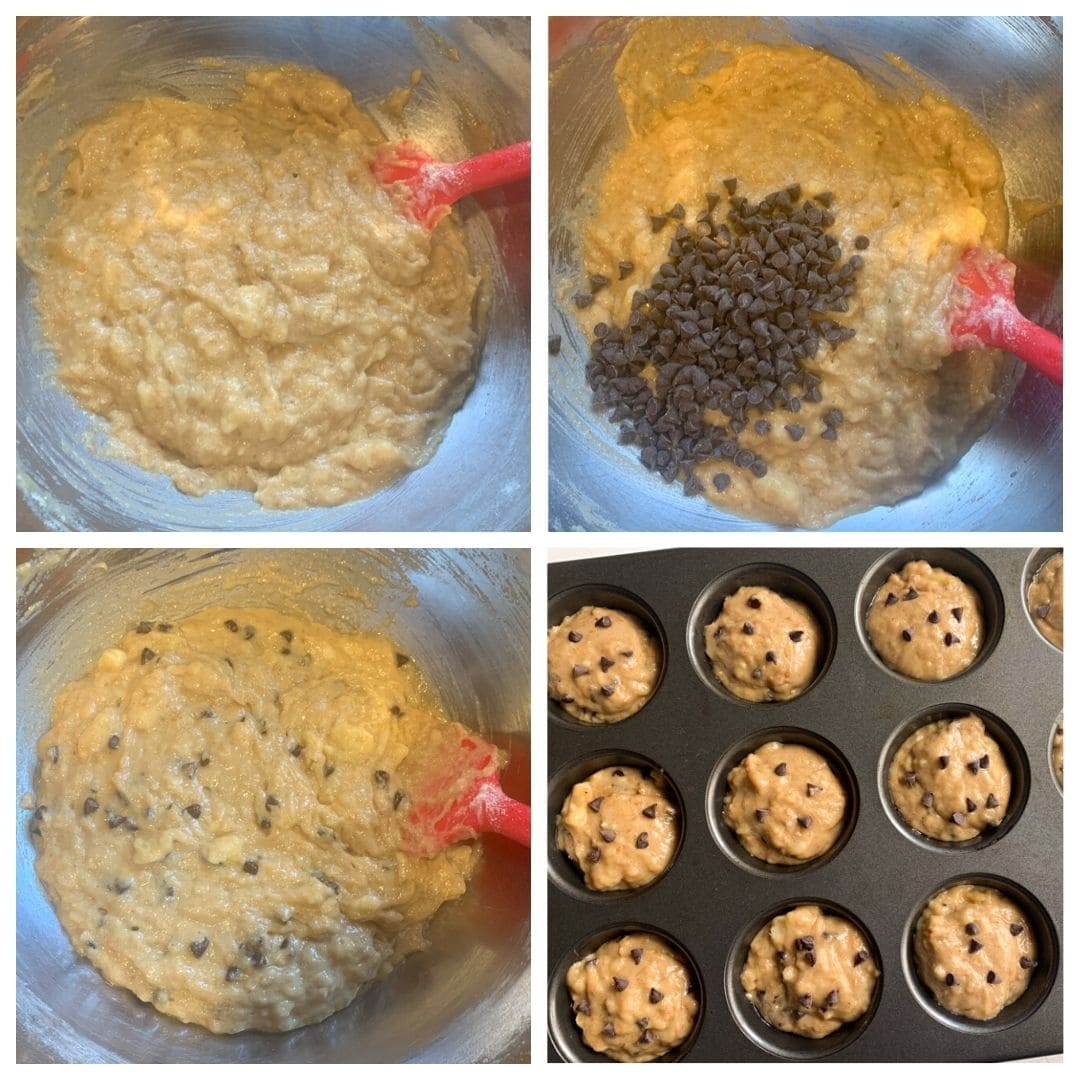 Spoon the batter into each muffin cup evenly and spread the chocolate chips on top.
Bake them in the preheated oven for 7 minutes and then reduce the temperature to 375 degrees Fahrenheit.
Keep baking at the reduced temperature for about 10 minutes. You will know that your banana muffins are ready when you insert a toothpick in the center, and it comes out clean.
Finally, remove the muffins and place them on a wire rack to cool them completely.
Once they have cooled down, enjoy the delicious and healthy muffins as a breakfast or snack.
You can also store them in an air-tight container for a quick 3 p.m. snack.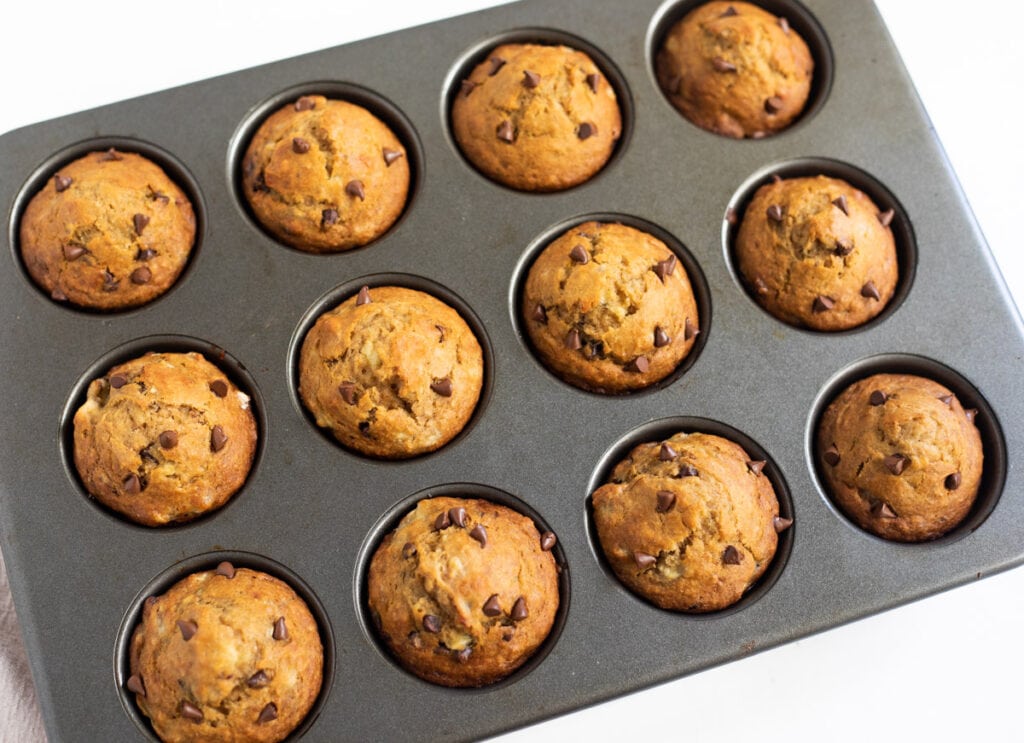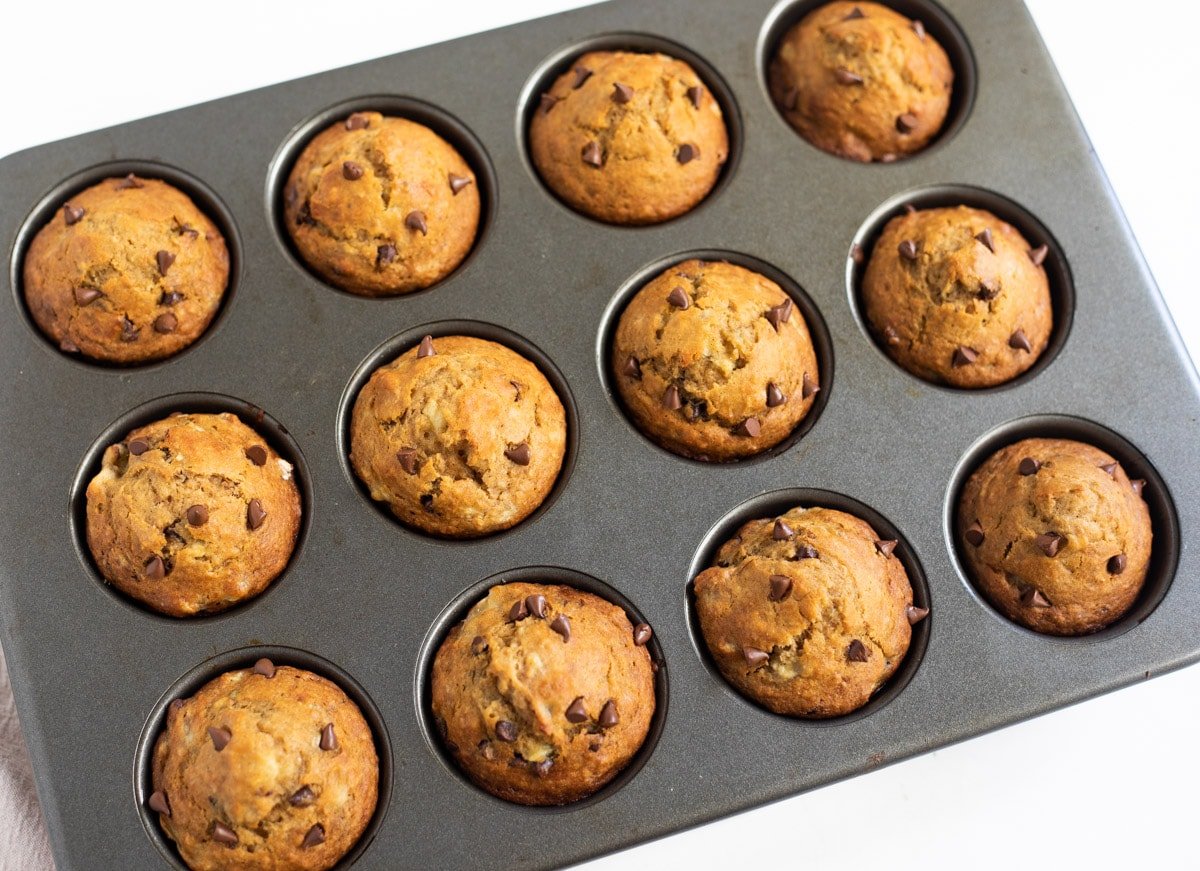 Pro-tips to make the best-ever banana muffins:
Make sure that all the ingredients are at room temperature before you start the recipe, as they bring out a better flavor.
The more ripe the bananas are, the better the sweetness of the muffin, as this recipe has no added sugar.
A few chocolate chips will give that extra boost of sweetness.
Once you mix the wet and dry ingredients, do not overmix.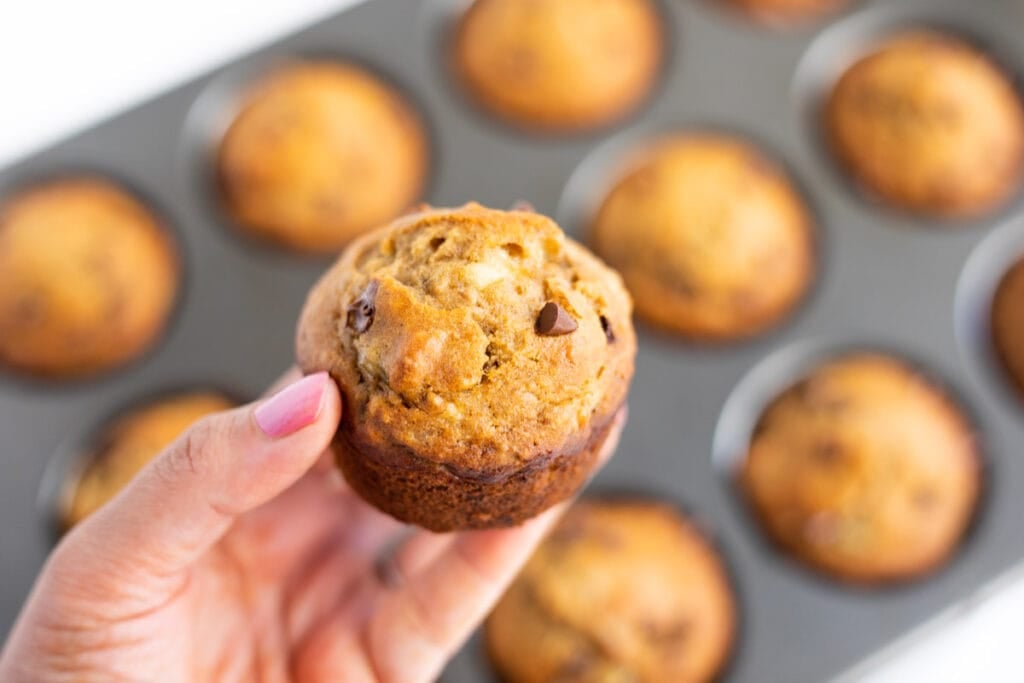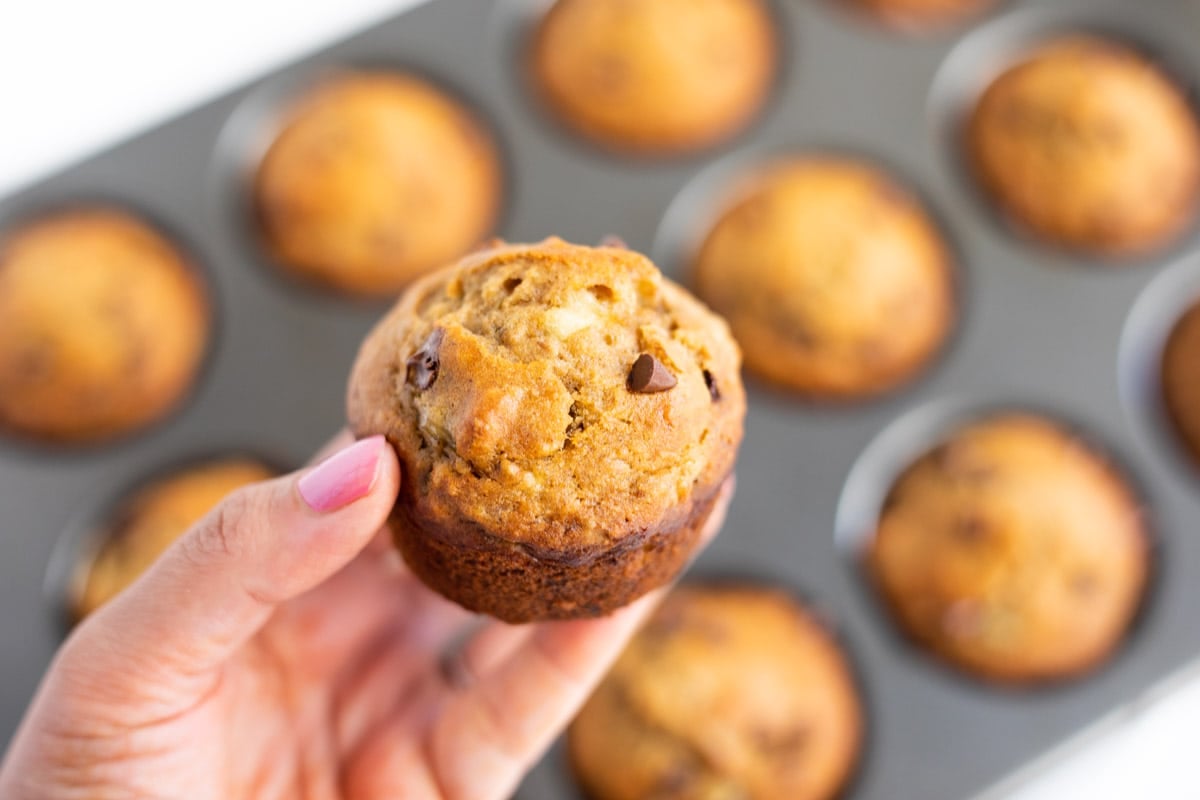 As muffins are a family favorite, we also love to make other super-nutritious and kid-friendly muffins like:
Be sure to give them a try and let me know how they turn out in the comments below!!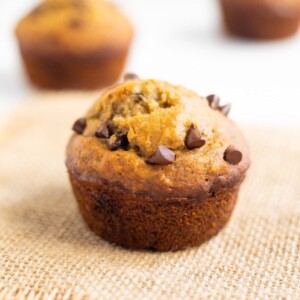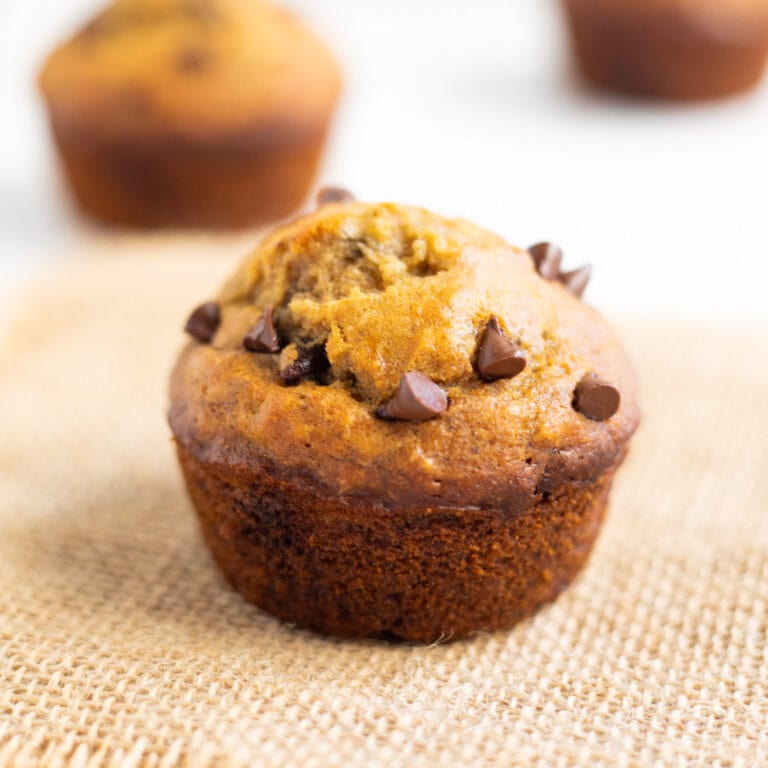 Healthy Banana Flaxseed Muffins
These healthy banana flaxseed muffins can be made from scratch in just 30 minutes. Packed with wholesome ingredients such as banana, flaxmeal, and whole wheat flour, these muffins are a family favorite!
Instructions
Preheat the oven at 425°F (218°C). Also, grease a 12 count muffin pan (you can use liners if you prefer).

In a large bowl, add the peeled banana. Mash them wel with a forkl, but if you like them a little bit chunky, then just mash them coarsely.

Add oil, agave syrup, eggs, vanilla extract, yogurt and mix well.

Now add the salt, cinnamon and baking soda, and then the whole wheat flour and flax meal. Fold it all gently with the wet ingredients. Do not overmix.

Add the mini chocolate chips and mix. Save some to top in the baking pan.

Spoon the batter evenly into each muffin cup. Sprinkle some chocolate chips on the top.

Bake in preheated oven for 7 minutes then reduce oven temperature to 375 degrees and continue to bake 8-10 minutes until a toothpick inserted into center comes out clean.

Remove from muffin pan and let the muffins cool completely on a wire rack and enjoy! Store muffins in an airtight container.
Notes
Storing: You can store on the counter for 2-3 days wrapped in a plastic wrap. Freeze banana muffins: You can freeze muffins wrapped in plastic wrap or in a freeze ziplock bag. To enjoy, take it out of the freezer and let it come to room temperature. You can also warm the muffins in the microwave for 10 seconds.
Nutrition
Calories:
154
kcal
Carbohydrates:
16
g
Protein:
3
g
Fat:
9
g
Saturated Fat:
2
g
Trans Fat:
1
g
Cholesterol:
29
mg
Sodium:
156
mg
Potassium:
155
mg
Fiber:
2
g
Sugar:
9
g
Vitamin A:
72
IU
Vitamin C:
3
mg
Calcium:
27
mg
Iron:
1
mg