Instant Pot Mushroom Wild Rice Soup is a creamy vegetarian dish that is packed with protein and veggies. Hearty wild rice is combined with mushrooms, carrots, celery, and kale, then is brought together with a creamy soup base. This easy mushroom soup is the best way to warm up on a cold day!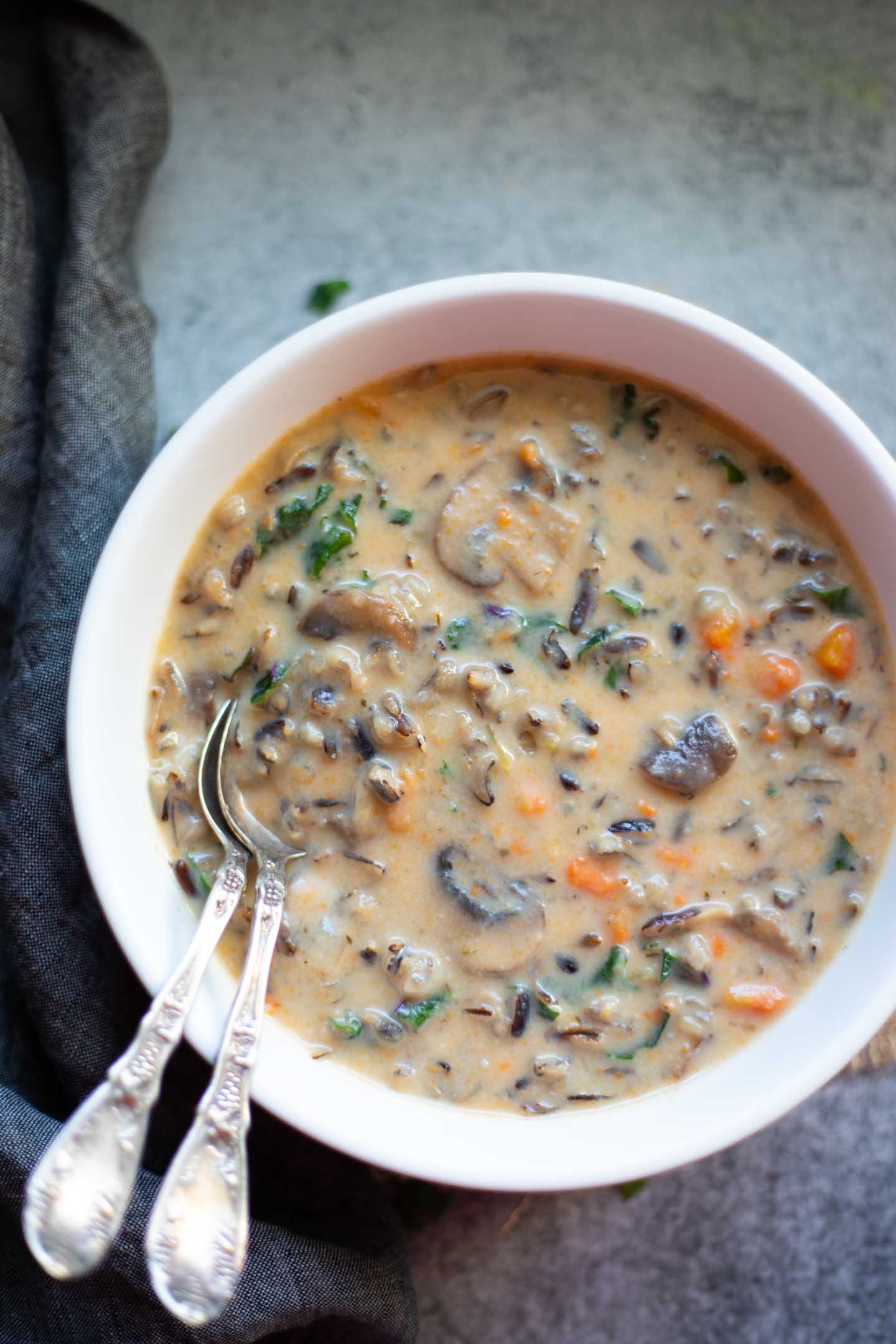 Instant Pot Mushroom Wild Rice Soup is the most cozy and delectable soup that is perfect for this time of year. Take it from me – if you like the savory flavors of Instant Pot Creamy Mushroom Pasta, you will love this wild rice and mushroom soup!
It's creamy and hearty to satisfy your tummy and filled with veggies and spices that will help boost your immune system. There's no better way to get through cold & flu season than with a delicious and healthy soup!
Whenever I get a large box of mushrooms from Costco, I have to make this mushroom soup along with all the other mushroom recipes – Mushroom Pasta, Tandoori Mushroom, Mushroom Brown Rice Pilaf and Mushroom Curry. As you can see I, love mushrooms and use them in a variety of ways.
Ingredients in Mushroom Wild Rice Soup
This soup starts with a hearty helping of uncooked wild rice cooked in broth. You can use chicken broth or make it vegetarian with veggie broth. Aromatics like onion and garlic are added to give the soup a delicious savory flavor.
You'll add chopped carrots and celery, sliced mushrooms, and leafy green kale to pack this easy mushroom soup with protein and essential vitamins.
The soup gets spiced with the earthy flavors of thyme, rosemary, and bay leaves, and is then finished with a creamy roux to bring it all together.
How to Make Mushroom Wild Rice Soup?
This is the easiest soup to make. The main active time in this recipe is chopping the vegetables.
First, add the wild rice, broth, garlic, onion, celery, carrots, mushrooms, and spices to your pressure cooker.
Close the lid and make sure it's set to "sealing", then turn on the "soup" mode and cook for 30 minutes.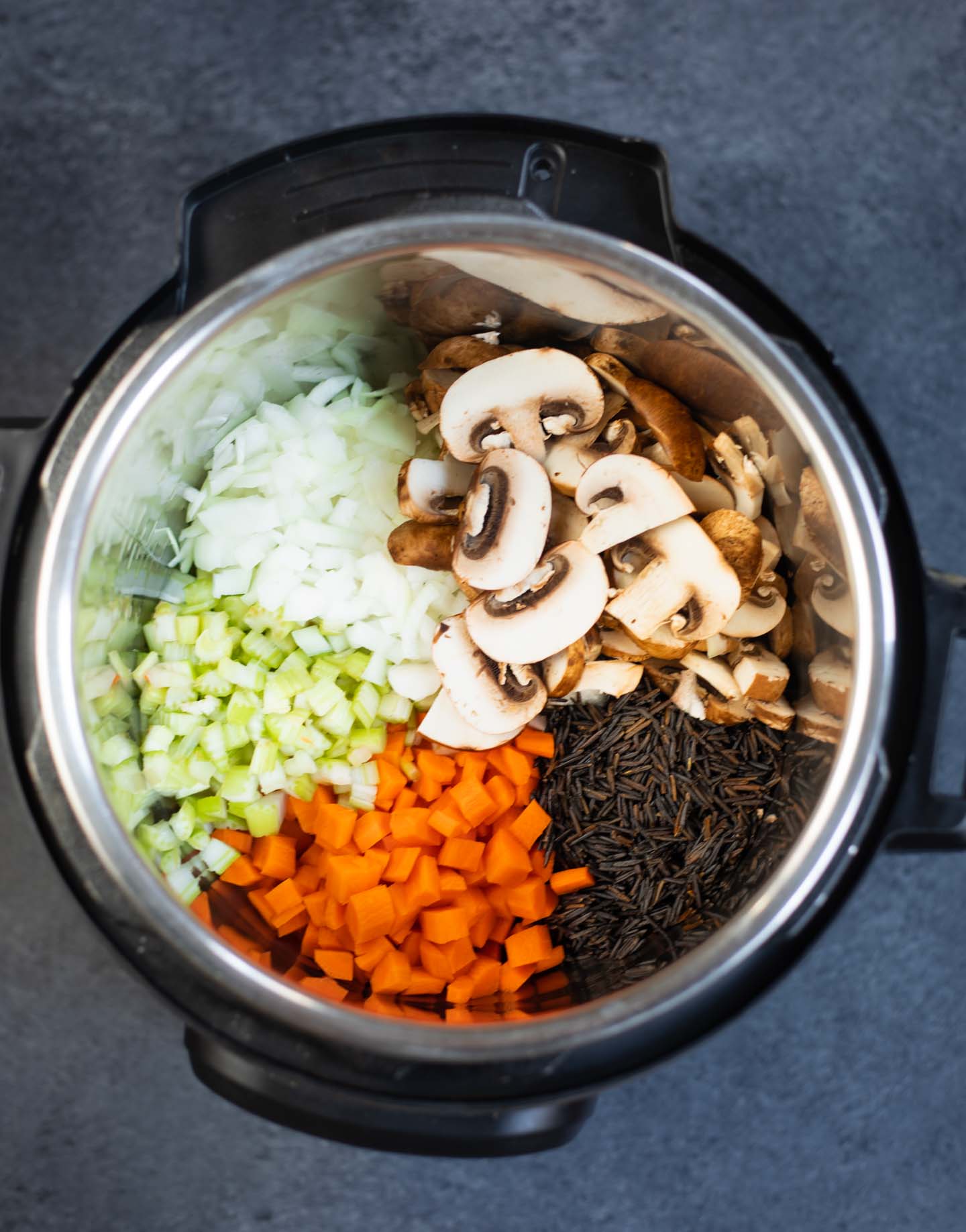 When the ingredients have cooked for 30 minutes, allow a natural pressure release. Add the kale leaves and stir them in.
On your stovetop, melt butter in a saucepan and add some flour to make a roux. Stir until the flour is cooked, then add milk.
Continue to stir and cook the mixture until it is thickened and creamy.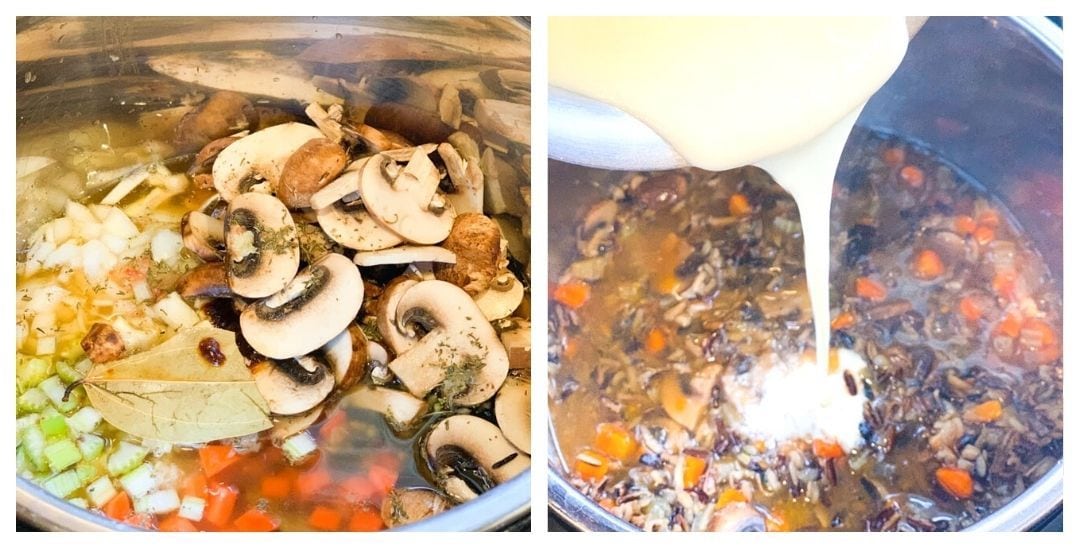 Add the creamy mixture to your Instant Pot.
Stir until everything is combined and the flavors are fully incorporated.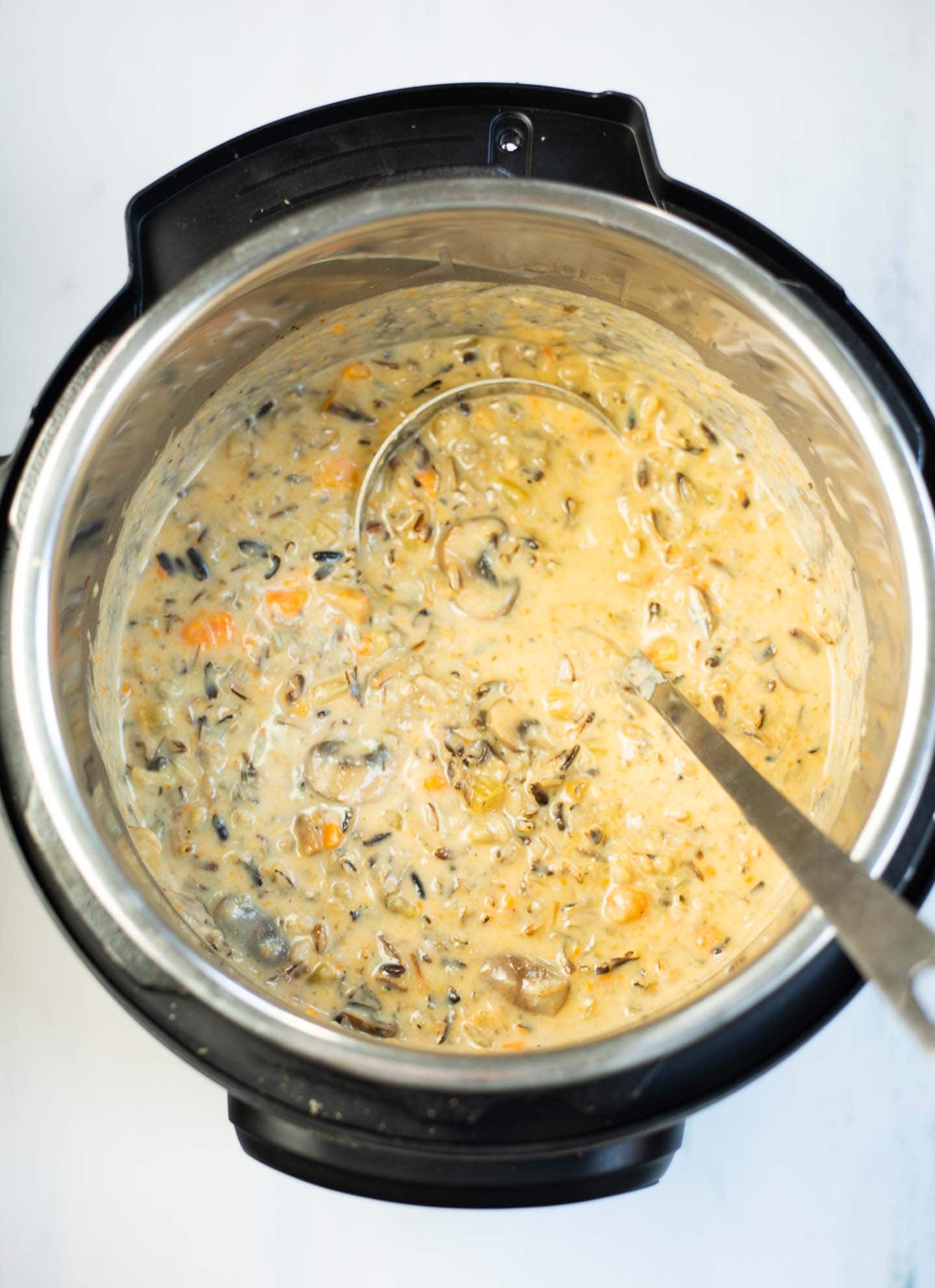 Tips for cooking Mushroom Wild Rice Soup in the Instant Pot
Always allow a natural pressure release. It takes longer to cook wild rice than other varieties of rice, so the extra time will allow the rice to soften to the perfect consistency.
Be sure to discard the bay leaves after the pressure cooking is finished. Bay leaves are great for adding potent flavor to soups, but they aren't too pleasant to eat whole.
I like to have Better Than Bouillon base to make broth. It's great to have on hand when you need broth or stock in a pinch!
Do you have to soak wild rice before cooking?
For home cooks who serve rice often, you may think it's counterproductive to not soak the rice before cooking. While it's true that soaking wild rice overnight will cut down on cooking time, that's not necessary when cooking it in a pressure cooker.
Let the Instant Pot do the work for you! A pressure cooker steams wild rice to the ideal texture for this mushroom soup.
How long does it take to cook wild rice?
30 minutes of cooking and a natural pressure release is all you need to get the wild rice to the perfect consistency for this simple wild rice & mushroom soup.
You can also make this mushroom soup in a crockpot. Simply place all of the ingredients except for the butter, flour, and milk into your crockpot and cook on high for 2-3 hours.
Then, follow the instructions for making the roux on the stovetop. Add the thickened cream to your crockpot, stir to combine everything, then serve. It's that simple!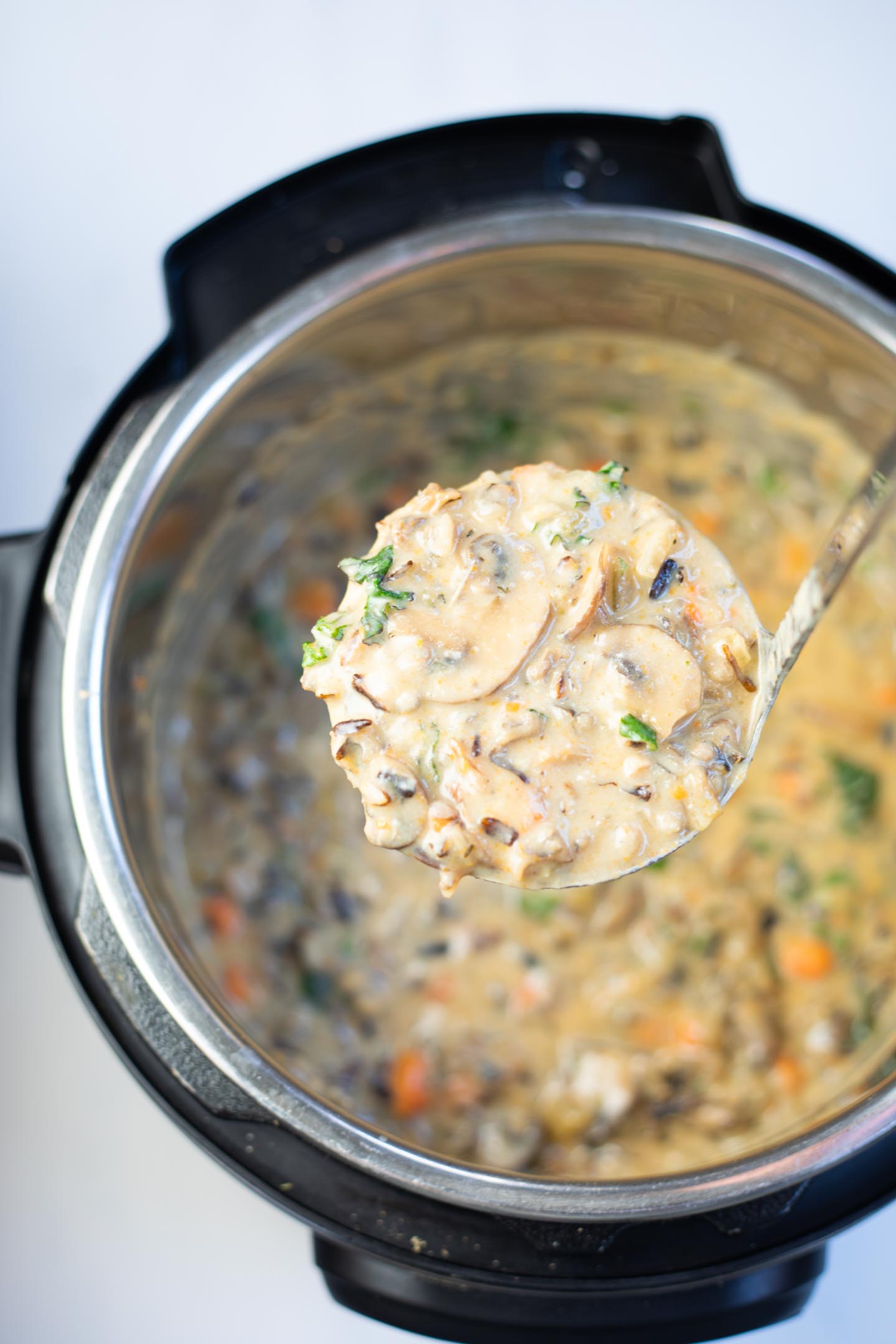 How do you know when wild rice is cooked?
Wild rice should have a tender texture with a little bit of a bite (think al dente, like pasta) when cooked.
You'll know the rice is cooked when it's no longer hard or chewy, and some of the kernels have started to burst open. At that point it's ready for you to enjoy!
Can you freeze this homemade soup?
While it may be tempting to stock your freezer with cooked soups for convenience, soups with cooked pasta and rice don't freeze as well. Upon reheating, you'll find that the pasta and rice has expanded and soaked up most of the liquid in the soup.
But don't despair! You can make soup freezer packs to save some time and prepare ahead.
To freeze this creamy Mushroom & Wild Rice Soup, prepare all of the ingredients, (minus the roux ingredients) then place them, uncooked, into a large freezer bag. Squeeze out any excess air and label the bag with the contents and date.
When you're ready to cook the soup, place the contents of the freezer bag into your pressure cooker and follow the cooking instructions as written. In no time at all you'll have a delicious Instant Pot Mushroom Wild Rice Soup on the table and ready to devour!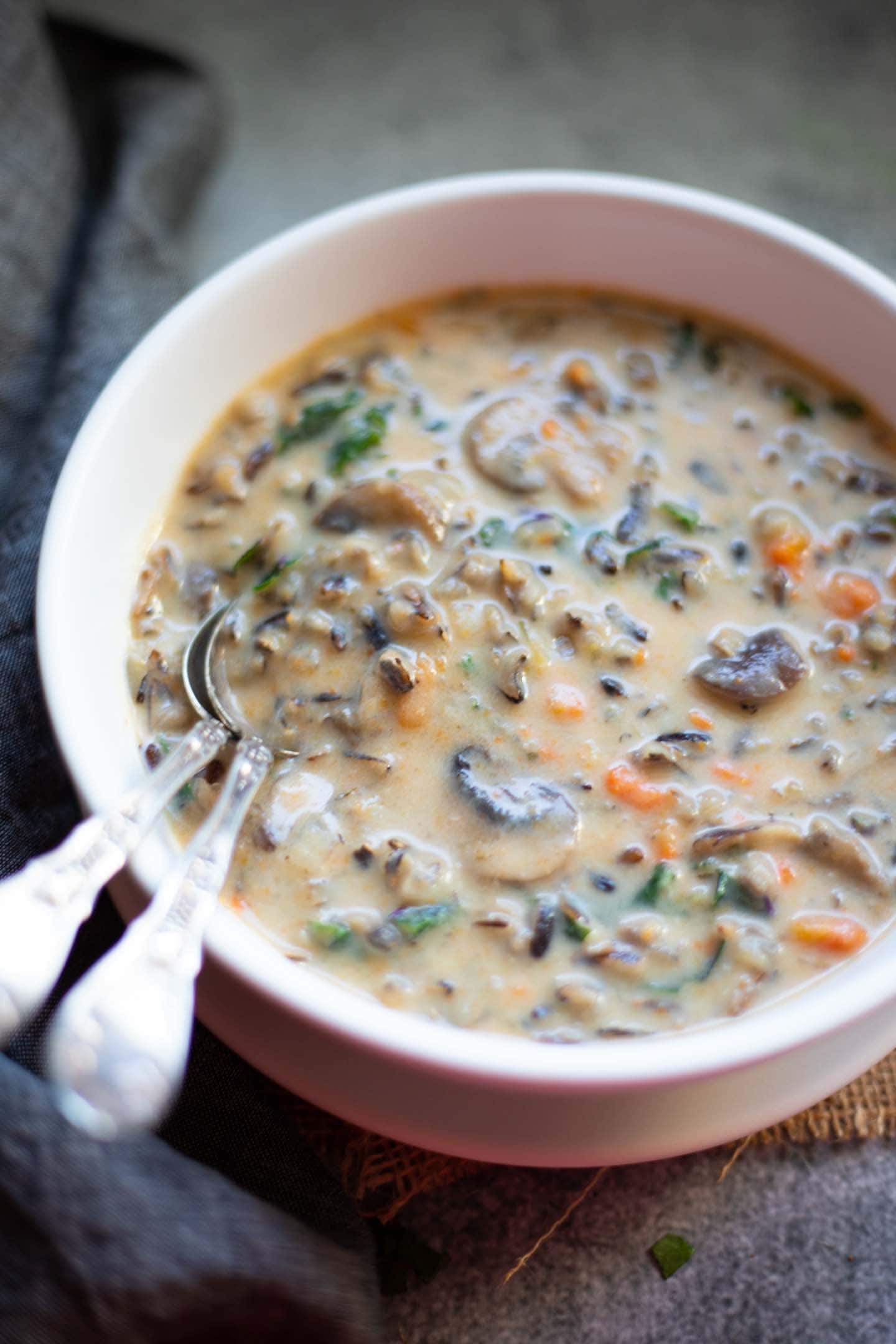 Try these other delicious Instant Pot soups!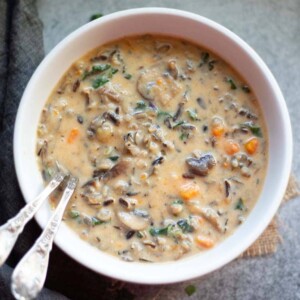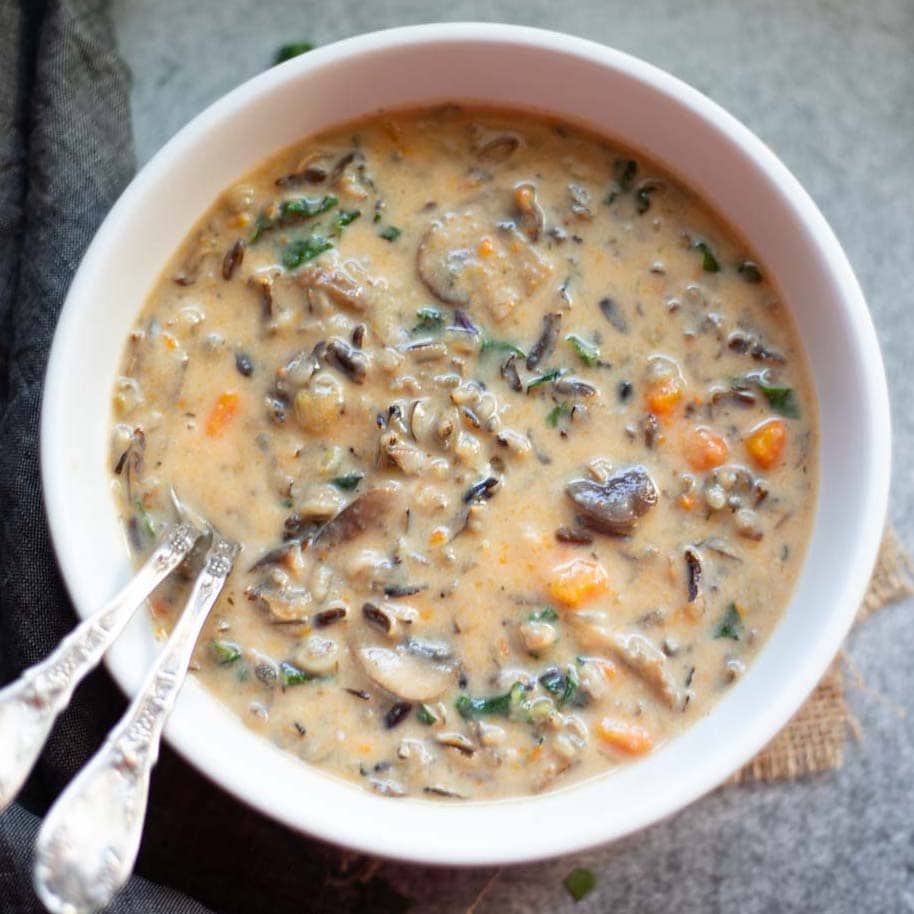 Instant Pot Mushroom Wild Rice Soup
Instant Pot Mushroom Wild Rice Soup is a creamy vegetarian dish that is packed with protein and veggies. This easy mushroom soup is the best way to warm up on a cold day!
Ingredients
For the Instant Pot:
1

cup

Wild rice,

uncooked

3

Carrots

,

a bit more than 1 cup, diced

3

stalks

Celery

1

cup

Onion

4

cloves

Garlic,

minced

8

ounces

Cremini Mushrooms

,

sliced

4

cups

Broth,

vegetable or chicken

1/2

teaspoon

Thyme,

dried

2

Bay leaf

1/2

teaspoon

Rosemary

,

I used dried

2

large handfuls

Kale leaves

,

roughly chopped with thick stems removed

1.5

teaspoon

Salt

1/2

teaspoon

Black Pepper,

freshly cracked
Instructions
Instant Pot:
Add all ingredients (except kale) to the Instant Pot and stir to combine. Close lid with vent in sealing position.

Cook for 30 minutes in soup (high) mode, then allow a natural pressure release.

Open the lid, then remove and discard the bay leaves.

Add the kale leaves and give it a stir.
On the stovetop:
When the pressure cooking is done, melt the butter in a pan on the stovetop.

Add the flour and saute for a minute until the raw smell is gone (about 1-2 minutes).

Whisk in the milk, a little at a time until you have a smooth, thick consistency.
Mix it together:
Add the roux to the Instant Pot and stir well.
Video
Notes
Crockpot: This soup can be made in a Crockpot. Cook for 2-3 hours on high and then follow the steps for the roux before adding to the Crockpot.
Broth:

I have used

Better Than Bullion

base to make broth. It is just easier to keep at hand for all my cooking.
Pressure Cooker: This recipe was created in a 6qt
Instant Pot DUO60
Multi-use Pressure Cooker.
Nutrition
Calories:
423
kcal
Carbohydrates:
56
g
Protein:
17
g
Fat:
17
g
Saturated Fat:
9
g
Cholesterol:
39
mg
Sodium:
1146
mg
Potassium:
1043
mg
Fiber:
6
g
Sugar:
11
g
Vitamin A:
8326
IU
Vitamin C:
9
mg
Calcium:
177
mg
Iron:
2
mg