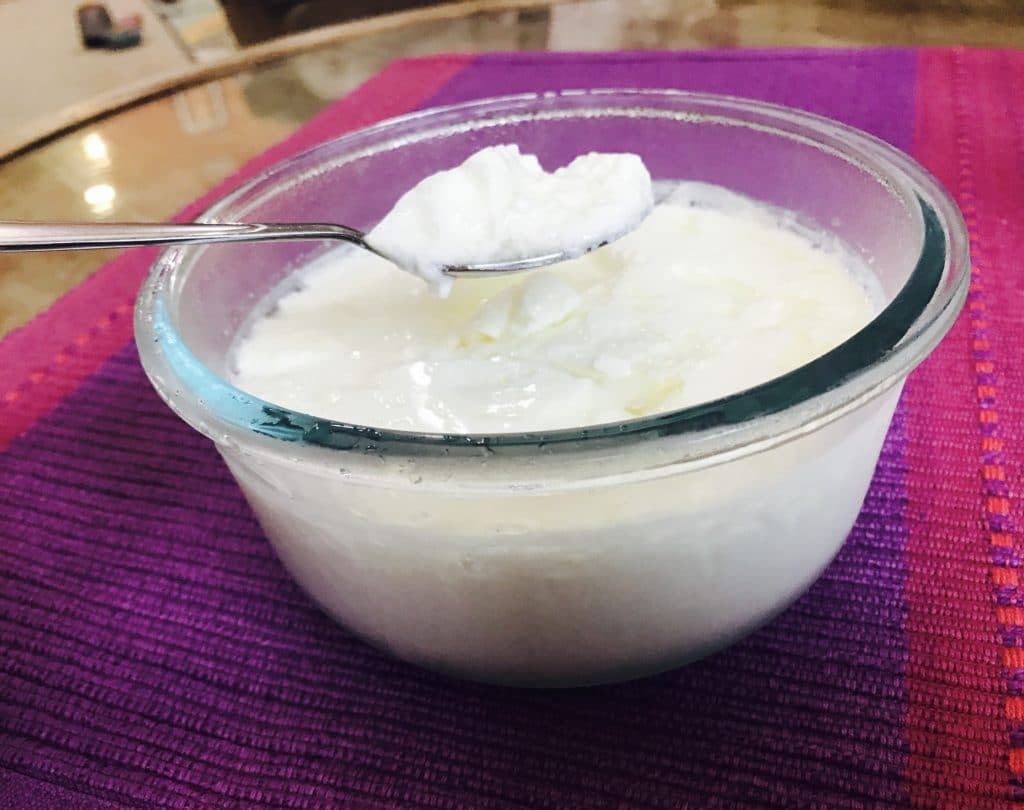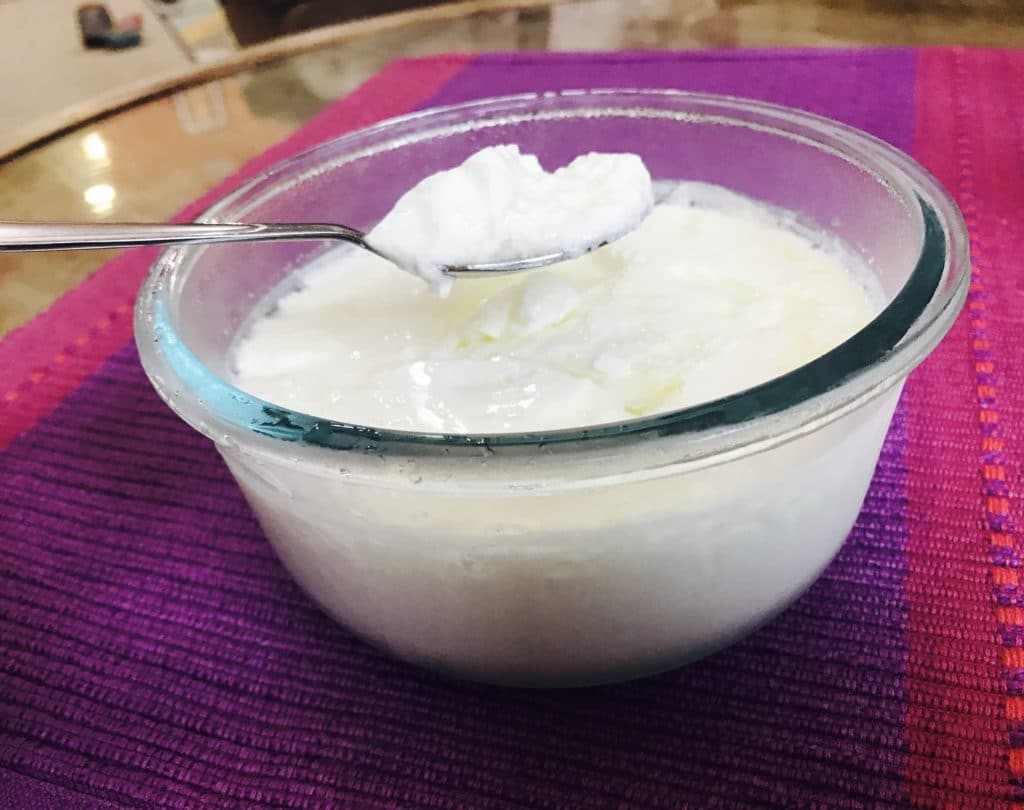 Living in the US, I used to buy yogurt from the store like most people here. It was too creamy for my Indian taste buds. I would always wonder, have they added something to it?? Sure enough…most of the yogurts in the market have gelatin added to make them seem creamier than they really are. Huh…so now what? There are yogurt brands which do claim to be gelatin free and live probiotic and organic.
I was living with them, but only until I started making homemade yogurt. You will never go back to the store bought one after having fresh homemade yogurt. And you might also save some bucks!
When preparing yogurt without the instant pot, it was hard to get it right each time. Especially in the winter when the weather is cold. Sometimes it would not get set properly, would be a bit runny and sticky. But with the instant pot, you take some of the possible uncertainties out.
That said, you can still prepare homemade yogurt if you don't have Instant Pot. After you have mixed in the starter, place the bowl in an oven with the light on. That has also given me very good results.
This recipe is to make yogurt with the pot-in-pot method. I prefer this, so I can just remove the bowl and refrigerate it. Use whole milk to make yogurt, and you will get a better result. I also prefer to use organic milk, not just for this recipe, but in general. The reasons for that can easily be a separate post.
Try this easy yogurt recipe and Enjoy the taste of real yogurt.
Update: There is another new method to make yogurt in the instant pot, called cold-ingredients or no-boil method. This method does not need boiling and cooling of milk, but requires a specific type of milk which is ultra filtered (Fairlife).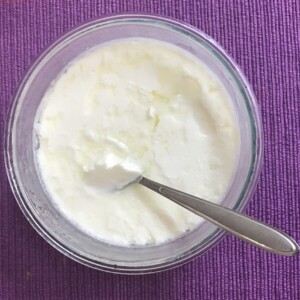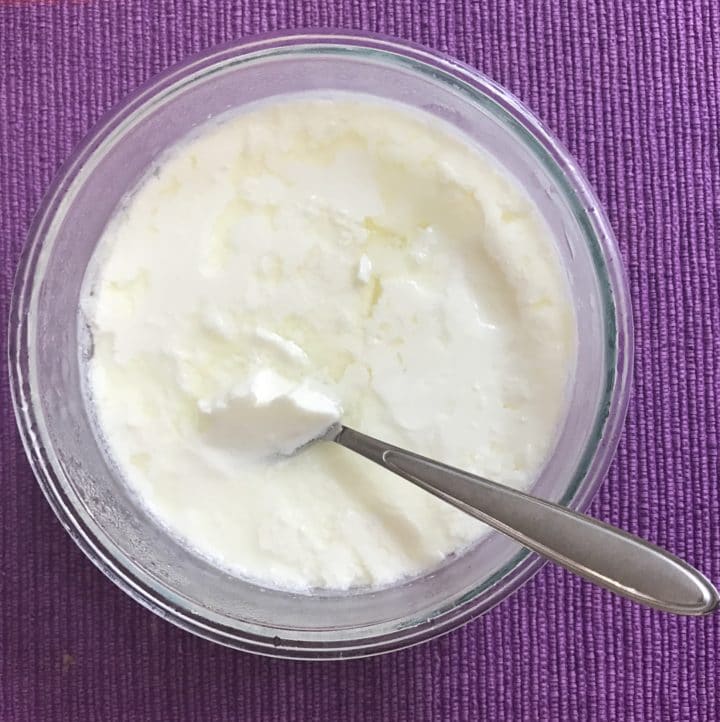 Instant Pot Homemade Yogurt (Pot-in-pot / PIP)
Delicious home made Yogurt made in the Instant Pot with the pot-in-pot method.
Ingredients
4

cups

Whole Milk

3

tablespoon

Starter culture

,

or any yogurt with live culture

1

cup

Water
Instructions
Place the wire rack in the bottom of the Instant Pot. Pour in 1 cup of water and place the milk in a glass bowl on the rack. Close the Instant Pot and set it to "Steam" mode for 1 minutes with vent in sealing position.

Remove the yogurt culture and keep it at room temperature.

After the instant pot timer goes off, release the pressure naturally.

Open the instant pot and let the milk cool down to about 110°F or 43°C, anything in the range from 108-115°F works as well. Approximately it will take an hour to cool down to this temperature. (I used a digital thermometer to check the temperature, until I got used to checking with my finger).

Mix the yogurt culture and start the instant pot again in "Yogurt" mode. This will automatically set the timer to 8 hours.

When the timer beeps, yogurt should be ready. Enjoy the yogurt as a side with your meal or as a snack topped with fruit or granola.
Notes
(Optional) Sanitizing the instant pot to remove any odors: If you do a lot of cooking with spices, you may want to add this step. Add 2 cups of water with a few drops of lemon juice and put the instant pot in steam mode.
Have the yogurt culture at room temperature when you are ready to mix.
The temperature when you mix in the starter with the milk is very important. Initially it can be hard to get it right, so you can use a digital thermometer to check the temperature.
Don't keep the yogurt in the instant pot for long after the timer beeps, as it might be more sour. Unless you prefer sour yogurt.