This Easy Almond Butter recipe has just one ingredient and is easy to make. No oil or other additives are necessary to make this healthy, creamy treat you can whip up in no time!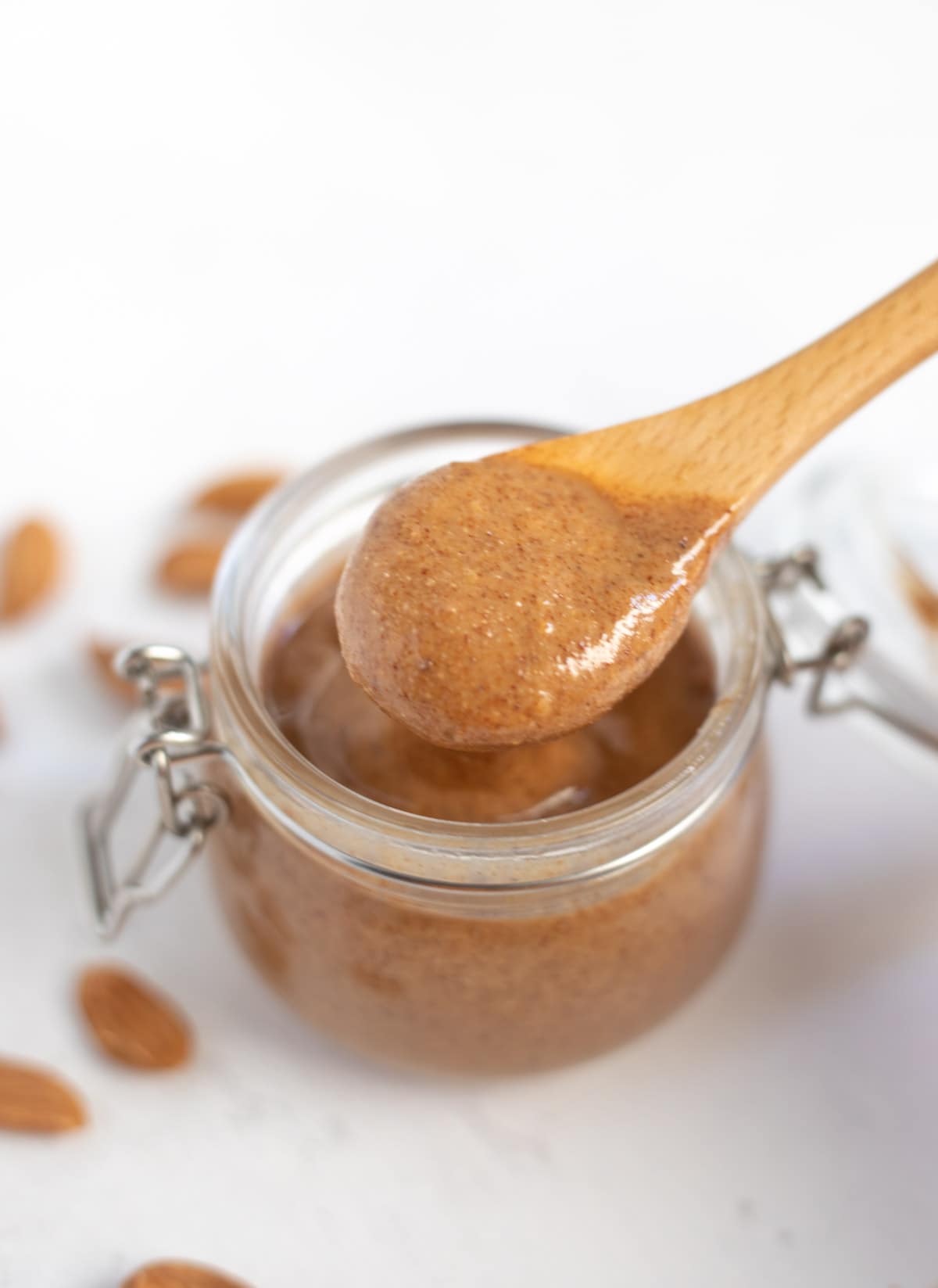 Actually, I had no intention of making almond butter at home. But my mom sent me lots and lots of Mamra Almonds after I had my baby. These almonds are considered great for both the mother and baby.
The only way I could give these easily to the baby was by making almond powder or almond butter. So I made almond butter multiple times and thought of sharing this recipe with you all.
There are many kinds of nut butter worldwide, but almond butter is my favorite! It's so flavorful, and I enjoy it in many of my recipes – but I also enjoy eating it with a spoon!
Almond butter can be quite expensive when purchased at the store. It's so easy to make at home, so why not save a little money? When made at home, it's so fresh and creamy you might never buy store-bought again!
Of course, you can use this recipe to make other nut butter like cashew or peanut. Any nut will work for this recipe. You can also make mixed nut butter. All you need is a blender or food processor.
Jump to:
What is Almond Butter?
Almond butter is simply roasted almonds that are blended to form a thick but spreadable paste. The oils from the butter release when roasted and create a slightly sweet and creamy concoction.
It's gluten-free and vegan – unless you are using honey for additional sweetness.
It's the perfect substitute for peanut butter if you have an allergy or are following any special diets. Other common nut butters are cashew and pecan.
Ingredients
You only need one ingredient to make this easy almond butter recipe! However, you can add other flavoring options like cinnamon, vanilla, and maple syrup if you wish to have something sweeter.
Be sure to buy unsalted, raw almonds. I like to roast them freshly at home because it helps bring out the natural oils right before blending. Therefore, no additional oil is needed.
Before you start blending your roasted almond, don't forget to allow them to cool. Otherwise, you will create too much steam in your blender, and it will affect the consistency.
Almond Butter Nutrition Benefits
Almonds have become very popular over the years due to their nutritional benefits. They are high in protein and fiber and the perfect snack in between meals because they keep you fuller longer.
They are also great sources of antioxidants! So you should feel good about making homemade almond butter and eating it daily if you wish.
How to make Almond butter?
With only one ingredient, making almond butter is easy!
Roast the Almonds
Preheat to 350 degrees.
Place the almonds in a baking tray, making sure they are mostly in a single layer. If you like, you can use parchment paper, but it is not required.
Roast for 10-12 minutes. Don't walk away! Nuts toast quickly, so check often to ensure they are not burning.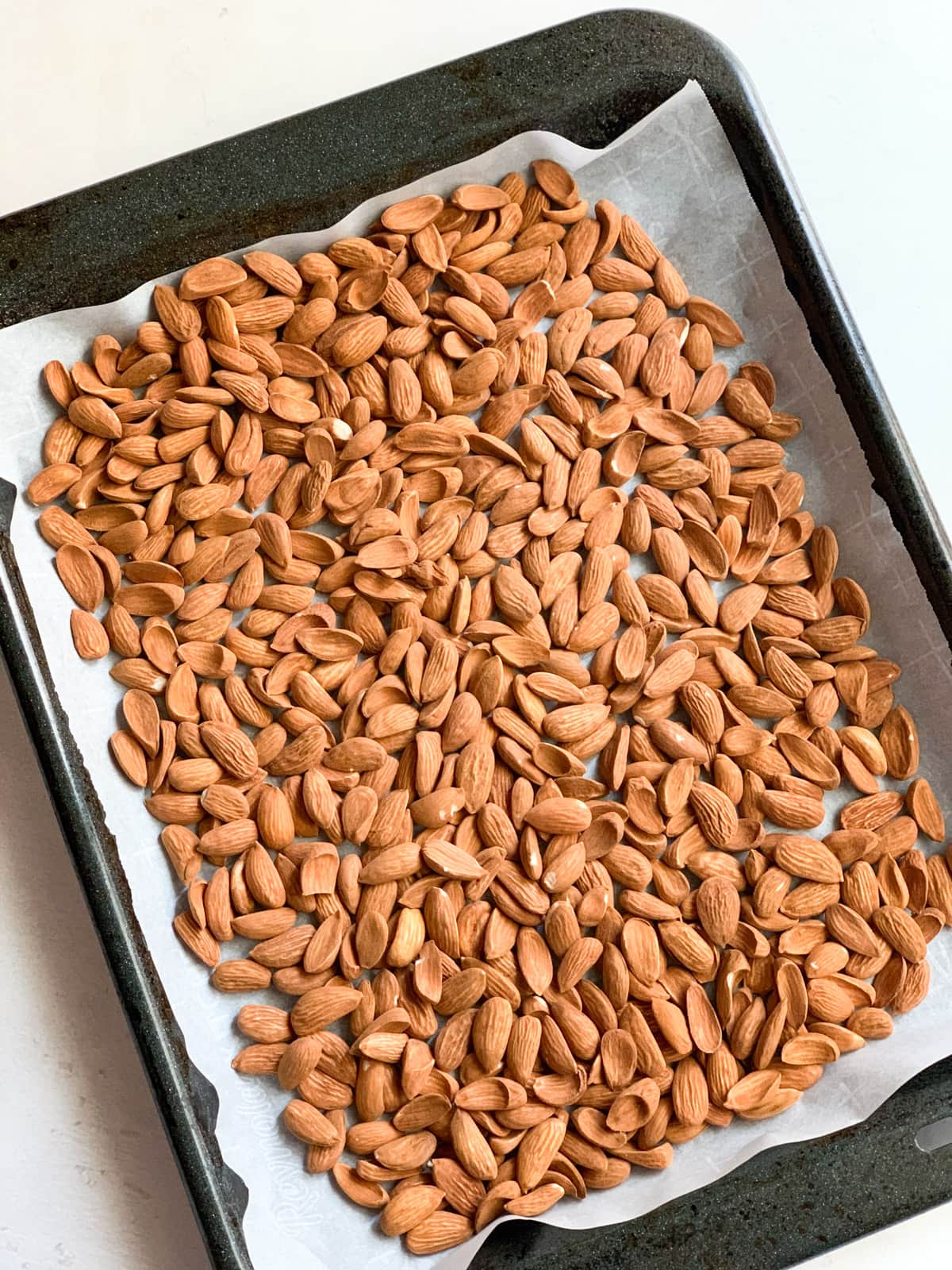 You can also use the air fryer to roast the almonds. Place the nuts in the air fryer basket and roast at 330 degrees for 6 minutes.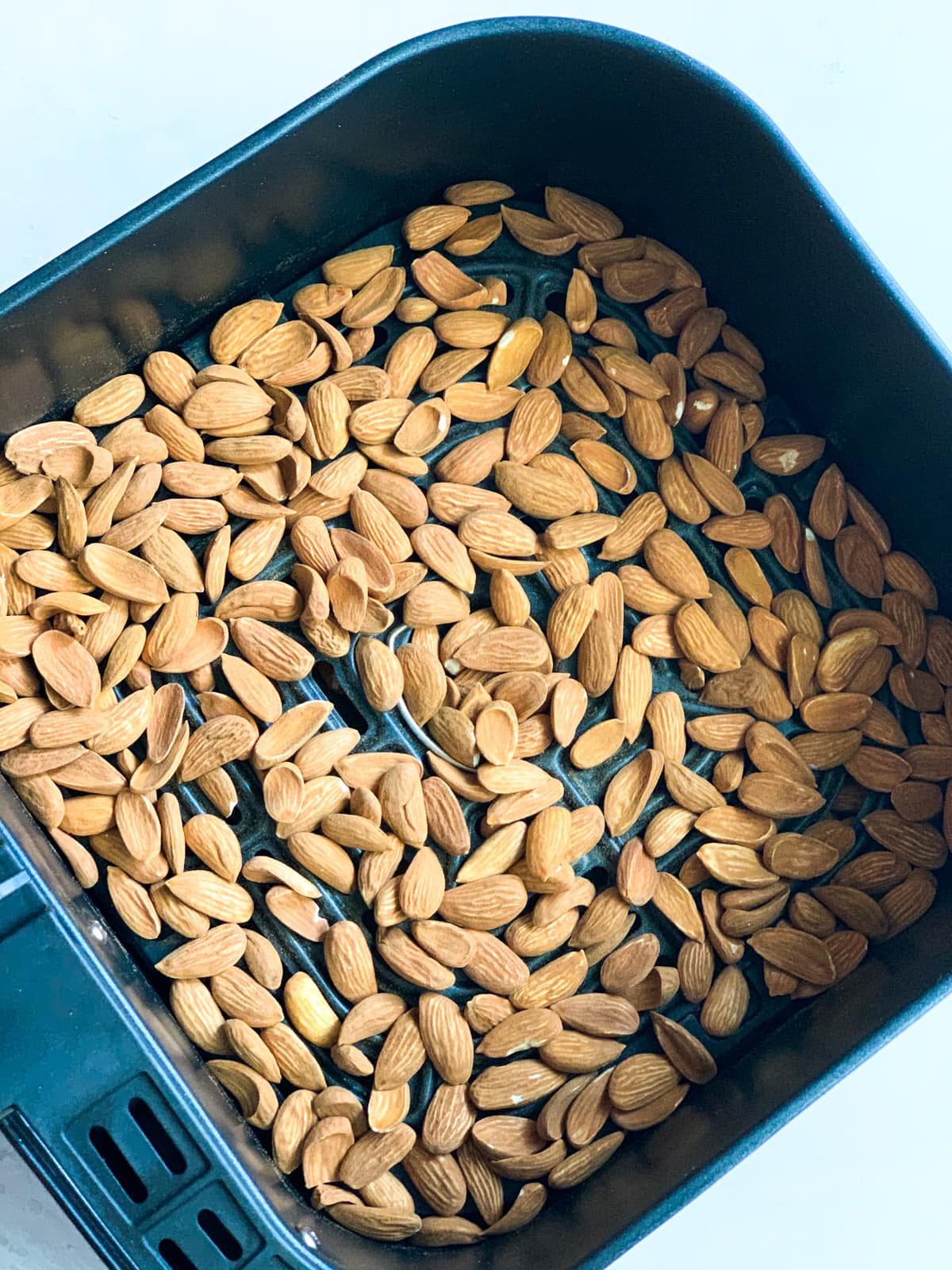 After the almonds have roasted, allow them to cool to room temperature.
Blend the almonds
Place the cooled almonds in a high-powered blender such as Vitamix and blend until the mixture is smooth and creamy.
If needed, use the tamper or spatula to push the almonds down to ensure the mixture is evenly blended.
Guess what – the Vitamix takes just about 1-2 minutes to blend the almond butter perfectly to a smooth consistency!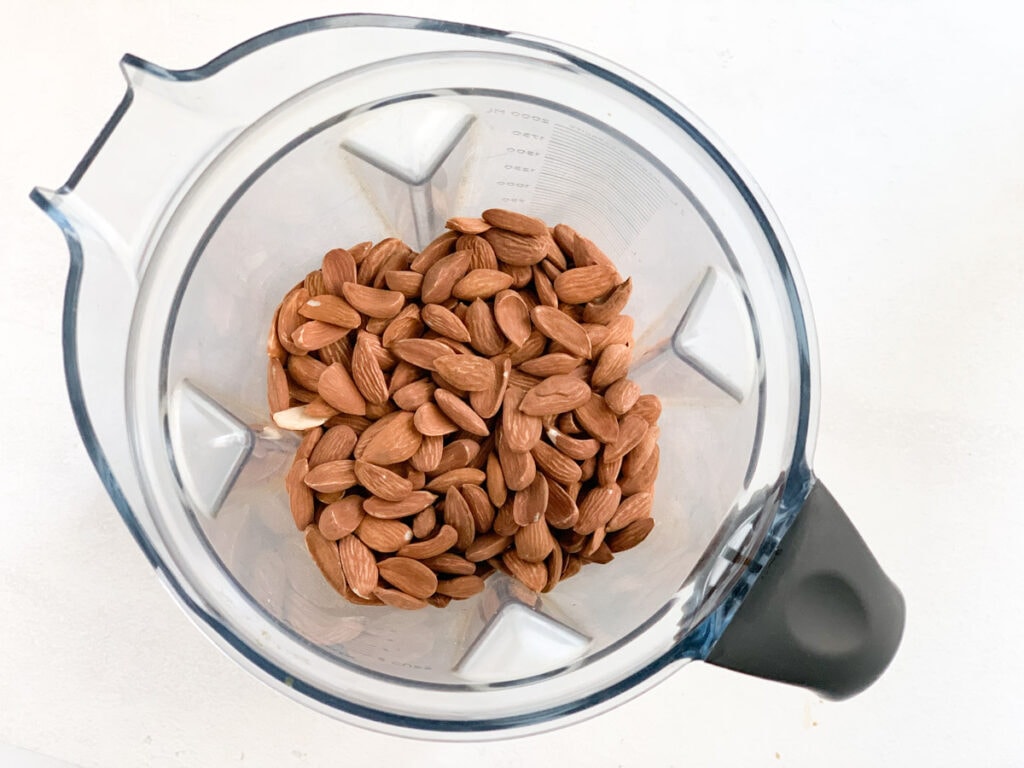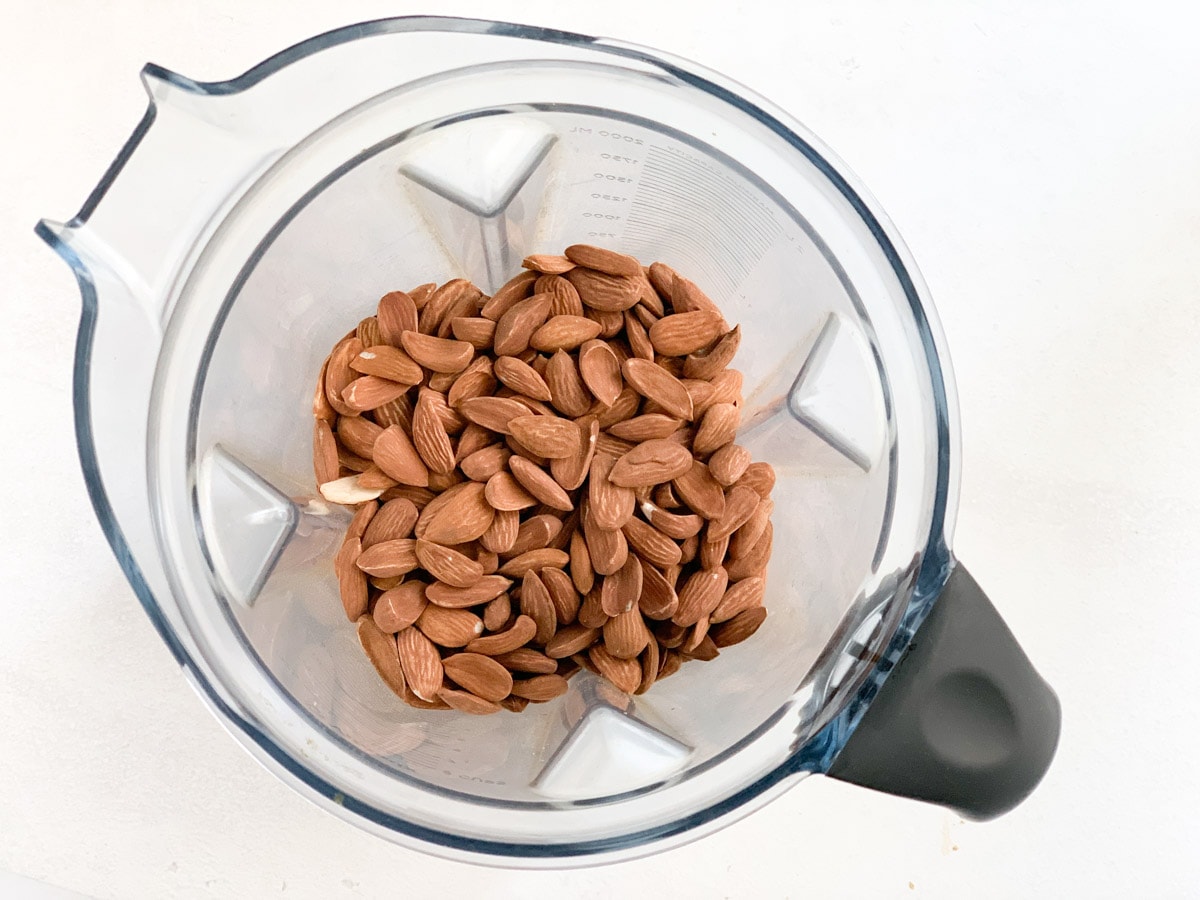 You can also use a food processor to make almond butter, but that takes longer about 10-15 minutes to get the perfect creamy consistency. So you need much more patience when making almond butter using a food processor.
You might want to stop in between and, using a spatula push down the almonds to blend evenly.
Tips for a creamy texture
If you get stuck and it is not creamy, add a little neutral oil. The reason could be the almonds did not roast well. Use just a little at a time.
Once blended to a smooth consistency, store the almond butter in a clean airtight glass jar. Ensure the butter is cooled completely before you close the lid of the jar.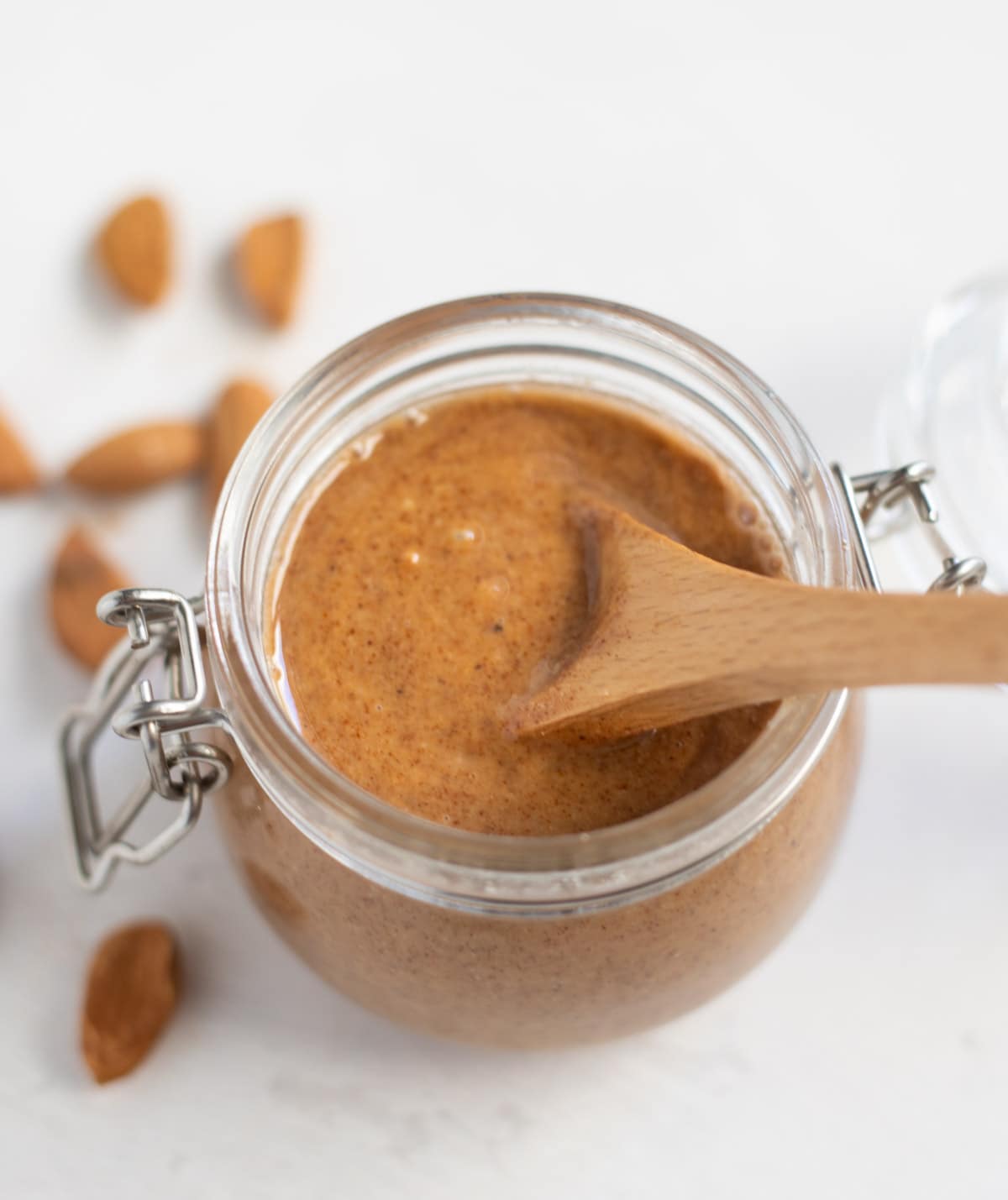 How to Use Almond Butter?
I love using homemade almond butter in my No-Bake Almond Energy Balls or a Fresh Fig Smoothie.
But it also tastes great on toast, banana bread, or even pancakes! Try to spread on these Healthy Whole Wheat Pumpkin Oatmeal Muffins.
I also love adding it to any smoothie for added nutrition. It makes the smoothie extra thick, and I love the creaminess it lends.
If you need a quick snack or breakfast, use it as a dip for fruit or top your morning oatmeal.
Another favorite way to enjoy is almond butter stuffed dates (pic below). These are a wonderful healthy snack with your afternoon coffee or tea.
It also makes a nice gift for your friends during the holidays – or really any time of the year!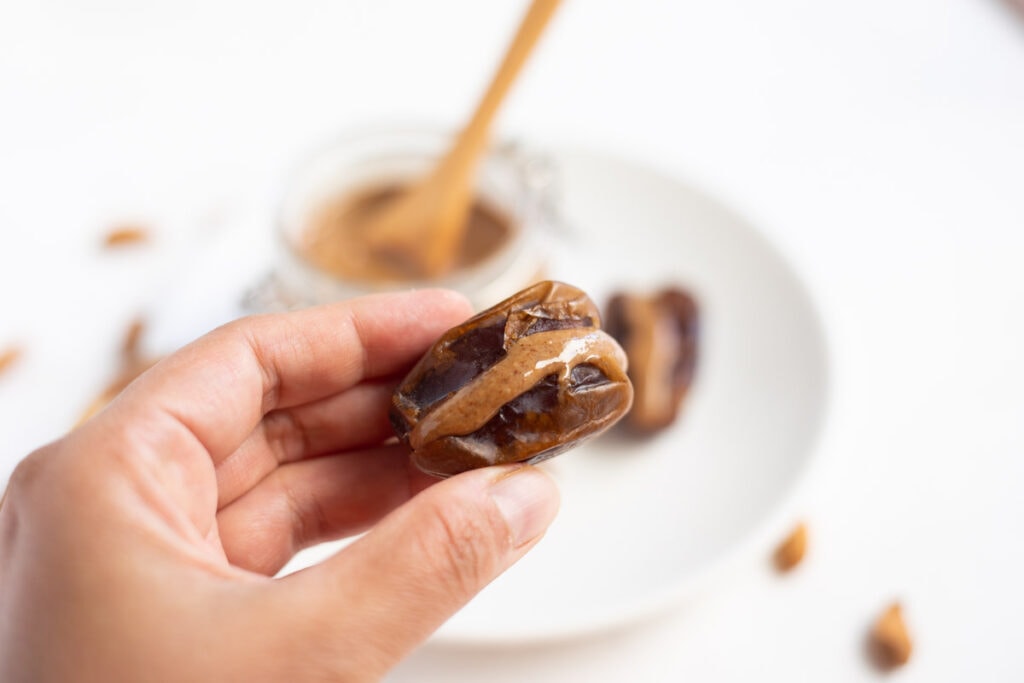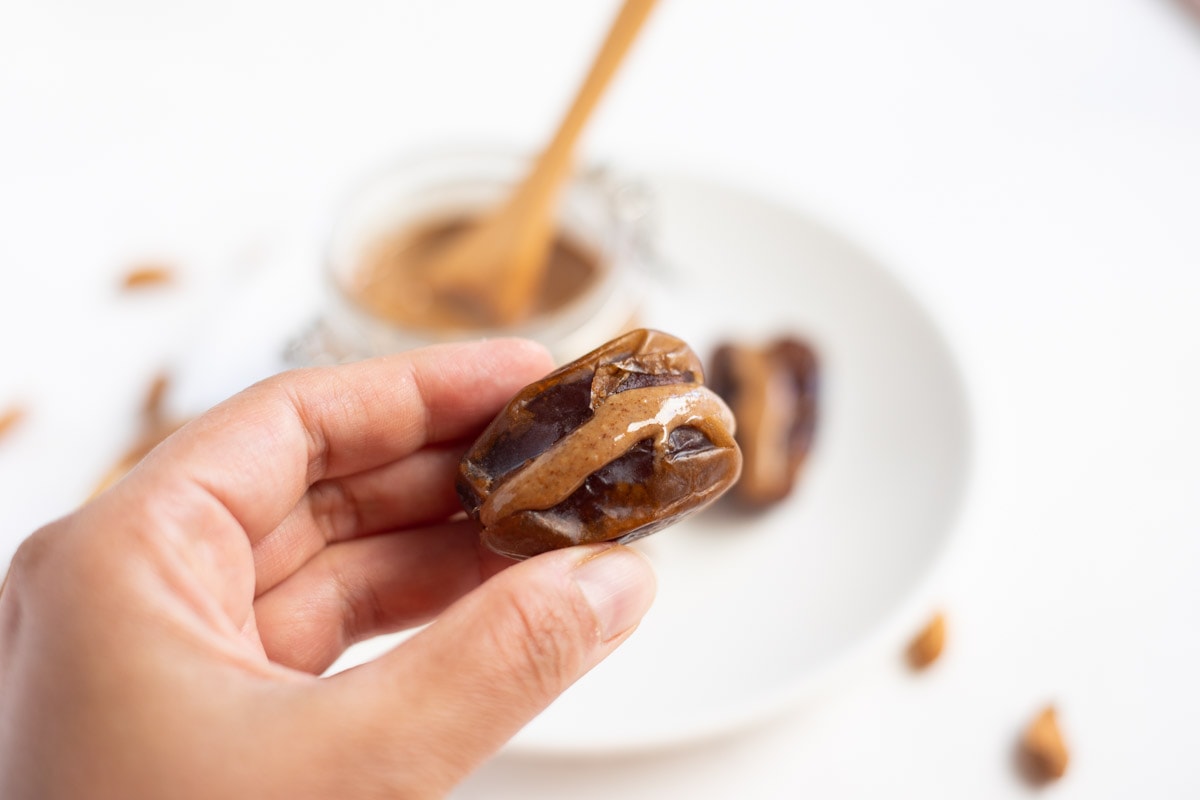 How to Store Almond Butter?
Homemade almond butter should be stored in the refrigerator and will keep for at least a month. Check for any signs of spoilage after 1 month. But it should keep fine after then.
You may find that chilled almond butter does not spread as easily. You can leave at room temperature for a while if needed.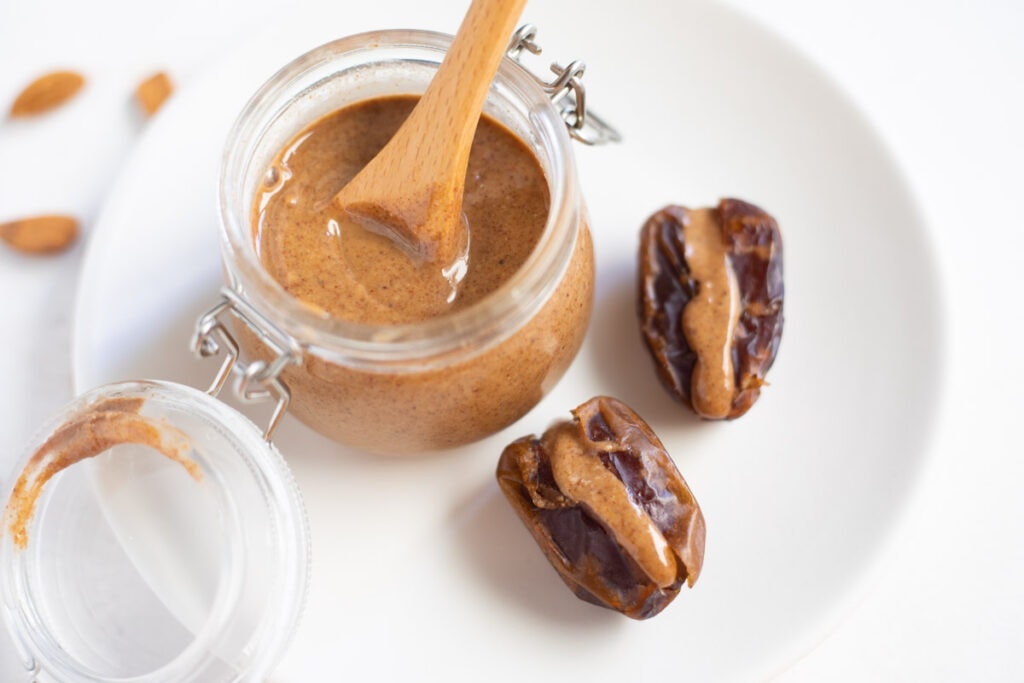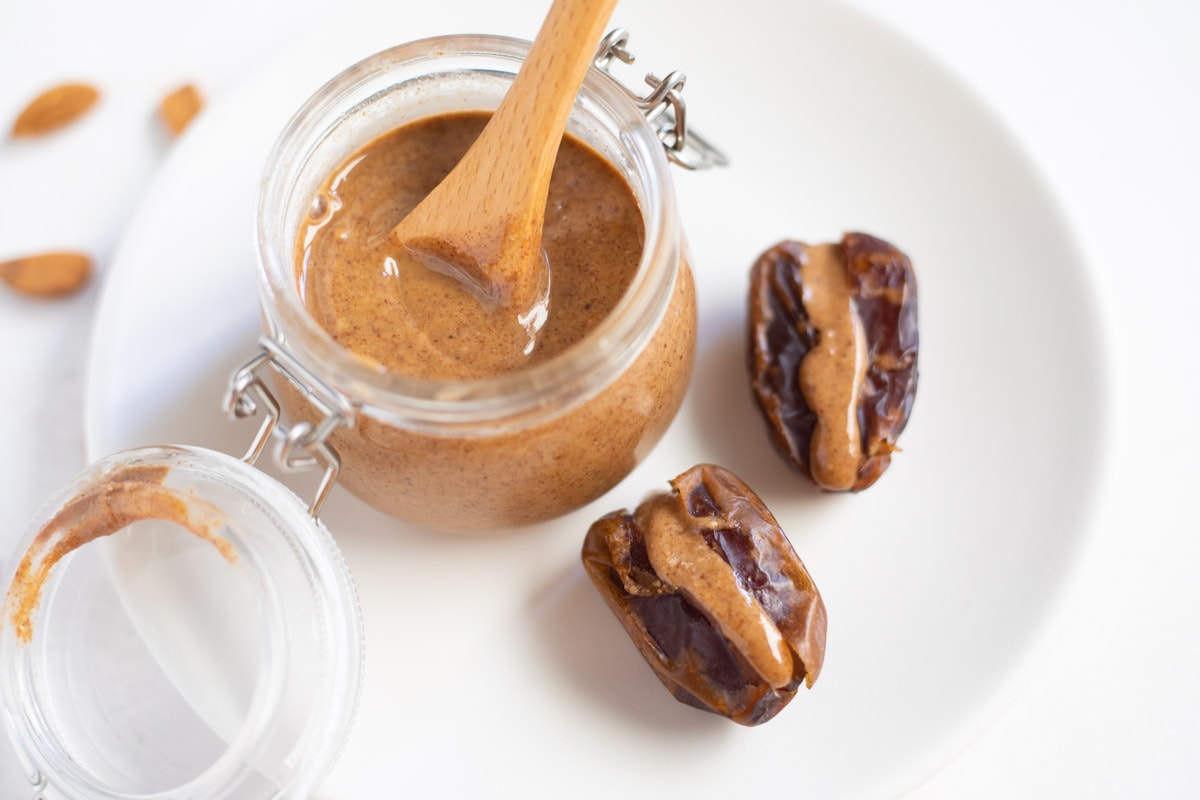 Common Questions
Is almond butter healthier than peanut butter?
Yes! While both are very nutritious, almonds have more vitamins than peanut butter. Also, almond butter is a great alternative for people who are sensitive or allergic to peanuts.
Can almond butter oils separate?
Yes. Keeping your almond butter in the refrigerator should solve this issue. However, if you see the oil start to separate and come to the top, simply stir in before eating.
Can you create other flavors?
Of course! Add cinnamon, vanilla, maple syrup, or honey to make many flavor variations.
More Spread Recipes You'll Enjoy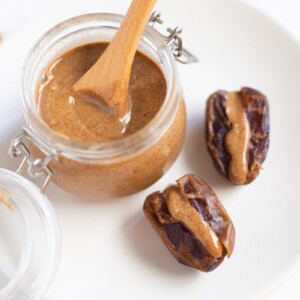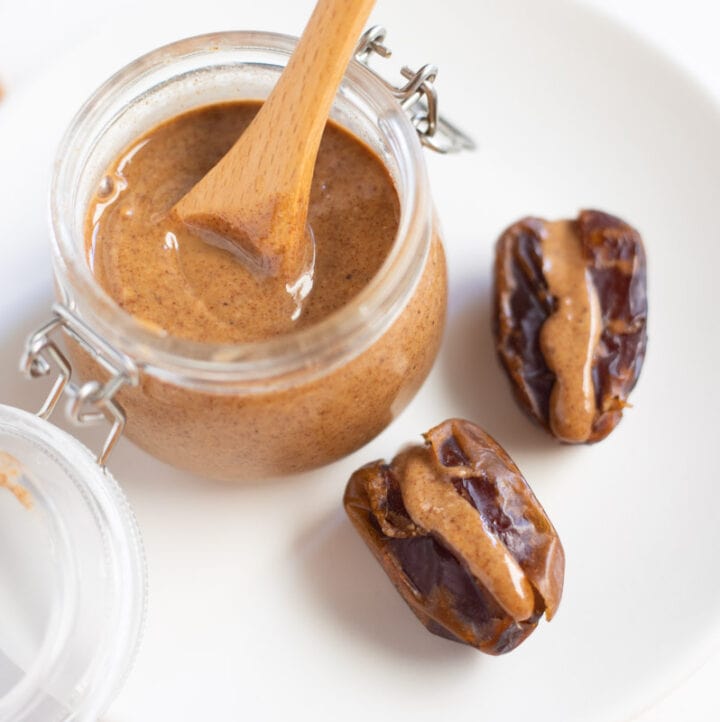 Easy Almond Butter (1-ingredient, no oil)
Homemade almond butter is easier than you think! Save money by making creamy healthy almond butter at home with this step-by-step guide.
Instructions
Roasting Almonds
Oven: Preheat the oven to 350 degrees fahrenheit. Place the almonds on a baking tray and roast for 10-12 minutes.

Air Fryer: Place the almonds in the air fryer basket and roast at 330 degree fahrenheit for 6 minutes.

Let the almonds cool completely to room temperature.
Blend in a high power blender
Transfer the almonds to your Vitamix container.

Place the lid on your Vitamix. Turn on the blender on high. Use the tamper through the lid as needed to push down on the almonds from the corner. In about 1-2 minutes the creamy almond butter will be ready.

Transfer to a clean, dry glass air tight container. Don't close the lid until the almond butter is at room temperature.
Notes
Almond Butter in a food processor:
The same method as mentioned above works for a food processor, but it just takes longer about 10-15 minutes. So be patient and scrape down the sides of the food processor as needed in between.
Add-in flavorings:
You can add below flavorings to your almond butter if you like. Add them after the almond butter has already blended to a smooth creamy consistency to the blender or food processor.
Vanilla
Cinnamon
Maple syrup
Mixed Nut Butter:
You can mix multiple nuts such as cashews, peanuts, pecans and walnuts with the almonds to make a mixed nut butter. The exact same method will work.
Nutrition
Serving:
2
tablespoons
Calories:
163
kcal
Carbohydrates:
6
g
Protein:
6
g
Fat:
14
g
Saturated Fat:
1
g
Trans Fat:
1
g
Sodium:
1
mg
Potassium:
200
mg
Fiber:
3
g
Sugar:
1
g
Vitamin A:
1
IU
Calcium:
75
mg
Iron:
1
mg