Instant Pot Dal and Rice is the most delicious Indian comfort food. Toor dal or Yellow Split Pigeon Pea cooked with onions, tomatoes and flavorful spices, along with pot-in-pot basmati rice for a complete meal. This is a vegan & gluten free Dal Fry!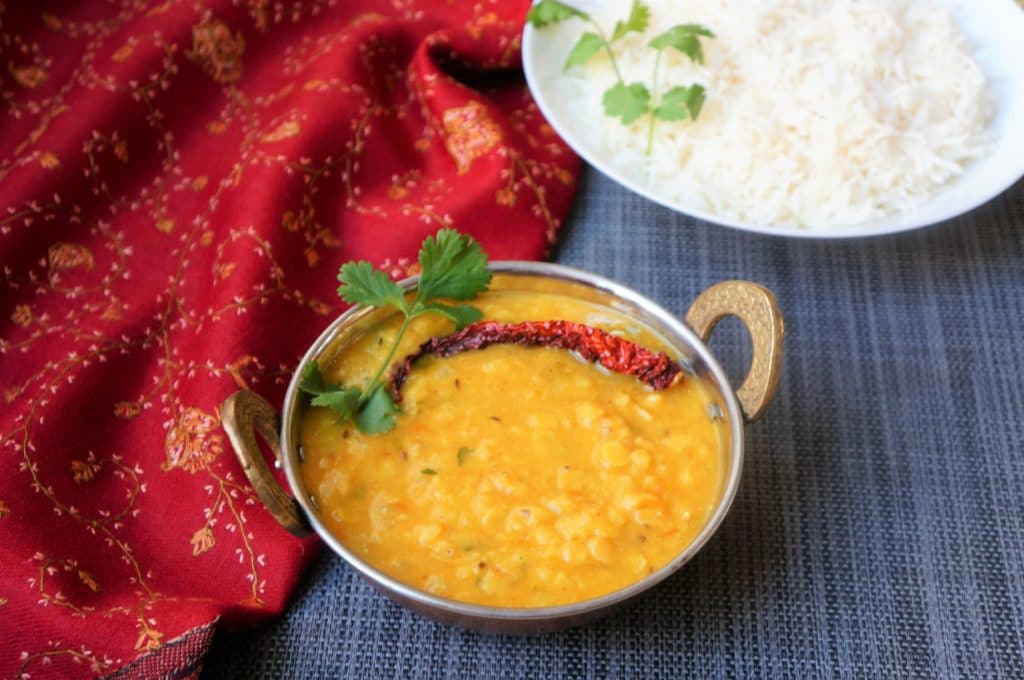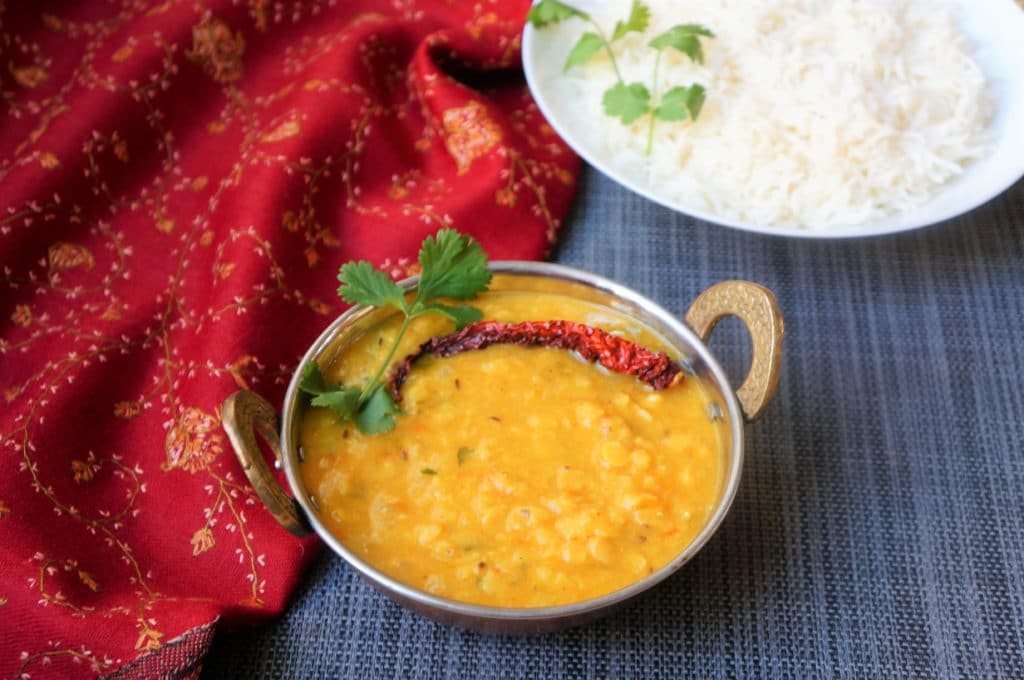 Dal and Rice are the staple food in many indian homes. It is basically a lentil stew made with split pigeon peas served with rice Also, known as Varan Bhaat in Marathi.
What is Dal?
Dal is basically dried pulses. These dried pulses can be whole or split. Dal is also used as a term for various soups prepared with these dried pulses. It is also called Daal, Dahl or Dhal.
Dal is the main protein dish for many vegetarians, and hence a dish prepared almost everyday in an Indian home. Every region in Indian makes dal in different ways. In North India, it is made by tempering with cumin, curry leaves, onion and tomato. In South India, it is used to make sambar.
You will find it interesting that all of over India, dal is prepared in a stovetop pressure cooker. Hence it is a perfect dish to many in your electric pressure cooker or instant pot. Check out 10+ Instant Pot Lentils recipes.
Lentils used for Pressure Cooker Dal Fry
Toor dal or Yellow Split Pigeon Pea or Arhar Dal is the one of the most popular dal made in India. The cooked toor dal is also popularly called as Dal Tadka or Dal Fry. Dal tadka is very quick to prepare and can be ready in minutes. It is one of the easiest to make for a week night dinner.
I have also shared a different slightly sweeter preparation of toor dal in this delicious Gujarati Dal recipe.
Toor Dal Nutrition
Toor dal is from the legume family, and has a number of health benefits.
It contains Folic acid, an important vitamin for all women.
Toor dal contains protein and dietary fiber. Legumes such as toor dal are especially beneficial for vegetarians as they provide necessary protein.
Toor dal also contain carbohydrates, which our body needs to generate energy. They contain complex carbohydrates, which are digested slowly by the body and are much better than simple carbohydrates.
How to make Indian Dal Fry in Instant Pot?
This recipe shows how to make Dal Fry in Instant Pot. The main difference in this preparation is that I made it as a one-pot recipe. Usually we boil the dal separately and then add the tadka in it. In this recipe, I cook the tadka in the pot before adding the dal and cook the dal along with the tadka.
Start with heating oil in the instant pot. Then add cumin seeds, curry leaves, asafoetida and garlic. Once the garlic is lightly browned, add chopped onions and cook for 2-3 minutes. Lightly brown the onions, then add chopped tomatoes and spices. Add toor dal and water. No need to soak the dal for this recipe.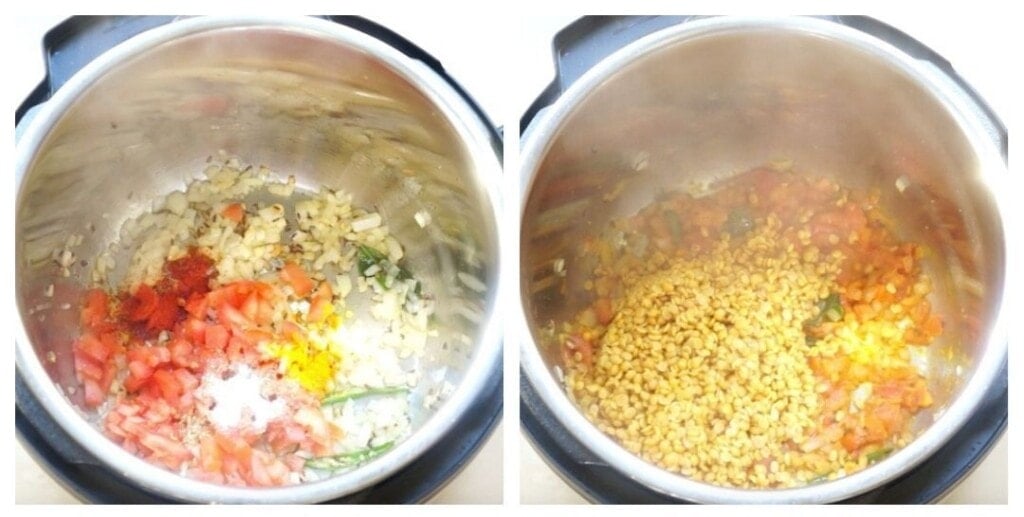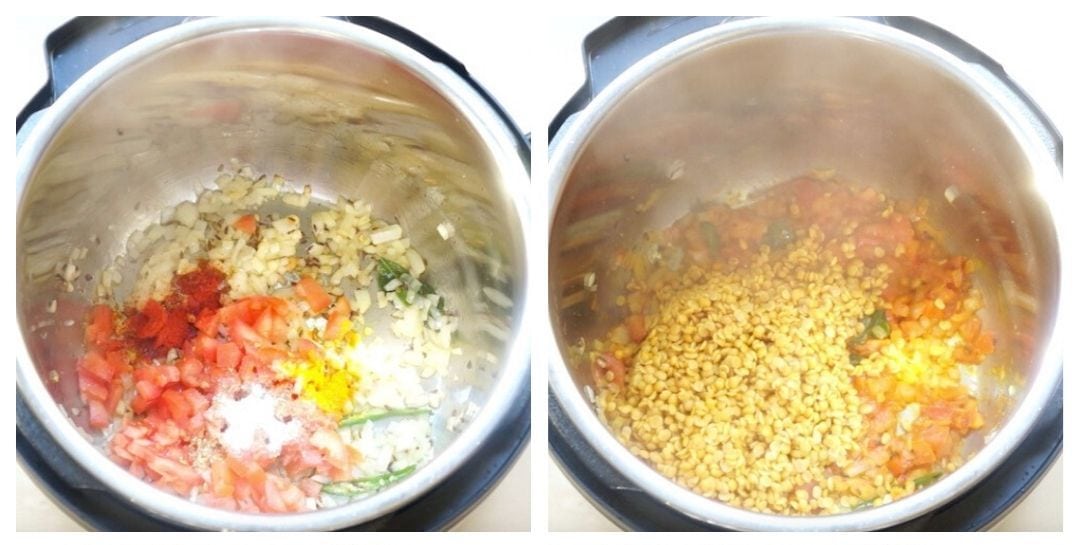 The below steps show pot-in-pot basmati rice cooked along with the yellow lentils. More details about pot-in-pot below.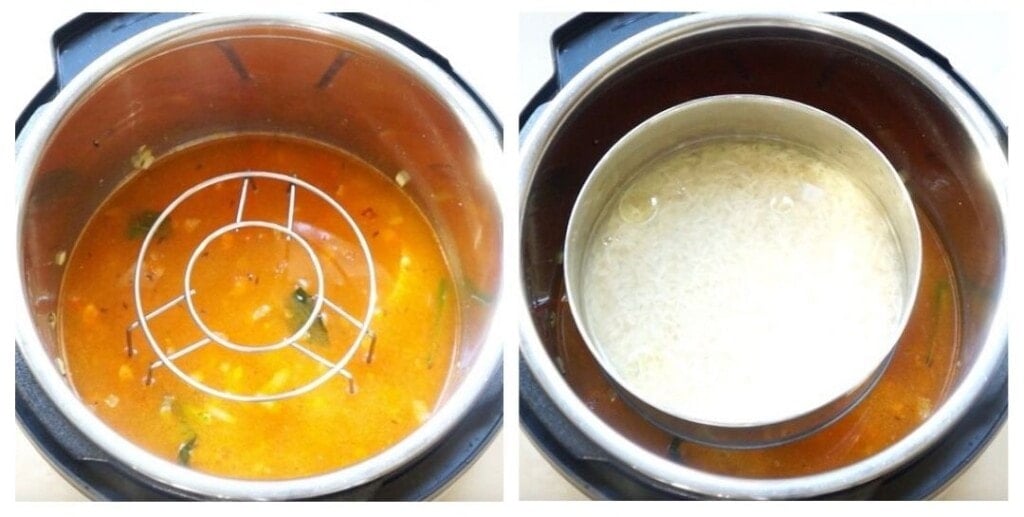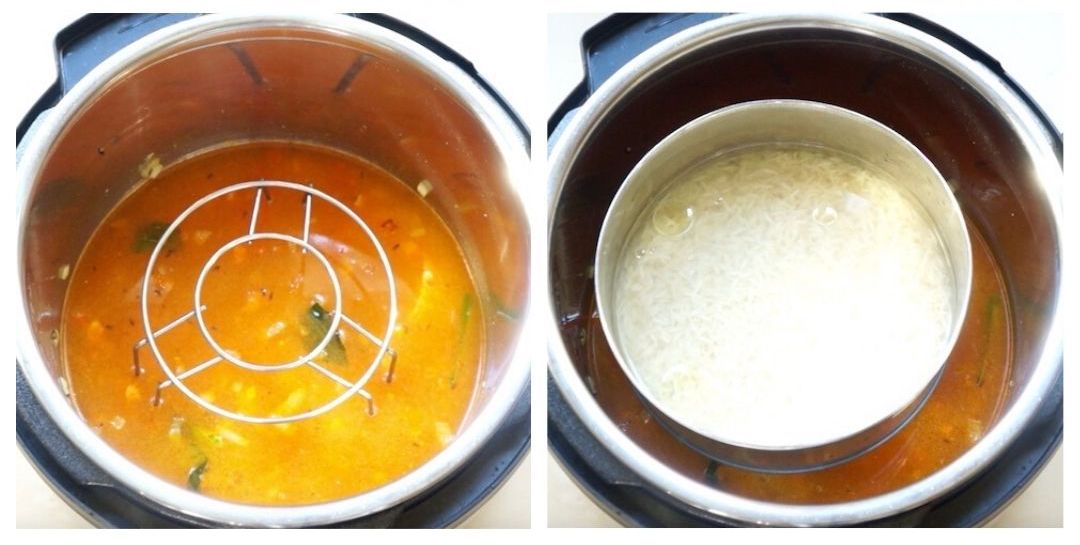 Pressure Cook for 5 minutes and then release the pressure 5 minutes after the beep. Garnish with cilantro and additional garam masala if you like a spice kick. Don't worry if the dal does not look well mixed when you open the pot. Stir it well, and it will be delicious.
If you do soak the dal for 2 hours, you can reduce the cooking time to 3 minutes for toor dal.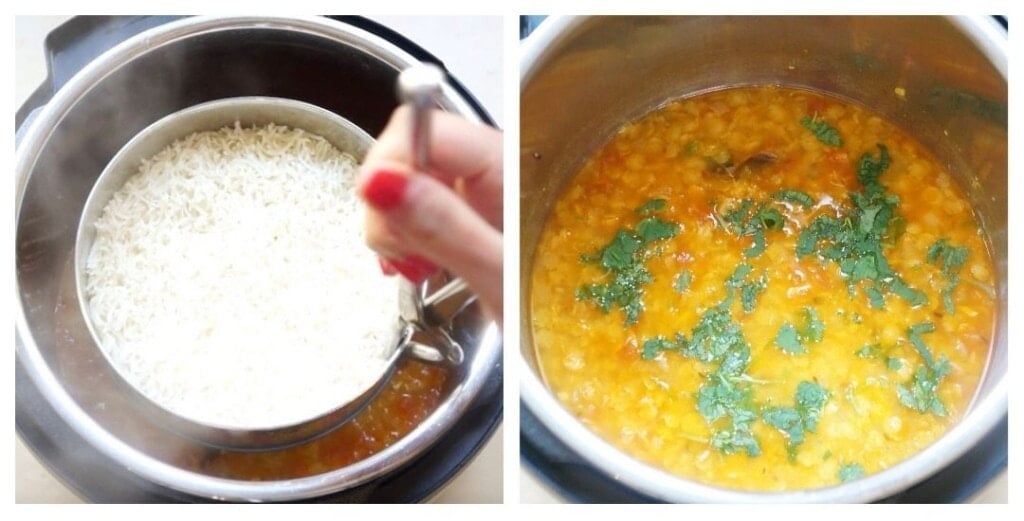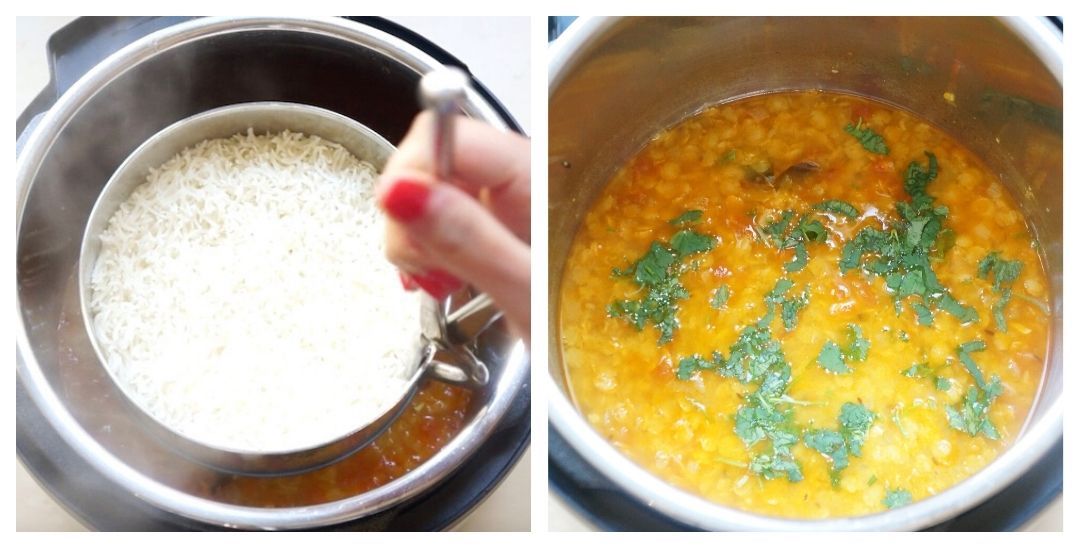 A note about consistency – In North India, dal is preferred such that each grain can be seen and not all mushed up. However I hear in South India, the preference is to cook dal to a the consistency of sambar, where each grain is not visible and it is more like a smooth soup. For this consistency, pressure cook for 8-10 minutes at high pressure.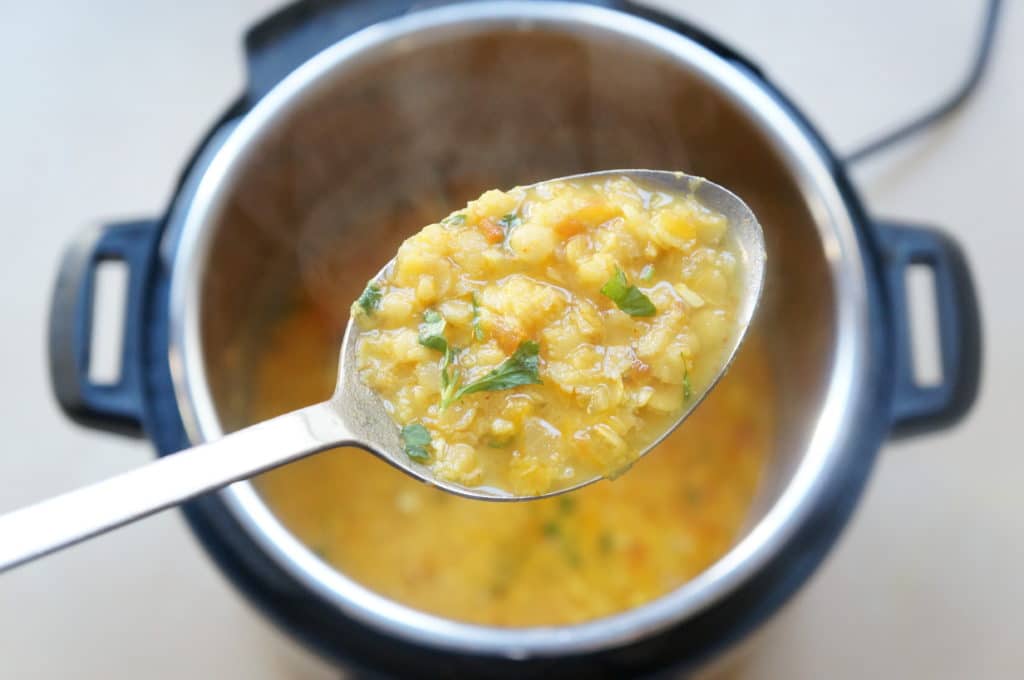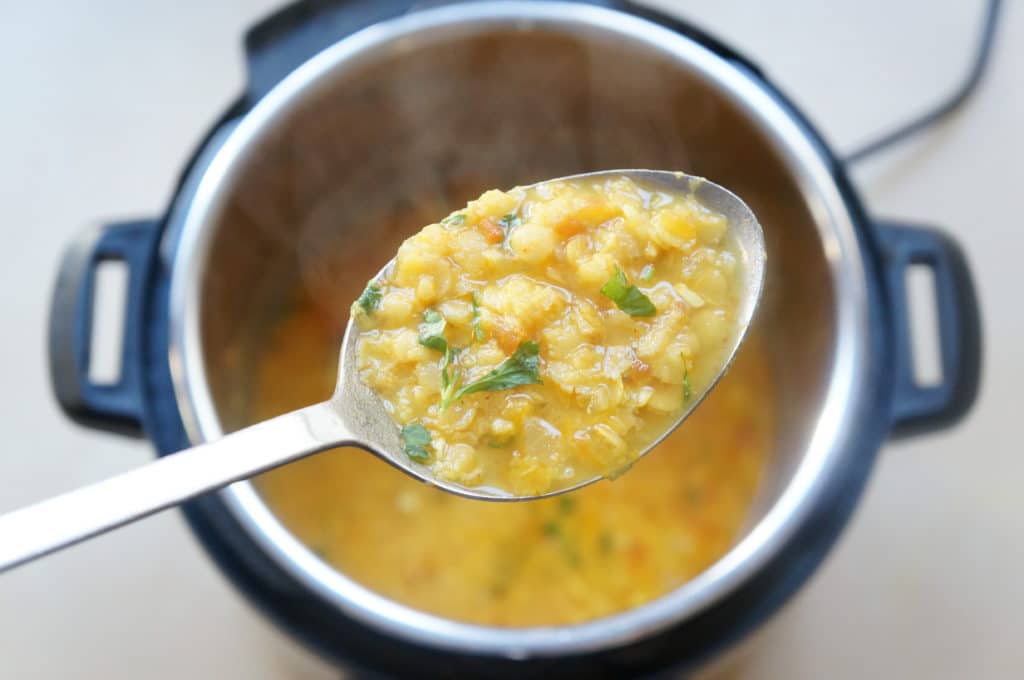 Dal Fry with Pot-in-Pot Basmati Rice
One of the big advantages of the Instant Pot is – the option to do Pot-in-Pot Cooking or PIP. This means being able to cook multiple things at a time, by also cooking in a small pot inside the main pot. To do pot-in-pot cooking, you need a tall trivet and stainless steel containers that you can use within the main pot.
Another important thing with pot-in-pot cooking is to consider the cooking time for the dishes you want to cook together. As an example, toor dal takes about 5 mins to cook at high pressure and basmati rice take about 4-6 mins at high pressure. Hence if I add rice pot-in-pot with these lentils, they would get cooked well. I would not cook brown rice along with these lentils, however they would work well with kidney beans that cook in 30 mins at high pressure.
Learn more about the instant pot pot-in-pot method with this comprehensive guide!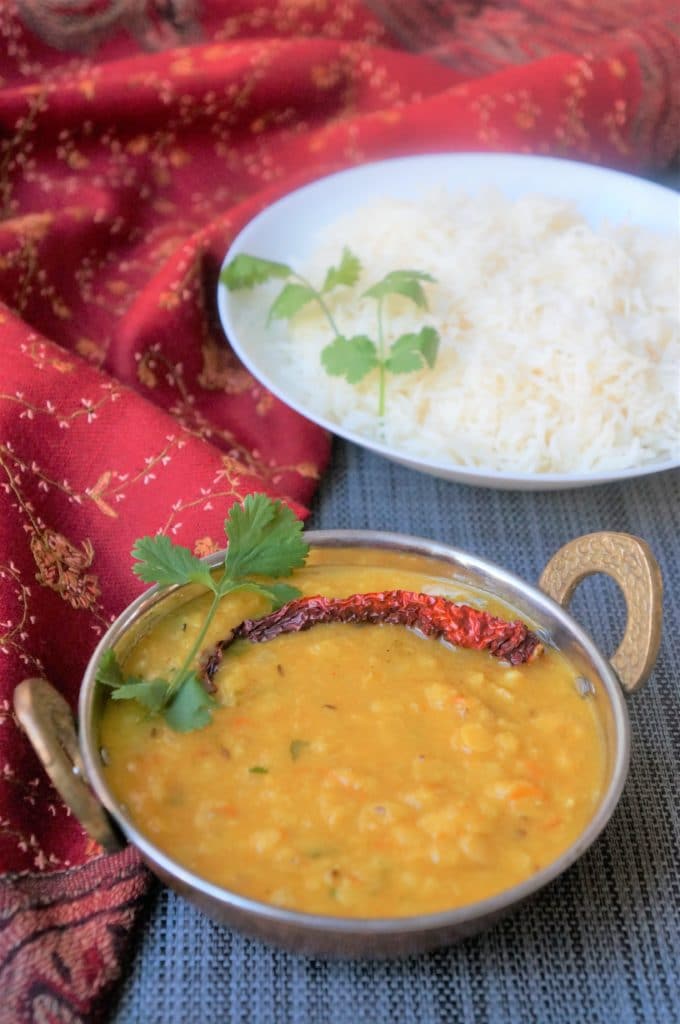 Once you add all ingredients for Dal in the instant pot, place the trivet and then the bowl of rice with water. This way they will both cook together. See pictures above for reference.
Enjoy dal served over basmati rice and some homemade ghee (this would make it non-vegan)!
Why you will love this Instant Pot Dal & Rice:
√ It is easy to make in the instant pot with very less active time needed.
√ Healthy, nutritious & protein rich
√ This dal be made ahead and freezes well.
√ Vegan & Gluten free
If you like this Dal Fry, you might like these below lentil recipes too: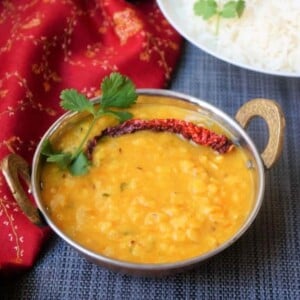 Instant Pot Dal Tadka / Dal Fry with Basmati Rice
A simple yet flavorful yellow dal tempered with cumin, curry leaves and spices. This is an everyday lentil enjoyed with rice.
Ingredients
Instructions
Start the instant pot in sauté mode and heat the oil in it. Add cumin seeds, green chili, curry leaves, garlic and asafoetida.

After the garlic turns light brown, add the chopped onions and cook for 2 minutes until the onions turn golden brown.

Add tomato and spices and cook for another 2 minutes.

Add the washed dal and water. Stir it all up.

Place the trivet. In a bowl, add all ingredients for basmati rice and place it on top of the trivet. Close the lid with vent in sealing position.

Change the instant pot setting to manual or pressure cook mode at high pressure for for 5 mins. After the instant pot beeps, let the pressure release naturally for 5 minutes, then release the pressure manually (5 minute NPR).

Using tongs, carefully take out the bowl of basmati rice. Then take out the trivet.

Garnish with cilantro and stir. Optionally, sprinkle the juice of half a lemon. Dal tadka is ready to be served.
Video
Notes
Thick dal: If you like thick dal, reduce the amount of water to 2.5 cups. A note about consistency: Don't worry if the dal does not look well mixed when you open the pot. Stir it well and it will be delicious. I understand that some people like more cooked dal, you can also increase the pressure cooking time to 7-8 minutes. That will still work for pot-in-pot basmati rice. Vegan Variation: Skip ghee and use oil of your choice. Soaking: I did not soak the toor dal in this recipe. If you do soak the daal for 2 hours, you can reduce the cooking time to 3 minutes. Green Chili Pepper: I typically use Thai, Birdeye or Serrano Chili Pepper in my recipes. Don't forget to adjust to your taste.
Nutrition
Calories:
222
kcal
Carbohydrates:
32
g
Protein:
13
g
Fat:
4
g
Saturated Fat:
2
g
Cholesterol:
9
mg
Sodium:
602
mg
Potassium:
569
mg
Fiber:
15
g
Sugar:
2
g
Vitamin A:
430
IU
Vitamin C:
38.4
mg
Calcium:
54
mg
Iron:
4.2
mg