Enjoy this homemade Instant Pot Ghee recipe, made with grass-fed unsalted butter. Make it in your favorite Instant Pot for perfect and consistent results. You can also make it on a stovetop saucepan.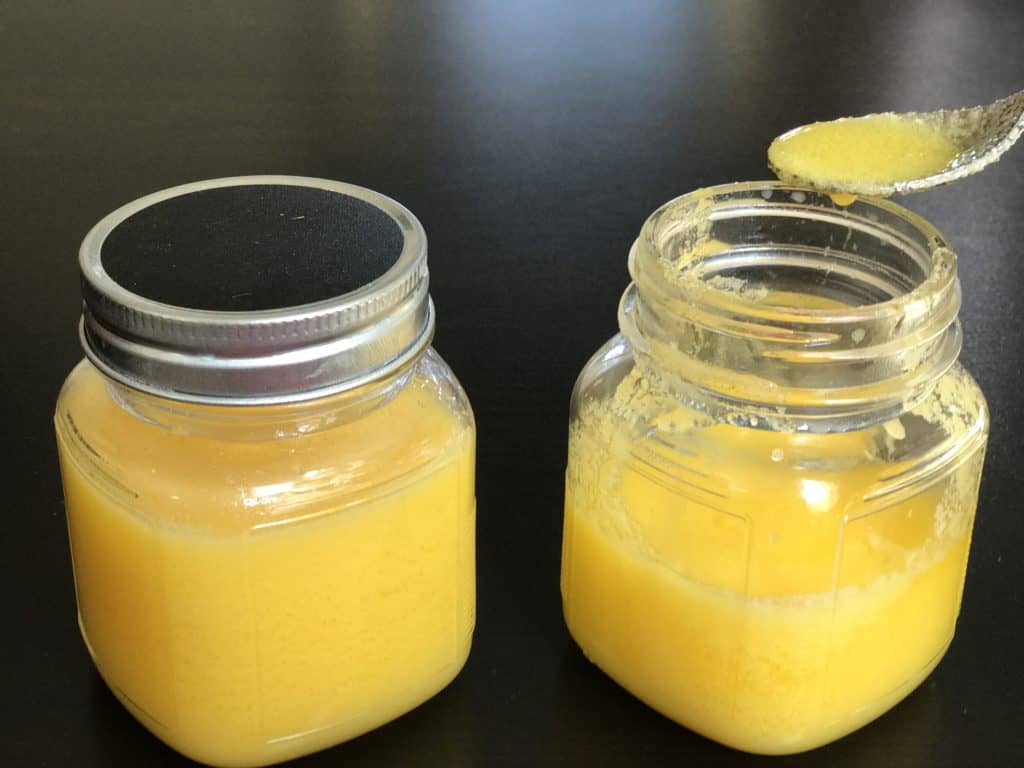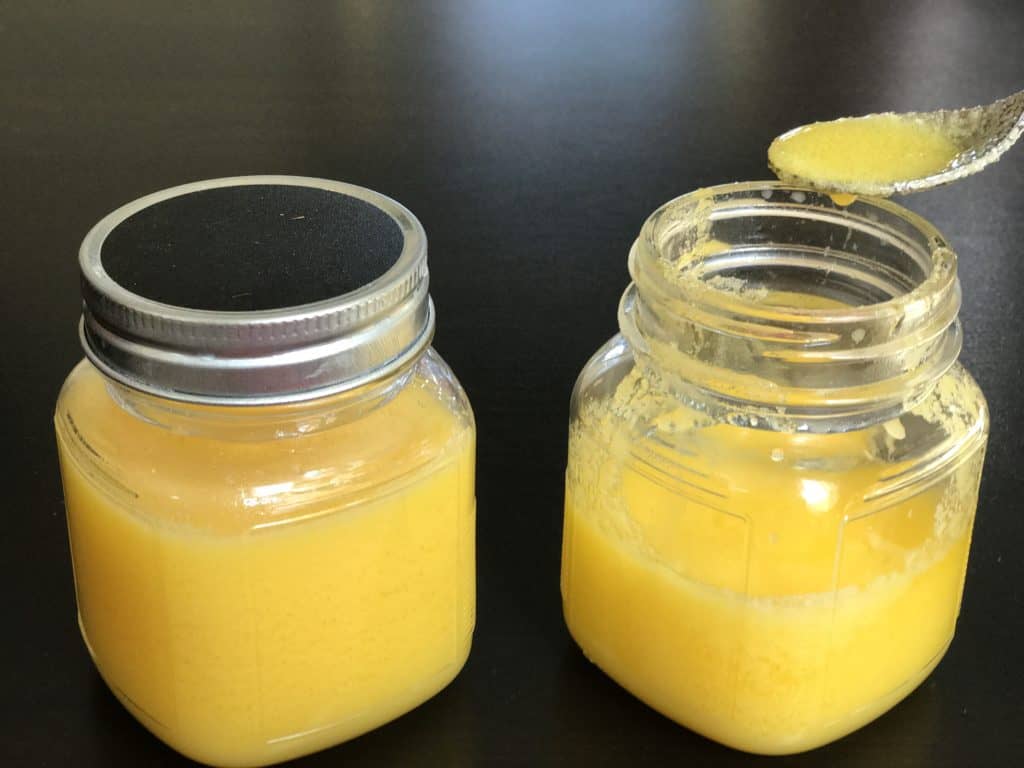 Ghee is a staple in every Indian kitchen. It is added to everything – to lentils and curries, to roti's, naan and parathas (flatbread), and the flavorful varieties of rice and biryanis. None of these would be as delicious without the addition of ghee.
What is Ghee?
I love this description of Ghee from R.K. Narayan who was asked to write an excerpt to explain what Ghee is – "Ghee is, no doubt, clarified butter, but it is also something more, in the same way that wine is more than the juice of a squeezed grape. The origin of ghee is, no doubt, butter, but ghee is like a genius born to a dull parent… A perfectly boiled ghee is considered fit for the gods. Ghee is a litmus test of integrity: One could measure the morals of a shopkeeper or the fine qualities of a host by the purity of ghee offered."
So perfectly put, the essence of Ghee for the Indians! Oh..and now all over the world!
Ghee is unsalted butter that has been cooked until the milk solids separate and brown.
It can be used in place of butter or oil in cooking.
Ghee is primarily saturated fat, and good fat.
It is popular for its high-smoke point and nutty, toasty flavor.
Ghee has a very good shelf life and does not need to be refrigerated for a long time. It solidifies at room temperature.
Buying good quality (read organic grass-fed) ghee is quite expensive. But it is significantly cheaper to make it at home from grass-fed butter.
Is Ghee the same as Clarified Butter?
Ghee is sometimes called Clarified Butter for ease. However, it is actually clarified butter that has been simmered down longer where the milk solids brown. This gives ghee its nutty roasted flavor.
Clarified butter and ghee, are both made almost the same way. For clarified butter, you boil unsalted butter until milk solids separate. However, for ghee, you boil further to turn the milk solids brown.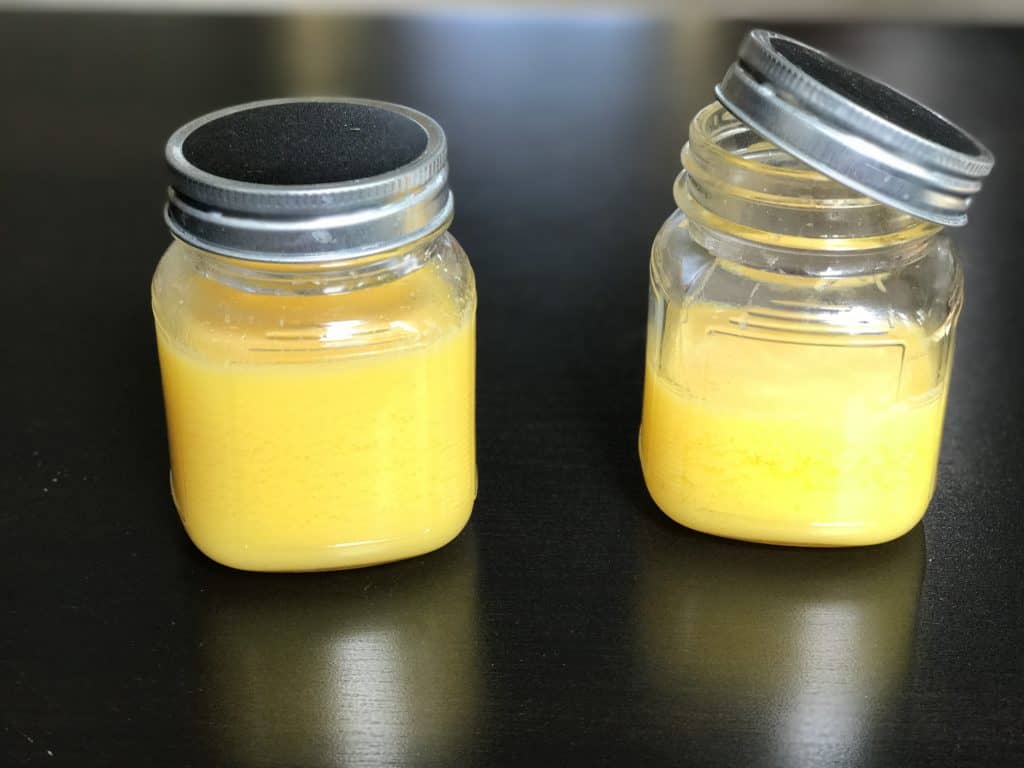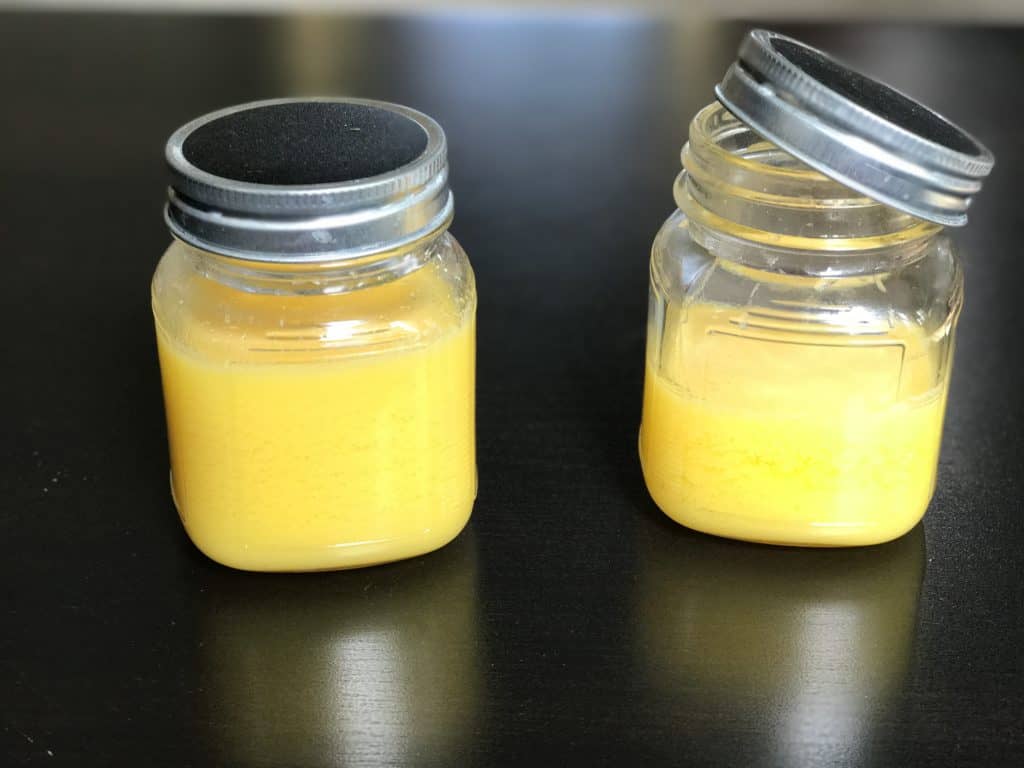 Benefits of Ghee
I am not going to list all the benefits of Ghee. Many sites do that. However, I want to mention some that stand out for me and have made me consistently include it in my everyday cooking.
Omega-3s (monounsaturated fats) are healthy forms of fat found in ghee.
Ghee is rich in butyrate, a short-chain fatty acid linked to an immune response that can reduce inflammation and help improve the digestive system. These also help decrease levels of unhealthy cholesterol.
Ghee is rich in fat-soluble vitamins A, D, E, and K.
There are other benefits, such as improving energy levels and strengthening the immune system.
Ghee is lactose-free and can be consumed even if you are dairy intolerant (check with your physician)
How to make Homemade Ghee from Butter in the Instant Pot?
It is very easy to make ghee in the instant pot. Add the butter to the instant pot and set it on Saute (Normal) mode. I use Kerrygold butter to make Ghee as it is made from grass-fed cow's milk. Costco unsalted butter works well for ghee too.
As we are cooking in Saute mode, the timer of the instant pot does not work. Hence set an external timer for 10 minutes.
The butter will start to boil and become frothy. Then the milk solids will begin to separate, and the water will start to evaporate.
Cook until about 10 minutes, when the milk solids will settle at the bottom of the pot. At this point, turn off the instant pot.
Even though the instant pot is turned off, the ghee continues to cook, and the milk solids caramelize and turn golden brown. Now the ghee is cooked. Remove the steel insert from the instant pot.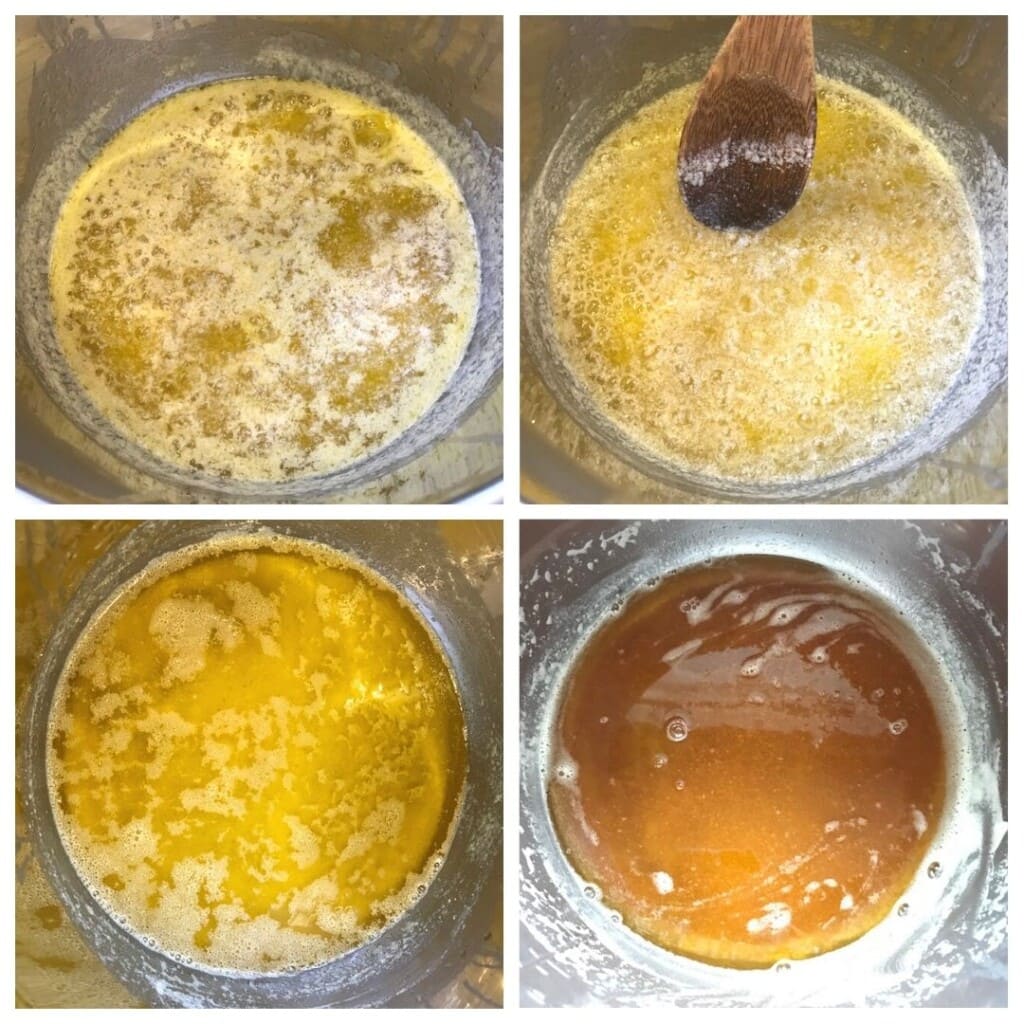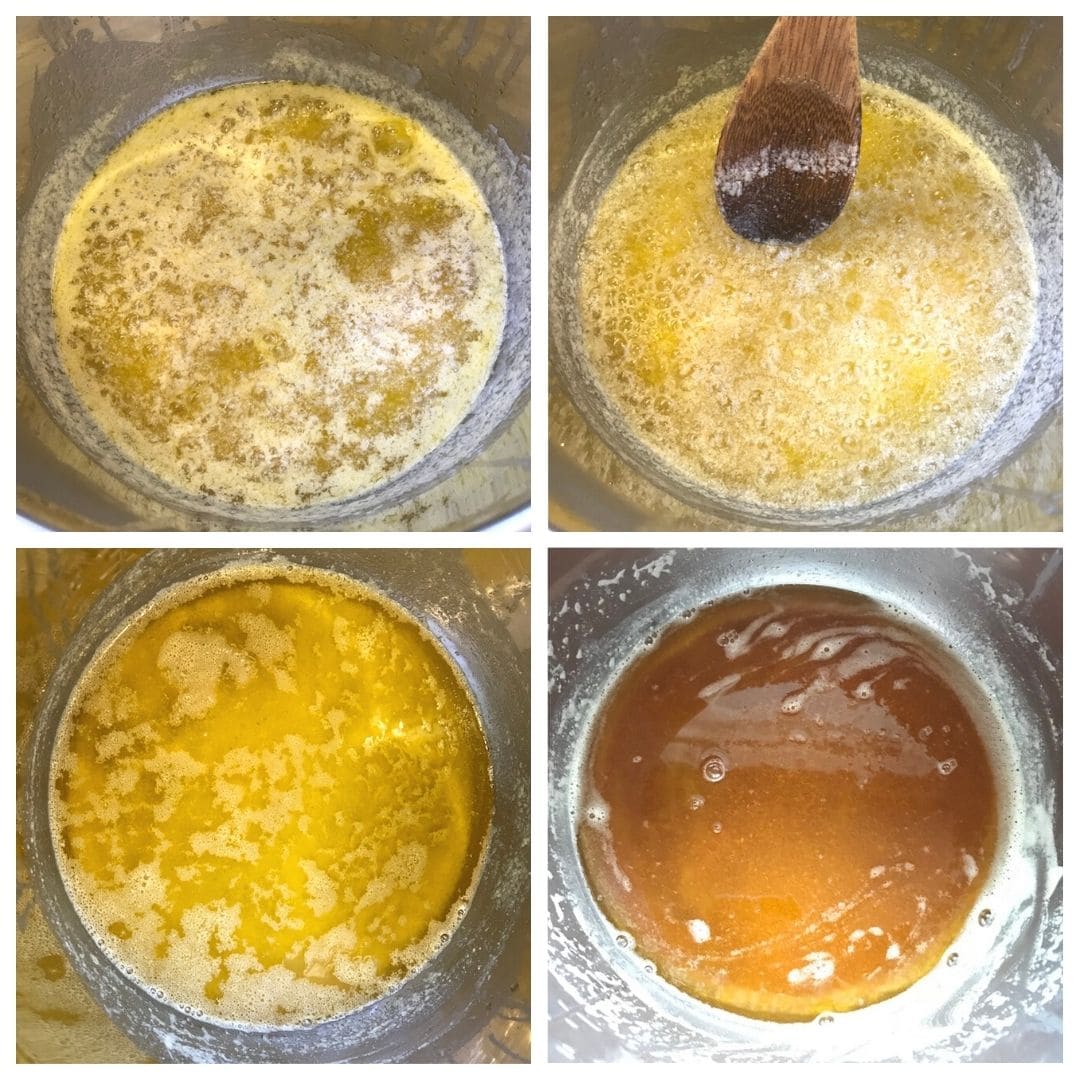 Now we want to separate the caramelized milk solids from the ghee. You can use a cheesecloth or a fine mesh strainer to strain the ghee. Then store it in a heat-proof glass jar or steel jar. Ensure the ghee is completely cooled before you close the lid of the jar.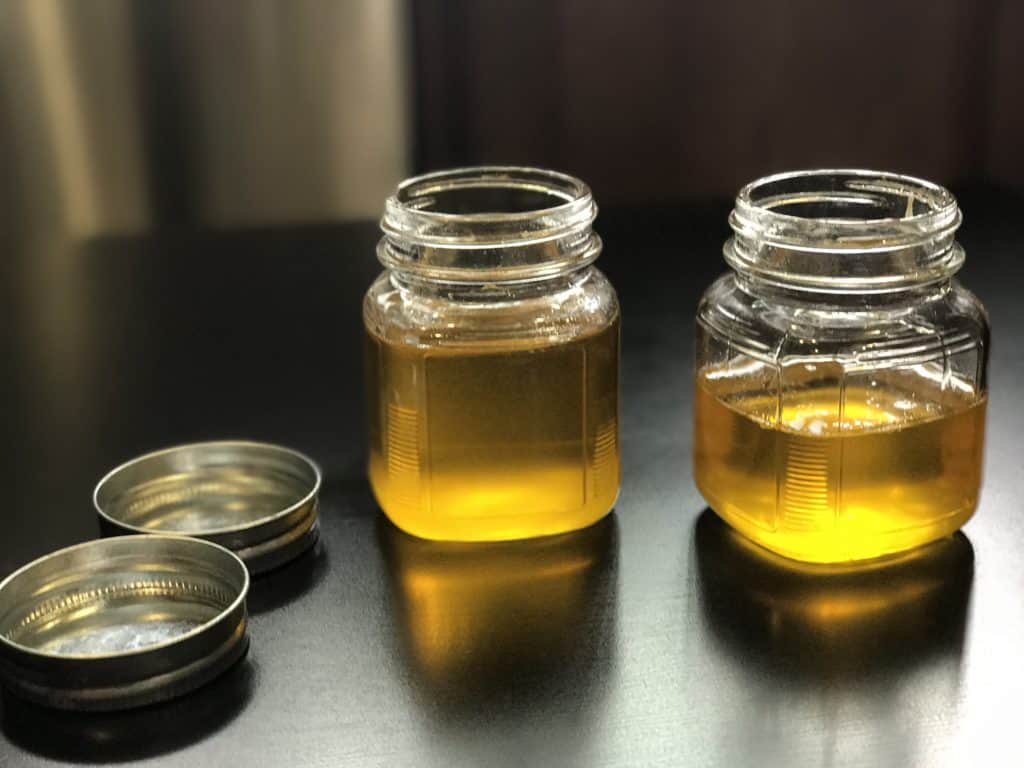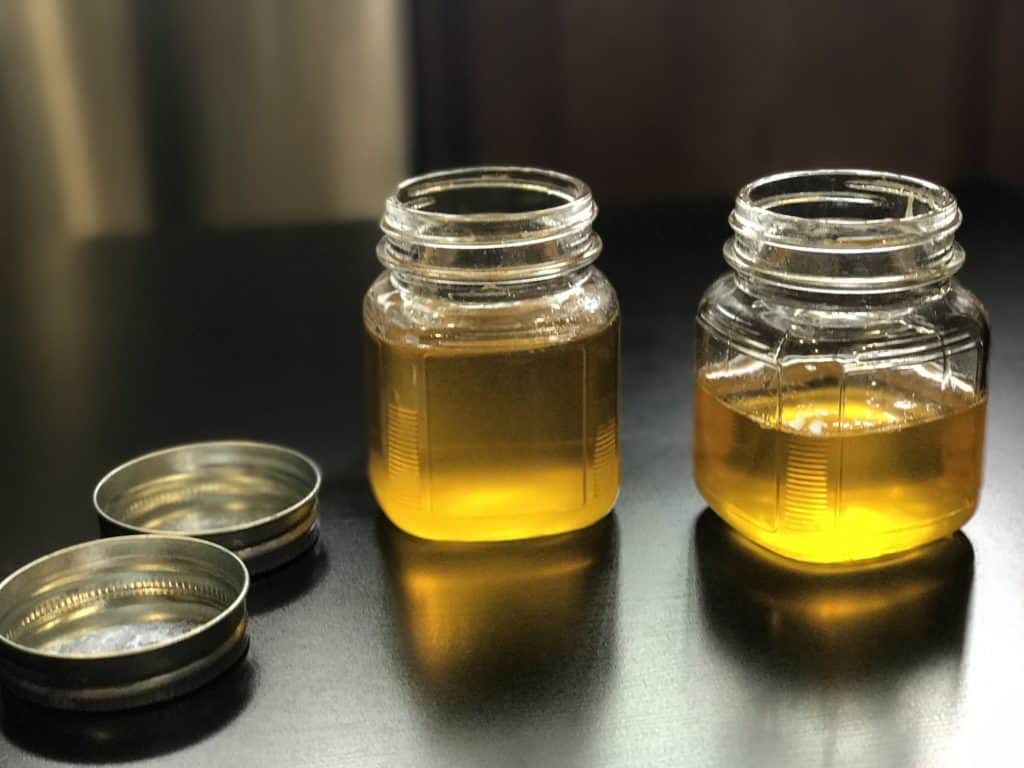 Ghee can be stored at room temperature and does not spoil. When you make this ghee, your house will fill up with the aroma, and you will want to slather it on a paratha right away…Yum!
Why make Ghee in the Instant Pot?
It is easy to make ghee in the instant pot
It is easier to clean and does not cause any splatter or mess.
It cooks consistently in a specified amount of time.
It needs less monitoring.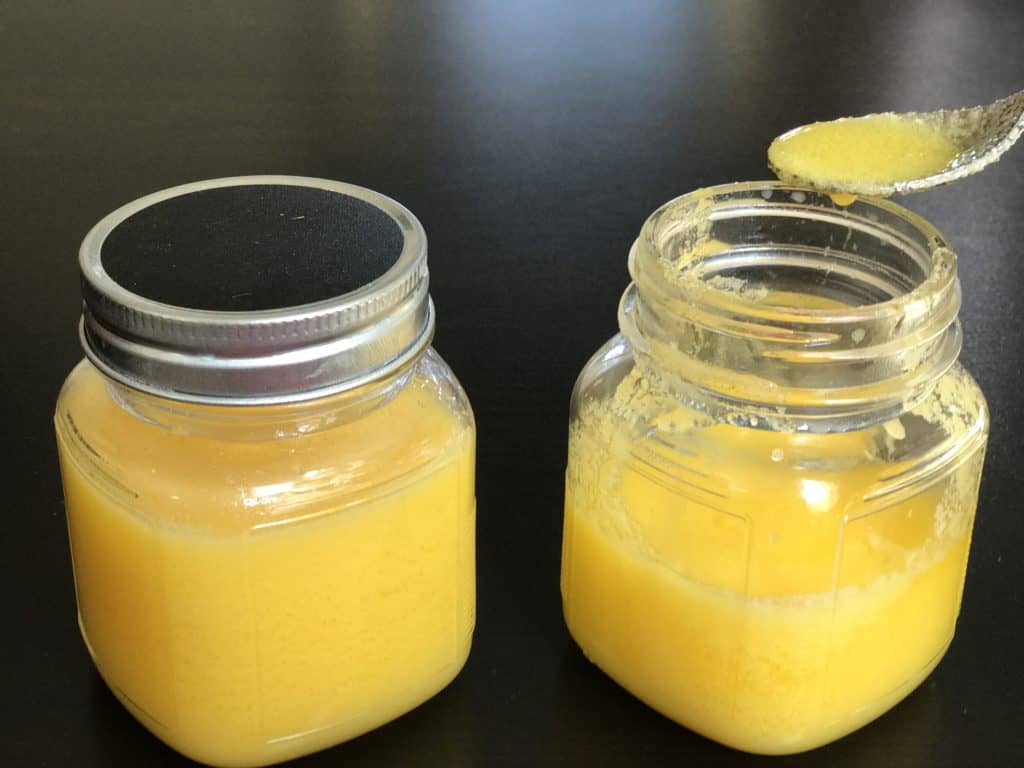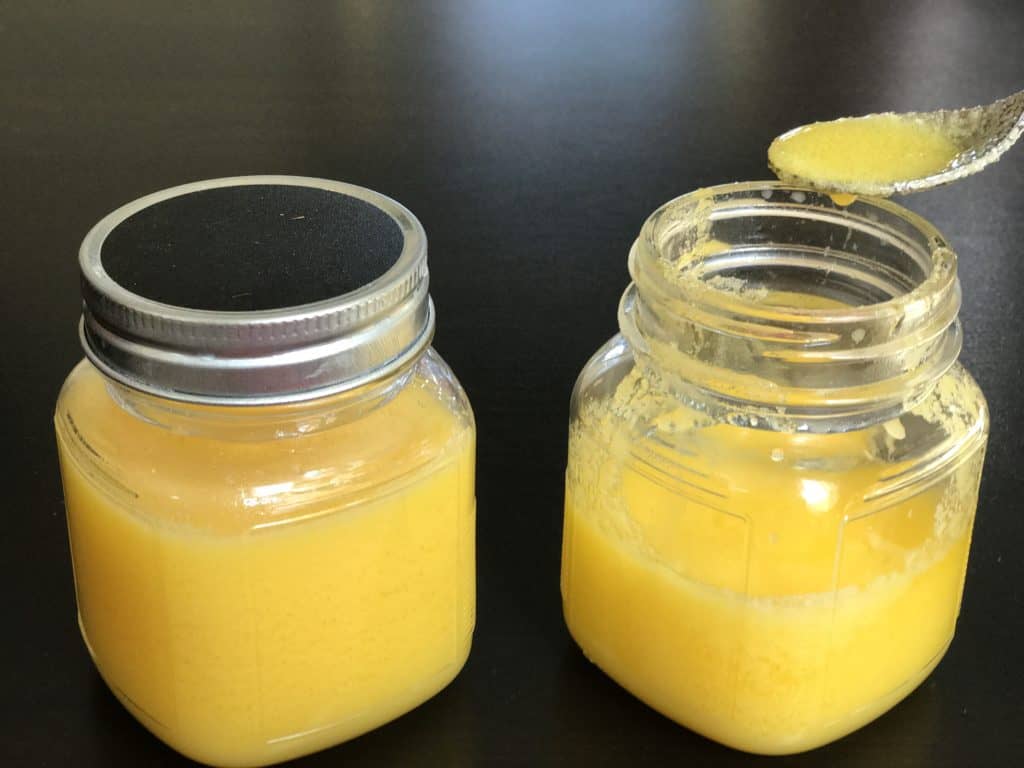 Here are some of my favorite recipes where I use ghee –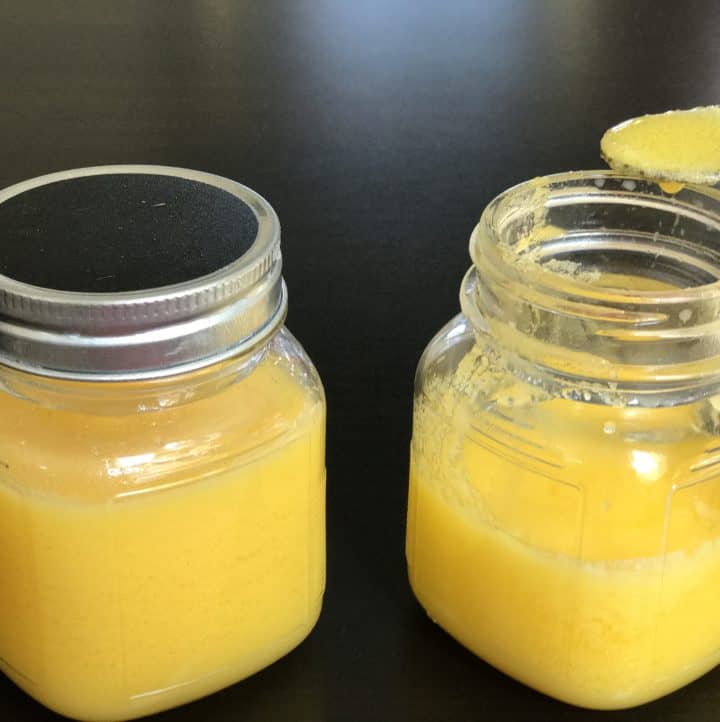 Homemade Ghee – Instant Pot or Stovetop
A staple in every kitchen in India and gaining popularity worldwide for it's health and nutritional benefits. Make it organic at home in less than 20 minutes.
Instructions
Add the butter to the instant pot steel insert. Set an external timer for 10 minutes. Start the instant pot in Saute Mode (Normal). Butter will start melting.

At about 7-9 minutes, the melted butter should be bubbling vigorously and milk solids will start to separate. (see photos for visual cues).

Initially the milk solids (white foam) will float on the top, but they will settle down to the bottom of the insert and caramelize.

Turn off instant pot at about 10 mins. The ghee will continue to cook for another 2-3 minutes. The milk solids should be brown and settle down.


We want the milk solids on the bottom to turn golden brown, but not blacken. Keep a close eye so it does not burn.

Remove the steel insert from the pot when the milk solids are golden brown in color. (see the pictures for guidance)

Strain the ghee using a fine mesh strainer or cheesecloth into a dry glass or steel jar. Let the ghee cool completely before closing the lid. It will solidify depending on the room temperature.


Store ghee at room temperature, away from sunlight. It will stay fresh. You can also store in a refrigerator, but it is not required.
Notes
Cooking time: I have provided cooking time, however I strongly recommend that you look for the visual cues. Cooking time could vary due to the quality and temperature of the butter. Safety: Heat pocket or bubbles form when ghee is boiling. With the help of these bubbles, water releases the heat that has been built up during boiling. If you stir, this can cause bubbles to form quickly, and hot ghee can splatter all around. It is best to not stir or stir continuously, so there is no shock which causes splatter. Double the recipe: As we are cooking on saute mode, if you increase the amount of butter, it will take more time to cook the ghee. It takes about 15 minutes for 32oz of butter. Stovetop Variation: Follow the same steps. Initially start cooking at high flame until the butter melts, then reduce the flame to medium-low. Stop cooking when the milk solids settle down and start to turn brown. Equipment: This recipe was created in a 6qt Instant Pot DUO60 Multi-use Pressure Cooker. Instant Pot Mini: I have not tried this, however I hear that making ghee takes longer in a Mini. Hence keep on Saute (Normal) for about 10 minutes before you change to low setting, but always watching it after 7 minutes so it does not burn. Note: This recipe has been modified to make it easier and quicker to make ghee in the instant pot.
Nutrition
Calories:
3476
kcal
Protein:
1
g
Fat:
394
g
Saturated Fat:
245
g
Cholesterol:
1016
mg
Sodium:
7
mg