Goat Curry or Mutton Masala in the Instant Pot or Pressure Cooker. Tender meat cooked in an onion tomato gravy with aromatic whole spices. Enjoy this goat curry with naan or rice.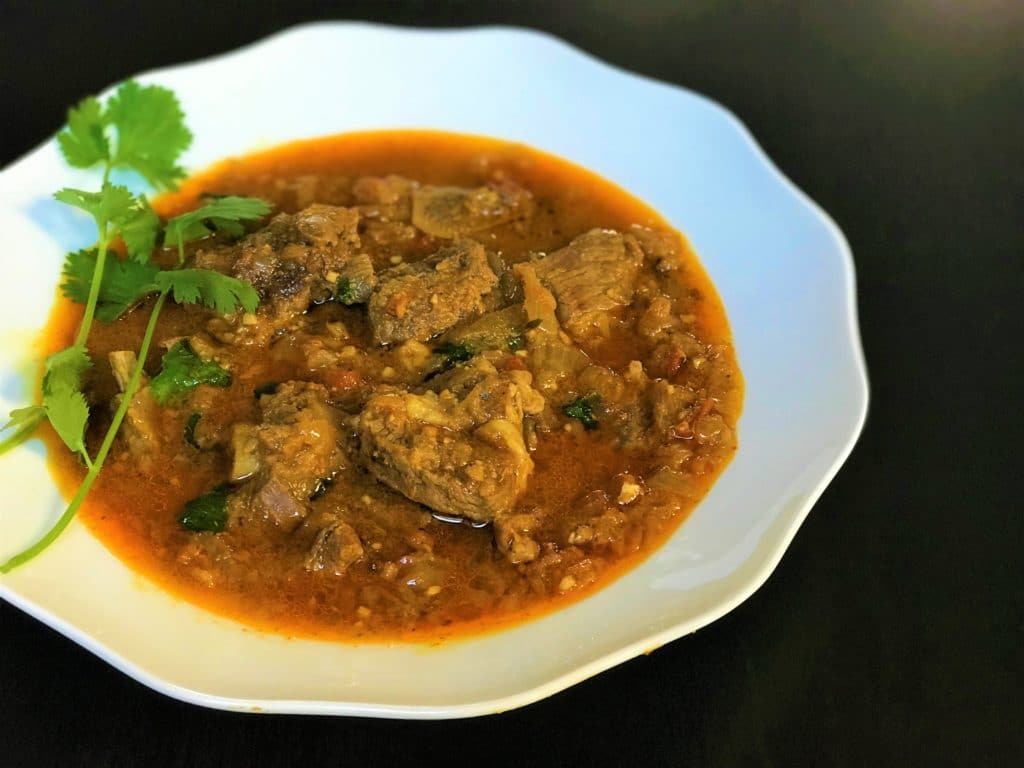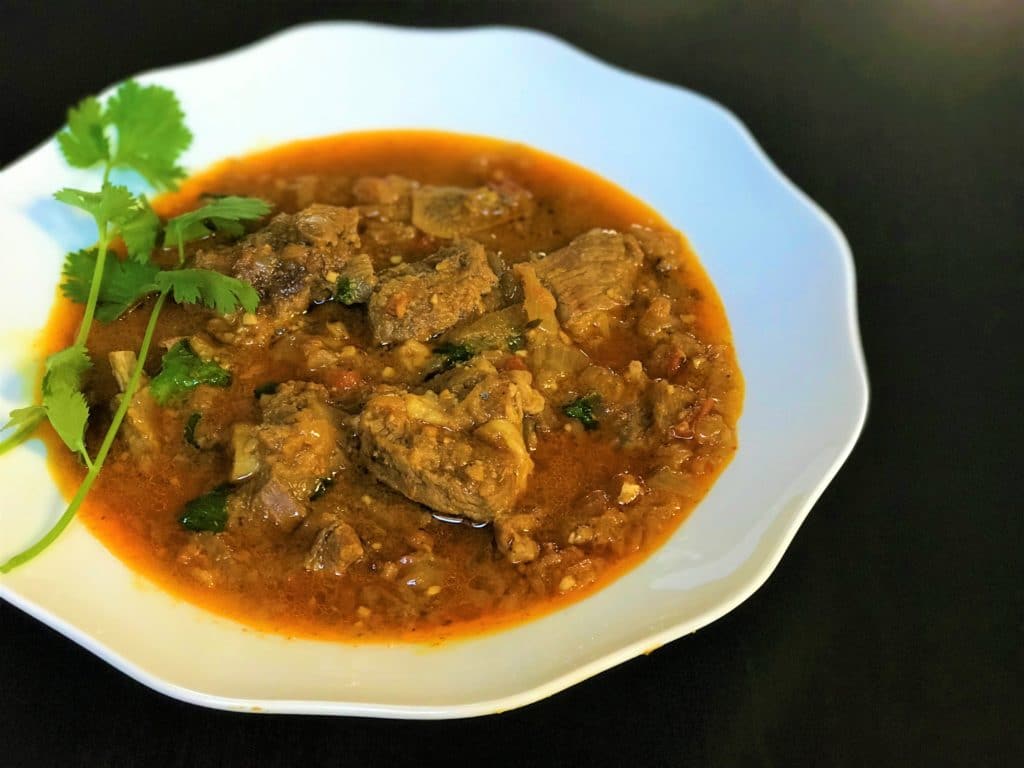 Goat meat is not as popular all over the world, but in India, it is the most popular red meat. If you are not able to find goat meat easily, you can substitute lamb in this recipe. I usually get goat meat at the nearby halal store to make Aloo Gosht, Mutton Pulao, or this easy mutton curry.
Goat meat is healthier than many other types of meat. It is lower in calories, cholesterol, and saturated fat and higher in protein and iron than lamb and beef.
I personally like the taste of goat meat better than chicken or lamb. It is much more flavorful and juicy from my perspective. I also like to use minced goat meat to make mutton keema and keema biryani.
Looking for more easy Instant Pot Indian Recipes? Here are 23 Best Instant Pot Indian Recipes for you to try!
How to make Goat Curry in a Pressure Cooker?
I make this goat curry in north Indian style. It is the most basic and simple mutton curry recipe. No marination is required. However, you can marinate if you like. Add all the ground spices, ginger, garlic, and 1/4 cup yogurt and marinate the meat for 1-2 hours or overnight in the refrigerator.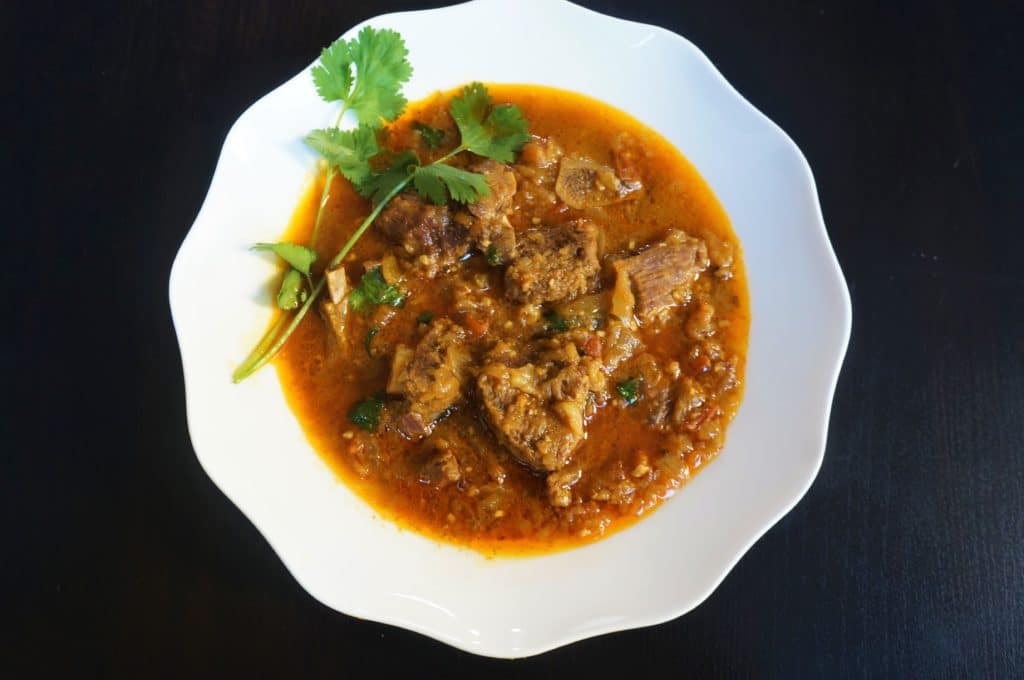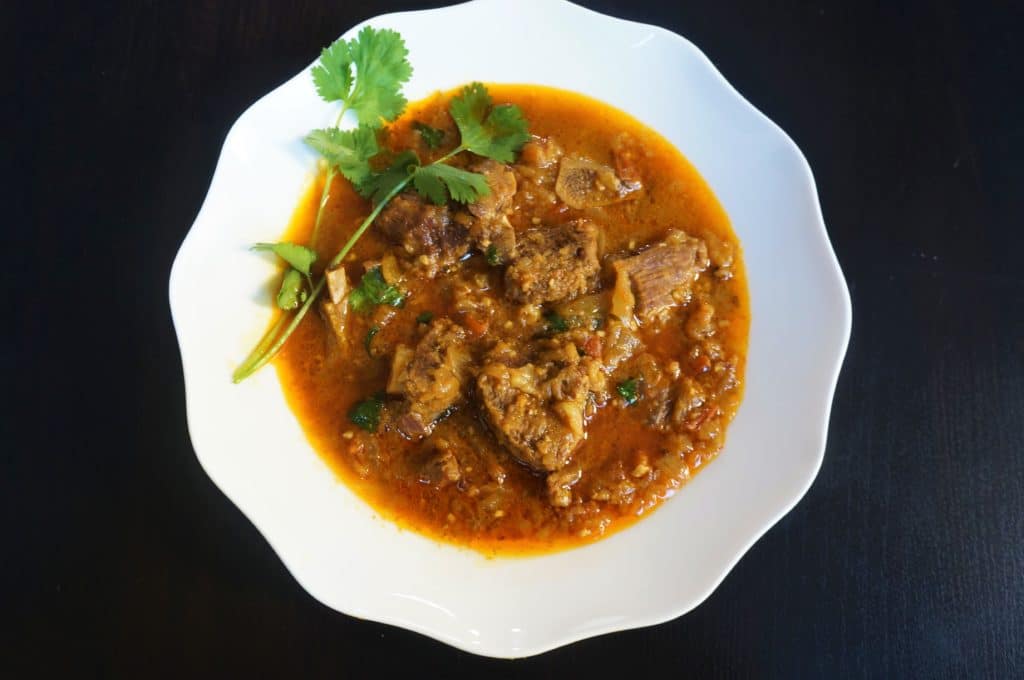 Some people like to add potatoes to this curry to make it thicker, which is great. The same setting would work with cubed potatoes; just add about 1/4 cup of water before pressure cooking. I skip potatoes to make this curry low-carb.
Another thing to note is that I don't add any water when making this curry. Goat meat releases a lot of water, so additional water is not required. It will come to pressure and cook perfectly. If you use another type of meat, add 1/4 cup of water.
More Curry Recipes You'll Enjoy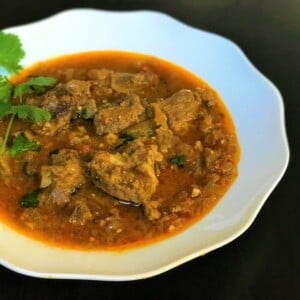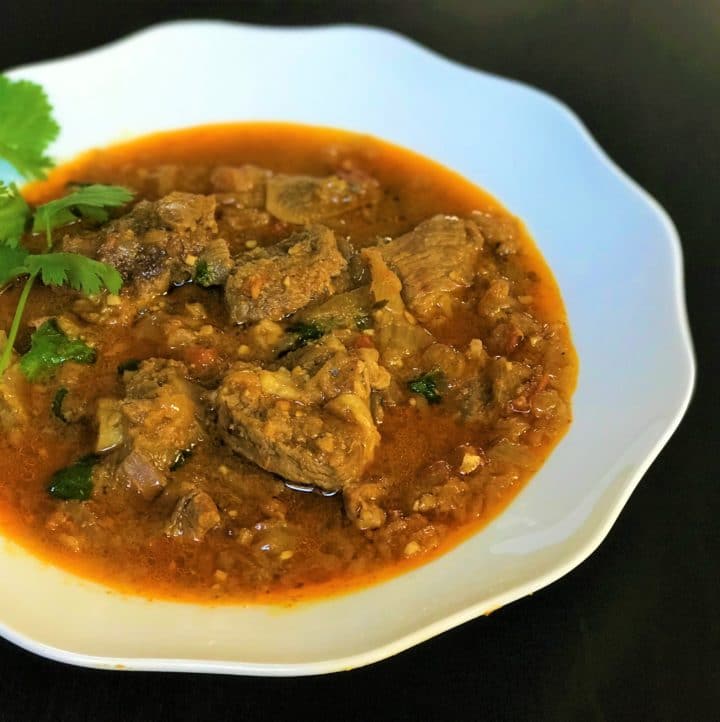 Instant Pot Goat Curry / Mutton Masala Recipe
A simple North Indian style goat curry. Enjoy the tender and moist meat in a flavorful gravy with the aroma of whole spices.
Ingredients
Instructions
Heat the instant pot in SAUTE mode and add oil to it. Add the whole spices and sauté for 30 seconds so they release the aroma.

Add the chopped green chili, onions, ginger and garlic to the pot and sauté for 4 minutes until they turn golden. Keep stirring at regular intervals.

Add the chopped tomatoes and spices. Mix and Sauté for another 2 minutes.

Add the goat and mix it well with the gravy. Saute for about 5 minutes. Stir and scrape off anything stuck to the bottom of the pot. If needed, add 1/4 cup water to deglaze the pot. Press Cancel and close the lid.

Change the instant pot setting to MEAT mode at high pressure for 30 minutes with venting in sealing position.

When the instant pot beeps, let the pressure release naturally. Stir in the lemon juice.

Garnish with cilantro and mutton curry is ready to serve.
Video
Notes
Whole Spices: If you don't like whole spices in your curry, add them to a spice pouch and add them, so you can remove the pouch after the curry is ready. Spice level: This is a mildly spiced curry. Adjust cayenne/red chili powder to taste to make the curry mild or more spicy. Water: I did not add any water when making this curry, as the meat releases a lot of water. However if you see the curry looks very dry before pressure cooking, add 1/4 cup of water. Marinate: This is the simplest mutton curry. If you like, you can marinate the mutton before adding it to this curry. Marinate with the ground spices, ginger, garlic and 1/4 cup of yogurt. Refrigerate for 1-2 hours or overnight. Note: I have increased the cooking time for this curry to 30 minutes, as sometimes goat meat can take longer to cook.
Nutrition
Serving:
214
g
Calories:
253
kcal
Carbohydrates:
8.34
g
Protein:
24.65
g
Fat:
13.5
g
Saturated Fat:
2.092
g
Cholesterol:
65
mg
Sodium:
680
mg
Potassium:
652
mg
Fiber:
2
g
Sugar:
3.17
g
Vitamin A:
1450
IU
Vitamin C:
40.4
mg
Calcium:
50
mg
Iron:
4.1
mg