If you're a fan of chickpeas or looking for delicious ways to incorporate them into your daily meals, look no further! We've rounded up 24 of the best Indian chickpea recipes to satisfy your cravings and keep you coming back for more.
Chickpeas, or garbanzo beans, are a popular ingredient in Indian cuisine and a staple in many vegetarian and vegan diets. They are popularly called chole or chana in Hindi.
They're packed with protein, fiber, and nutrients, making them a healthy and filling addition to any meal. So get ready to discover new flavors with a variety of chickpea recipes from India.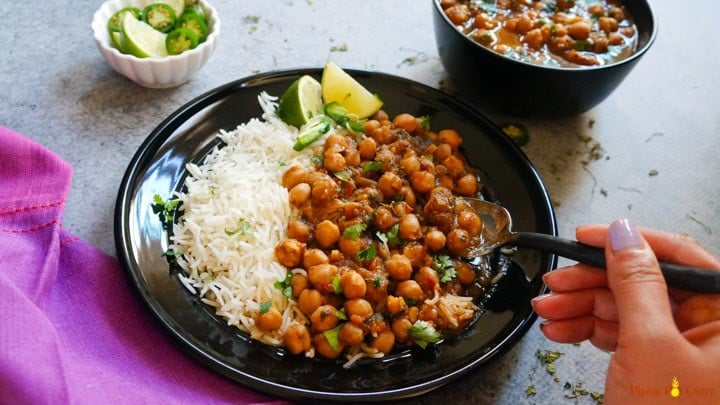 Chana Masala is a favorite Indian chickpeas curry. A healthy protein-rich vegan and gluten-free chickpea recipe. This one-pot recipe for the authentic Chana Masala can be made in the Instant Pot or stovetop.
Get the Chana Masala recipe.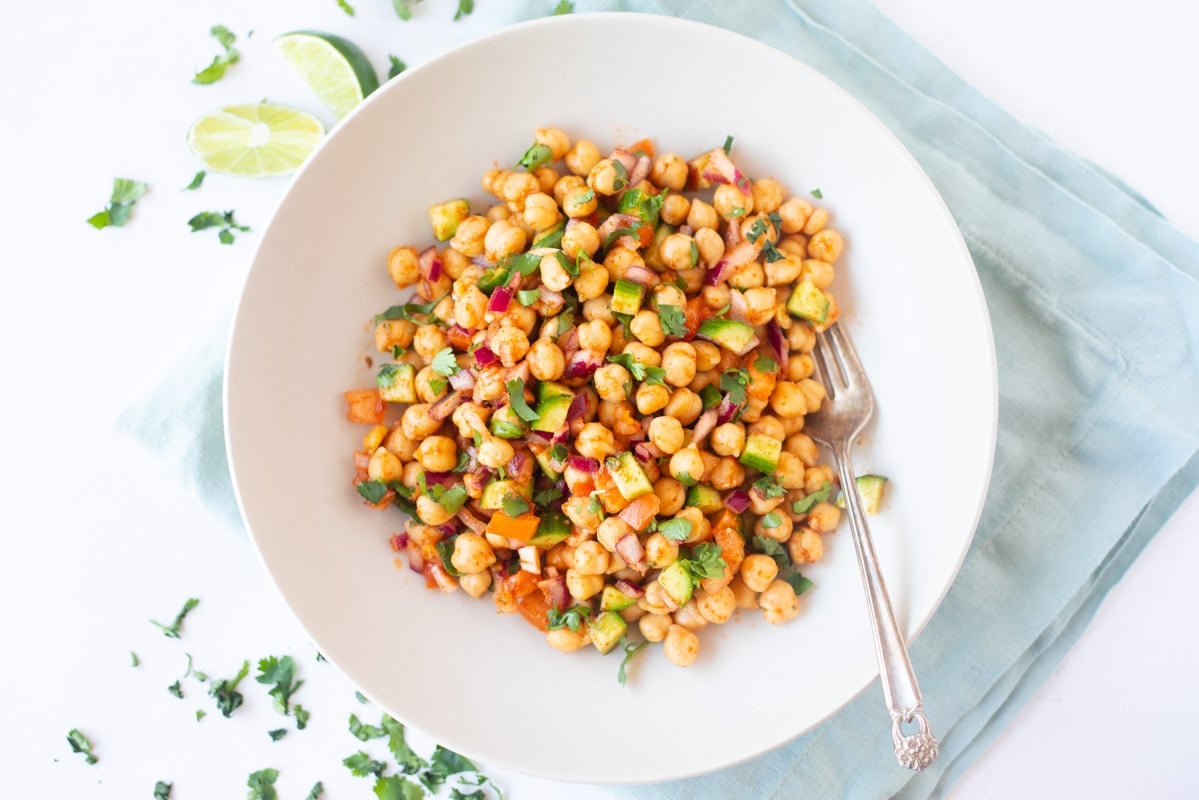 This Chickpea Salad is a healthy, vegan protein-rich salad that is easy to assemble in 10 minutes. Chickpeas are combined with fresh veggies, flavored with Indian spices, along with a tangy lemon dressing. Perfect for a snack or a quick lunch!
Get the Chickpea Salad recipe.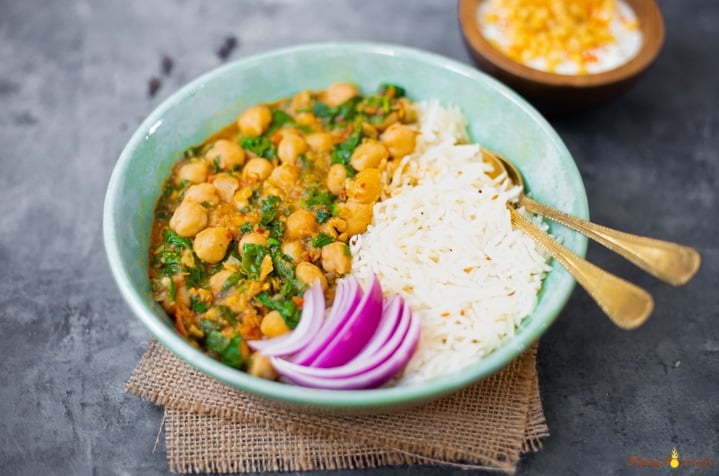 This Spinach Chickpea Curry, also known as Chana Saag, is a healthy vegan and gluten-free curry. This easy one-pot curry is made with chickpeas and spinach in a sauce of onions, tomatoes, ginger, garlic, and aromatic spices.
Get the Chana Saag recipe.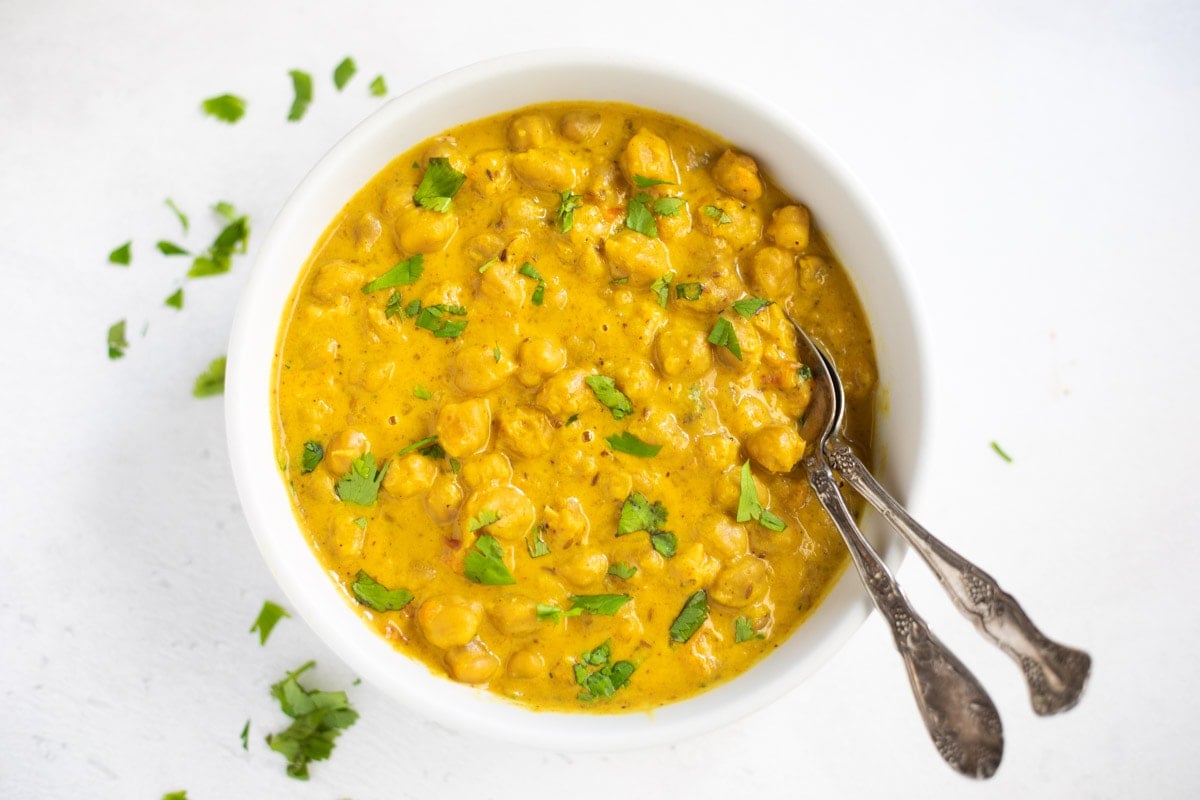 This Coconut Chickpea Curry is a creamy vegan curry, perfect for those busy weekdays. Made with staple pantry ingredients, this one-pot meal will make up for a perfect wholesome meal.
Get the Coconut Chickpea Curry recipe.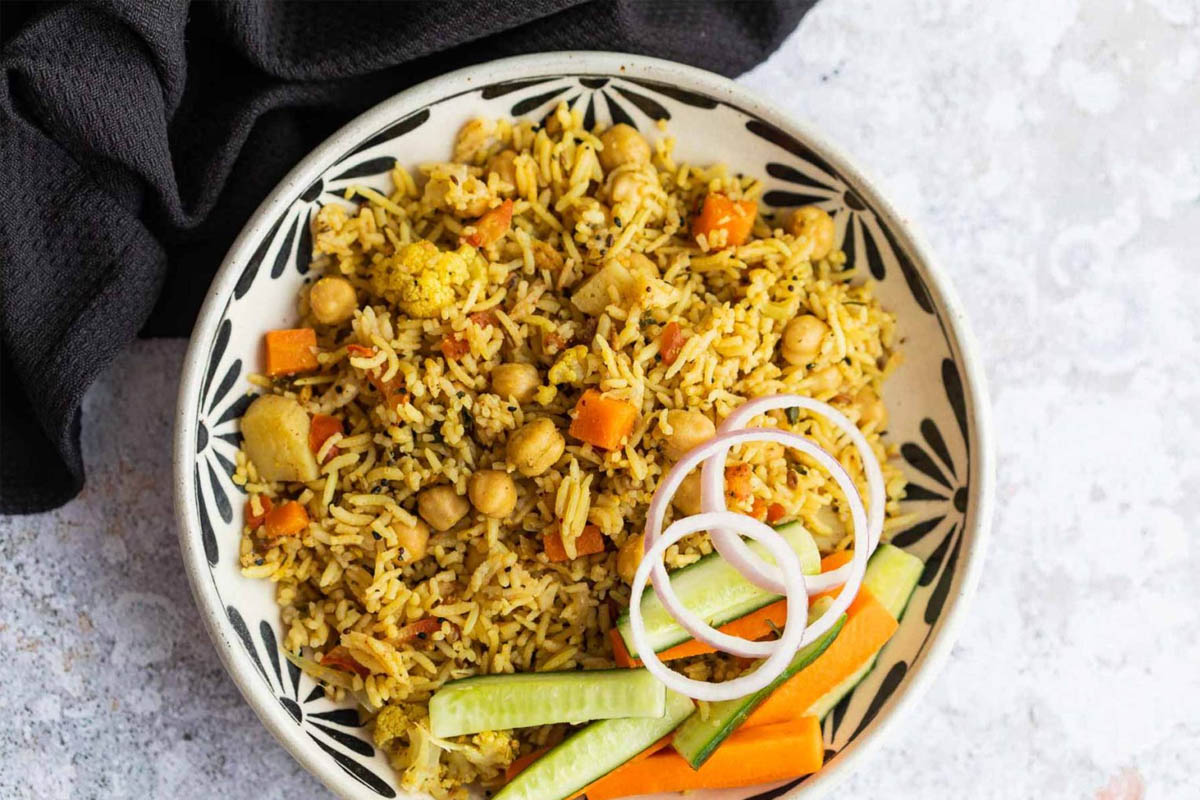 Chana Pulao is a simple one-pot chickpea and rice dish flavored with lots of fragrant spices. Serve this with raita or your favorite curry for an easy, vegetarian dinner.
Get the Chana Pulao recipe.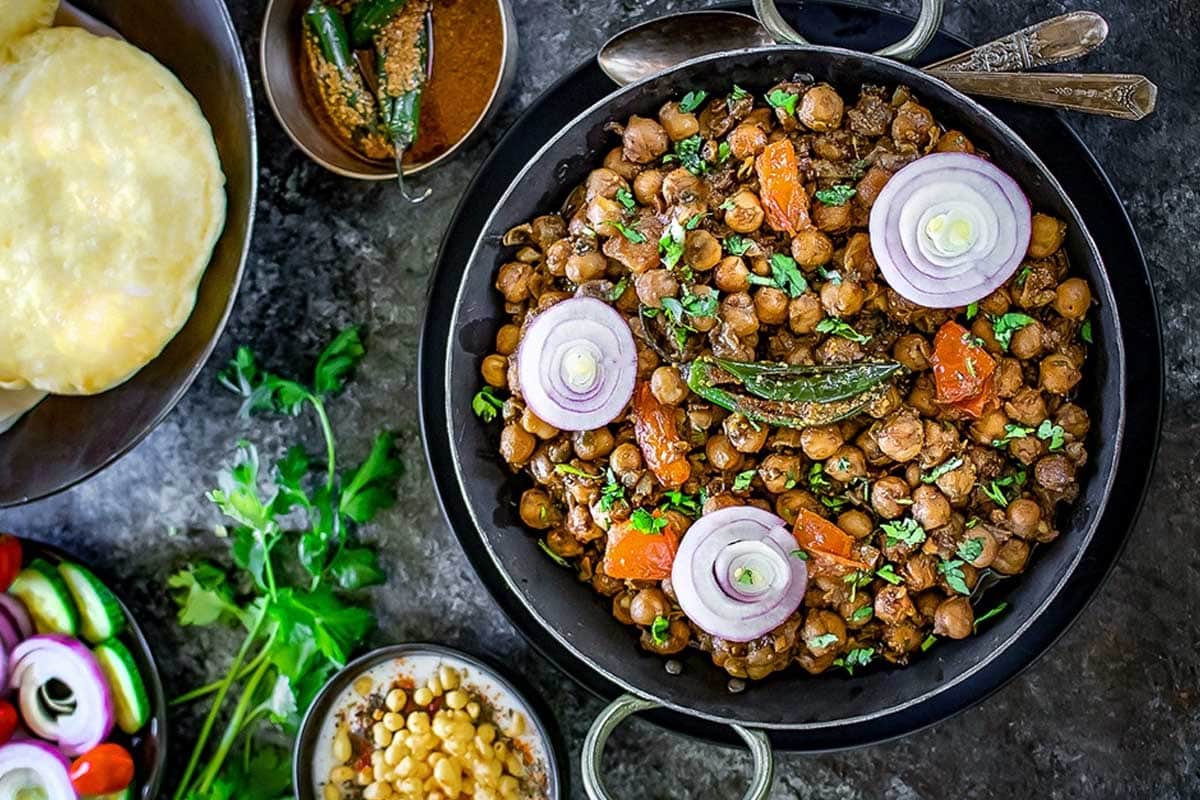 Pindi Chole, also called Amritsari Pindi Chole Masala, is a popular Indian street food made with boiled chickpeas, onions, and spicy-n-tangy spices. As a bonus, this dish is entirely vegan, packed with plant-based protein, and freezer-friendly!
Get the Pindi Chole recipe.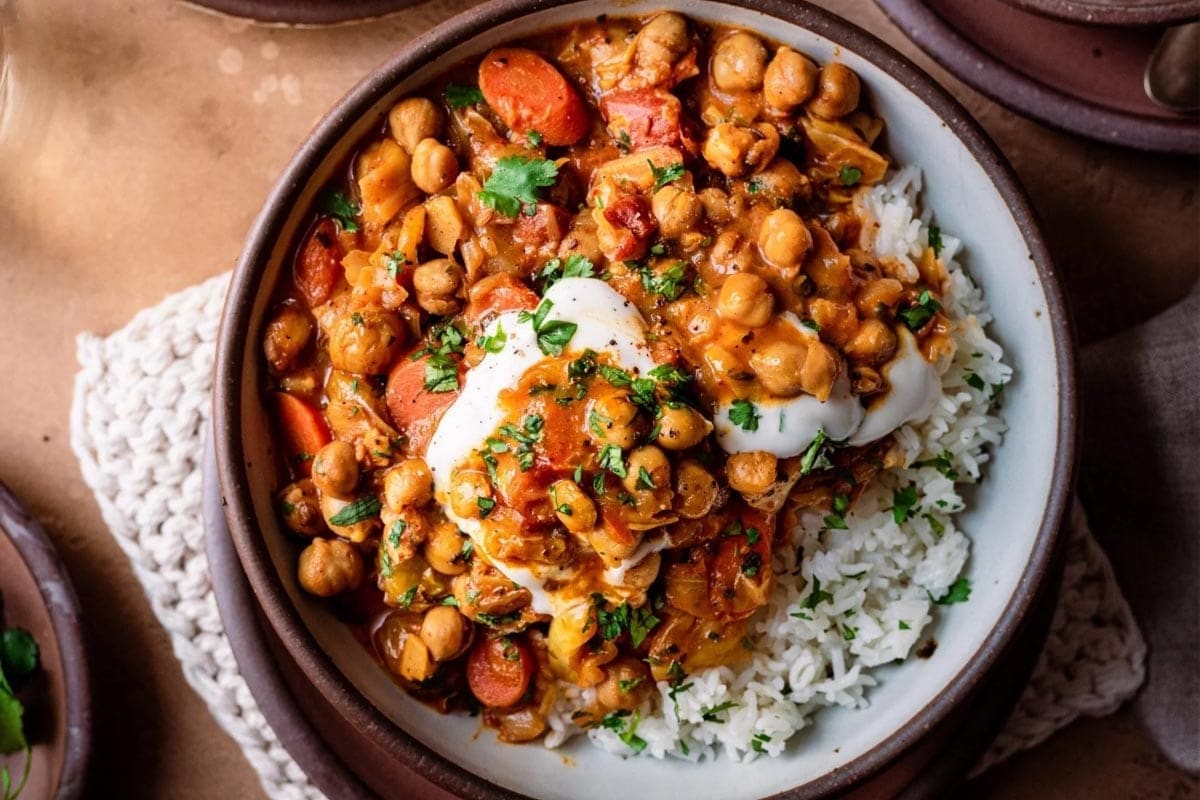 This Indian-inspired chickpea stew features lots of warming spices, chickpeas, cabbage, and carrots. Everything gets braised in the oven and the result is a rich and hearty yet wholesome stew that will satisfy the heartiest of appetites.
Get the Chickpea Stew recipe.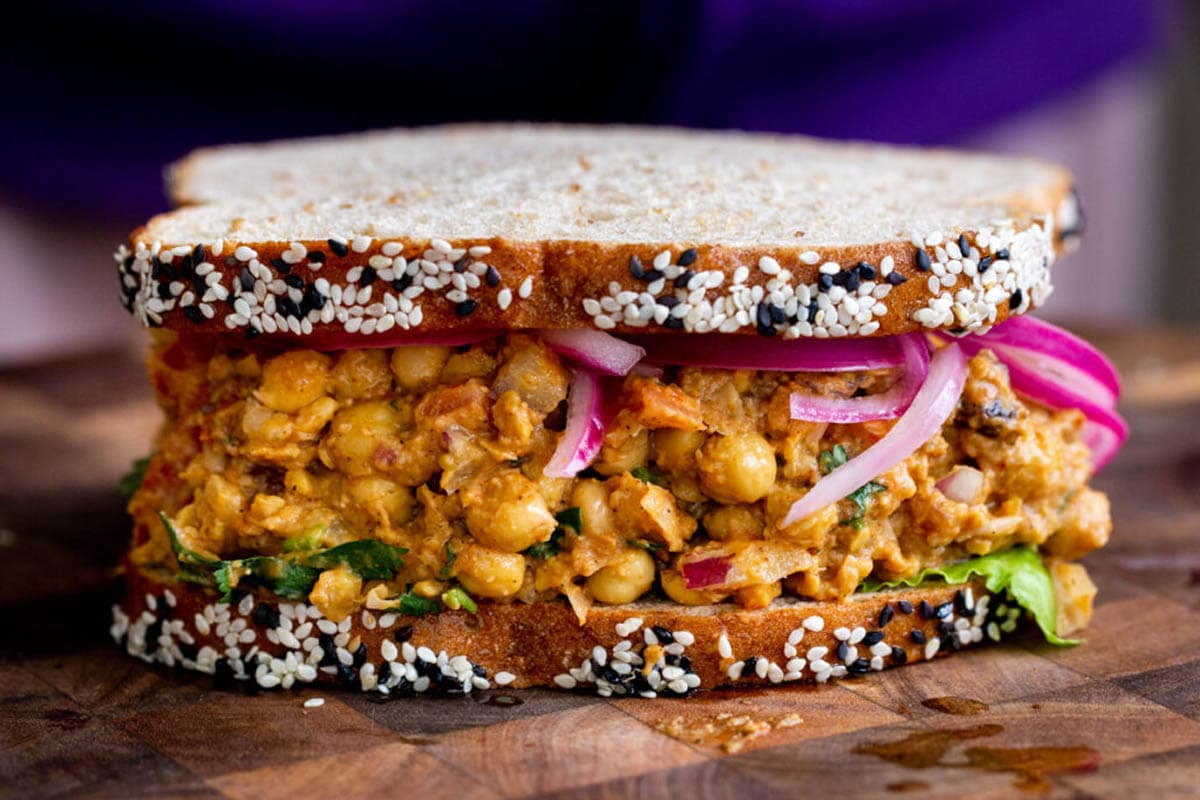 Make this Curried Chickpea Salad sandwich when it is too hot to make chickpea curry in summer. It is refreshing, spicy, and delicious. You can make it gluten-free with lettuce wraps or tacos.
Get the Curried Chickpea Sandwich recipe.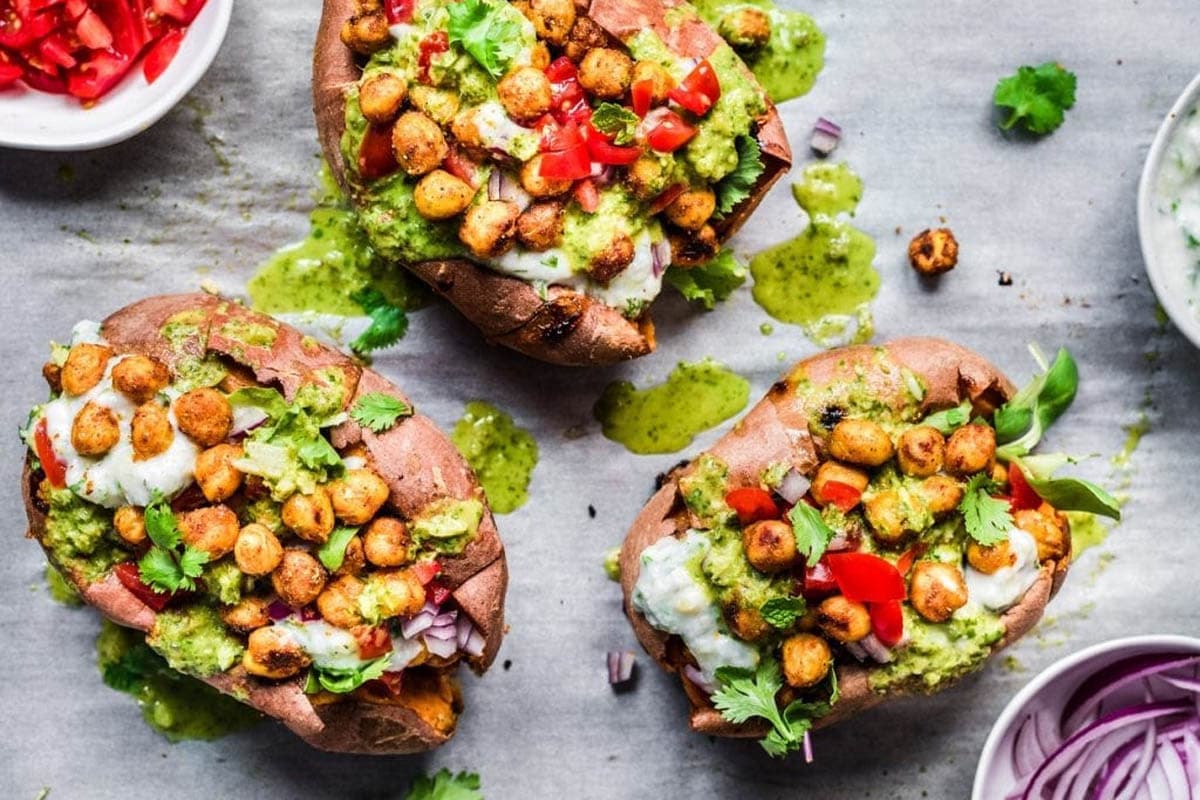 This recipe for Tandoori Chickpea Stuffed Sweet Potatoes is a delicious and healthy vegetarian meal. The combination of spicy tandoori chickpeas and sweet roasted sweet potatoes perfectly balances flavors and makes for a filling and satisfying dish.
Get the Chickpea Sweet Potatoes recipe.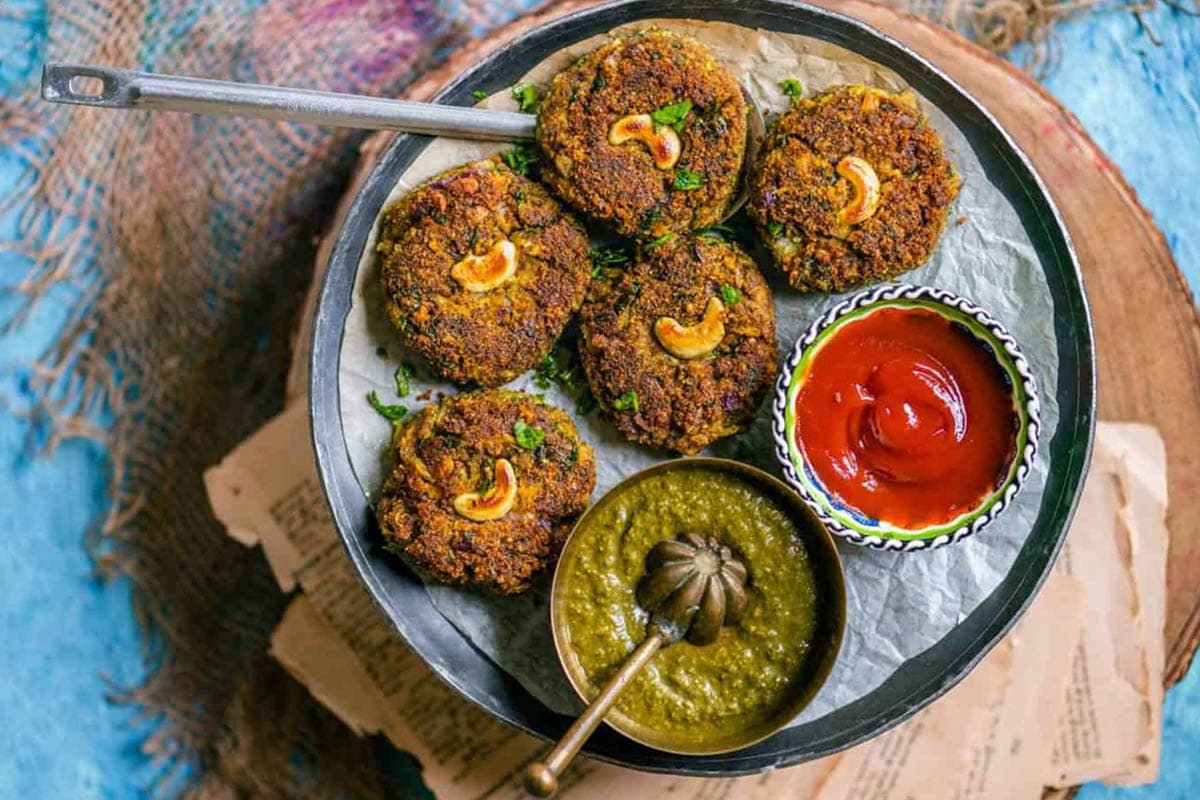 The vegan and gluten-free chickpea patty is a veggie cutlet recipe made with chickpeas, teff grains, and TVP granules. Serve these delicious patties as appetizers or snacks, or use them as stuffing for burgers and sandwiches!
Get the Chickpea Cutlet recipe.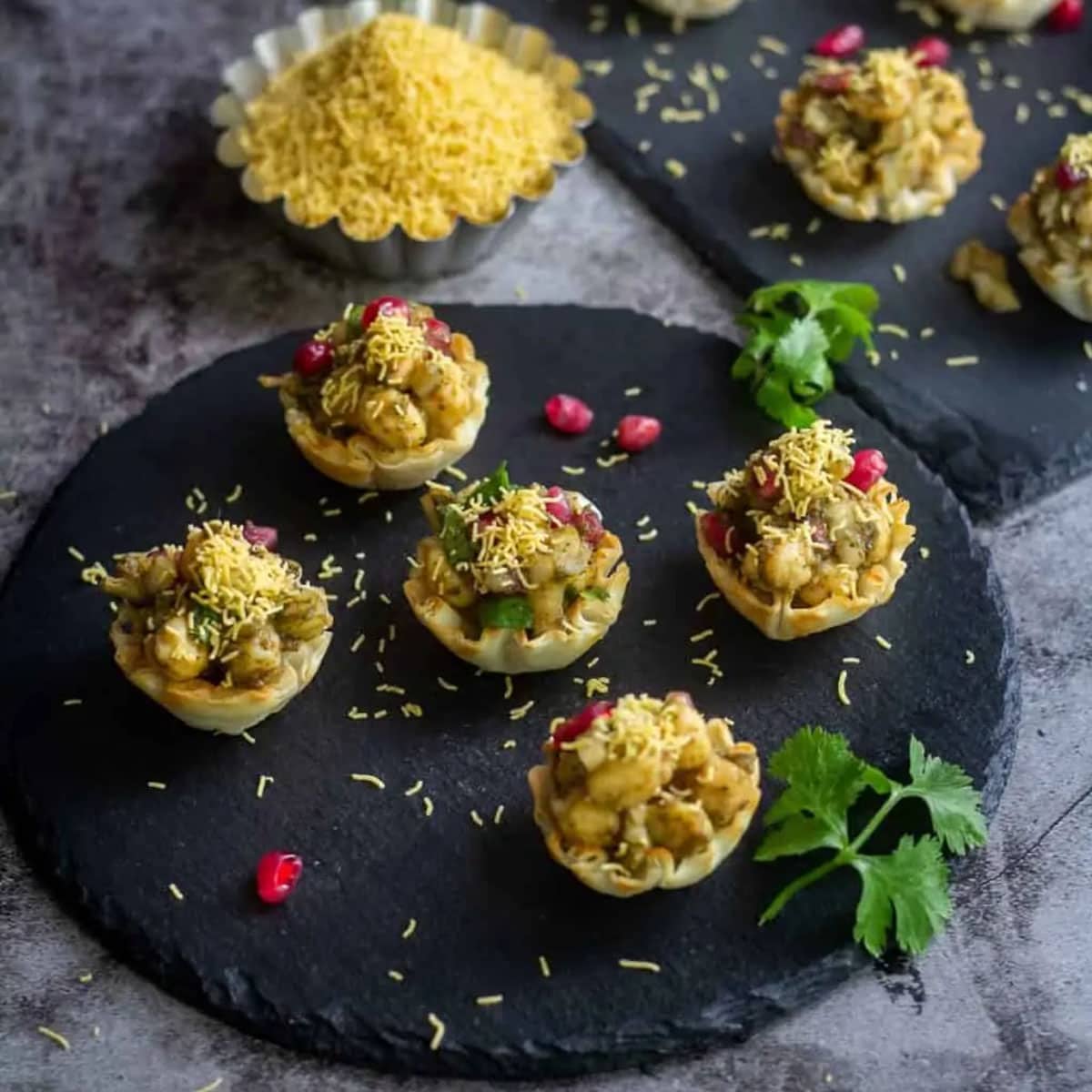 Phyllo aloo chana chaat cups – a vegan version of the popular Indian street food Katori chaat! Spicy and tangy chickpeas and potato mix filled inside the phyllo shells or cups.
Get the Aloo Chana Chaat Cups recipe.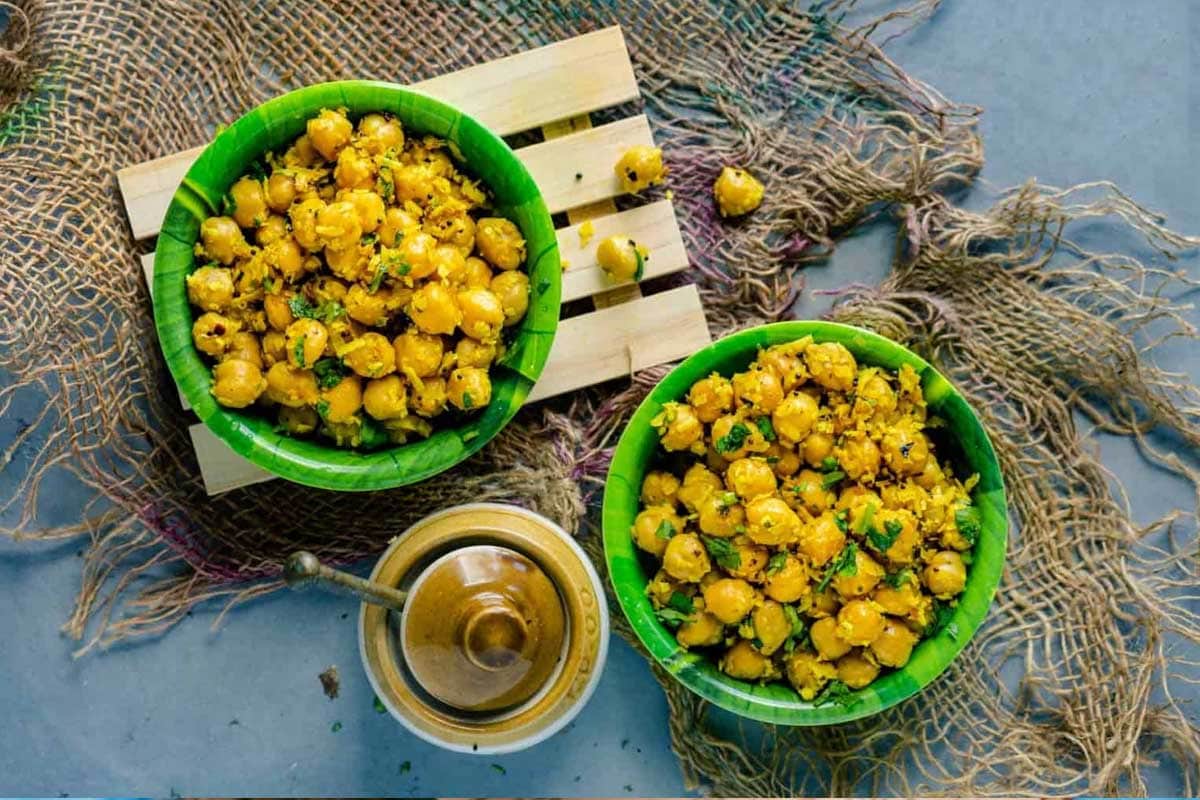 Sundal is a delicious South Indian chickpea salad made mainly during Navratri. This sundal recipe is protein-rich, vegan, and gluten-free. Make it in just 15 minutes.
Get the Chana Sundal recipe.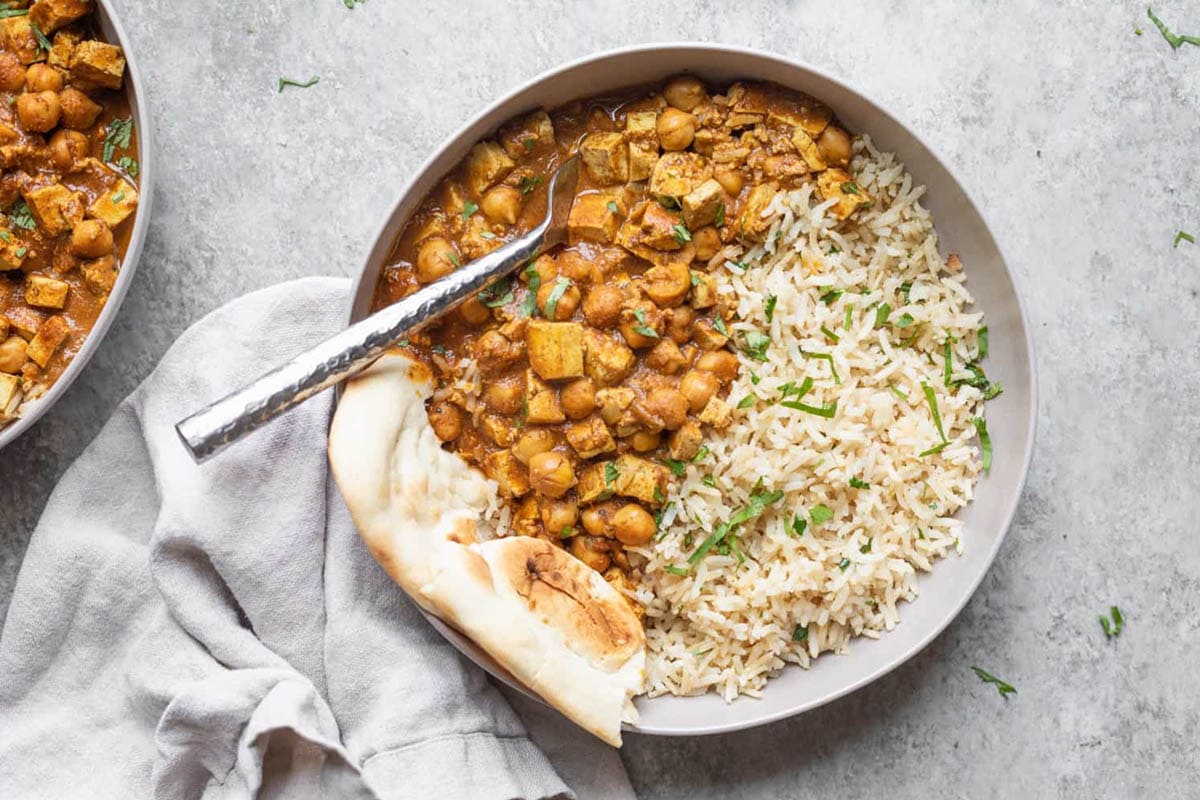 Slow Cooker Butter Chickpeas and Tofu is a chickpea curry packed with protein, vegan and gluten-free. A healthier take on the favorite Indian dish, Butter Chicken but made with chickpeas.
Get the Butter Chickpeas recipe.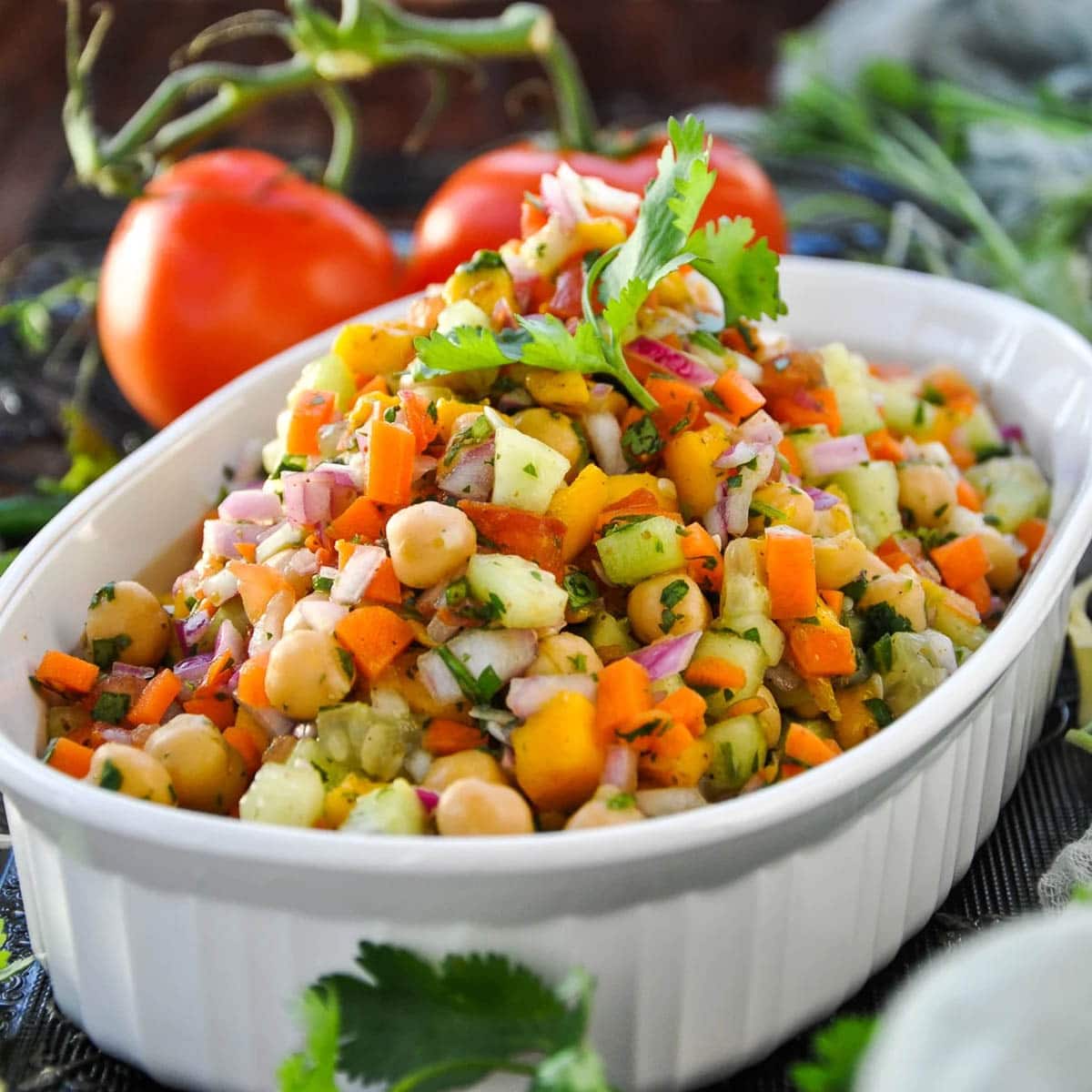 Refreshing and delicious Mango Chickpea Kachumber Salad flavored with lime juice and chat masala. This salad is absolutely refreshing and so good for you.
Get the Mango Chickpea Kachumber Salad recipe.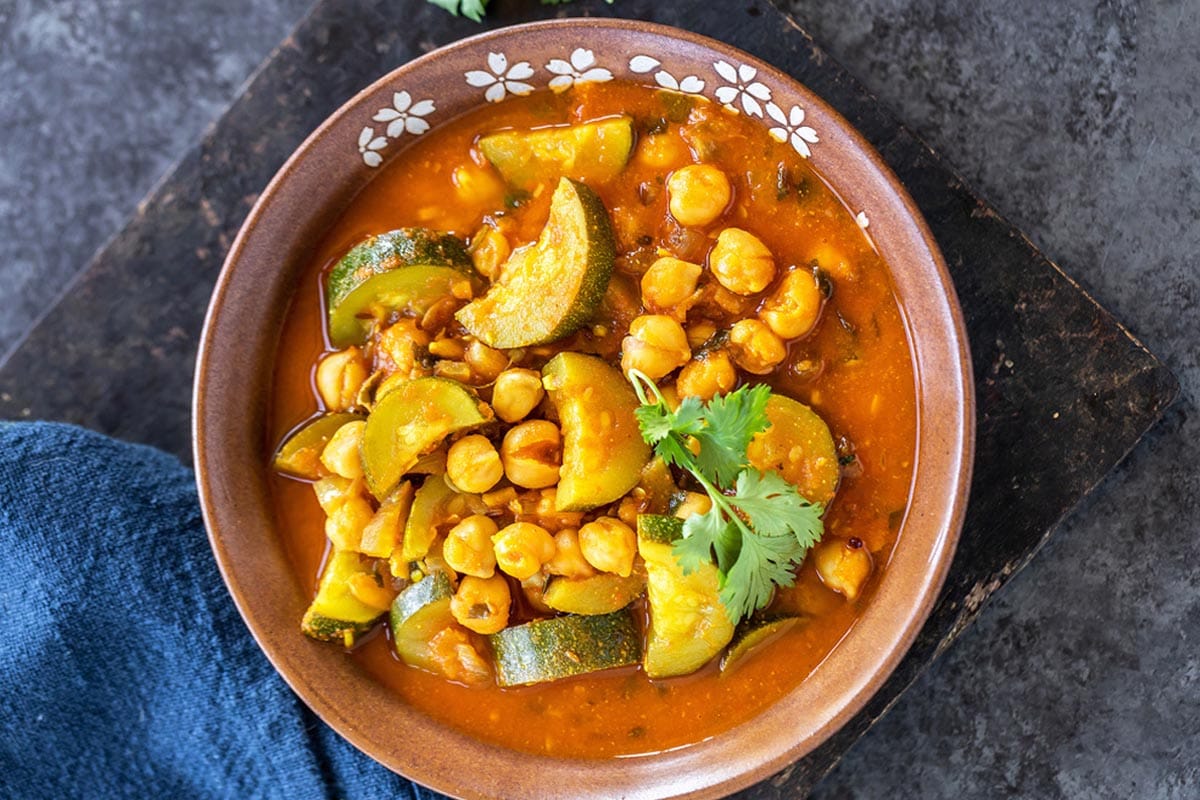 This Zucchini Chickpea Curry is a simple, flavorful vegan dish perfect for a quick weeknight dinner. The combination of tender zucchini and hearty chickpeas in a fragrant curry sauce is a comforting and satisfying meal packed with protein and fiber. Hearty, vegan, gluten-free, and gets done in 30 minutes!
Get the Zucchini Chickpea Curry recipe.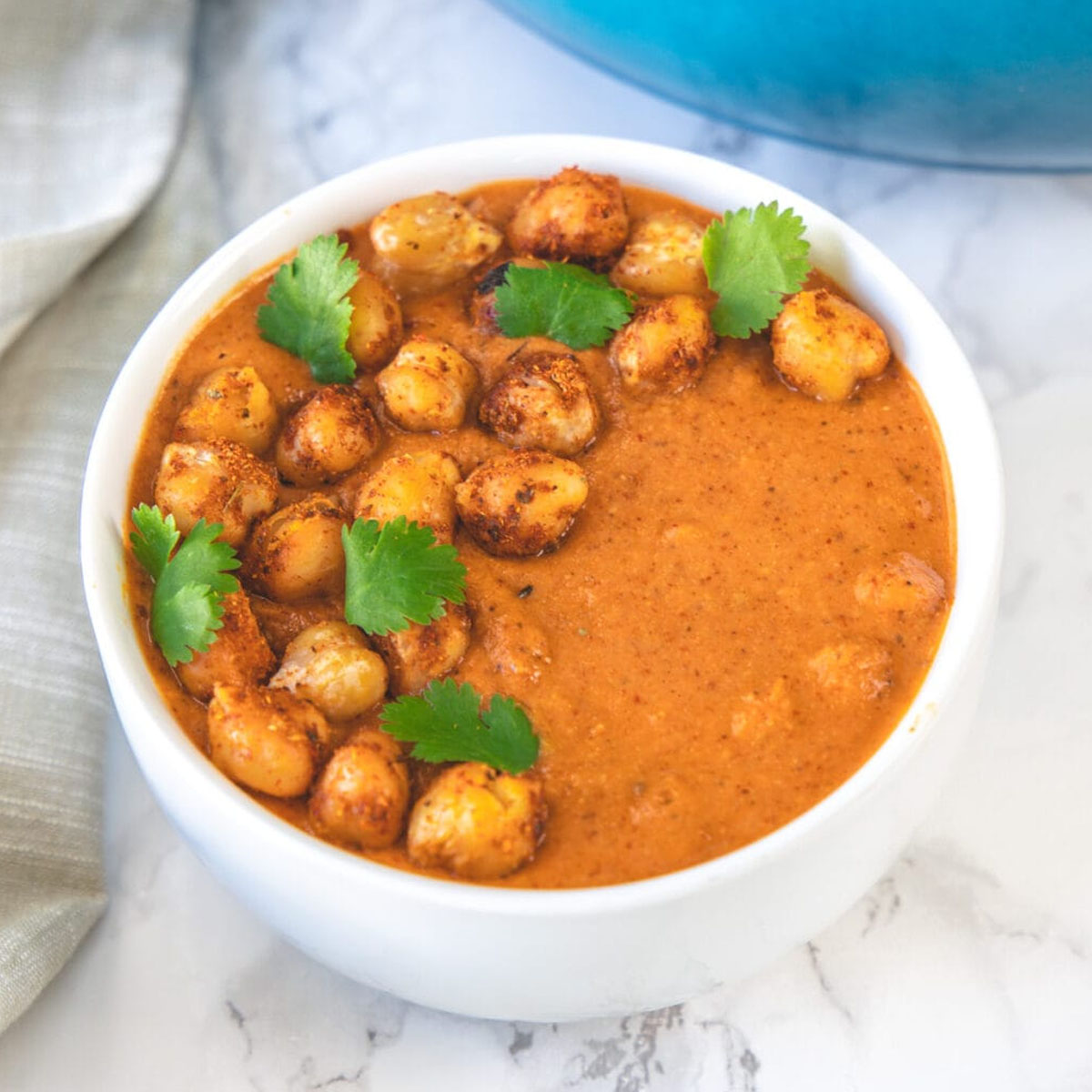 Chickpea tikka masala is a vegetarian version of the classic Indian dish. It's incredibly flavorful with the masala-coated, oven-roasted chickpeas added to a vibrant, spicy onion-tomato gravy.
This satisfying dish is packed with plant-based protein and nutrients.
Get the Chickpea Tikka Masala recipe.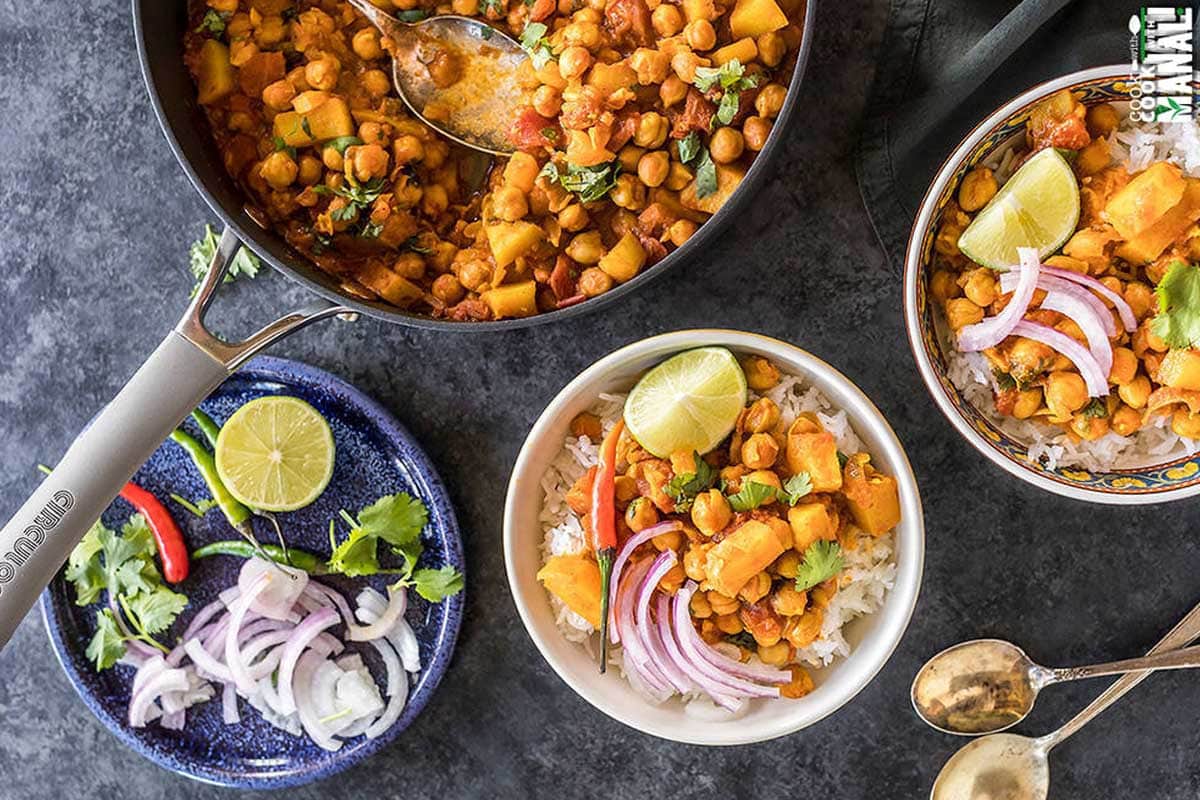 Easy Chickpea and Potato curry, which gets done in 30 minutes. This Chana Aloo is best enjoyed over white rice with some red onions.
Get the Potato Chickpea Curry recipe.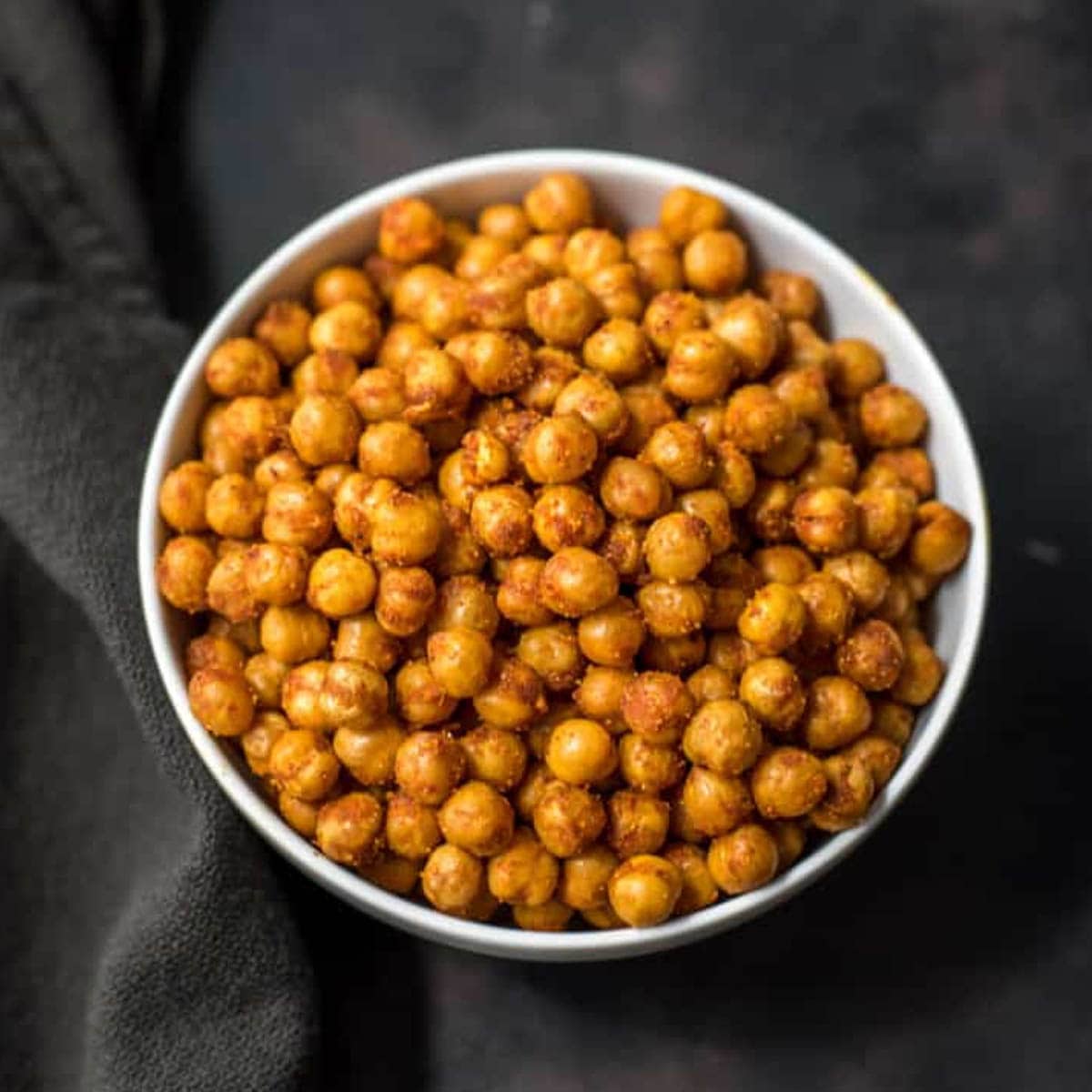 Crispy air-fryer roasted chickpeas take your healthy snacking to a whole new level. This crunchy and spicy chickpea recipe can be made with six ingredients in under 30 minutes for a naturally gluten-free and vegan snack!
Get the Air Fryer Masala Chickpeas recipe.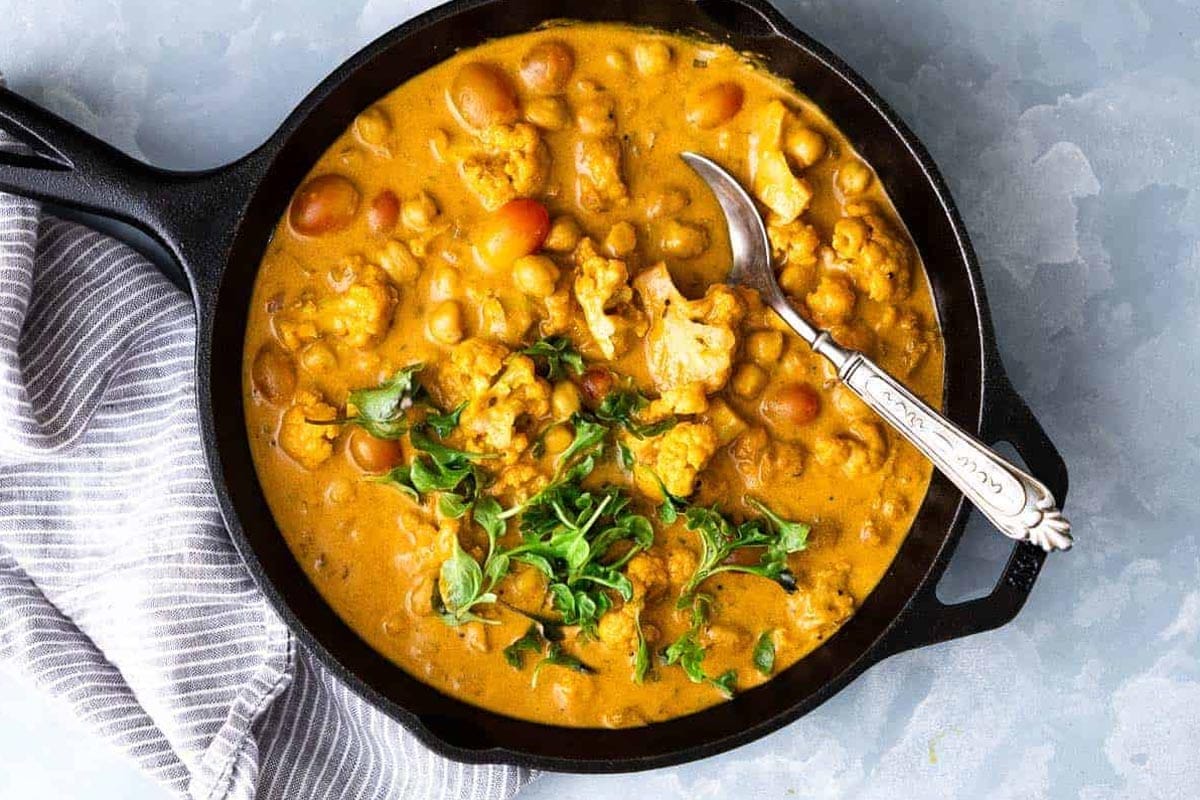 This is a classic coconut curry with tender cauliflower and soft chickpeas made in one pot. That sauce is super addictive and you'll love how easy it is to make.
Get the Cauliflower Chickpea Coconut Curry recipe.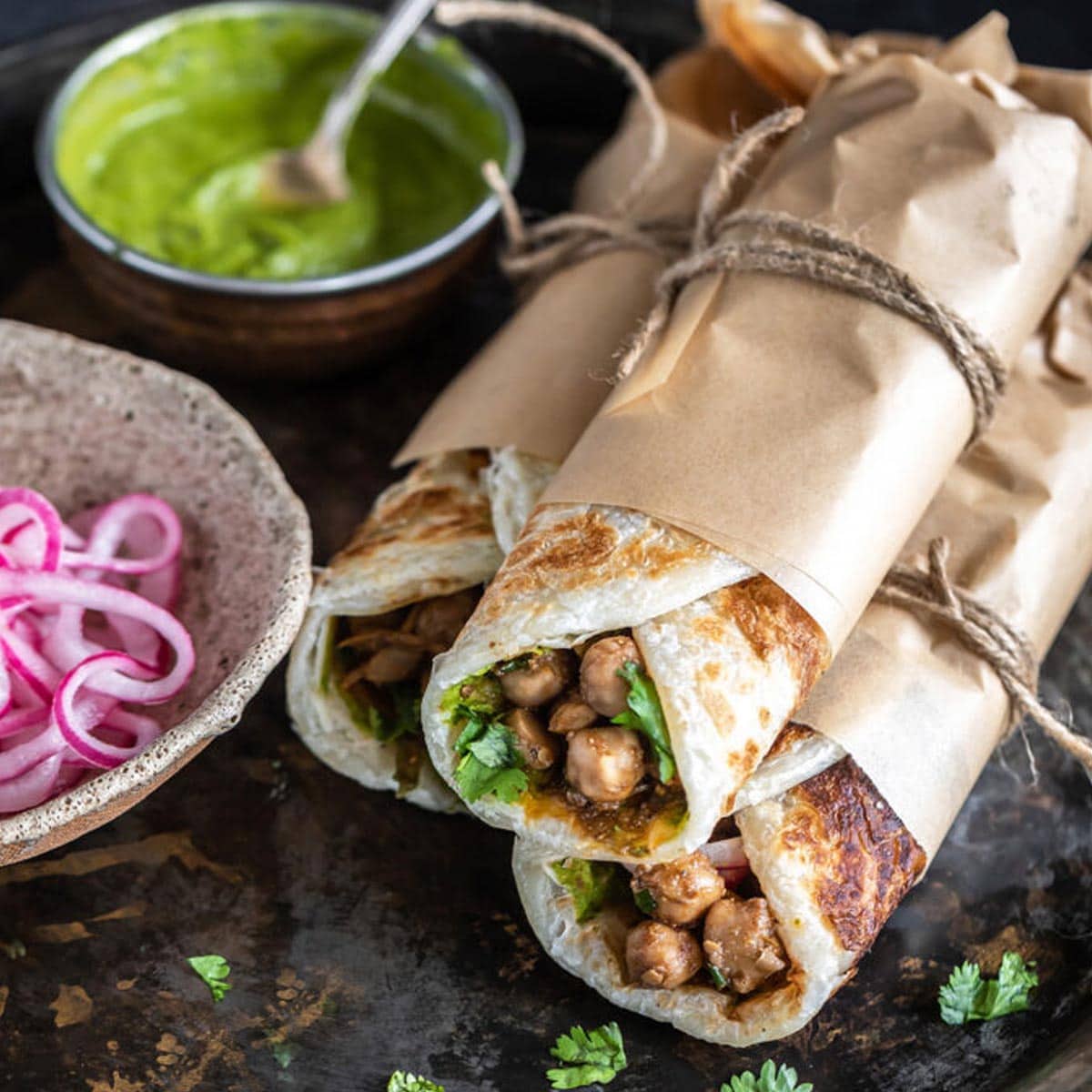 These Chana Kathi Rolls have spiced chickpeas wrapped in a flaky paratha with mint cilantro chutney and pickled onions. It's flavorful, quick, and easy and makes a great vegetarian meal.
Get the Chana Kathi Roll recipe.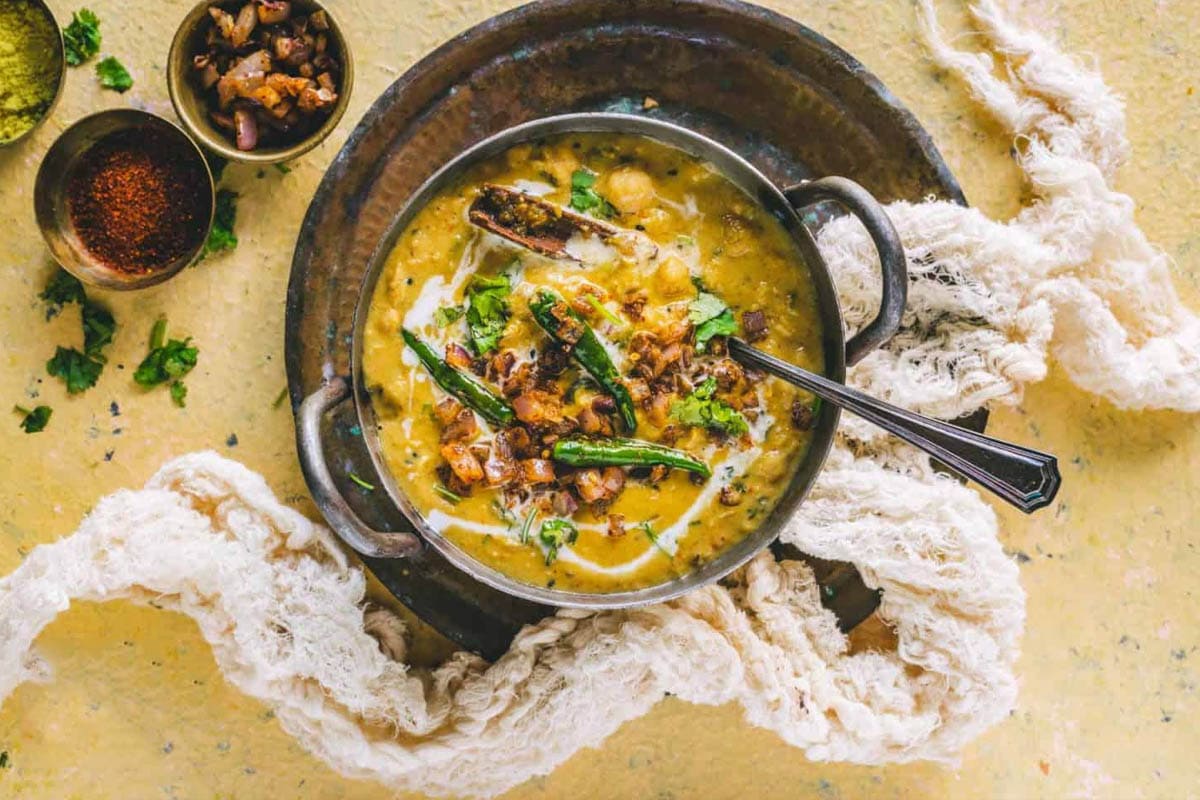 Shahjahani Dal is a unique recipe from Mughlai cuisine. This delicious Indian vegan stew is made with chickpeas and coconut milk. It's indulgent and comforting! You can make it in the Instant Pot or stovetop in 30 minutes.
Get the Chickpea Stew recipe.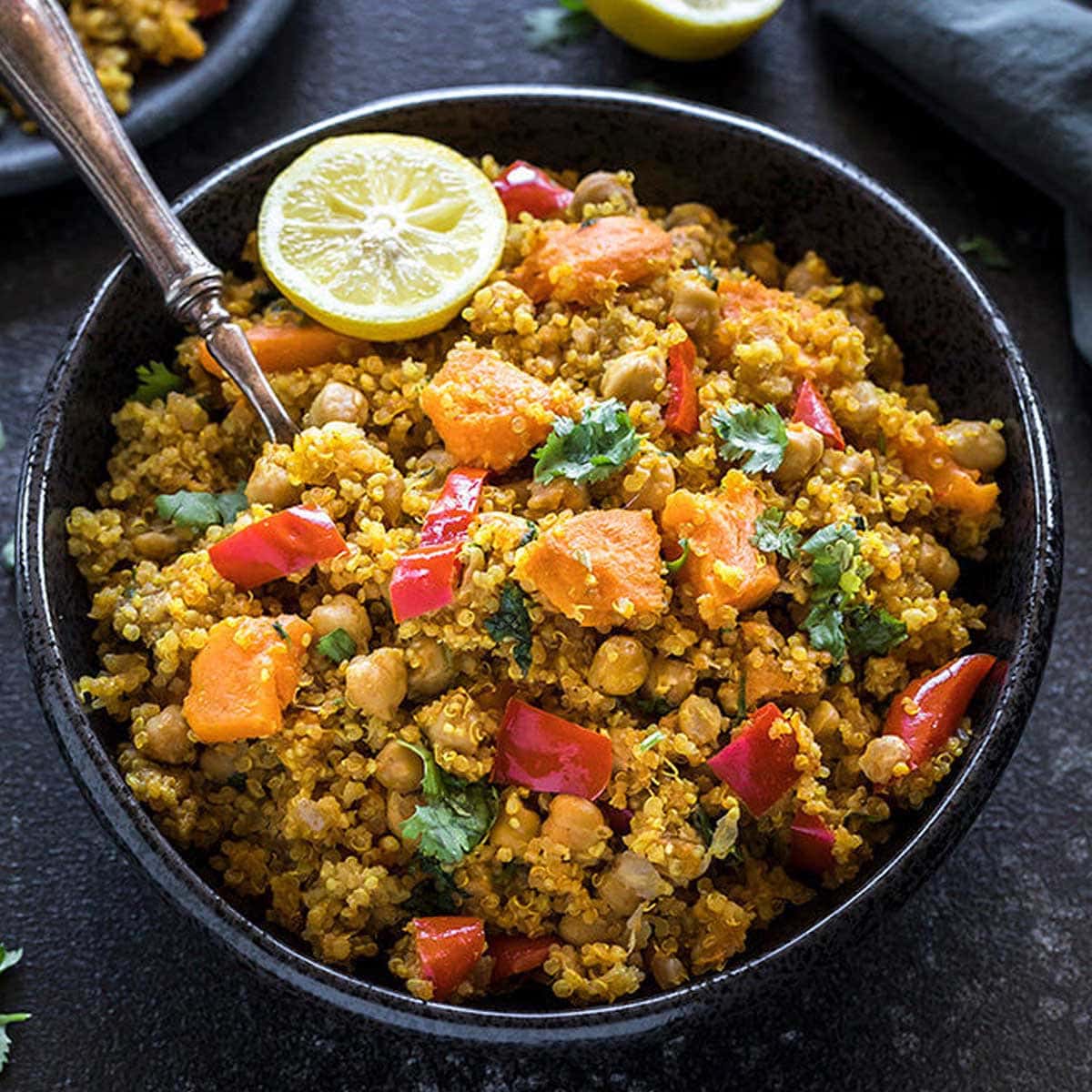 Curried Sweet Potato Chickpea Quinoa is a healthy, wholesome vegan meal. It is easy to put together this vegan and gluten-free dish. Eat it for lunch/dinner, or pack it for your lunch box.
Get the Chickpea Quinoa recipe.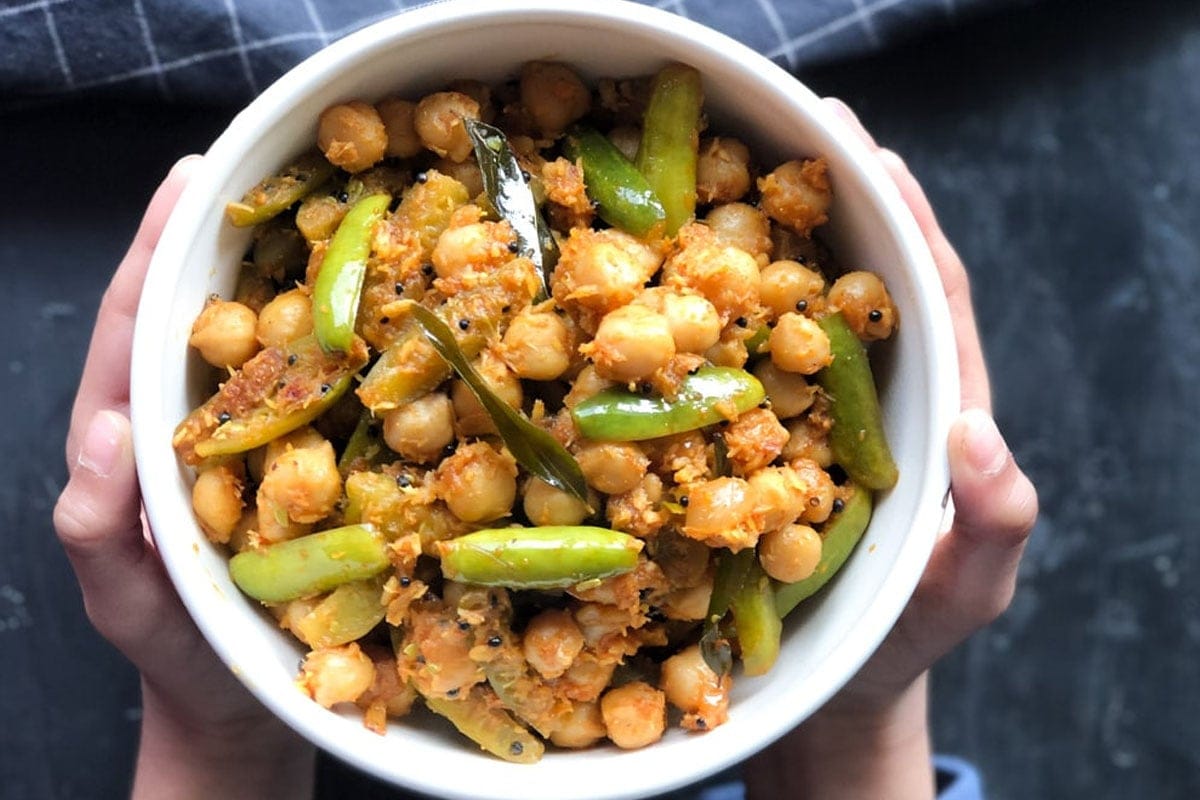 Kadle Manoli is a vegetarian side dish from Mangalore that combines white or brown chana (chickpeas) and tindora (ivy gourd) and is finished with grated coconut mixed with spicy masala. The result is a simple yet flavorful dish that will delight your senses.
Get the Chana Tendli recipe.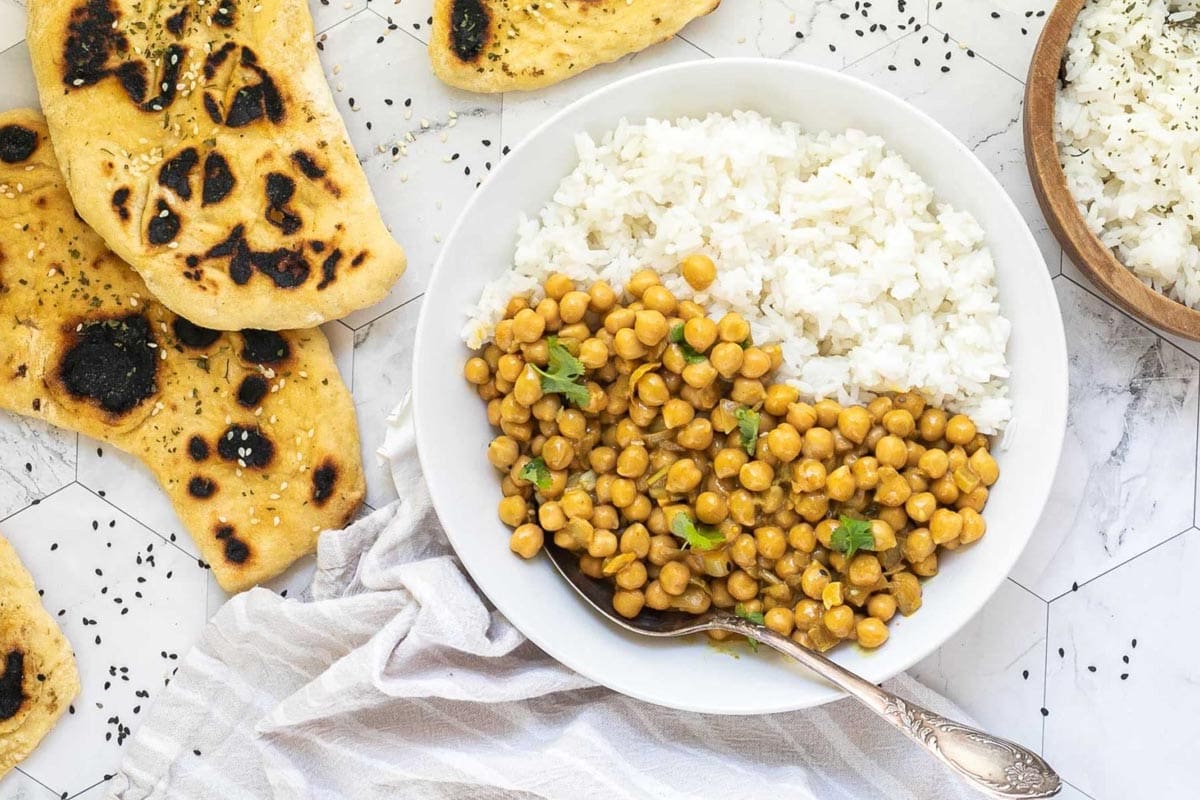 If you're looking for a quick and flavorful dinner option, this 25-minute chickpea korma recipe is the way to go!
This dish is loaded with protein and flavor thanks to chickpeas, coconut cream, and spices. Its creamy and aromatic sauce can be customized to your liking, making it a versatile recipe that appeals to everyone.
Get the Chickpea Korma recipe.
35 Indian Potato Recipes That Will Make You Want to Eat Potatoes Every Day!
If you're a fan of potatoes or looking for new ways to cook with them, you have come to the right place. Here you will find 35 of the best Indian potato recipes that are sure to make you fall in love with potatoes all over again!
Get the 35 Indian Potato Recipes.
21 Flavorful Indian Spinach Recipes That Will Make You Fall in Love with Greens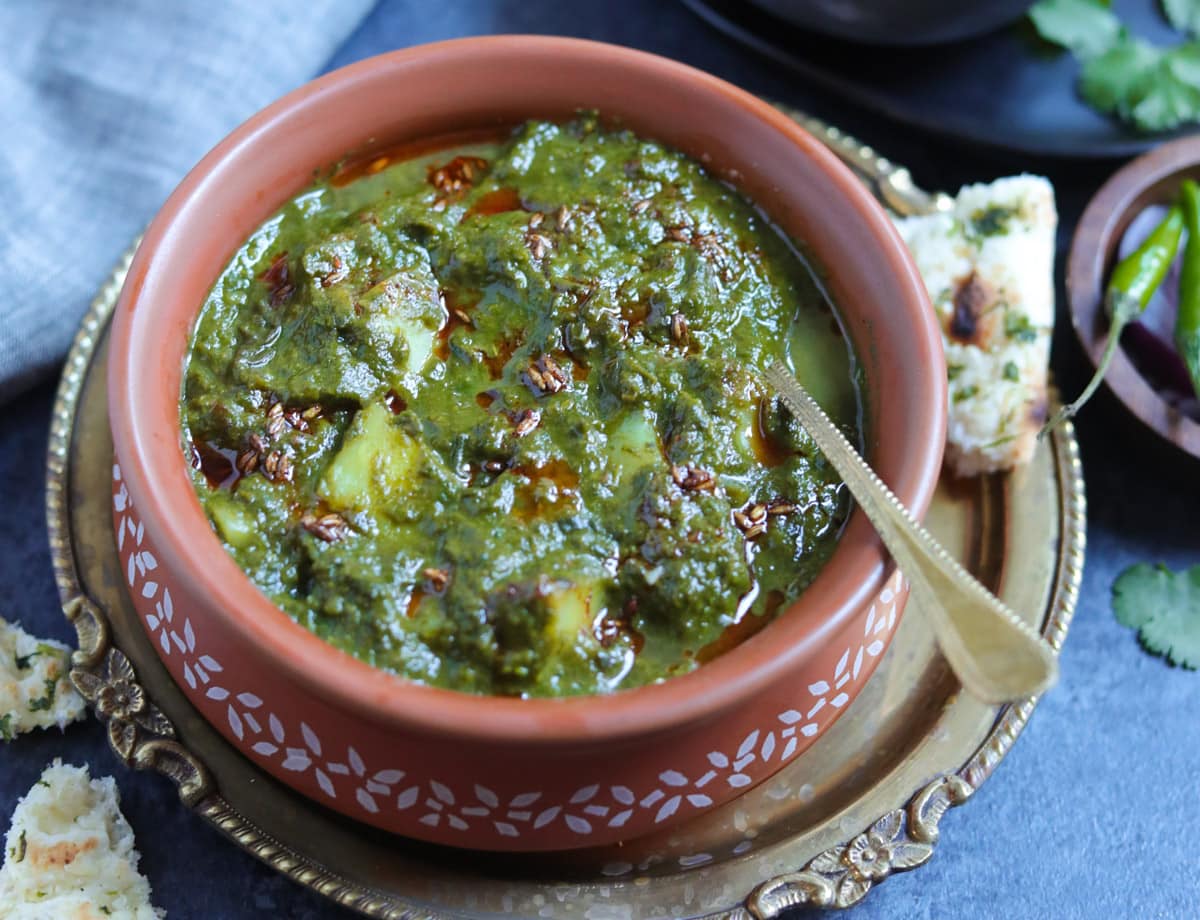 If you want to add more greens to your diet, spinach is an excellent choice! And there is no better way to enjoy this nutritious vegetable than with these 21 Indian spinach recipes.
Get the 21 Indian Spinach Recipes.
13 Sweet and Savory Indian Sweet Potato Recipes You Need to Try Today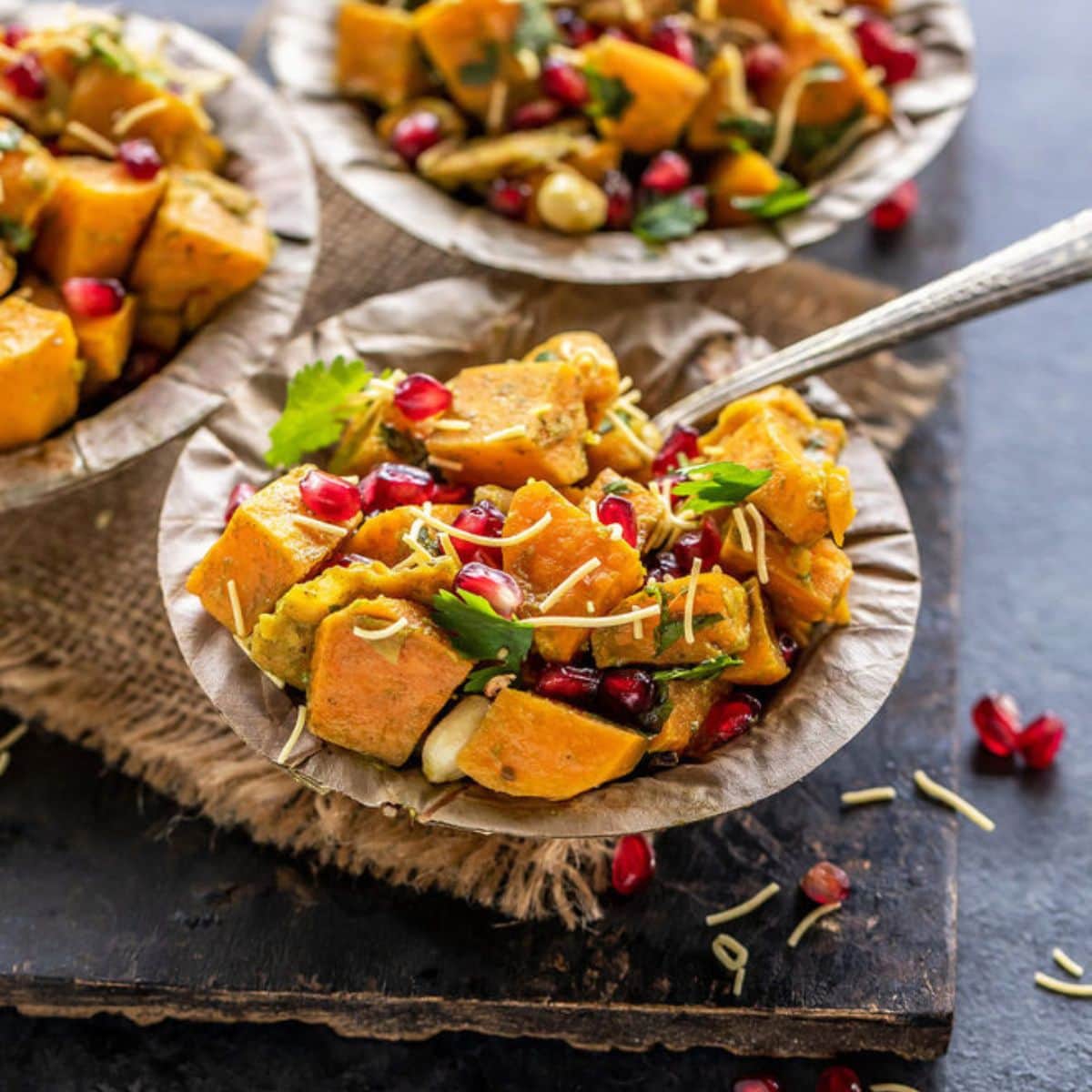 From comforting sweet potato curry to spicy potato tikki and sweet desserts, these 13 Indian Sweet Potato Recipes are the best you will find!
Get the 13 Indian Sweet Potato Recipes.