If you're a fan of potatoes or looking for new ways to cook with them, you have come to the right place! Here you will find 35 of the best Indian potato recipes that are sure to make you fall in love with potatoes all over again!
Potatoes are a staple ingredient in Indian cuisine, and for a good reason! They're versatile and can be used in a variety of dishes, from spicy potato curries to crispy snacks, stir fry's, and flatbreads. So get ready to dig in and explore these amazing Indian potato dishes!
If you like potatoes, this will be your new favorite – Bombay Potatoes. Baby Potatoes cooked with aromatic spices are perfect for serving as an appetizer or a side dish. These delicious and easy spicy Bombay Potatoes take just 20 minutes.
Get the Bombay Potatoes recipe.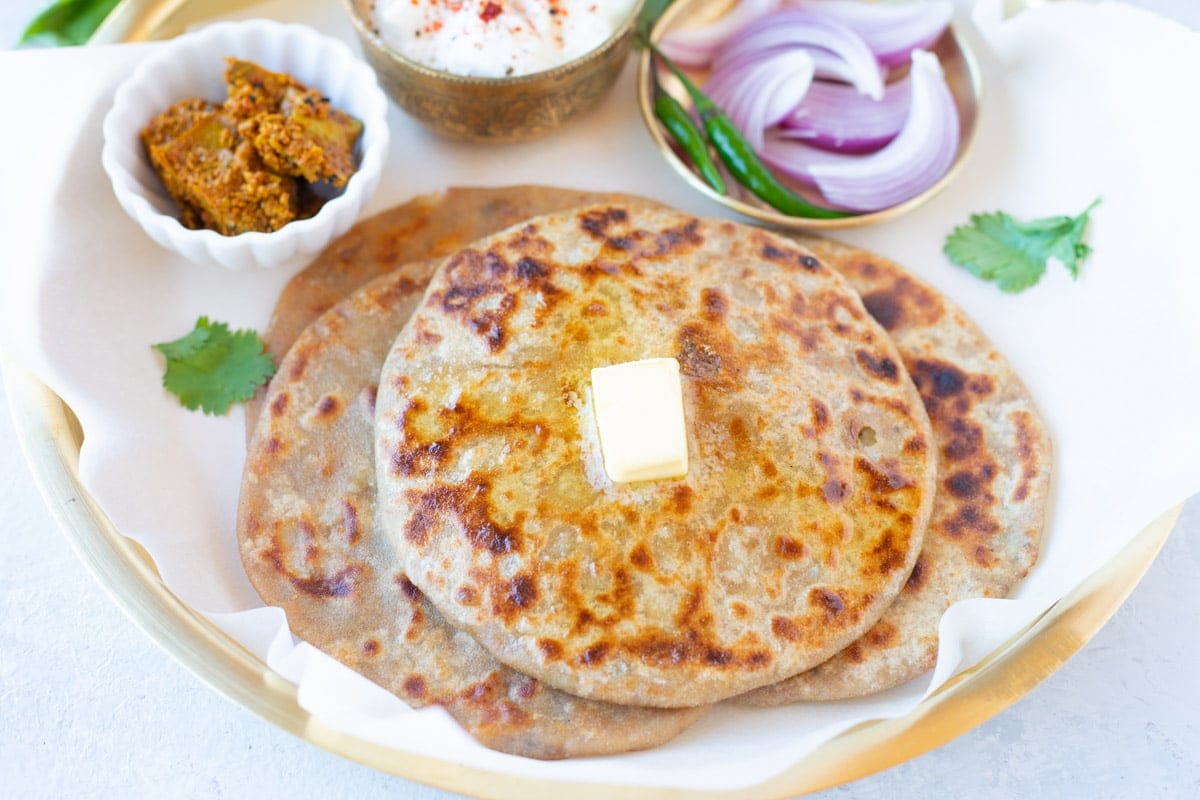 Aloo Paratha is a special North Indian layered flatbread stuffed with spiced mashed potatoes. The parathas are roasted on the hot griddle until crisp and brown on the outside. Serve them with pickle and yogurt for an authentic Punjabi breakfast.
Get the Aloo Paratha recipe.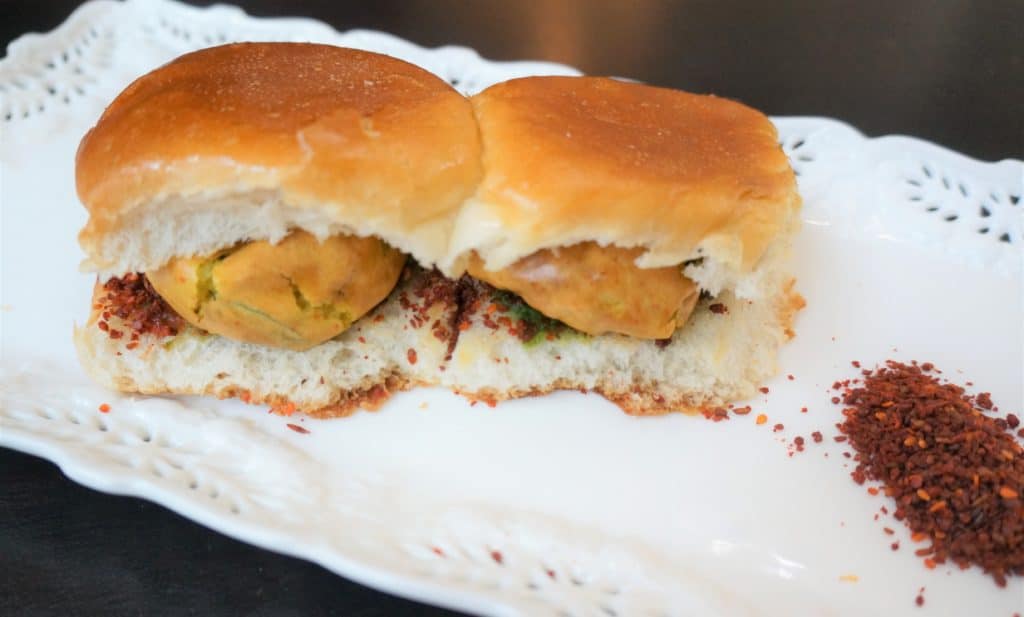 Vada Pav is the humble street food of Mumbai that every person can afford and find easily. These can also be called Spicy Potato Sliders. A fried potato fritter, or vada, is stuffed between mini-burger buns called pav, along with sweet and spicy sauces or chutney.
Get the Vada Pav recipe.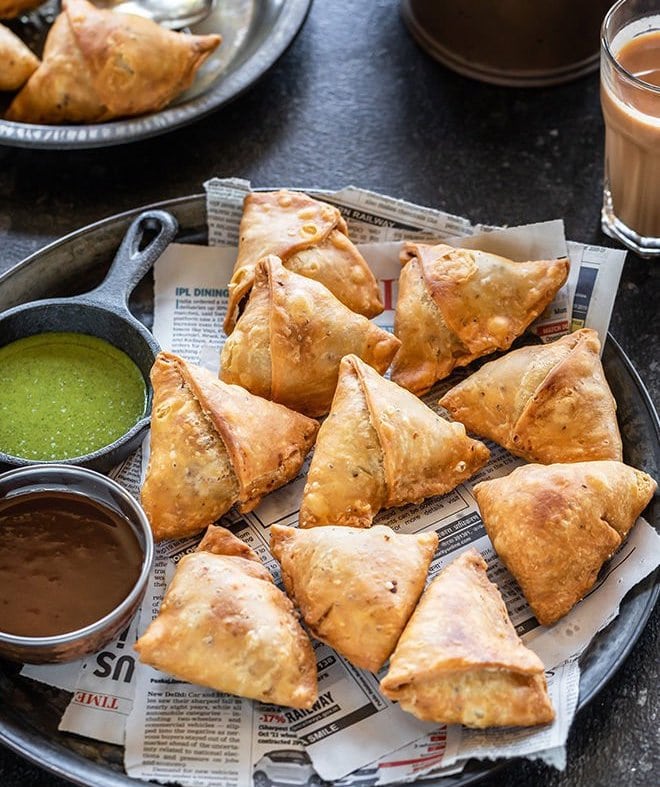 The most popular Indian appetizer for any party. Make perfect homemade flaky and crispy samosas. Serve them with your favorite dip or chutney. This will be a hit at any party or get-together!
Get the Samosa recipe.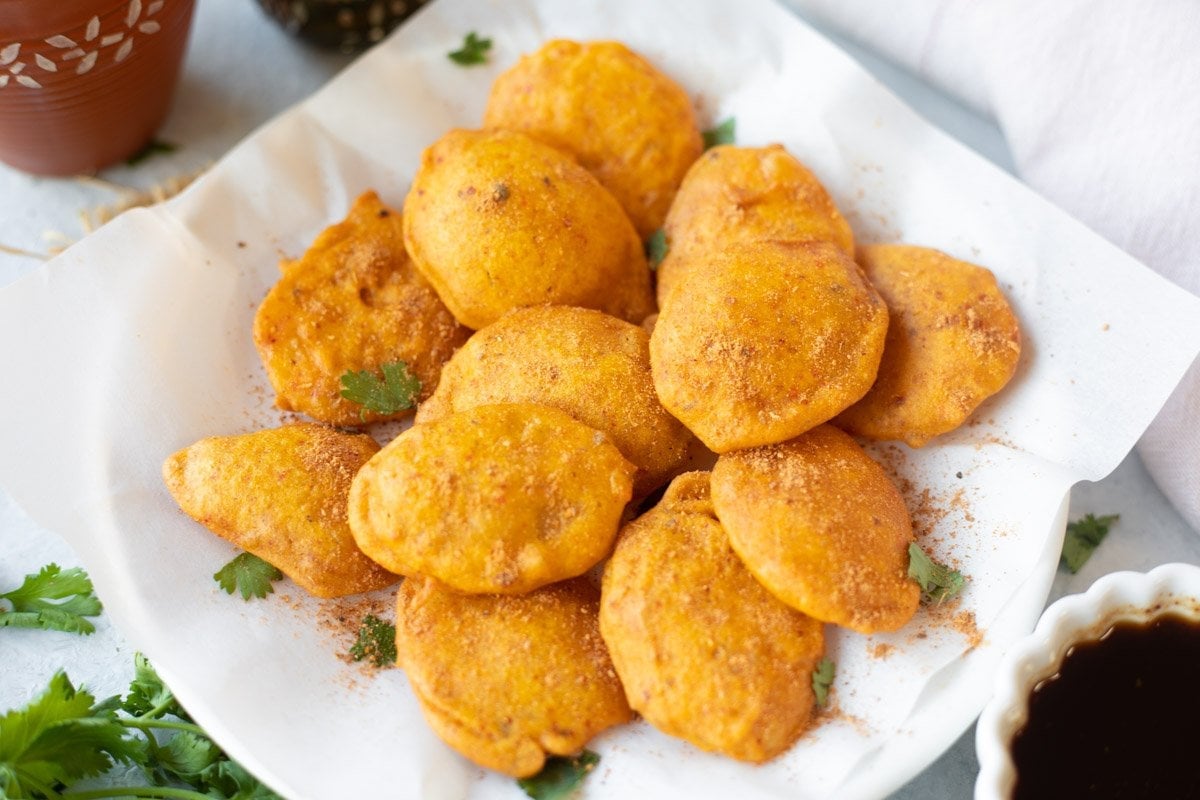 Aloo Pakora is a savory delight! These crispy potato fritters are made with sliced potatoes dipped in an earthy, spiced gram flour batter and fried until golden. They taste best when they're served warm and fresh!
Get the Aloo Pakora recipe.
Tandoori Aloo Tikka is a delicious appetizer perfect for summer grilling. Baby potatoes are marinated in a delightful combination of yogurt and spices, threaded to skewers, and grilled to create this heavenly appetizer.
Get the Tandoori Aloo Tikka recipe.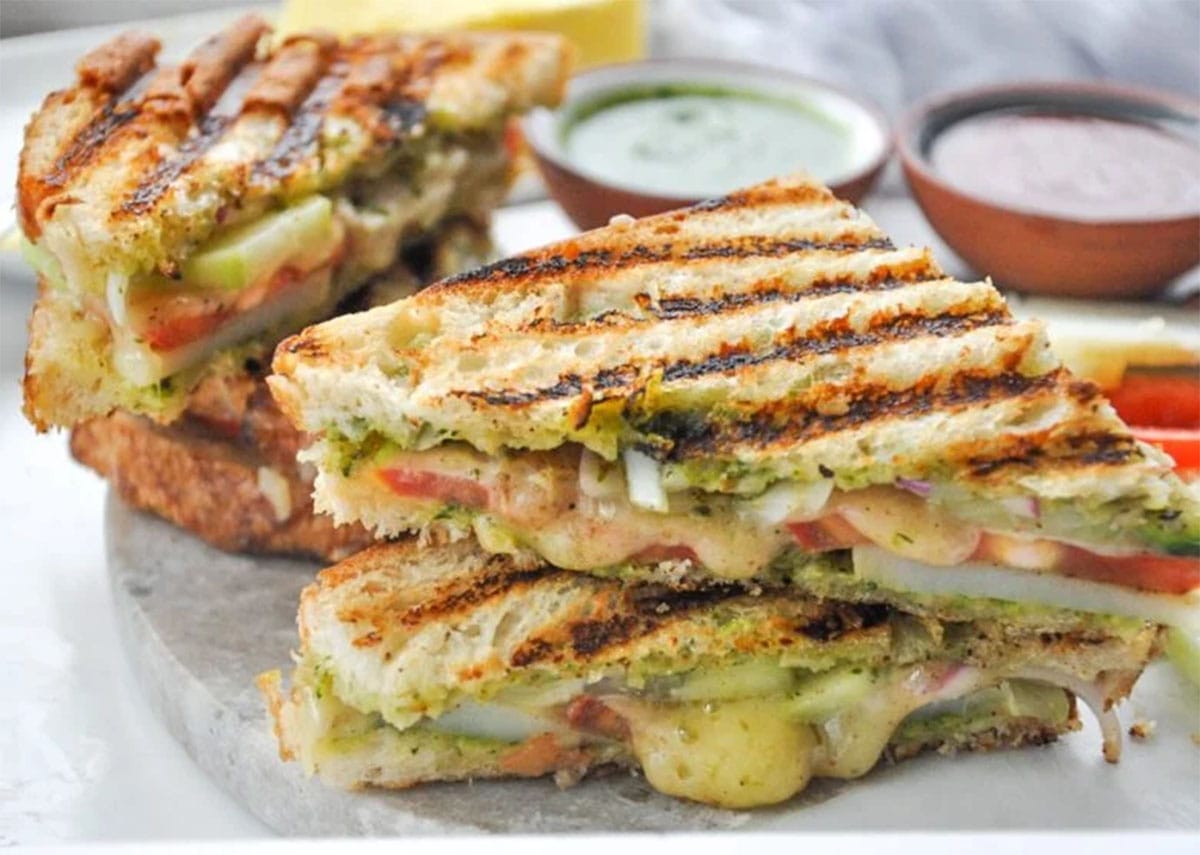 Bombay Grilled Sandwich is popular Indian street food from the city of Mumbai. This vegetable sandwich is made with green chutney, butter, veggies, cheese, and chat masala.
Get the Bombay Sandwich recipe.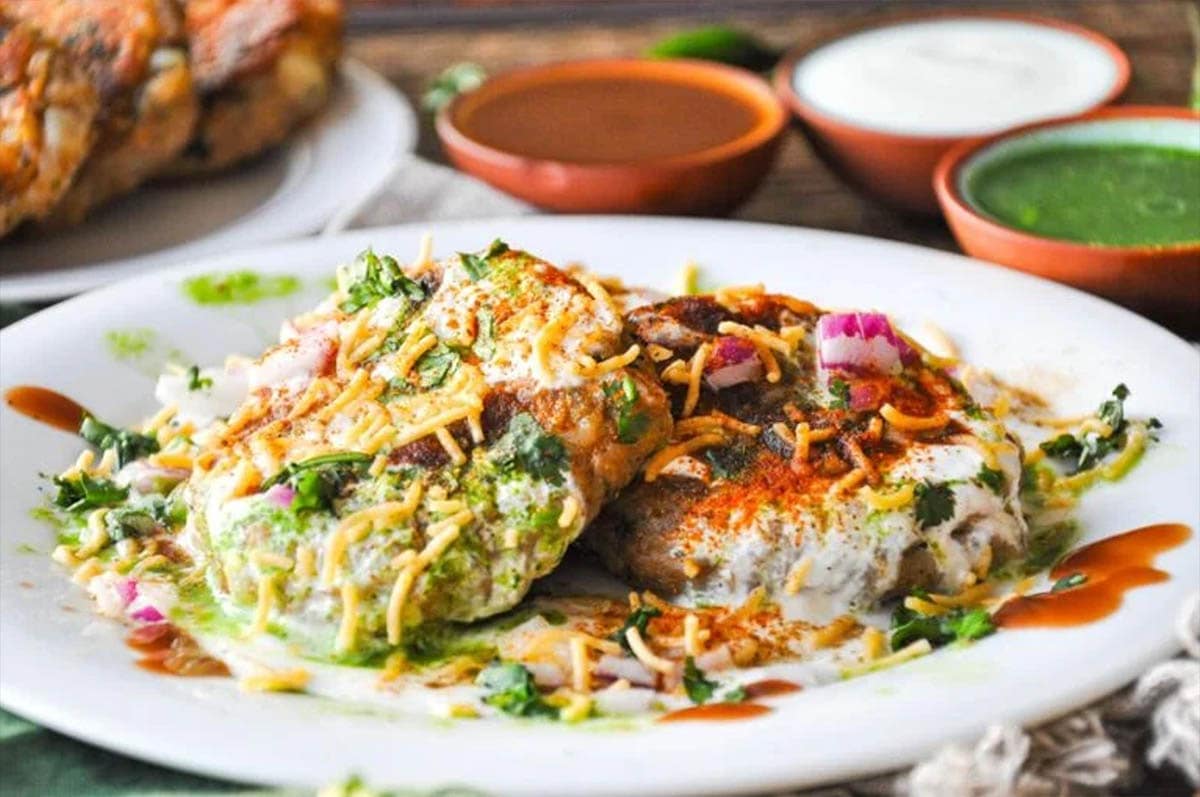 Aloo Tikki Chaat is a famous Indian Street Food. A crispy Indian potato patty flavored with spices and topped with yogurt and chutneys.
Get the Aloo Tikki recipe.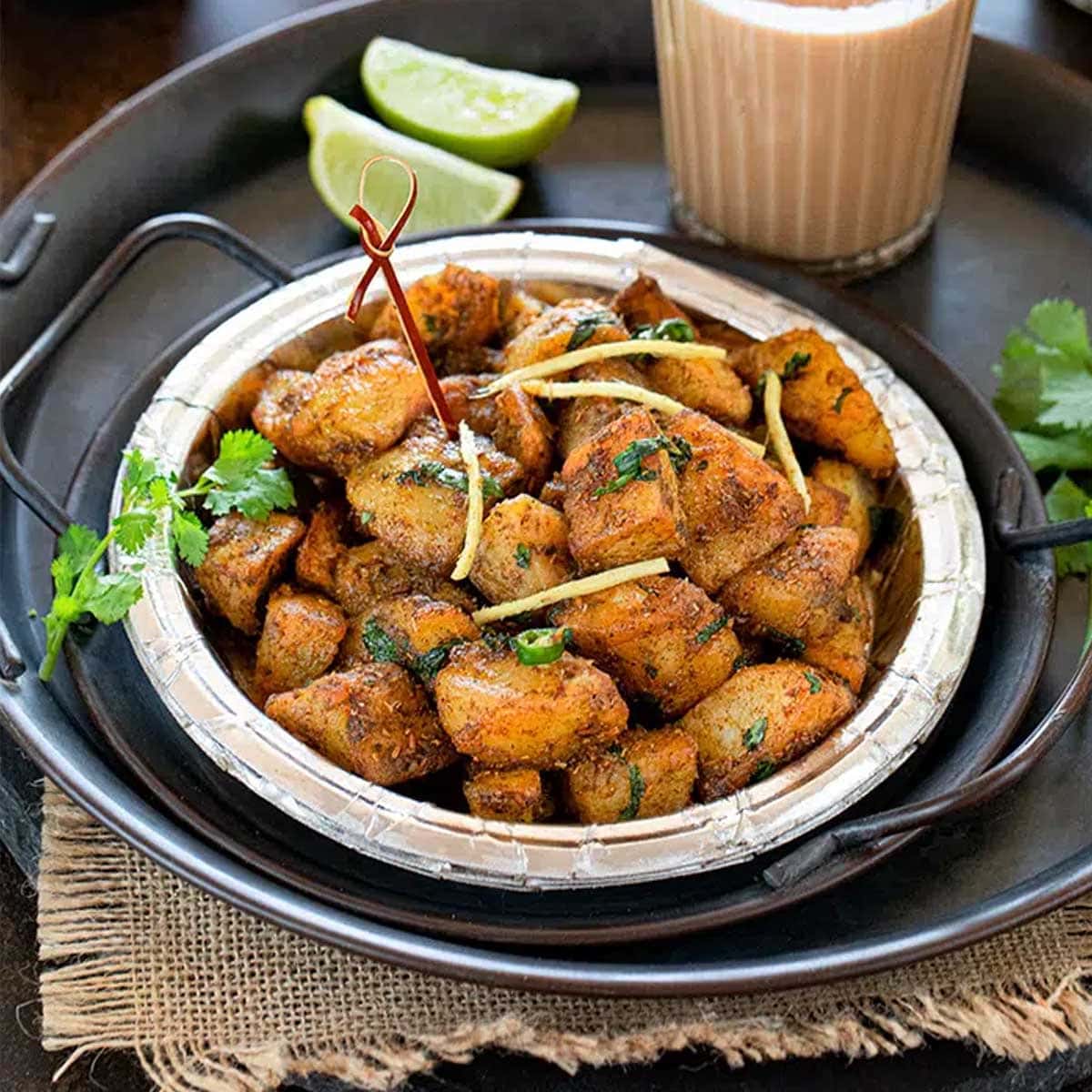 Delhi-style aloo chaat is a flavorful dish made with shallow-fried potatoes topped with chutneys for the ultimate deliciousness that eminently delights the taste buds.
Get the Aloo Chaat recipe.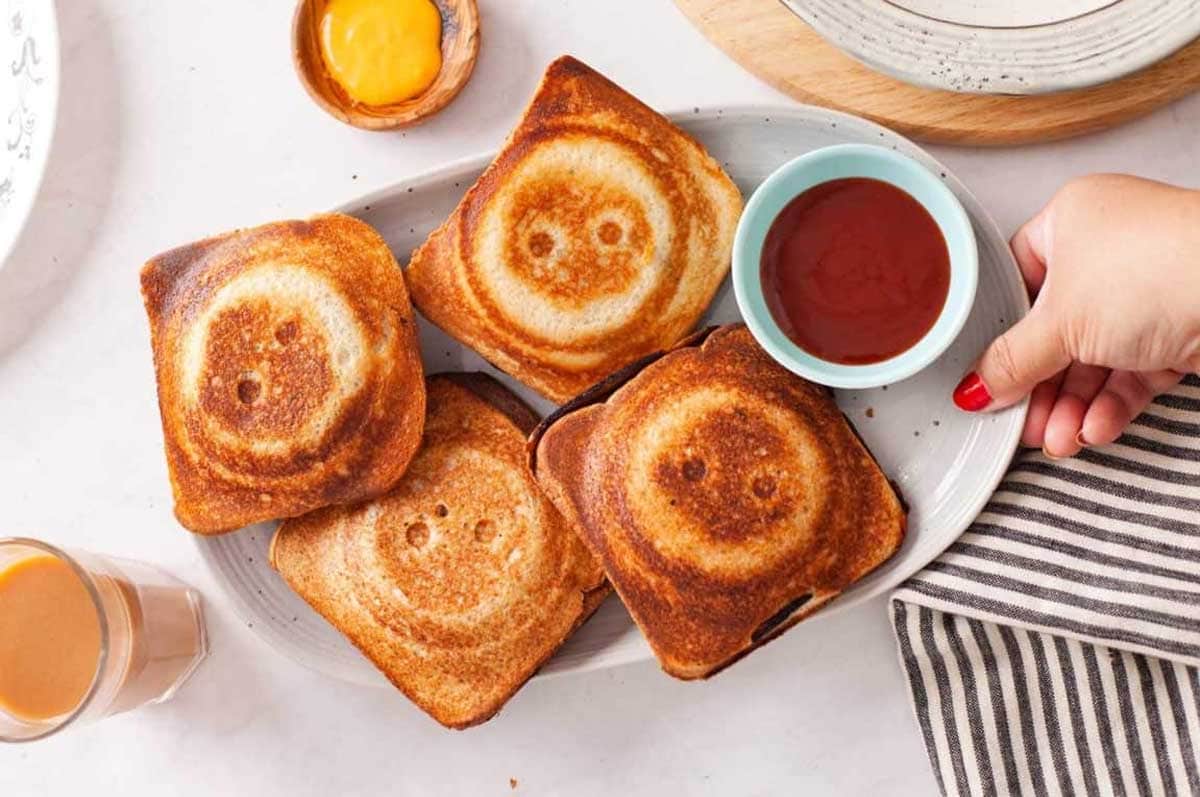 Potato sandwich or Aloo sandwich is an easy indian breakfast sandwhich made with aloo masala (mashed potato), few spices, green chillies and herbs. The spicy mashed potato filling is stuffed in between slices of bread and toasted to golden perfection.
Get the Aloo Sandwich recipe.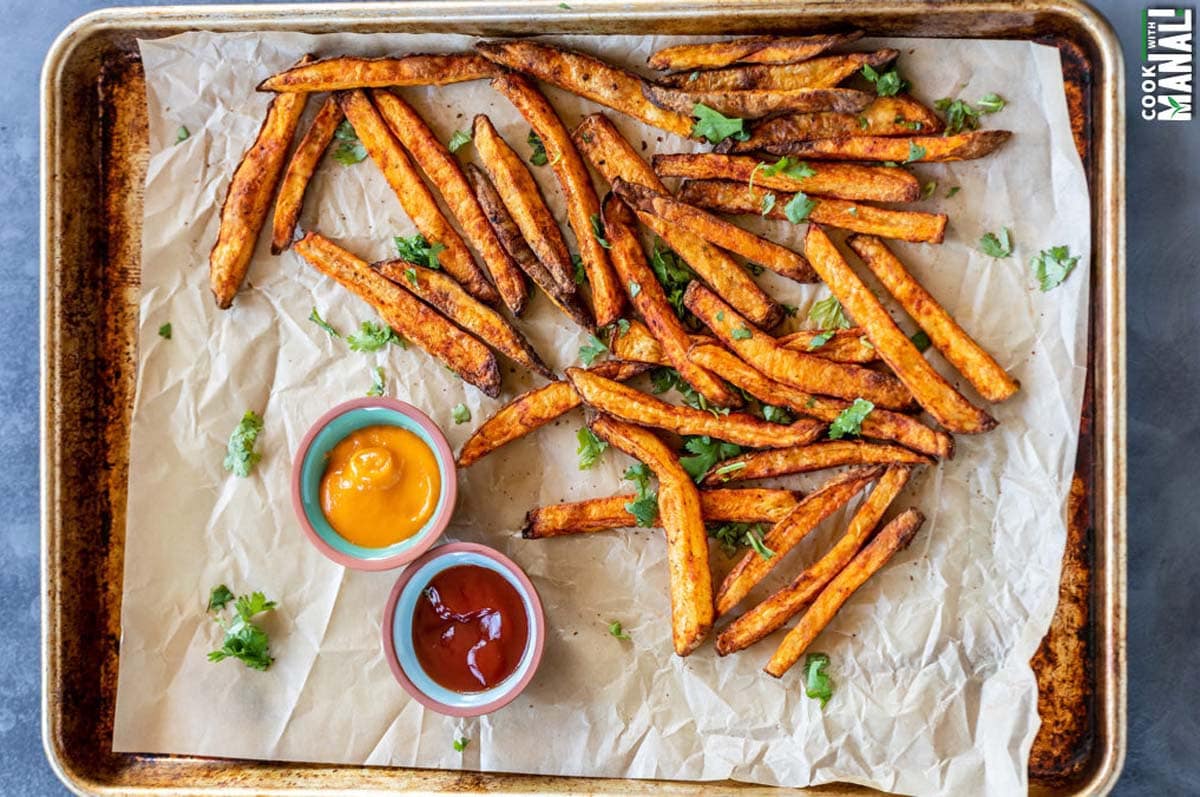 These Masala Fries are spicy, tangy, and easy to make in the air fryer. Dip in your favorite sauce and enjoy it as a snack or serve it along with your favorite burger!
Get the Masala Fries recipe.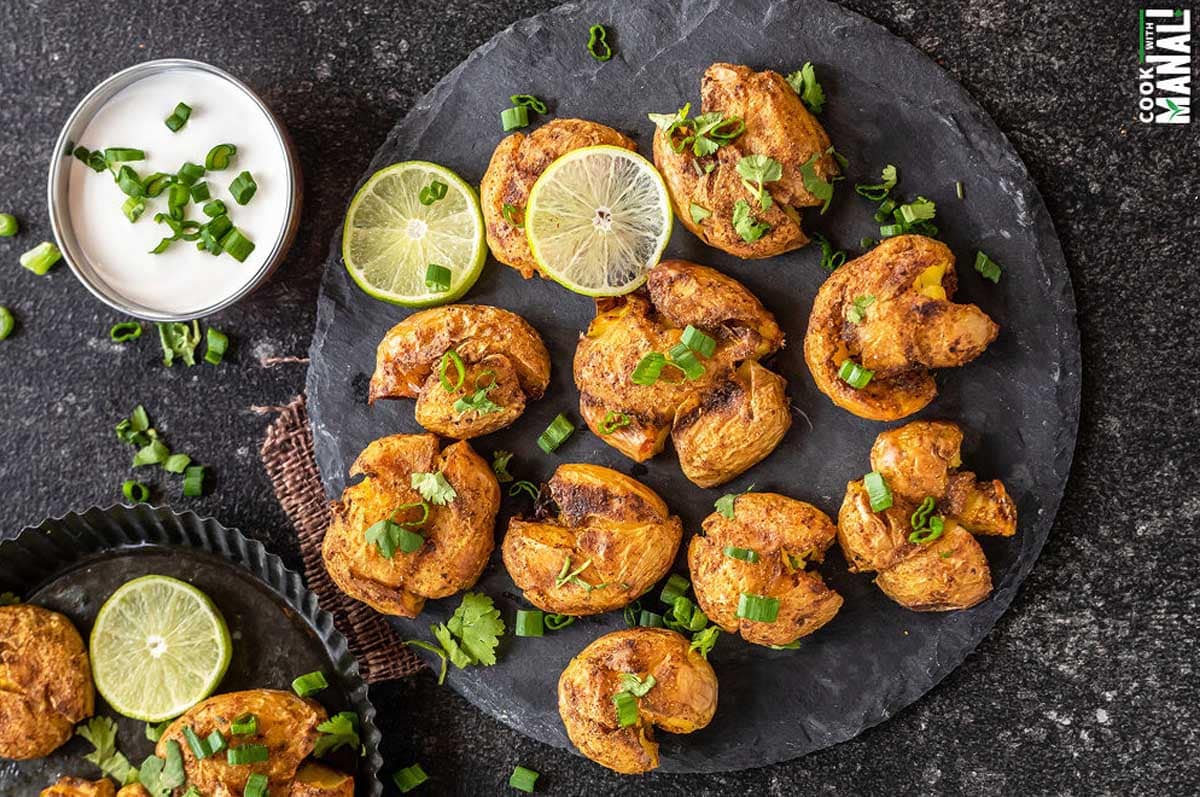 Easy Masala Smashed Potatoes! These smashed potatoes are flavored with Indian spices and make a great appetizer for the holidays or any party! They are also vegan.
Get the Masala Smashed Potatoes recipe.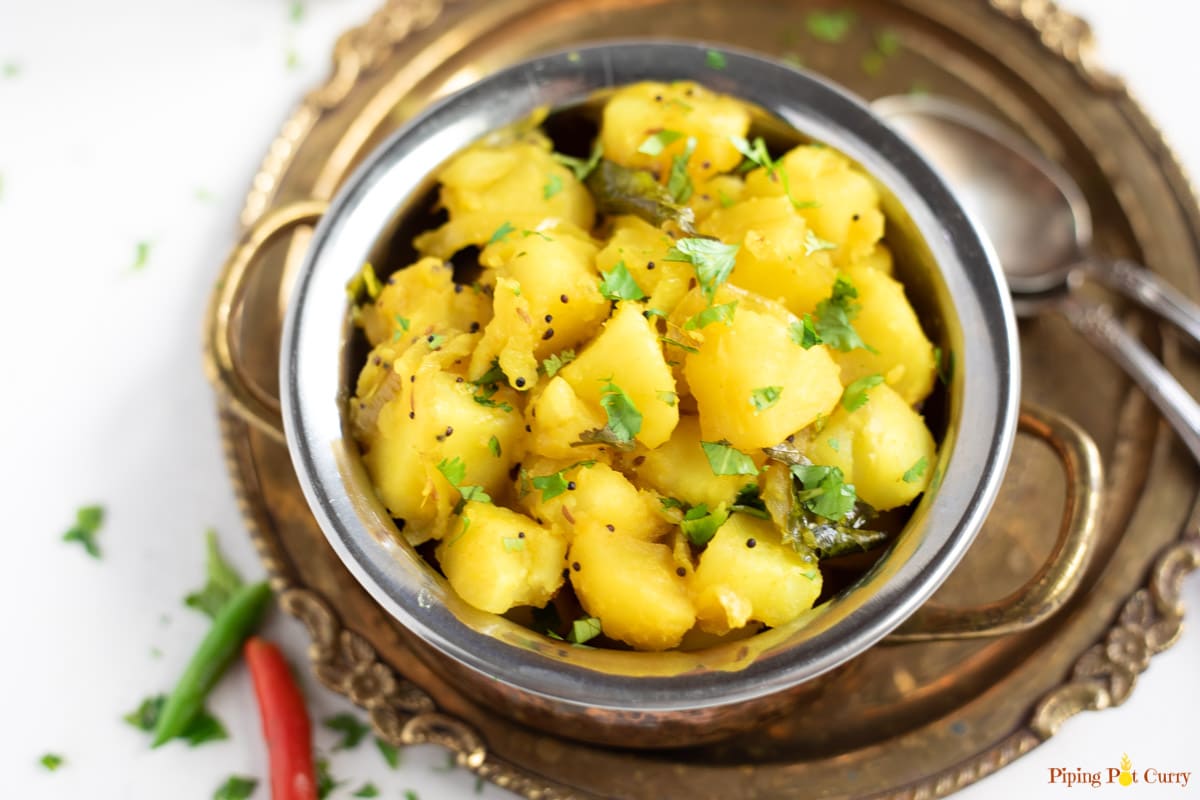 This delicious Potato Masala is easy to make as a one-pot dish in the instant pot or stovetop. These vegan potatoes can be used as a stuffing for the South Indian favorite, Masala Dosa, or as the popular Maharashtrian Batata Bhaji to pair with poori.
Get the Potato Masala recipe.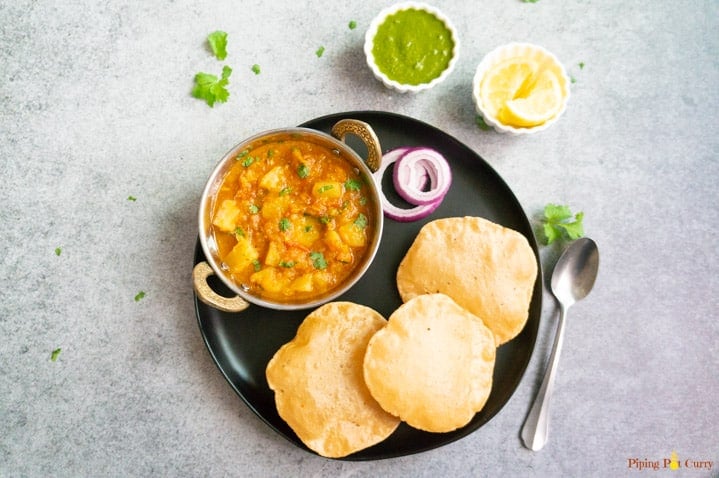 Easy and comforting Potato Curry in Tomato Gravy made in the Instant Pot. This North Indian Potato Curry is popularly known as Aloo Rasedar. Aloo means potato, and Rasedar is a thin tomato gravy.
Get the Potato Curry recipe.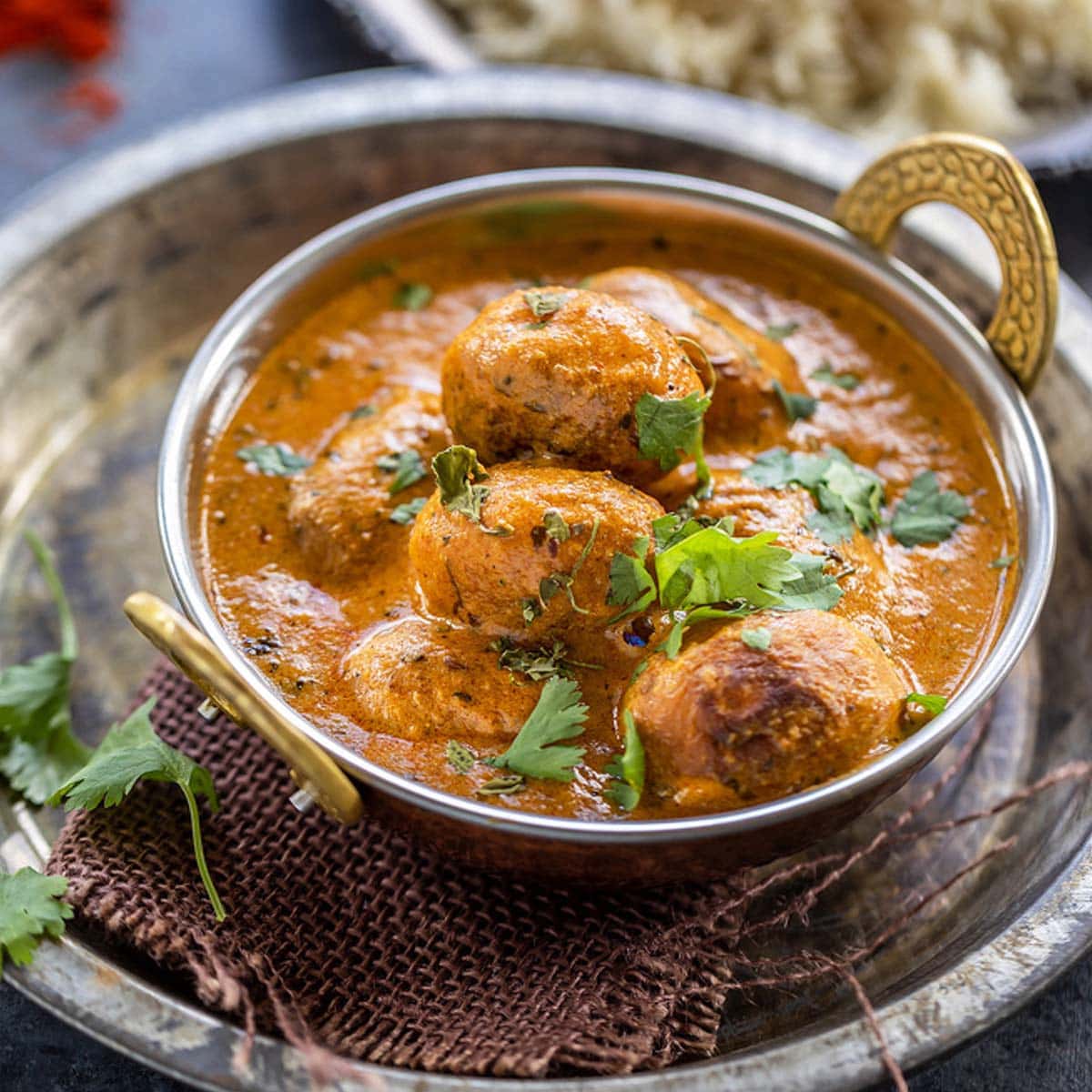 Dum Aloo is a popular North Indian curry made with baby potatoes. Cooked with fragrant spices and creamy yogurt, this curry is so flavorful and goes well with rice or naan.
Get the Dum Aloo recipe.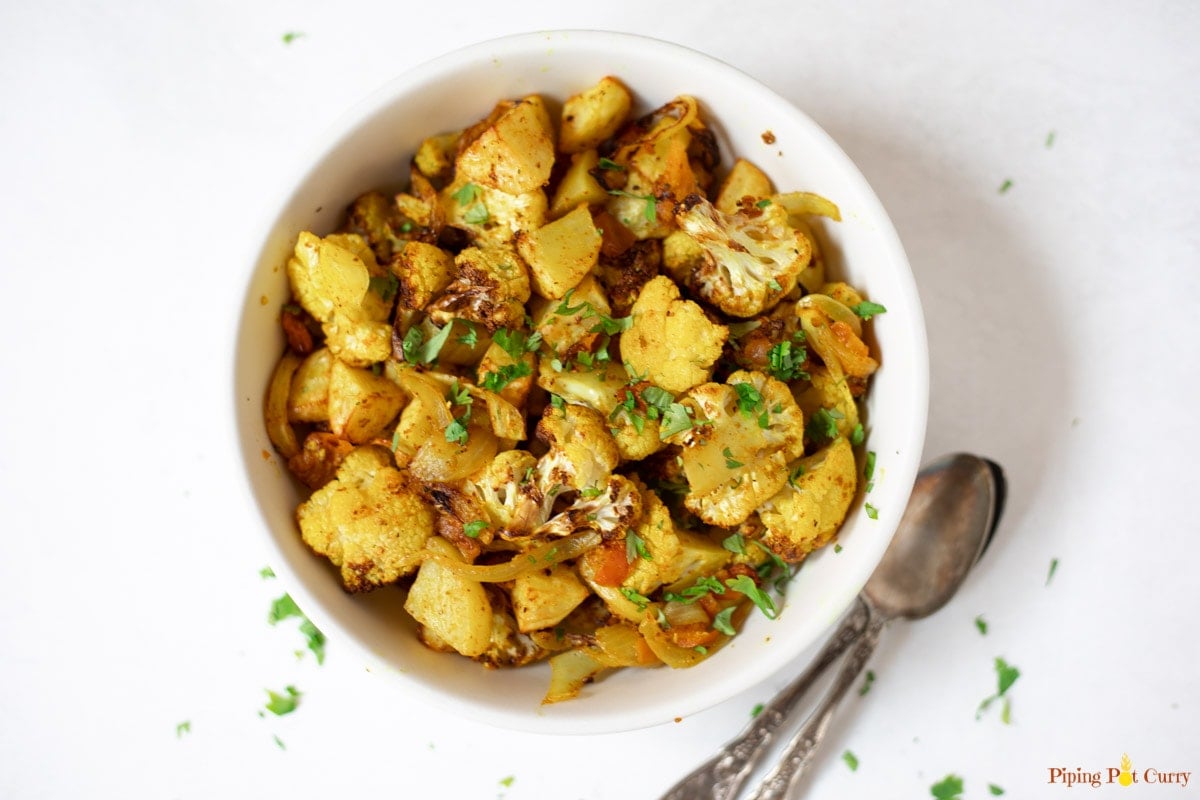 This Roasted Aloo Gobi is a classic vegetarian Indian dish made with potatoes and cauliflower tossed in aromatic spices, and roast in the air-fryer or oven. It is easy to make and can be served as a side with any entree or with roti or naan.
Get the Aloo Gobi recipe.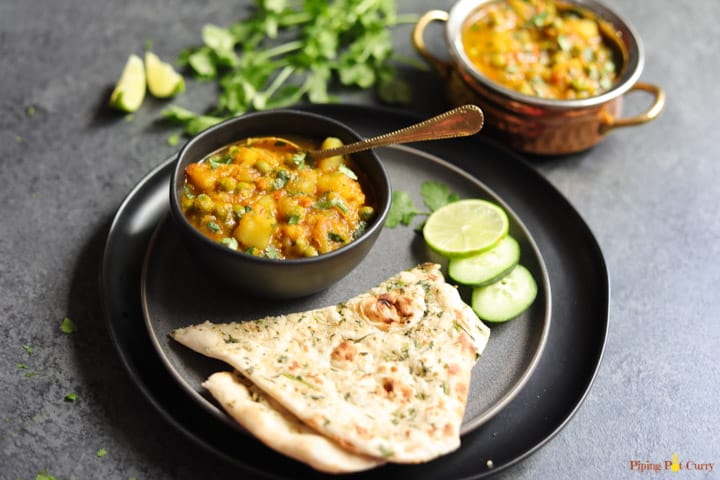 Aloo Matar is a quick and easy Indian potatoes and peas curry made in the Instant Pot or stovetop. This vegan and gluten-free Aloo Matar Masala is perfect for a delicious warm weeknight dinner!
Get the Aloo Matar recipe.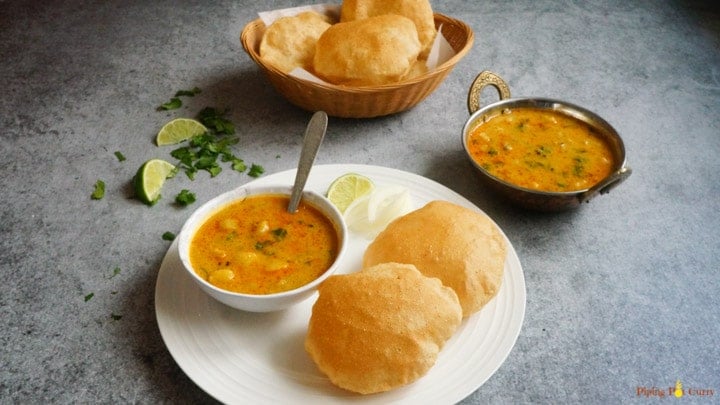 Potato Curry in Yogurt Sauce or Dahi Aloo is an easy and delicious comfort food made with minimal ingredients. This curry is made with just two main ingredients, potatoes and yogurt, tempered with cumin seeds, ginger, and flavorful spices.
Get the Dahi Aloo recipe.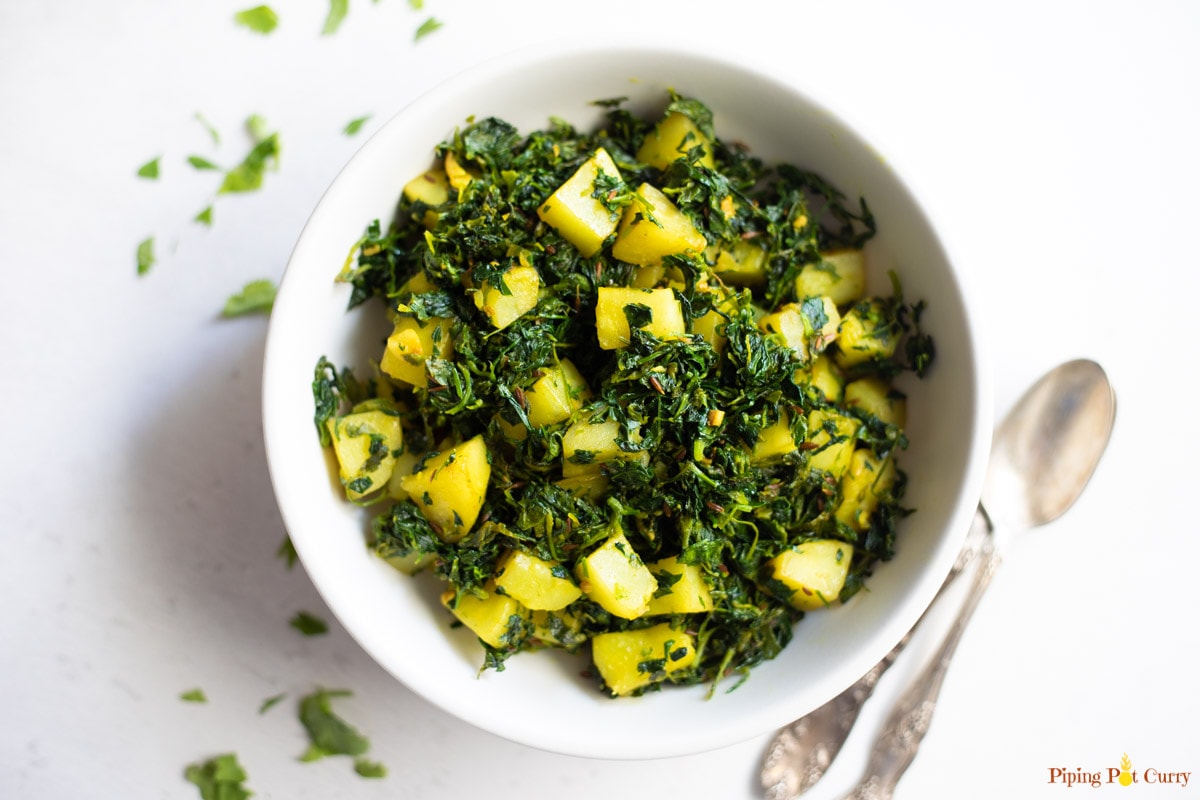 Aloo Methi is a simple Indian stir-fry packed with flavor and nutrition. Sautéed in mild spices, Aloo (Potato), and Methi (Fenugreek leaves) is a wonderful accompaniment to your meal.
Get the Aloo Methi recipe.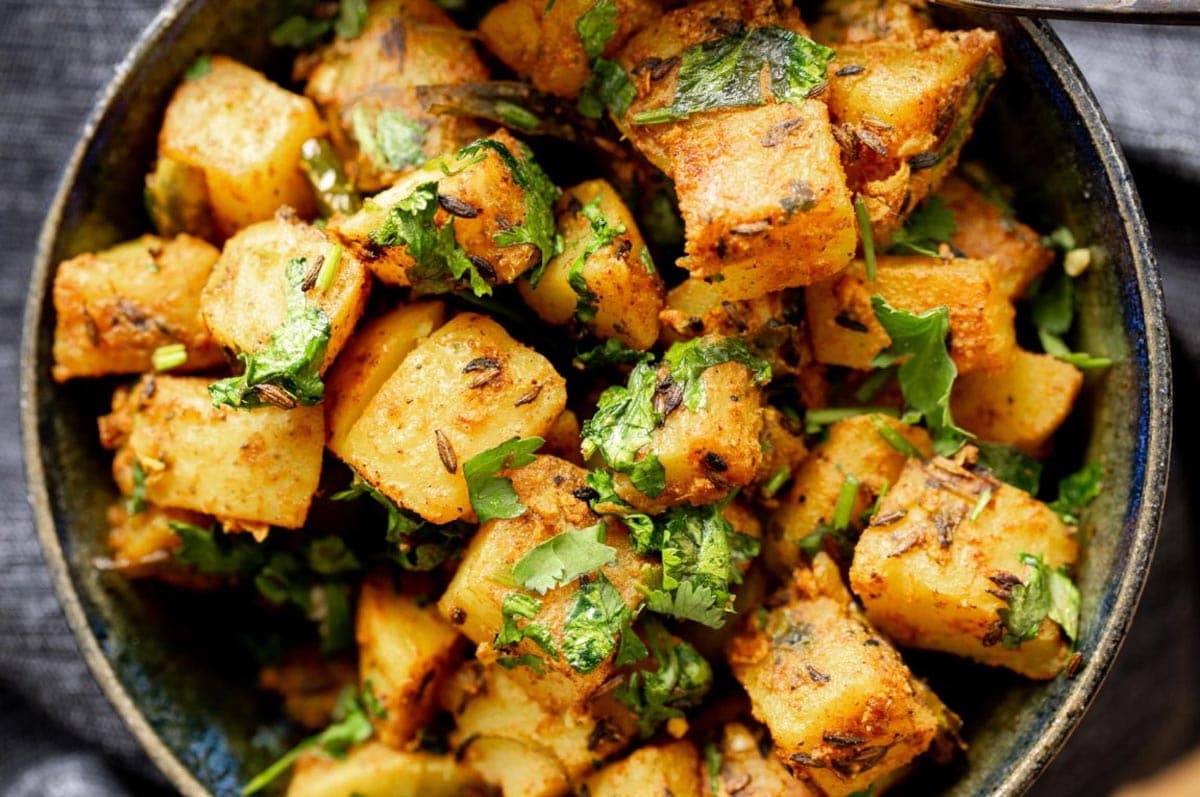 Jeera Aloo are cumin spiced potatoes which are a favorite Indian side dish and the best way to add a touch of India to your meals! Serve as a side or add to bowls or breakfast.
Get the Jeera Aloo recipe.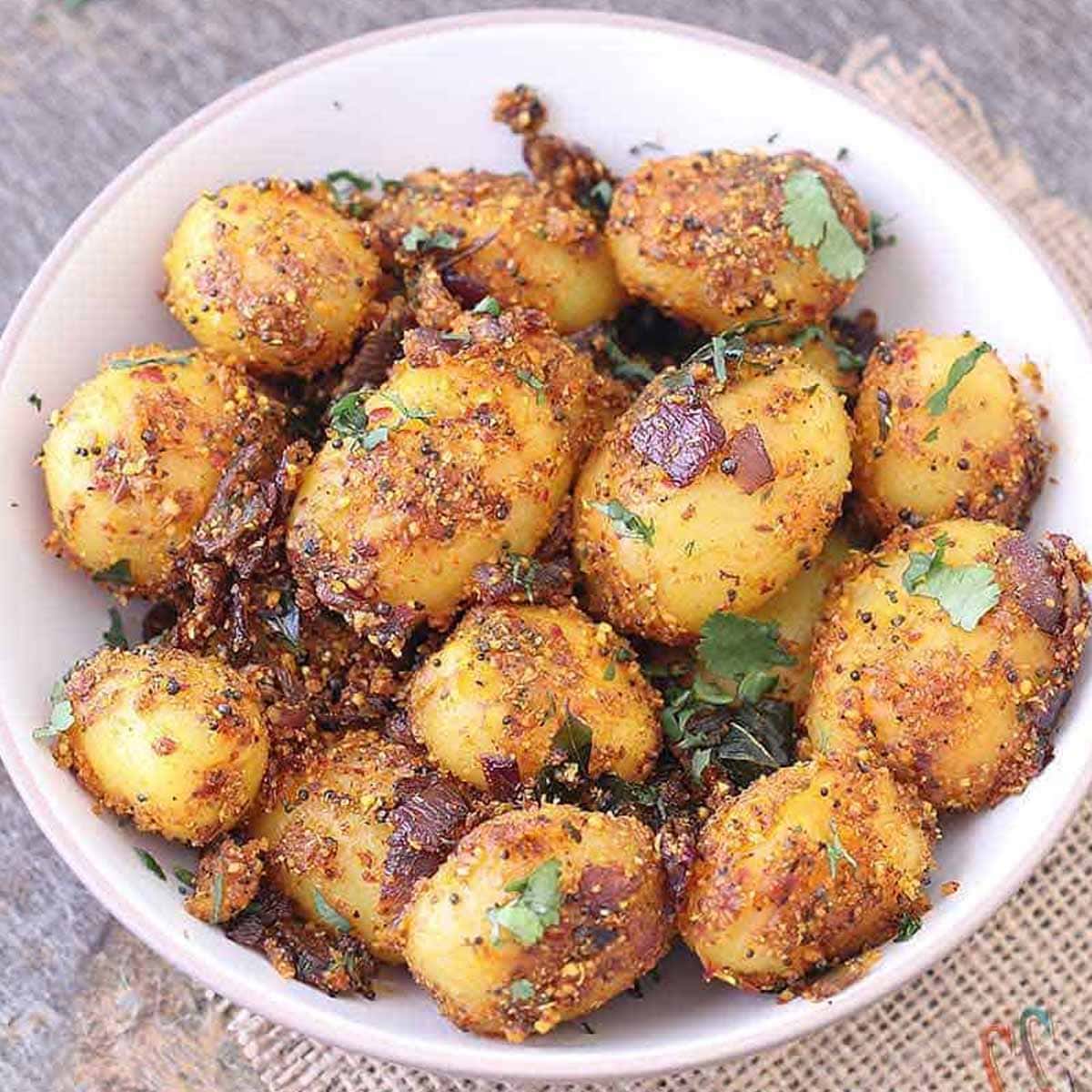 This Chettinad Potato Fry is a flavorful, spicy, delectable, and easy potato dish. These are super simple to make, and perfect as a side with any entree. They will definitely elevate your lunch and dinner!
Get the Chettinad Potato recipe.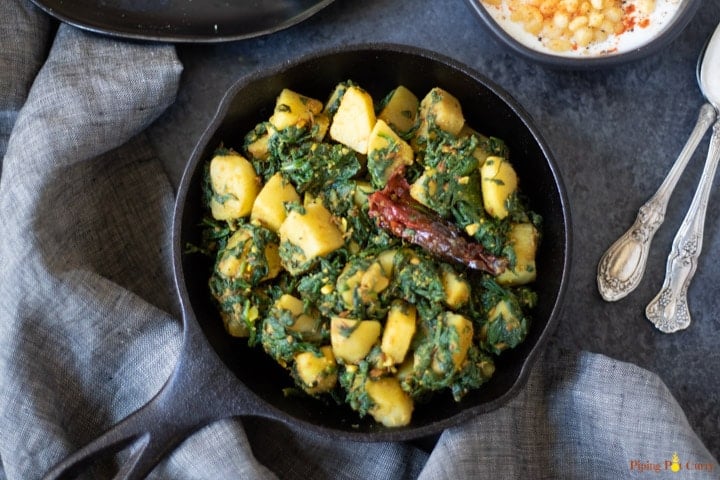 Aloo Palak is a delicious and nutritious Indian potato & spinach stir fry. This Punjabi Aloo Palak recipe can be made in just 25 minutes and is perfect for a quick healthy weeknight dinner!
Get the Aloo Palak recipe.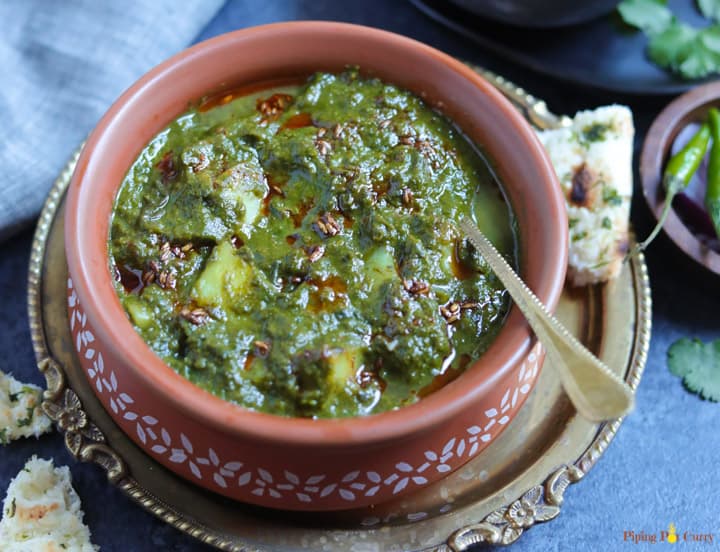 Saag Aloo is a popular delicious North Indian Curry. It is made with spinach and potatoes cooked with ginger, garlic, onions, and aromatic spices. This is a simplified one-pot version of the authentic Saag Aloo which takes just 30 minutes to prepare.
Get the Saag Aloo recipe.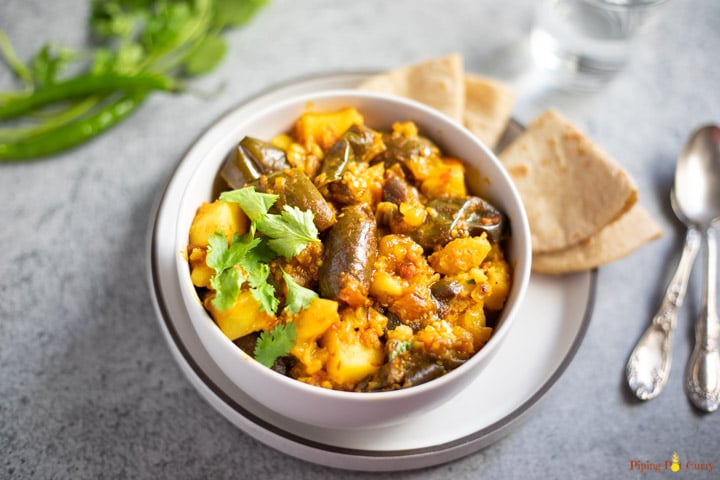 Aloo Baingan Masala is an easy one-pot curry made with potatoes, eggplants, and aromatic spices. A vegan and gluten-free Potato & Eggplant Curry that is a perfect side with roti, naan, or parathas.
Get the Aloo Baingan recipe.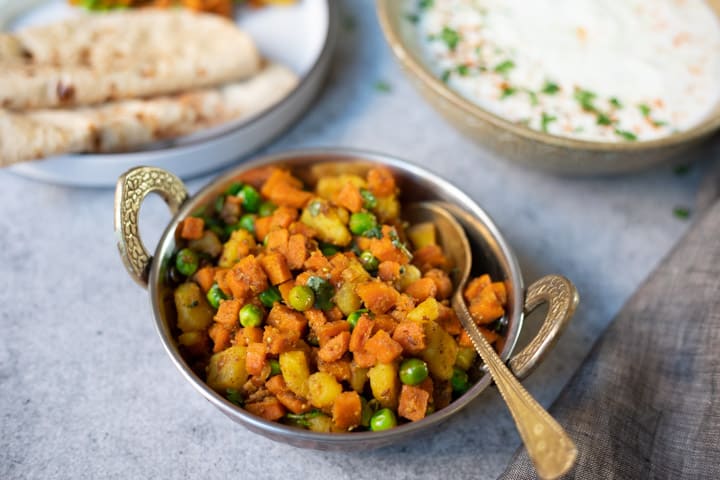 Aloo Gajar Matar is a simple, nutritious, and quick stir fry made with potatoes, carrots, and green peas. This Punjabi style dry curry is perfect for a delicious weeknight dinner.
Get the Aloo Gajar Matar recipe.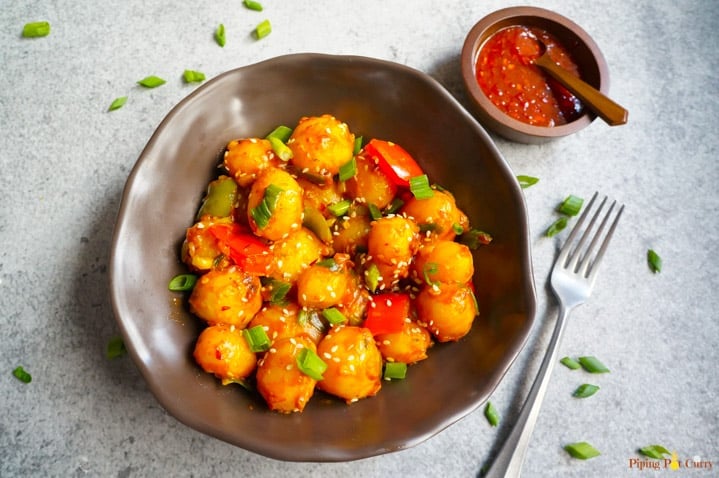 Flavorful and easy Garlic Chili Potatoes is an Indo-Chinese dish made with steamed potatoes, garlic, chili sauce, and honey, sprinkled with green onions and sesame seeds. Enjoy them as an appetizer or side!
Get the Garlic Chili Potatoes recipe.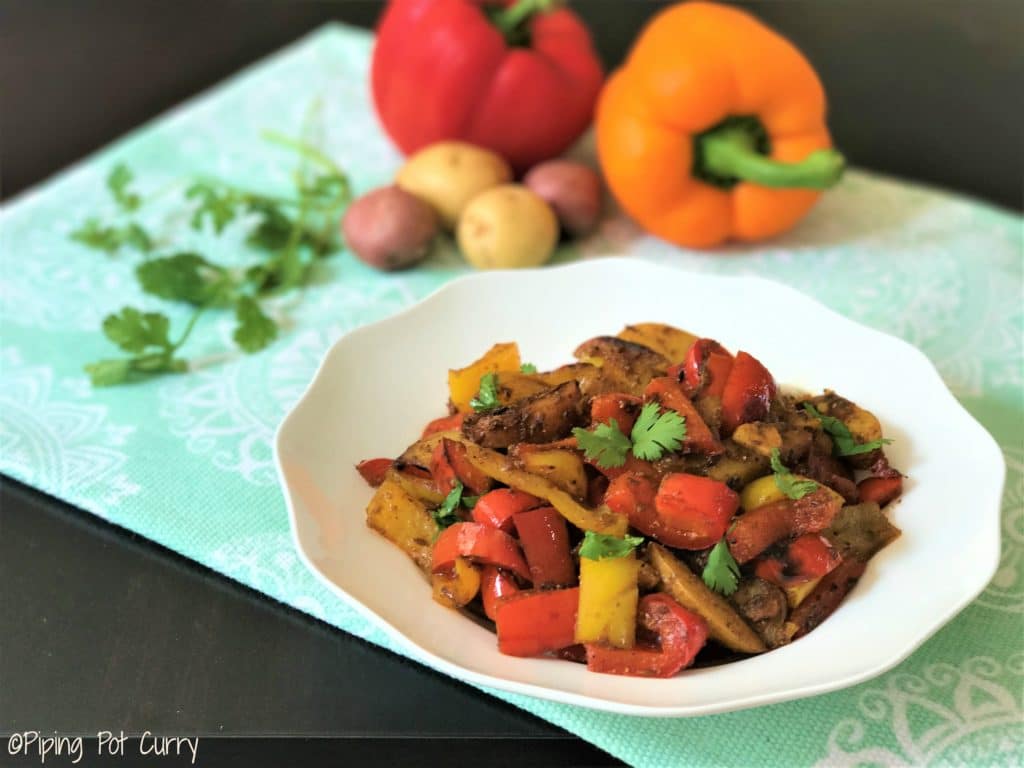 Aloo Simla Mirch is a simple dish made with bell peppers and potatoes stir fried with fragrant spices. This is not only an easy and quick side dish, but also just as delcious.
Get the Aloo Simla Mirch recipe.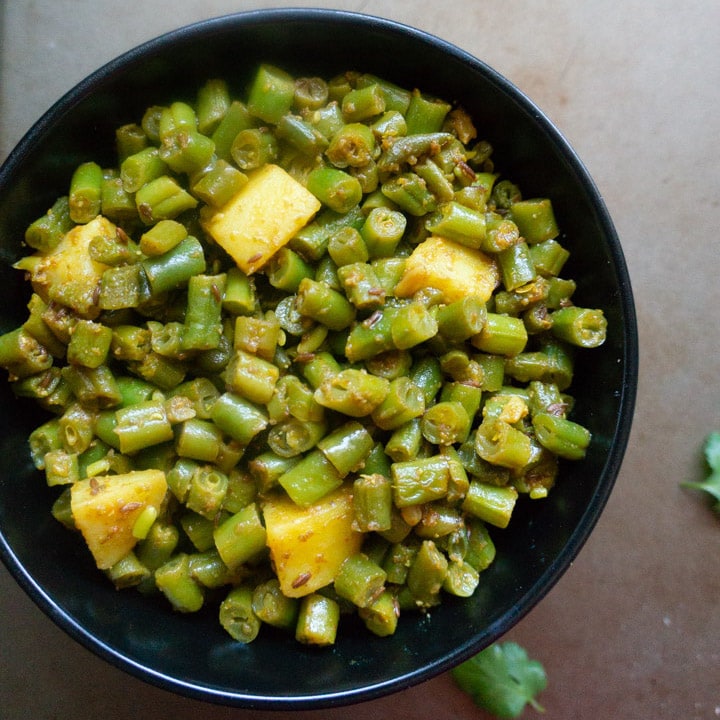 Aloo Beans is an Indian green bean stir fry. This delicious and healthy dish is made with potatoes and green beans, seasoned with a aromatic spices and herbs. Less than 15 minutes and a quick 4-step recipe.
Get the Aloo Beans recipe.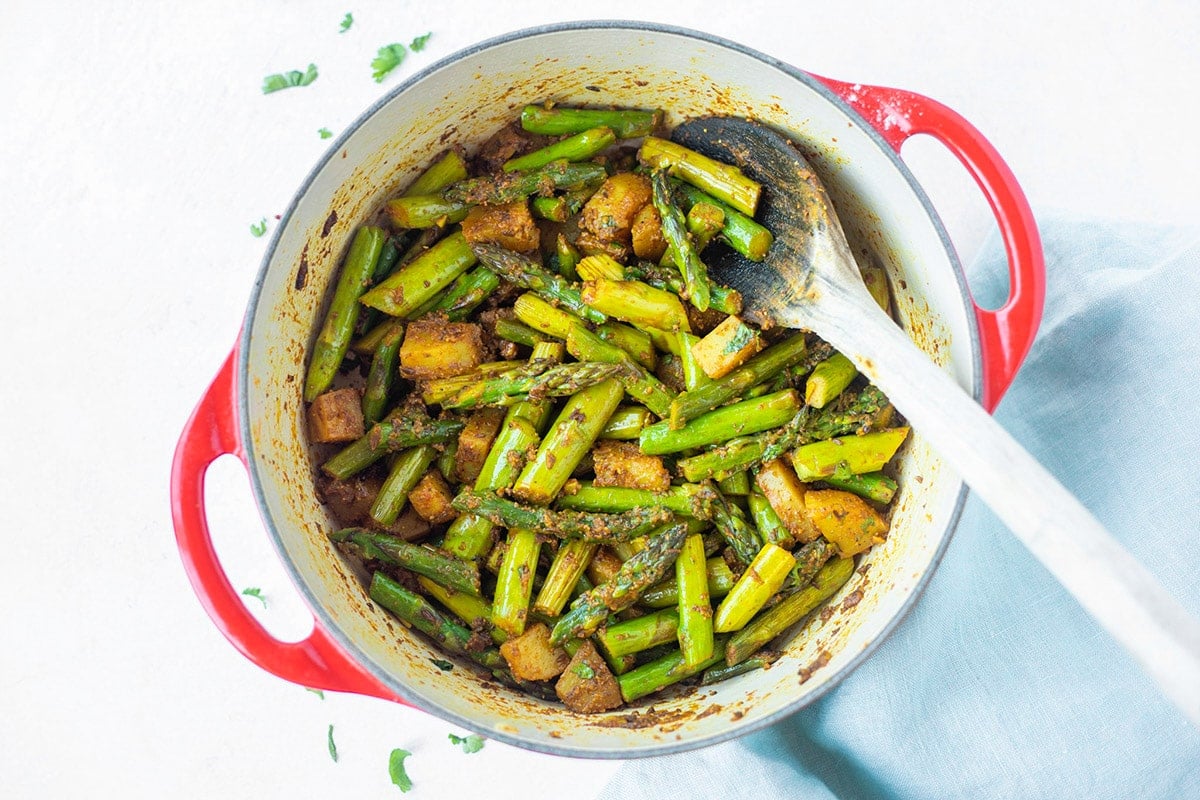 Aloo Asparagus is a flavorful, spiced, and tasty Indian-inspired dish made with asparagus and potatoes. Super quick and simple, this Indian Asparagus stir-fry is made with basic spices and tastes absolutely delicious.
Get the Aloo Asparagus recipe.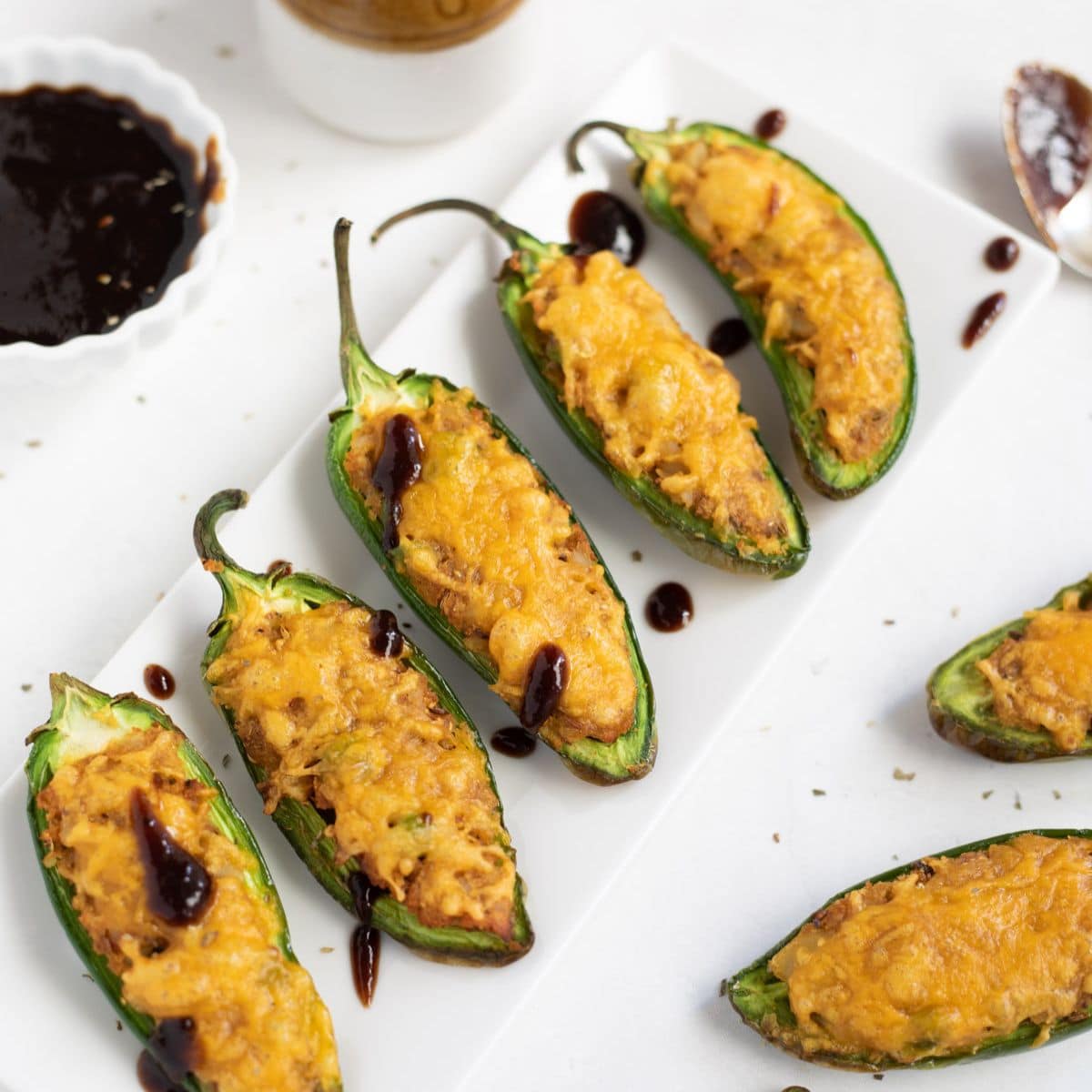 Cheesy Samosa Jalapeno Poppers is an Indian twist to the favorite party appetizer. This is a vegetarian and gluten-free version is a great appetizer for samosa lovers.
Get the Samosa Jalapeno Poppers recipe.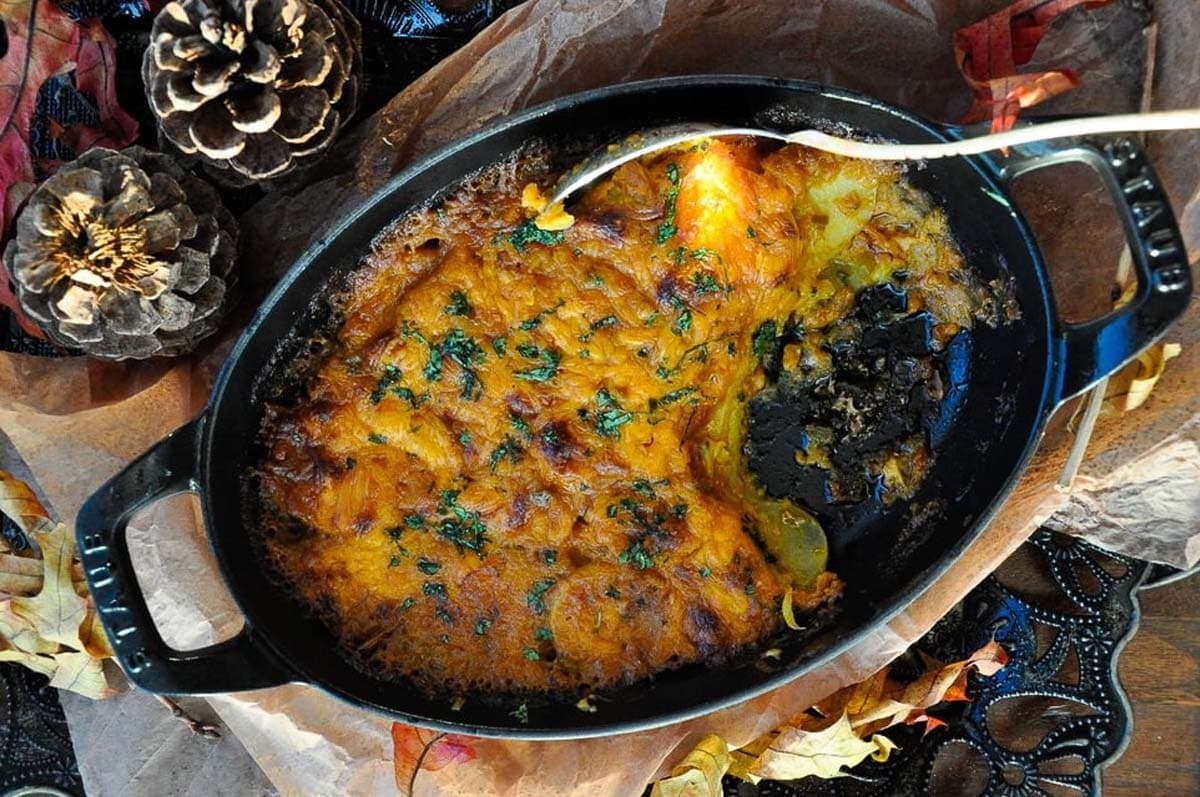 Masala Scalloped Potatoes is an Indian fusion twist on the all-American classic scalloped potatoes. It's perfect for the holidays.
Get the Masala Scalloped Potatoes recipe.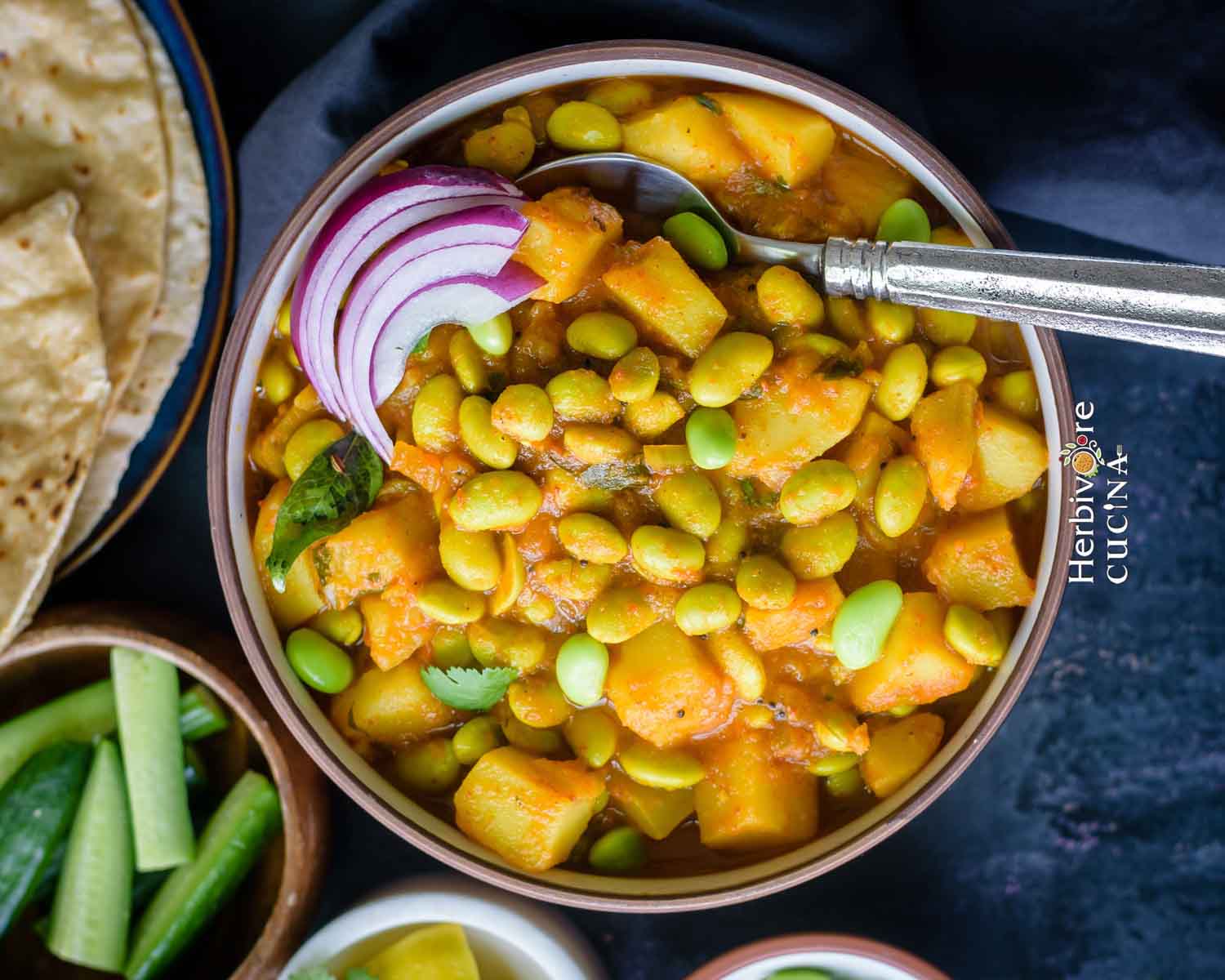 Potato Edamame Curry is a simple curry made with a handful of ingredients. Mildly spiced tomato-based curry, this one is ready in under 45 minutes.
Get the Potato Edamame Curry recipe.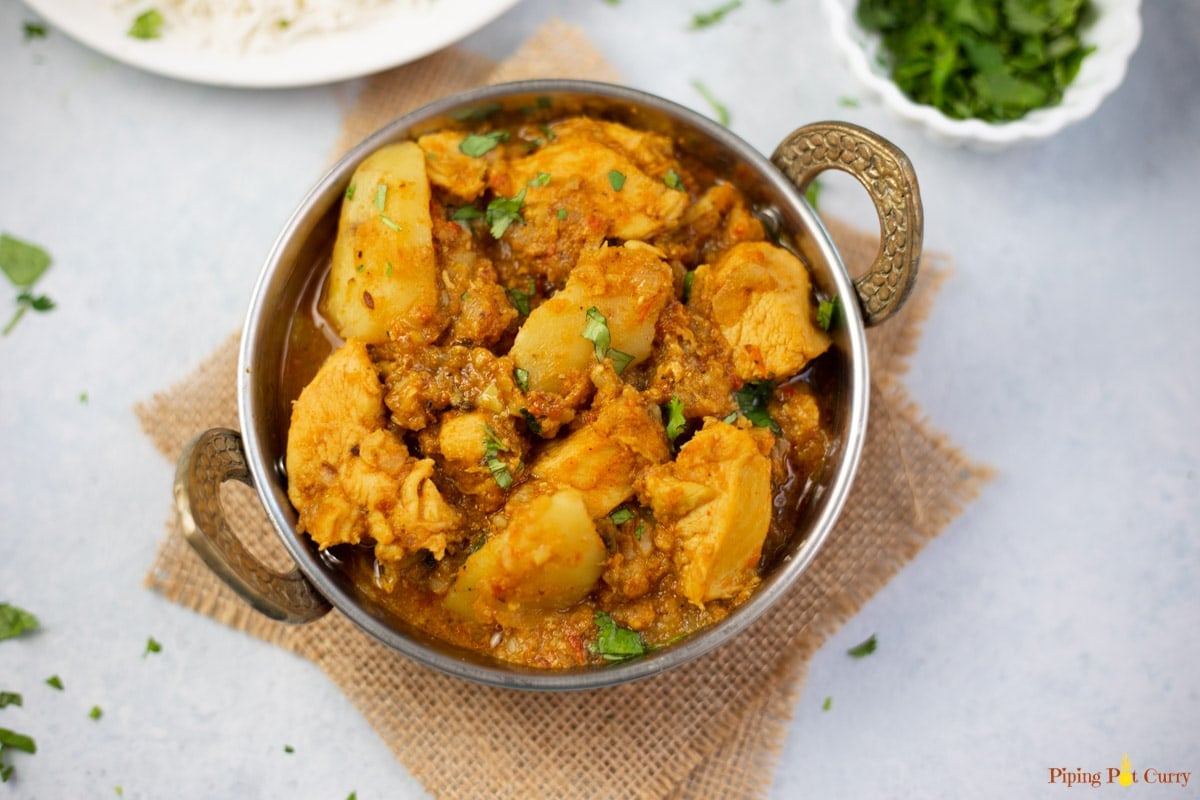 It takes less than 40 minutes to prepare this delectable Chicken Potato Curry. It's full of authentic flavors from whole spices and tender pieces of chicken and potato.
Get the Chicken Potato Curry recipe.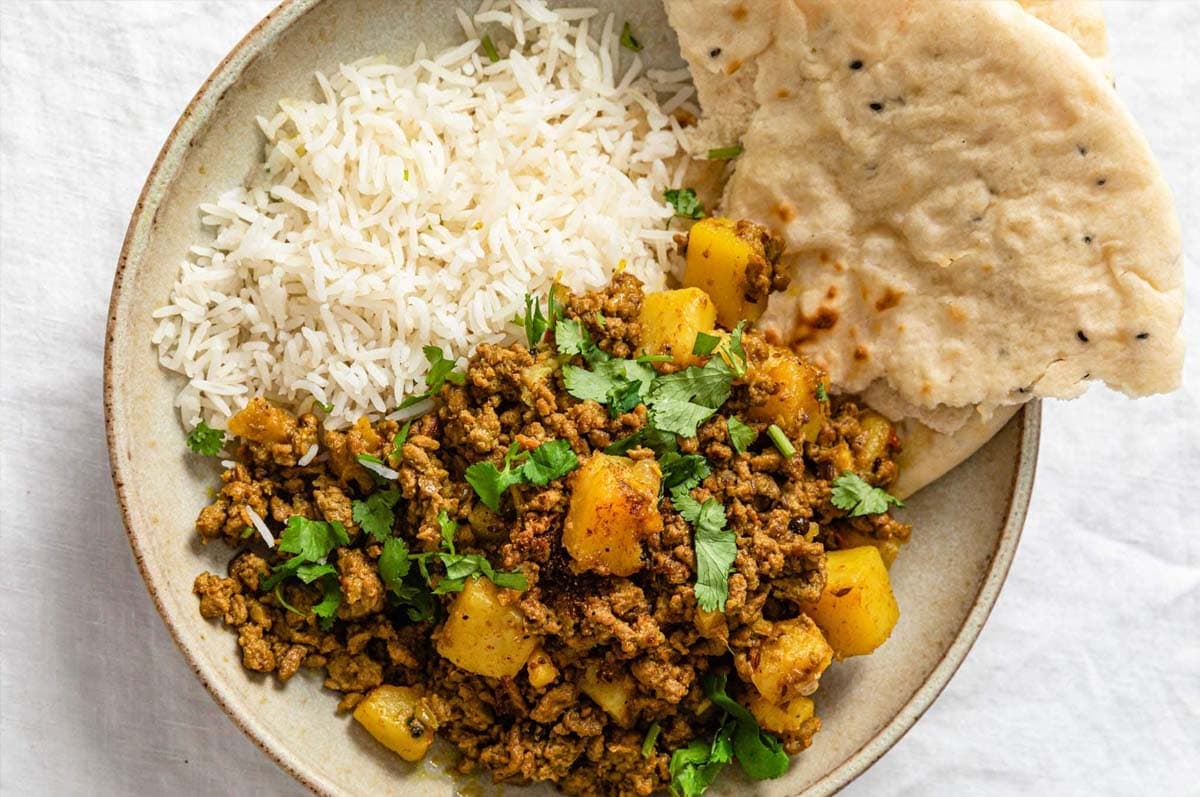 Aloo Keema is an authentic, homestyle Ground Beef & Potato Curry. This traditional, one-pot keema curry is easy-to-make, and gives the most tender, flavorful results.
Get the Aloo Keema recipe.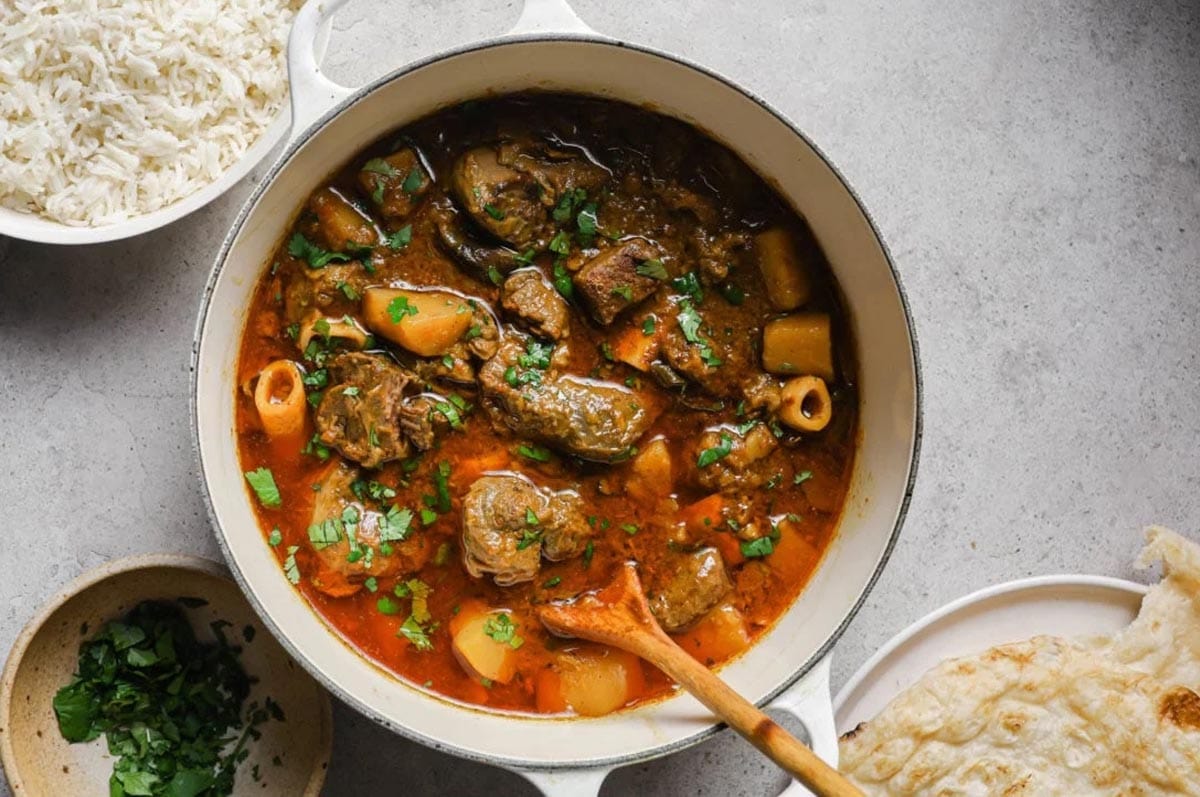 Aloo Gosht is an authentic mutton and potato curry popular in Indian and Pakistani cuisine. It is easy to make this traditional dish as a one-pot recipe with lamb or goat.
Get the Aloo Gosht recipe.
Crack Open These 18 Delicious Indian Egg Recipes for a Flavorful Breakfast, Lunch, or Dinner!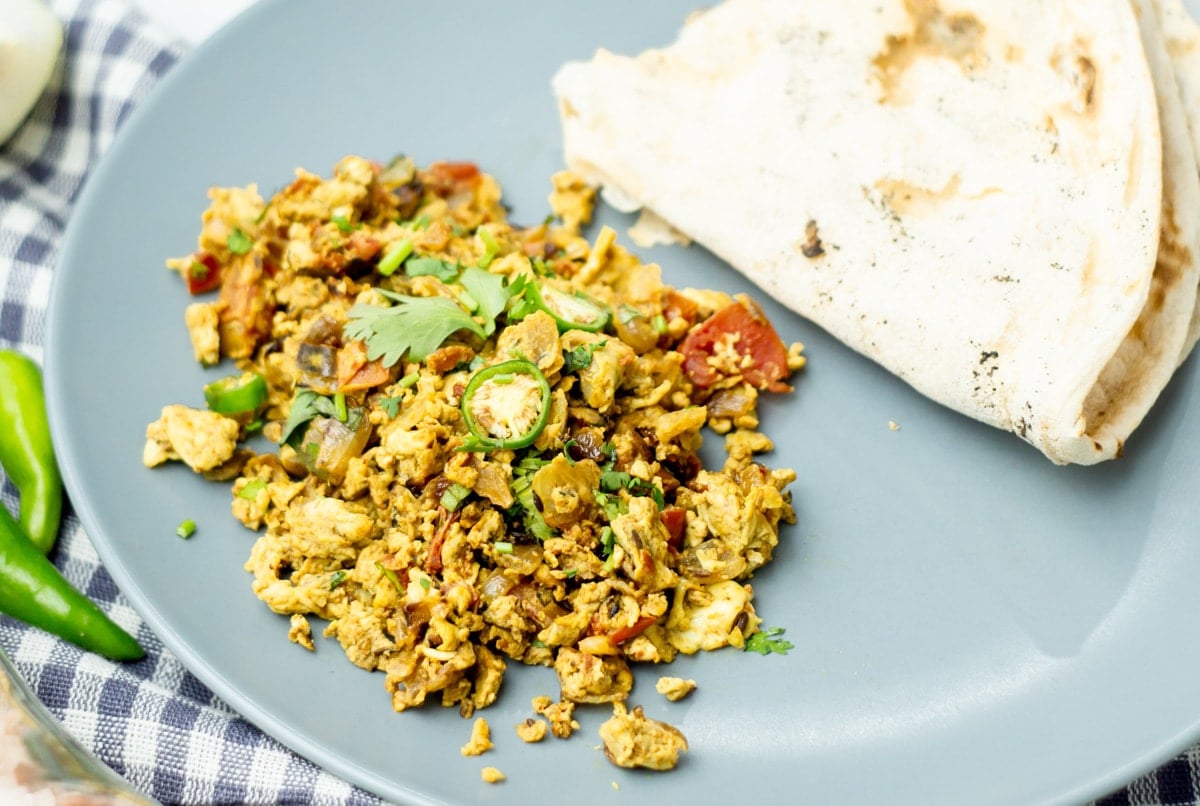 If you're a fan of eggs, you don't want to miss these delectable Indian egg recipes. From hearty breakfasts to spicy curries and flavorful snacks, here you will find 18 delicious and nutritious egg recipes perfect for any time of day! pipingpotcurry.com
Get the 18 Indian Egg Recipes.
21 Flavorful Indian Spinach Recipes That Will Make You Fall in Love with Greens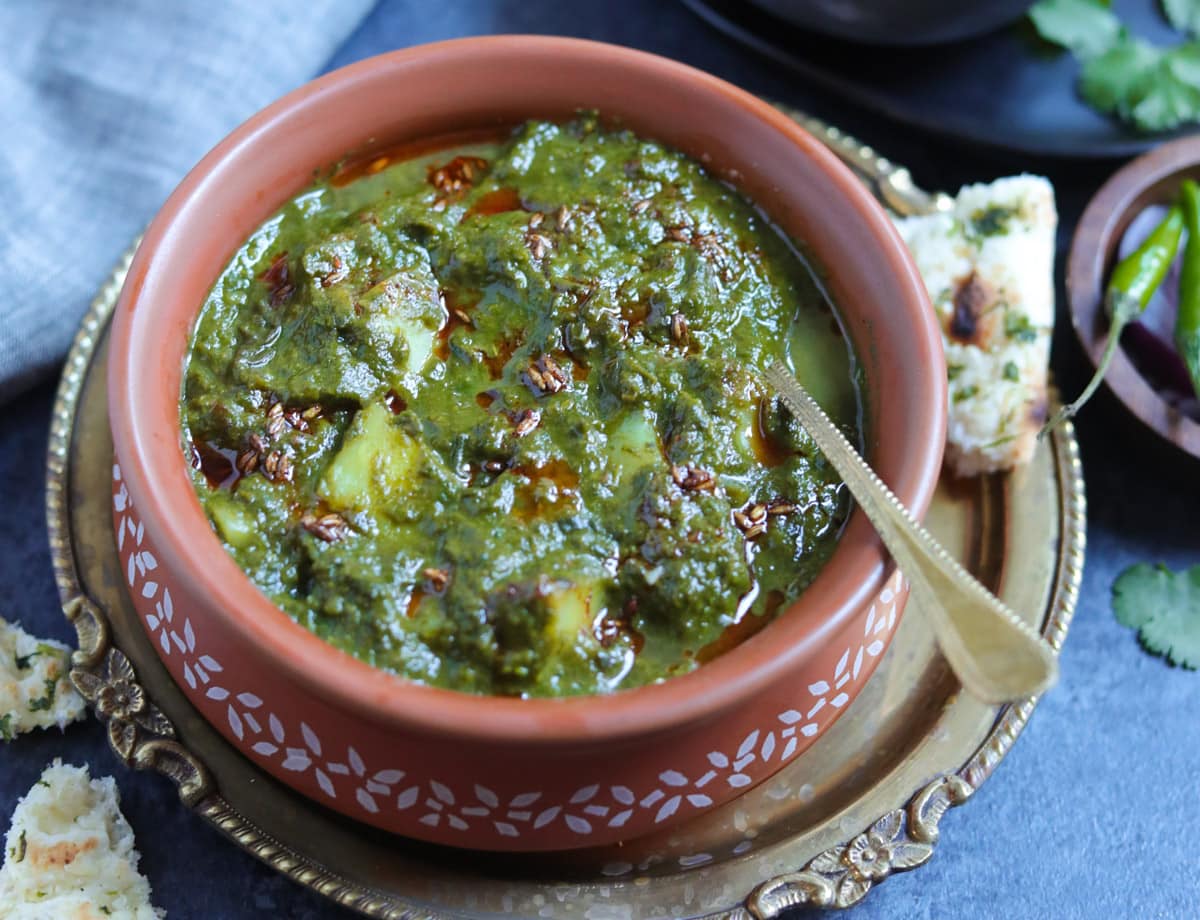 If you want to add more greens to your diet, spinach is an excellent choice! And there is no better way to enjoy this nutritious vegetable than with these 21 Indian spinach recipes.
Get the 21 Indian Spinach Recipes.
12 Delectable Indian Mushroom Recipes That Will Take You on a Flavorful Adventure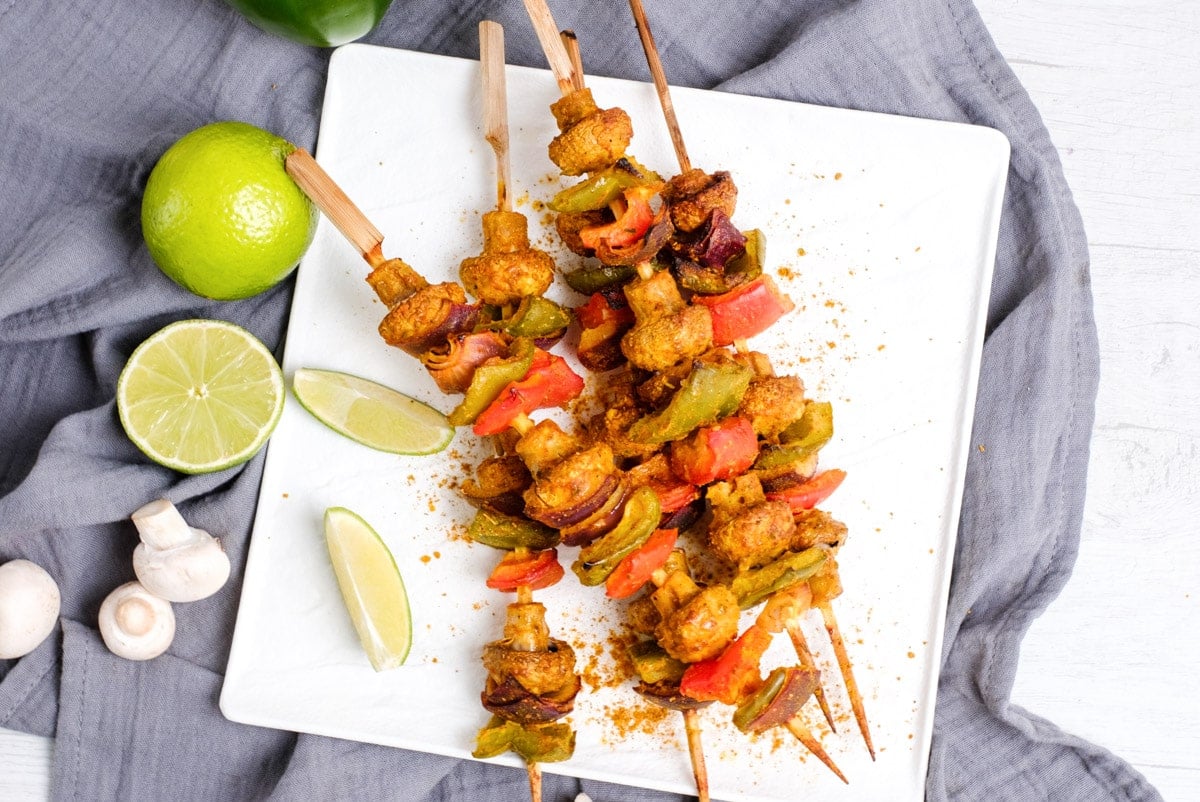 Looking for new delicious ways to enjoy mushrooms? Look no further than these 12 delicious Indian mushroom recipes!
Get the 12 Indian Mushroom Recipes.