If you're a fan of eggs, you don't want to miss these delectable Indian egg recipes. Eggs are a versatile ingredient used in many Indian dishes, from hearty breakfasts to spicy curries and flavorful snacks. Here you will find 18 delicious and nutritious egg recipes perfect for any time of day!
I have included egg recipes that can be enjoyed for breakfast, lunch, or dinner in this collection. You can find scrambled egg dishes and also curries made with boiled eggs.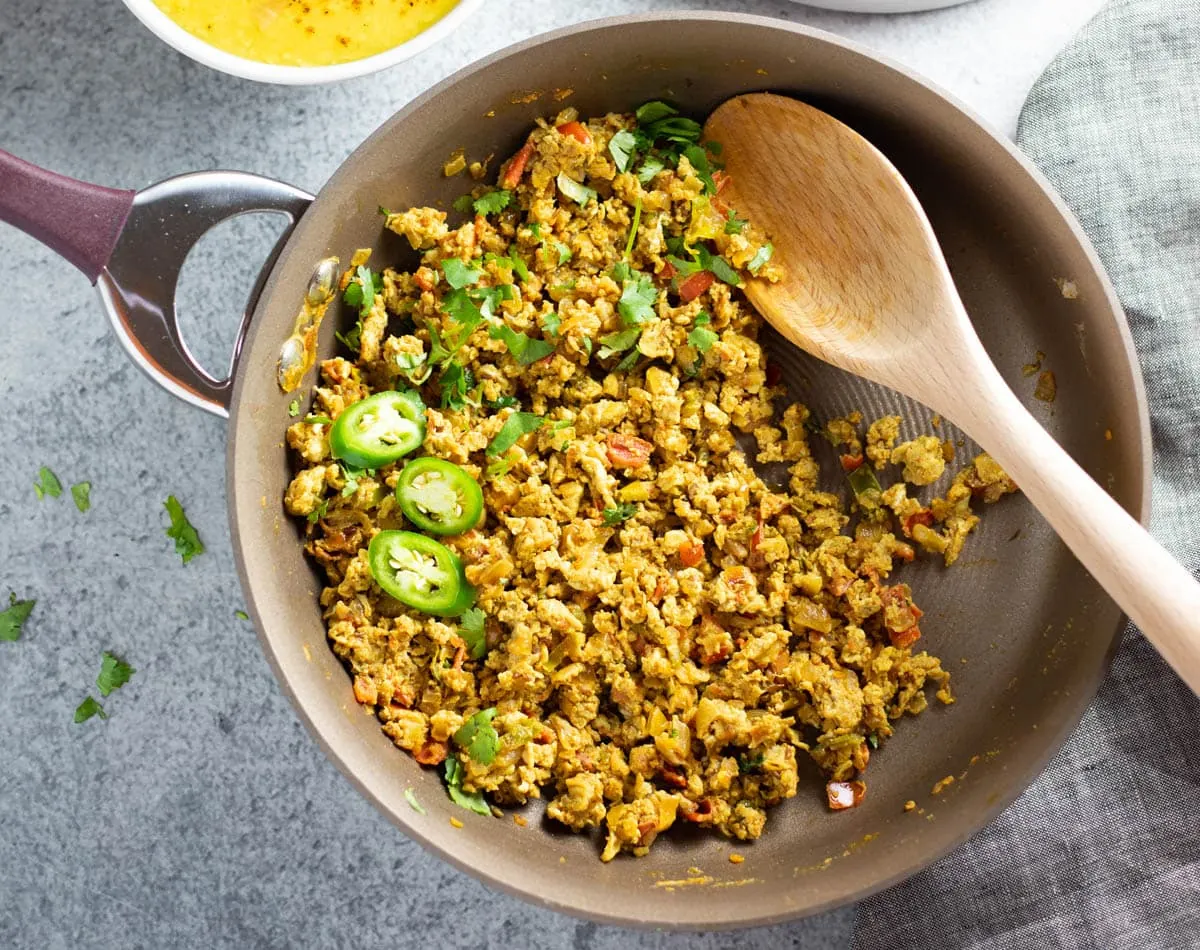 Egg bhurji is the Indian twist to scrambled eggs. Packed with the right amount of flavor and spice, these delicious Indian scrambled eggs are perfect for any meal of the day!
Enjoy for breakfast with bread or pav, or for lunch or dinner with roti or as a wrap.
Get the Egg Bhurji recipe.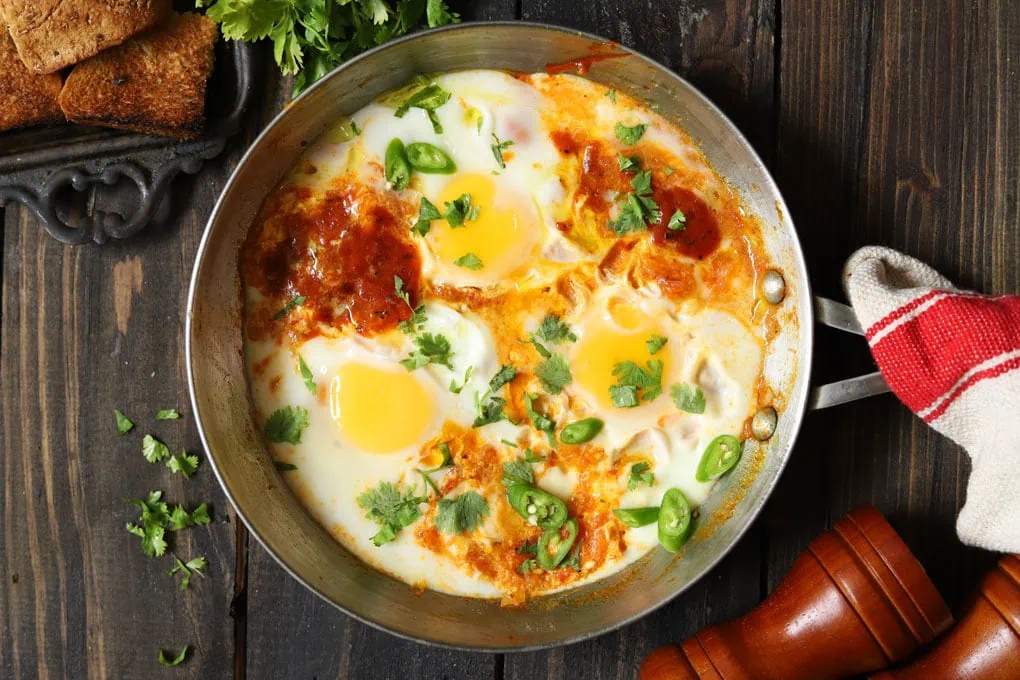 Indian Style Shakshuka is a delicious twist to the traditional shakshuka recipe. Little pockets of eggs served in a spicy Indian-style sauce. These are perfect for enjoying weekend breakfast.
Get the Indian Shakshuka recipe.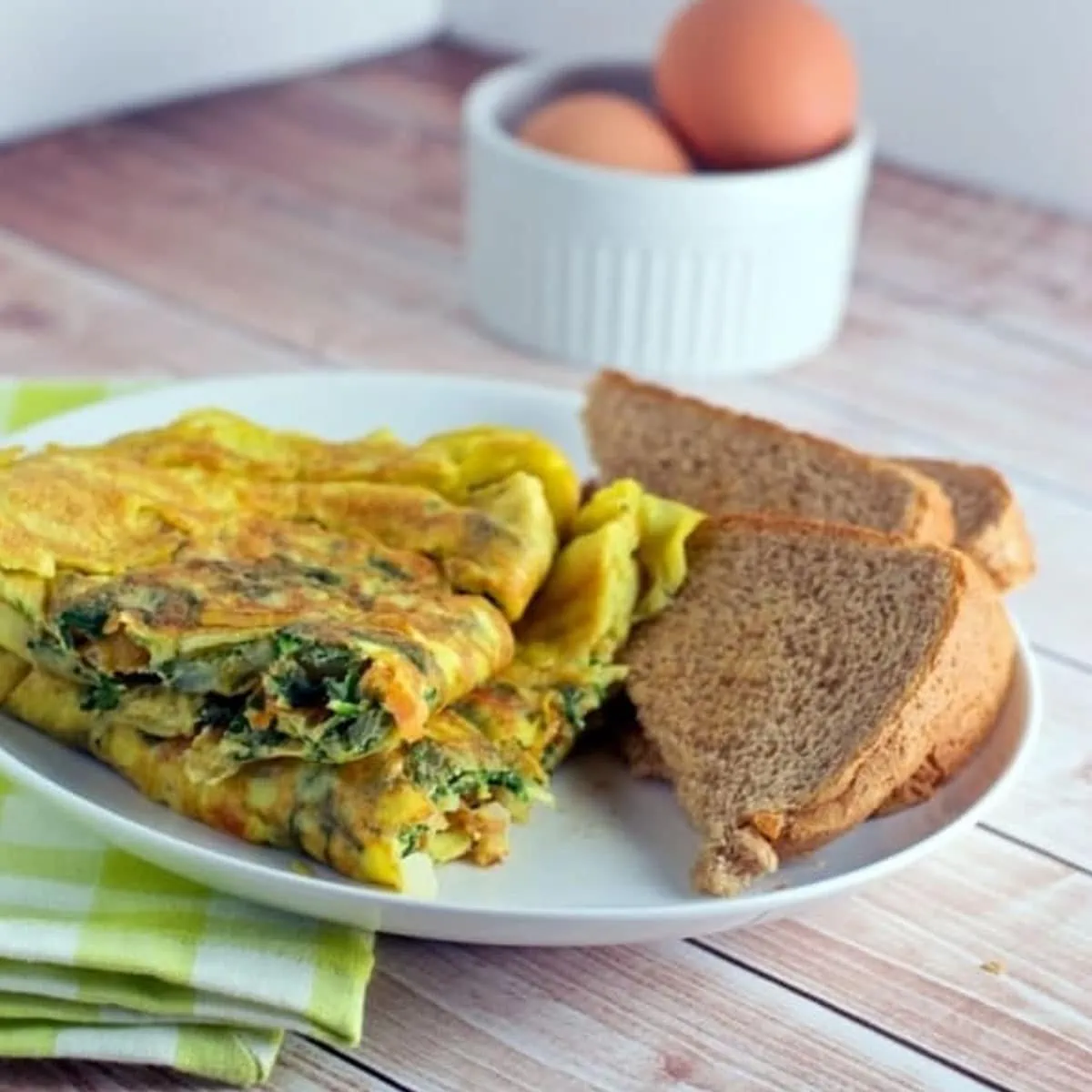 Indian Veggie Omelet is a perfect way to start your day. Made with beaten eggs, chopped vegetables, and a variety of aromatic herbs and spices, this omelet is easy to make in just 20 minutes!
Get the Indian Omelet recipe.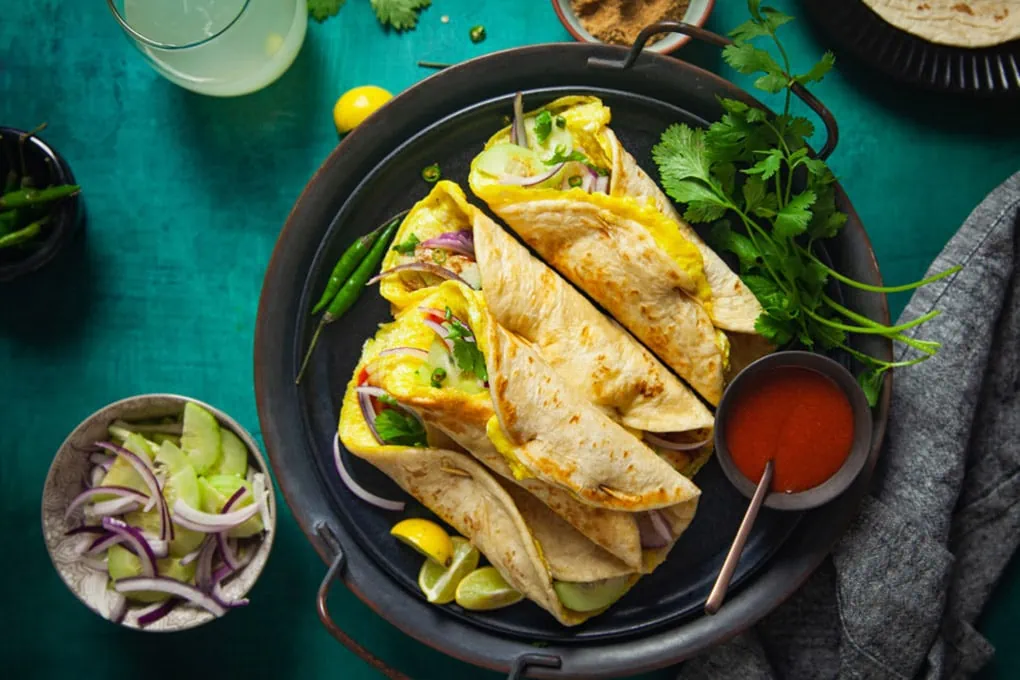 Popular Calcutta-style egg rolls are a favorite all over India. They are made with flakey crisped parathas topped with beaten egg and stuffed with fresh salad and sauce. These make for an amazing on-the-go breakfast or lunch.
Get the Kolkatta Egg Roll recipe.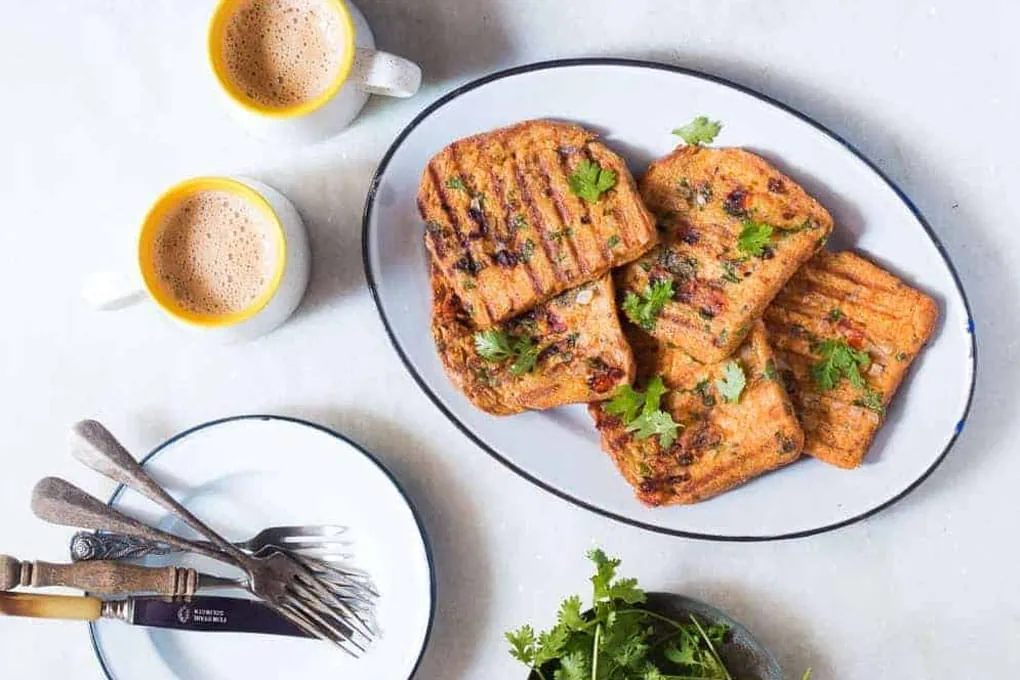 Indian Masala Egg French Toast is for when you're craving something spicy for breakfast! Use your favorite bread and coat it with whisked egg and cook to give the crispiest toast. Enjoy with your morning cup of coffee or tea!
Get the Masala French Toast recipe.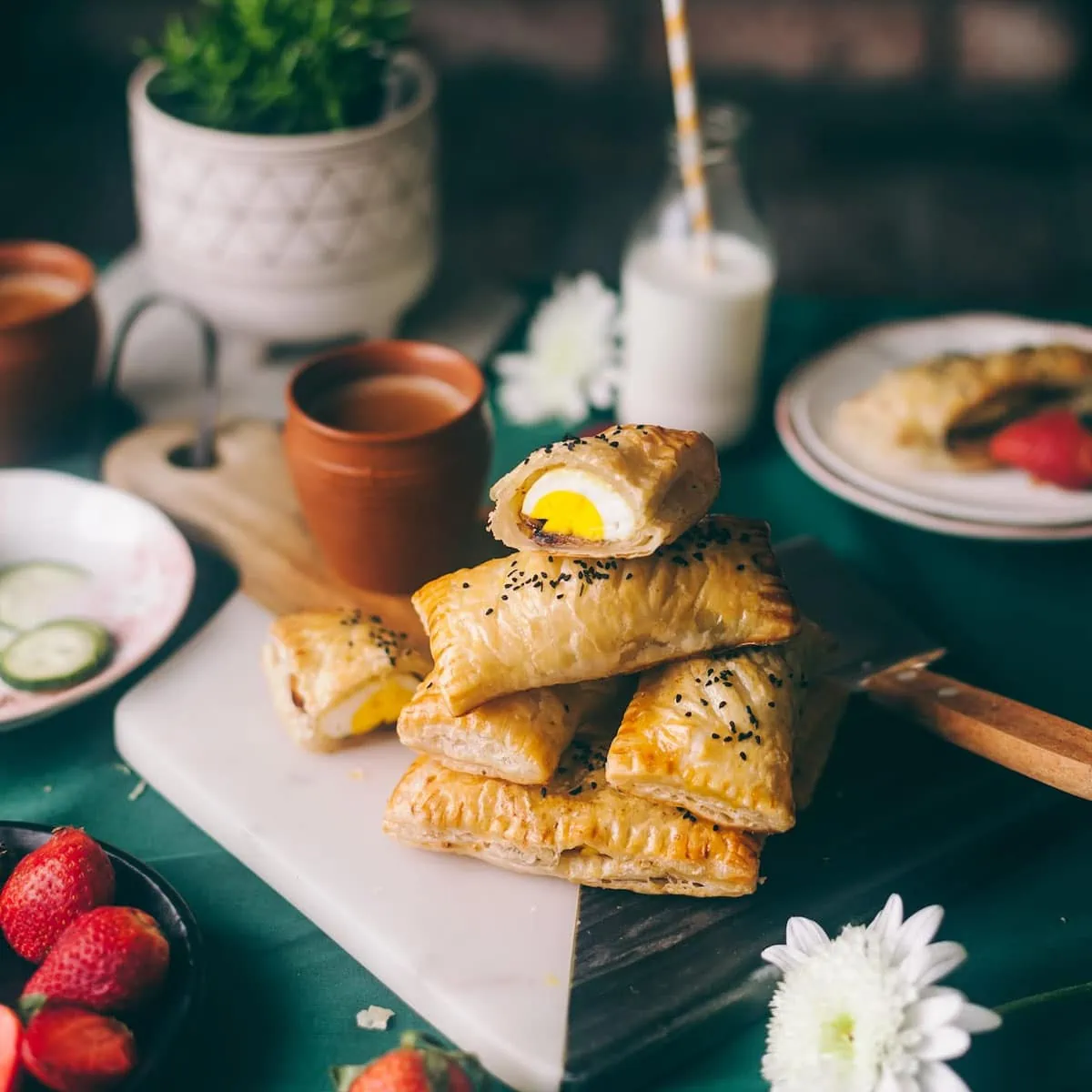 Egg Puffs are made with hardboiled eggs and caramelized onions wrapped in a flaky puff pastry. It is a quick snack that is so good with tea, especially on a rainy day. You can call these egg turnover or egg puff pockets too.
Get the Egg Puffs recipe.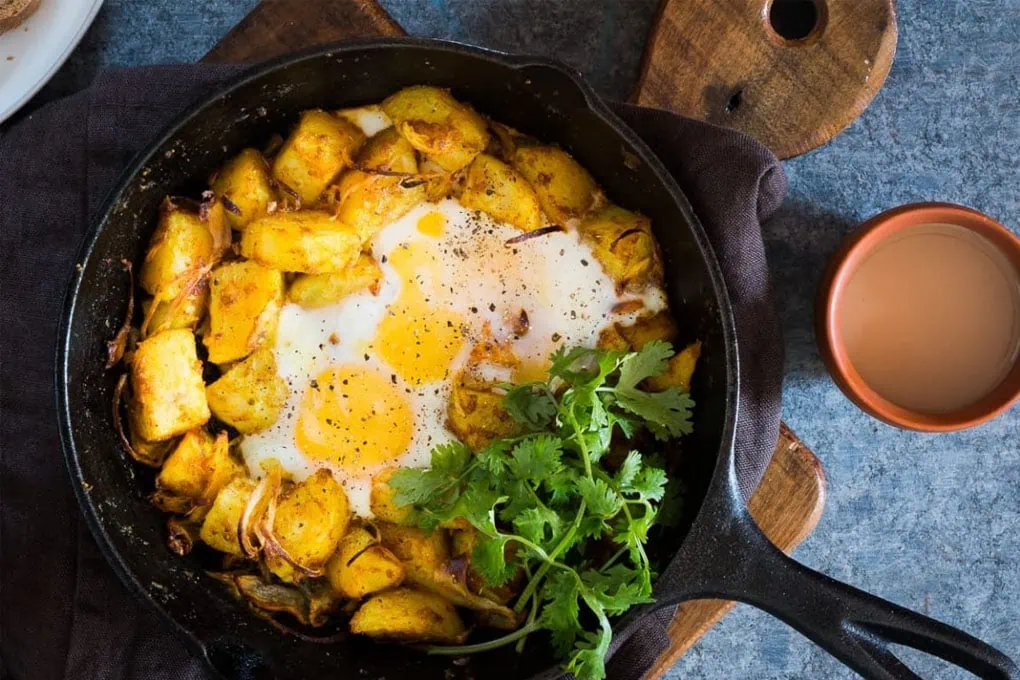 This 15-minute Spiced Indian Potatoes and Egg Skillet is a restaurant-style breakfast you can enjoy at home. It is easy to make and very satisfying!
Get the Indian Potatoes and Egg Skillet recipe.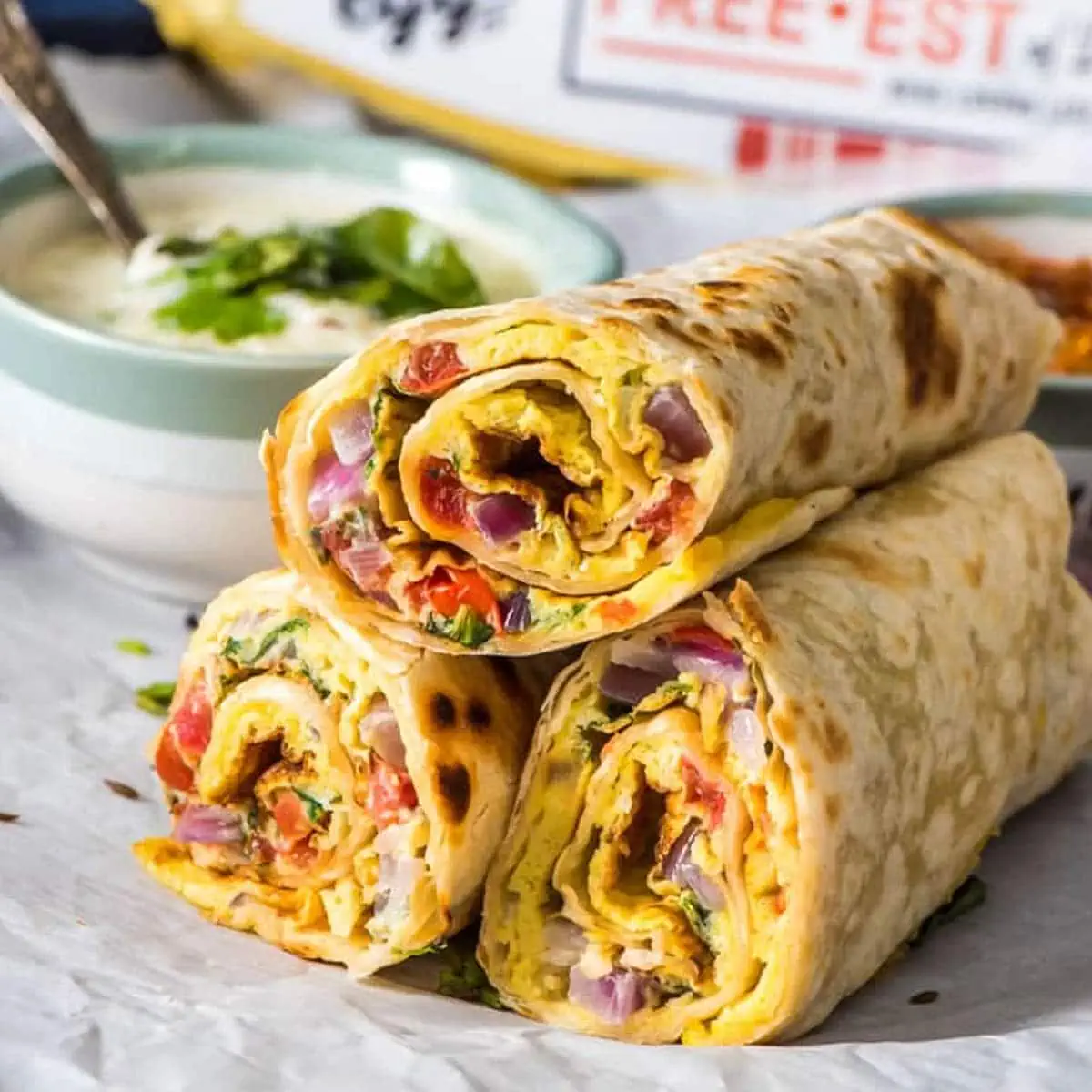 Put your leftover roti or tortillas to good use and make delicious and filling egg parathas in less than 10 minutes.
Get the Egg Paratha recipe.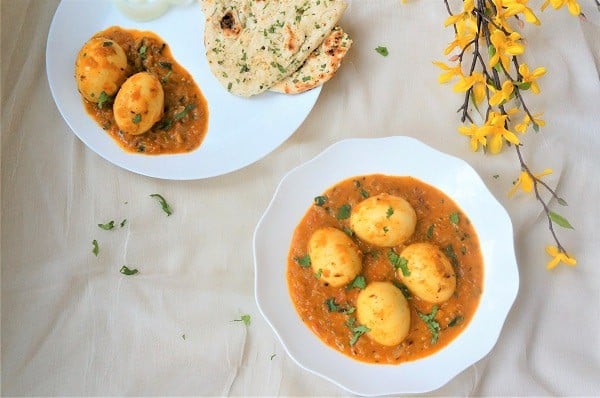 Egg curry is a popular Indian dish with boiled eggs cooked in a flavorful tomato-based gravy.
This protein-rich Indian dish is easy to make and loved by both kids and adults. Serve with roti, naan, or rice for a comforting meal/
Get the Egg Curry recipe.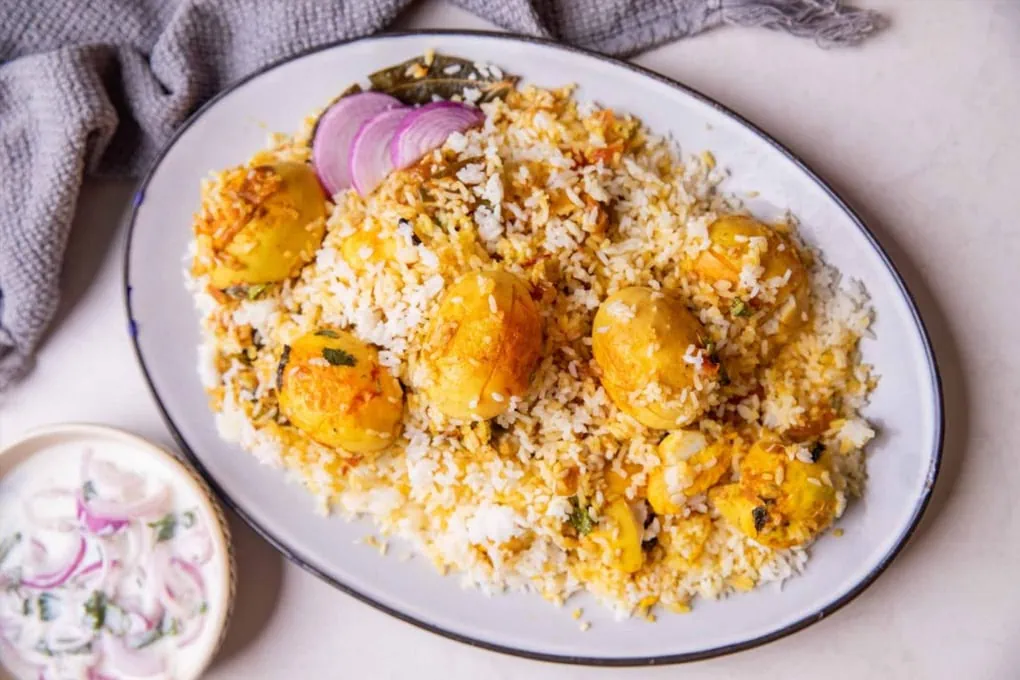 So aromatic and flavourful, this egg biryani or mutta biryani is just as delicious as its meaty counterparts. This recipe has everything you expect from a good biryani - fragrant rice, spices, and that aroma.
Get the Egg Biryani recipe.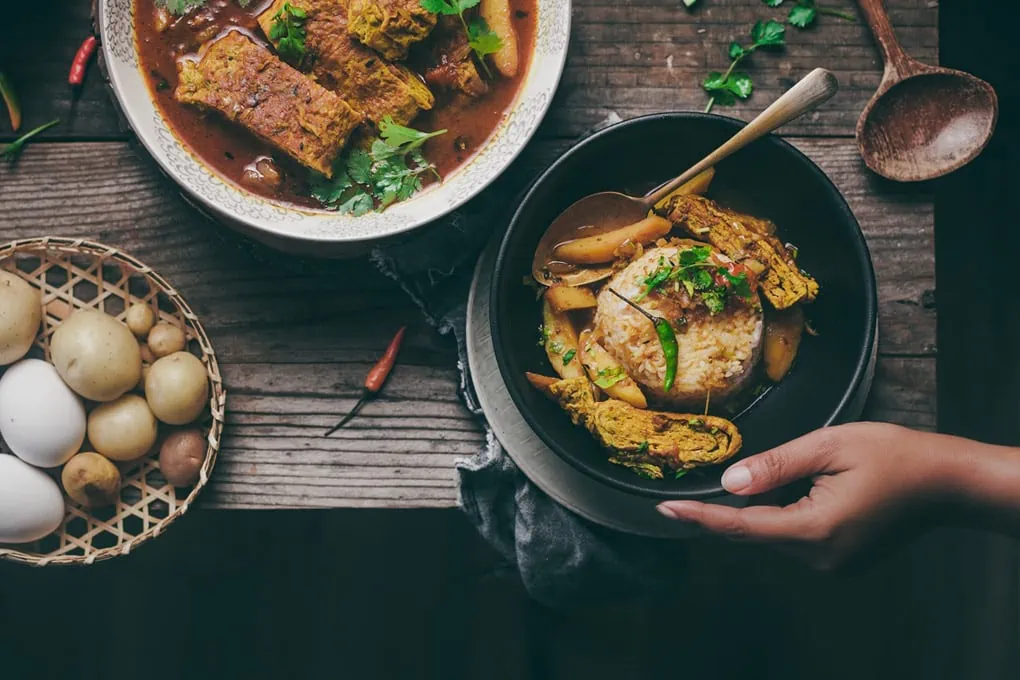 This Bengali Omelet Curry is a variation of the traditional egg curry. Fluffy pieces of omelet and potatoes in a mildly spiced tomato gravy. It is perfect to serve with steamed white rice.
Get the Omlette Curry recipe.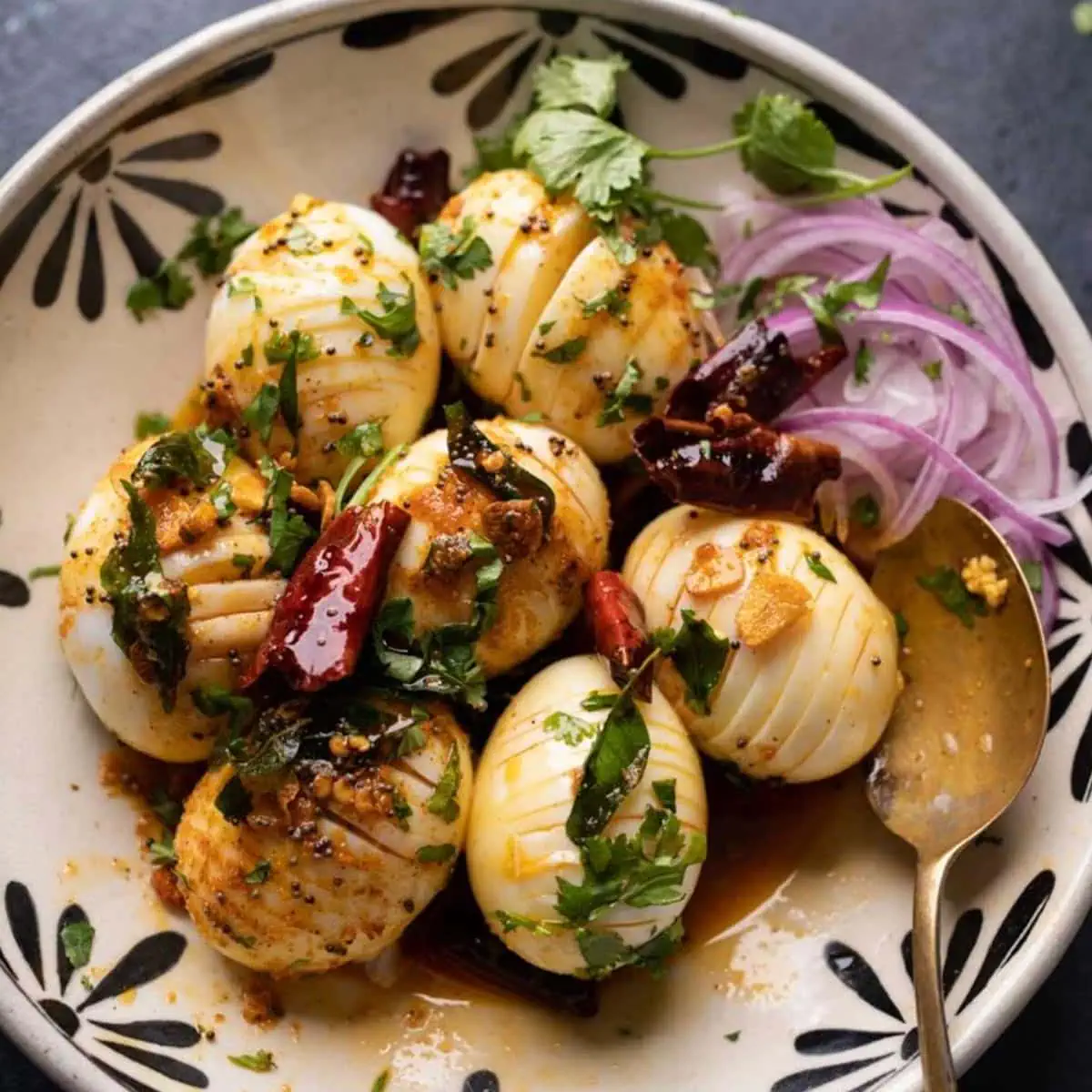 If you are bored of plain boiled eggs, try this variation with a tempering of curry leaves and spices.
This egg tadka is probably the easiest Indian appetizer you'll ever make. Made with simple ingredients in just 20 minutes, this dish will be a crowd-pleaser.
Get the Egg Tadka recipe.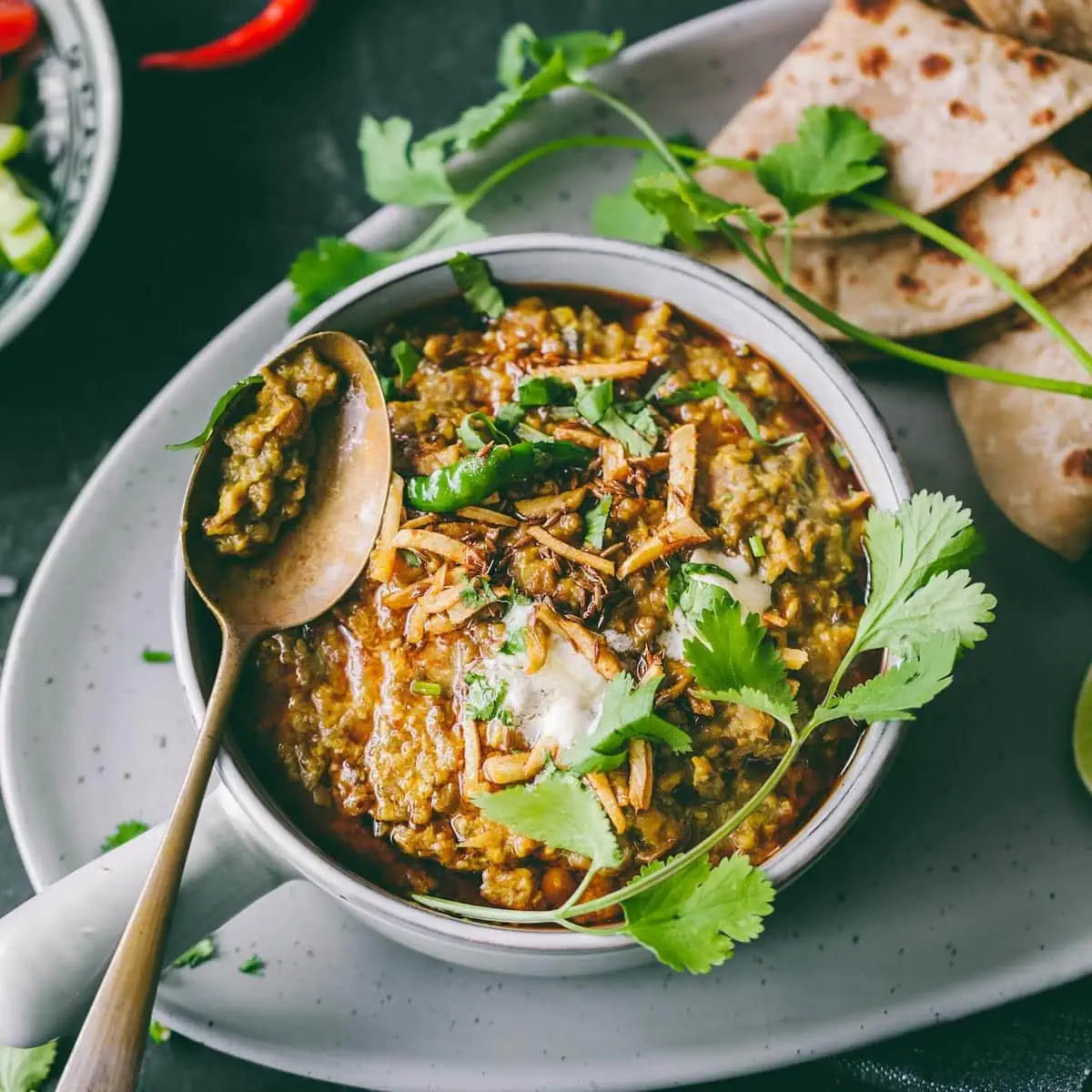 Egg Tadka Dal, also referred to as Dimer Torka, is a famous Kolkata Street Food. It is a creamy medley of green mung bean, split chickpeas (chana dal), and eggs. Add a dollop of butter and enjoy it with your choice of paratha, roti, or Naan.
Get the Egg Tadka Dal recipe.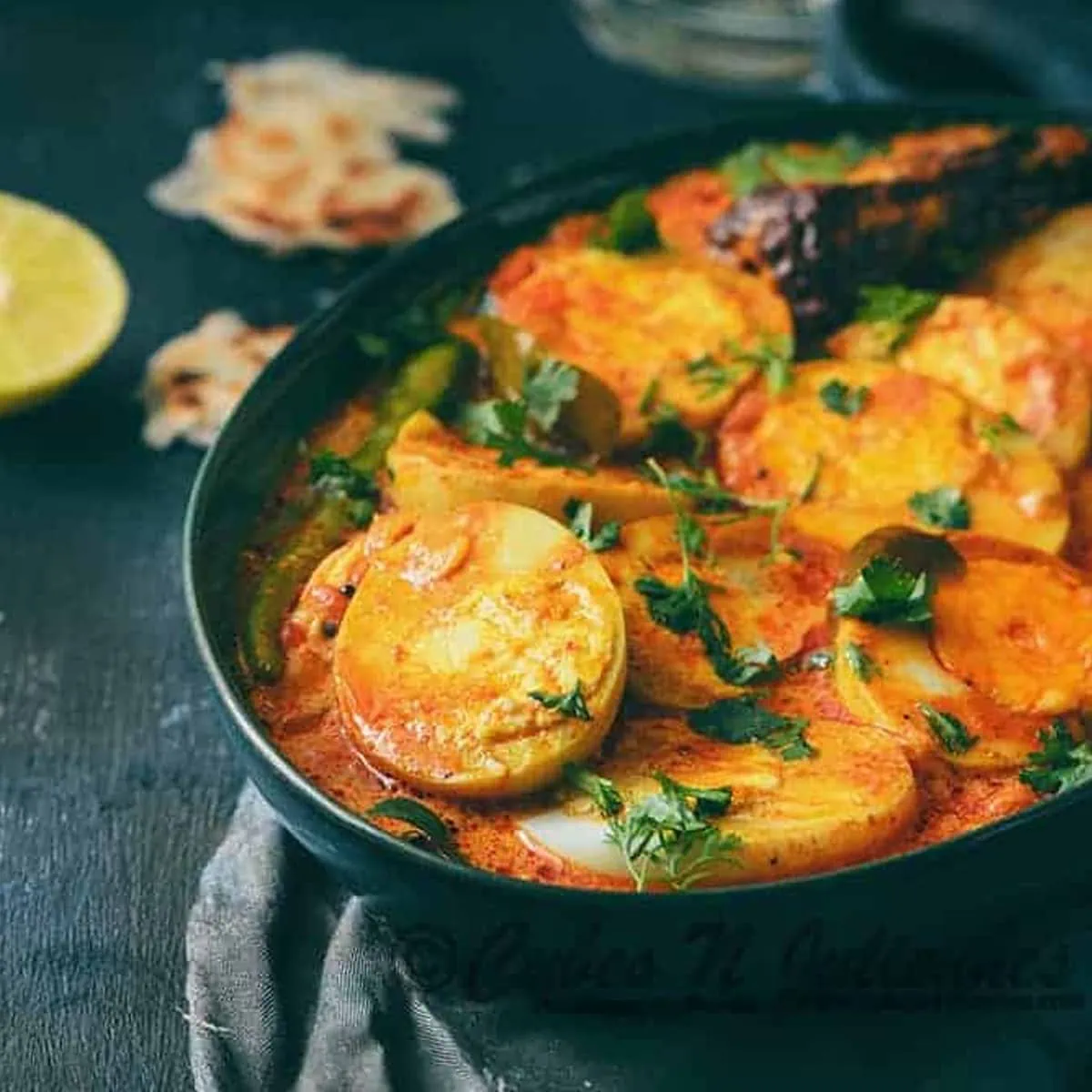 Egg Curry Kerala style or Nadan Mutta Curry is a classic specialty of Kerala Cuisine in Southern India, with subtle flavors of spices cooked in coconut oil and coconut milk. This spicy Kerala egg curry recipe pairs perfectly with steamed rice, parotta, or appams.
Get the Kerala Egg Curry recipe.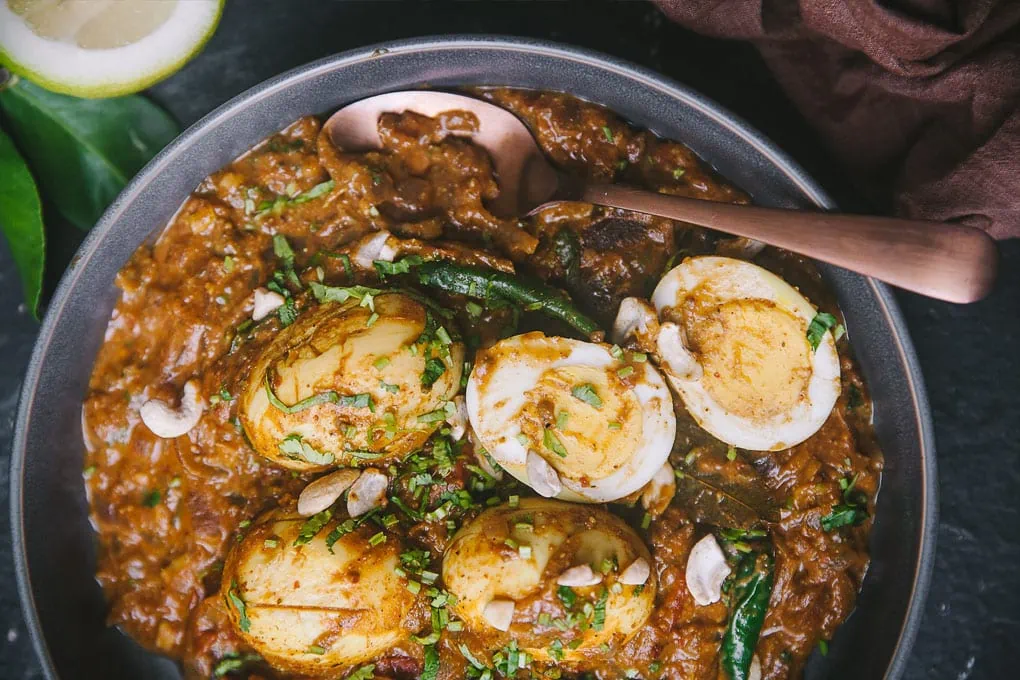 This gorgeous Dimer Kalia (Sweet and Savory Bengali Egg Curry) takes less than 30 minutes to make. It pairs beautifully with either rice or Indian flatbread.
Get the Bengali Egg Curry recipe.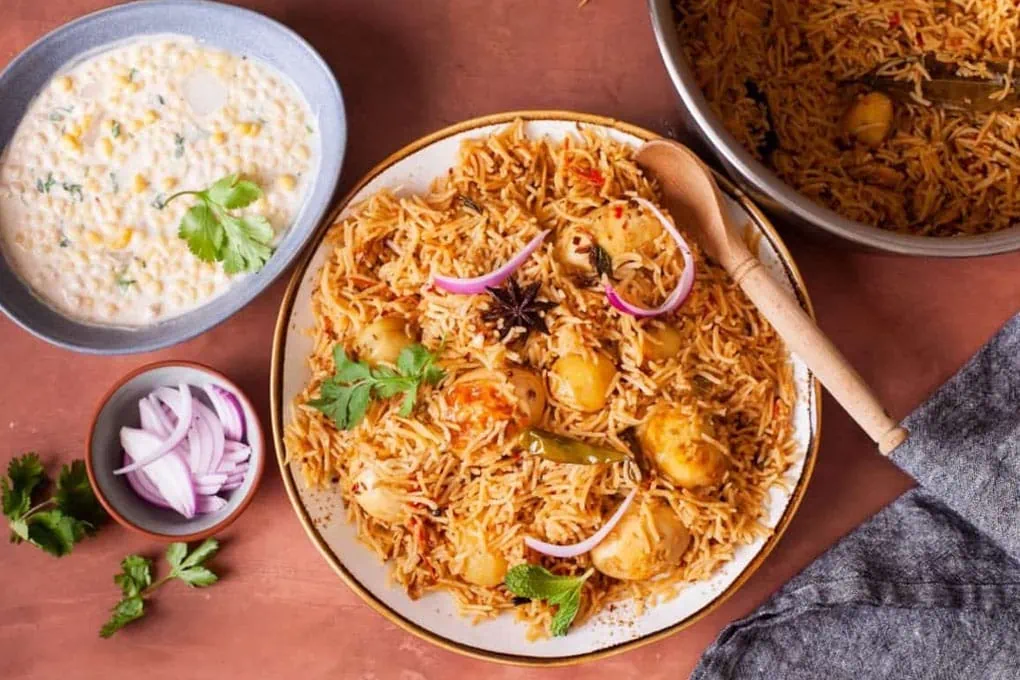 Egg pulao is an easy rice dish made with boiled eggs, basmati rice, aromatic spices, and onion tomato masala base. It's a simple & tasty one-pot meal that you can make in 30-40 minutes on busy weeknights.
Get the Egg Pulao recipe.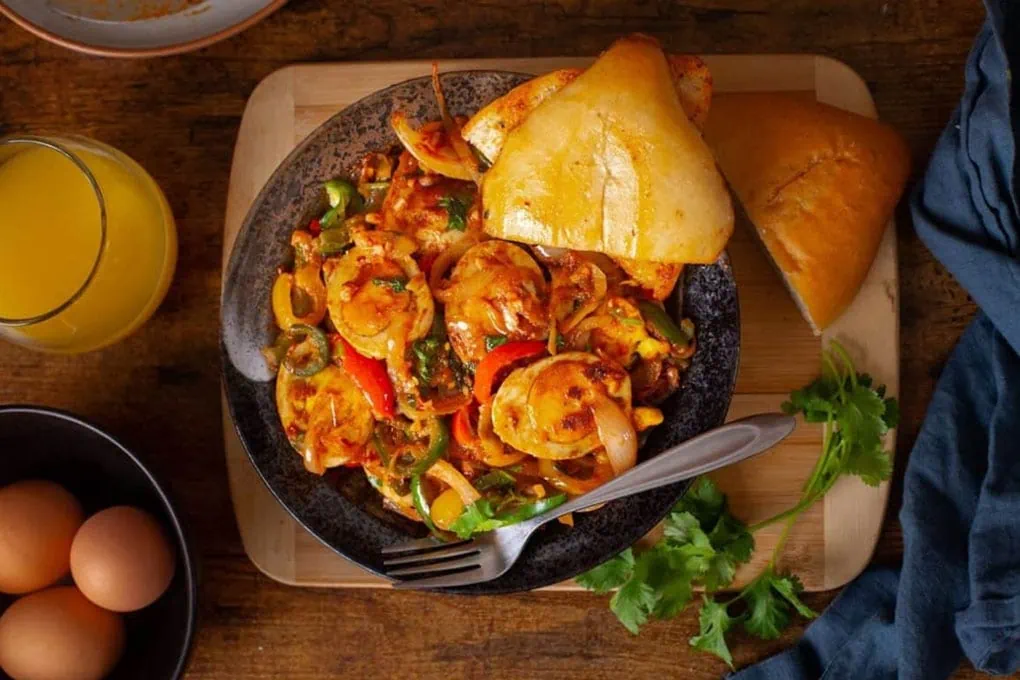 Tawa Egg Pepper Fry is a quick Indian egg recipe you can make for breakfast or brunch. All you need is a few hard-boiled eggs, bell peppers, tomato sauce, and spices to make these yummy Indian-style tawa (skillet) eggs. It gets ready in 20-25 minutes and is good with some crusty bread or parathas.
Get the Egg Pepper Fry recipe.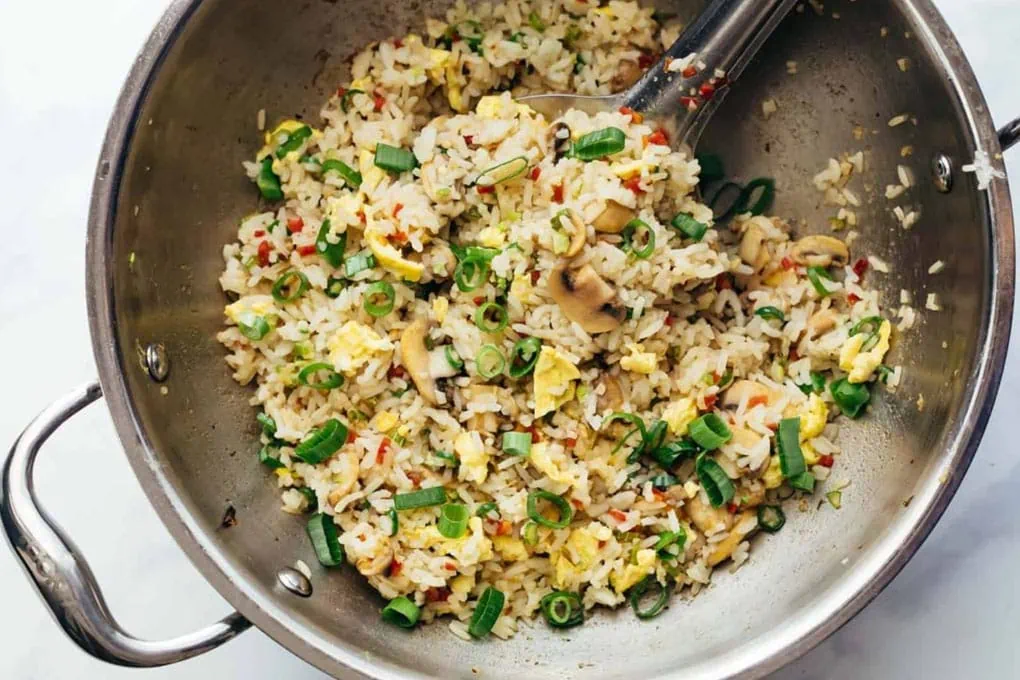 Indo-Chinese egg fried rice is a delicious fusion dish that combines the flavors of Indian and Chinese cuisine. Made with stir-fried rice, scrambled eggs, and a medley of vegetables, this dish is seasoned with a blend of soy sauce, vinegar, and spices.
It is a simple yet satisfying dish that can be enjoyed on its own or as a side dish to your favorite Indo-Chinese entree.
Get the Egg Fried Rice recipe.
13 Sweet and Savory Indian Sweet Potato Recipes You Need to Try Today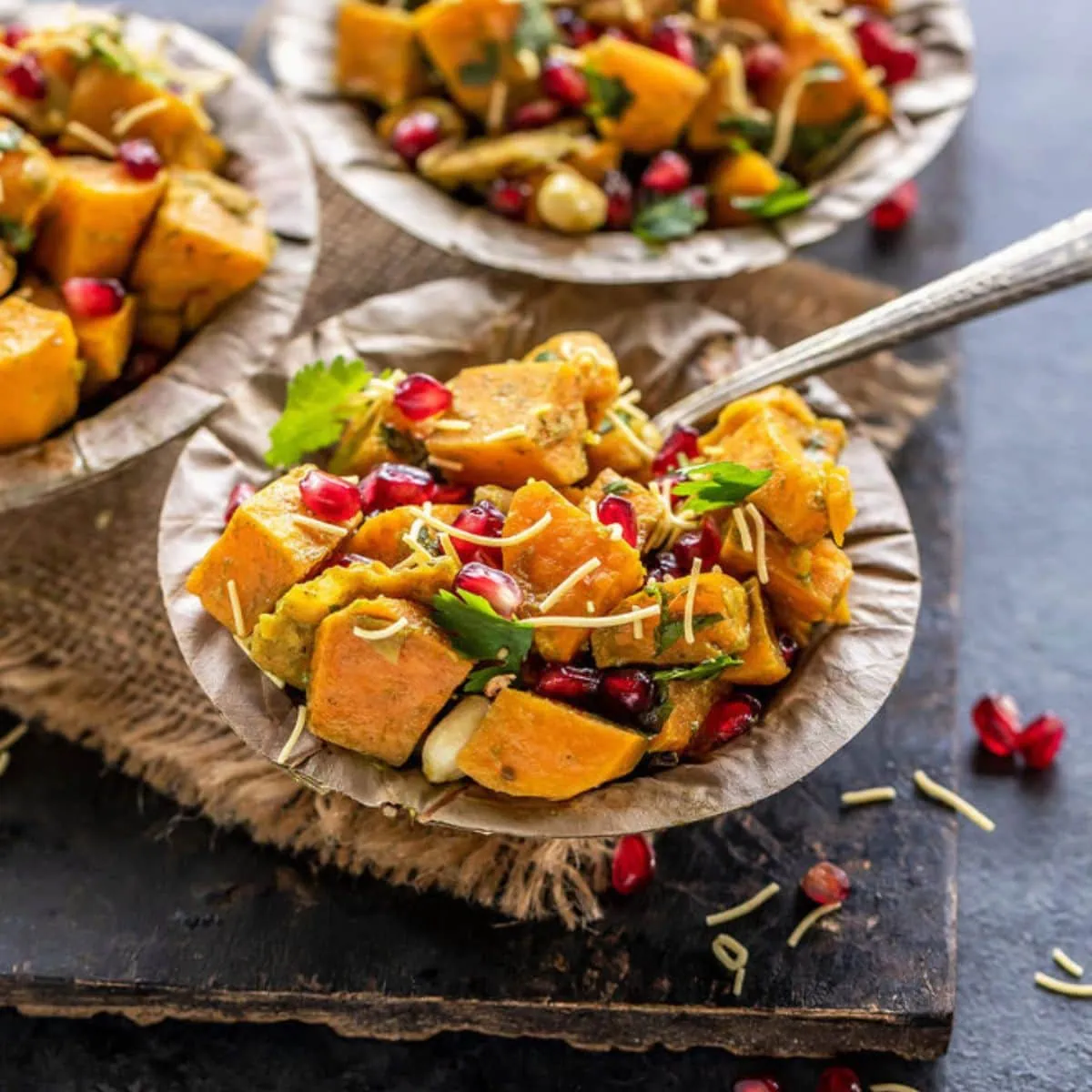 From comforting sweet potato curry to spicy potato tikki and sweet desserts, these 13 Indian Sweet Potato Recipes are the best you will find!
Get the 13 Indian Sweet Potato Recipes.
21 Flavorful Indian Spinach Recipes That Will Make You Fall in Love with Greens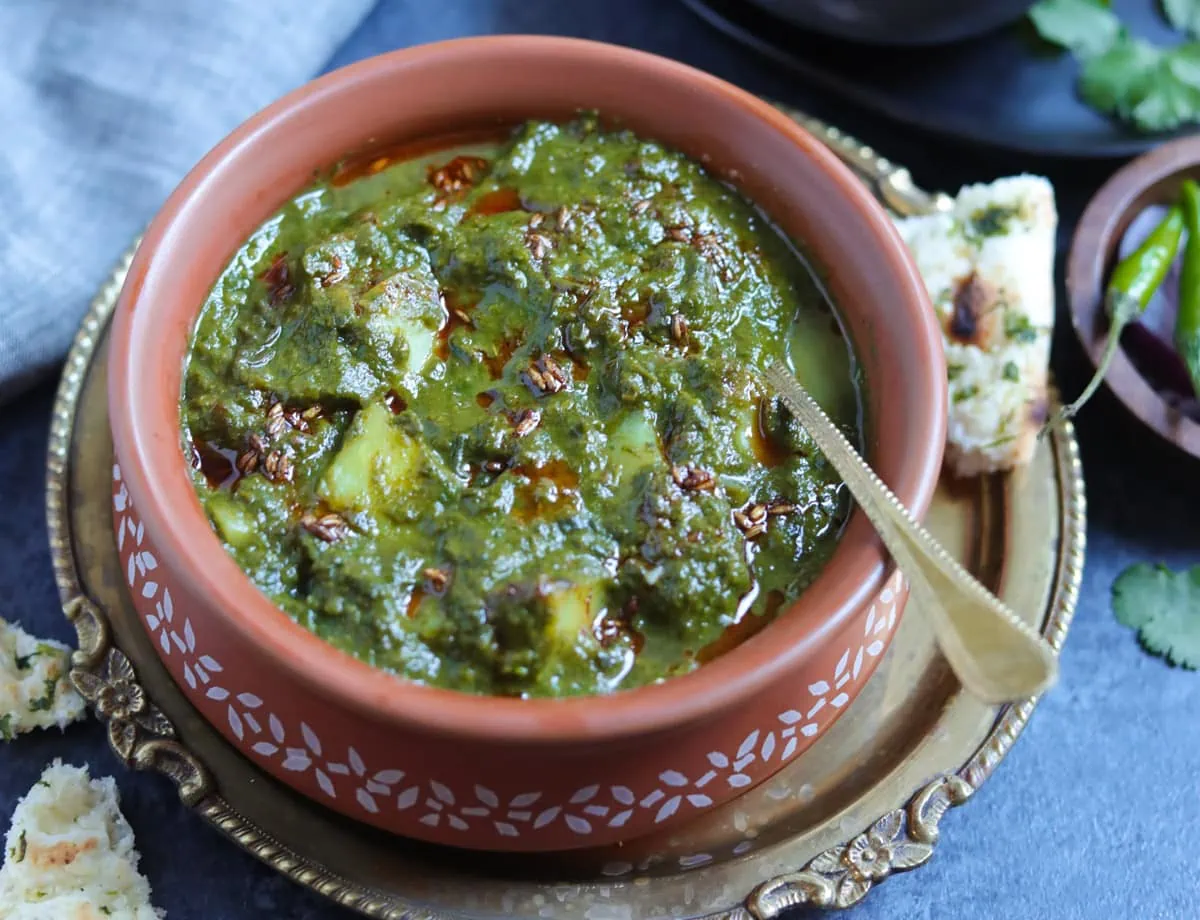 If you want to add more greens to your diet, spinach is an excellent choice! And there is no better way to enjoy this nutritious vegetable than with these 21 Indian spinach recipes.
Get the 21 Indian Spinach Recipes.
12 Delectable Indian Mushroom Recipes That Will Take You on a Flavorful Adventure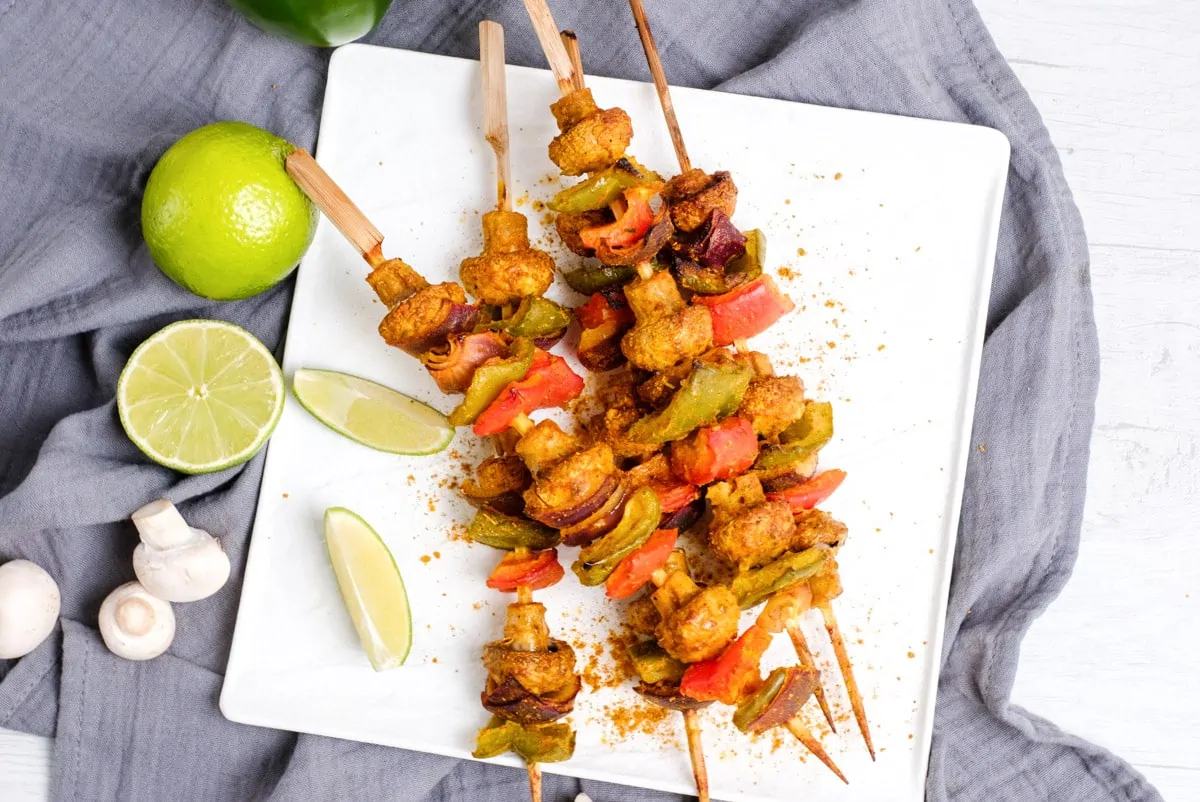 Looking for new delicious ways to enjoy mushrooms? Look no further than these 12 delicious Indian mushroom recipes!
Get the 12 Indian Mushroom Recipes.