You don't have to give up your favorite Indian foods to lose weight. Here are 25+ healthy, high-protein, and low-fat Indian recipes that you can include in your weight loss diet plan.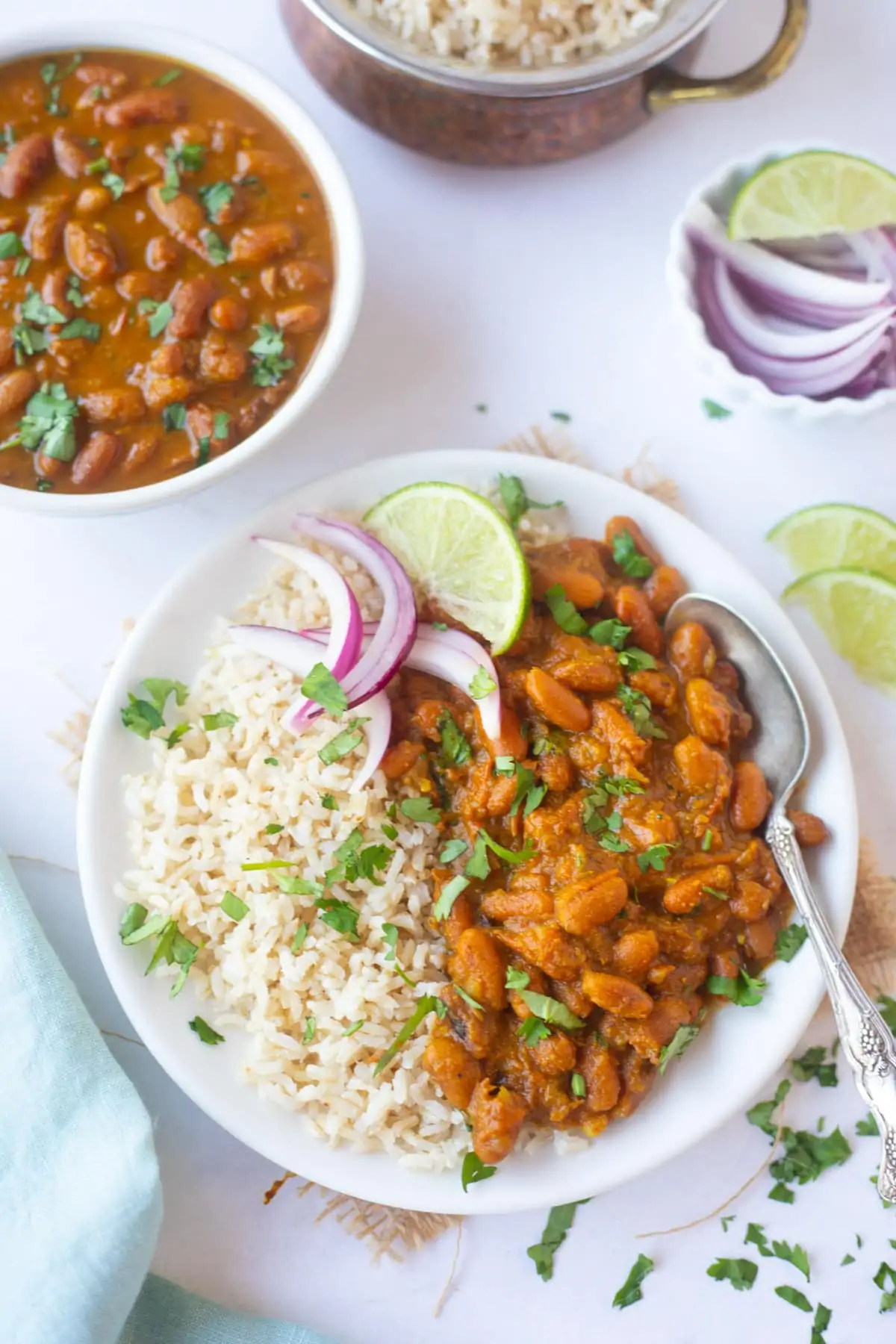 Even though most people worldwide think that Indian food means creamy curries, that is not true. We did not grow up eating them at home.
Typically, most Indians include vegetables, pulses, homemade fresh flatbreads, and rice in their regular meals. These are all healthy if included in the right portions.
We are a country with a huge emphasis on homecooked meals, which are so varied and include a variety of nutrients. We just need to return to our roots, make smart choices, and enjoy the meals in the right portions.
Being an Indian, I love to eat Indian foods for my everyday meals - including breakfast, lunch, and dinner. I will share recipes to incorporate high-protein foods low in fats and sugars into your Indian diet plan.
Why am I qualified to share about foods to eat for losing weight? In the last year, I have lost over 15 pounds (about 7kg) and have kept them off successfully for over a year. I have done this by watching my diet, working out (mainly doing strength training), and keeping active throughout the day.
Jump to:
What makes a good Indian weight loss plan?
Weight loss happens when there is a calorie deficit - calorie intake is less than the number of calories used by the body. The best weight loss plans include a combination of watching your food and exercising (preferably strength training).
The basic idea here is to include foods that nourish your body. In my opinion, it is best not to cut out any food groups but rather include them in the right portions for your daily meals.
Focus on a balanced meal that incorporates protein, vegetables, and carbohydrates in the right amounts. Make sure to cook food using less oil, which helps to make the food low in fat.
Choose healthy, high-protein, low-fat, and preferably sugar-free ingredients in your meal planning.
Tips for losing weight with Indian food
It is commonly said, "The best diet plan is the one that helps to achieve your goals, and you can follow consistently."
Being an Indian, I would never be able to follow a meal plan that does not incorporate Indian foods into my regular meals. However, there are some things to keep in mind if you are trying to lose weight while enjoying Indian food.
Homecooked food is best when trying to lose weight, as you can control how much oil and sugar are used.
Foods high in protein are important to include in every meal. For example, eggs or chilla for breakfast, paneer or chicken for lunch, and lentils/beans for dinner.
Include green vegetables in every meal. It is preferable to include low-carb vegetables and avoid starchy vegetables such as potatoes and sweet corn.
Cook vegetables and proteins without using too much oil and cream. For example, a simple vegetable stir fry is better than a creamy vegetable korma curry.
You don't have to skip roti or rice, but it is important to eat them in small portions. eg. ¾ cup of cooked rice per meal.
Always try to get your fill of proteins and veggies before eating more carbohydrates.
Choose healthy snacks such as nuts/seeds and fruits.
It is okay to enjoy your beverages, such as tea/coffee, once or twice daily, but skip the sugar.
Avoid fried food and sugars completely. Skip the chaat, samosas, and sugary desserts.
Choose the right foods in case you get hungry at odd hours. eg, eat a cup of sliced cucumber in place of choosing a cookie.
Finally, don't forget mindful eating, and exercise, being active when aiming for weight loss.
Sample Meal Plan for a Day
Eat a balanced diet with vegetables, protein, nuts and seeds, legumes, and healthy fats.
Breakfast - Masala Oats / Egg Bhurji, Tea/Coffee
Lunch - Paneer (or Chicken) Curry, Salad, 2 Roti
Snack - Fruits, Nuts
Dinner - Beans/Chickpea/Dal, Subzi, 2 Roti or Rice (¾ cup)
Drink lots of water all day.
Indian Breakfast Recipes for Weight Loss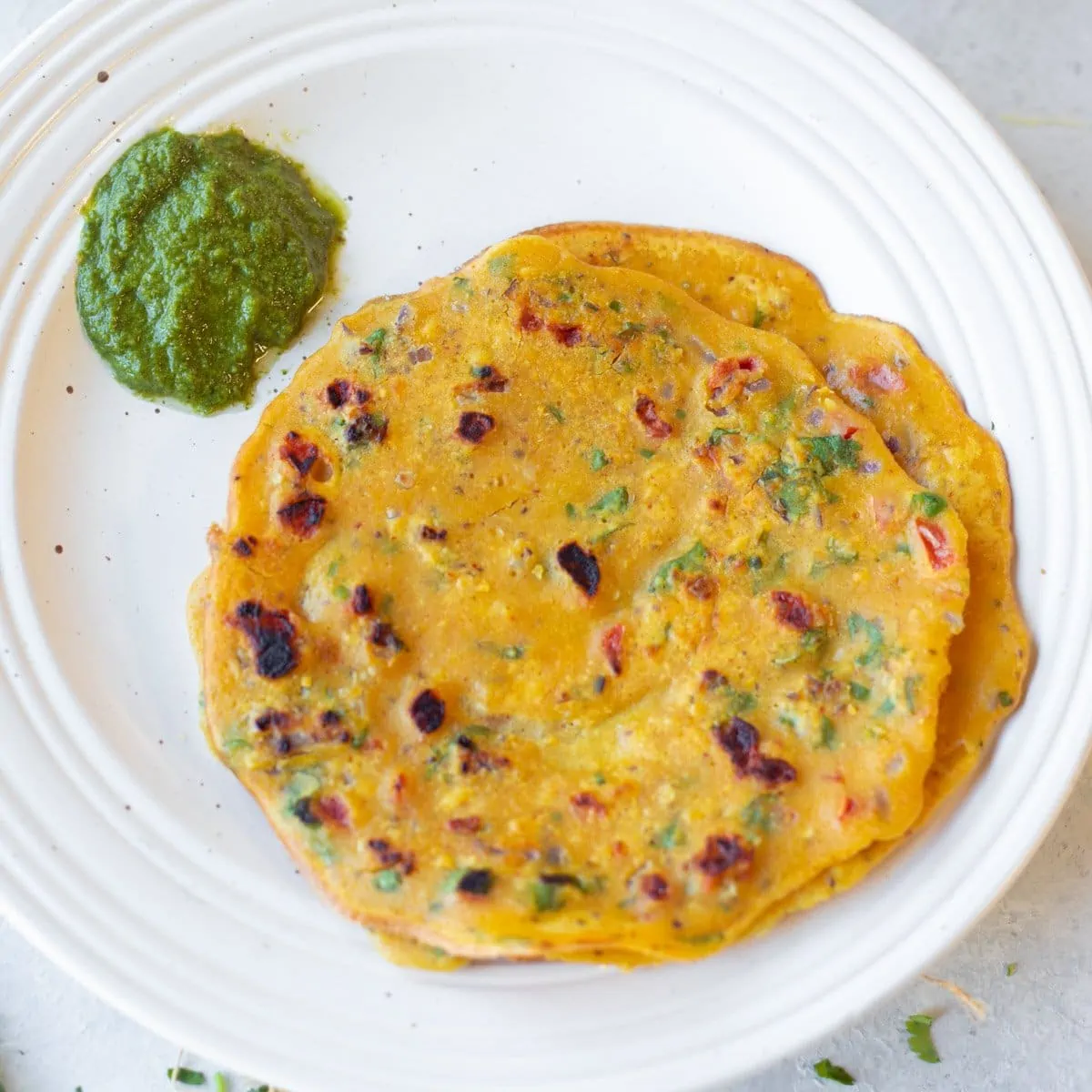 Made with besan/ gram flour and simple Indian spices and herbs, including chilies and onions, these savory gram-flour pancakes are nutritious and vegan. Enjoy them for a healthy breakfast with homemade chutney.
Get the Besan Pudla recipe.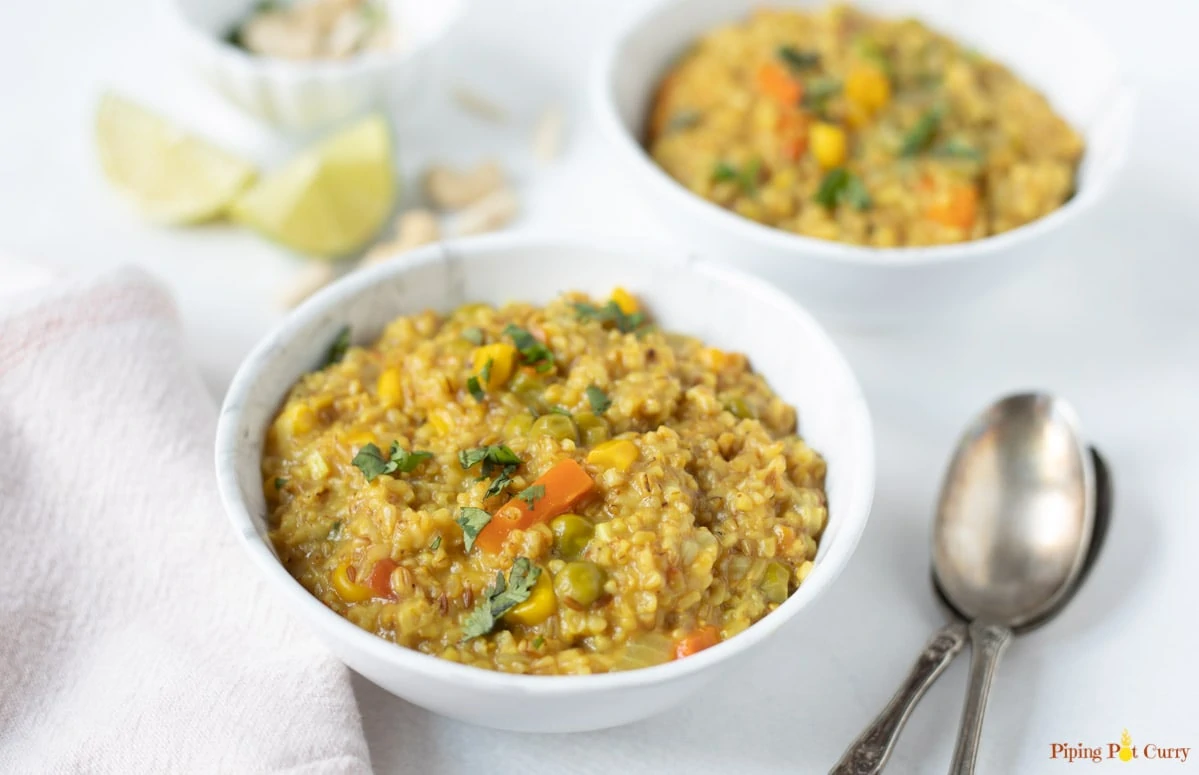 Masala Oats is a savory oatmeal breakfast porridge cooked with many vegetables and aromatic Indian spices - a healthy & delicious vegan breakfast recipe.
Get the Savory Oats recipe.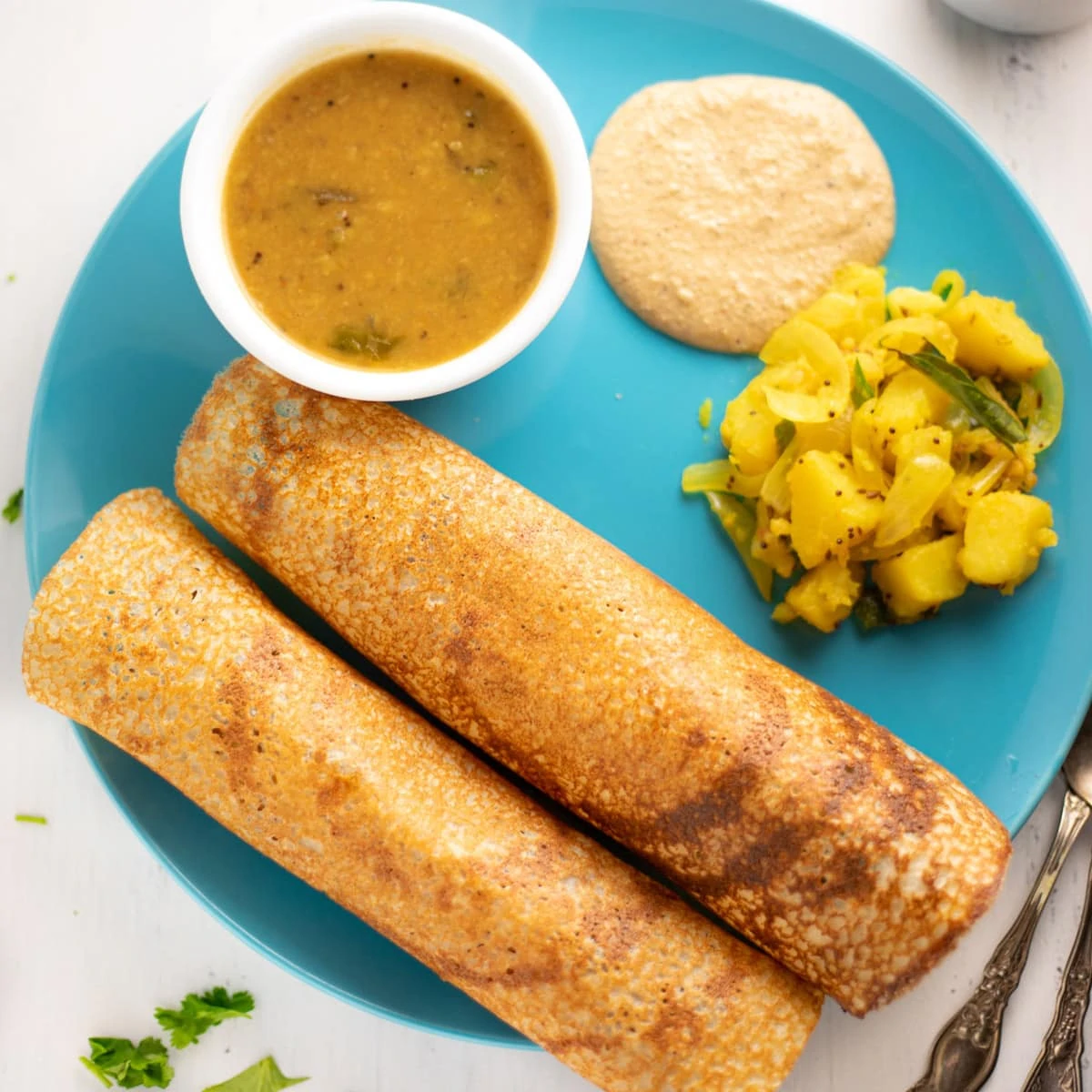 Quinoa Dosa is a healthy twist to the delicious South Indian dosa. With no rice and no fermentation, this crispy quinoa dosa is my go-to recipe for a quick South Indian meal.
Get the Quinoa Dosa recipe.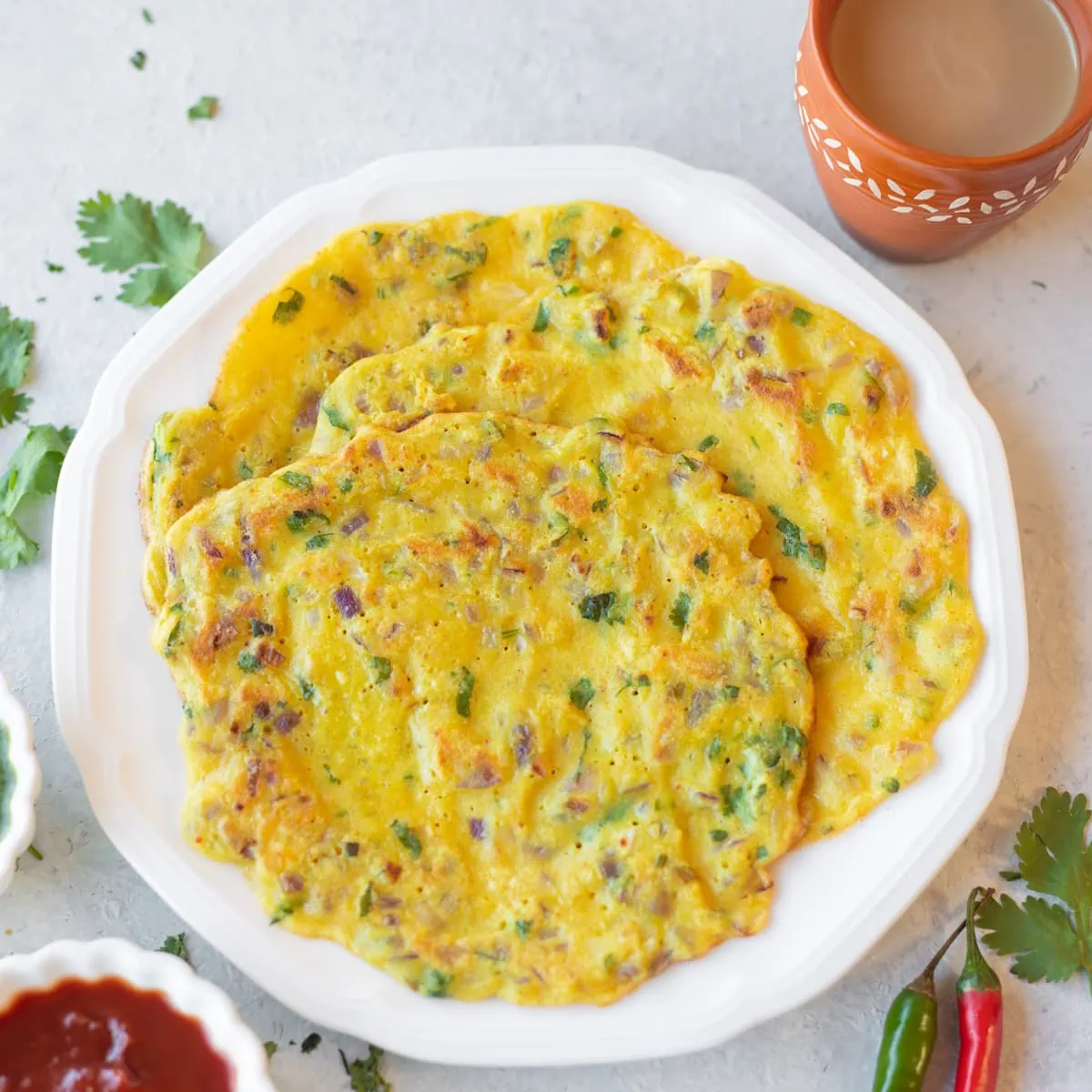 Moong Dal Chilla is a delicious protein-packed Indian breakfast made with yellow moong dal, green chili, onion, and simple spices and herbs. These savory lentil pancakes are nutritious, vegan, and gluten-free.
Get the Moong Dal Pudla recipe.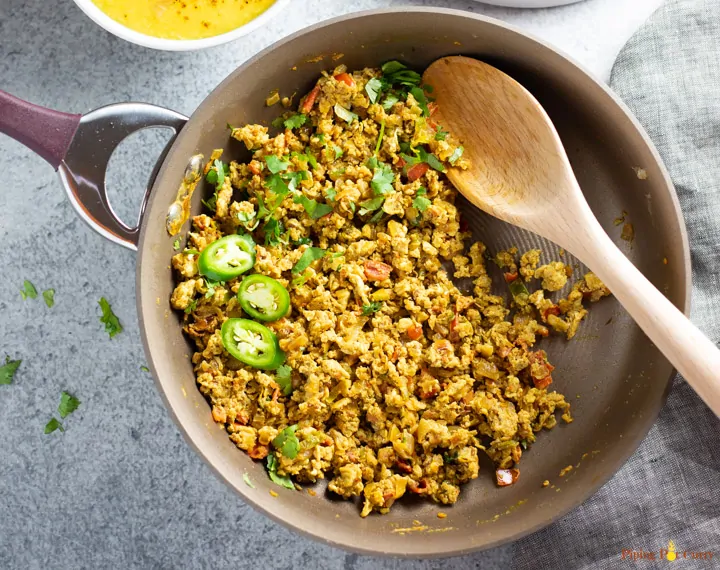 Egg bhurji is the Indian twist to scrambled eggs. Packed with the right amount of flavor and spice, these delicious Indian scrambled eggs are perfect for any meal of the day!
Get the Egg Bhurji recipe.
Simple Indian Weight Loss Salads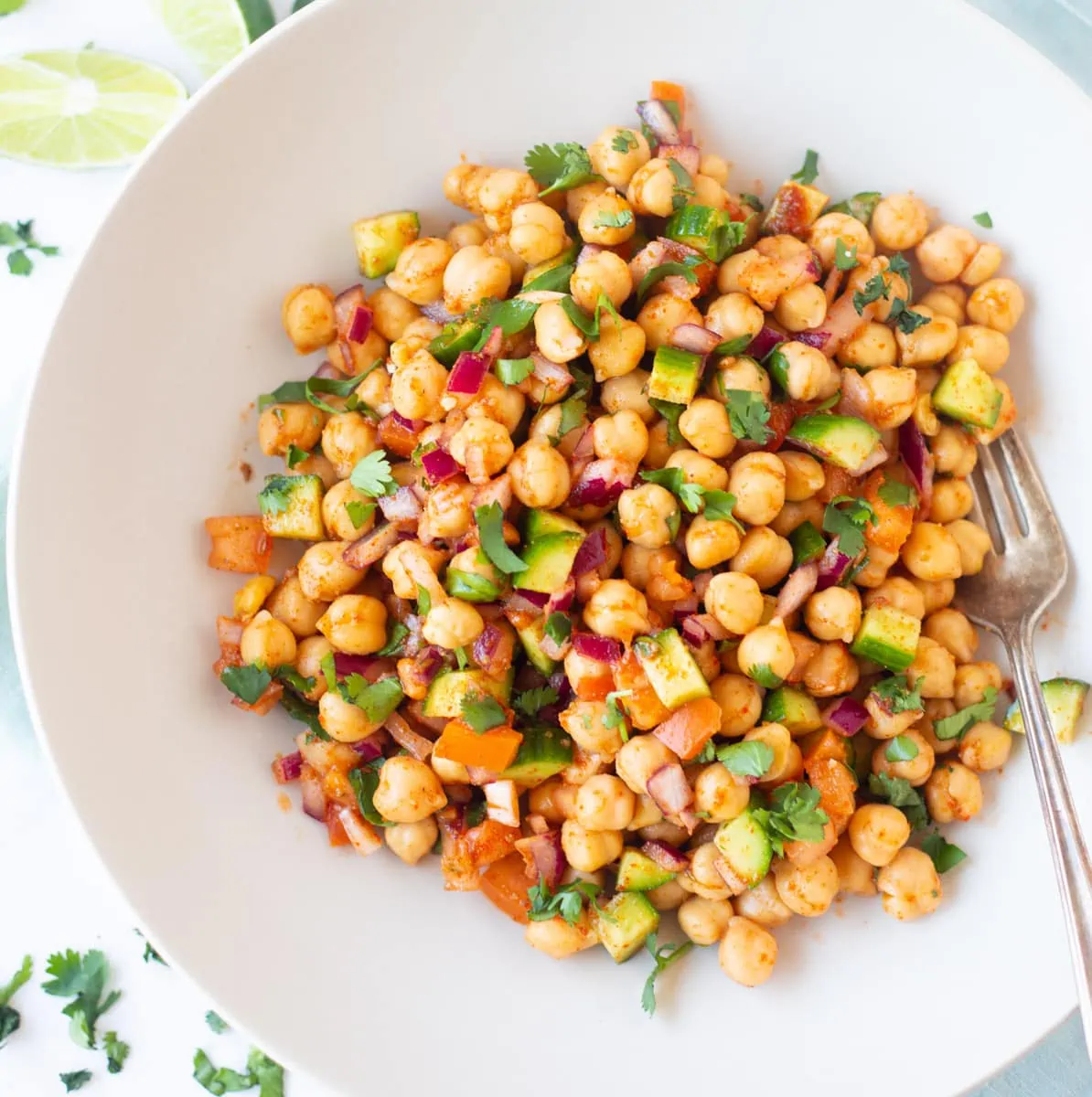 This Chickpea Salad is a healthy, vegan protein-rich salad that is easy to put together in just 10 minutes. Chickpeas are combined with fresh veggies, flavored with Indian spices, along with a tangy lemon dressing. Perfect for a snack or a quick lunch!
Get the Chickpea Salad recipe.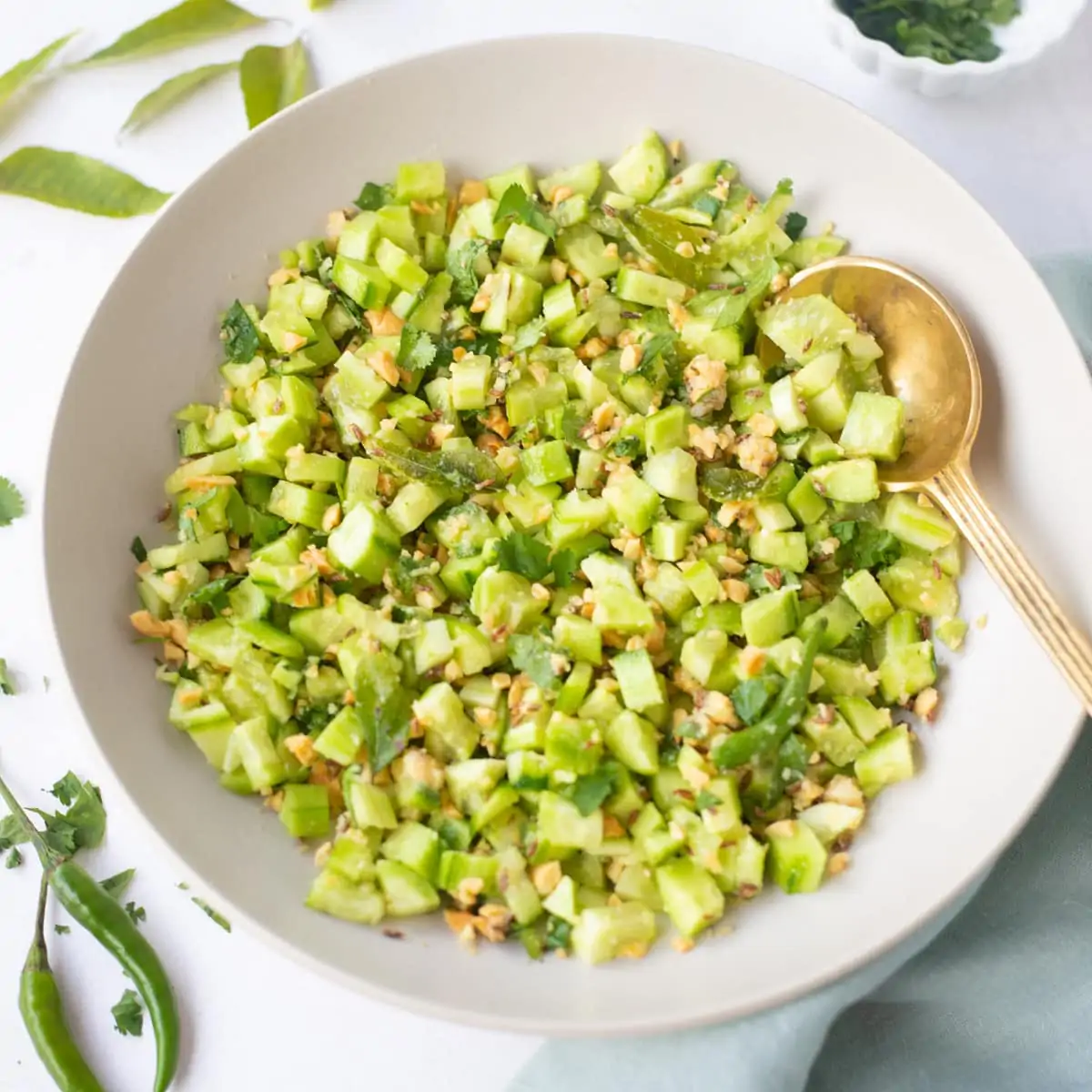 Kakdi Koshimbir is an easy-to-make, refreshing Indian cucumber salad bursting with crunch and flavor. This hydrating low-carb salad can be made in just 15 minutes!
Get the Indian Cucumber Salad recipe.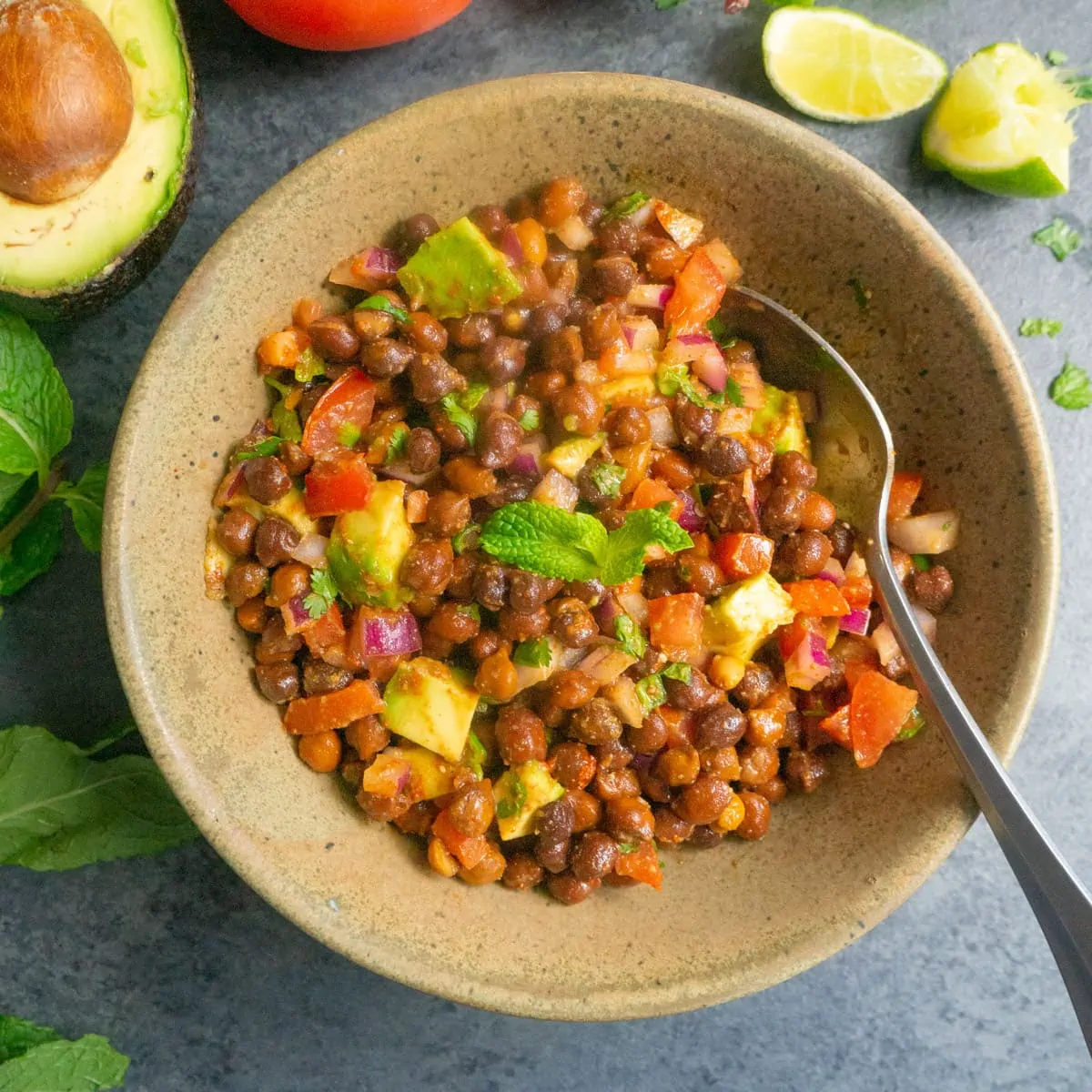 Kala Chana Chaat is a nutrition-packed Black Chickpea Salad made with black chickpeas, crunchy onions, tomatoes, avocado, and spices. This refreshing salad has fresh and tangy flavors and can be enjoyed as a great protein-rich breakfast or snack. Vegan & gluten-free.
Get the Kala Chana Salad recipe.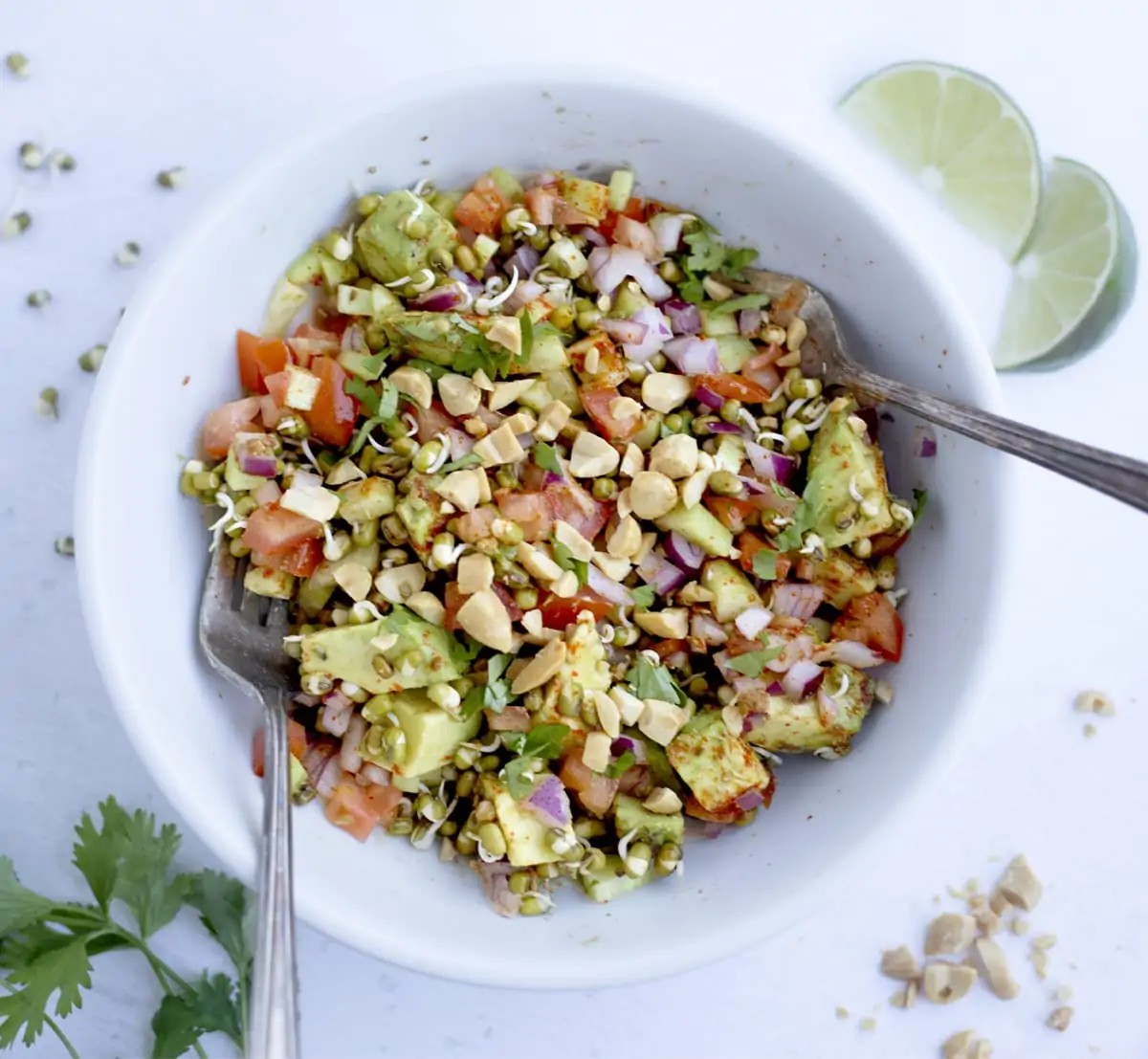 This easy homemade nutrition-packed Sprouts Salad is made with sprouted mung beans, crunchy onions, tomatoes, cucumber, avocado, and spices. It is a refreshing salad with fresh and tangy flavors and can be enjoyed as a great protein-rich breakfast or snack.
Get the Mung Bean Salad recipe.
Indian Dal Recipes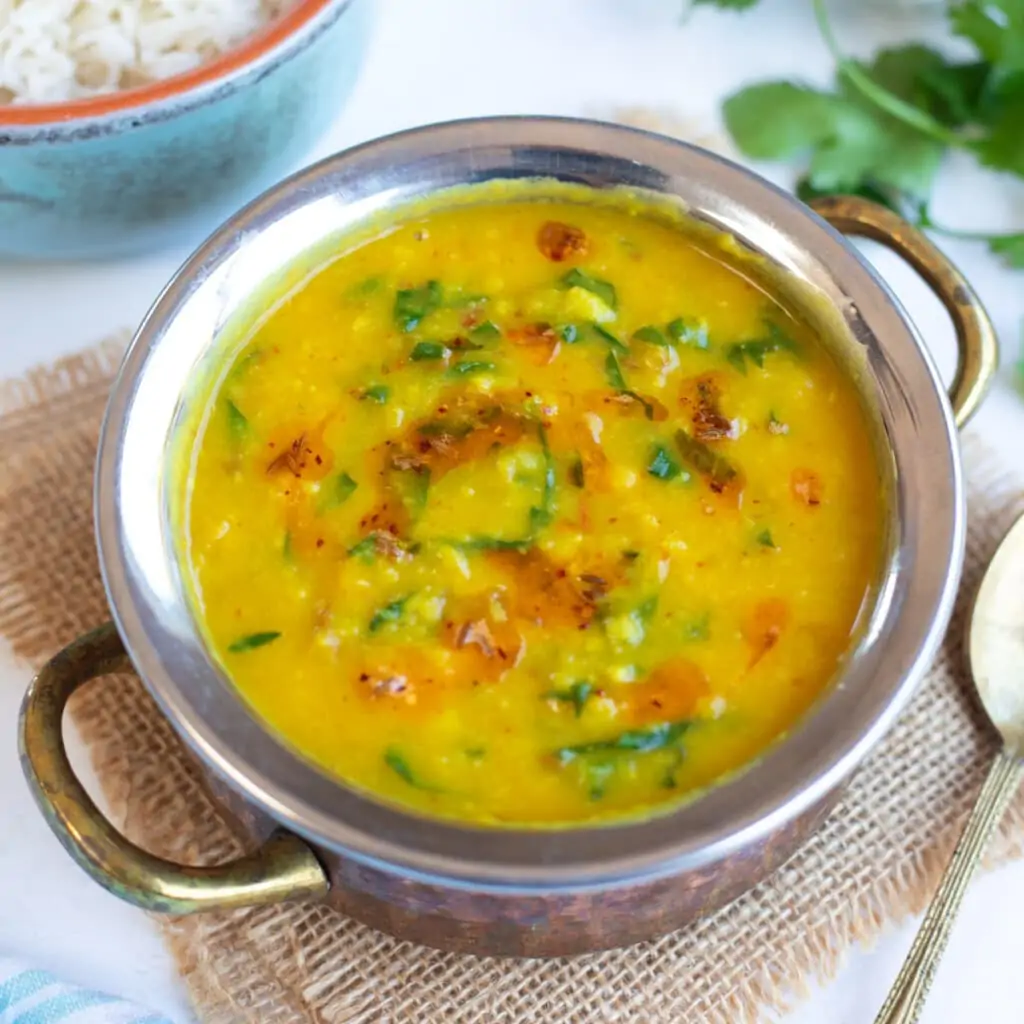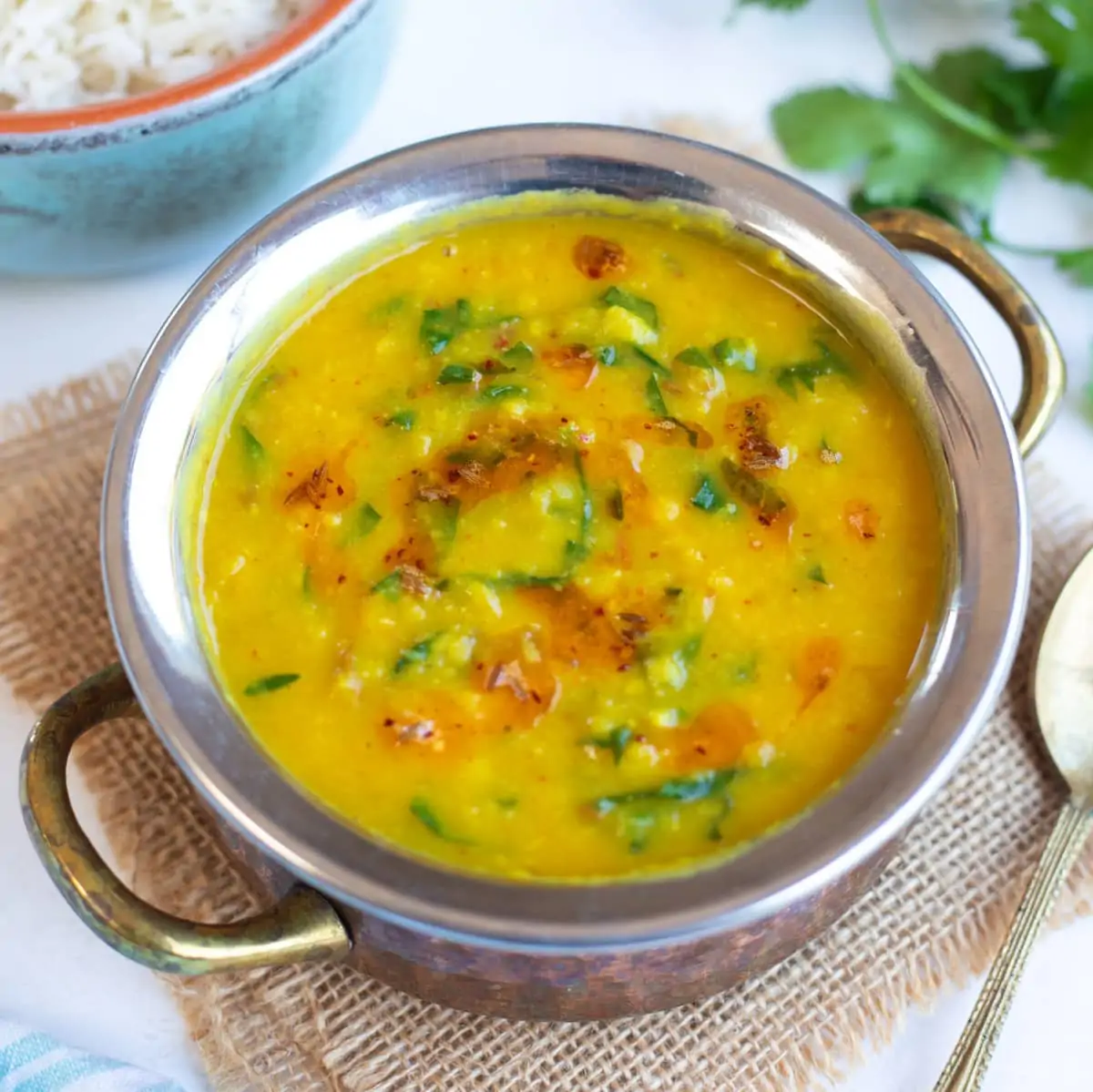 Spinach Dal, popularly called Dal Palak in India, is a comforting lentil soup with spinach mixed in it for extra nutrition. It is so easy to make it in the pressure cooker. Enjoy it with basmati rice or as a soup.
Get the Spinach Dal recipe.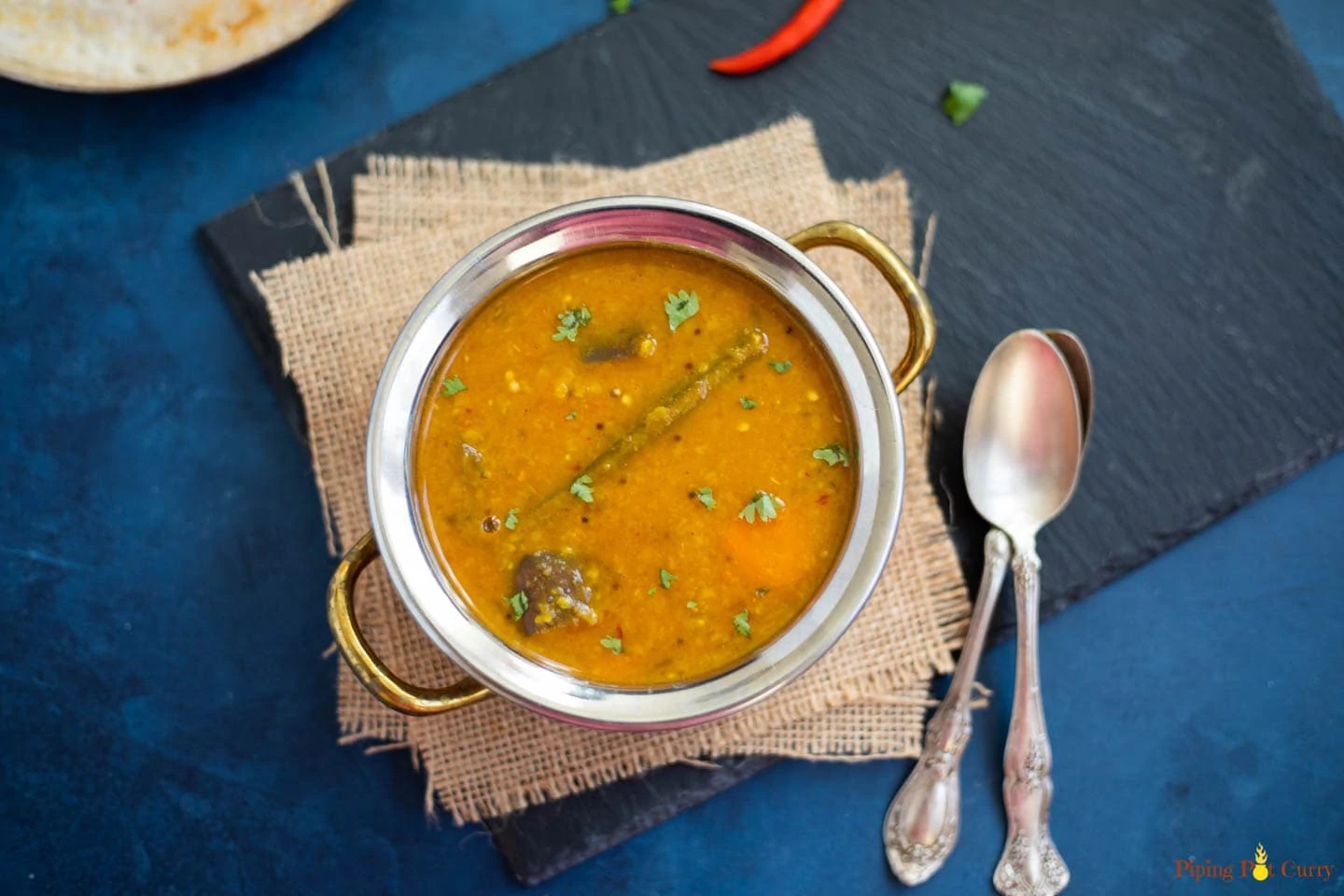 Authentic piping hot Mixed Vegetable Sambar is a South Indian delicacy, but because of its benefits and taste popular all over India. It is typically enjoyed with idli, dosa, or rice.
Get the Sambar recipe.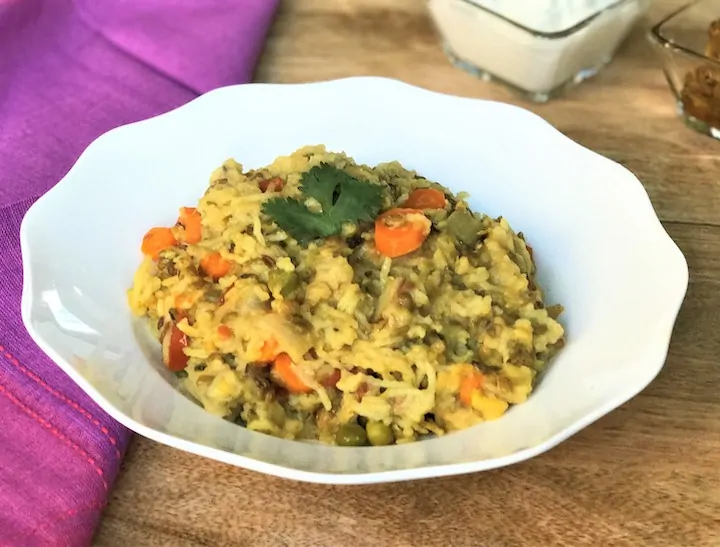 Lentil & Vegetable Khichdi or Masala Khichdi is a one-pot Indian vegetarian dish made with lentils, rice, and vegetables along with simple spices and ghee. This is the epitome of comfort foods all over India.
Get the Masala Khichdi recipe.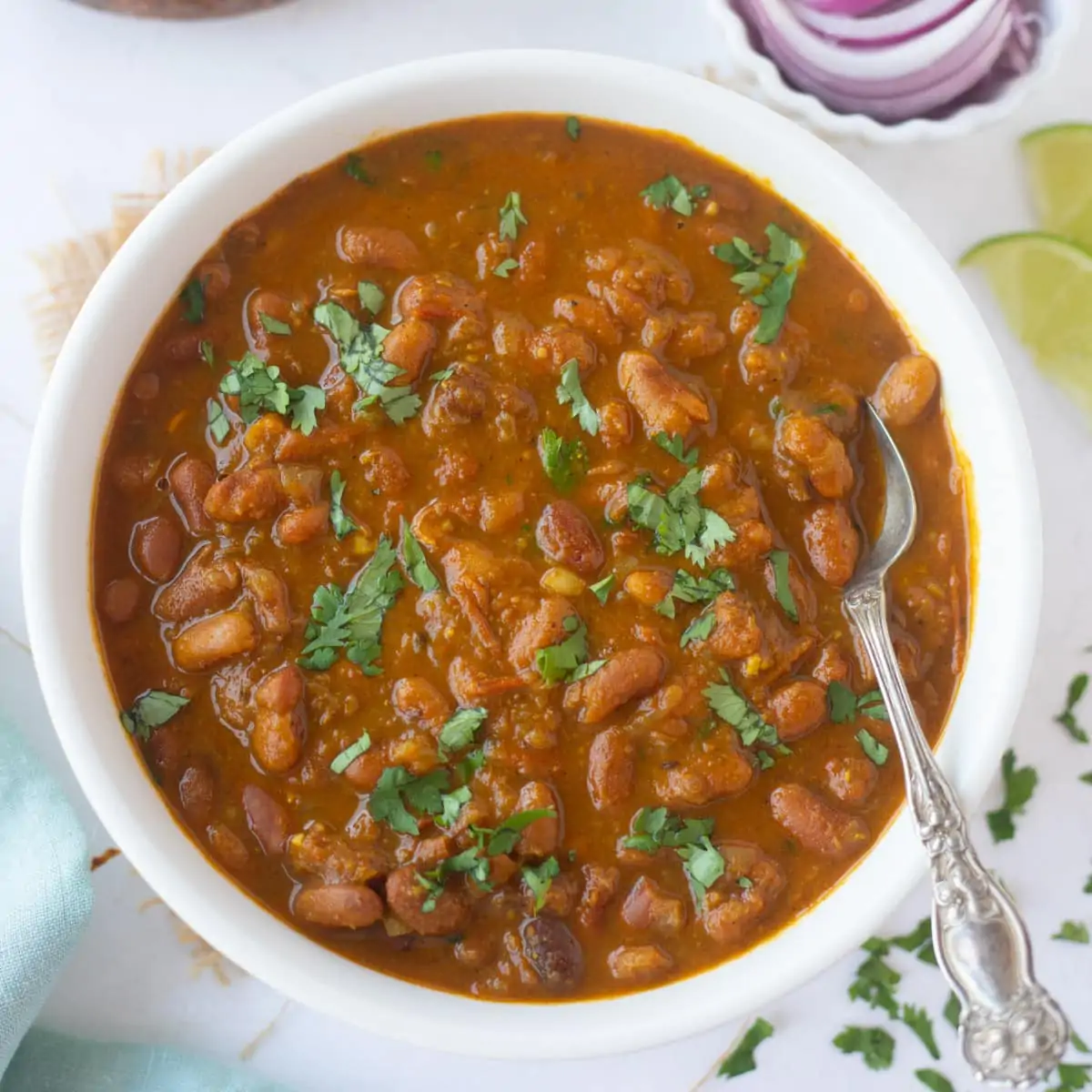 Rajma Masala, Indian Red Kidney Bean Curry is a favorite comfort food with rice. This is a high-protein curry that is great for your weekly meals.
Get the Rajma Masala recipe.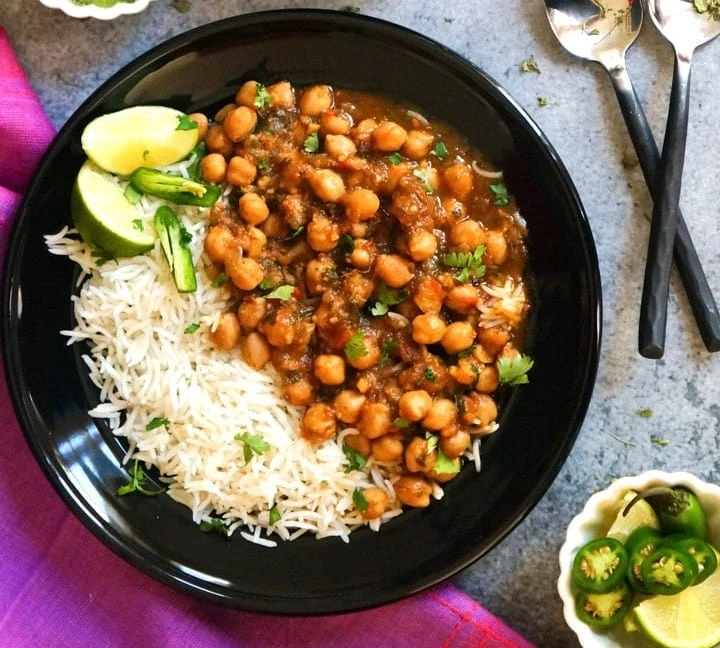 Punjabi Chole Masala / Chana Masala / Chickpeas Curry is a favorite North Indian dish. A healthy protein-rich vegan and gluten-free chickpea curry. This one-pot recipe for the authentic Chana Masala is easy to put together even on weeknights.
Get the Chole Masala recipe.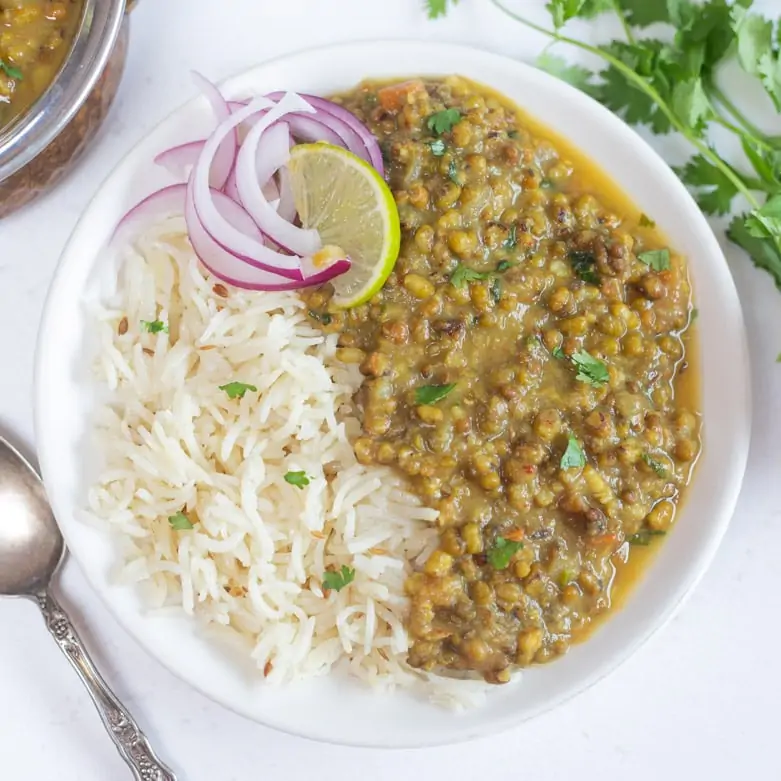 Wholesome Green Moong Dal is a delicious lentil soup that is so easy and quick to make in a pressure cooker. Made with mung beans, onions, tomatoes, and aromatic spices, this mung bean curry is a protein-packed comforting meal with rice.
Get the Moong Dal recipe.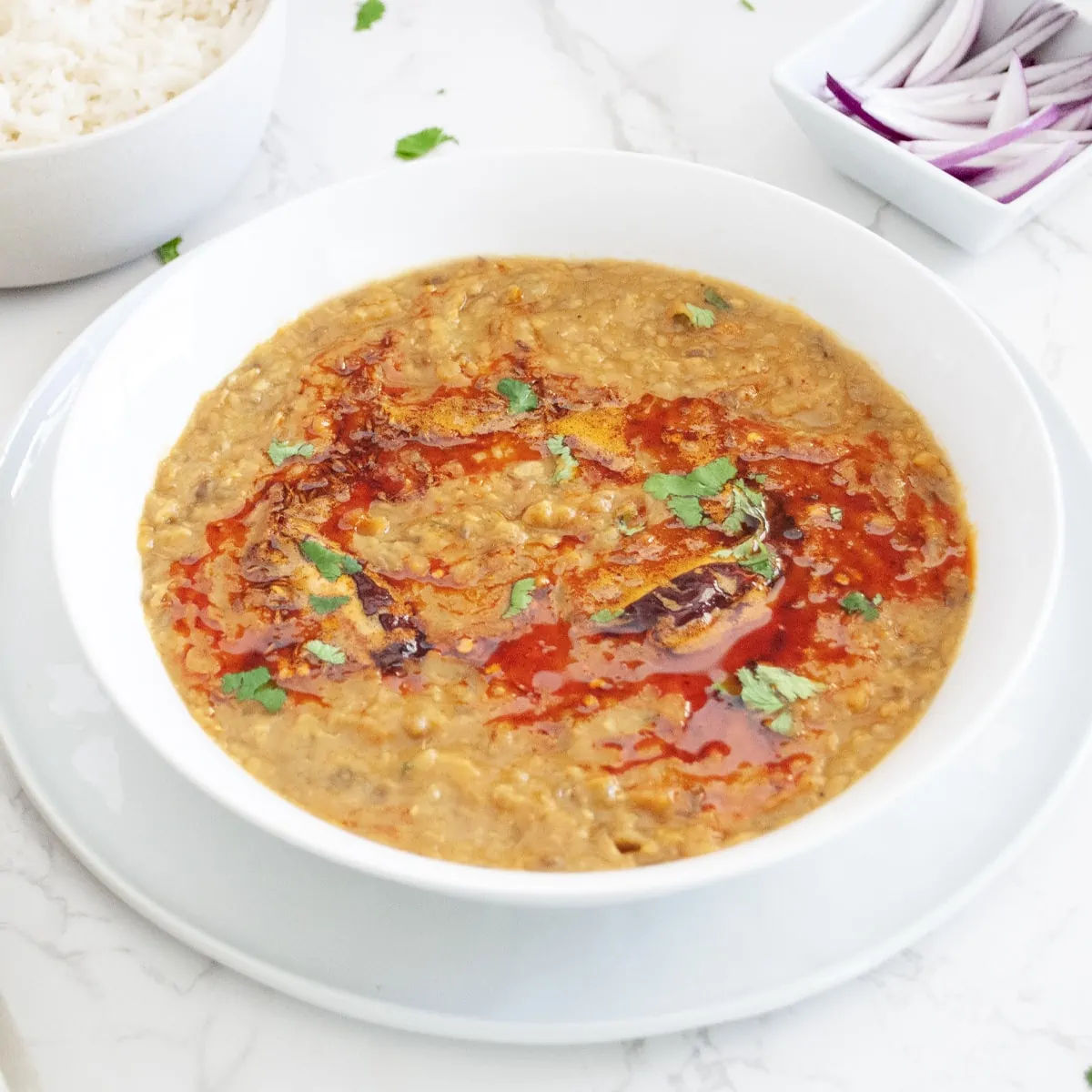 This Indian mixed lentil soup is high in protein and fiber. With only a few basic pantry ingredients, you can make this healthy and tasty dal for dinner.
Get the Mixed Dal recipe.
Indian Vegetable Curries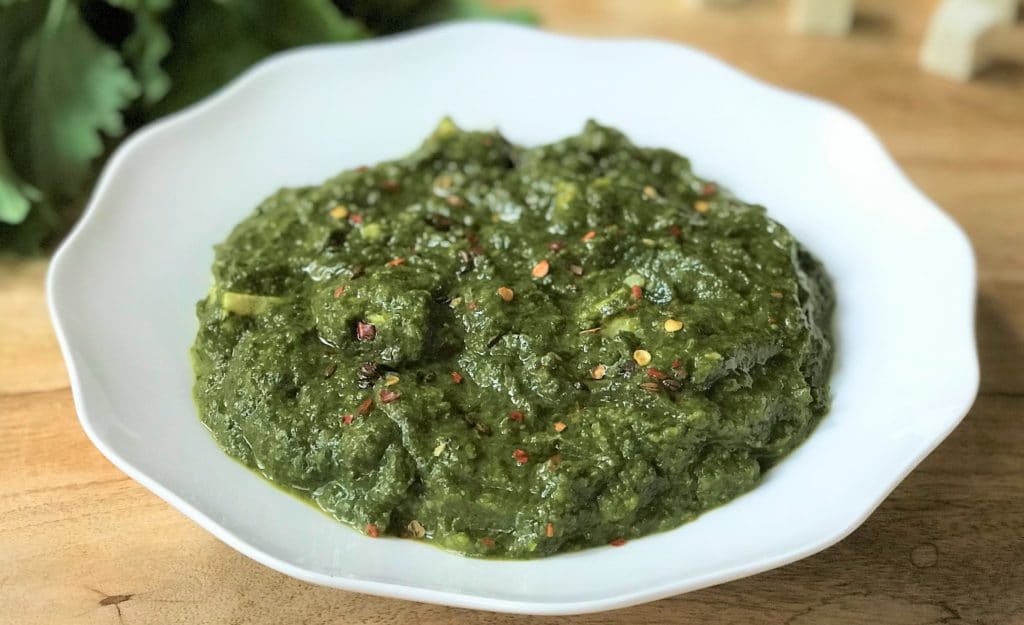 Saag Paneer is the authentic North Indian favorite. It is made with cooking mustard leaves and spinach with spices and cottage cheese, which makes it a delicious and nutritious dish.
Get the Saag recipe.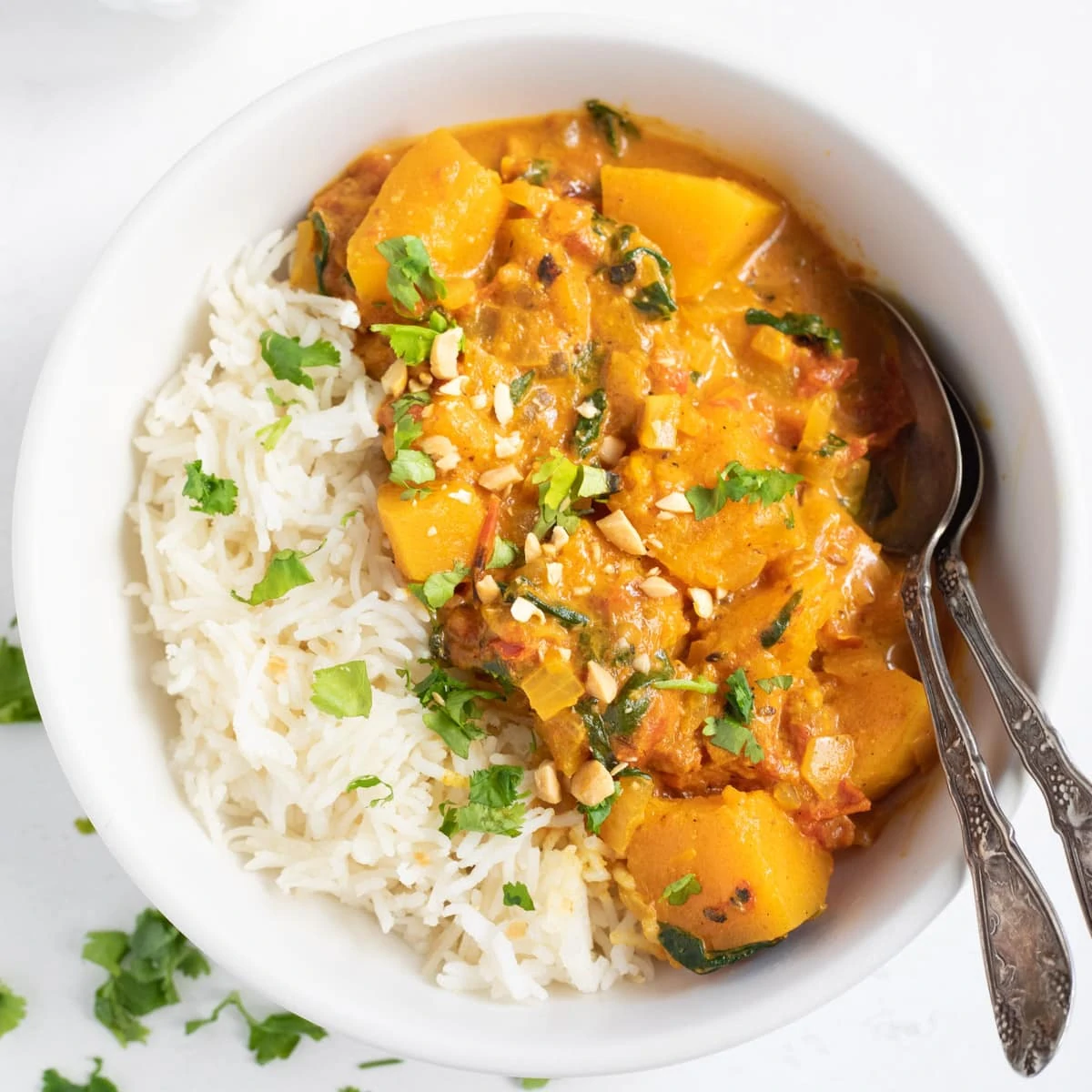 This Butternut Squash Curry is a creamy vegan curry filled with the goodness of squash, coconut milk, and spinach. This cozy and comforting curry is perfect for dinner!
Get the Butternut Squash Curry recipe.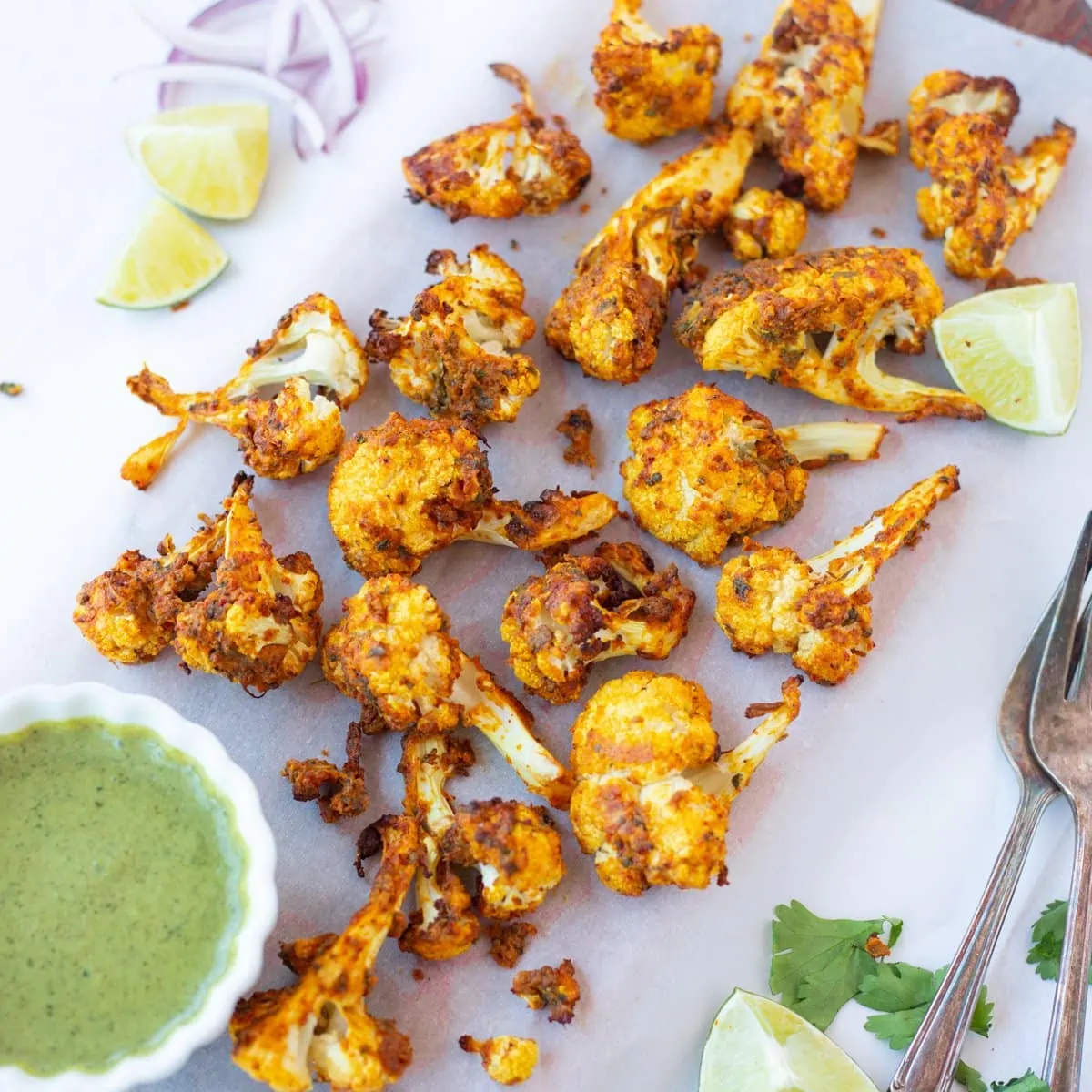 You can still enjoy wonderful appetizers while trying to watch your diet. Air Fryer Tandoori Gobi is a wonderful healthy snack or appetizer you can enjoy with cilantro chutney.
Get the Tandoori Gobi recipe.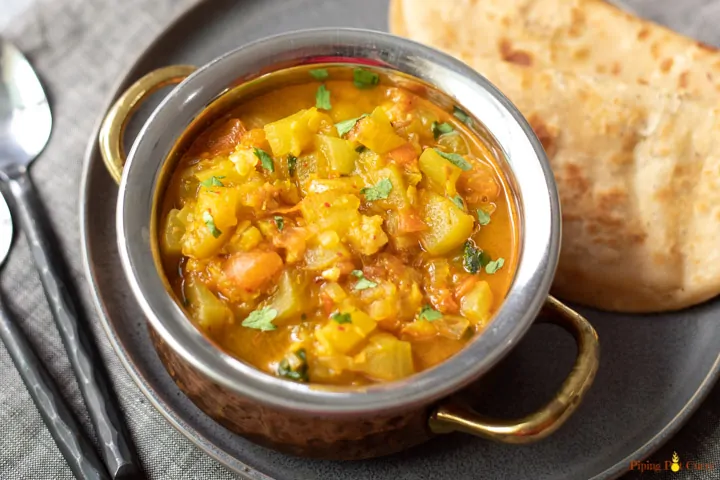 A traditional North Indian Bottle Gourd or Lauki Curry is a wonderful addition to your meal plans. This curry is easy to make and is unbelievably delicious and nutritious.
Get the Lauki Curry recipe.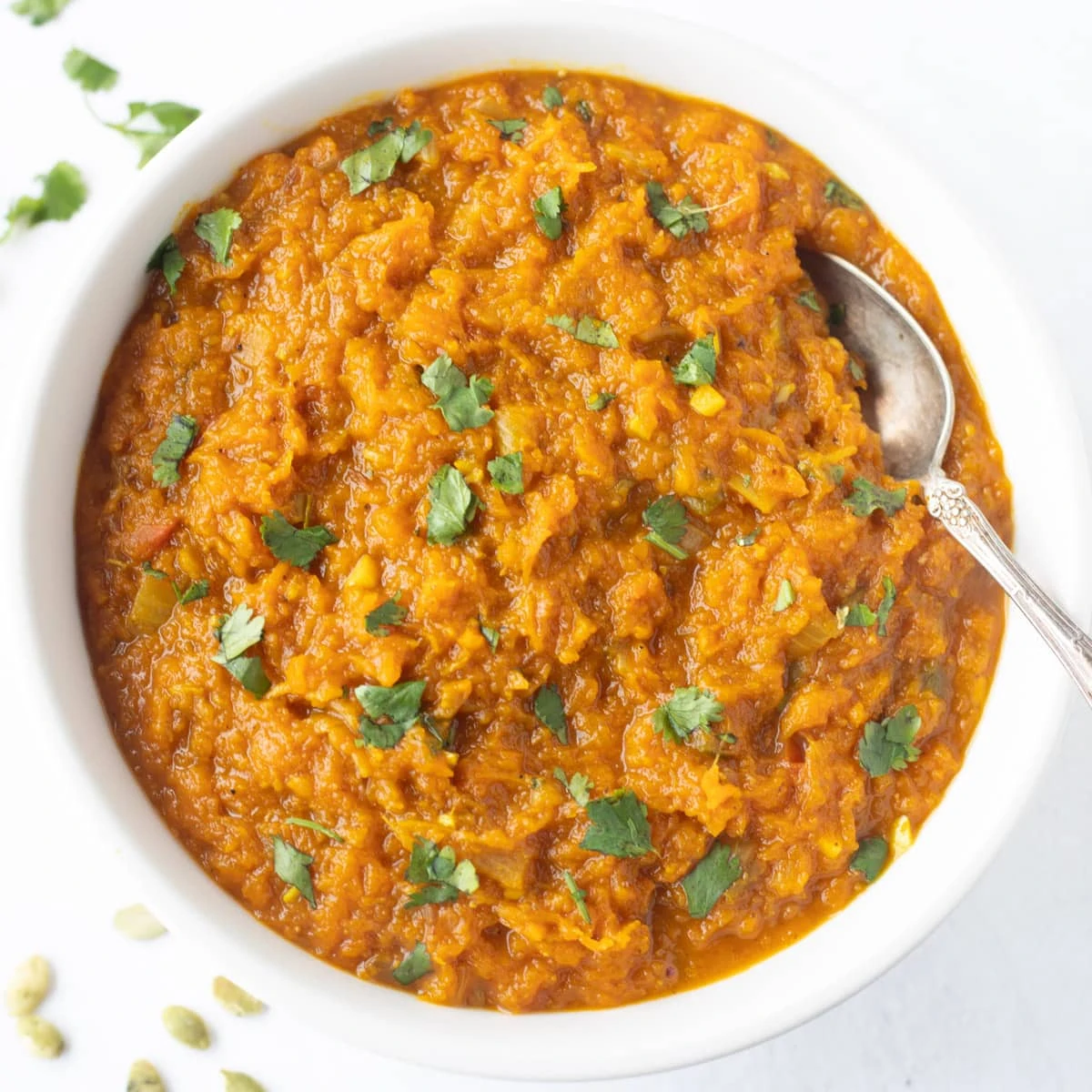 This Indian pumpkin curry is a delicious and healthy vegetable curry that can be made in less than 30 minutes for a weeknight dinner.
Get the Pumpkin Curry recipe.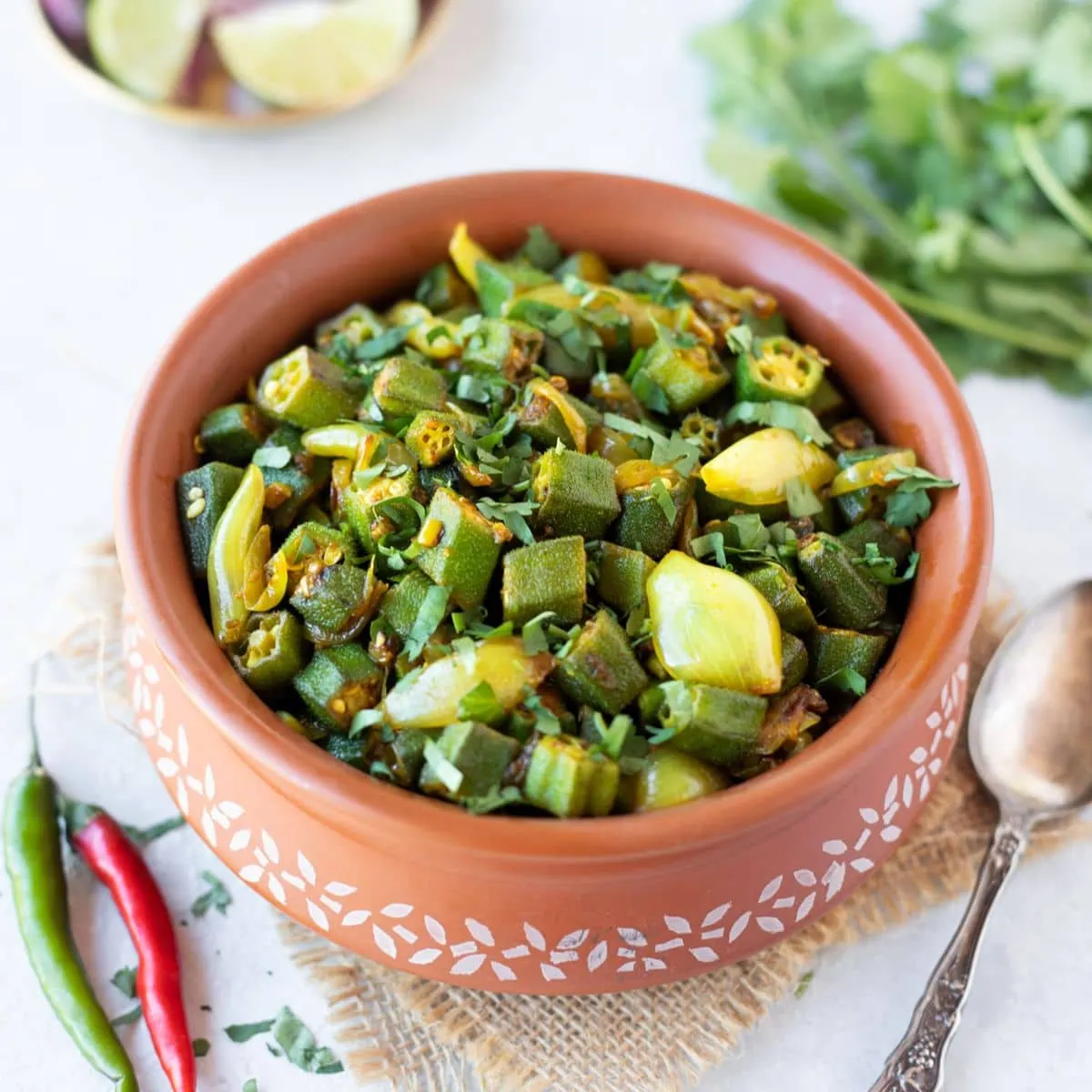 Bhindi do Pyaza is a flavorful Indian dish of crunchy okra cooked with lots of onions, garlic, and aromatic spices. Pair it with dal and rice for a simple Indian meal.
Get the Pyaaz wali Bhindi recipe.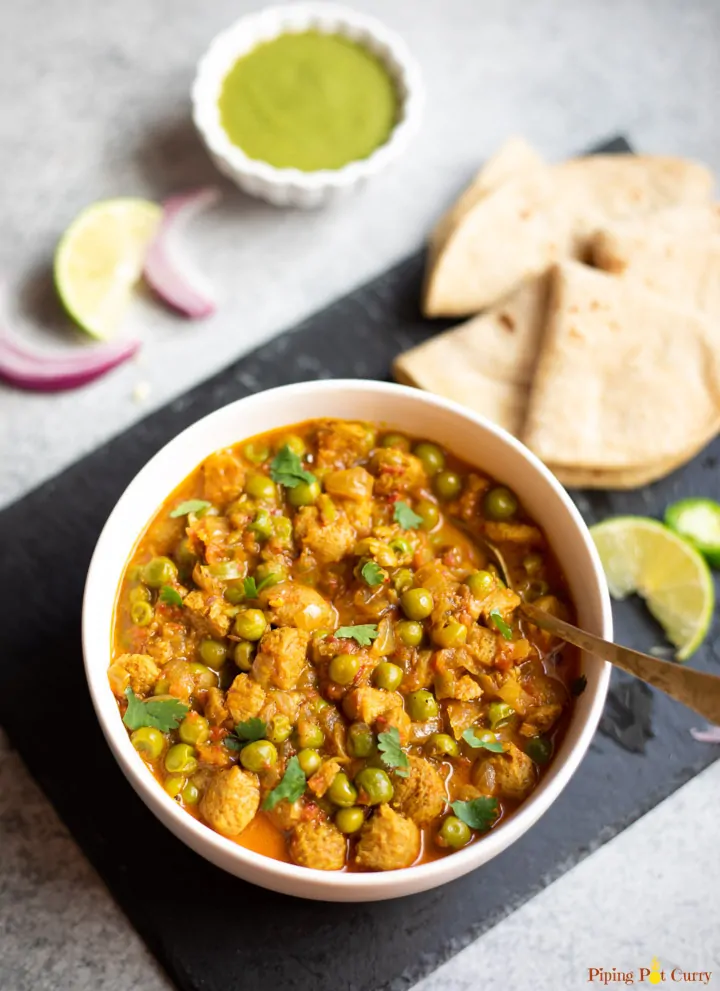 Soya chunks Curry is a flavorful, high-protein dish that is made with soya chunks or meal maker cooked in a delicious Indian sauce. You can enjoy this vegan soya matar curry with roti or rice for an easy healthy dinner!
Get the Soya Curry recipe.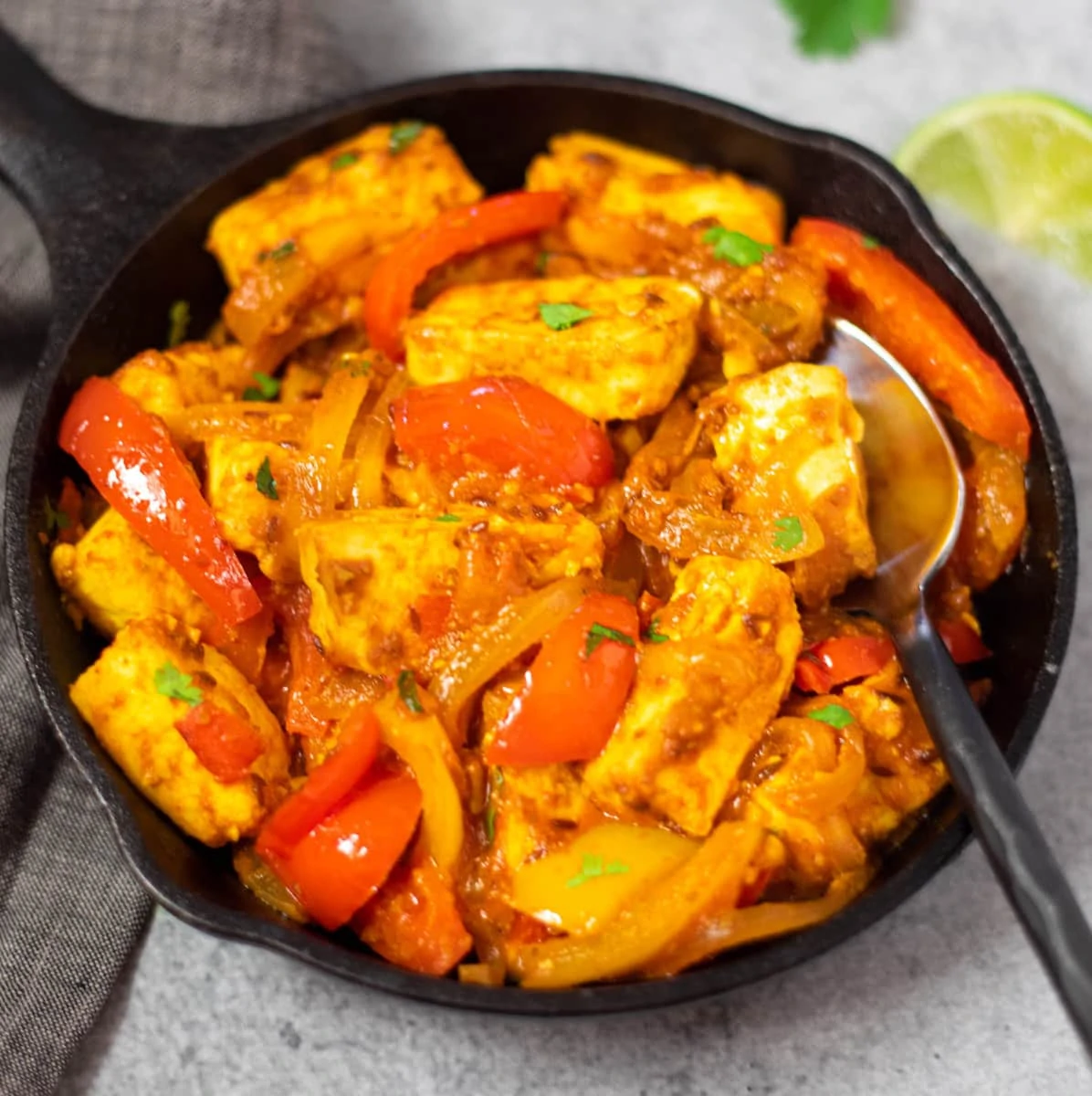 Paneer Jalfrezi is a delicious stir-fry curry with a heavenly combination of paneer and peppers. This vegetarian restaurant-style dish can be made within 20 minutes and perfectly accompanies your vegetarian weight loss plan.
Get the Paneer Jalfrezi recipe.
Healthy Indian Side Dishes
This easy homemade Indian Cucumber Raita is so refreshing. Made with grated cucumber and yogurt, and flavored with spices, it is a perfect easy side dish. Serve it as an accompaniment to biryani, pulao, or any Indian meal.
Get the Cucumber Raita recipe.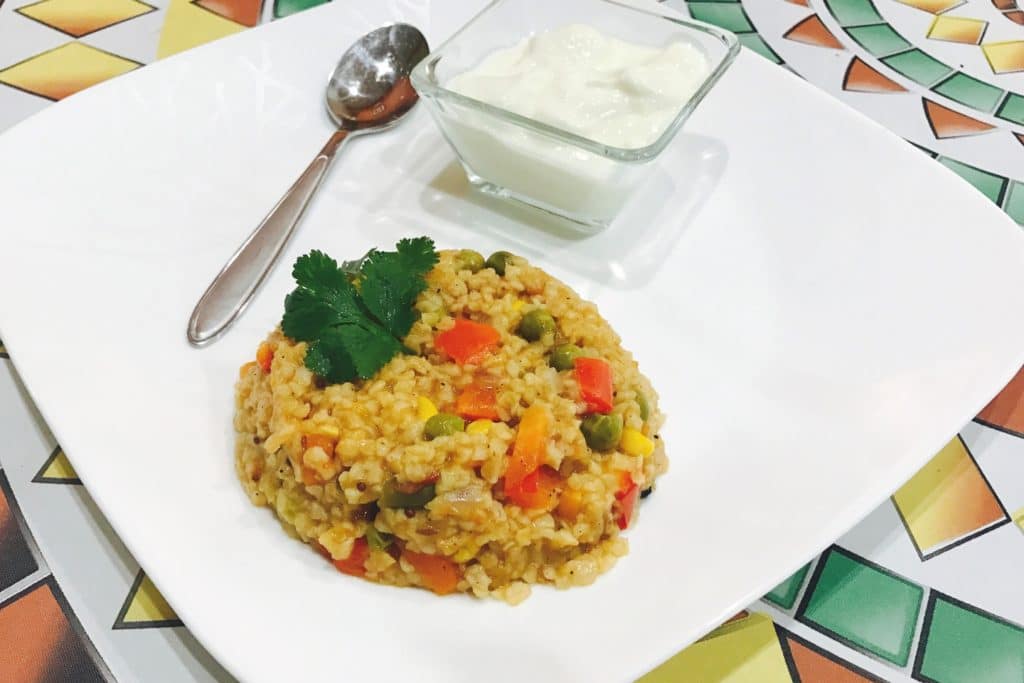 Cracked Wheat Upma/ Dalia Pulao is made with cracked wheat cooked with vegetables, garlic, and spices. This is one of our favorites and a great substitute for rice pulao, which can be cooked in under 30 minutes.
Get the Dalia recipe.
Healthy Indian Chicken Recipes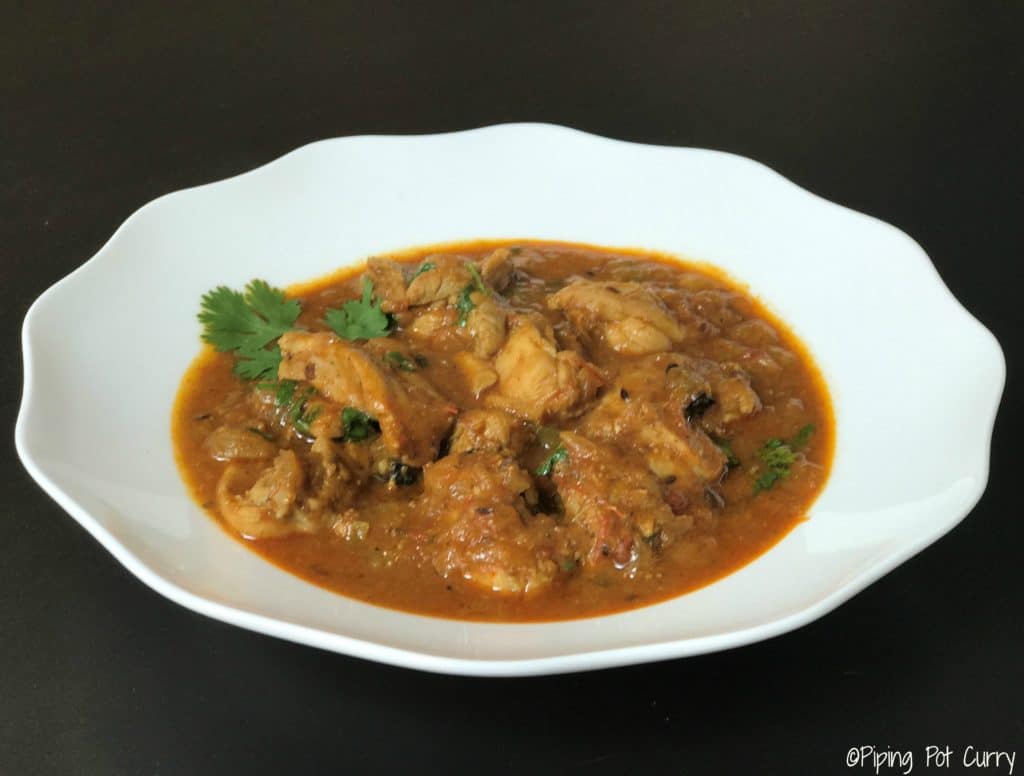 Mom's authentic Chicken Curry recipe is a simple Indian chicken curry made in an onion-tomato gravy with the aroma of whole spices. With no cream added, this is a healthy curry to include in your regular meals.
Get the Chicken Curry recipe.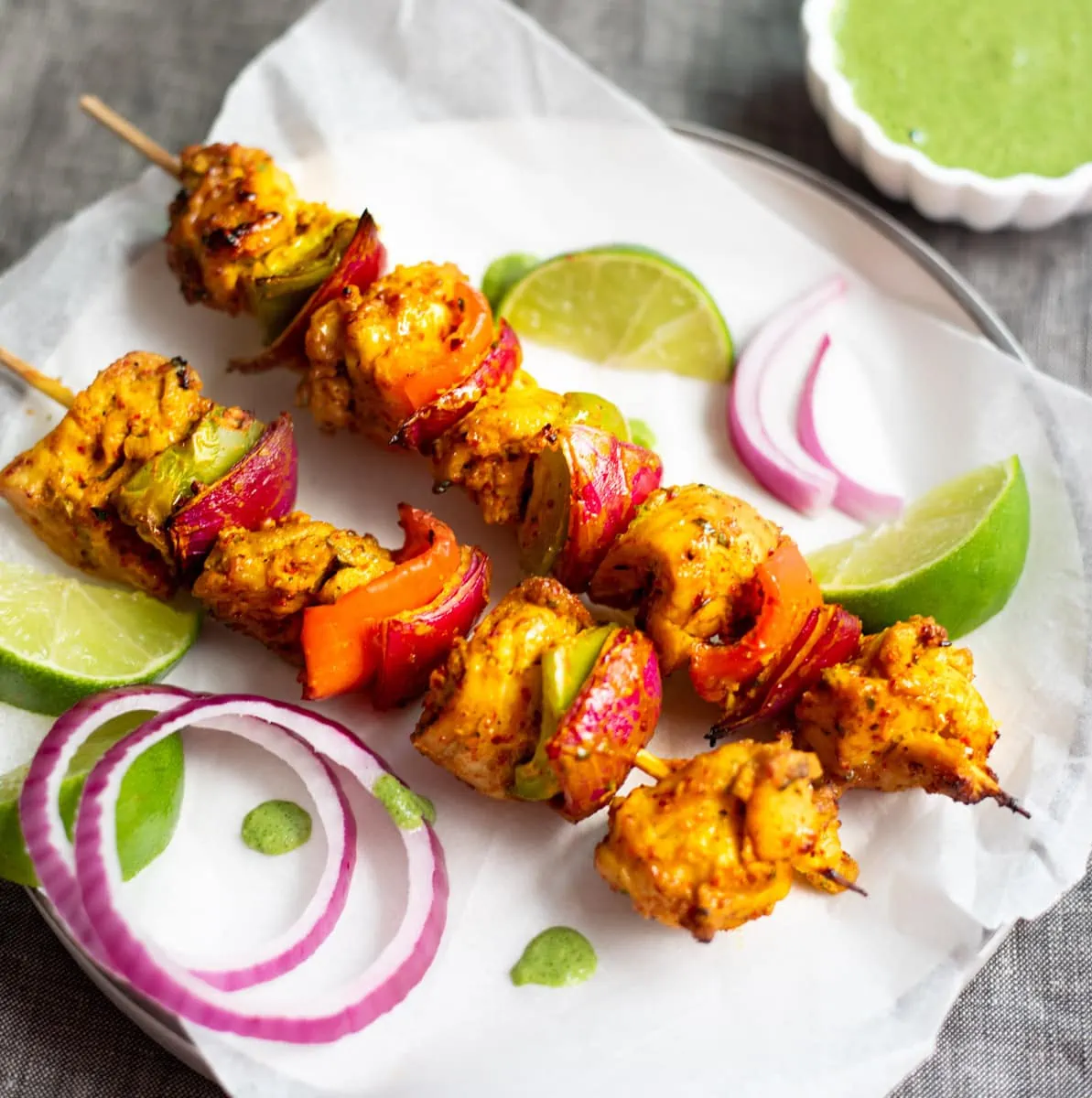 Chicken Tikka Kebab is a delicious appetizer that is packed with flavor. It starts with chicken pieces marinated in yogurt, lime juice, and aromatic spices, then threaded onto skewers and cooked to create a delicious appetizer. Make it in the air fryer or oven to include in your meal prep for the week!
Get the Chicken Tikka recipe.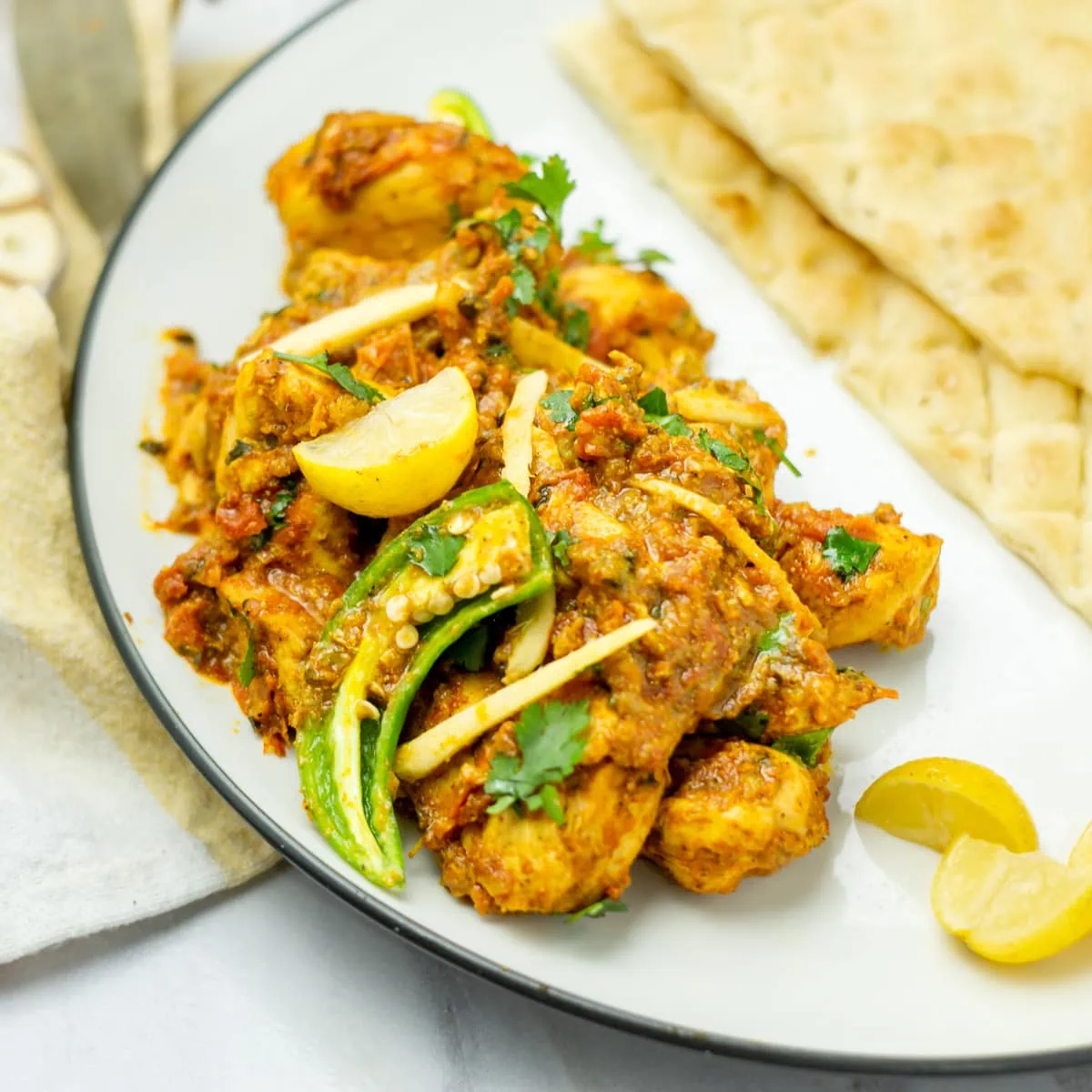 Chicken Karahi is a flavorful and aromatic chicken curry made with chicken, tomatoes, earthy spices, and fresh ginger. This healthy home-style chicken curry pairs perfectly with roti or rice.
Get the Chicken Karahi recipe.
I hope you enjoy these healthy recipe ideas. Include them in your weekly meal plans, and let us know which ones were your favorite in the comments.