Looking for easy Gujarati recipes? Take a look at these 20+ delicious vegetarian Gujarati Recipes. This Western Indian cuisine is diverse, including a variety of snacks, appetizers, condiments, curries and desserts. They're sweet, spicy, tangy, and delectable.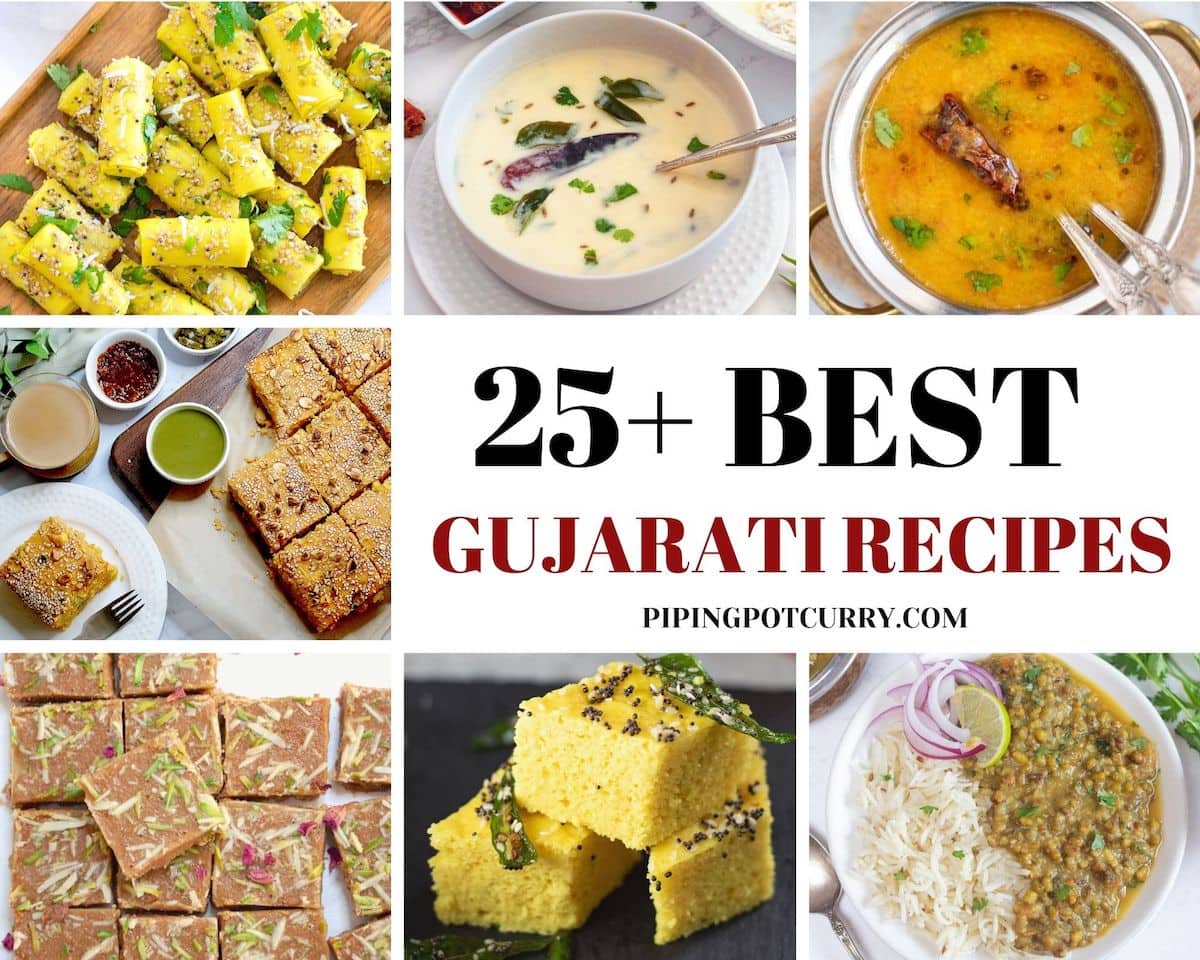 Gujarati cuisine is primarily vegetarian and is one of India's oldest culinary delights. It includes an extensive range of pickles, farsans, chutneys, snacks, and starters.
However, the true distinction of Gujarati cuisine from other cuisines in India is the creative combination of sweet and spicy flavors, such as in Gujarati Kadhi, Dal, or Dhokla and Khandvi.
Gujarati cuisine is found in the creative use of common vegetables and mild spices. It's an excellent combination of tastes, with sweet undertones dominating most meals such as Gujarati Kadhi, Dhokla, and Fafda.
A complete Gujarati thali or meal would include – dal, kadhi, khichdi, shaak (curry), dhokla, rice, and pickle. It is such a satisfying comforting meal.
Below I am sharing my favorite Gujarati recipes. As you explore this round-up of excellent Gujarati recipes, I hope you find some inspiration to try something new!
Jump to:
Breakfast & Appetizers
Khaman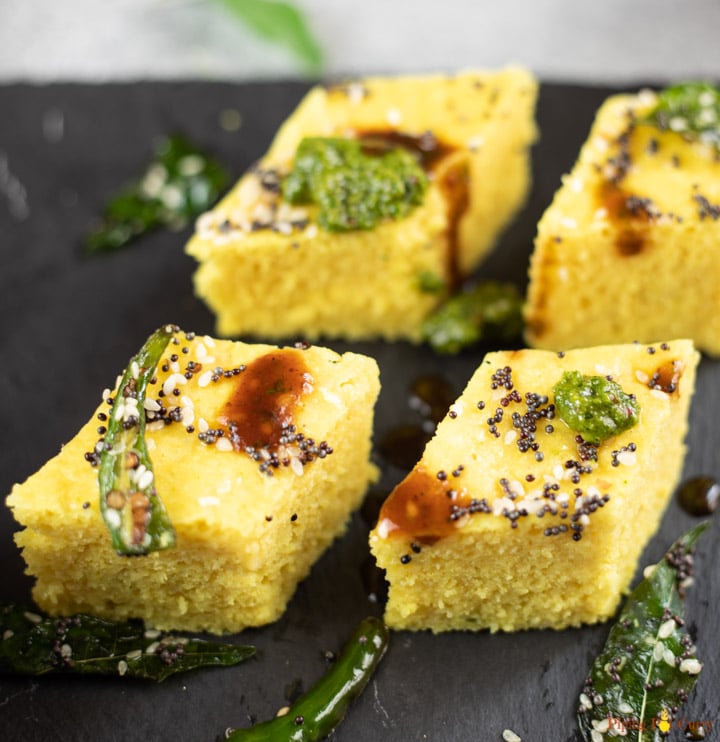 Soft and fluffy Khaman Dhokla – These delicious steamed savory chickpea flour cakes are a popular Gujarati delicacy, perfect to enjoy for breakfast or snack!
Khandvi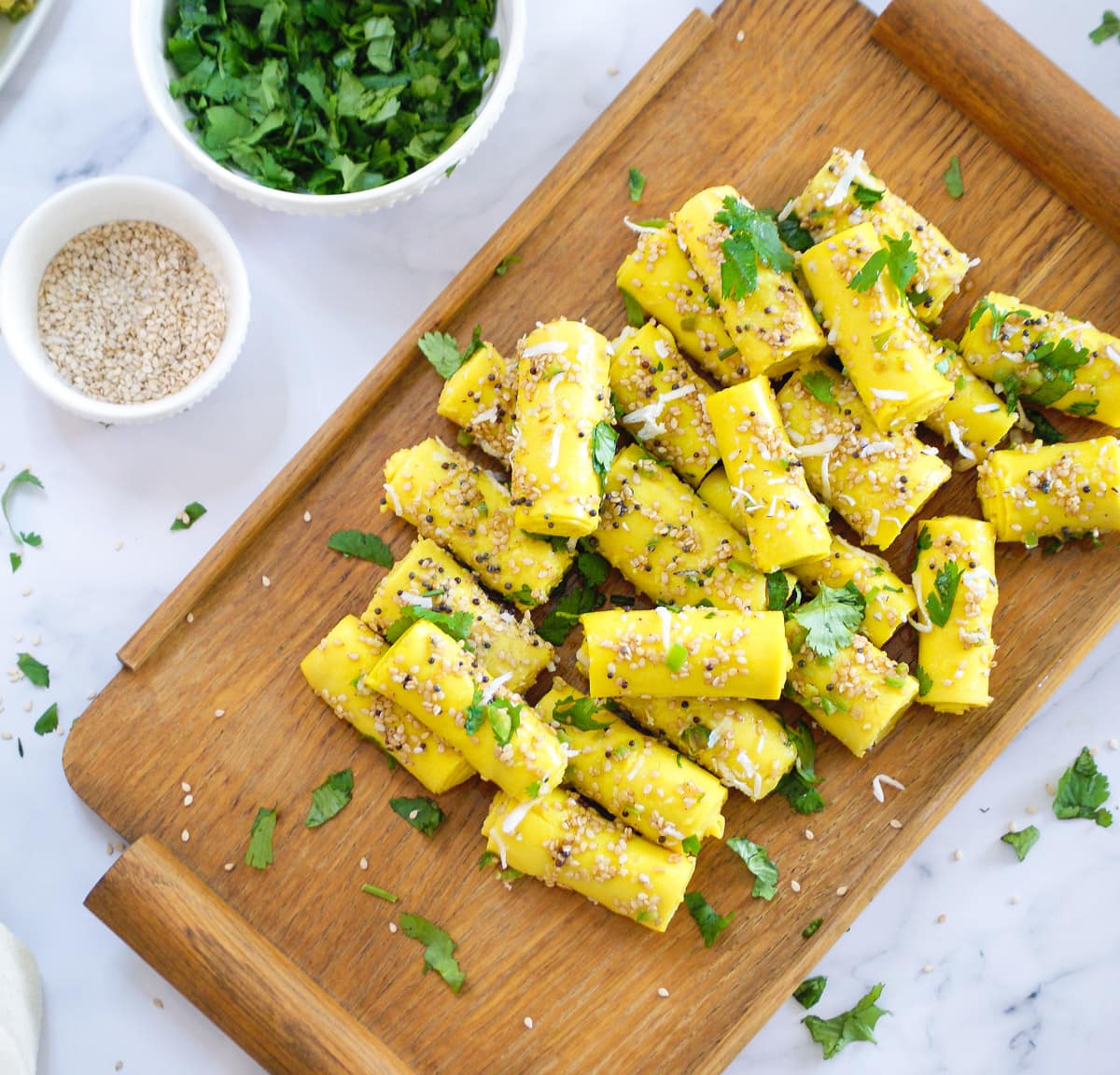 One f the most popular healthy snack from Gujarat – Khandvi rolls. These melts in the mouth, soft and flavorful rolls are made with gram flour and then tempered with mustard seeds, sesame seeds, and garnished with cilantro and coconut.
Handvo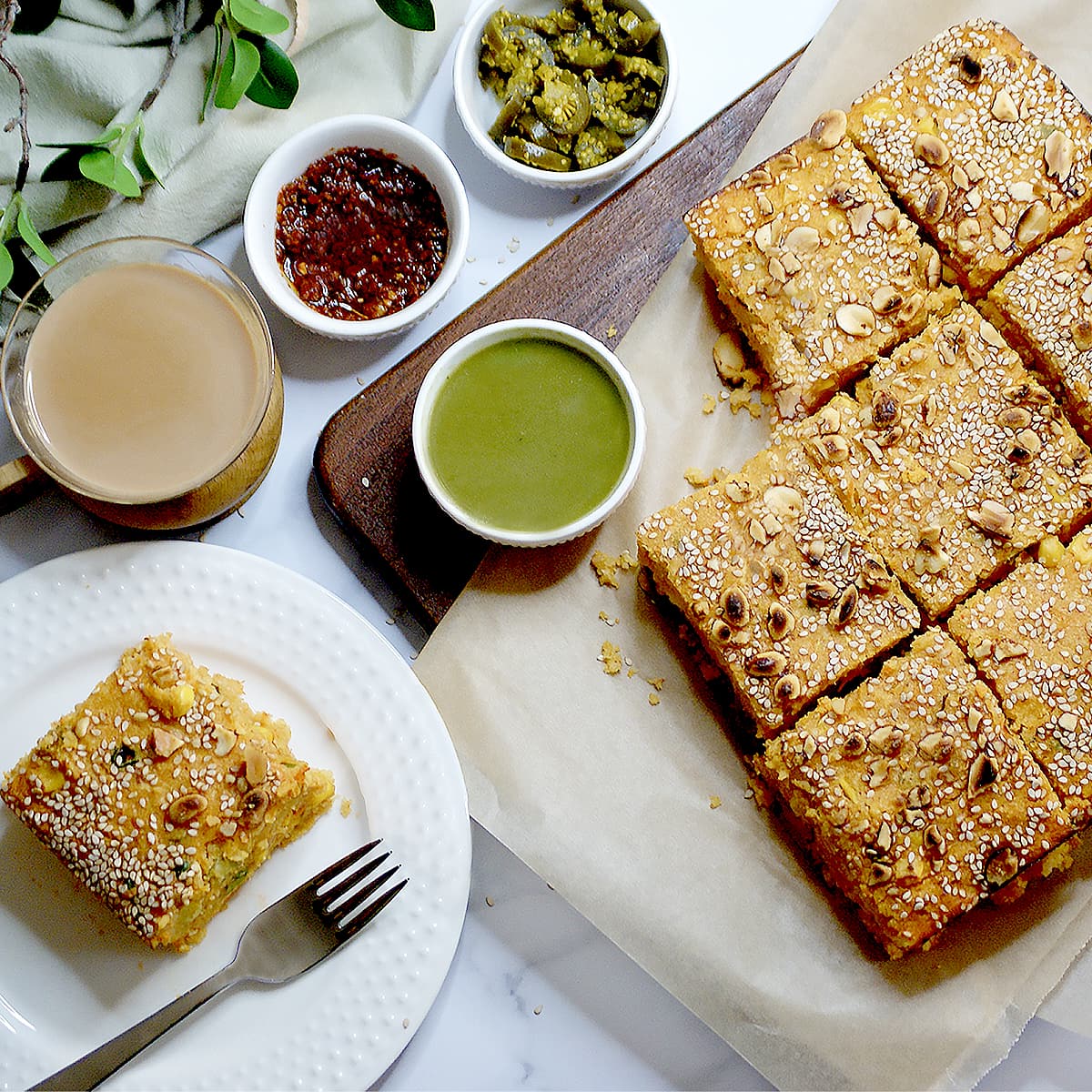 Handvo is a classic Gujarati one-pot dish made from rice, lentils, and loaded with mixed vegetables and aromatic Indian spices. It is so delicious and healthy. Serve it with green chutney or pickle along with a cup of tea.
Rava Dhokla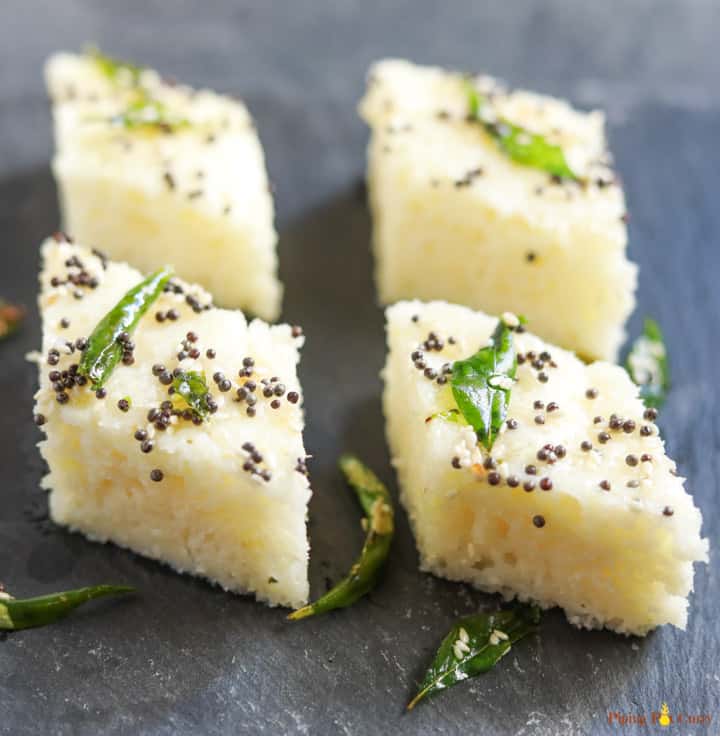 Soft and fluffy Rava Dhokla – These delicious savory semolina cakes are a popular Gujarati snack , perfect to enjoy for breakfast or snacks!
Dudhi Muthia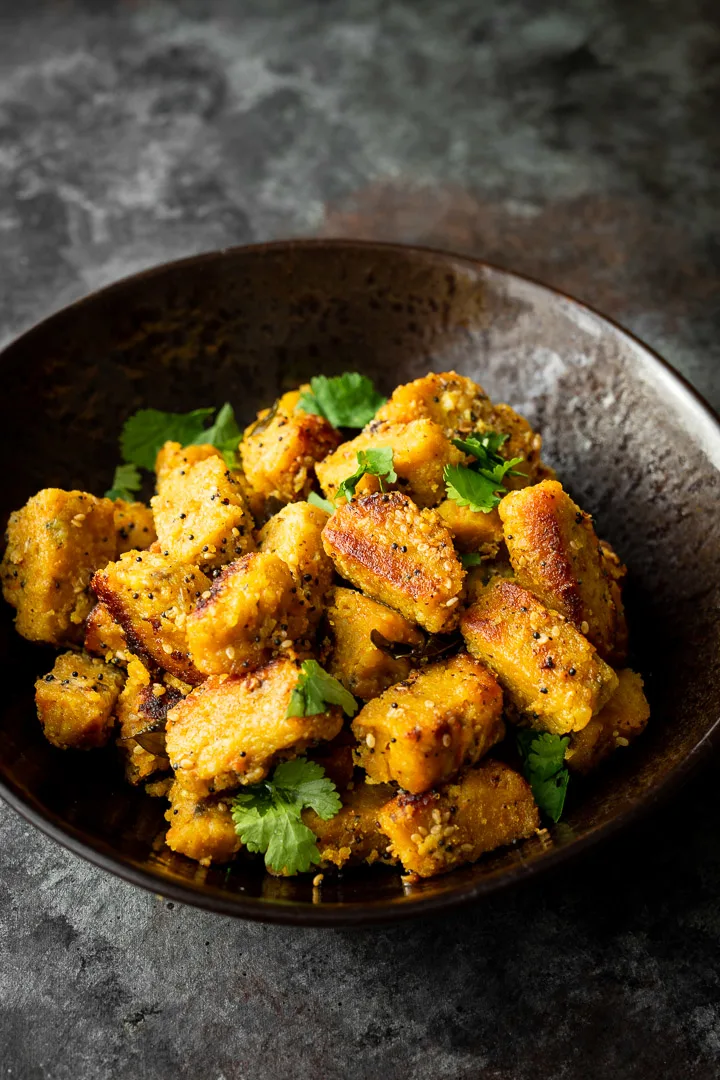 Dudhi Muthia is a popular dish from Gujarat. Almost every family in Gujarat has their own recipe to make muthia. Steamed dudhi muthia is sautéed in oil with mustard seeds, sesame seeds and curry leaves, which gives the final gorgeous crisp golden texture to the muthia.
Patra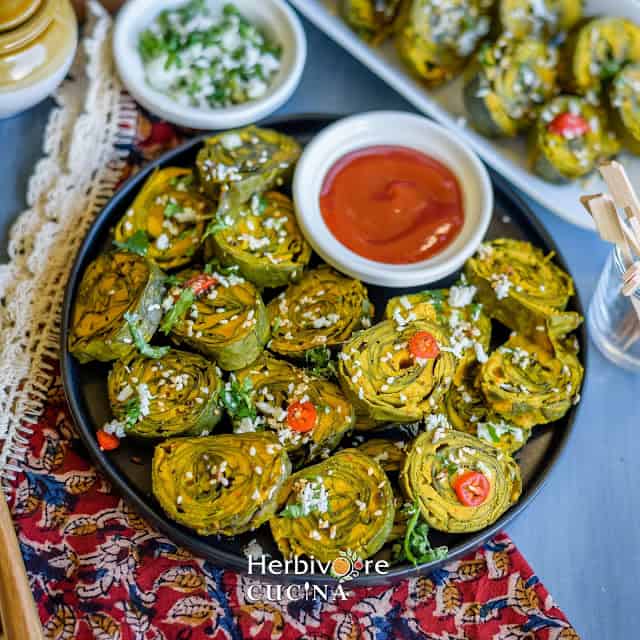 A delicious steamed appetizer made from colocasia leaves rolled with a spicy mixture of gram flour and spices.
Batata Poha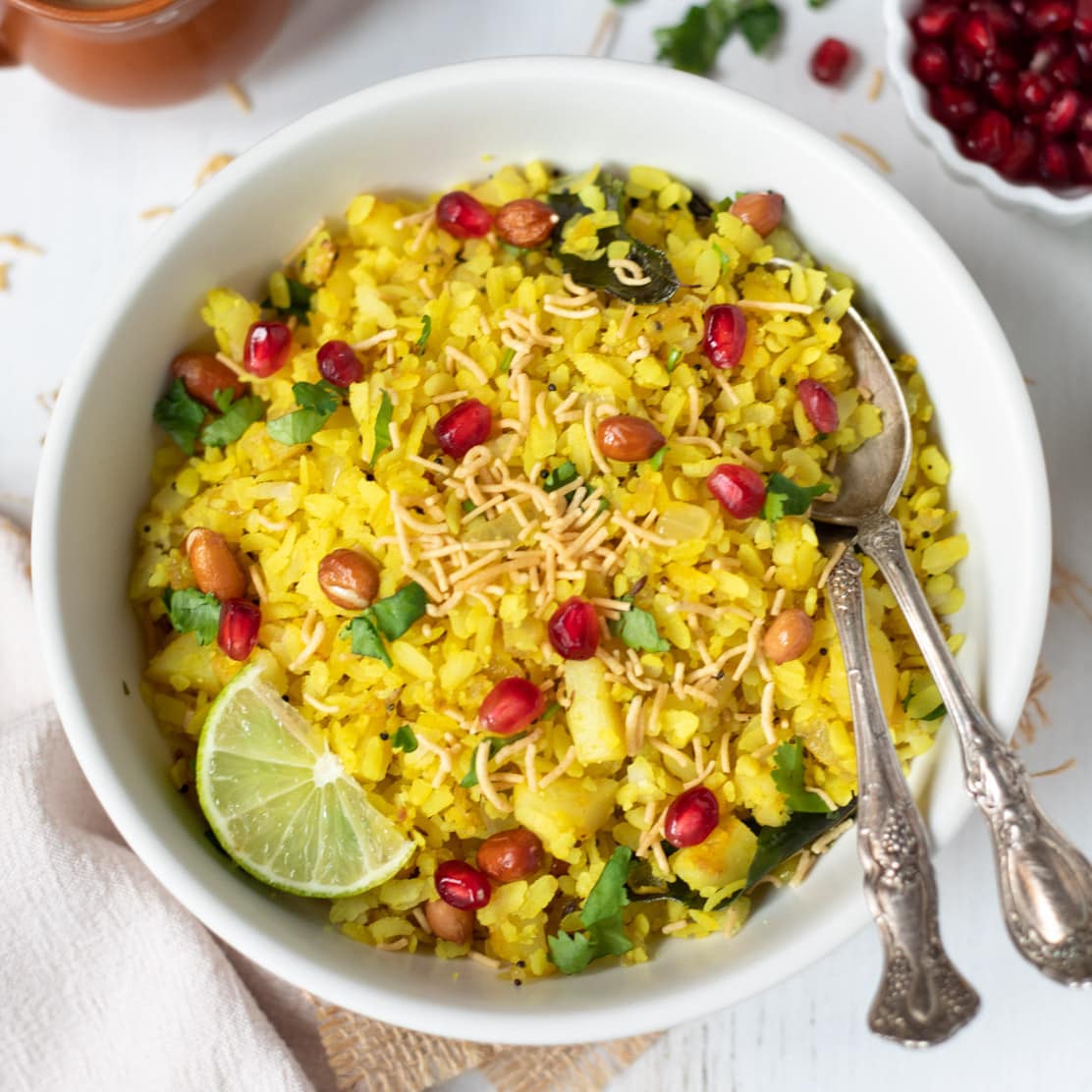 Poha is an easy and delicious breakfast popular in Western India. Made with flattened rice, onion, potatoes, and seasoned with mild spices, curry leaves, peanuts, and cilantro, this recipe also makes up for a quick mid-day snack.
Fafda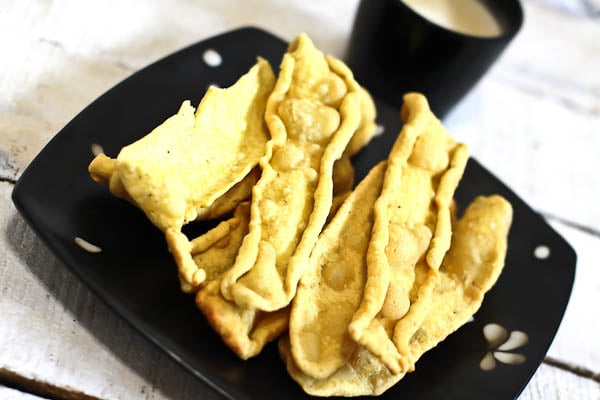 The Gujarati Fafda Recipe is a traditional crunchy snack that is synonymous with Gujarati cuisine. Made of gram flour and other spices, Gujarati Fafda Recipe is a convenient and quick snacking option that can be had at any time of the day or mixed with other dry snacks like puffed rice.
Khakhra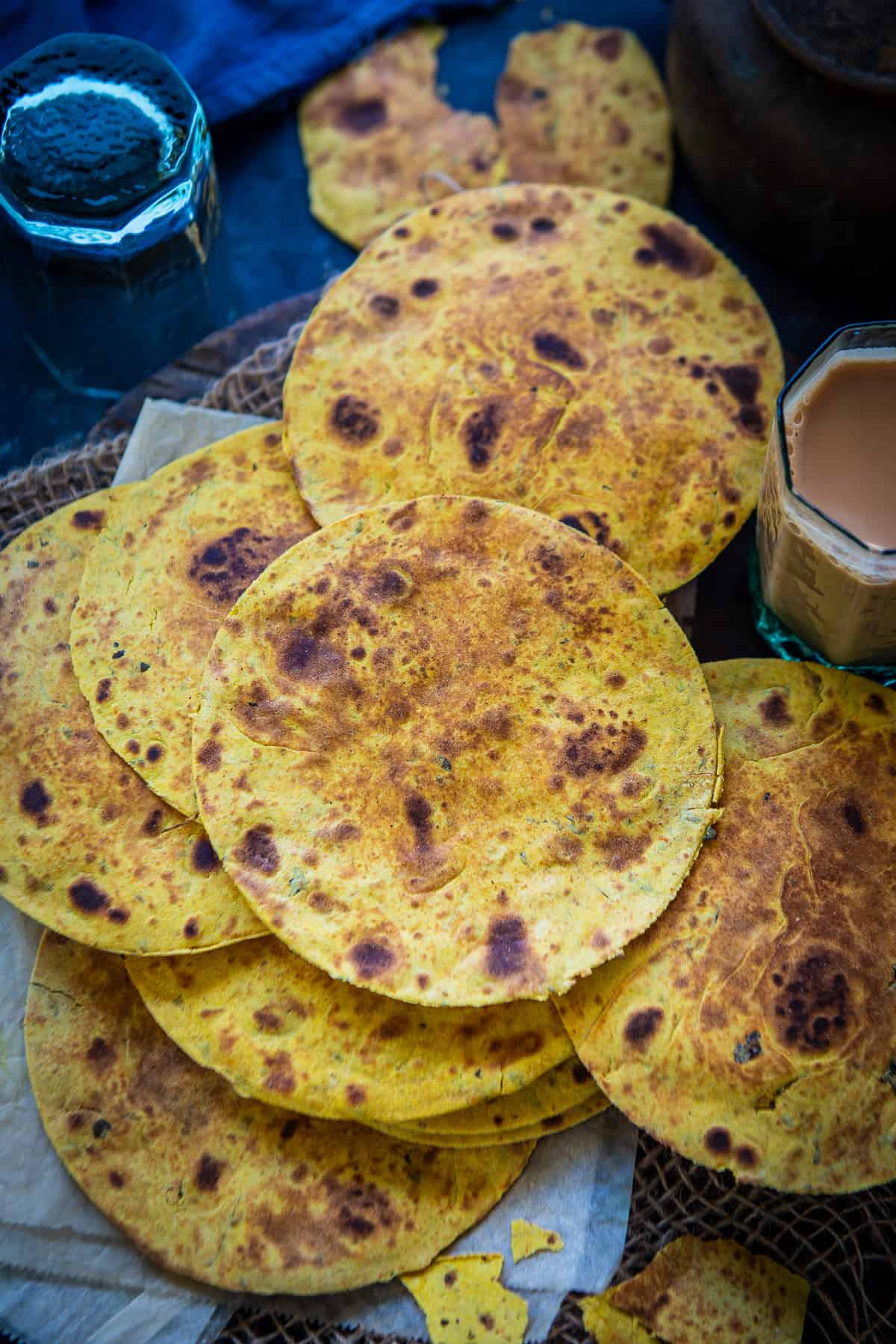 Crisp and thin, Methi Khakhra is a popular snack made in Gujarati and Rajasthani households. Make it and you will surely get addicted to this snack. Here is how to make it.
Gujarati Khichu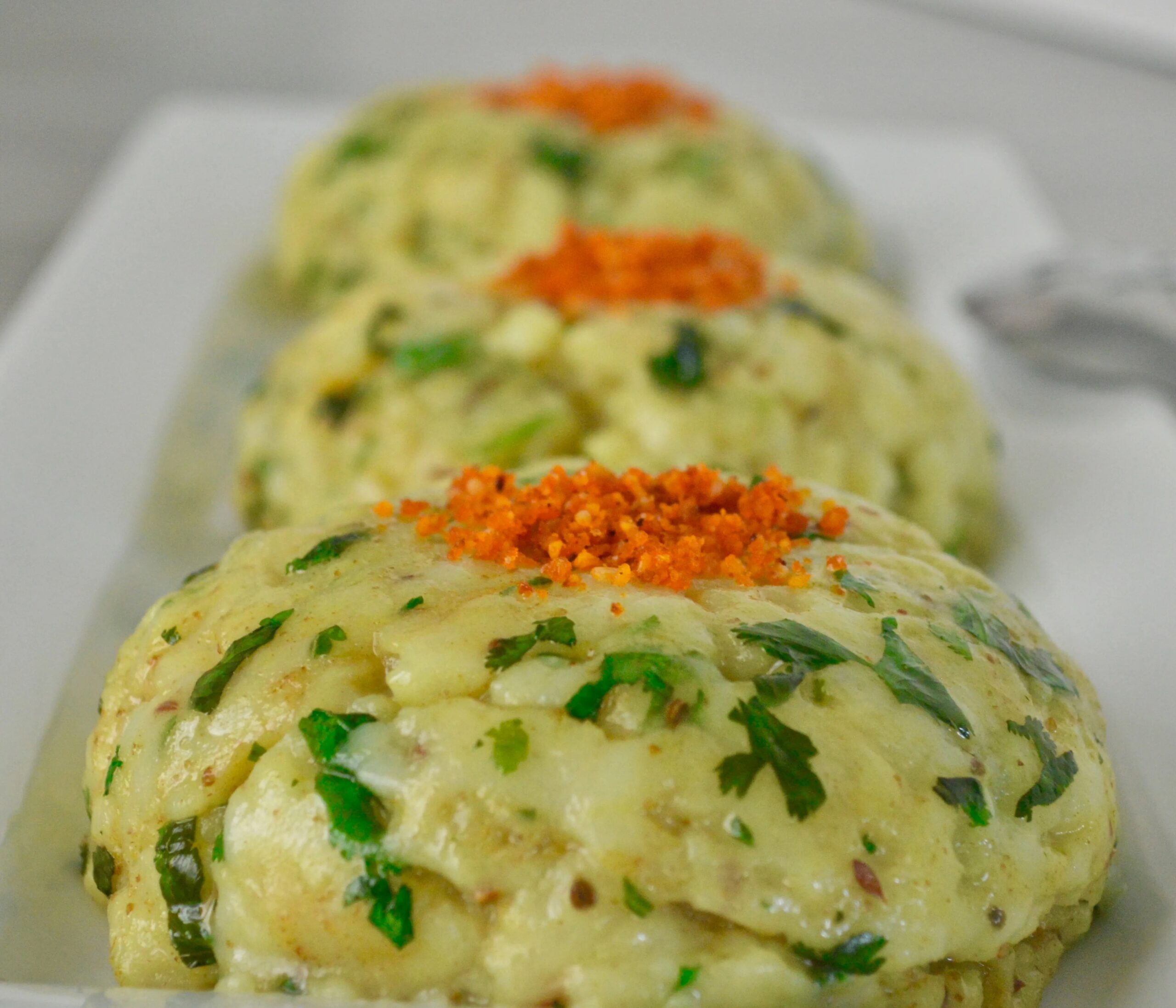 Khichu or Khichiyu is a dough for making papad/papadi, however, owing to its taste it is also consumed as Farsan (snack/side dish). It is made from rice flour, though, a few other flours are also used.
Dabeli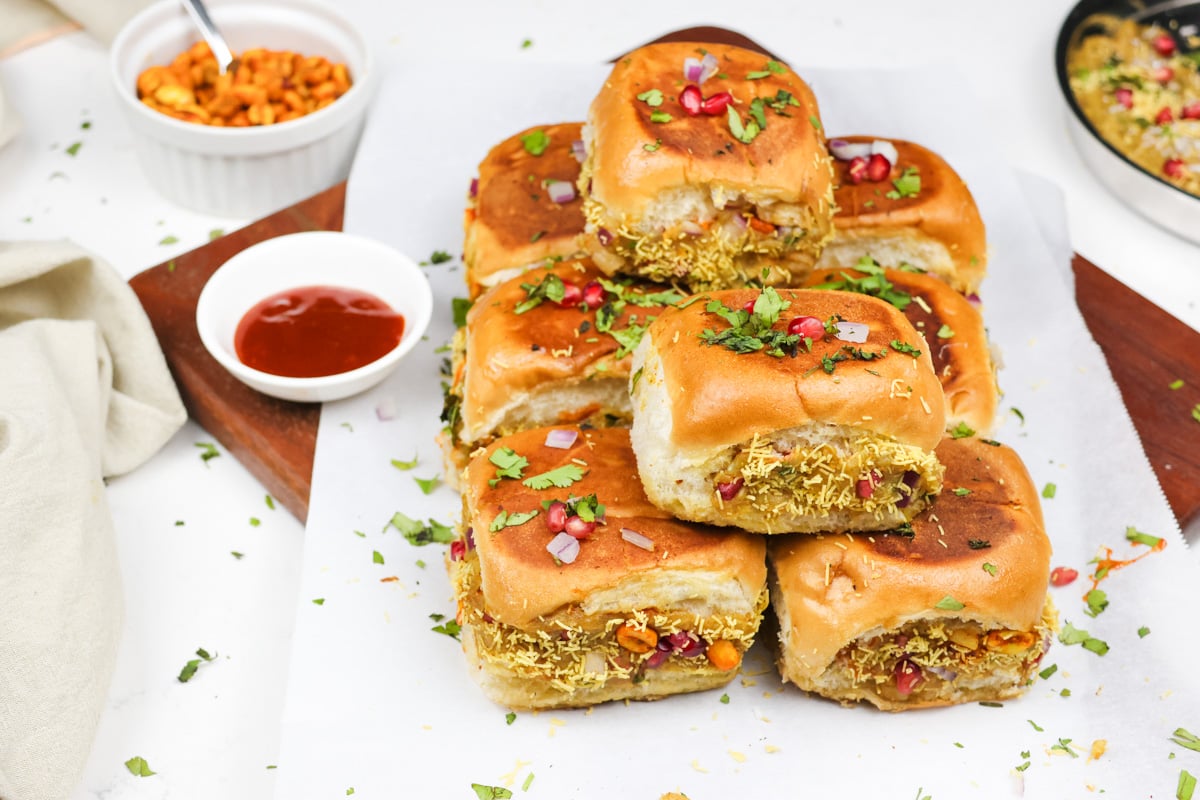 Try this delicious street food from the Kutch region in Gujarat. Soft pav buns stuffed with tangy and flavorful mashed potatoes, tamarind, and garlic chutney with a crunch of sev and spicy peanuts, and sweetness from the pomegranate pearls. Give the dabeli a try for a delicious snack or street-style dinner meal.
Surti Locho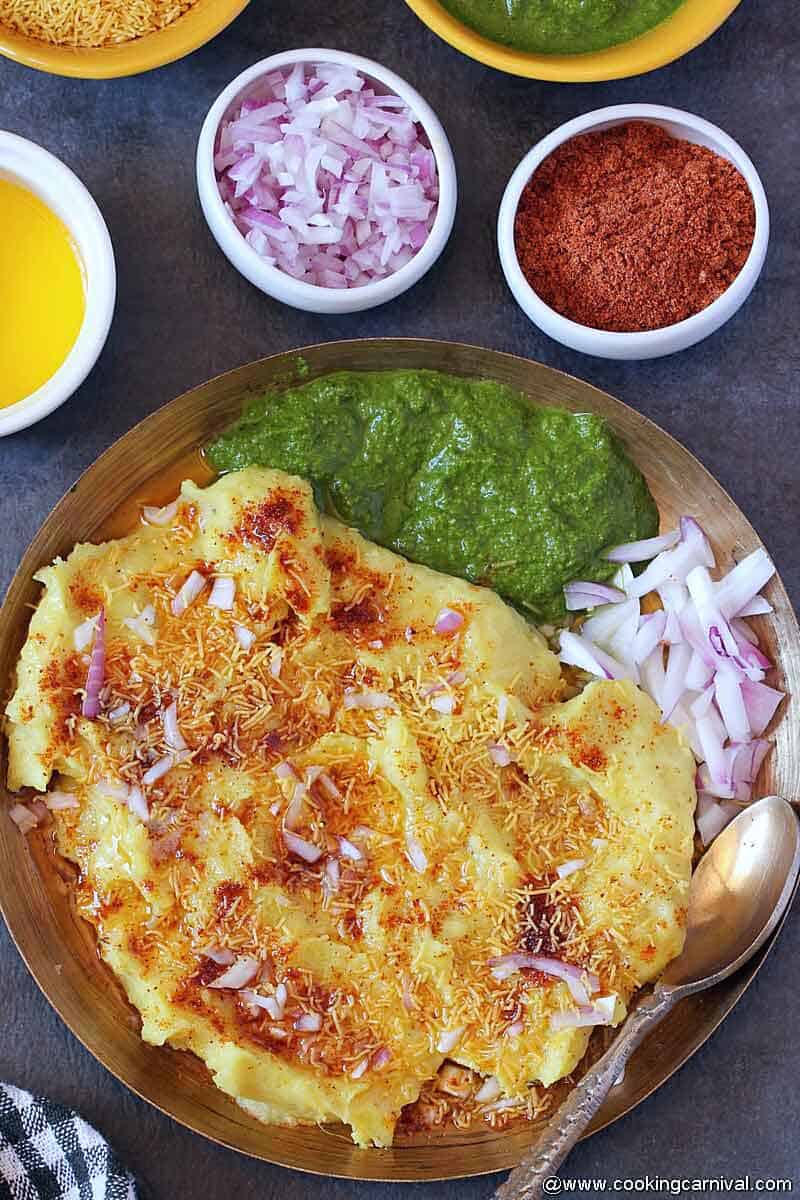 Made with ingredients like chana dal, urad dal, and poha, this Surti Locho is protein-rich and uses very minimal oil in it. It is one type of Indian street food that can be enjoyed as breakfast, a snack, or as a light dinner.
Masala Chaas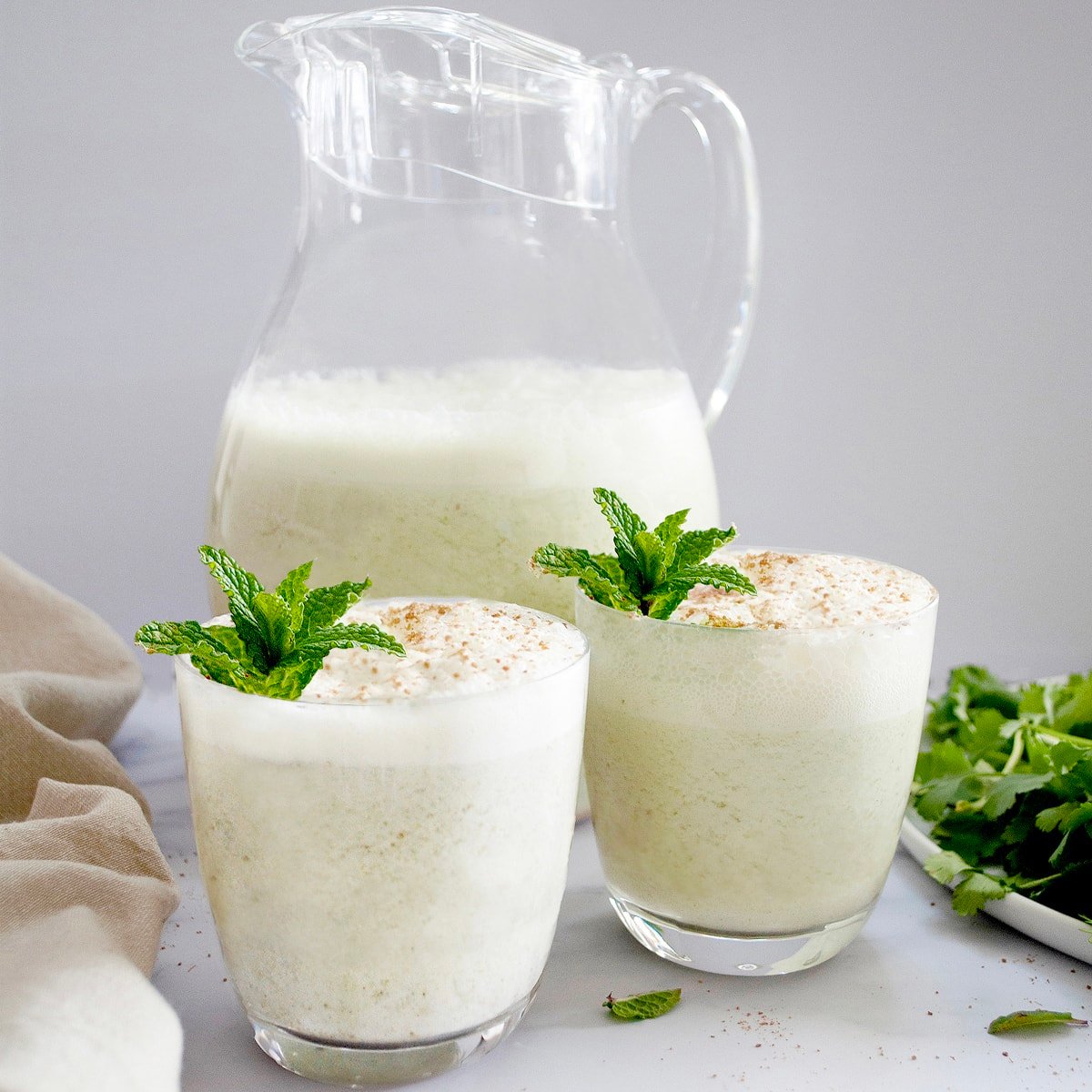 Chaas is such a refreshing and cooling yogurt based drink for summer. It is light and goes well with any Indian meal. Spiced buttermilk is a very popular drink in Western India in Gujarati homes.
Curries (Shaak Recipes)
Mag (Moong Dal)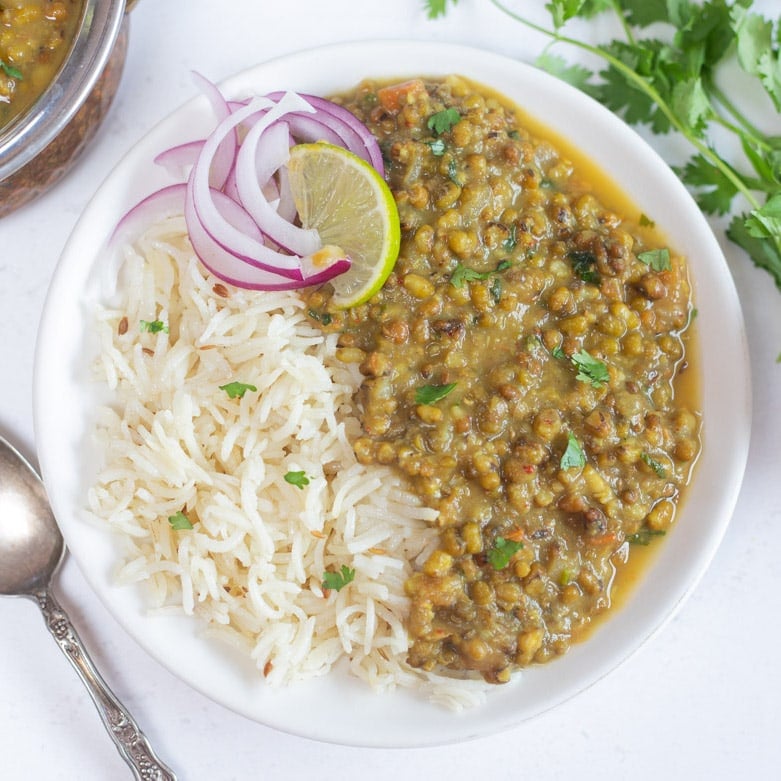 Wholesome Green Moong Dal is a delicious creamy lentil soup. Made with mung beans, onions, tomatoes and aromatic spices, this mung bean curry is protein-packed comforting meal with rice. Vegan & Gluten-free.
Gujarati Kadhi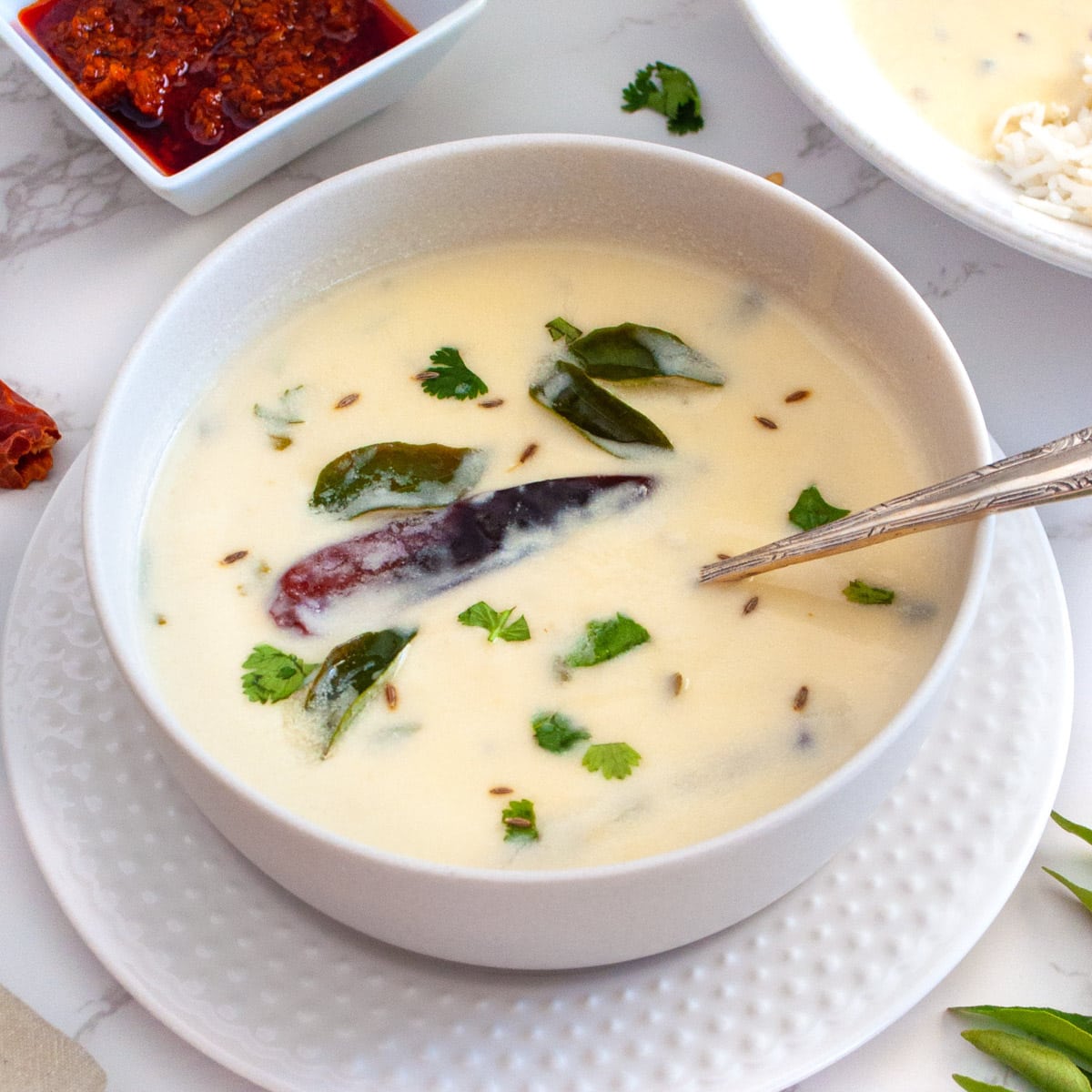 This Gujarati Kadhi is a thin yogurt-based soup with a wonderful sweet and sour taste that you will love. It's quick, fuss-free, and comforting. This traditional kadhi can be served as a soup or with rice.
Gujarati Dal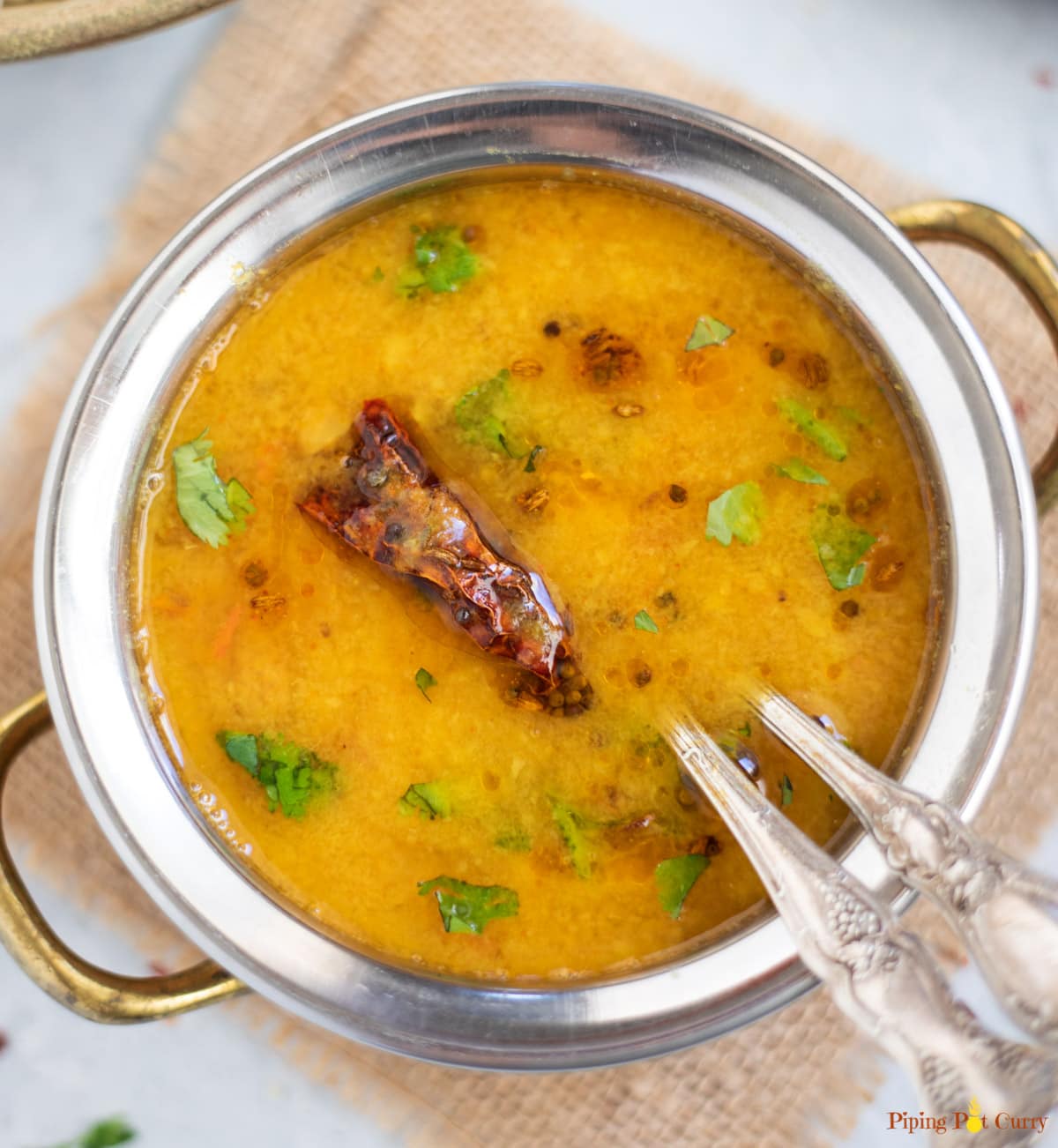 Gujarati Dal is a sweet, spicy, and tangy lentil soup, made with pigeon peas (tuvar dal), lots of warming spices and the sweetness of jaggery. This staple dal from the Gujarat region of India can be enjoyed with rice, roti or as a soup!
Dal Dhokli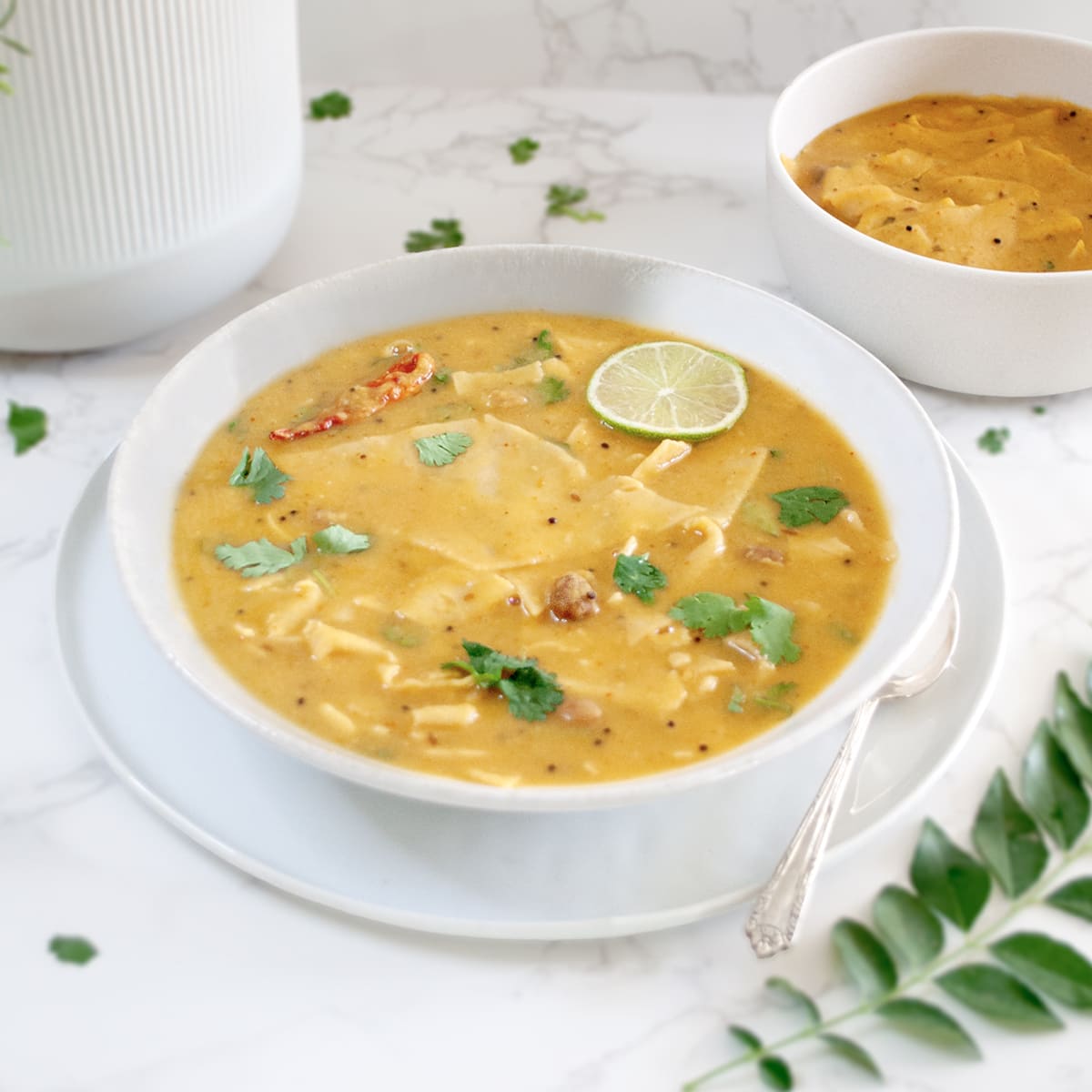 Dal Dhokli is a hearty one-pot meal in which spiced wheat flour dumplings are simmered in a flavorful sweet and spicy lentil soup. This meal is called Dal Dhokli in Gujarat and Rajasthan.
Sev Tameta Nu Shaak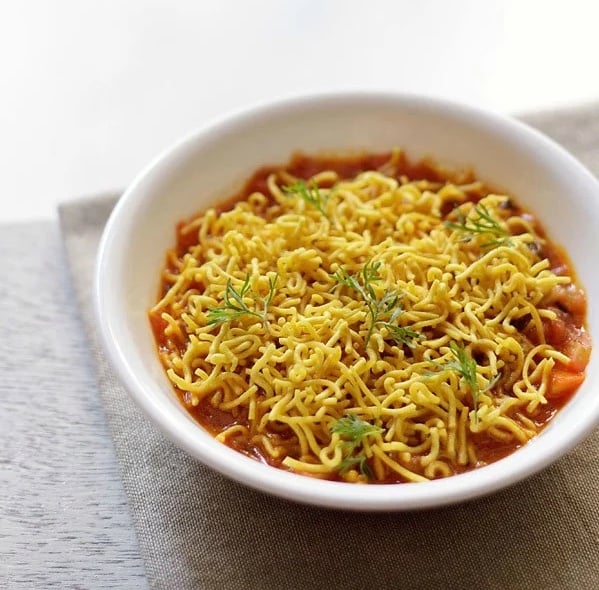 Sev tameta nu shaak recipe with step by step photos – here's a quick & easy Gujarati recipe of sev tamatar sabzi. Basically spicy, sweet and tangy tomato curry topped with crisp sev.
Undhiyu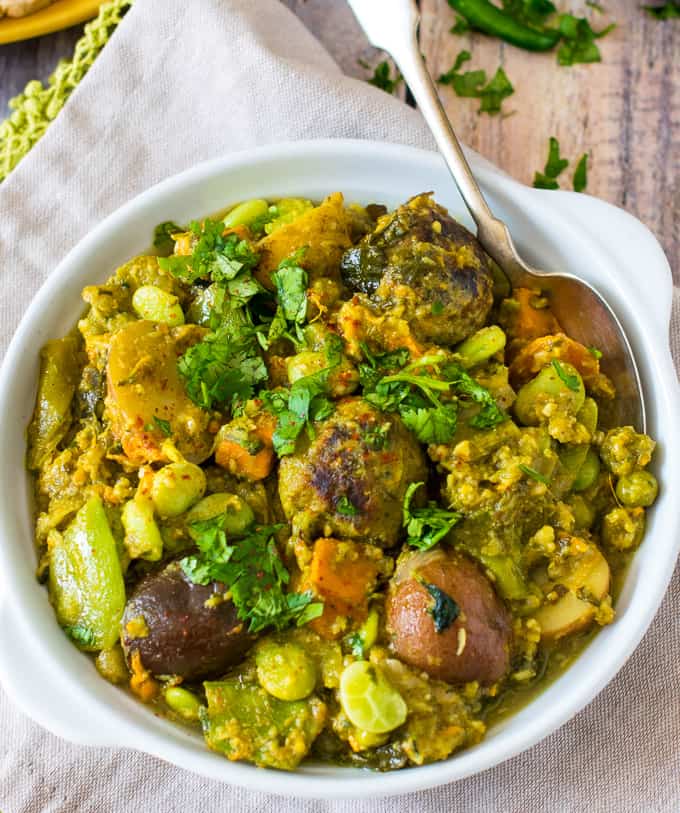 Undihyu or Oondhiyu is a traditional mixed vegetable curry from India. Undhiyu is made during winter time when the ingredients are freshly available in abundance. Best way to enjoy Undhiyu is with hot puris, chilled chaas and shrikhand.
Kala Chana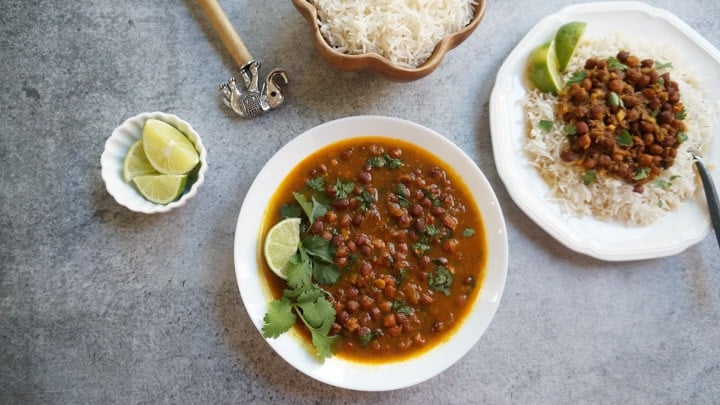 Kala Chana is a mildly spiced black chickpeas curry which is a simple everyday curry, made in a onion-tomato gravy with ginger and garlic.
Methi Dhebra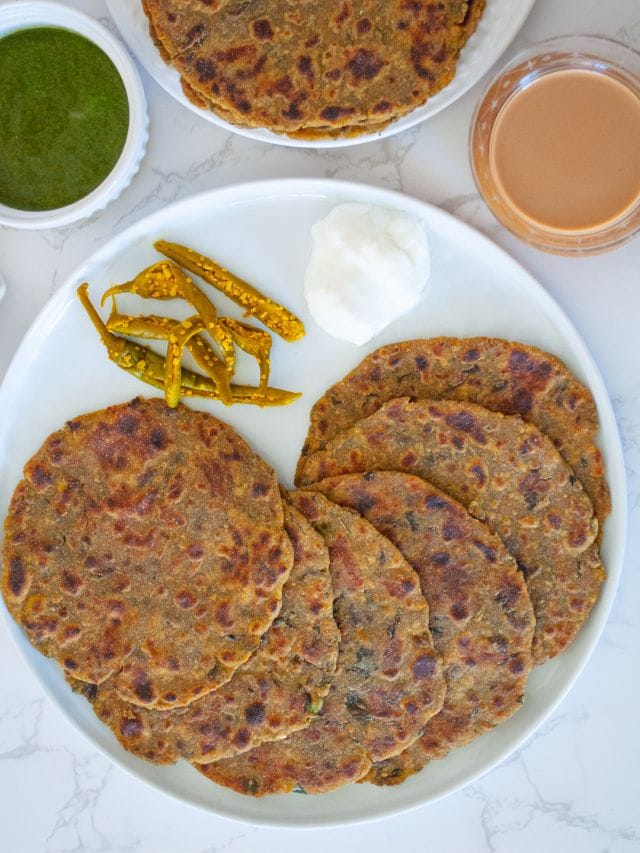 Methi Dhebra is flavorful Gujarati flatbreads that makes a terrific snack any time of day. They are subtly bitter and well seasoned. Methi na Dhebra is a healthy snack made with bajra, whole wheat flour, fresh fenugreek leaves, and spices.
Chawli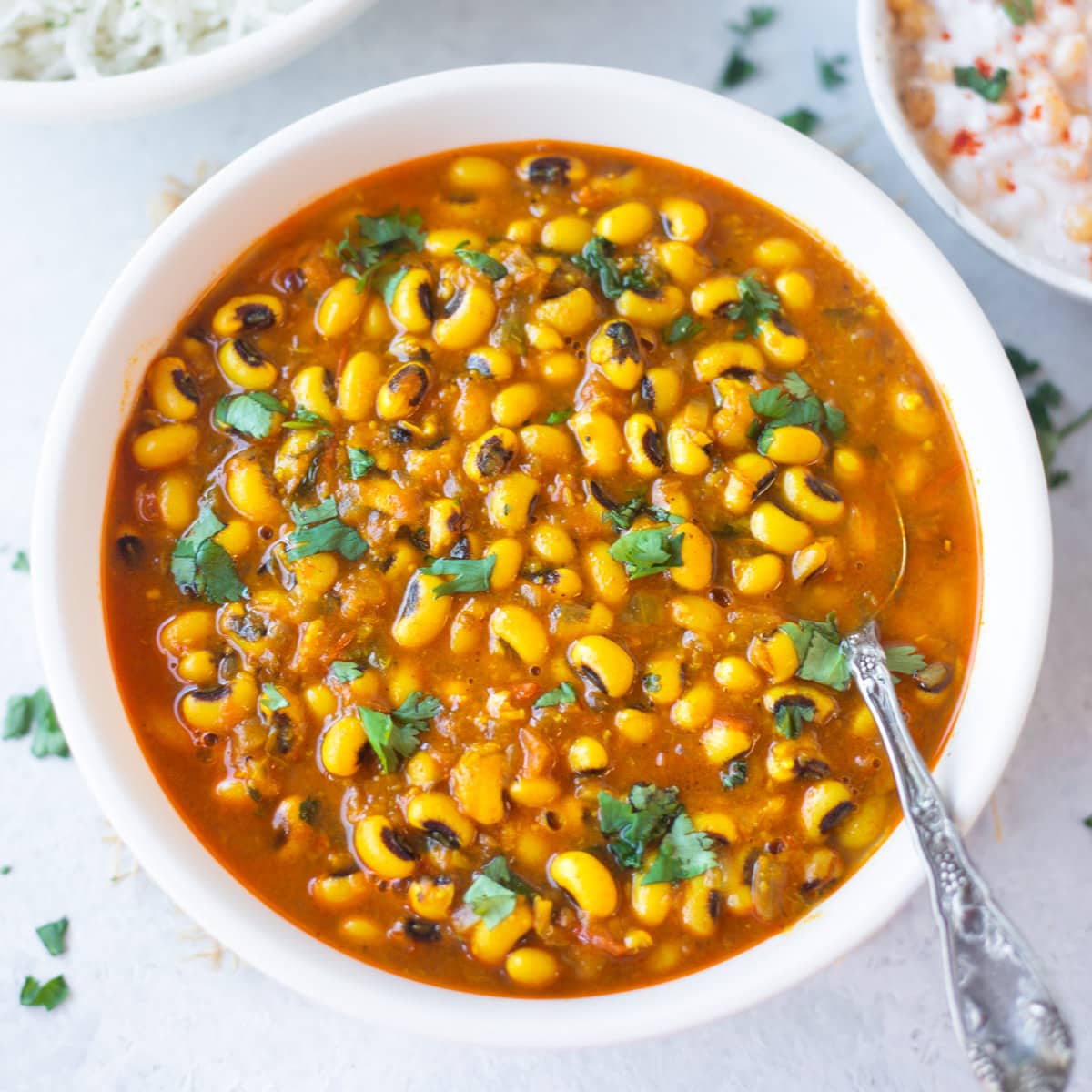 Black Eyed Peas Curry or Chawli is a popular curry in Gujarati cuisine. It is perfect to enjoy with some steaming rice and theplas.
Potato Curry (Rasavadu Bateta nu Shak)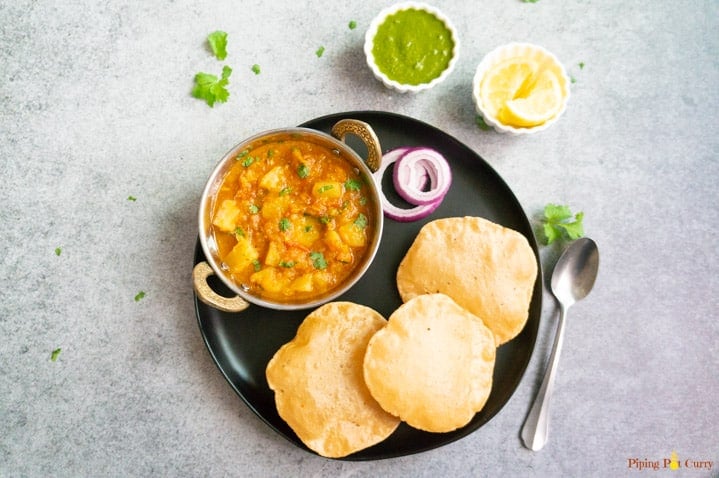 This Potato Curry is popularly known as Rasavadu Bateta nu Shaak. Bateta means potato and Rasadadu is a thin tomato gravy. This is a vegan and gluten free potato curry.
Methi Thepla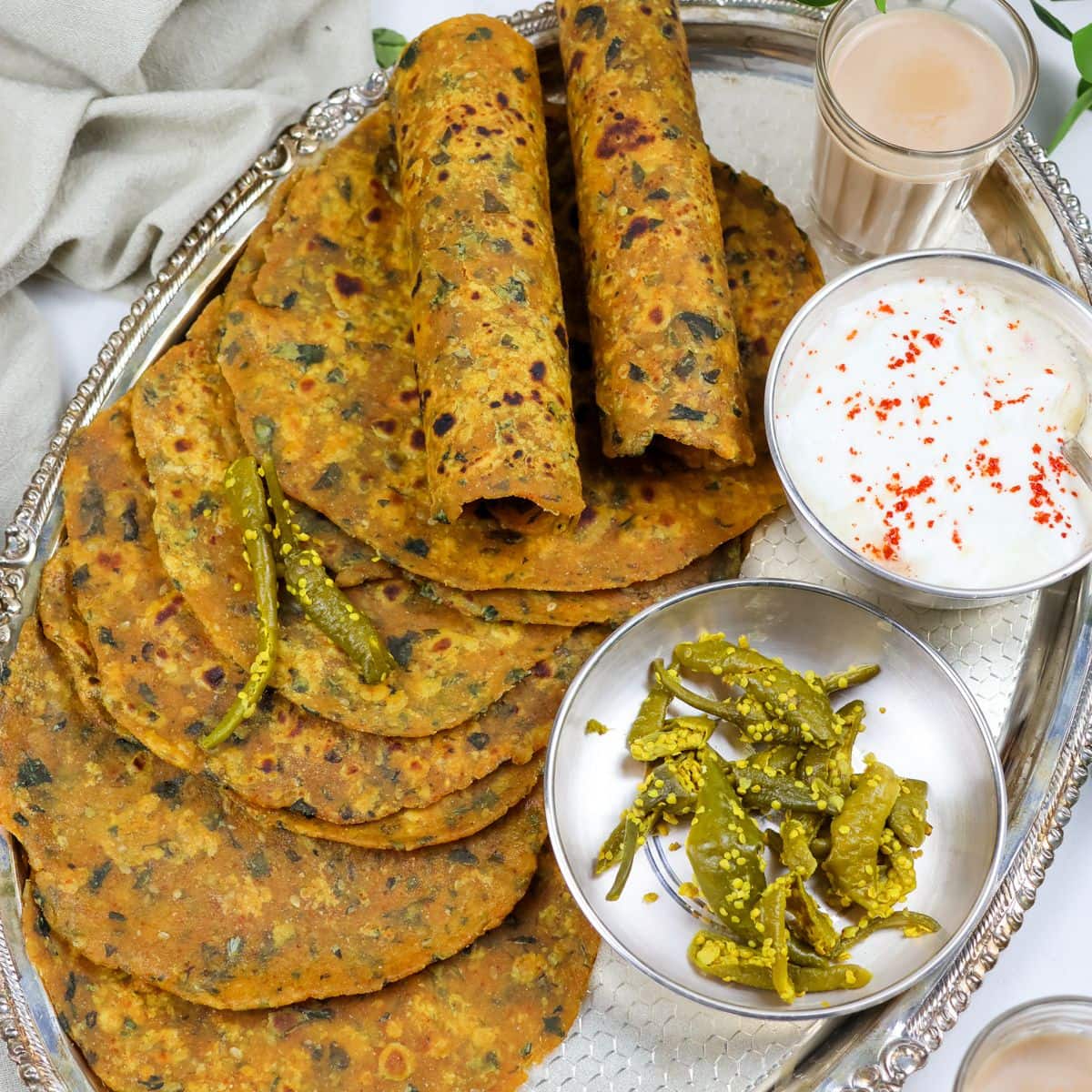 Methi Thepla is a famous Gujarati flatbread made from fresh methi (fenugreek leaves), whole wheat flour, gram flour, yogurt, and spices. This delectable flatbread is ideal for breakfast, snack, or any other meal of the day.
Desserts
Magas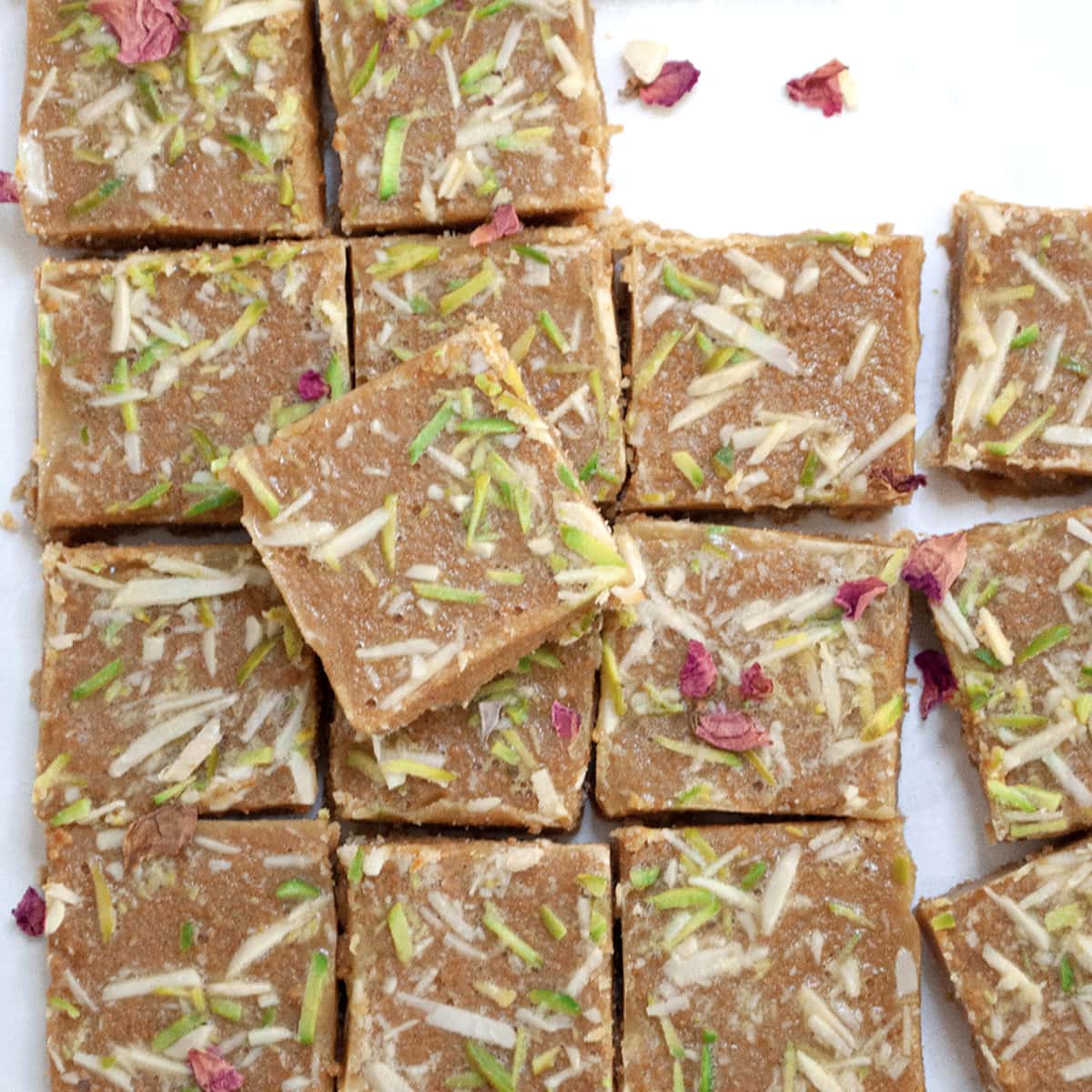 This homemade Magas is a Gujarati fudge made of gram flour, ghee, cardamom, sugar, and nuts. This Indian dessert is traditionally made during festivals. Make this delicious dessert with this foolproof recipe!
Sooji Halwa
Suji Ka Halwa, also known as Sheera is a simple Indian semolina pudding, made with basic ingredients – semolina, sugar, and ghee. The pudding tastes simply divine, and takes just 20 minutes to prepare.
Mohanthal and Dhilo Mohanthal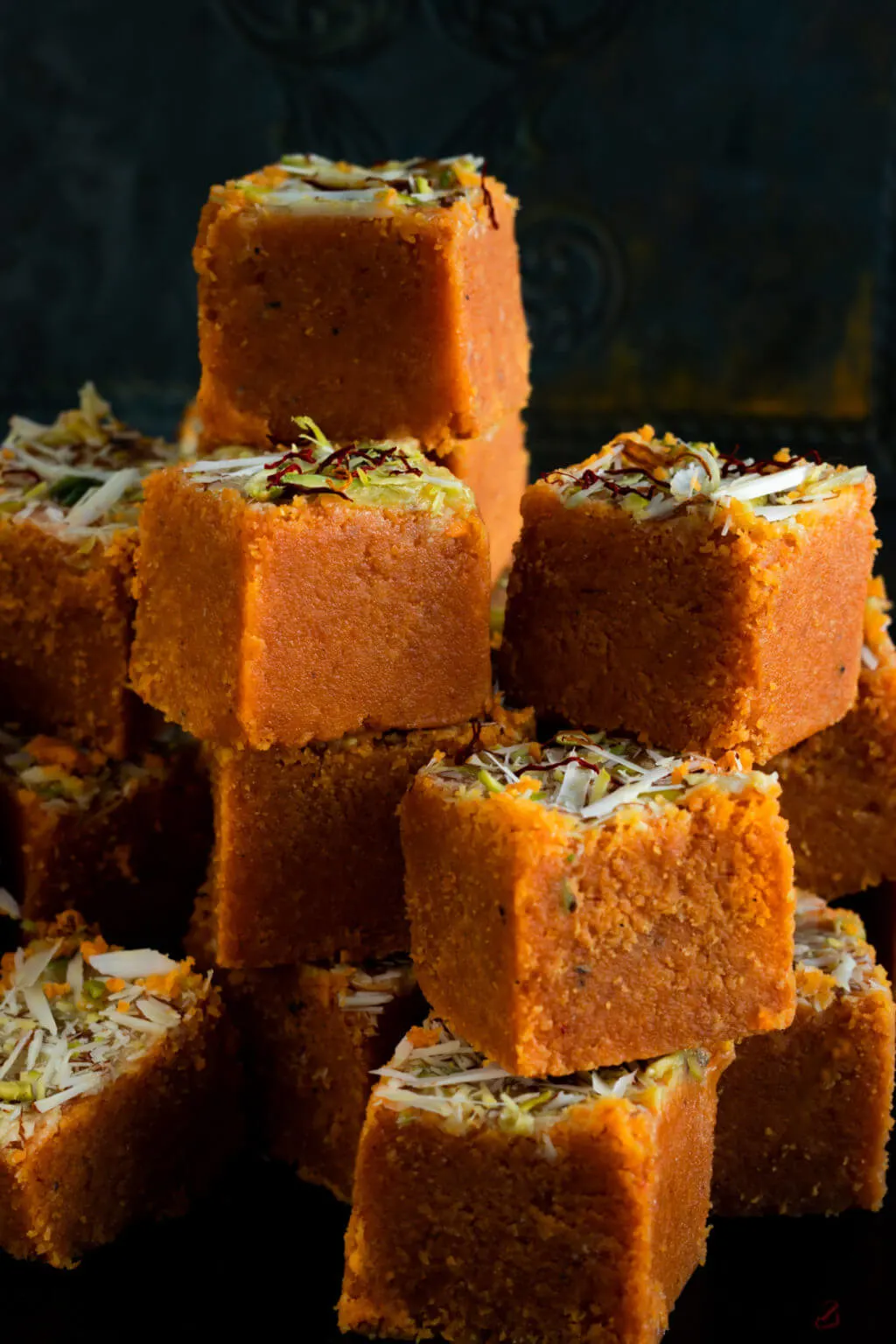 Mohanthal and Dhilo Mohanthal are buttery, melt-in-the-mouth Indian sweets with cardamom, saffron and mace. Enjoy as a square or as a hot fudge-like pudding with ice cream.
Basundi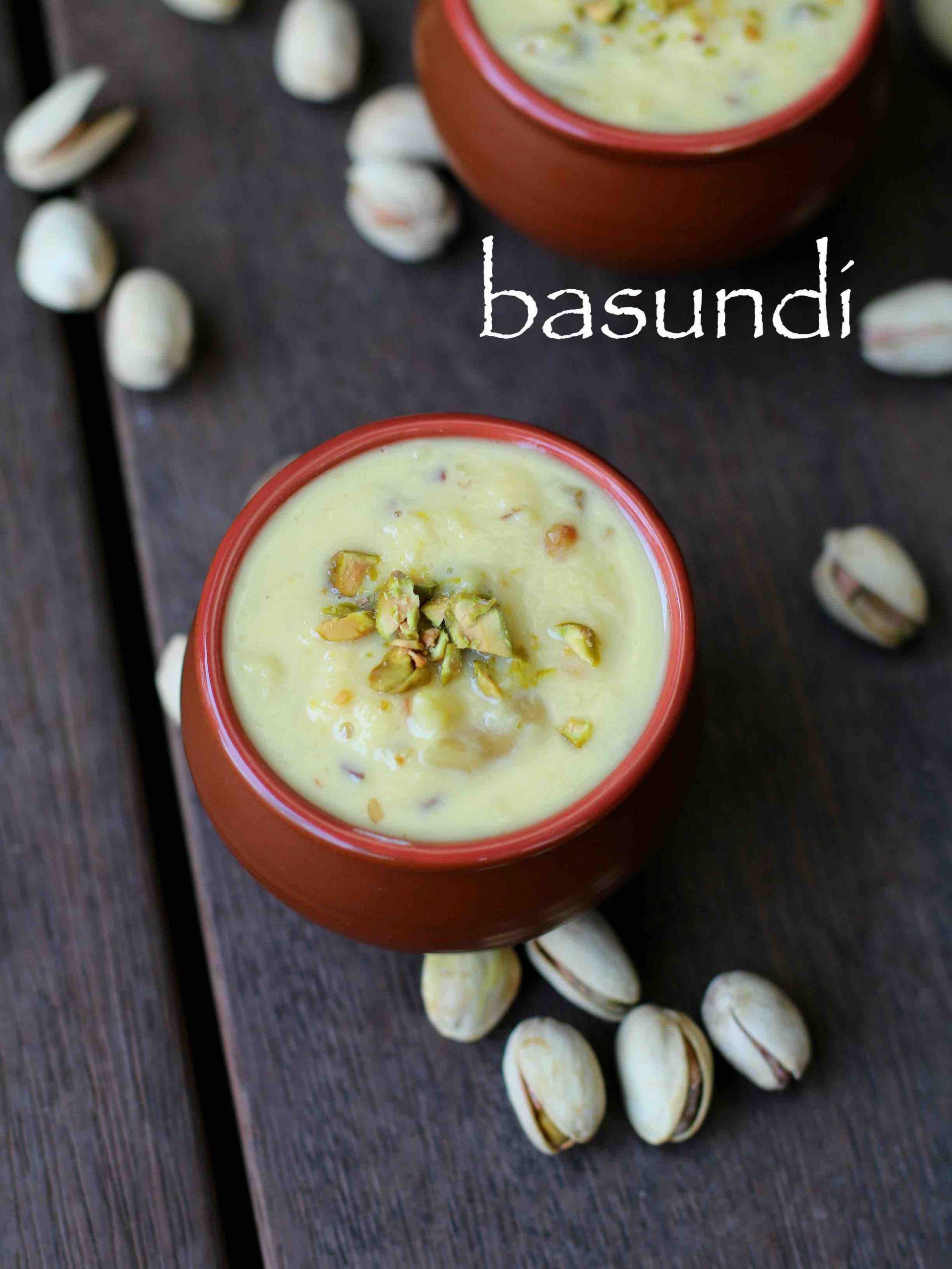 Basundi is a sweetened evaporated milk prepared by boiling the milk till it is reduced. it is later served chilled with toppings from dry fruits like pista, badam and cashews.
Shrikhand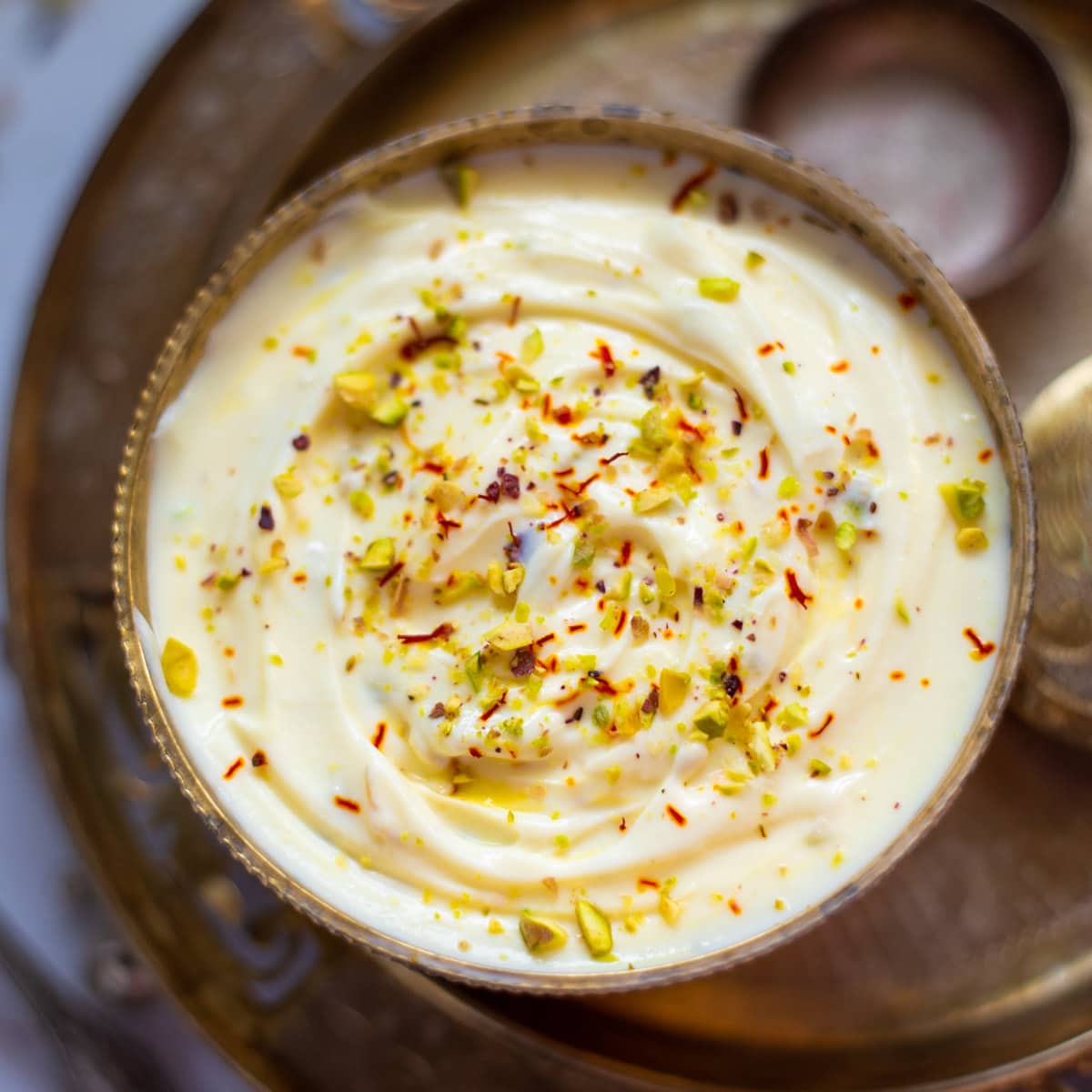 Shrikhand, a refreshing & sweet Indian dessert. Creamy smooth yogurt is mixed with sugar and cardamom, and garnished with saffron and pistachios to make this luscious Kesar Elaichi Shrikhand.
Gajar Halwa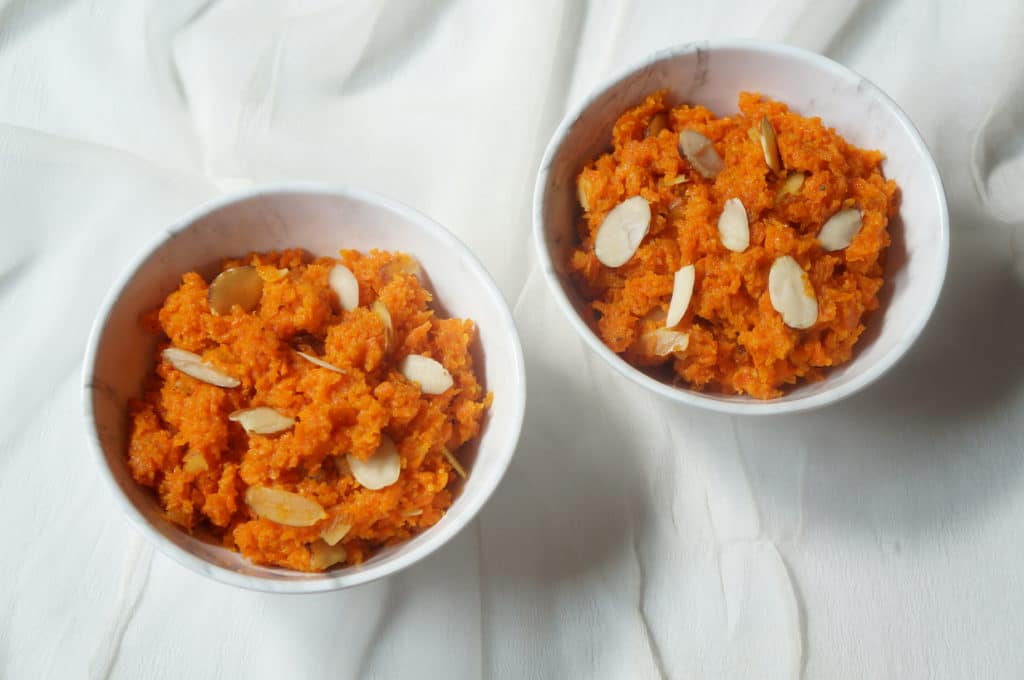 Carrot Halwa, also called Gajar ka halwa, is a delicious dessert made with grated carrots, milk, sugar and cardamom. This is a healthy and light dessert.
Ghugra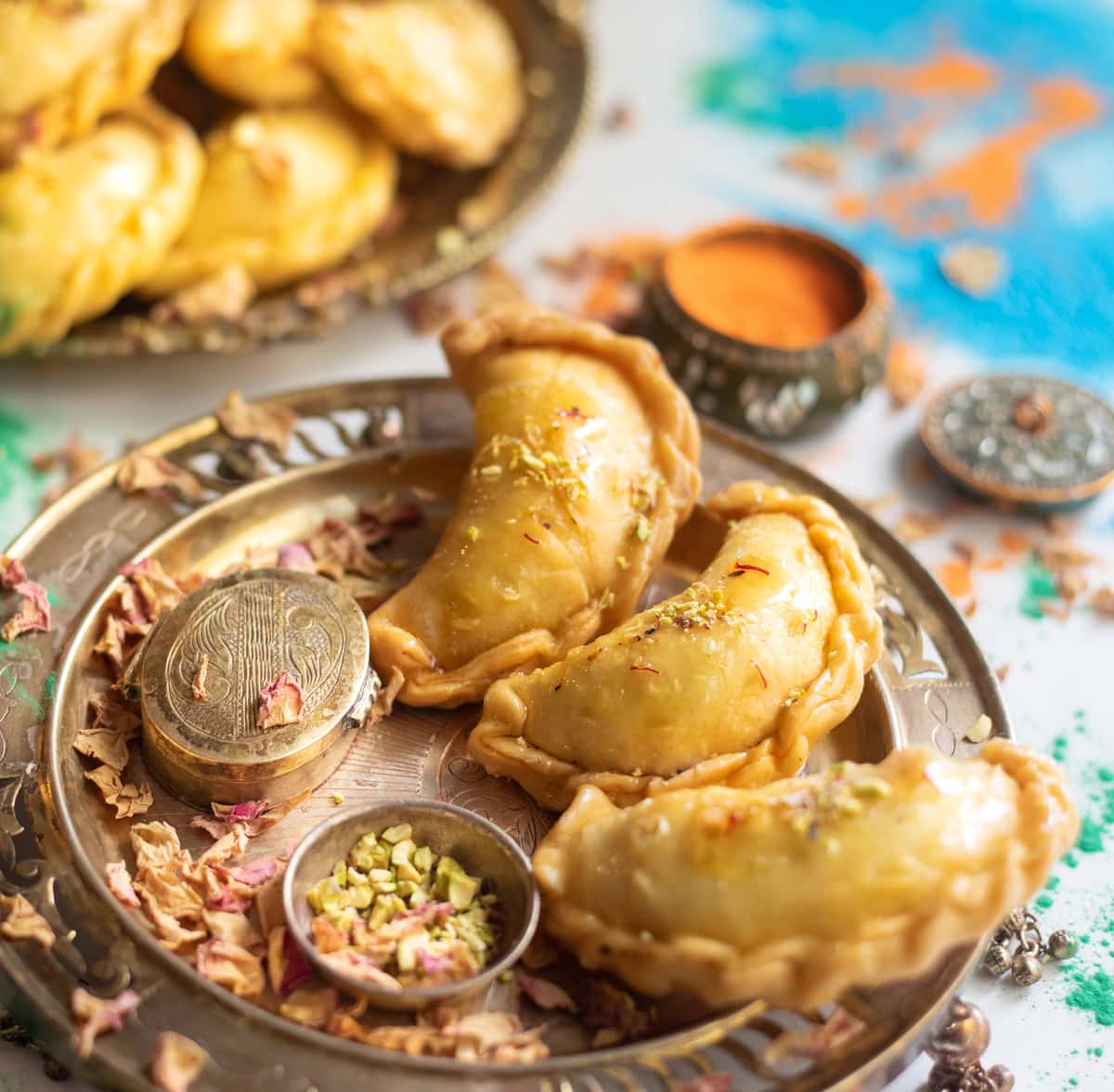 Ghugra (or Mawa Gujiya) is an authentic Indian sweet fried dumpling, filled with a mixture of mawa (milk solids), nuts and coconut. It is a delicious treat made during the festivals of Holi and Diwali.
Jalebi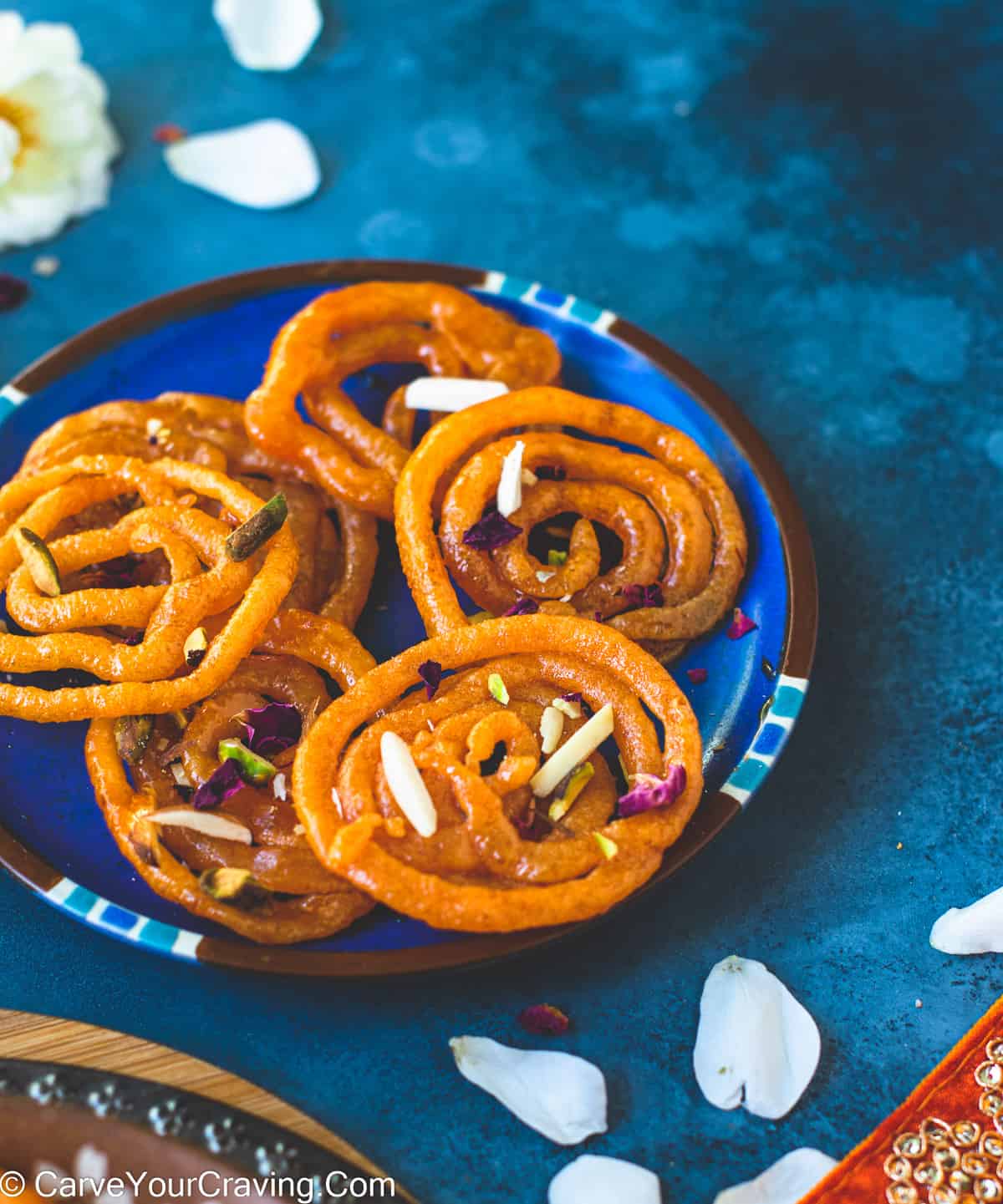 Jalebi is an Indian funnel cake that is deep-fried and then drenched in sugar syrup. This is a popular sweet you will find at indian mithai shops. It is a favorite for kids.
I hope you add these delicious Gujarati recipes to your menu. Let us know which one you're most excited to make, and share this roundup with your friends, and when you make a recipe, don't forget to tag #pipingpotcurry.