One of the reasons to love the instant pot is perfectly cooked brown rice. You don't need to keep that extra rice cooker anymore and can free the counter space. Even though I love white rice, I try to include more and more brown rice in our diet as it is more nutritious than white rice (well, debatable!). If you are looking for pot-in-pot (PIP) Brown Rice in the instant pot, go here.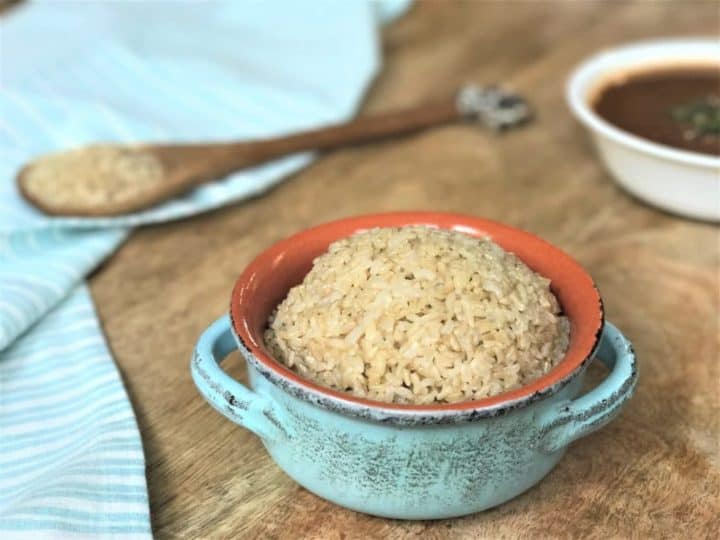 Is Brown Rice better than White Rice?
There is a big debate over which rice it better. All rice consists almost entirely of carbs, with small amounts of protein and practically no fat. Brown rice is a whole grain, which means it contains all parts of the grain — including the fibrous bran, the nutritious germ and the carb-rich endosperm. Brown rice has more fiber and antioxidants, as well as a lot more important vitamins and minerals.
White rice has had the bran and germ removed, which are the most nutritious parts of the grain. This leaves white rice with very few essential nutrients, which is why brown rice is usually considered much healthier than white.
On the other hand, brown rice contains the anti-nutrient phytic acid which reduce our body's ability to absorb certain nutrients such as iron and zinc. Brown rice may also contain higher amounts of arsenic, a toxic chemical. However this is only a concern if you eat a lot of rice.
With the above facts, I am not recommending either one is better. You make the choice! I prefer to include both brown and white rice in our diet.
How to cook Brown Rice in Instant Pot?
Cooking rice needs perfection on the amount of water and time. I was never able to get that for brown rice prior to using the instant pot. Sometimes there would be water left, sometime the rice would be undercooked. However now with the instant pot, I can always cook perfect brown rice.
This is a no soak method. Just wash the rice, 22 minutes pressure cook (high pressure) in the instant pot and 10 minutes natural pressure release. Sounds easy…it actually is!
I like to have rice al dente, and separate. I don't like sticky or mushy rice. Hence I use a 1:1.25 rice to water ratio, which has consistently given me perfect results.
Traditionally cooked basmati rice in a saucepan needs double the water amount than the rice. However in the instant pot, less water is enough to get perfectly cooked rice.
The same method works well to make rice in Ninja Foodi pressure cooker.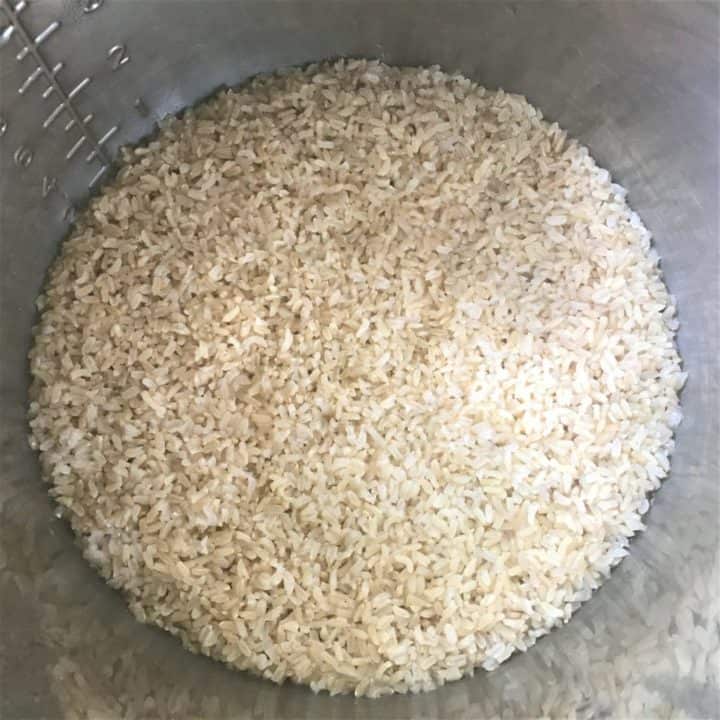 Main things to remember for perfect Brown Basmati Rice
No soaking of rice
Rice to water ratio – 1:1.25
Pressure Cook / Manual for 22 minutes (high pressure, vent sealed)
10 minute NPR – Manually release the pressure 10 minutes after the instant pot beeps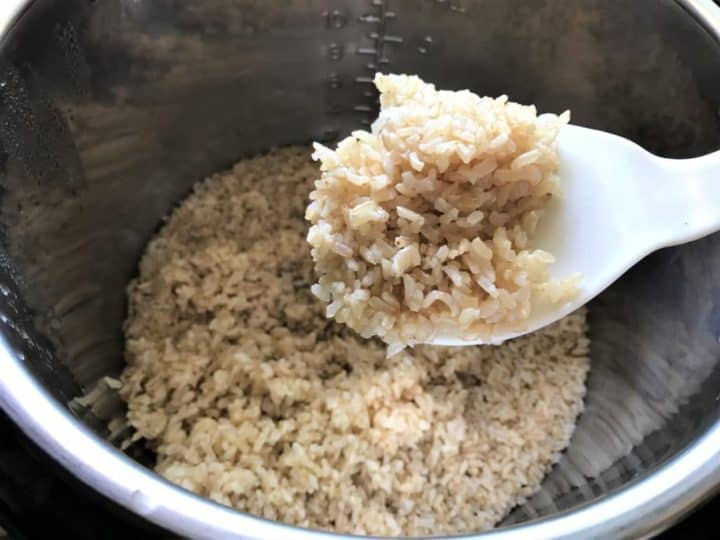 Enjoy this perfect brown rice with any curry such as Chana Masala, Chicken Curry and Dal Makhani.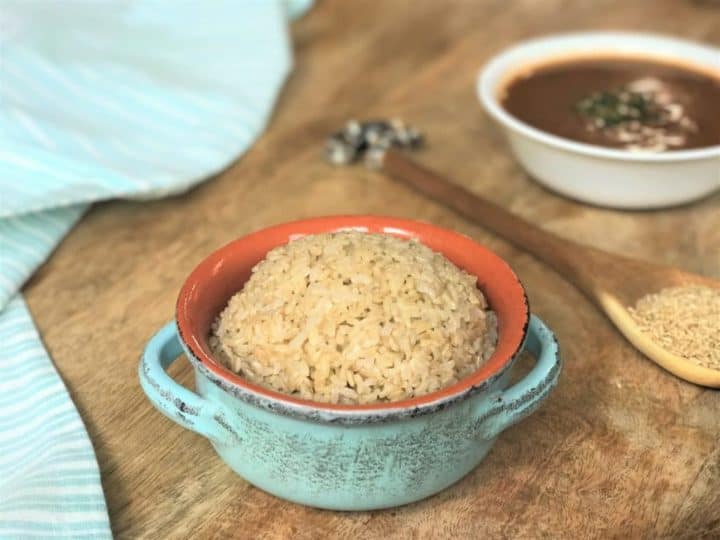 Try out the brown rice and let me know how it turned out. If you want to make Brown Rice using the pot-in-pot method (PIP), check out the recipe here.
You can also check out other variations of rice – Basmati white rice, Jeera or Cumin rice or other basics recipes such as Steamed Broccoli and Instant Pot Beets .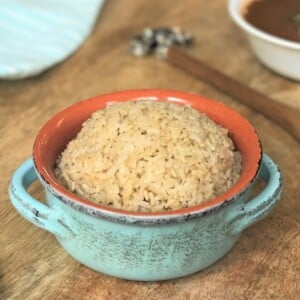 Brown Basmati Rice Recipe – Instant Pot Pressure Cooker
Perfectly cooked Brown Basmati rice made in an instant pot or pressure cooker.
Instructions
Wash brown rice until the water runs clear.

Add water and rice to the instant pot insert. If using, add the oil and salt.

Start the instant pot in manual or pressure cook mode for 22 mins at high pressure with vent in sealing position.

When the instant pot beeps, do 10 minutes natural pressure release, which means release the pressure manually 10 minutes after the instant pot beeps.

Fluff the rice with a ladle or fork. Rice is ready to be served with your favorite curry.
Notes
If you like very soft rice, then increase the amount of water by 1/4 cup.
Cooking time remains the same even if you double or half the recipe.
This recipe was created in a 6qt Instant Pot DUO60 Multi-use Programmable Pressure Cooker.
Nutrition
Calories:
407
kcal
Carbohydrates:
71
g
Protein:
7
g
Fat:
10
g
Saturated Fat:
5
g
Cholesterol:
19
mg
Sodium:
595
mg
Potassium:
206
mg
Fiber:
3
g
Calcium:
21
mg
Iron:
1.4
mg