My favorite no-fail Instant pot Cannellini Bean recipe that can be used for meal prep and quick dinners. This recipe works with any dried white beans, including Navy beans, Cannellini beans, and Great Northern beans.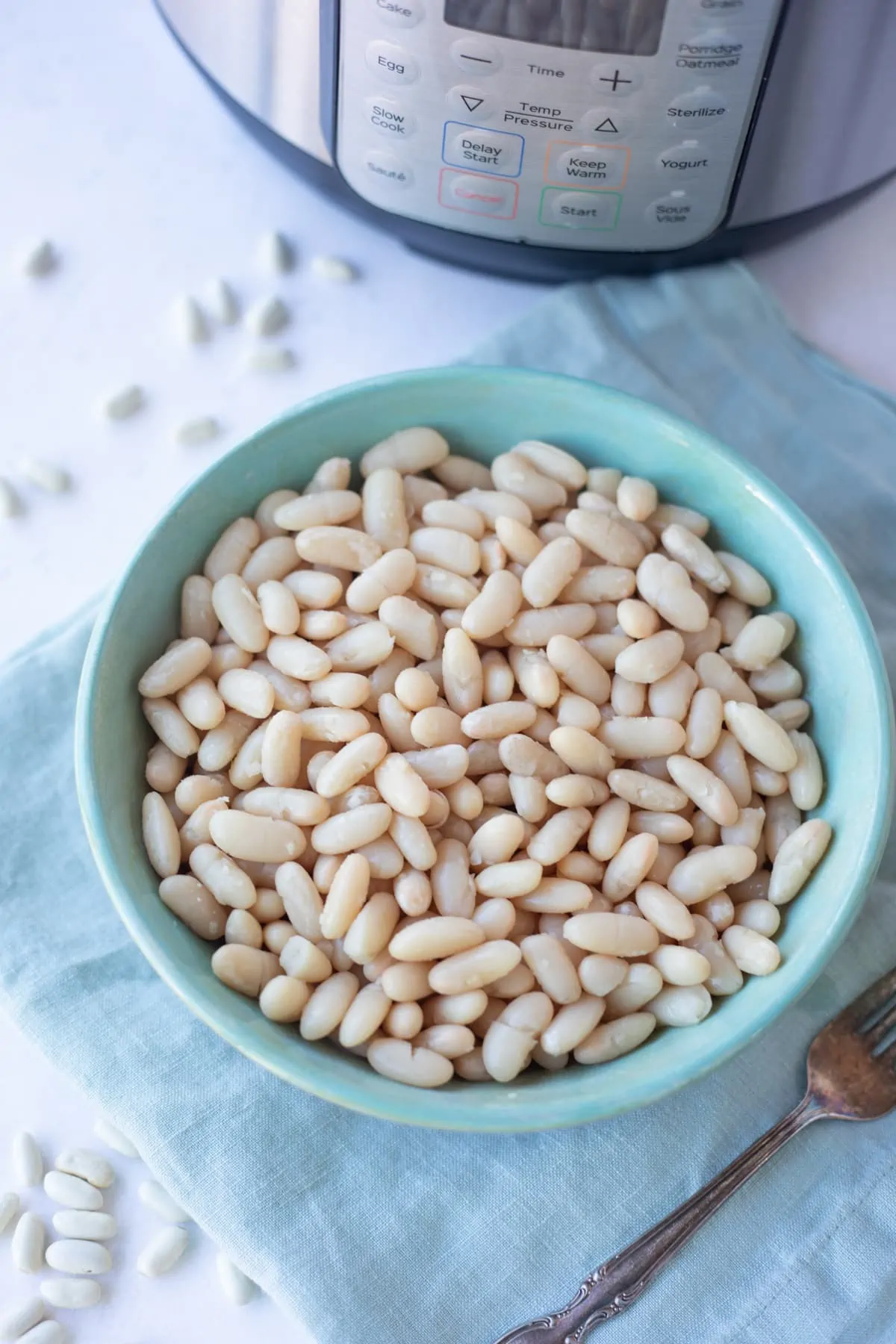 One of the best things you can do for meal prep is cooking dry beans and having them ready in your refrigerator or freezer.
I love the instant pot to cook any types of beans and chickpeas. It is so much quicker than cooking on the stovetop, and so much cheaper than buying canned. Here are my Mexican black beans and instant pot chickpeas recipes.
And here you will find all the details to cook any type of white beans in your instant pot.
Jump to:
What are White Beans?
Any bean that is white or off-white in hue is accurately referred to as a "white bean." White beans that are sold commercially, are usually referred to by more specific names, such as Navy beans, Great Northerns, or Cannellini.
Though different white bean varieties have slightly varying flavors and sizes, their nutritional contents are relatively similar, and they can easily be substituted in recipes.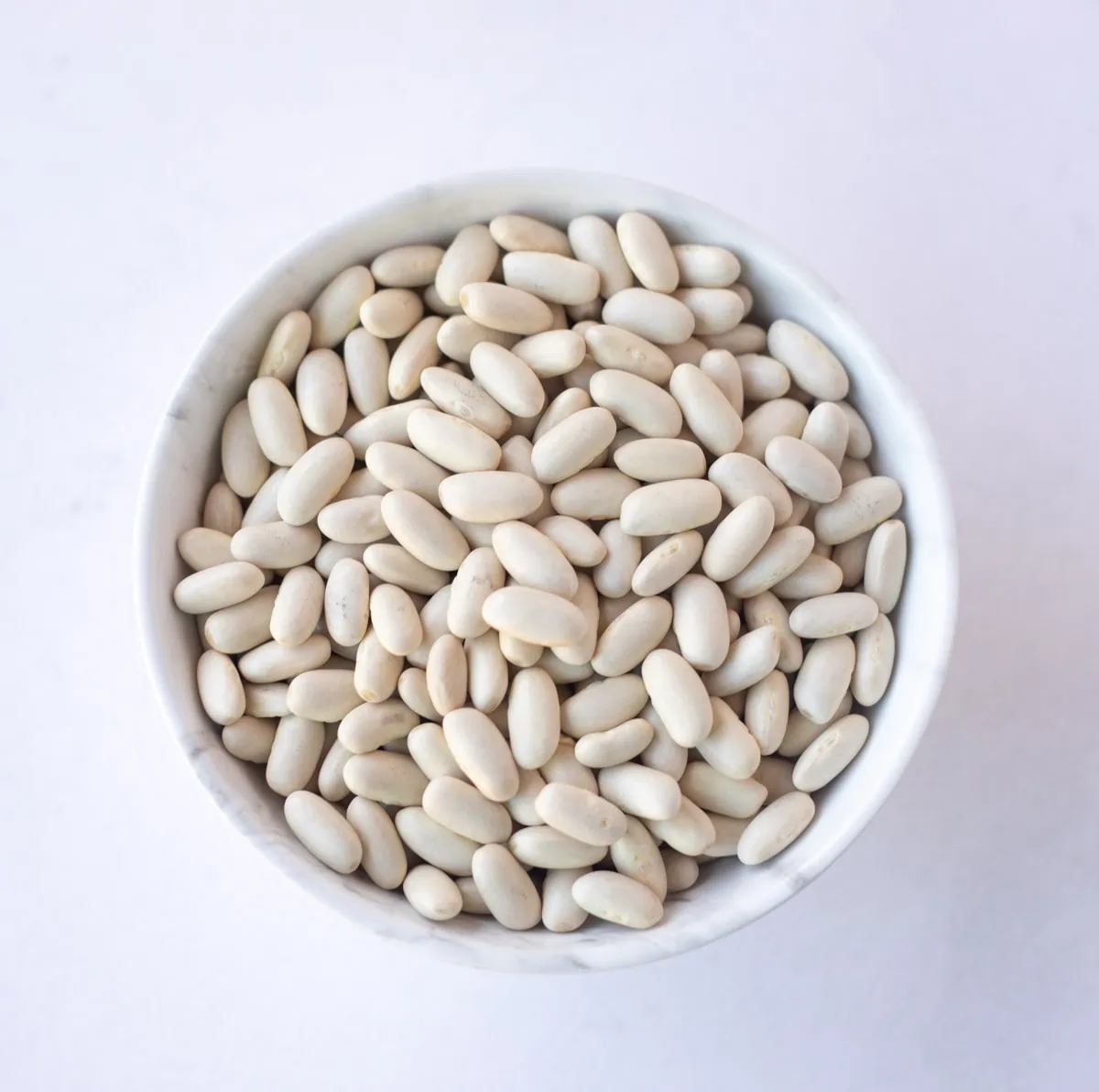 What Are The Benefits Of White Beans?
White Beans are very nutritious. Some of the benefits of white beans are:
Loaded with protein: White beans can be used as one of the key protein sources for vegetarians and vegans.
Provide ample fiber: White beans promote improved digestive health and can help with bowel regularity
Promote healthy body weight: White beans have a high nutrient density while being relatively low in calories. These characteristics, when combined with their high fibre and protein content, may promote a healthy body weight.
Why use the Instant Pot to Cook Cannellini White Beans?
The Instant Pot is our go-to method for cooking any types of white beans - Navy beans, Great Northern and Cannellini beans. It is quick and easy, whether you soak the beans or not, and produces perfectly tender beans every single time!
Healthy substitute for canned beans
Canned beans can be easily substituted with dried beans that have been cooked in the instant pot. Making your own beans has many advantages:
They taste better as they are freshly made
Dried beans have more protein, fiber, iron, potassium, and magnesium as compared to canned beans. Most importantly, they contain less sodium.
Dried beans are friendly on the pocket as they are much cheaper.
Cans also have potentially harmful chemicals.
Reduces the amount of waste generated.
What You'll Need?
To make a batch of beans, you'll need a 6 to 8 quart Instant pot. I use a 6-quart Instant Pot, but this basic method can be applied to other electric pressure cookers and stovetop pressure cookers as well.
Besides that, you will need the following ingredients:
Dried White beans: 1 cup dried beans will give you 3 cups cooked beans. I used cannellini beans.
Water or stock: Either one works. Use stock if you want extra flavor in the cooked beans.
Flavoring Ingredients : Add a bay leaf for some extra flavor. You can also add garlic if you like.
Salt
To soak or not to soak?
This is one question I always get asked when cooking beans.
White beans do not need to be soaked before being cooked in the Instant Pot. While soaking beans overnight may help soften them and speed up the cooking process, a pressure cooker's high heat does all of that for you.
Soaking the beans decreases the phytic acid content and enhances the nutrient absorption. Also, soaking beans can help reduce gas-causing compounds in the beans, which is beneficial if one suffers from bloating from beans. Also, soaked beans cooked faster.
How to make?
Soaking the beans: This is optional, but helps reduce cook time. You can soak 1 cup beans in 3 cups of water overnight or for 8 hours. Then drain the liquid once the soaking time is done.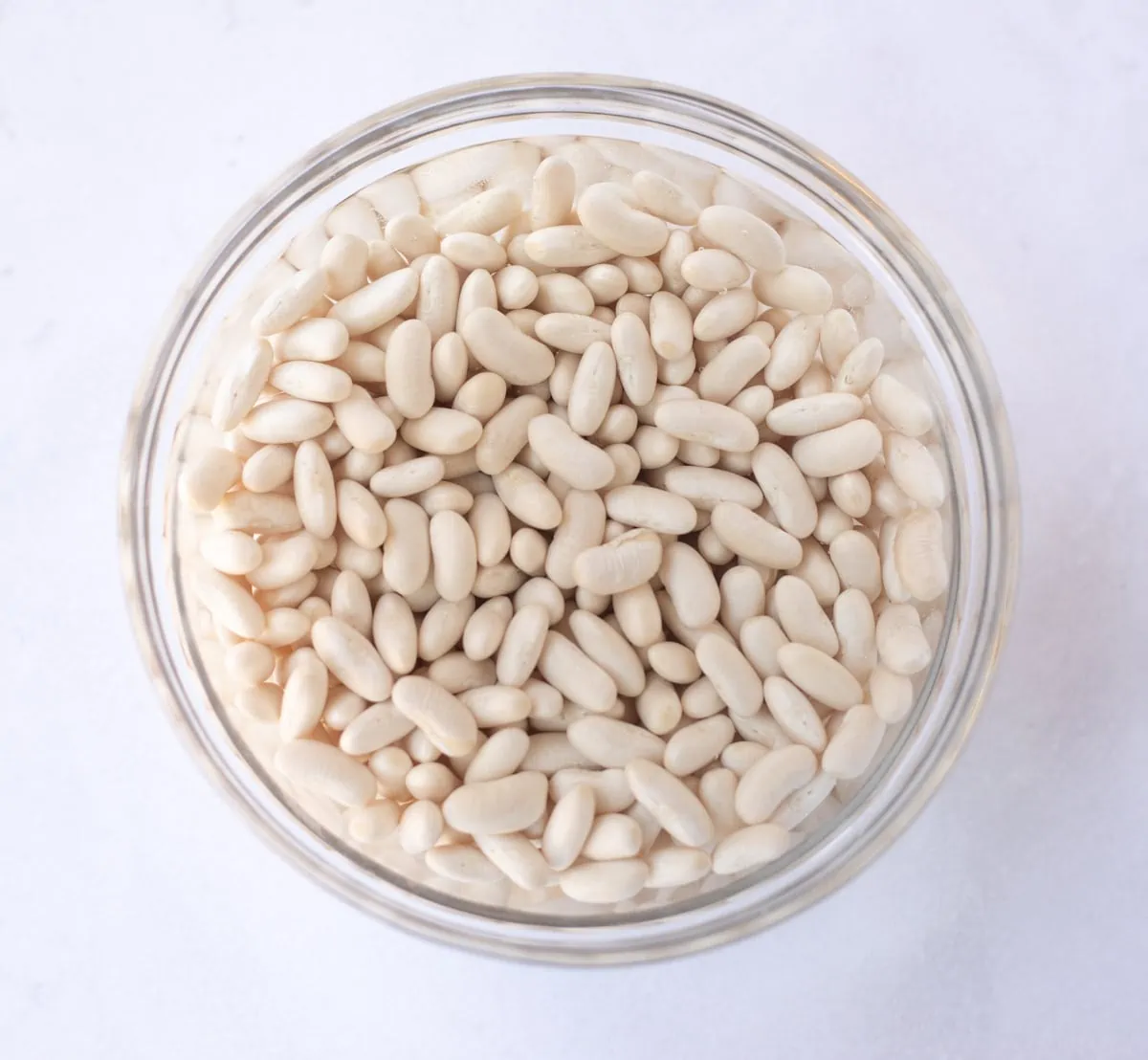 Fill the inner pot of a standard instant pot with liquid, beans, salt, and spices. Give it a good stir to ensure that everything is evenly distributed.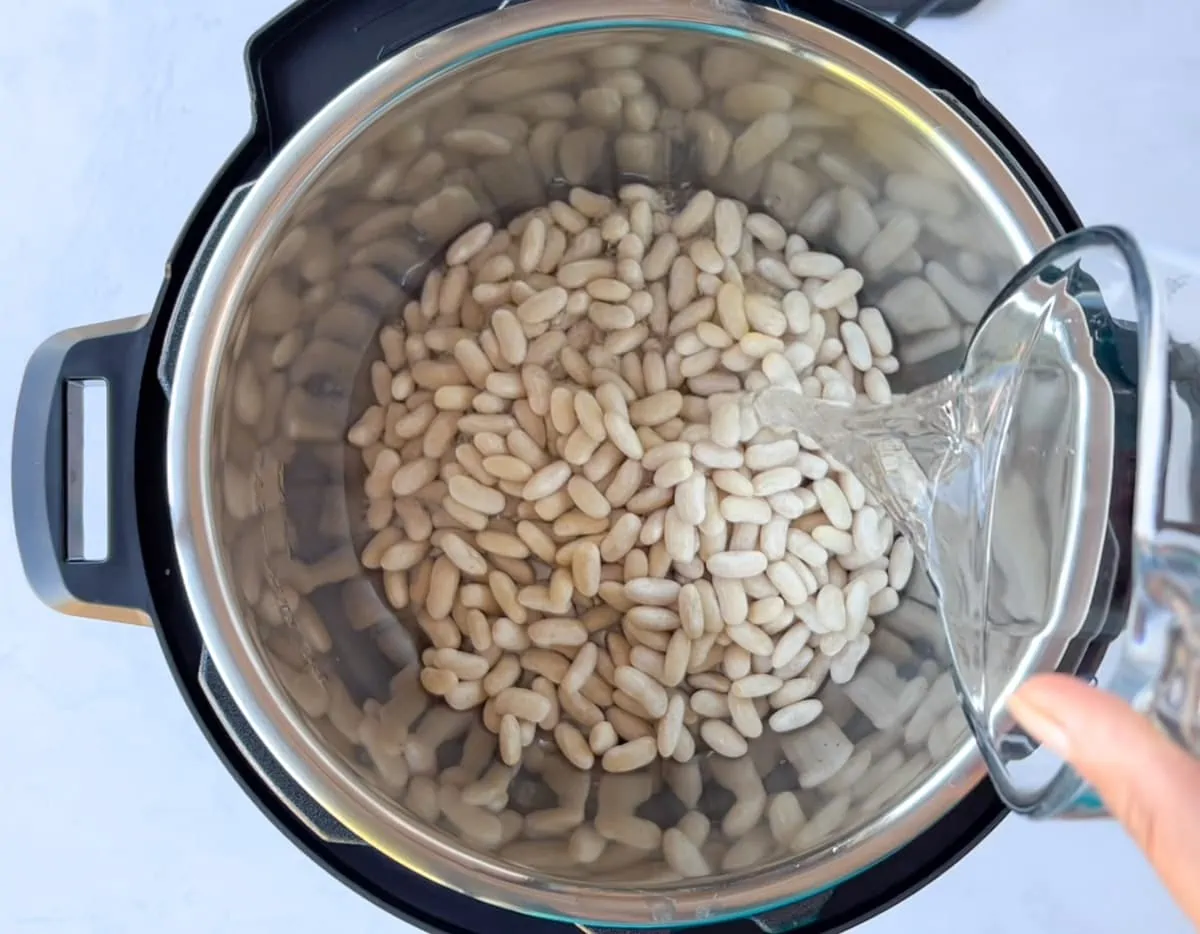 Set the vent to sealing and close the lid of the instant pot.
Then pressure cook. See the recipe card for exact cooking times.
Let the pressure release naturally.
The beans are perfectly cooked in the instant pot.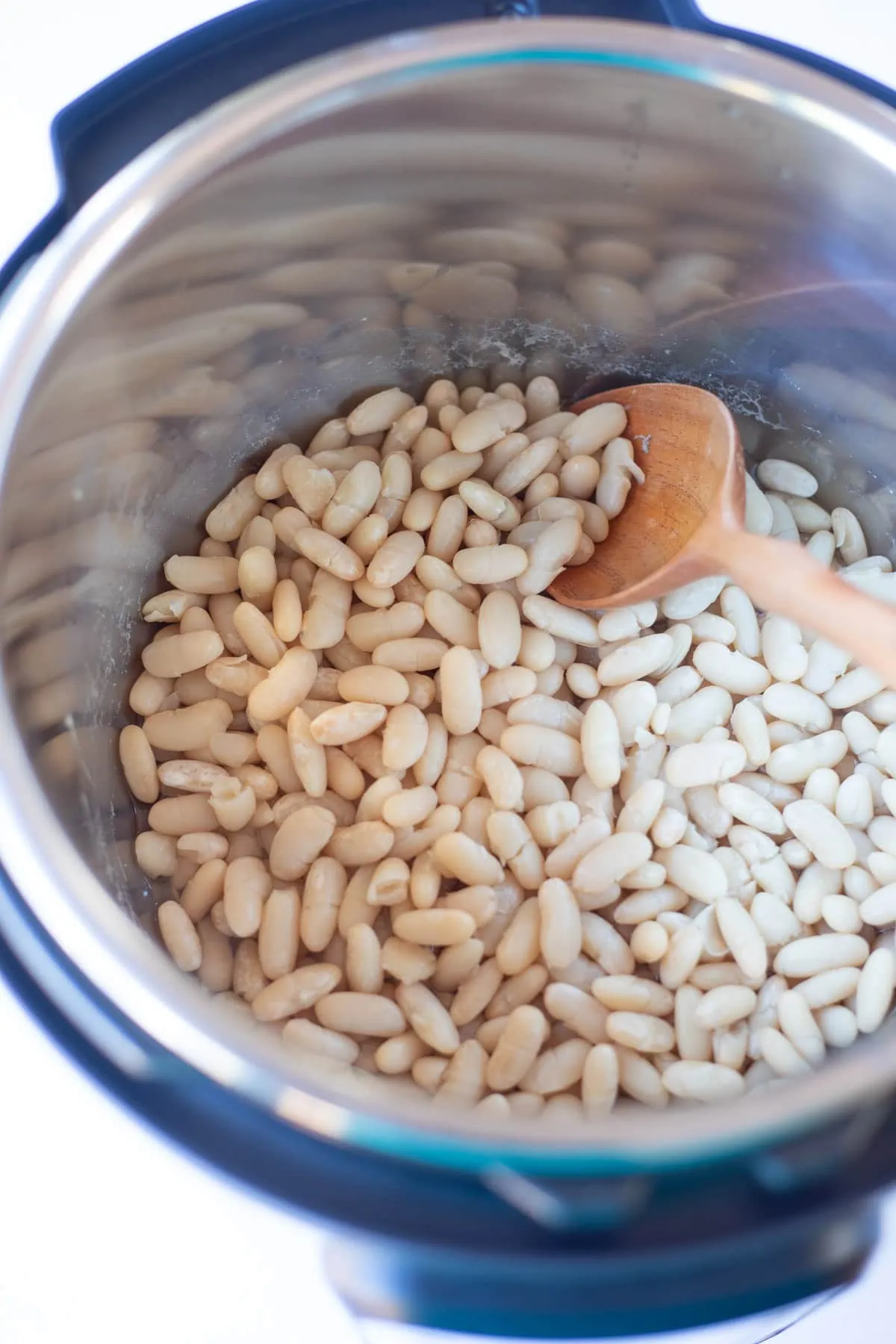 How To Store Cooked Beans?
Cannellini beans should be stored in shallow airtight containers or resealable zip-lock bags in the refrigerator.
They will keep well in the refrigerator for 3 to 5 days if properly stored.
Bacteria grow quickly at temperatures between 40°F and 140°F, thus if cooked cannellini beans are left out at room temperature for more than 2 hours, they should be discarded.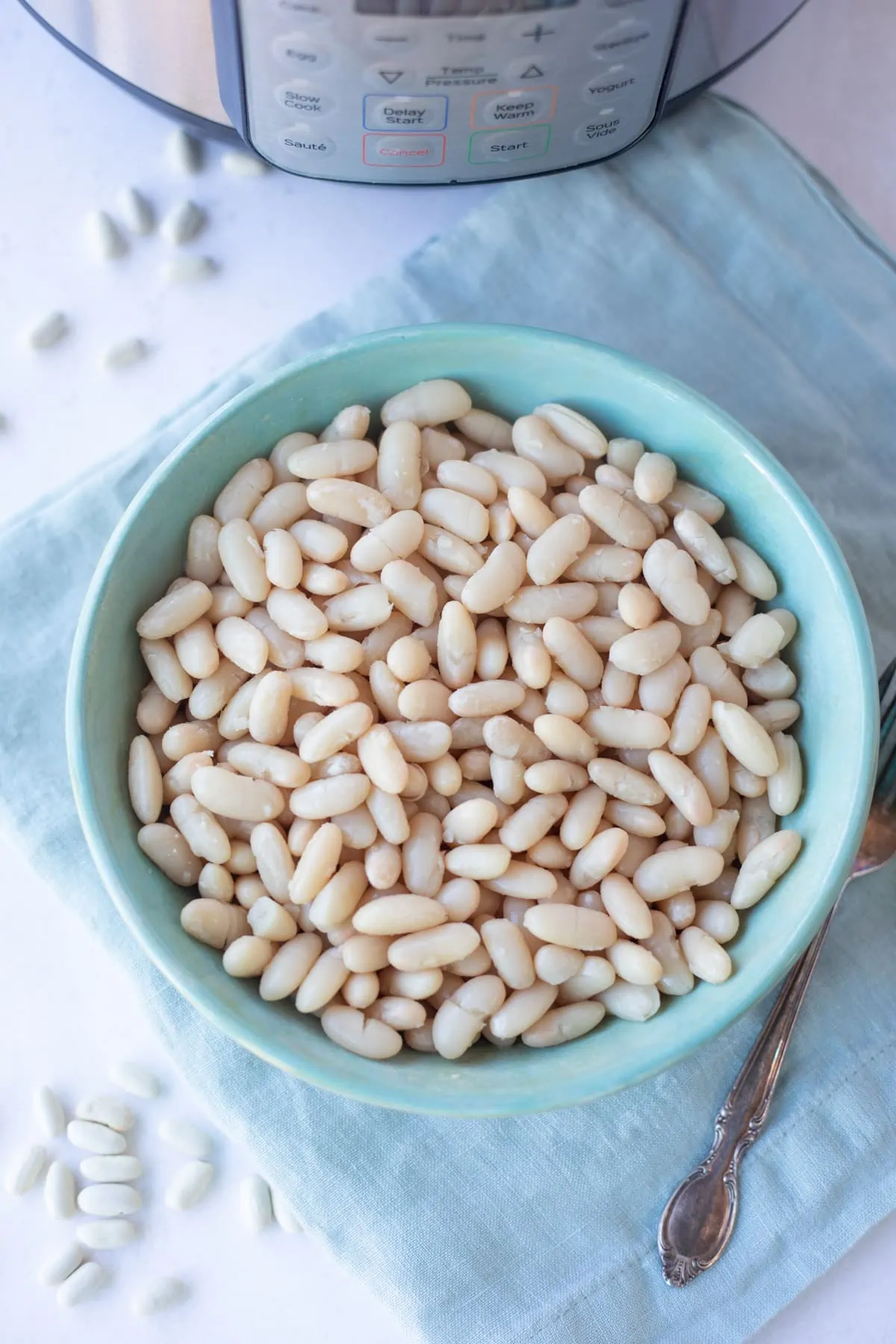 Recipe Tips
Always wash your beans before using them. If you're using dried beans, make sure they're clean before soaking to get rid of any dirt or discoloured beans. If you're using canned beans, strain and rinse them to remove any excess sodium from the preserving liquid.
Before cooking, soak dry beans. If you're using dried beans, soak them for six to eight hours (or overnight) before cooking.
Avoid overcooking your beans unless you're making a dip or spread. If you boil them for too long, the skins will crack and the beans will lose their shape.
How to Serve
White beans can be used in a variety of dishes, including soups, stews, dips, salads, thickening sauces, and more.
Recipes Using White Beans
White beans are versatile and can be incorporated in any recipe of your choice.
Bean Salad: For a quick, refreshing, and protein-packed snack on a hot day, try bean salad.
White Bean Soup: A hearty, warm soup can be made with any type of white bean.
Minestrone Soup: This favorite Italian soup with beans, veggies and pasta is a great one to use up all the wonderful beans.
Chilli: You can use any white beans in a white-bean chili.
Beans with rice: Beans and rice is a great option to enjoy for any meal.
Bean Burger Patties: Plant-based burgers with white beans taste delicious.
Grain Bowls: Add these beans to a grain bowl for the extra protein. eg. Sorghum grain bowl.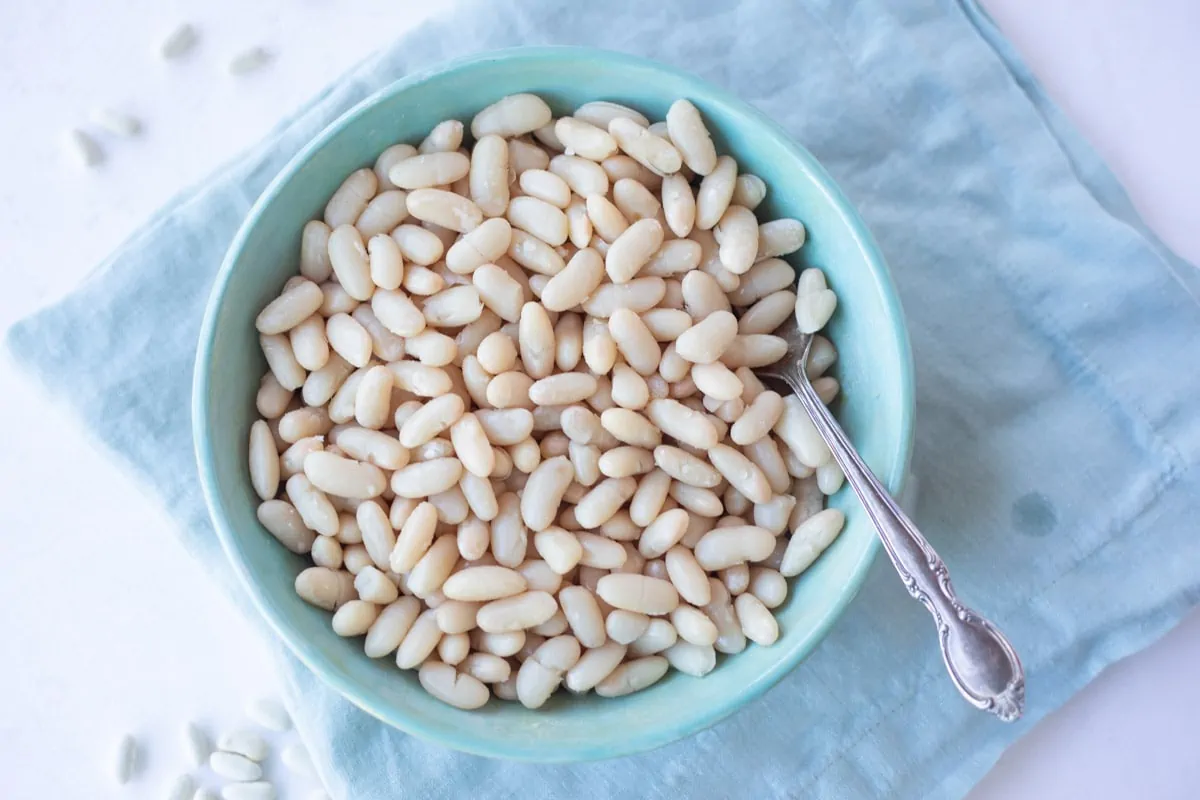 Frequently Asked Questions
Do you need broth to cook beans?
No, it's not essential. I don't think broth is needed because the salt, garlic, bay leaf etc. gives the beans a lot of flavor. In addition, when the beans simmer, the water transforms into a delicious broth.
Can I freeze cooked beans?
Yes. The cooked beans can be frozen with or without the liquid in which they were cooked. Store cooled leftovers in the refrigerator for up to 5 days or in the freezer for up to 1 month.
Why are the cooked beans still hard?
There are a few reasons on why your beans can be hard:
1) Stale/Old: Even dried beans require "freshness" to be tender and flavorful. Dried beans that have been stored for more than a year can remain hard and chewy no matter how long they are cooked.
2) Liquid Quantity: While cooking, beans should always be immersed in liquid. They will not cook evenly if there is insufficient liquid.
3) Acidic Ingredients: Cooking dried beans with acidic ingredients such as tomatoes, lemon, vinegar or wine can prevent them from becoming tender.
4) Hard Water: If your tap water is extremely hard, the minerals in the water can prevent the beans from softening. Cook them in filtered or bottle water if possible.
More Instant Pot Recipes
Try a few more of the easy Instant pot recipes from our collection-
📖 Recipe
Tried this recipe?
Give a rating by clicking the ★ below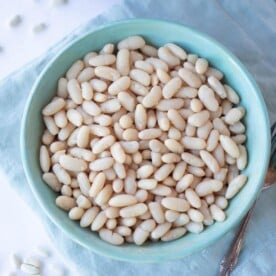 Instant Pot Cannellini Beans
My favorite no-fail Instant pot white bean recipe that can be used for meal prep and quick dinners. This recipe works with any dried white beans, including Navy beans, Cannellini beans, and Great Northern beans.
Ingredients
1

cup

Cannellini beans

or other white beans, rinsed

3

cups

Water

or vegetable broth

1

Bay Leaf

optional

½

teaspoon

Salt
Instructions
This step is optional, but helps for easier digestion and reduces cooking time. Soak beans in 3 cups of water overnight. Then drain any remaining liquid.

Add the beans, bay leaf, salt and water to the Instant Pot. Use 3 cups water for soaked beans (or 2 cup for overnight soaked beans).

Close lid with vent in sealing position. Set to pressure cook on high pressure.

Cannellini Beans: 35 minutes (or 12 minutes for overnight soaked beans)

Great Northern Beans: 30 (10 minutes for overnight soaked beans)

Navy Beans: 25 minutes (8 minutes for overnight soaked beans)

Once the instant pot beeps, let the pressure release naturally. Carefully remove lid once steam has fully escaped and strain off any excess cooking liquid.
Note: Nutrition values are my best estimates. If you rely on them for your diet, use your preferred nutrition calculator.
Nutrition
Calories:
168
kcal
Carbohydrates:
30
g
Protein:
12
g
Fat:
0.4
g
Saturated Fat:
0.1
g
Polyunsaturated Fat:
0.2
g
Monounsaturated Fat:
0.04
g
Sodium:
308
mg
Potassium:
907
mg
Fiber:
8
g
Sugar:
1
g
Vitamin A:
2
IU
Vitamin C:
0.01
mg
Calcium:
127
mg
Iron:
5
mg