Want to learn about Indian spices, here is a great resource for you to get started. You will find the must-have spices for Indian cooking and comprehensive list of Indian spices.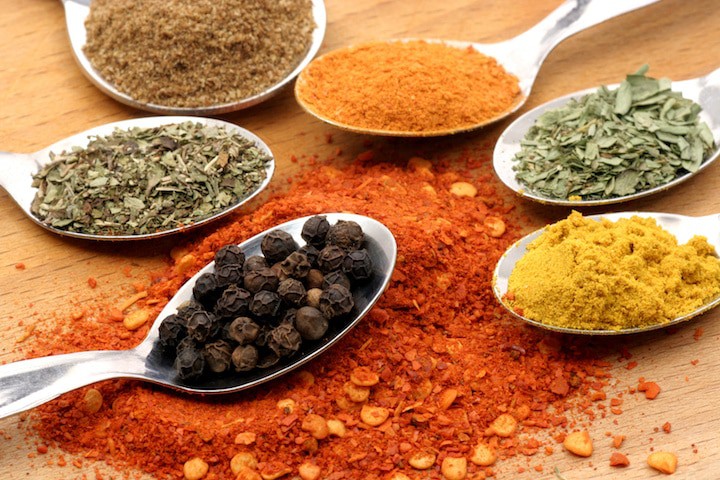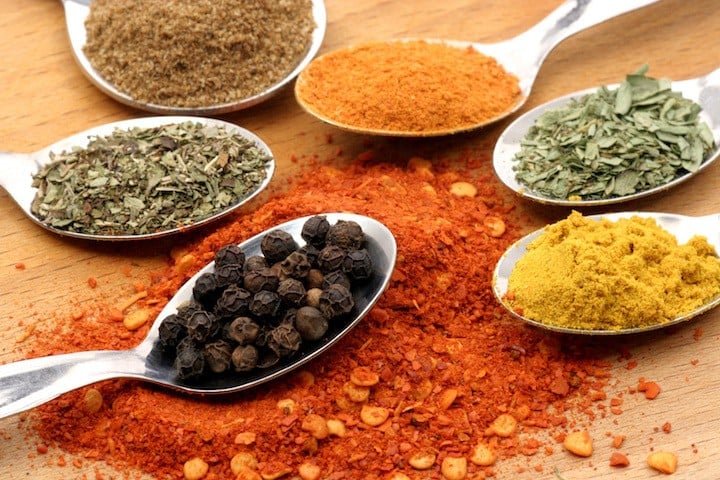 I was talking to a colleague and figured that it is pretty hard for people to keep up with the variety of Indian spices. So I thought it may be a good time to share the spices I use frequently in my kitchen.
There are a ton of spices we use in Indian cooking, however when it comes to daily meals, we don't tend to use all. I can count the commonly used spices on my finger tips, so you get the idea that there are a handful of them. However if I am preparing something for a special occasion or for guests, I will go the extra mile and add all the exotic spices.
Start Indian Cooking with these 5 Spices
Let's start with the most common and important spices for Indian cooking. I cook most of the regular Indian meals with just these 5 spices. However I don't want to give the impression that the other spices don't add any flavor to the Indian food, they do, but you can start your Indian cooking adventure with these spices and then add to them.
Cumin is an herb that many associate with Mexican and Spanish foods, but it is also widely used in Middle Eastern and Indian cooking. It is one ingredient I use when preparing most Indian style lentils and curries. In North India, Cumin seeds are one of the first ingredient added to hot oil and we add the other ingredients after they splutter.
[Buy on Amazon]
While Cumin seeds are most commonly used in North India, Mustard seeds are most used in South Indian for tempering. Mustard seeds
come in a range of colors from yellow to black. In Indian cooking, we mostly use black mustard seeds. They add a crunch and flavor to the dish. Mustard seeds are added when tempering or making tadka. A lot of South Indian recipes begin with adding these seeds in hot oil and waiting for them to pop before adding other ingredients. [Buy on Amazon]
Turmeric has a distinctive yellow color, and an earthy rich flavor. It is also called the wonder spice, due to it's antioxidant and antiseptic properties. Turmeric root is dried and then ground to a fine powder. I usually just buy turmeric powder. It adds the yellow color to many savory Indian dishes and curries. It is usually added during the cooking process. [Buy on Amazon]
Coriander seeds
are the dried fruit of the cilantro plant. They can be found as seeds or in ground form. It does not make a dish spicy, but adds a lot of flavor and aroma to it. I usually buy coriander seeds and grind them myself, to have a fresher taste and also makes sure that it is not adulterated. But you don't have to make it fresh everyday, just grind it and store for a few months. [Buy on Amazon - Seeds, Ground]
As everyone know, red chili powder adds heat to a dish. My preferred variety of chili is Kashmiri red chili, as it adds a distinct red color to the dish along with the spice. Red chili is usually added after most ingredients are added. Some dishes call for whole red chilies, while most others for the ground powder. Similar to the coriander powder, I prefer to grind red chili powder myself. Just add the whole red chilies to the grinder and grind to a fine powder. Again, you can store and use this powder for few months.
[Buy on Amazon - Whole, Ground]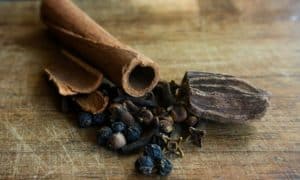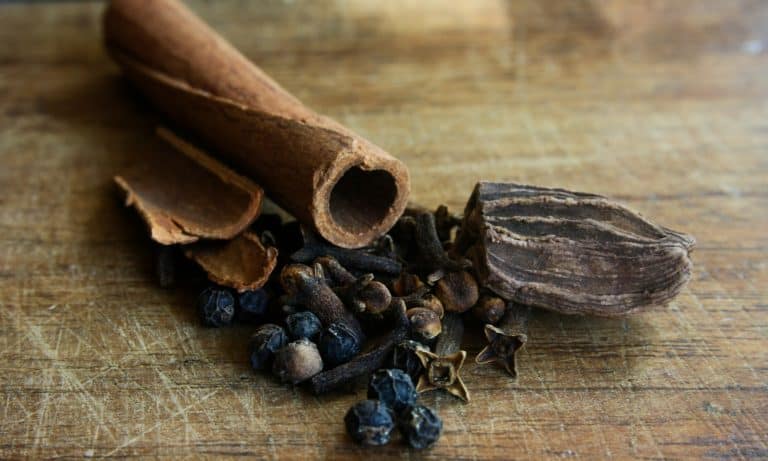 Garam masala is a blend of ground spices commonly used in Indian and Pakistani food. The word garam refers to "heating the body" in the Ayurvedic sense of the word, as these spices are believed to elevate body temperature in Ayurvedic medicine. Typical ingredients for garam masala include: black peppercorns, cinnamon, cloves, black cardamom, nutmeg, and green cardamom. I always prefer to make Garam Masala at home, I will share the recipe for that soon.
[Buy on Amazon]
Additional Spices for Indian Cooking
A lot of the below spices add amazing aroma to Indian food. The most used spice from the below list is Garam Masala.
Amchur or Amchoor is a powder of sun dried raw mangoes. It is used for it's tangy fruity flavor in Indian cuisine. It has an earthy component along with the sour taste. It is predominantly used in North Indian dishes. You will find amchur used in many of my recipes. [Buy on Amazon]
Bay leaves are commonly used
in Indian cooking. Their flavor and fragrance is similar to the cinnamon bark but slightly milder. Bay leaves are often used in rice dishes such as biryani or pulao. Just one to two bay leaves are enough to flavor an entire dish.
[Buy on Amazon]
Cinnamon is used in both sweet and savory foods. It is commonly used for sweet foods all over the world, but in Indian cooking cinnamon is also used for savory foods. The flavor of cinnamon is due to an aromatic essential oil that makes up 0.5 to 1% of its composition. Cinnamon is sautéd in oil for many Indian dishes. It is also a main ingredient for Garam Masala.
[Buy on Amazon]
Cloves are used in Asian, African and Middle eastern cuisines. In Indian foods, they are primarily used in meats and curries. They are also used in adding aroma to hot beverages blends. Similar to cinnamon, cloves are sautéd in oil for many dishes, and are also an ingredient of garam masala. [Buy on Amazon]
Black cardamom is dried over an open fire, which is what gives it such a powerful smokey aroma. The pods are used as a spice, in a similar manner to the green Indian cardamom pods, but with a different flavor. Unlike green cardamom, this spice is rarely used in sweet dishes. It is usually used when preparing meats, biryani's and in garam masala. Just 1-2 pods are enough to get the flavor in a dish.
[Buy on Amazon]
Green Cardamom is the world's third-most expensive spice, surpassed in price per weight only by vanilla and saffron. Cardamom is used as a flavoring and cooking spice in both food and drink, and also as a medicine. It is best stored in the pod as exposed or ground seeds quickly lose their flavor. When adding this to a savory dish, I just open the pods and add them to the oil initially along with other whole spices such as cloves. Elaichi is also commonly added to Indian tea or chai.
[Buy on Amazon]
Black Pepper or Peppercorn is used frequently in Indian and Western cooking. It is the worlds most traded spice. It is often used as a seasoning, along with salt. In Indian cooking, black peppercorns are also used to add aroma, flavor and heat to many dishes. You will find it commonly used in south Indian dishes such as upma or pongal. Pepper loses flavor and aroma through evaporation, so airtight storage helps preserve its spiciness longer. Some dishes call for whole pepper, while other for ground pepper. I usually prefer to freshly grind pepper when needed.
[Buy on Amazon - Seeds, Ground]
Asafoetida is used in Indian foods such as lentils and curries, added when tempering or adding tadka. In its raw form, it has a fetid odor, but it delivers a smooth flavor reminiscent of leeks, when used in cooked foods.
[Buy on Amazon]
Curry leaves are
aromatic leaves commonly used in South Indian cuisine. We usually find fresh leaves in Indian grocery stores or people also grow this plant in a small pot. But if you don't have access to fresh leaves, you can buy these dried leaves. They are usually added as one of the first things to the oil along with mustard seeds.
[Buy on Amazon]
Ajwain has a aroma similar to thyme, but is more aromatic and less subtle in taste, as well as slightly bitter and pungent. A small number of seeds tend to dominate the flavor of a dish. Ajwain is also used as a medicinal plant in traditional Ayurvedic medicine; primarily for stomach disorders such as indigestion.
When growing up, if we had a stomach ache, having a teaspoon ajwain with water was the quick solution. [Buy on Amazon]
Fenugreek is used as an herb (dried or fresh leaves) or as a spice (seeds). Kasoori methi are dried leaves of the fenugreek plant . They are used in Indian cooking and taste similar to a combination of celery and fennel with a slightly bitter bite. Typically the leaves are crumbled and sprinkled over meat and vegetable curries before serving. I frequently add them to butter chicken or paneer dishes. Kasoori methi can also be added to whole wheat dough to make methi roti or paratha.
[Buy on Amazon]
Mace is the crimson or bright red colored spice or condiment, present as the second membrane covering the seed of the nutmeg fruit. Its taste is milder than that of nutmeg and is used in recipes which are delicately flavored. Mace should be added at the beginning of cooking in order to develop its full flavor. Mace is widely used in light dishes like broth, soups, mashed potatoes and rice preparations such as biryani. It is also used in sweet dishes like pies, milk custards, puddings, muffins, cakes and breads.
[Buy on Amazon]
Fennel is a flowering plant species in the carrot family. It is a highly aromatic and flavorful herb with culinary and medicinal uses. Dried fennel seeds are brown or green in color when fresh. Fennel seeds are used in cooking or consumed as mukhwas, an after meal digestive and breath freshener. Fennel is also used as a flavoring in some natural toothpastes. [Buy on Amazon]
Star Anaise is commonly used in Chinese cuisine. It is used in Indian foods as well, such as biryani and meats, and to prepare garam masala. However when growing up, I did not see my mom use this spice much. But there are many variations of preparations for Indian dishes, and a variety of spices used. I am going try using star anaise when I prepare garam masala next. [Buy on Amazon]
Fenugreek seeds have a somewhat bitter taste, similar to celery, maple syrup or burnt sugar, and are often used to make medicine. However, fenugreek has a far more pleasant taste when cooked. The seeds are the most widely used part of fenugreek, which are usually dried and ground. Just a small amount is enough to flavor an entire dish. I usually add fenugreek seeds when preparing idli/dosa batter.
[Buy on Amazon]
Saffron Threads are collected and dried to be used as a seasoning and coloring agent in food. It is the world's most expensive spice by weight. Each strand is hand harvested from the stigma of a crocus that can only grow in certain climates. Saffron can be used in savory preparations or sweet ones. In Indian cuisine, saffron is usually used in sweets or exotic dishes such as dum biryani. Saffron threads are soaked in warm water or milk for several minutes prior to using it in a dish. This helps release the aromatic components of saffron. [Buy on Amazon]
As you can see, it is a pretty long list of spices that are used in Indian food. This gives you an idea of the variety of spices. I am sure I am still missing some of the spices. I will keep adding to this list as I remember more.
You can find all of these spices on My Amazon store too.
Store your spices in a masala dabba or spice box, very common in Indian homes. I have two spice boxes. Here is what I put in each one:
Cumin seeds, Mustard seeds, Turmeric, Red Chili powder, Coriander powder, Salt, Garam Masala.
Whole Spices - Cinnamon, Black Peppercorns, Cloves, Black Cardamom, Mace, Bay leaves.
*This post contains affiliate links, which means if you buy by clicking a link here I will get a small portion of the price at no additional cost to you.