Looking for delicious paneer Recipes? Check out these amazing Paneer Dishes. You will find a variety of curries, stir fry's, appetizers you will love!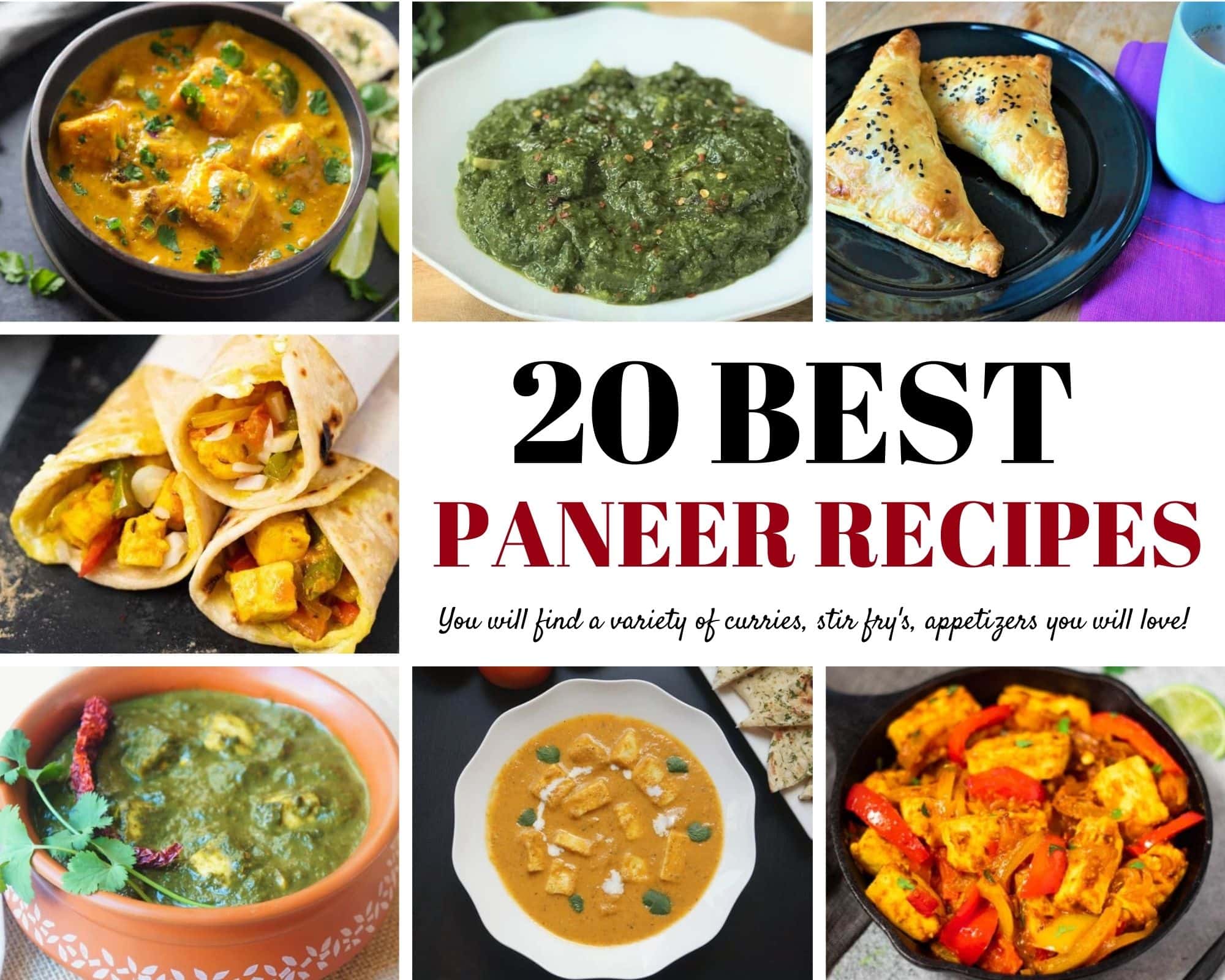 Growing up, paneer was a staple in our home. Paneer is a firm Indian cottage cheese and a widely used ingredient for Indian curries.
While chicken is the main dish for the meat eaters, paneer is the soul for vegetarians in Indian cuisine. It is very popular and used in so many Indian dishes such as curries, appetizers, rice dishes and even desserts.
My kids love paneer in any form. It is also a healthy protein for the kids. Hence I make paneer recipes very often.
Jump to:
What is Paneer?
Paneer is fresh, soft but firm cottage cheese popular in Indian cuisine. It is a very versatile dairy product and used in an assortment of Indian curries, snacks and sweets.
Paneer is a non-melting cheese made with curdled milk. It can be made at home or bought freshly made or frozen from the store.
Where to buy Paneer?
In India, the local dairy's and sweet shops made paneer fresh everyday and sell it.
In US, you can find paneer at any local Indian grocery stores. Some Costco stores also carry paneer…yay!
What you will find most commonly is a slab of paneer or small cubes in the frozen aisle at the indian grocery store. My favorite brands in order of preference are – Haldiram, Sach Foods and Verka.
If you are unable to find paneer in a store, you can also make it from scratch in your instant pot or on the stovetop.
Benefits of Paneer
Rich in protein. Every 100 grams of paneer has about 18 grams of protein.
Great source of calcium, which helps to strengthen bones & teeth.
Good source of potassium and magnesium.
Paneer is a great choice for a low carb diet.
What dishes can be made from Paneer?
Whether it is a curry such as Paneer Tikka Masala or Palak Paneer, or an appetizer such as Tandoori Paneer Naan Pizza or Paneer Puffs, you will find all your favorite paneer recipes here!
Paneer Curries
Paneer Tikka Masala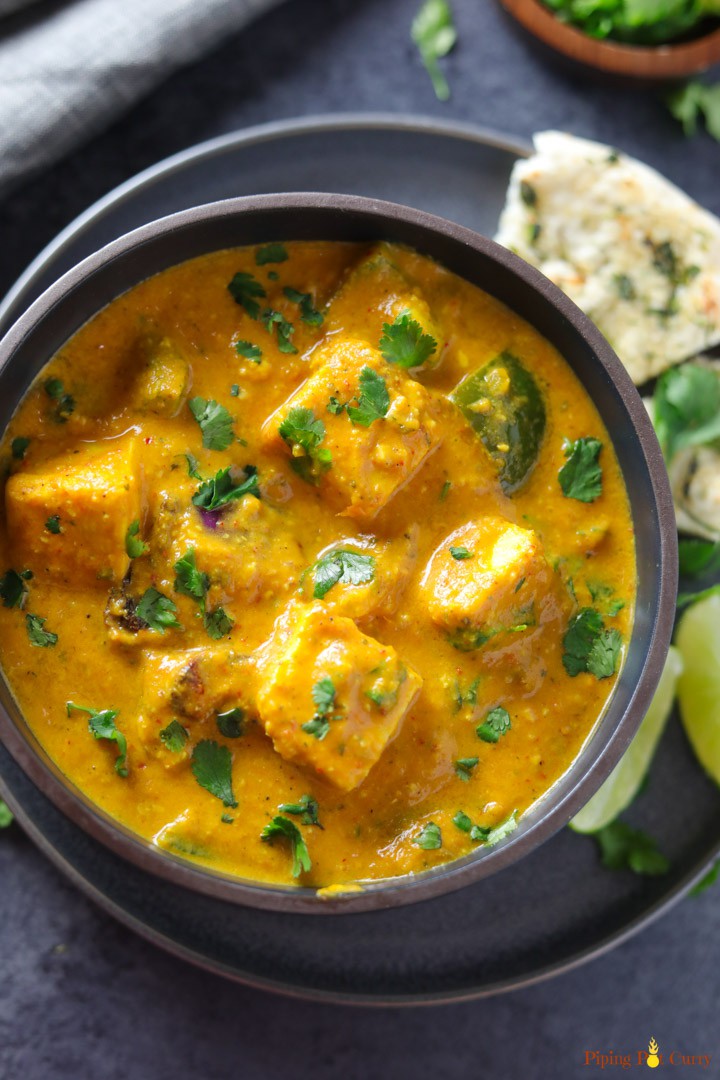 Paneer Tikka Masala is a flavorful and aromatic curry made with marinated and grilled paneer cubes simmered in a rich onion tomato gravy along with warm spices. This restaurant quality Paneer Tikka Masala is so easy to make in the instant pot, that you will not consider take-out again.
Paneer Jalfrezi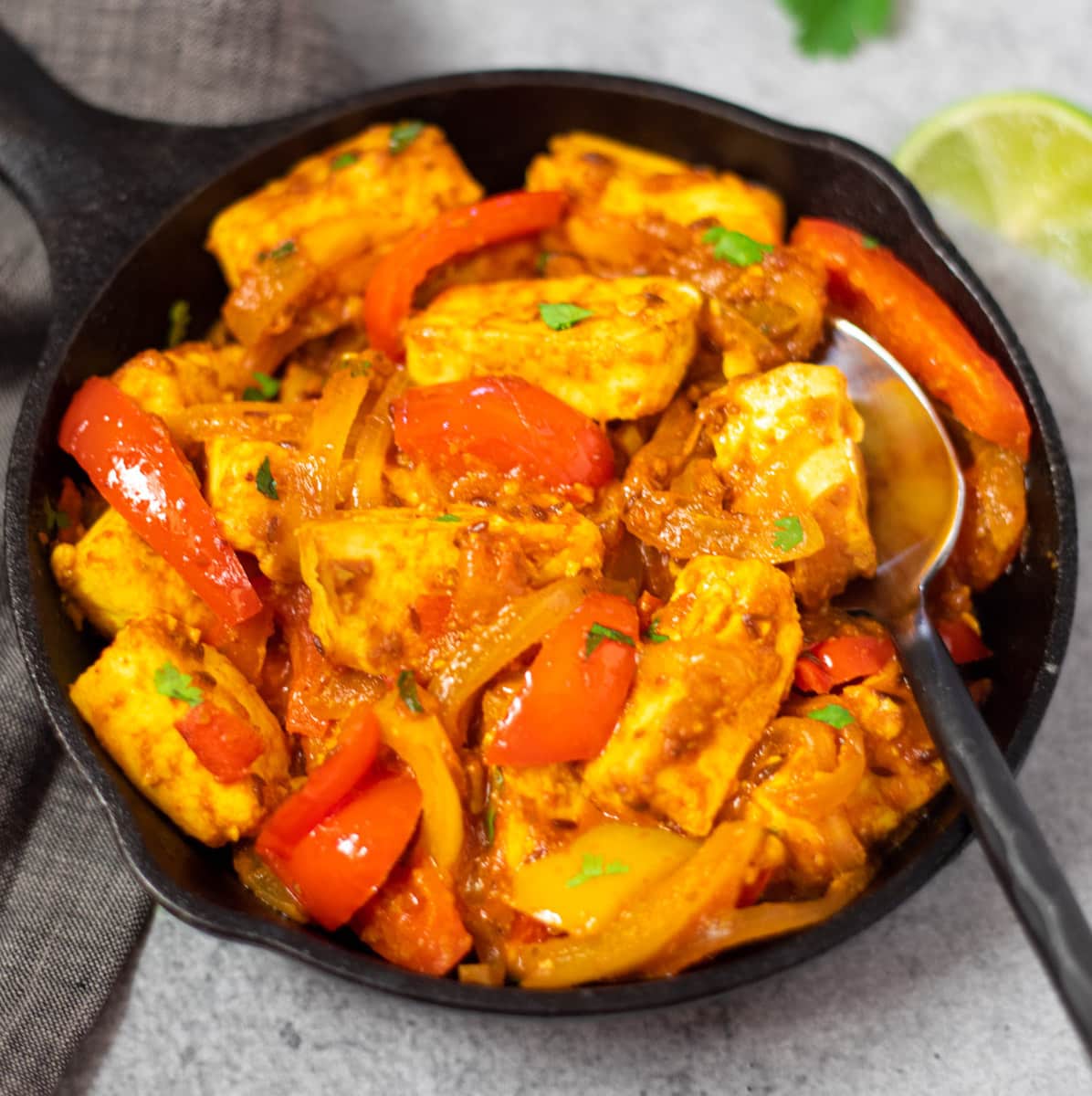 Paneer Jalfrezi is a delicious stir-fry curry that has the heavenly combination of paneer with peppers. This vegetarian restaurant-style dish can be made within 20 minutes and is a perfect accompaniment for naan.
Palak Paneer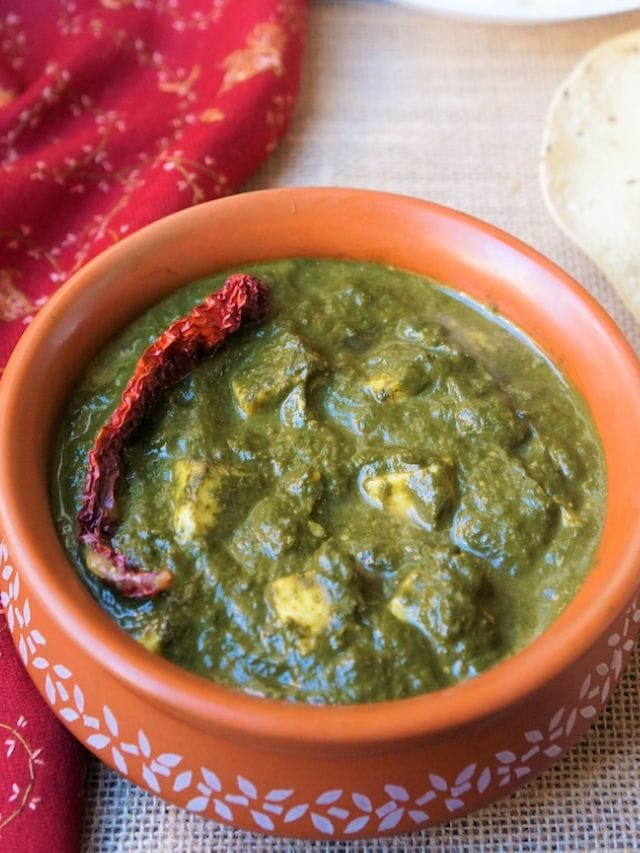 A North Indian favorite with spinach and cottage cheese, Palak Paneer. Make this palak paneer in the pressure cooker as a one-pot dish, super easy and delicious!
Paneer Butter Masala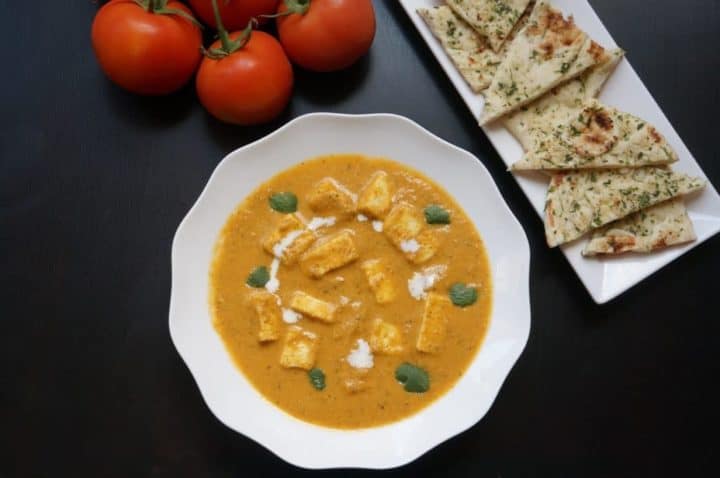 Chunks of paneer or cottage cheese cooked in a mildly spiced tomato gravy. This Paneer Butter Masala is so delicious and very easy to make in just 30 minutes.
Paneer Vindaloo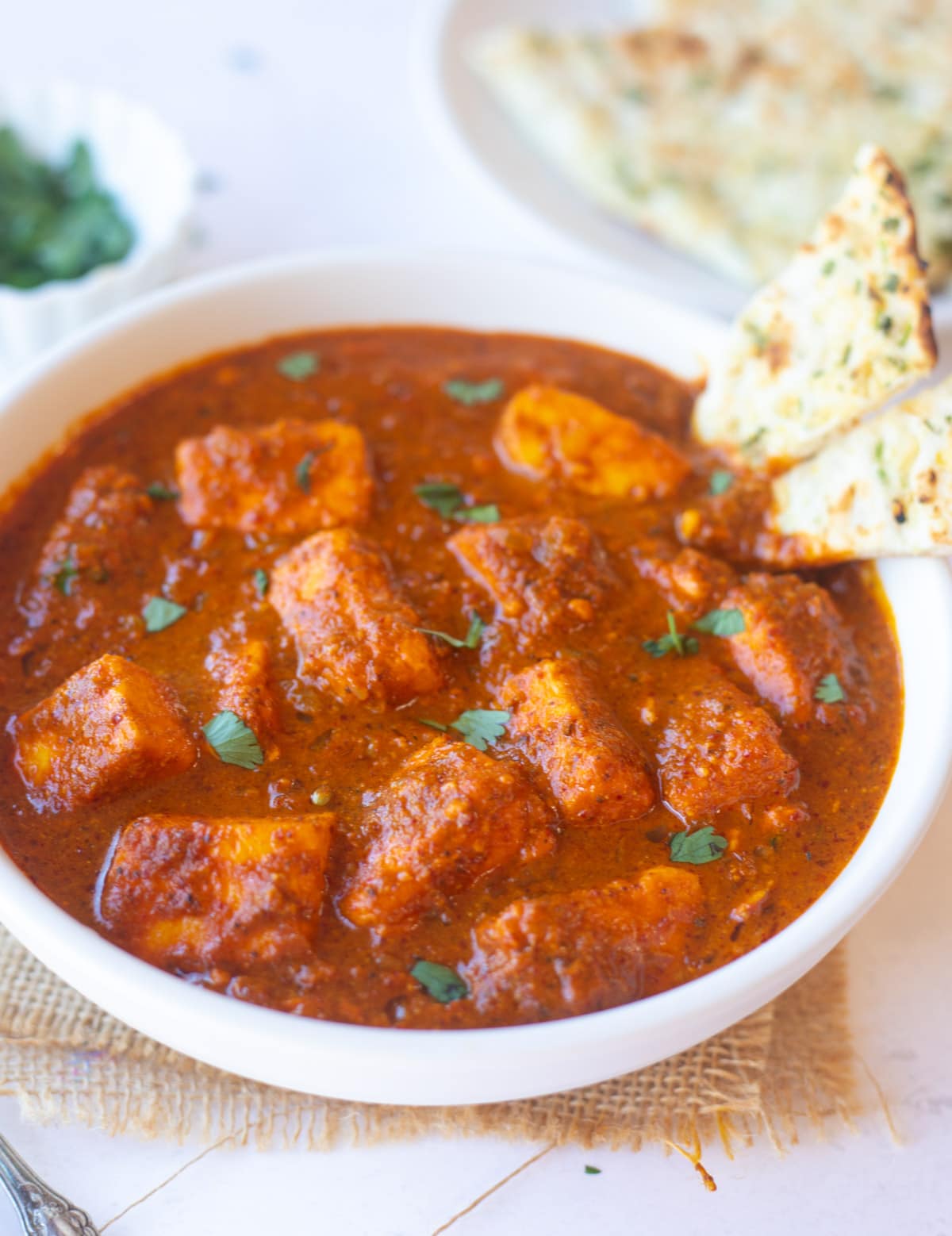 Paneer Vindaloo is the vegetarian version of the restaurant favorite Goan Vindaloo Curry. Paneer cubes are cooked in a fiery-red sauce packed with bold flavors. Enjoy this gluten-free curry with rice or naan for a satisfying dinner!
Saag Paneer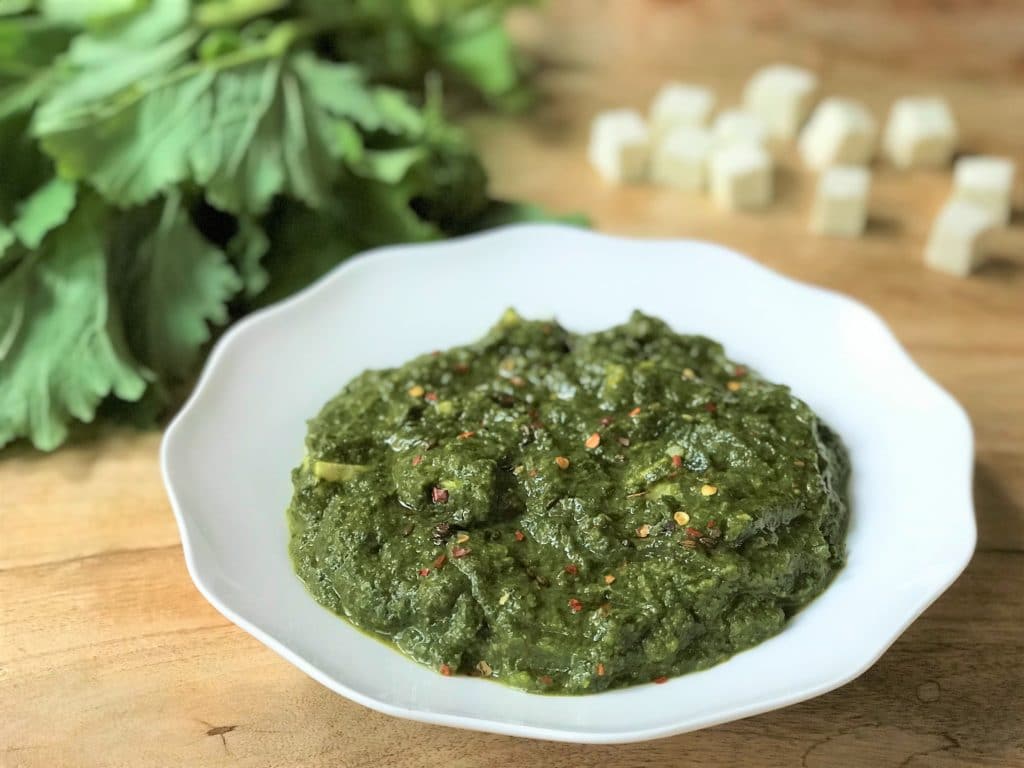 Saag Paneer is the authentic North Indian favorite. It is made with cooking mustard leaves and spinach with spices and cottage cheese, which makes it a delicious and nutritious dish.
Matar Paneer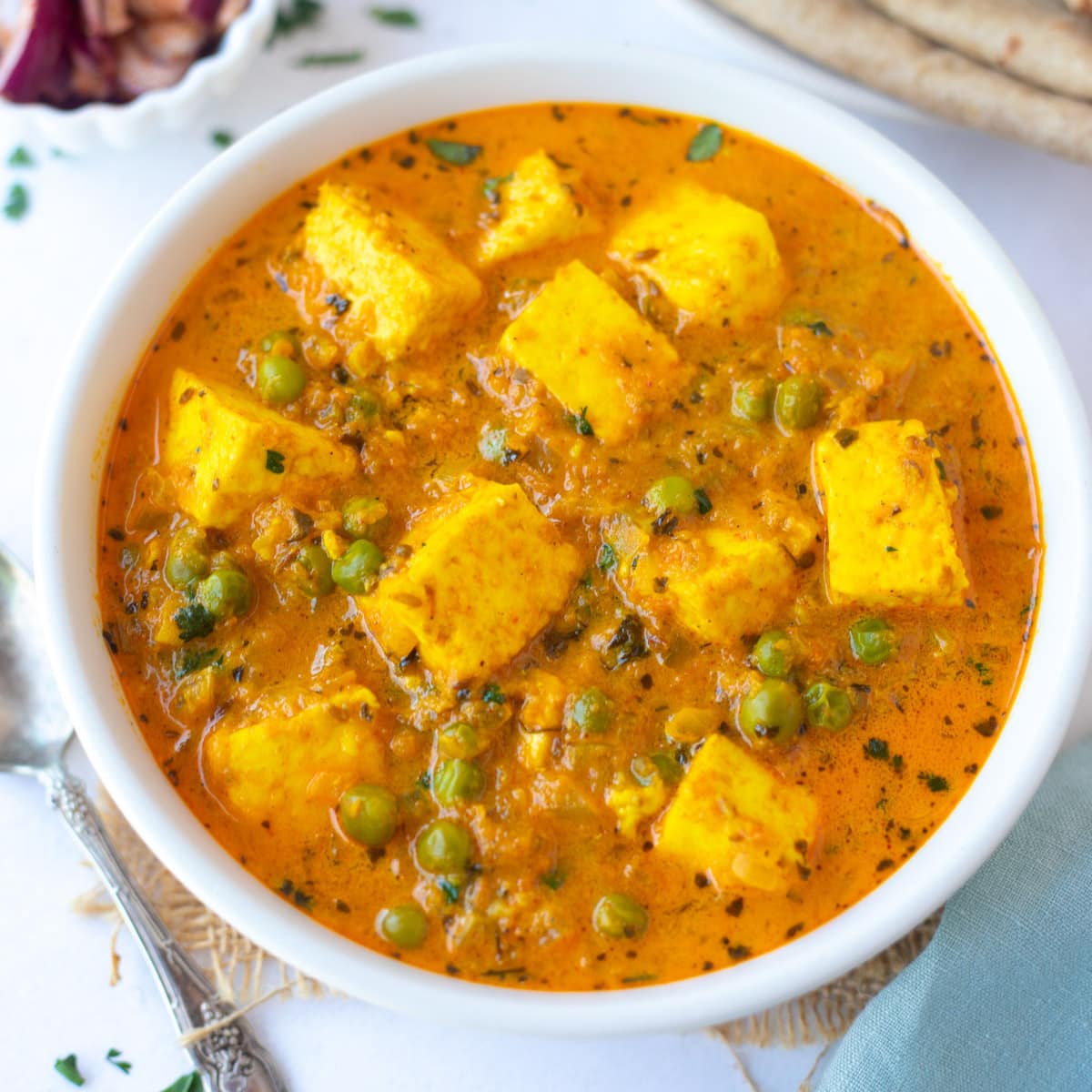 Matar Paneer is a authentic North Indian curry made with green peas and paneer, cooked in a mild onion-tomato sauce. This restaurant-style Matar Paneer Masala is easy to make in less than 30 minutes in the instant pot or stovetop.
Kadai Paneer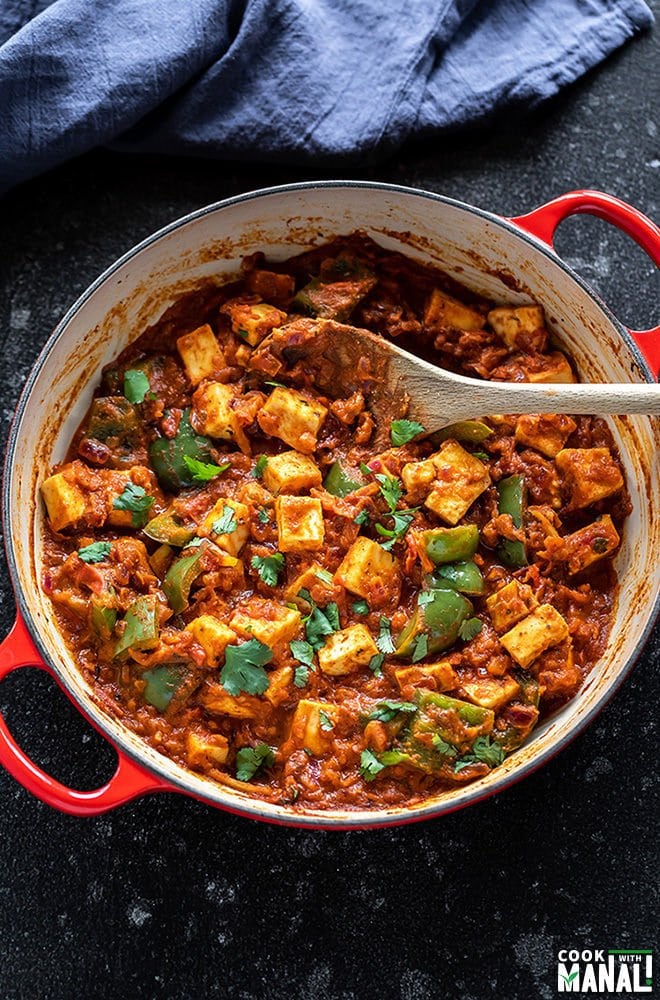 Indian Cottage Cheese and bell peppers are cooked in freshly ground spicy masala! Kadai Paneer is one of the most popular Indian paneer recipes and is best enjoyed with naan or roti!
Malai Kofta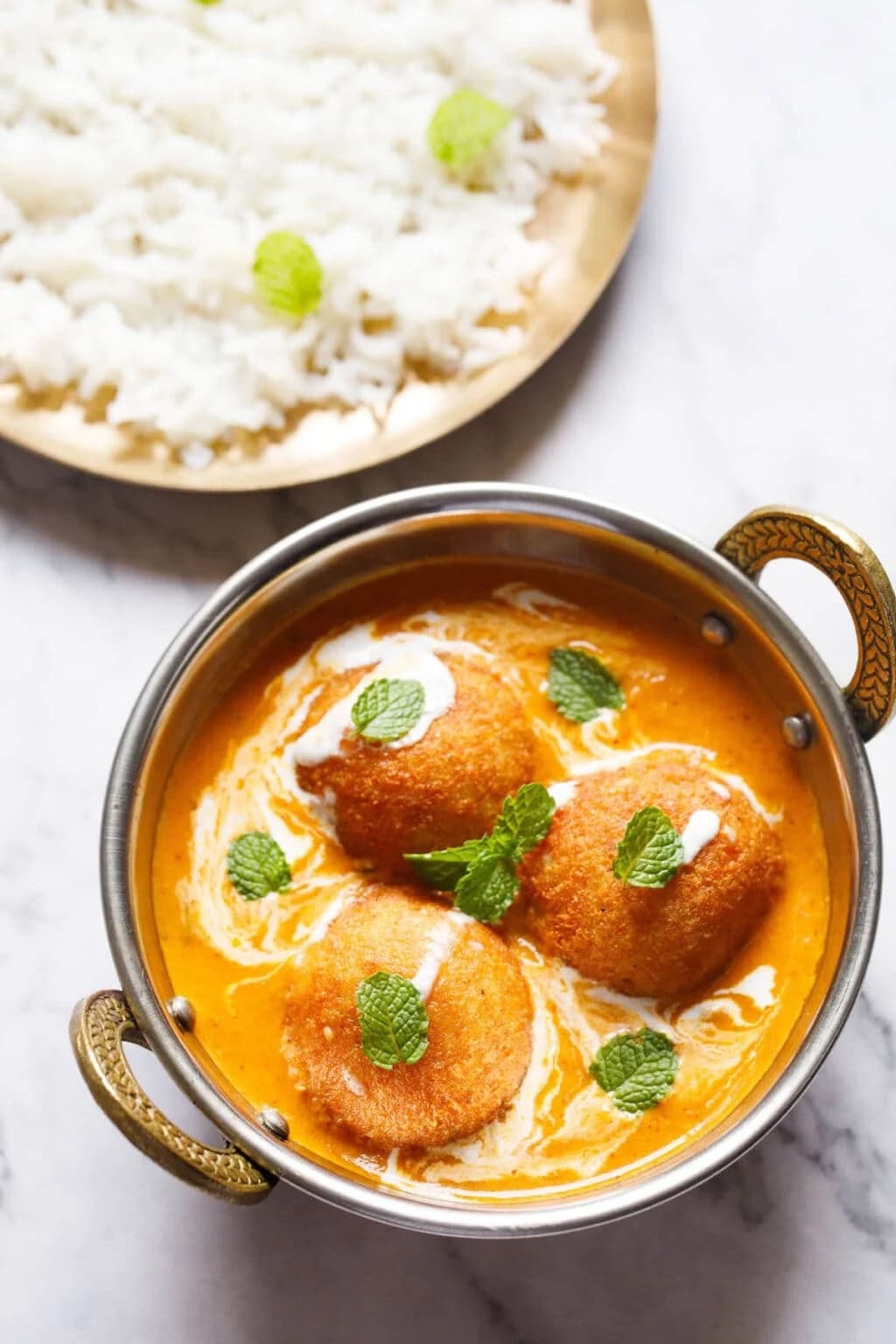 Malai Kofta is a delicious dish of fried balls of potato and paneer in a rich and creamy mild gravy made with sweet onions and tomatoes. This melt-in-your-mouth recipe is a labor of love, but one that is well worth it. Learn to make this special Indian meal with me!
Shahi Paneer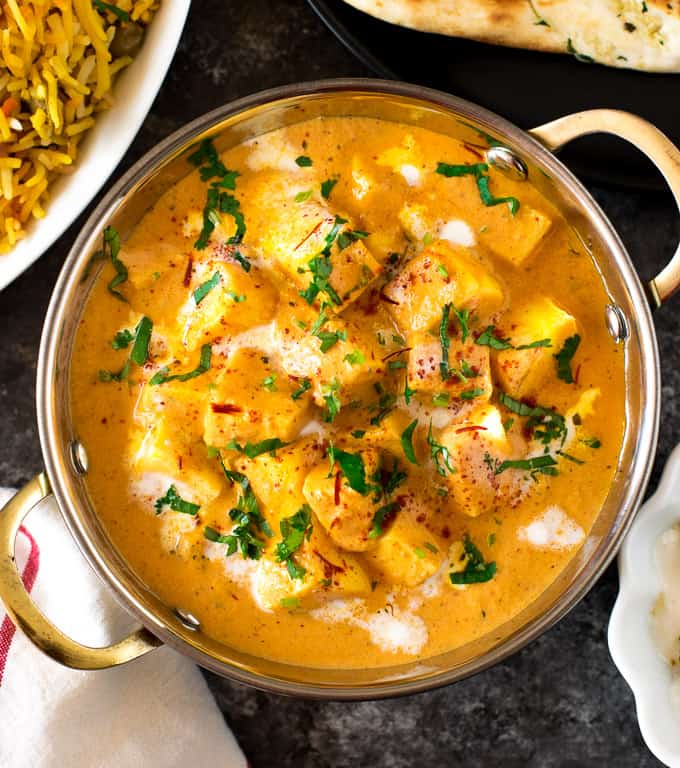 Learn how to make restaurant style best Shahi Paneer at home that requires minimal chopping and comes together in less than 25 minutes. Soft Paneer cubes dunked in creamy and aromatic sauce is indeed a Royal treat for your loved ones.
Paneer Appetizers
Paneer Frankie (Paneer Kathi Roll)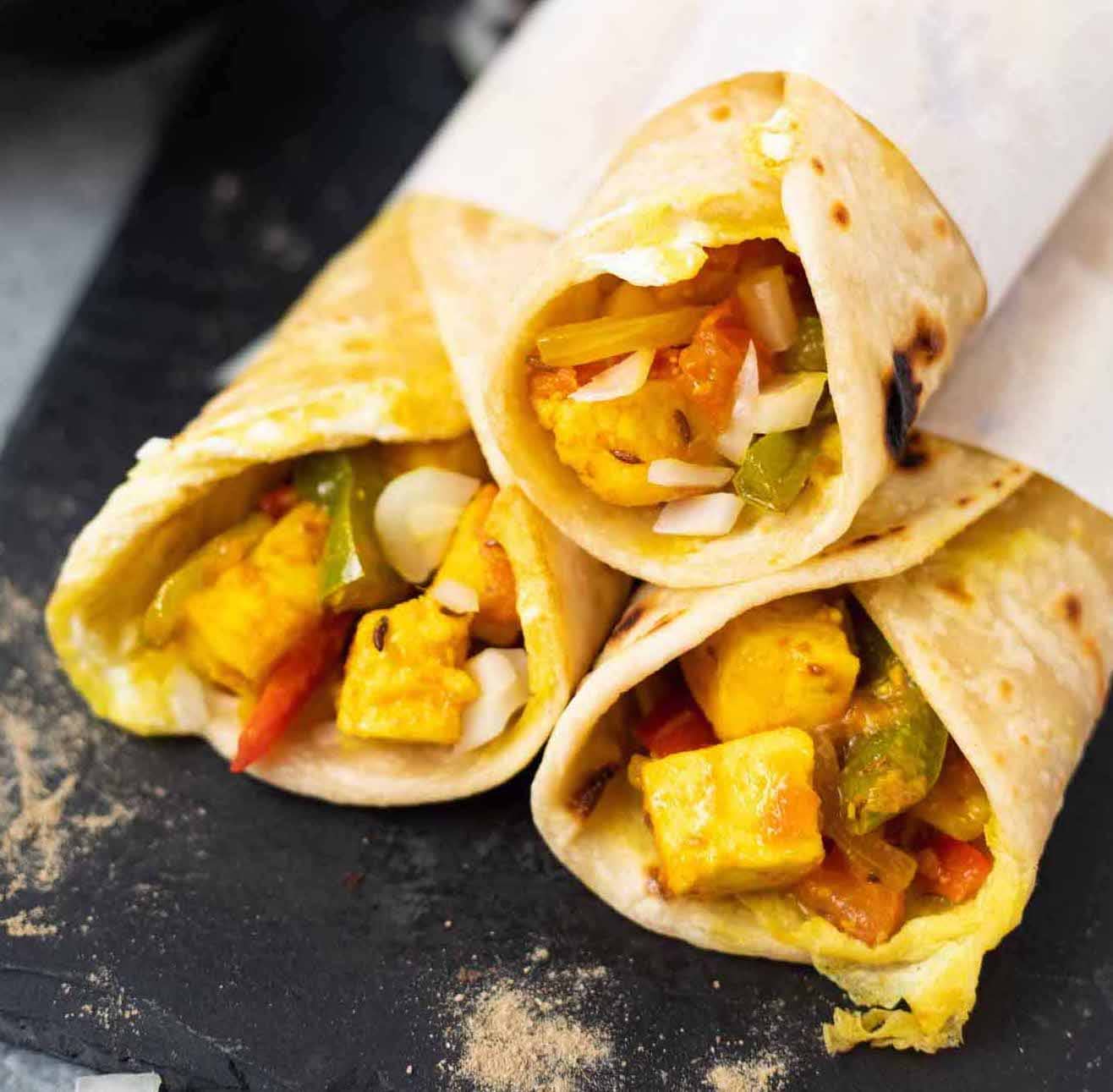 This Paneer Frankie Roll, also known as Paneer Kathi Rolls, is a popular Indian street food made with flaky flatbread, covered with egg, wrapped with spicy paneer and tangy toppings. Perfect to pack for a grab and go meal, or a special weeknight meal.
Tandoori Paneer Naan Pizza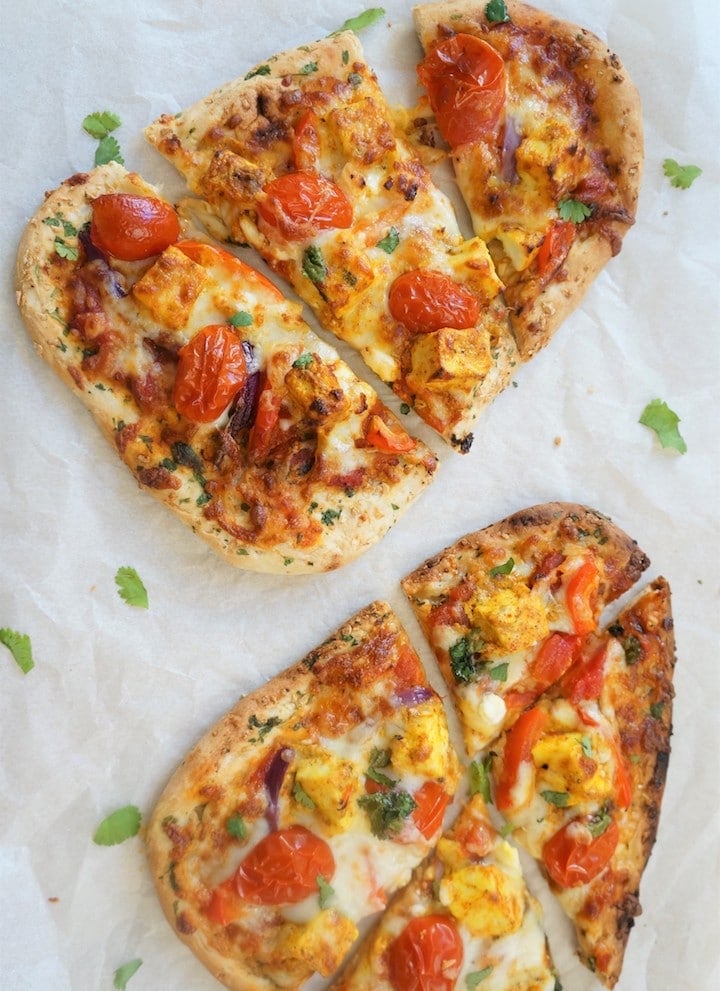 Tandoori Paneer Naan Pizza made with marinated paneer, red peppers, onions, grape tomatoes, in an Air Fryer or Oven. This is a delicious and quick fusion pizza for the times when you are craving pizza! Vegetarian, easy and convenient. Vary it with toppings of your choice.
Paneer Puffs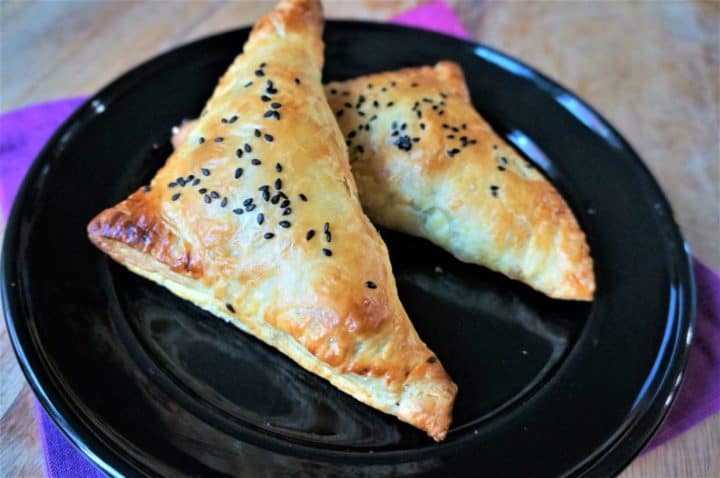 A flaky golden crust with spicy flavorful paneer filling. Perfect appetizer for a party that can be prepared ahead of time. So easy and delicious!
Hariyali Paneer Tikka
Hariyali Paneer Tikka is a delectable Indian appetizer made with cubes of soft paneer, crisp bell pepper, and onions marinated in cilantro, and mint, along with yogurt and spices. Enjoy this quick and easy Haryali paneer tikka that can be made in the air fryer, oven, or grill!
Paneer Tikka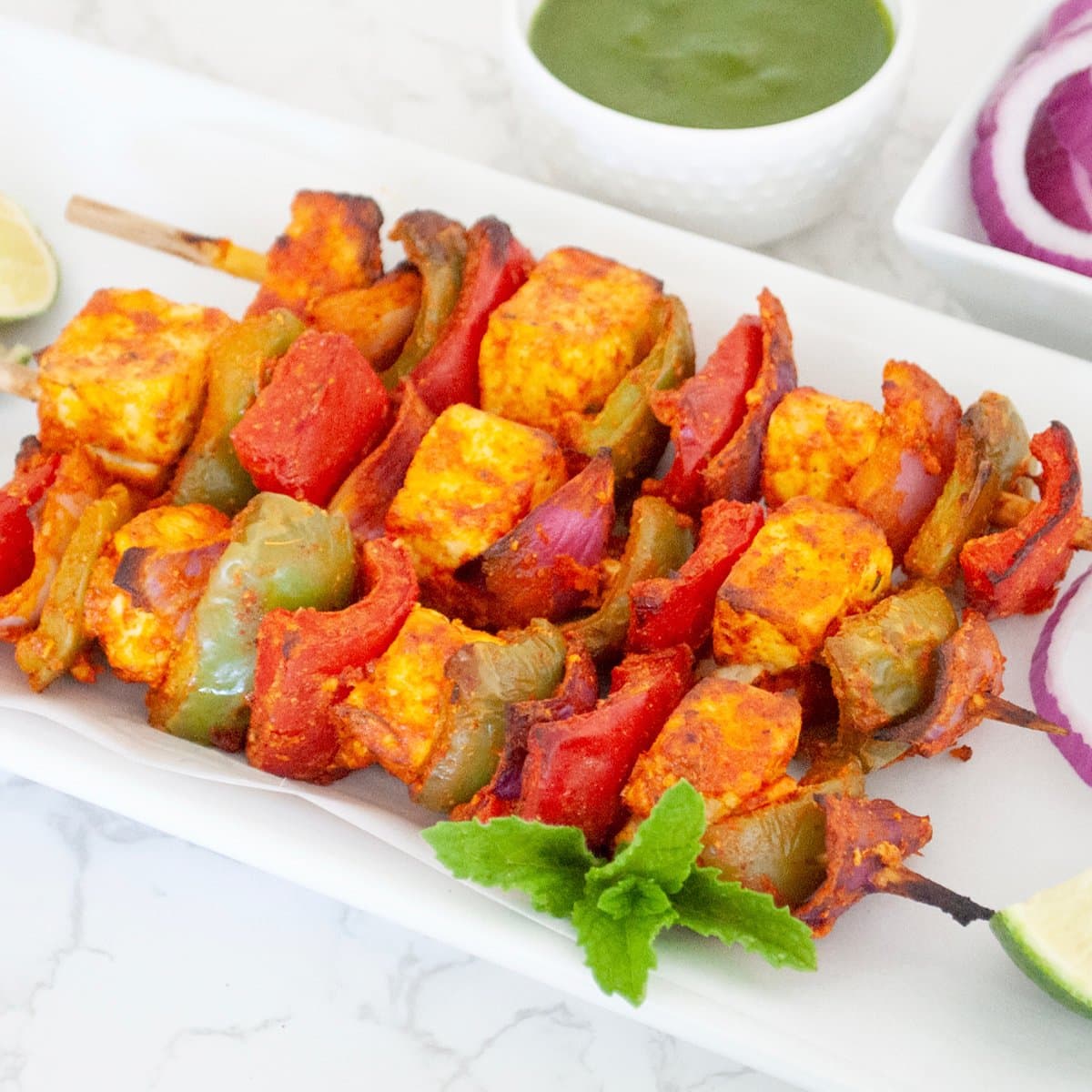 The best restaurant-style Tandoori Paneer Tikka at home. With the marinated paneer and crispy vegetables, this Indian appetizer is packed with lots of flavor. Make paneer tikka with this easy recipe in the air fryer, oven or grill!
Paneer Pakora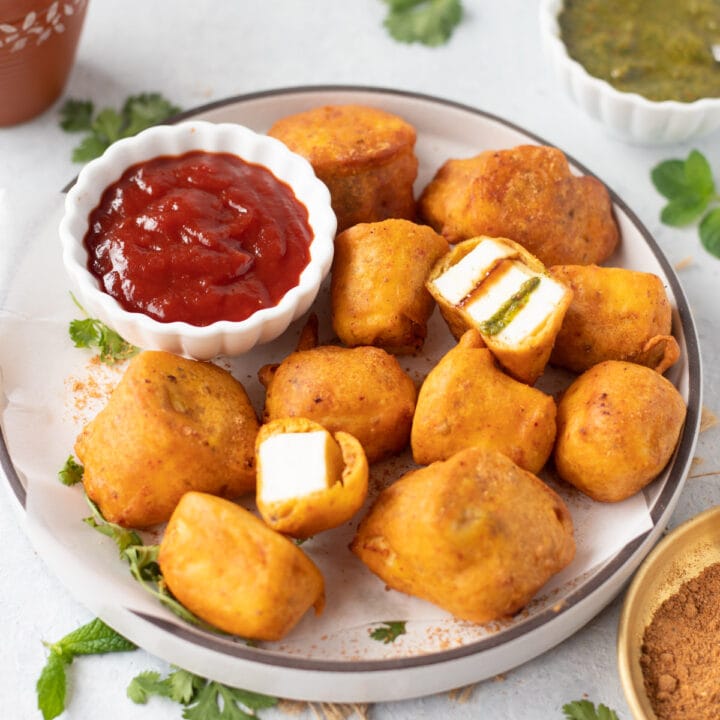 Paneer pakora is a popular Indian snack in which soft paneer (Indian cottage cheese) pieces are deep-fried after being coated in a spiced gram flour batter. These paneer fritters have a crispy exterior and a soft interior.
Chilli Paneer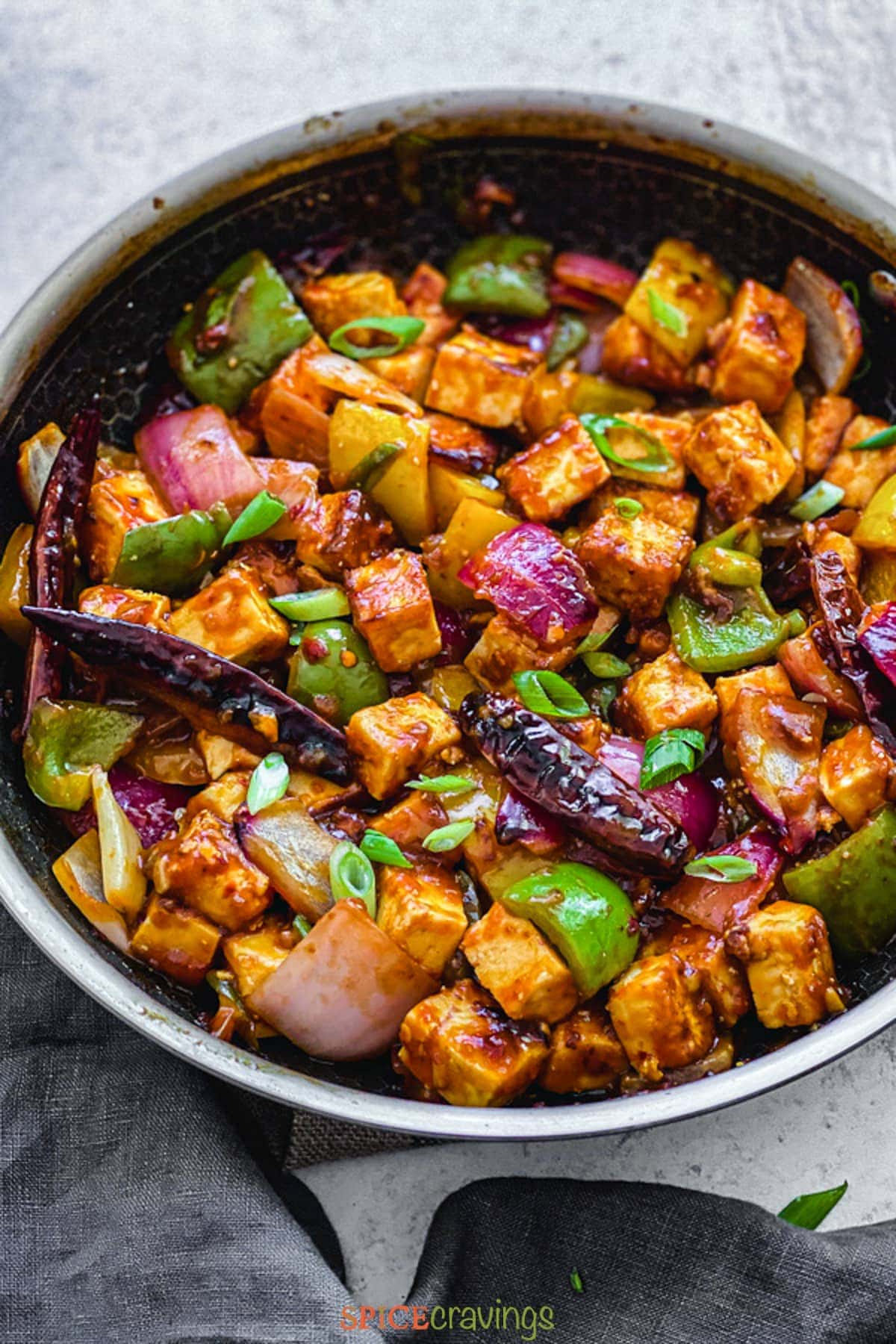 This Chilli Paneer recipe combines soft and spongy paneer cubes pan-fried to crispy perfection, then stir-fried with onions, peppers, whole red chiles and a lip-smacking sauce with umami-packed flavor. It's a delicious Indo-Chinese dish ready in 25 minutes best served with rice or noodles.
Paneer Side Dishes
Paneer Paratha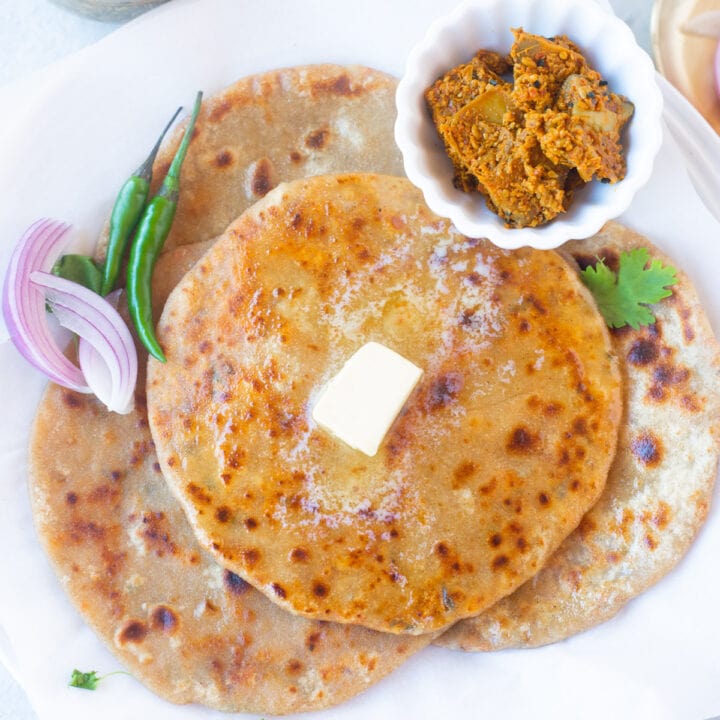 Indian whole wheat flatbread stuffed with spiced crumbled paneer. This stuffed paratha is popularly served for breakfast or lunch in North India. Paneer Paratha is best enjoyed with a cup of masala chai.
Paneer Biryani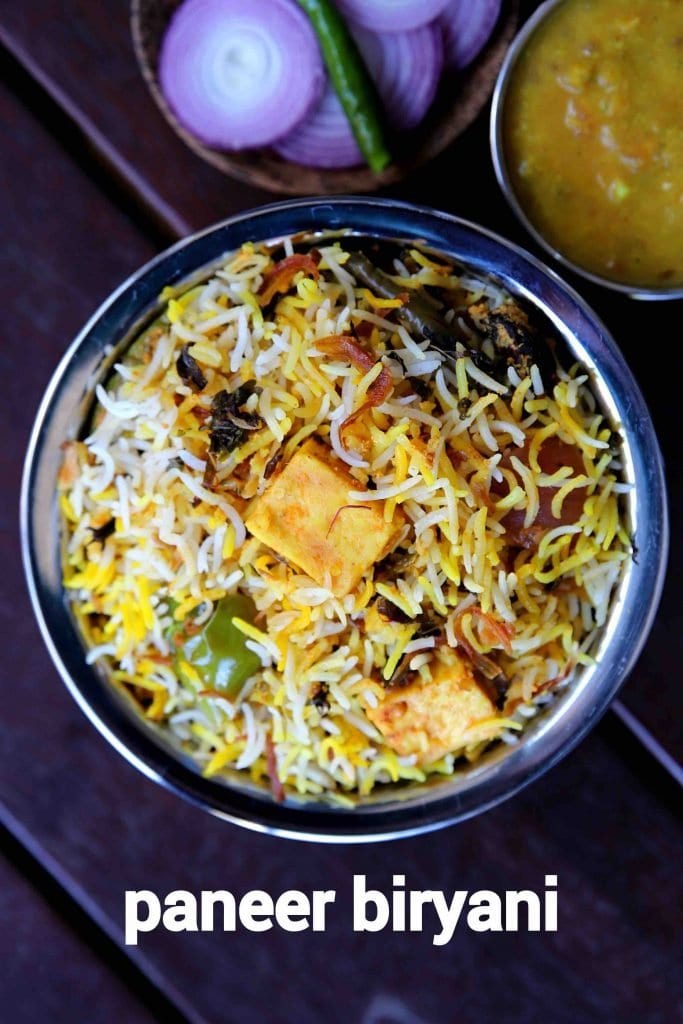 An easy and simple dum style cooked biriyani recipe made with marinated paneer cubes and long grain rice. The easy recipe can be served for afternoon lunch boxes or for late-night weekend dinner.
Paneer Pulao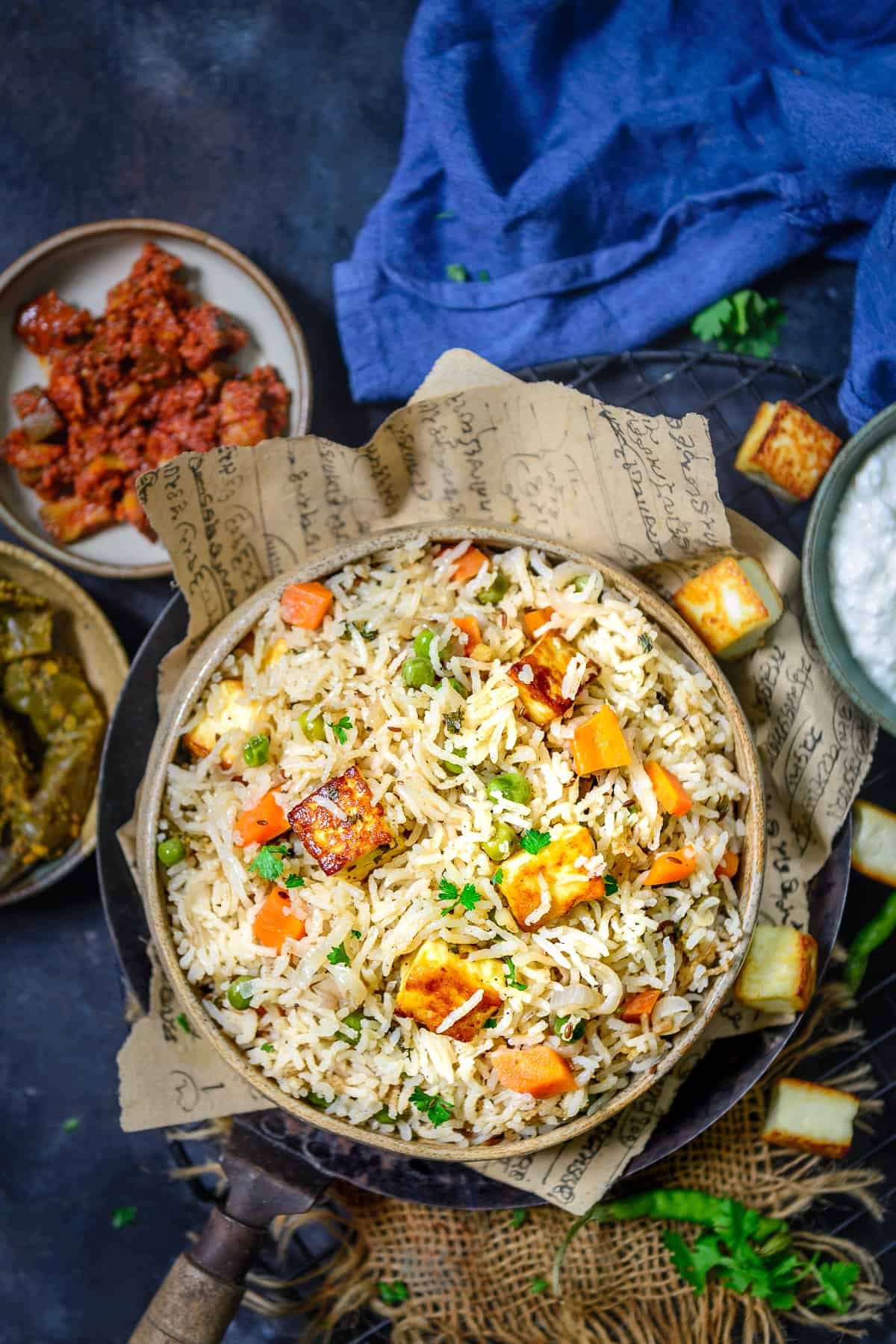 Paneer Pulao is a healthy and delicious rice dish that can be made under 30 minutes and makes for a great lunch box option. Here is how to make it.
Paneer Kulcha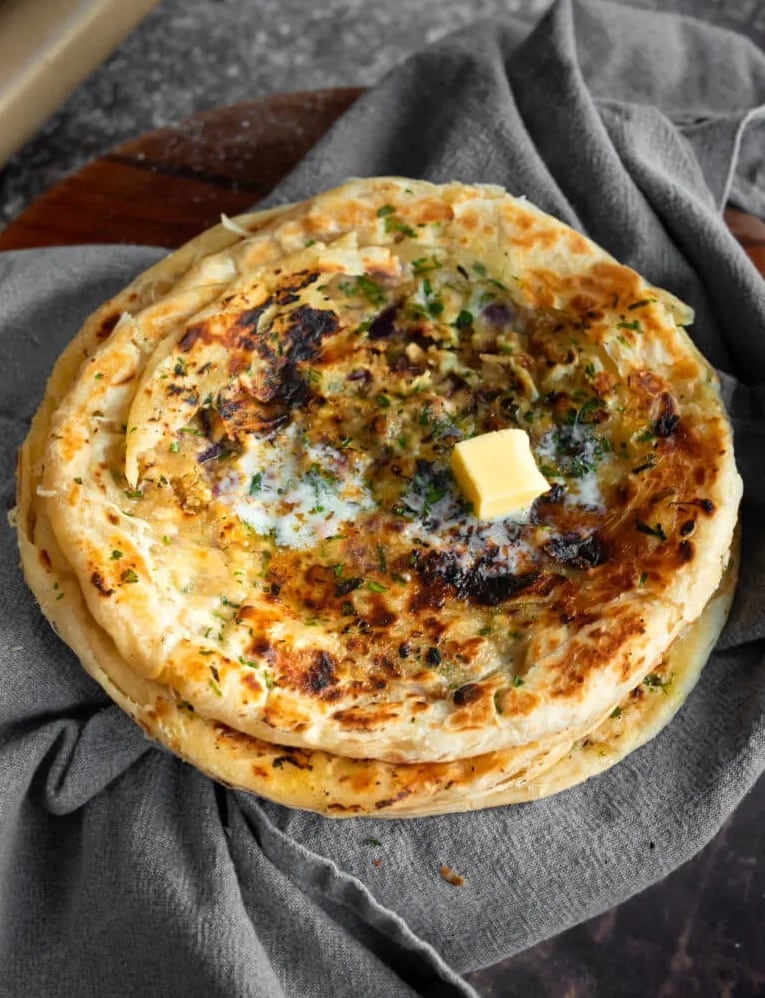 Flaky Amritsari Paneer Kulcha are the popular flatbreads from North India for their crispy layers of dough and delicious variety of fillings.
I hope you add these Paneer Recipes to your menu. Let us know which one you're most excited to make, and share this roundup with your friends, and when you make it, don't forget to tag #pipingpotcurry.
You might also like –