If you enjoy the taste and smell of Indian food, this guide is a good start to learning about popular Indian spice mixes to whip up your favorite curry in minutes.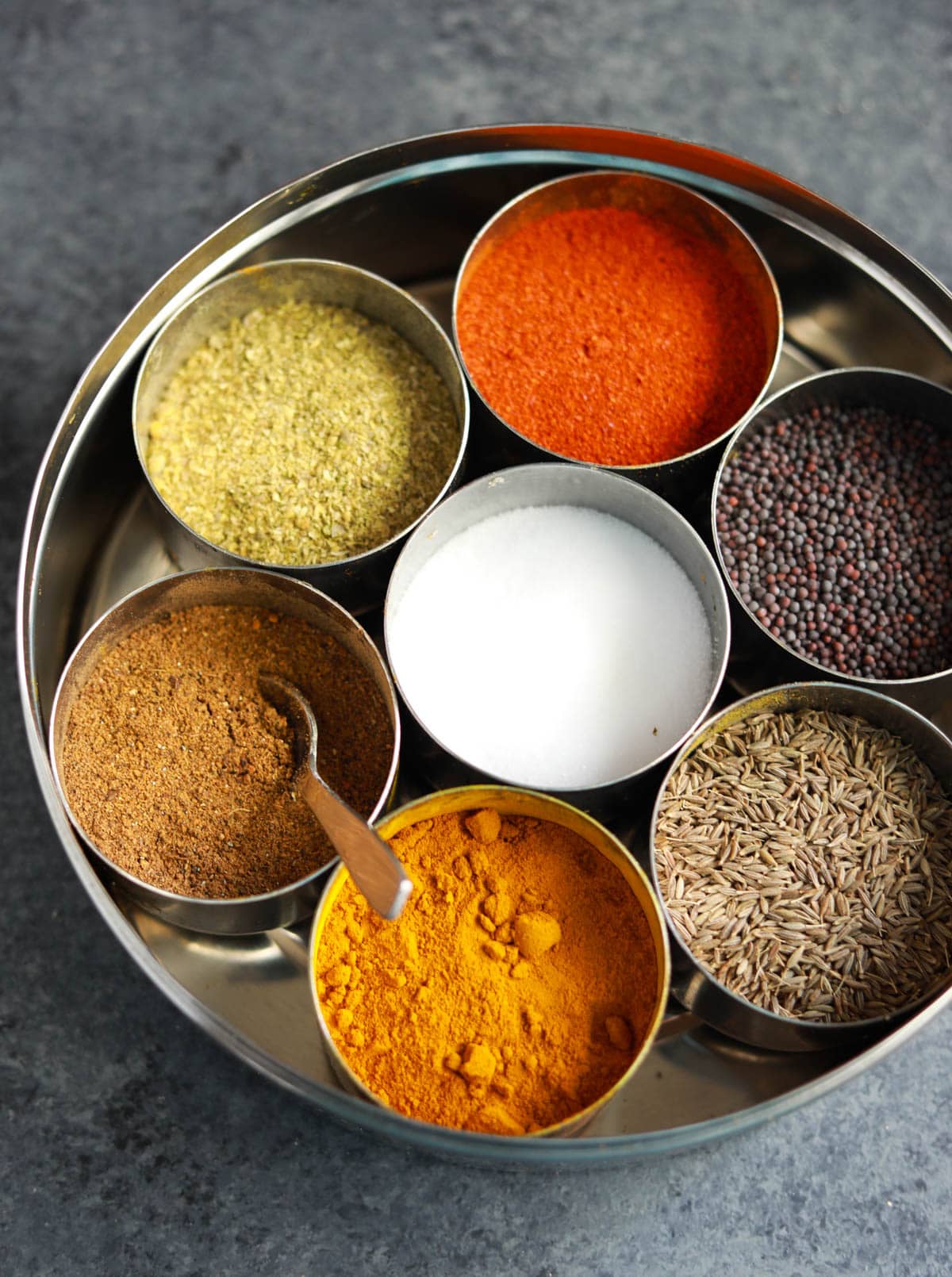 If you are unfamiliar with Indian spices, you can learn more about them in my detailed post about basic Indian spices and herbs.
Indian cuisine is incomplete without Masala powders. Masala in Hindi simply means "spice blend," and masala powder is the finely ground powder of a whole spice mix.
Each type of seasoning contains key ingredients that impart a distinct flavor to the dish in which it is used.
You can buy these spice blends pre-made at an Indian grocery store, some varieties at Whole Foods, Trader Joe's, or online on Amazon, but nothing compares to the aroma and freshness of a homemade spice blend. You can make your own powder/ masala in minutes with the whole spices and a sturdy coffee grinder or blender.
Tips For Making Indian Spice Mix
Buy fresh and good-quality spices. Fresh spices always have the best aroma. Check the best before dates before buying.
You must follow the exact proportions of each ingredient as per the recipe for the best flavors.
You must dry roast the whole spices if required in the recipe. This releases the essential oils, and the spice blends will be packed with the best flavors and a long-lasting fragrance. Homemade spices have a longer shelf life as a result of this process. Dry roasting also removes moisture and improves shelf life.
If you make your own blends at home, always make small batches for optimum freshness.
Store the spice blends in a clean and dry place. Air-tight containers are ideal for storing spice blends.
You can buy the spices in bulk and make a few different spice blends at once, as many ingredients are common.
You can use a spice or coffee grinder to make your spice blends.
Let's take a deep dive into all the amazing spice blends/ masalas Indian cuisine has to offer.
1. Garam Masala Powder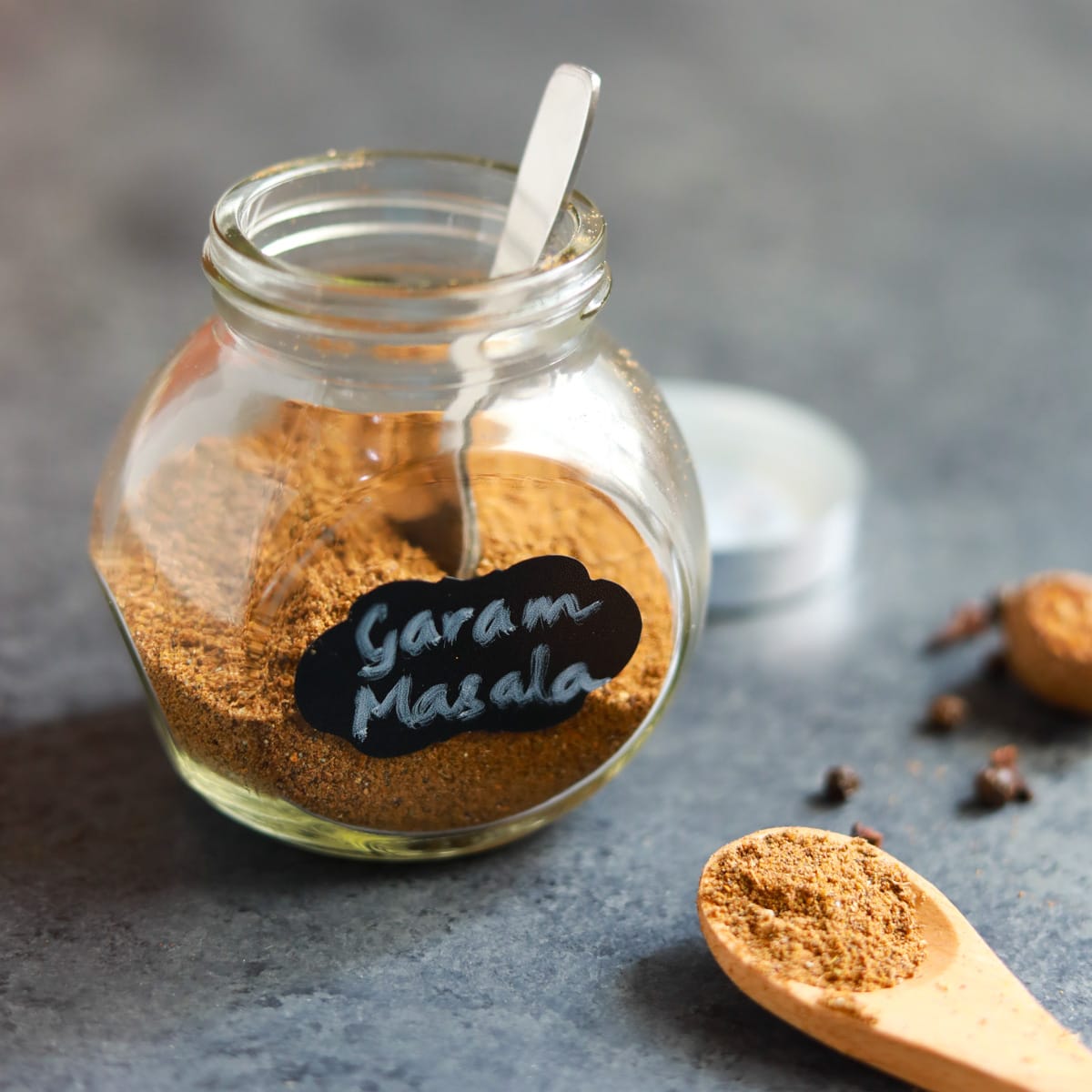 Garam Masala powder is the king of Indian spice blends. 'Garam' means 'hot' in Hindi, and 'Masala' means 'spice', intended to warm the body and increase metabolism.
Garam masala is a must-have spice blend in every Indian kitchen and is widely used for flavoring curries, lentil dishes, vegetables, meats, etc. Here are 21+ recipes using garam masala.
Whole spices like cinnamon, peppercorns, cloves, cumin seeds, nutmeg, and cardamon pods are toasted in a pan to release their aromatic flavors before being ground to a powder.
There is no one-size-fits-all garam masala recipe; the ingredients vary by region and preference. Since childhood, I have always seen my mom toast spices and grind them into a powder.
Here is my mom's garam masala recipe. If you don't have garam masala on hand, you can use one of the easy garam masala substitutes.
2. Chai Masala Powder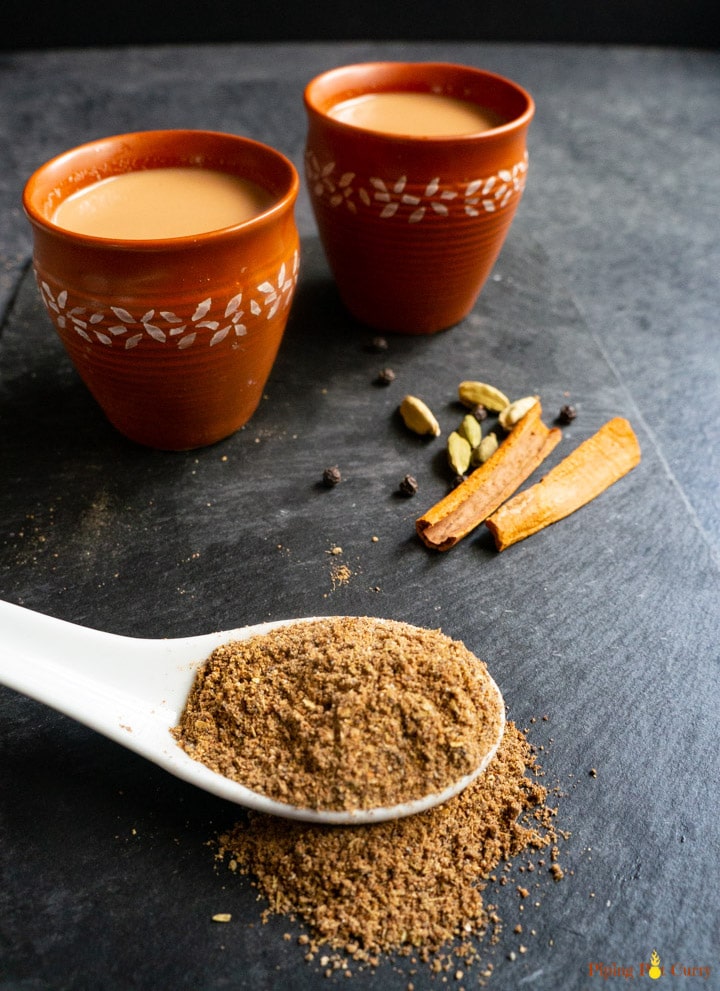 Chai Masala is a flavorful blend of whole spices added to Indian-style milk tea. It gives the tea a distinct aroma while also enhancing the health benefits with the warming whole spices.
This powder contains cinnamon, cloves, green cardamom, black peppercorns, fennel seeds, dried ginger powder, and nutmeg. You can try making it with my chai masala recipe and enjoy your very own Chai Tea Latte at home.
3. Chaat Masala
This zesty, tangy mixture of spice powders can bring any dish to life. Chaat Masala is a popular spice blend in India, Pakistan, and Bangladesh, where it is used in a variety of dishes, especially chaat (street-style Indian food) items like – aloo tikki, dahi bhalle, papdi chaat, and bhelpuri, etc. But it is also delectable when used in salads, fruit, lentils, vegetables, and curries.
Despite its unique aroma (due to black rock salt), people love it for its richness and flavor. Sprinkle chaat masala on top of your favorite dish for an instant makeover. This intriguing blend of spices made with mango powder (amchur), coriander, cumin, black rock salt, pepper, citric acid, and mint leaves is a favorite in my kitchen.
Chaat masala is easily found in Indian grocery stores. Look for it in the spices aisle. You can also get it on Amazon.
4. Tandoori Masala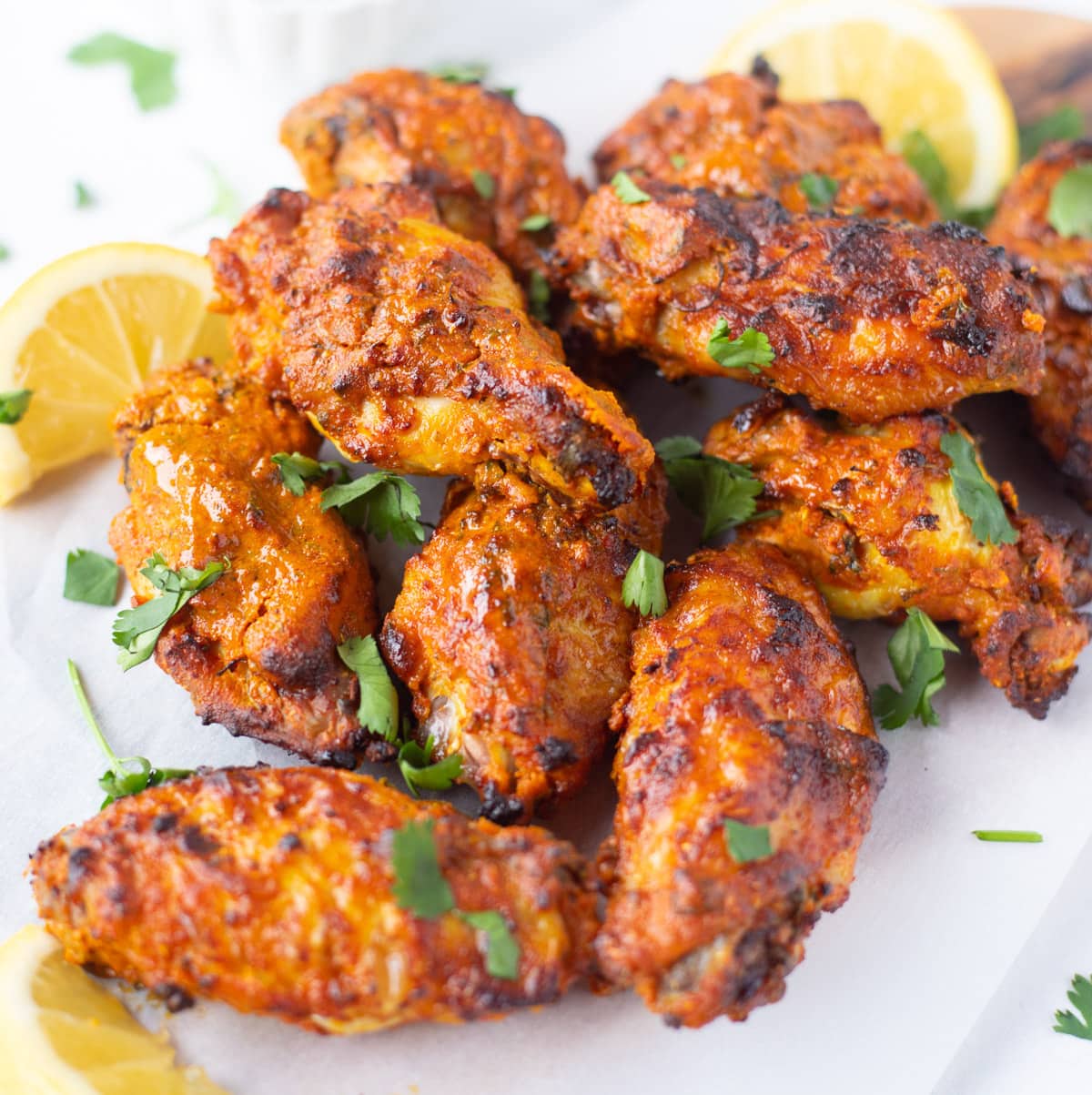 Tandoori masala is a traditional Indian spice mix made with a variety of herbs and spices. This is the Indian version of the BBQ spice blend. It's mostly used to marinate foods like paneer, tofu, mushrooms, mutton, chicken, potatoes, and other vegetables.
We love this slightly sweet and earthy spice blend, but the smokiness of this blend is what makes this concoction special.
Pre-mixed tandoori masala makes marinating and grilling any delectable tandoori dish a culinary masterpiece. This masala consists of a number of spices like coriander, cumin, garlic powder, ginger, cloves, mace, fenugreek, cinnamon, black pepper, cardamom, and nutmeg.
This tandoori masala is a great addition to my tandoori recipes, such as tandoori chicken wings, tandoori gobi, and tandoori paneer naan pizza.
5. Sambar Masala Powder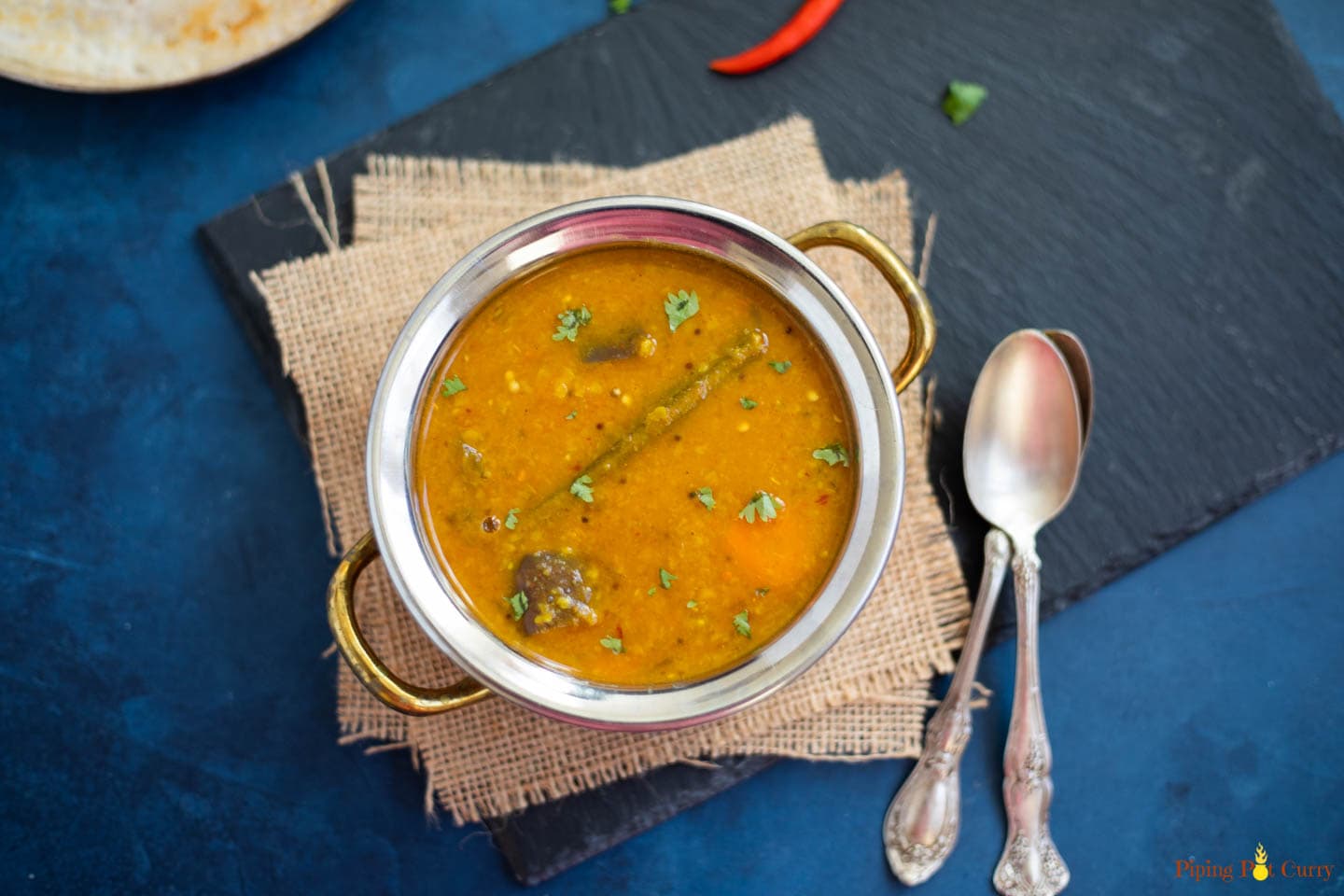 Along with rasam powder, sambar powder is a staple of south Indian cuisine. It is also known as sambhar podi. It's made with types of lentils (urad dal and chana dal), whole spices like cumin, coriander, red chili peppers, turmeric powder, and curry leaves (optional).
It produces an amazingly aromatic lentil soup/ dal known as sambar, when it is combined with cooked lentils, vegetables, and tamarind. I always have sambar powder in my pantry because I use it frequently and serve fresh vegetable sambar with dosa, idli, or plain rice.
6. Bengal 5 Spice Blend (Panch Phoran)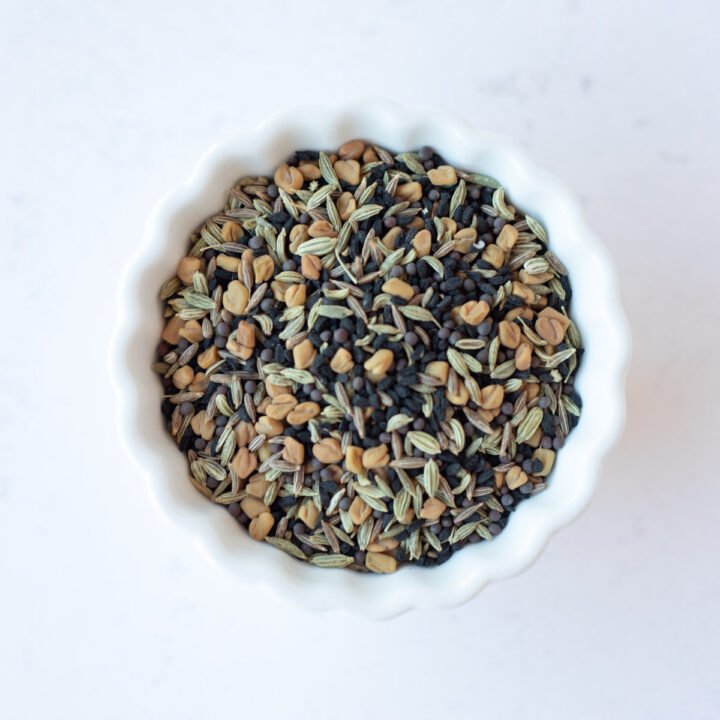 Panch phoran or paanch phoron is nothing but "five spices" in English. Cumin seeds, brown mustard seeds, fennel seeds, fenugreek seeds, and nigella seeds are the five spices found in this unique blend.
It is a popular spice blend in the Eastern part of India and Bangladesh. The spices are left whole and either dry roasted or lightly fried in oil to bring out their aroma and flavors.
Panch Phoran can be used, in Indian curries, sprinkled on vegetables, or used to pickle vegetables. You can get it at Indian grocery stores or on Amazon.
7. Biryani Masala Spice Mix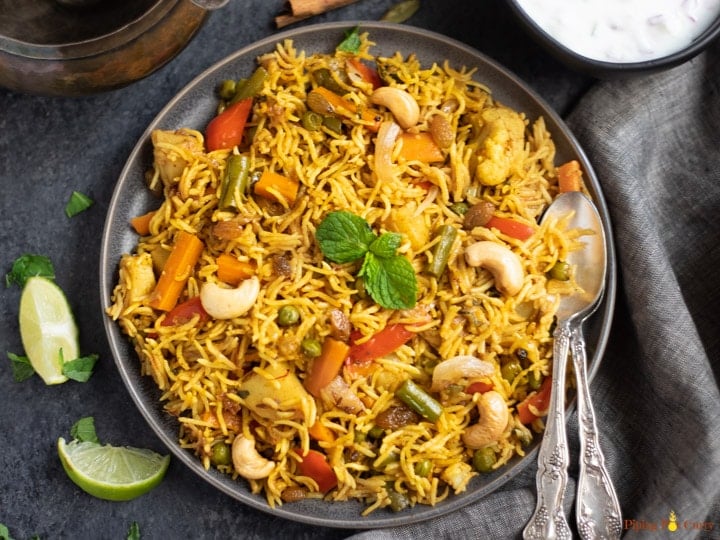 It is an aromatic spice blend for making biryani. This masala is a glorified version of garam masala but has a few extra ingredients. This blend enhances and deepens the flavor of your biryani, whether it's chicken biryani or vegetable biryani.
Like other spice blends, biryani masala also has regional variations. Some of the ingredients in this masala are cumin seeds, caraway seeds (shahi jeera), cloves, coriander seeds, cinnamon, black peppercorn, bay leaves, nutmeg, mace, and black cardamom and green cardamom.
It can also be used as a seasoning for pulao, other rice dishes, and chicken or lamb curry.
8. Chana Masala Spice Mix / Chole Masala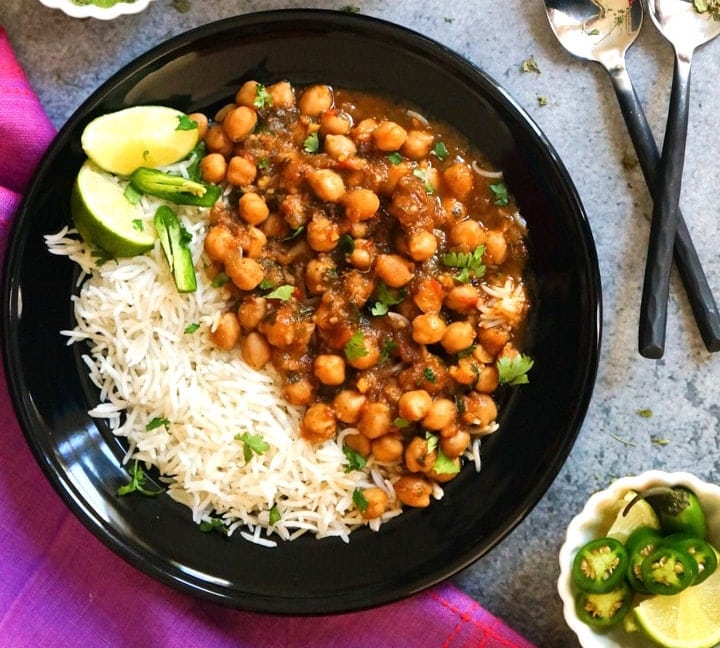 Chana Masala powder is a unique spice blend used for preparing a variety of Indian chickpea dishes, the most famous of which is Chana Masala. It is also known as Chole Masala and is made by dry roasting and grinding a blend of whole spices.
The quality of whole spices and their precise proportions will contribute to the best flavors. Besides chickpeas, this masala can be used to make other vegetables, curries, and lentils.
This Indian spice mix does contain an exhaustive list of ingredients – coriander seeds, cumin seeds, fennel seeds, carom seeds (ajwain), whole black peppercorns, green cardamom, black cardamom, cloves, cinnamon, Kashmiri red chili, bay leaf, dry fenugreek leaves, asafoetida, ginger powder, nutmeg powder, etc.
9. Rasam Powder
Rasam is a popular lentil soup from the Southern part of India. It is delectably tangy and spicy, often served with rice, vada, or papad (papadam). While tomatoes and tamarind add zest, rasam powder (also called rasam podi) makes or breaks this dish.
The spice mixture is primarily made up of coriander seeds and dry red chilies. Cumin seeds, mustard seeds, black peppercorns, turmeric powder, some lentils, asafoetida, and curry leaves are usually added in smaller quantities.
The spices are roasted with or without oil to remove moisture and then ground into a powder. You can find it at Indian grocery stores or on Amazon.
10. Curry Powder
Curry powder is a yellowish spice blend. It is not a common ingredient in Indian cooking, contrary to what most people think. It was developed by the British. It is often confused with the popular Indian dish called "curry," but that term refers to the dish consisting of a sauce or gravy with meat or vegetables.
Turmeric is the main ingredient in the curry spice mix. Some spices include ginger, cinnamon, garlic, cloves, mustard seeds, black pepper, and fennel seed. And again, like other spice blends, there is no single recipe for curry powder.
11. Pav Bhaji Masala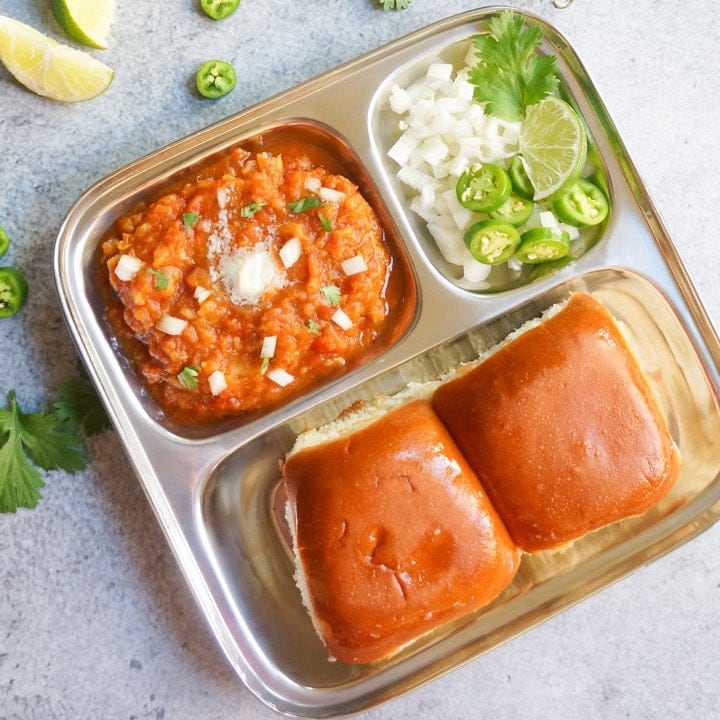 Pav Bhaji is a popular Indian street food from Mumbai in the western state of Maharashtra. It is a spiced mixed vegetable curry that is enjoyed with buttered pav (savory dinner rolls).
Pav Bhaji Masala is the spice blend used to flavor this dish. It typically includes cumin, coriander, fennel seeds, cinnamon, cloves, cardamom, and chili powder. This spice mix gives the curry a spicy and tangy flavor.
It is available in Indian grocery stores or on Amazon but can also be made at home.
12. Tikka Masala Powder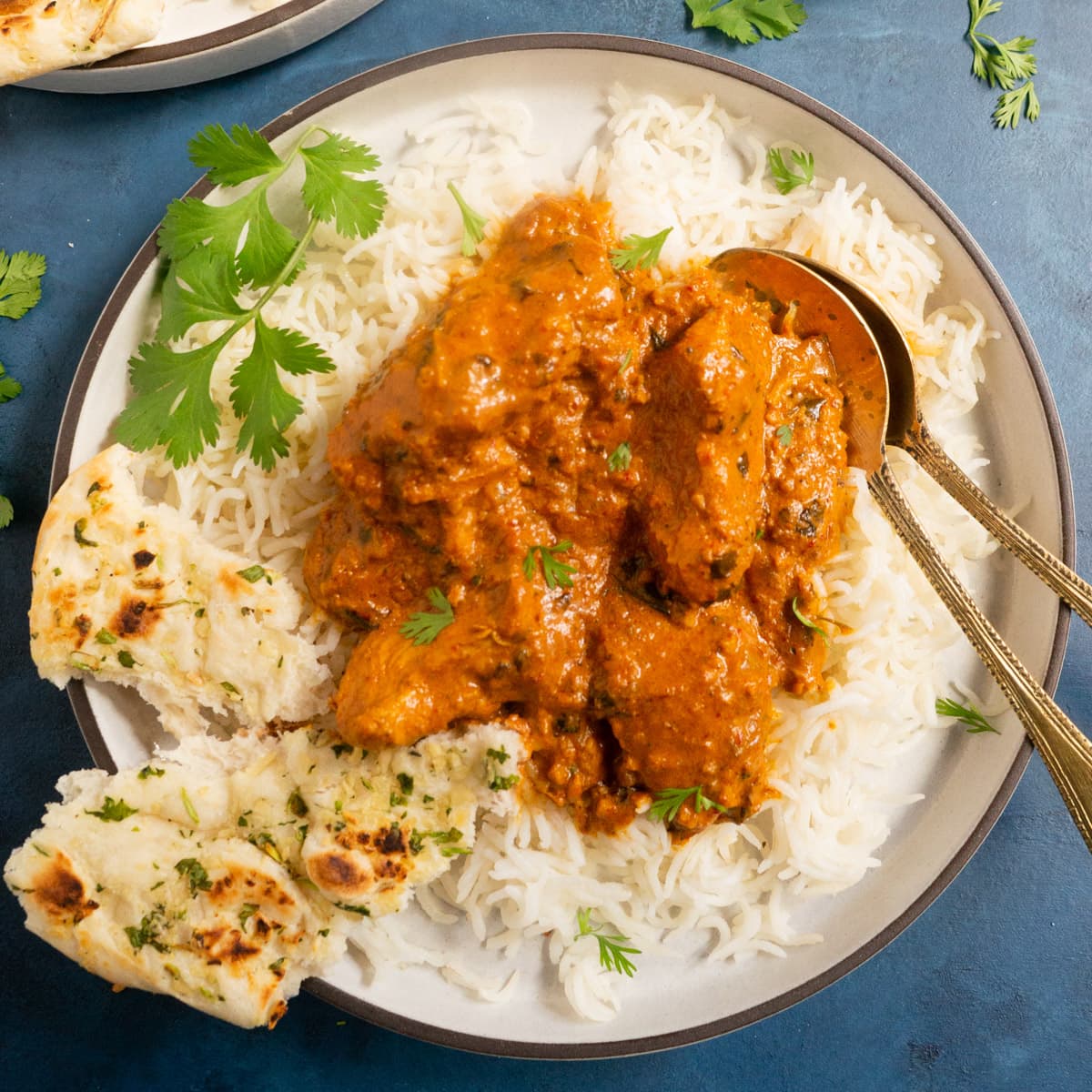 Tikka Masala powder is a fragrant and spicy blend that is used to make popular Indian tikka dishes such as paneer tikka masala, chicken tikka masala, fish tikka masala, and so on.
Whole coriander, cumin, black peppercorns, dry Kashmiri red chilies, black cardamoms, green cardamoms, cinnamon, cloves, turmeric powder, dry mango powder (amchoor), and Kashmiri red chili powder are the components of this tikka masala.
13. Kolhapuri Masala
Kolhapuri Masala is a blend of Indian spices popular in the western state of Maharashtra. The spices are dry roasted and ground by hand or in a high-speed grinder. Kolhapuri Masala contains onions, garlic, desiccated coconut, and whole spices.
Kolhapuri Masala is super spicy, and it amplifies the flavor of the dish. The nutty flavor of coconut takes the dish to another level.
Kolhapuri masala comes in two varieties: a dry powder and a wet spice blend. The wet spice blend cannot be stored for long and has to be consumed within 2-3 days. The dry Kolhapuri masala powder lasts much longer.
The usual ingredients in the dry masala are – dried red chilies, sesame seeds, coriander seeds, cumin seeds, fennel seeds, black peppercorns, fenugreek seeds, cloves, mustard seeds, nutmeg, desiccated coconut, and red chili powder.
14. Goda Masala
Goda masala enhances the flavor of traditional Maharashtrian dishes such as Vangi bhaat, Matar Ussal, Misal pav, and others.
Cinnamon, bay leaf, cloves, cassia buds, cardamom, stone flower, mace, sesame seeds, coconut flakes, poppy seeds, star anise, peppercorns, and some other unique ingredients are roasted in a small amount of oil and blended into a spice powder with a distinct aroma and subtle sweet taste. The oil seeds in this masala give a rich, creamy texture to the dish.
15. Dhansak Masala
Dhansak (a dish cooked with goat/ lamb, lentils, and vegetables) is a popular dish among the Parsis; it combines Persian and Gujarati flavors. Dhansak Masala is an Indian spice blend made from – cumin, coriander, black pepper, red pepper flakes, turmeric, cinnamon, bay leaves, star anise, poppy seeds, cloves, fenugreek, and black mustard seed. There are many variations of this spice mix, and it can differ from family to family.
16. Thandai Masala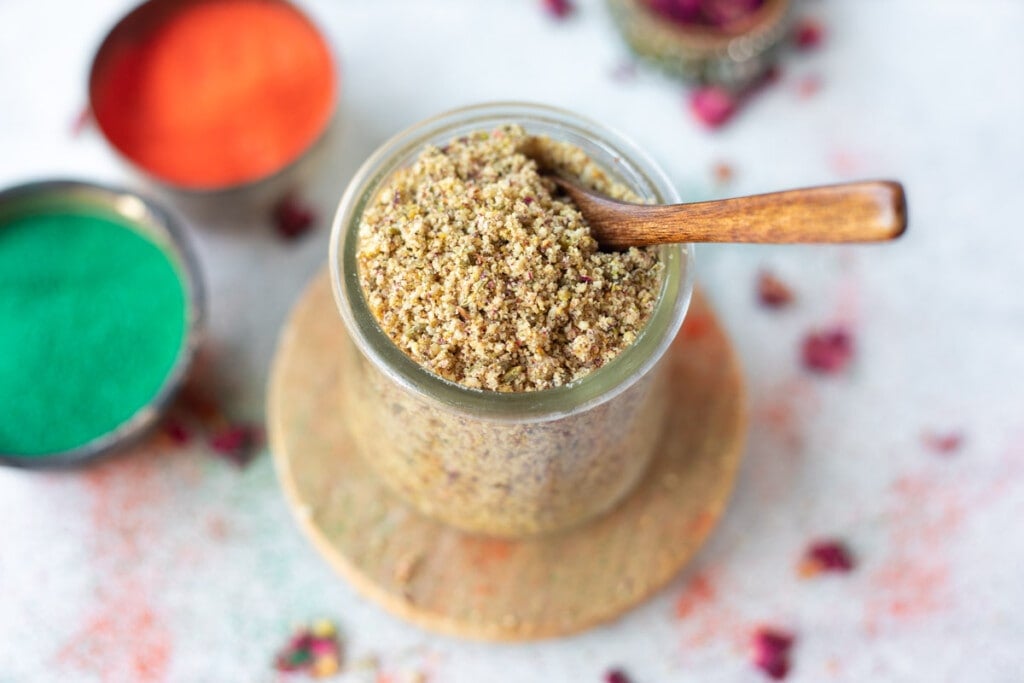 Thandai powder is a perfect blend of nuts and spices. When combined with milk, this powder gives you the most refreshing drink called Thandai, which is enjoyed in the Northern parts of India during the warm summer months and especially on the occasion of Holi. Thandai powder consists of three main components –
Nuts – Almonds, cashews, and pistachios
Seeds and spices – poppy seeds, melon seeds, fennel seeds, green cardamom, black peppercorns
Aromatics – rose petals and saffron
Final Thoughts
In conclusion, Indian spice mixes are essential to Indian cooking and add depth, warmth, and complexity to dishes. Whether making a meat curry, a vegetable dish, or a soup, a spice mix can help you achieve the flavors quickly and easily. I suggest you try these different spice mixes and see how they can transform your dishes!