If you enjoy Indian cuisine, you are probably familiar with garam masala. Let's discuss the best Garam Masala substitutes in more detail for times when you find yourself in a fix.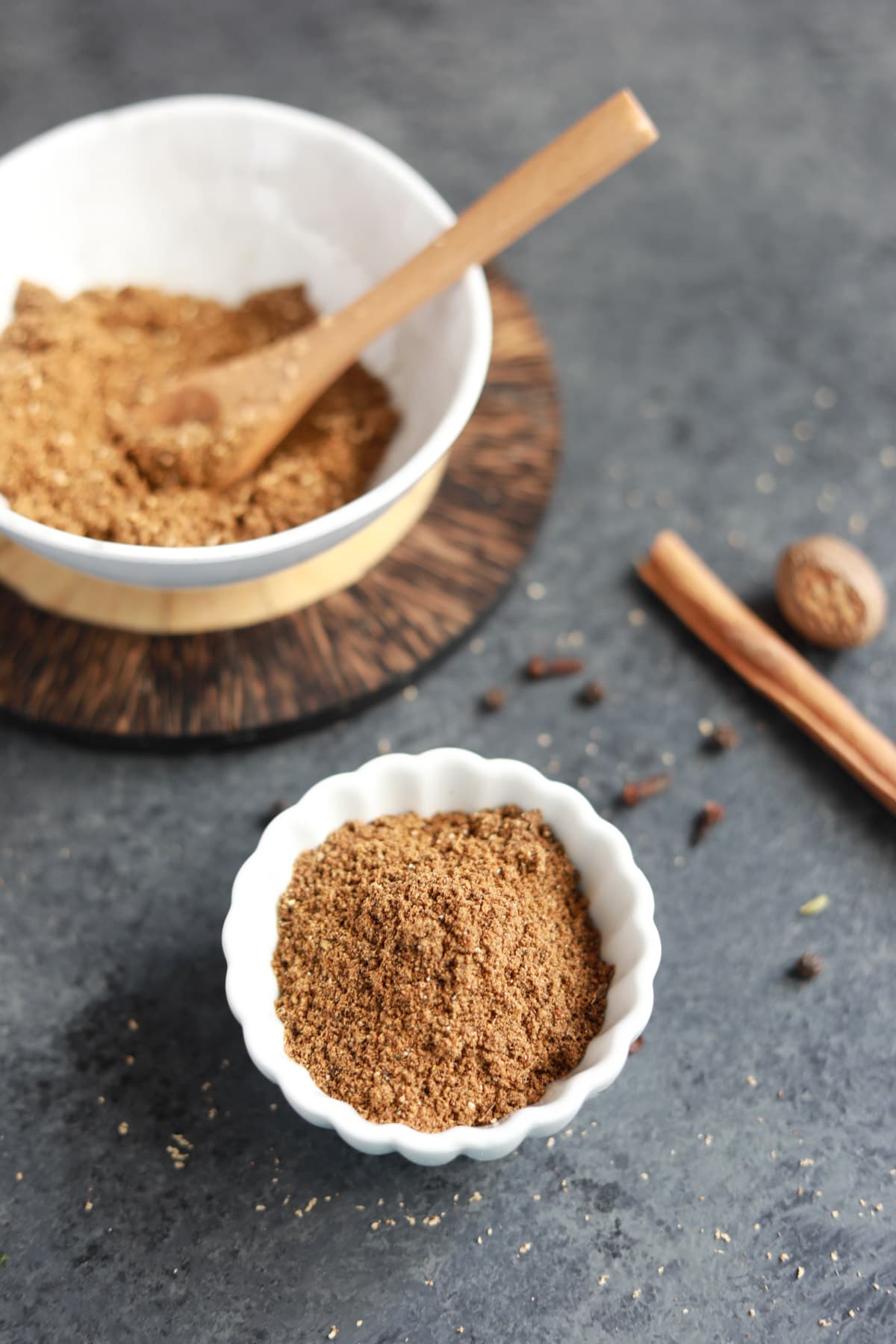 Indian meals without spices are bland. Check out my post on Indian Spices And Herbs. They add a pleasant aroma and a distinctive flavor to our dishes. Several spices are combined to create Garam Masala – which is a key ingredient in Indian cooking.
There's no need to panic, whether you accidentally ran out or are unsure of what is Garam Masala. There are items you can use even though there is no substitute that can truly capture the distinctive flavor of Garam Masala.
The options listed below are ideal for this because most of them can be found in your pantry or, at the very least, with a quick run to your neighborhood grocery store.
If you can't still find garam masala or want to try other options that you might already have, just read this post.
What Is Garam Masala?
Garam means "warm" in Hindi, and masala is essentially nothing but a "blend of spices". So, Garam Masala translates to "warm spice bend." It has a mixture of spices that warm the body, but it is not spicy and doesn't contain chilies.
It is used in the Indian subcontinent, Bangladesh, Pakistan, Nepal, etc. It is predominantly used in the North of India as the weather is cooler there. Northern Indian recipes may contain as few as 6 – 8 components, whereas store-bought versions may contain as many as 15 spices. It is reddish-brown in color.
According to Ayurvedic medicine, the spices in garam masala warm the body. They, therefore, aid in enhancing metabolism. Garam Masala promotes healthy digestion, reduces inflammation, and strengthens the immune system.
Is Garam Masala Necessary?
It greatly depends on the recipe, but it is generally not something you want to leave out – especially for any North Indian cooking. Garam Masala adds a lot to the food because it's such a unique spice blend.
A recipe may occasionally call for only a small amount of Garam Masala. You may choose to leave it out totally in this situation. However, it is still worthwhile to include a replacement. If nothing else, cumin will add a dash of taste.
Whether it is added during the cooking process or at the end – it still adds a ton of flavor to the dish.
How Do You Use Garam Masala?
It is used in many Indian curries and side dishes – like chickpea curry, Butter chicken, or this aloo gobi.
Typically, garam masala is added halfway through or right at the end of cooking as a garnish to improve a dish's flavor. You only need a small amount because of its strong, pungent flavor. It's a great finishing spice.
It can also be used to flavor meats in marinades and rubs. Check out this recipe for Indian tandoori marinade.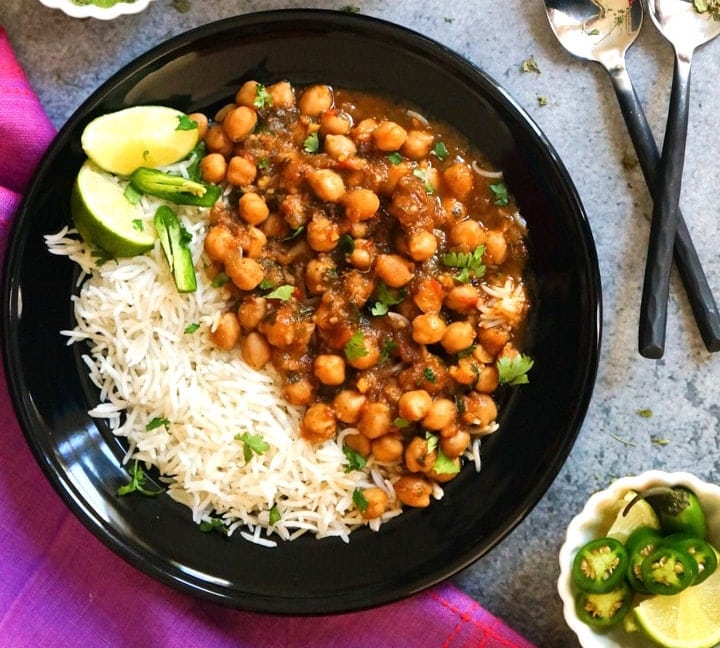 What Spices are in Garam Masala?
Garam masala has no one recipe. In fact, every household will have a different recipe. However, certain spices are commonly used in many different garam masala recipes, although the quantities can vary.
Garam masala contains all or the majority of the following spices:
Cinnamon
Green and black cardamom
Coriander Seeds
Cumin Seeds
Cloves
Black peppercorns
Nutmeg
Mace
Bay leaves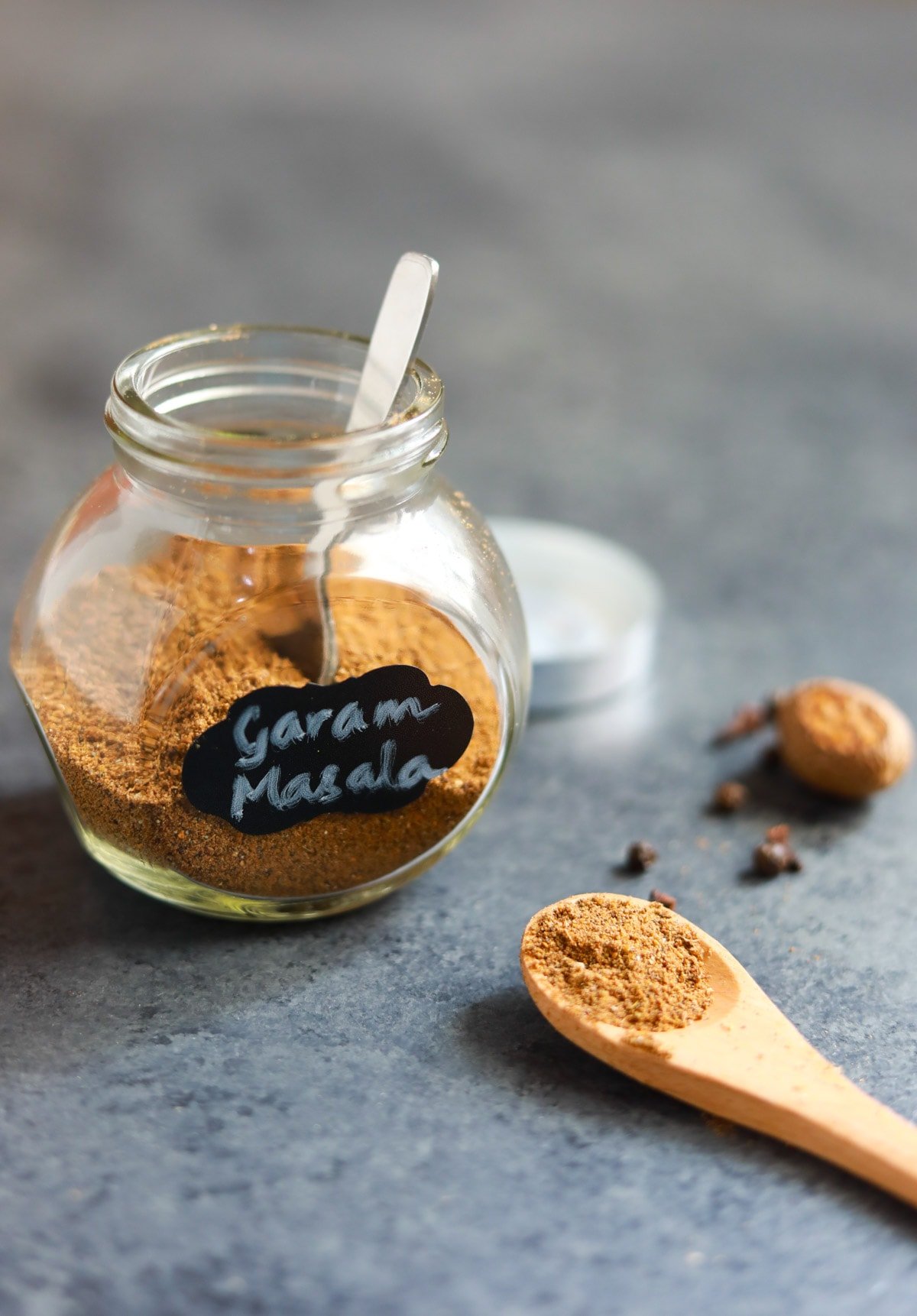 The Best Substitutes for Garam Masala
These alternatices are not very complicated. In fact, you can find them in the common spices you use in your kitchen. These alternatives include:
1. Coriander, Cumin, and Cardamom (EASY)
This is a simple combination consisting of just three ingredients that mimic the overall flavor profile of garam masala.
Combine coriander seeds, cumin seeds, and cardamom pods in a ratio of 2:1:0.5 to make this blend.
Toast the spices in a dry skillet over medium heat until they release their aroma. Allow cooling before using a coffee grinder or a mortar and pestle to grind.
2. DIY your own Authentic Garam Masala (BEST)
If you can't find garam masala around – do not fret. If you have the time and the ingredients available, it doesn't take a long time to put together your very own garam masala. There is nothing that tastes better than freshly ground garam masala.
The main ingredients are – cinnamon, nutmeg, coriander, cumin, cloves, black pepper, and cardamom. If you are looking for an authentic recipe that I use, hop on to read my garam masala post here. You can skip a couple of ingredients if you don't have them handy.
See the detailed recipe at the end of this post.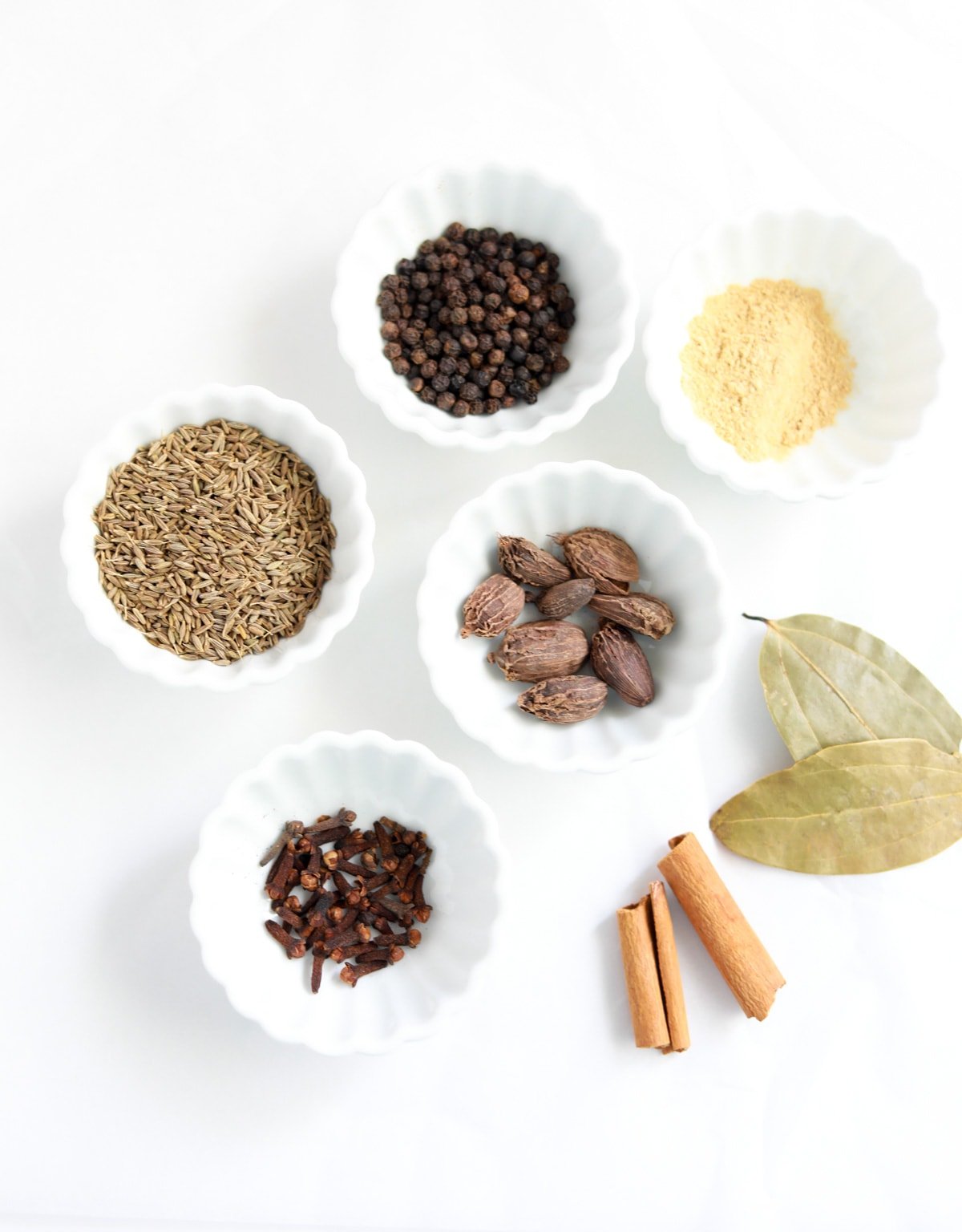 3. Allspice and Cumin (RECOMMENDED)
A mixture of allspice and cumin powder can replicate the flavor of Garam Masala. And I think this might be the best substitute. These spices might be already in your pantry.
Allspice has a comparable warming effect similar to garam masala, but it's not as strong. The flavor profile is pretty similar.
To get the most accurate flavor without overpowering your dish, combine four parts of cumin powder with 1 part of allspice.
4. Curry Powder
Curry powder lacks the same warming spices, but it does give flavor depth to curries. Curry powder is a British invention that is simply an English shortcut to the delectable garam masala.
Curry powder contains turmeric and is considerably different from garam masala, but it's a quick and easy substitute that tastes decent.
5. Sambar Masala
Sambar Masala is another spice blend commonly found in Indian kitchens with some of the same foundation spices as Garam Masala but a more robust spice character.
It has highly aromatic and also provides heat to the dish. Begin with half the required amount and work your way up, tasting as you go.
6. Tikka Masala Powder
Because of its components – coriander, cumin, cardamom, black pepper, cloves, cinnamon, etc., Tikka Masala is a solid choice to imitate the flavor of garam masala. Therefore, you can use this spice blend in a recipe that calls for Garam Masala in the same quantity, especially for meat preparations.
7. Chole Masala Or Pav Bhaji Masala
By any chance, if you have either of these spice blends in your pantry, they can make great substitutes. Again, these are not close to the garam masala but contain similar spices. These masalas can be great additions to vegetables, meat, or lentil dishes. And I am telling you that you will not be disappointed.
8. Ras El Hanout (Morrocan Spice Mix)
This is an amazing blend of spices that includes – coriander, cumin, black pepper, ginger, cinnamon, cardamom, etc. It is vibrant and aromatic and sometimes stronger than garam masala, so start with very little and work your way up.
9. Chaat Masala
If you have this on hand or find it at the store, you can substitute it for garam masala.
Chaat masala contains dried mango powder, black salt, pomegranate seeds, ginger, and sometimes mint.
Chaat masala is traditionally sprinkled on fruit salads, and fried dishes such as pakoras, potato dishes, etc. It is not used to enhance the flavors of savory dishes like dals, soup, stew, or curry while cooking. As a result, chaat masala is not a good substitute for garam masala because it will radically alter the flavor of your food.
Starting slowly and adding more as needed is the best method to avoid overpowering the dish.
10. Pumpkin Spice
If you can't find any other substitute, use pumpkin spice as your last resort. The main spices in pumpkin pie spice are cinnamon, nutmeg, cloves, and ginger.
When used alone, pumpkin spice adds an overall sweeter tone to the dish. If you think it's too sweet an aroma for you, mix a little coriander, cumin, and black pepper to balance out the flavor.
Pro-Tip To Use Substitutes
Remember that each of the spice combinations listed above will have its own distinct flavor and character. As a result, I recommend starting with very little amounts than what is listed in the recipe. Then taste and add more to ensure you have a well-balanced dish.
Common Garam Masala Questions
What Does Garam Masala Taste Like?
Literally, Garam Masala means "warm spices," but it definitely doesn't mean they're hot/ spicy. Garam Masala is highly aromatic and has a subtle sweetness with an earthy undertone. It enhances the overall taste of the food.
Again, it depends on which region it is made in. Some garam masalas will be spicy, while others may be zesty.
Is Curry Powder A Good Substitute For Garam Masala?
Although curry powder can make a substitute for garam masala, I wouldn't say it's the best option. It will have a different aroma and color profile because garam masala doesn't contain turmeric, and on the other hand, curry powder does.

It will provide a certain degree of warmth and depth to your dish. The curry powder spice blend will add more spice and bitterness and less of the balanced, pleasant taste provided by the garam masala, but it's a good starting point.

To give the curry powder time to infuse into the food fully, add it earlier in the cooking process. Curry powder can be used in recipes for meat, chicken, vegetables, and lentils, as well as other savory dishes.

If you still can't find it, then you can try ordering it online on Amazon!
Where To Buy Garam Masala?
The easiest option is to buy it at any Indian grocery store. Garam masala is most likely found in the spice area of your local grocery store, alongside the other spices and condiments. If you can't locate anything there, look in the international/ exotic foods section.
What Is The Shelf Life Of Garam Masala?
If properly stored, this spice blend will keep its flavor and intensity for up to 6 months. The garam masala may lose freshness and potency if kept for too long, although it doesn't taste bad. If exposed to air, the volatile oils evaporate.

It is ideal to store Garam masala in a dry, airtight container away from sunlight and heat. If you buy it in a bag, transfer it to a jar or bottle with a tight-fitting lid after opening.
Final Thoughts
Because the primary flavors of garam masala are derived from spices you may already have on hand, it is super simple to create your own blend that tastes comparable. Alternatively, experimenting with a fresh combination, such as chole masala or allspice, may produce a subtle difference in your Indian food that you might discover you appreciate.
Recipes That Use Garam Masala
There are lots of Indian recipes that use garam masala. Here are a few you will love: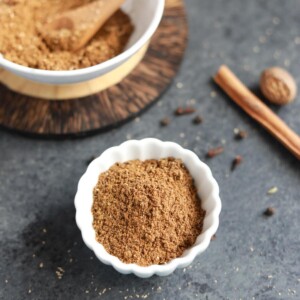 Garam Masala Substitute
For times when you don't have the poular Indian spice mix, garam masala, on hand. This recipe has garam masala substitues you can put together in no time.
Ingredients
3 ingredient whole spices mix
2 Ingredient ground spice mix
Instructions
3-ingredient whole spice mix
Combine coriander seeds, cumin seeds, and cardamom pods in a ratio of 2:1:0.5 to make this blend.

Toast the spices in a dry skillet over medium heat until they release their aroma. Allow cooling before using a coffee grinder or a mortar and pestle to grind.
2-ingredient ground spice mix
Combine four parts of cumin powder with one part of allspice.
Other options
Start with 1/2 the amount suggested for garam masala with the spice blend you have on hand – Curry powder / Sambar masala / Chole masala / Morrocan spice mix. Taste and add more as needed to ensure you have a well-balanced dish.