When you think about Indian sweets, Halwa is the first thing that comes to mind. Halwa is an Indian pudding with a smooth, fudge-like texture that melts in your mouth and warms your heart. Find a variety of delicious Indian Halwa recipes in this collection.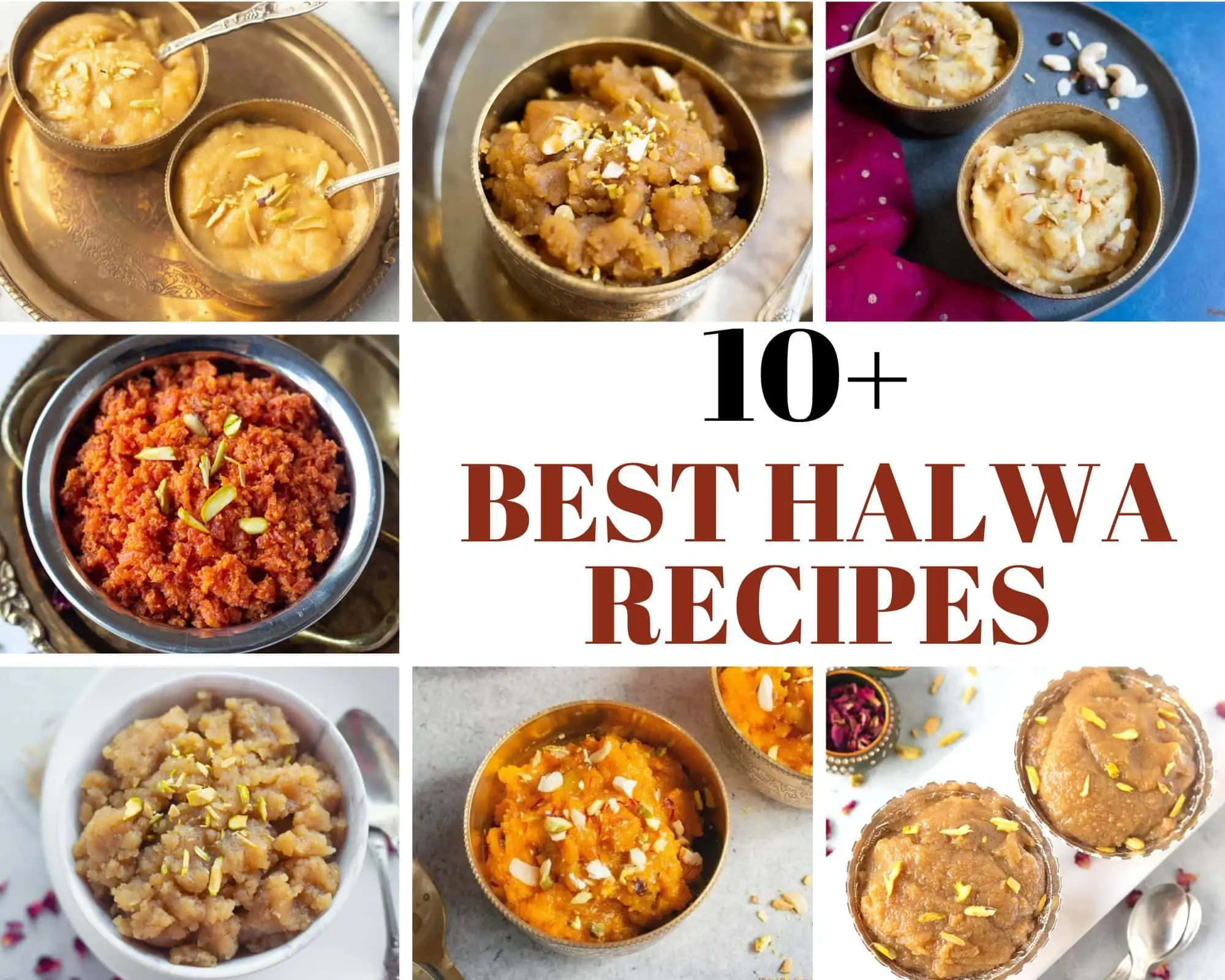 Growing up in an Indian household, Halwa was always a quick fix to satisfy sweet cravings for kids and adults alike.
It is easy to make, with just a few basic ingredients of flour, sugar, ghee, and nuts. Sometimes flour is replaced with vegetables, fruits or nuts. The popular ones made the most in our house were Sooji Halwa and Carrot Halwa.
In India, Halwa is one of the desserts prepared for religious events and holidays like Ganesh Chaturthi, Navratri, Diwali, Holi, and Ramadan Iftar.
Jump to:
What is Halwa?
Halwa is an Indian treat with a smooth, fudge-like texture that melts in your mouth. It is one of the most popular Indian desserts and can be made for any celebration.
Halwa is famous not only in Indian food, but also in Middle Eastern and Asian food. It goes by several names, including Aluva, chalava, halva, etc. Halwa has it's roots in many cultures such as Turkish Halva, Karachi Halwa and Spanish Turron.
What Ingredients are in Indian Halwa?
Halwa's base is made of flour, semolina, grains, or nuts and is topped with nuts.
Semolina/Rawa, seeds, and nuts were traditionally used in its preparation, however grated vegetables, or mashed fruits can also be used to make halwa.
Essentially, the main component is cooked with sugar and ghee to produce a smooth, rich, comforting sweet dish that is infused with the scent of ghee and Indian spices like cardamom and saffron.
Different Varieties of Halwa
Interestingly, there are more than 20 varieties of halwa that are enjoyed throughout the nation, including chana dal, pineapple, and anjeer halwa. You can try making some of these halwas at home.
I have put together a list. This will be a delectable treat, I guarantee! Most of these are light and can be served as dessert after meals or at snack time.
Homemade Indian Halwa Recipes
Suji Ka Halwa, also known as Sheera is a simple Indian semolina pudding, made with basic ingredients of semolina, sugar, and ghee. The pudding tastes simply divine, and the best part, it takes just 20 minutes to make.
You will find many variations of this Sheera such as pineapple Sheera, banana sheera, mango sooji halwa, and kesari.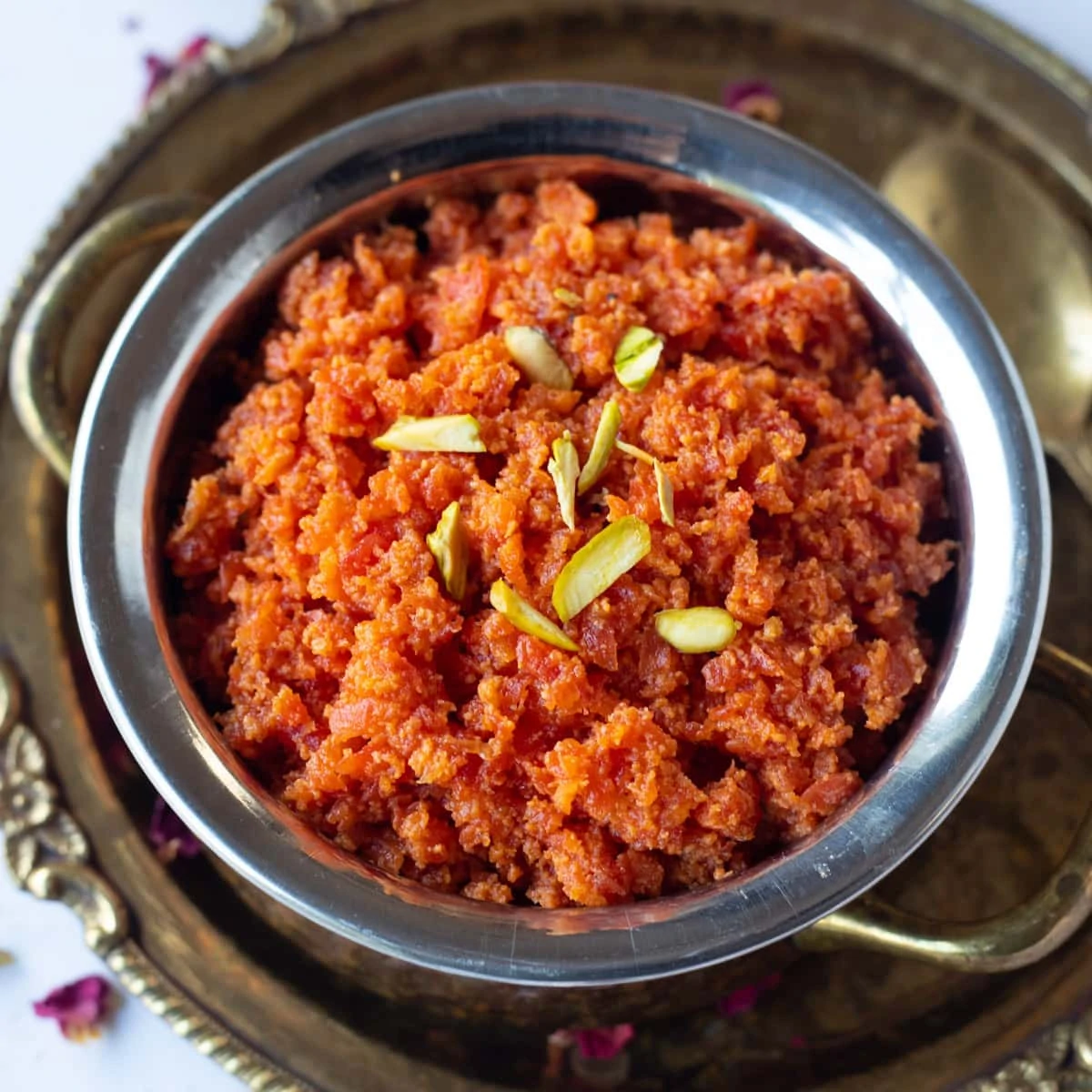 Gajar ka halwa is a popular Indian dessert made during winter months from grated red carrots cooked in milk and sugar, laced with cardamom, and garnished with roasted nuts. Learn how to make authentic, rich, and creamy carrot halwa!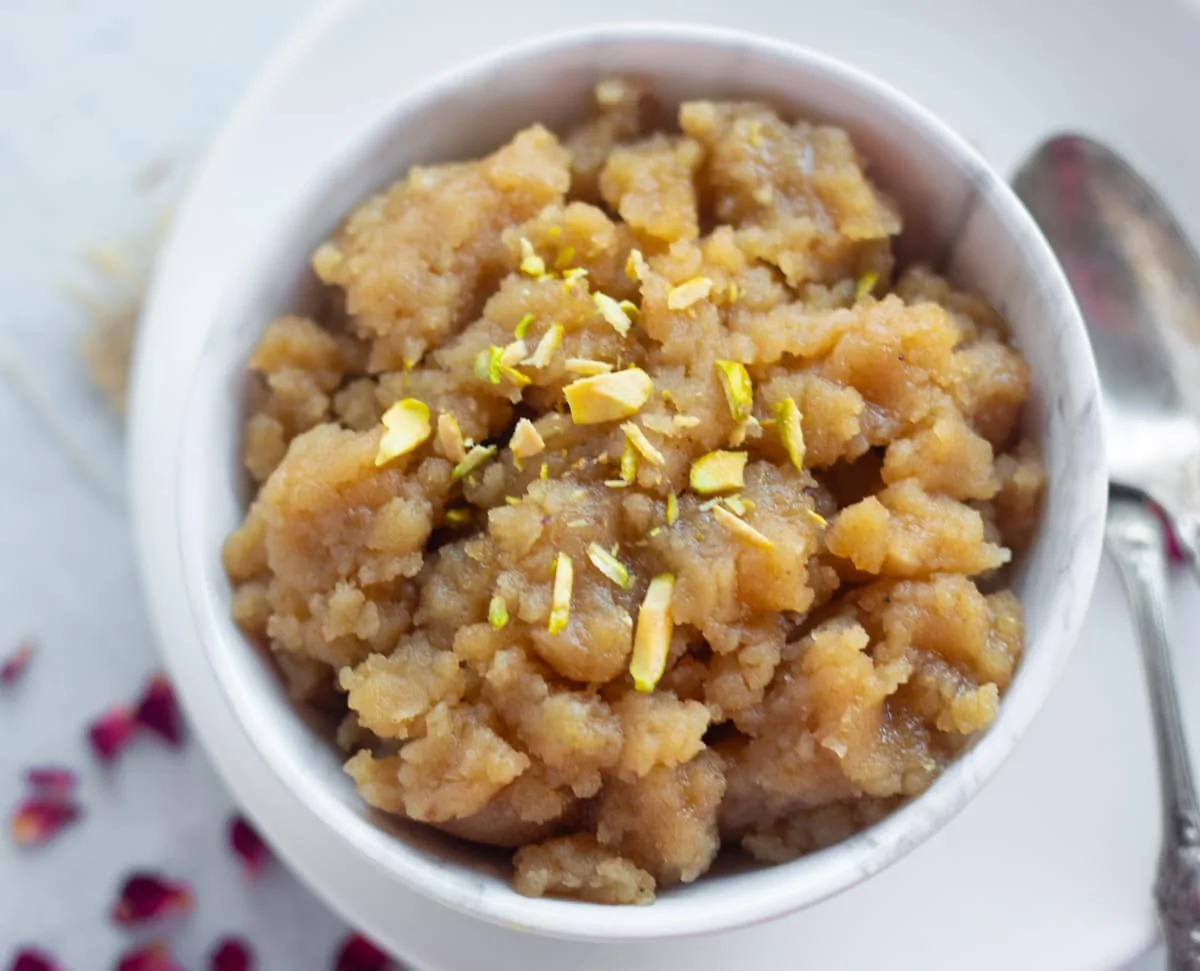 Aate Ka Halwa, also known as wheat halwa, is a famous Indian dessert prepared with whole wheat flour (aata). This four-ingredient sweet dish is also offered as Kada Prasad at Gurudwaras (Sikh Temples) worldwide.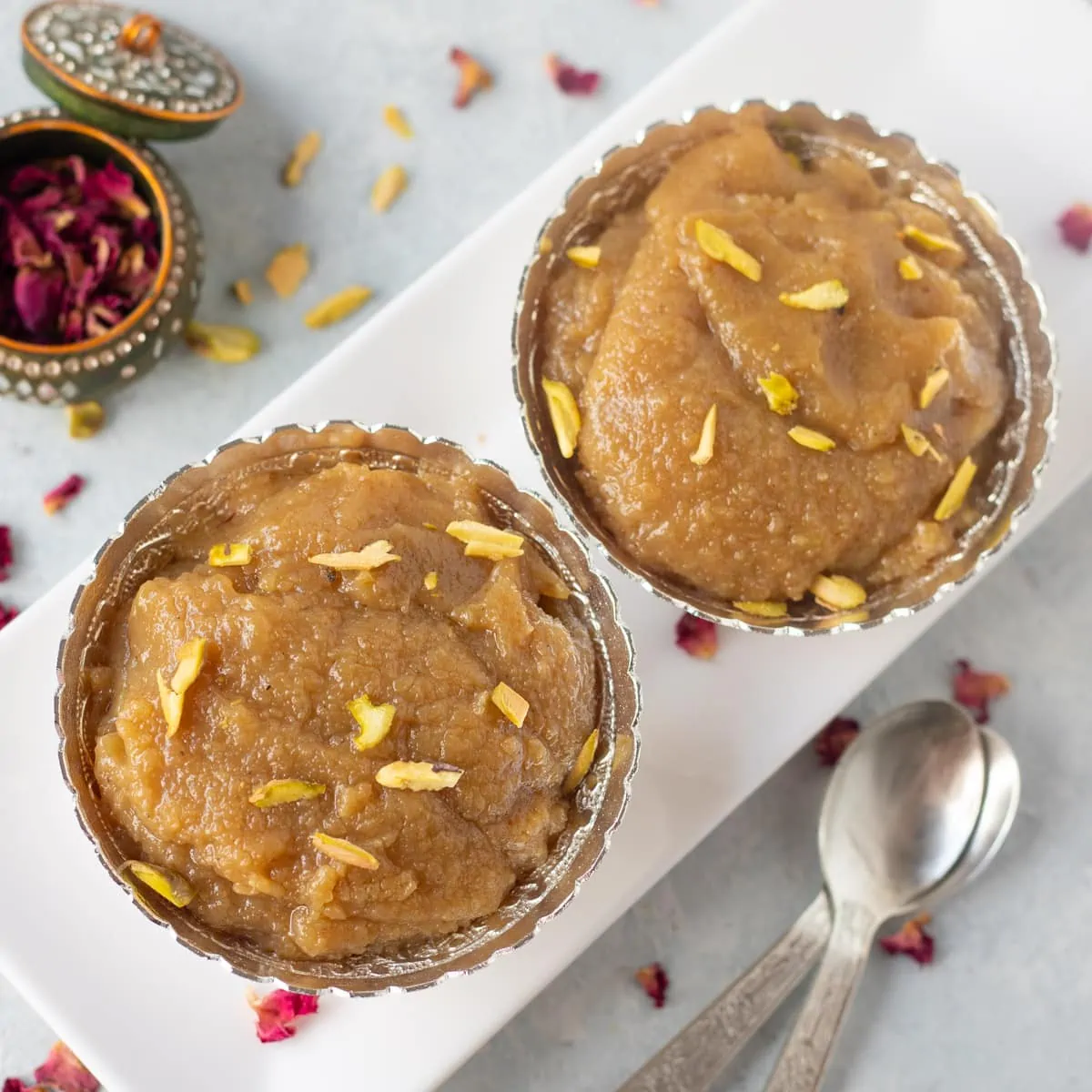 Badam Halwa is a classic rich and luscious Indian dessert made with just four main ingredients - almonds, milk, sugar, ghee, and laced with cardamom and saffron. This Badam Halwa is put together quickly in less than 25 minutes using almond flour.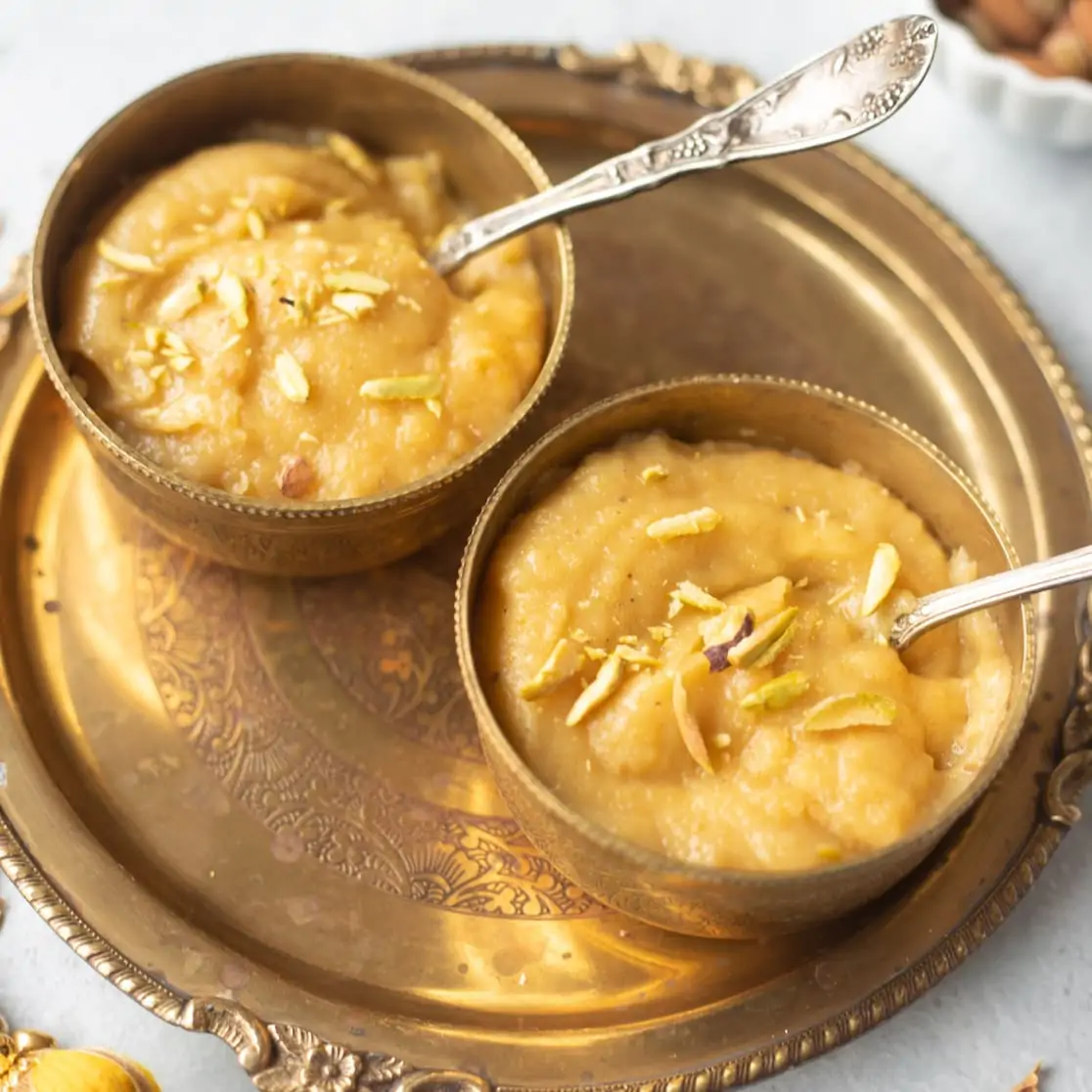 Made with simple ingredients of gram flour (besan), ghee, and sugar, this rich and aromatic cardamom-infused Besan halwa is a quick dessert that can be made ready within minutes.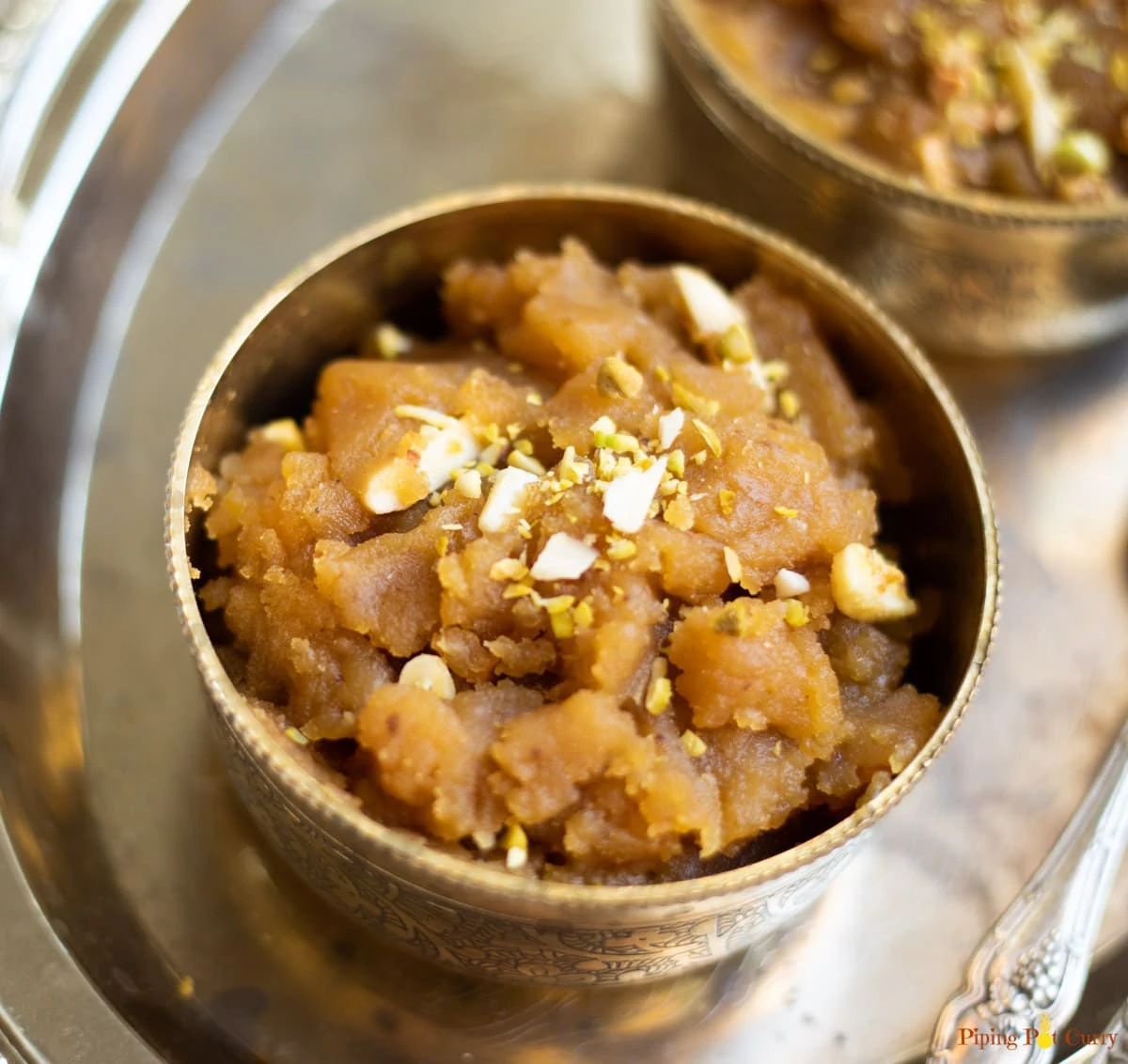 Moong Dal Halwa is a rich, delicious dessert made with split yellow lentils (moong dal), sugar, and ghee, along with the flavors of cardamom and saffron. This easy version of Moong Dal Halwa can be made in a pressure cooker and is much less laborious than the traditional method.
Coconut Pumpkin Halwa, also called Kaddu ka Halwa is an Indian pumpkin dessert made with pumpkin, sugar, ghee, coconut, and nuts. It can be cooked in a pressure cooker on the stovetop or Instant pot, and takes less than 30 minutes to make this delicious dessert!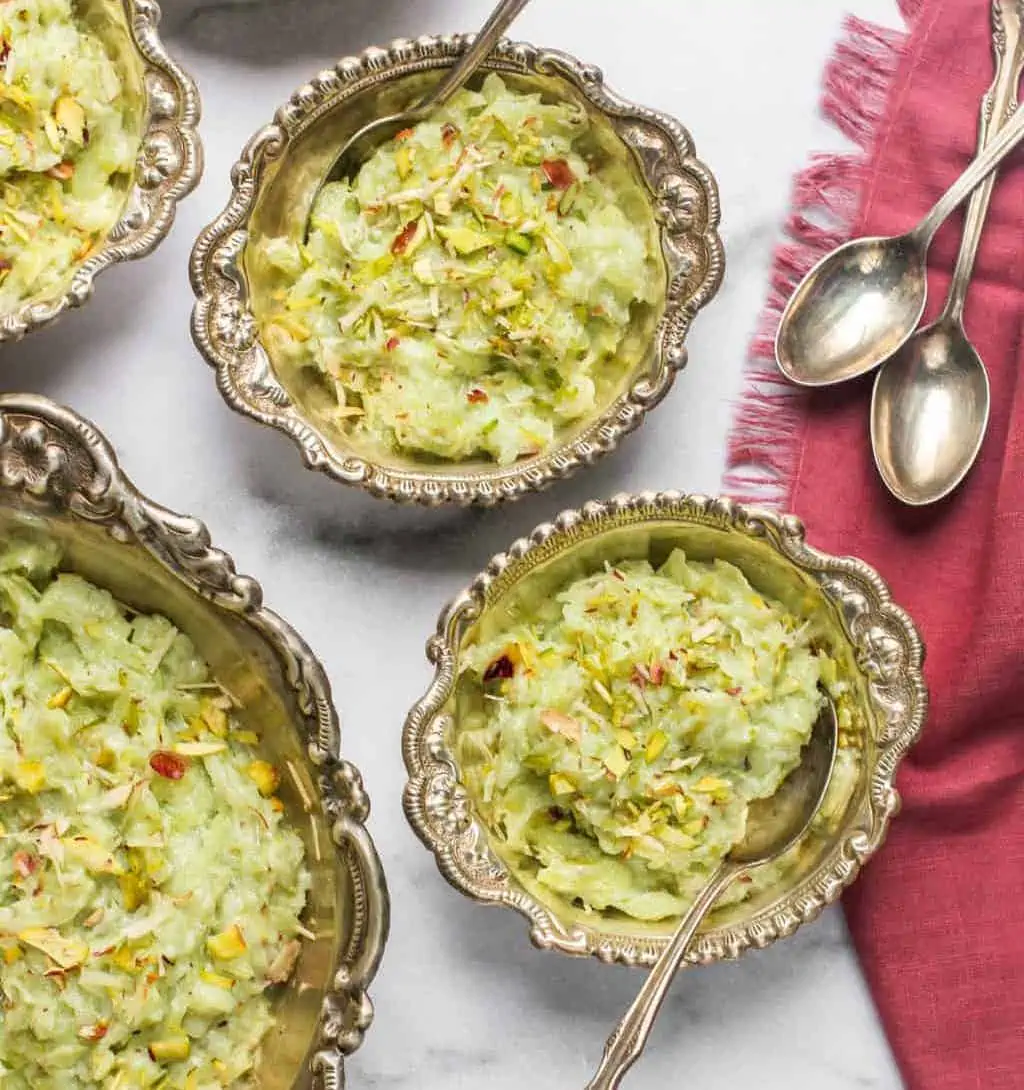 Dudhi Halwa is a popular Indian dessert made with grated bottle gourd, also known as Lauki Halwa. This creamy pudding is traditionally flavored with ground cardamom.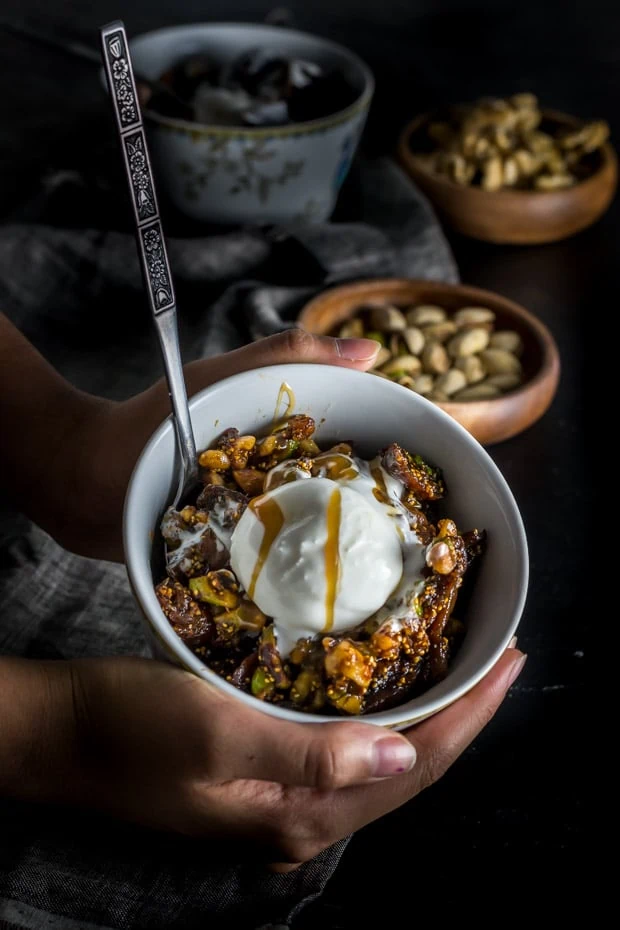 This fig and walnut halwa is perfect when you need a quick and easy recipe to satisfy your sweet cravings. It is delicious and comes together in less than 30 minutes.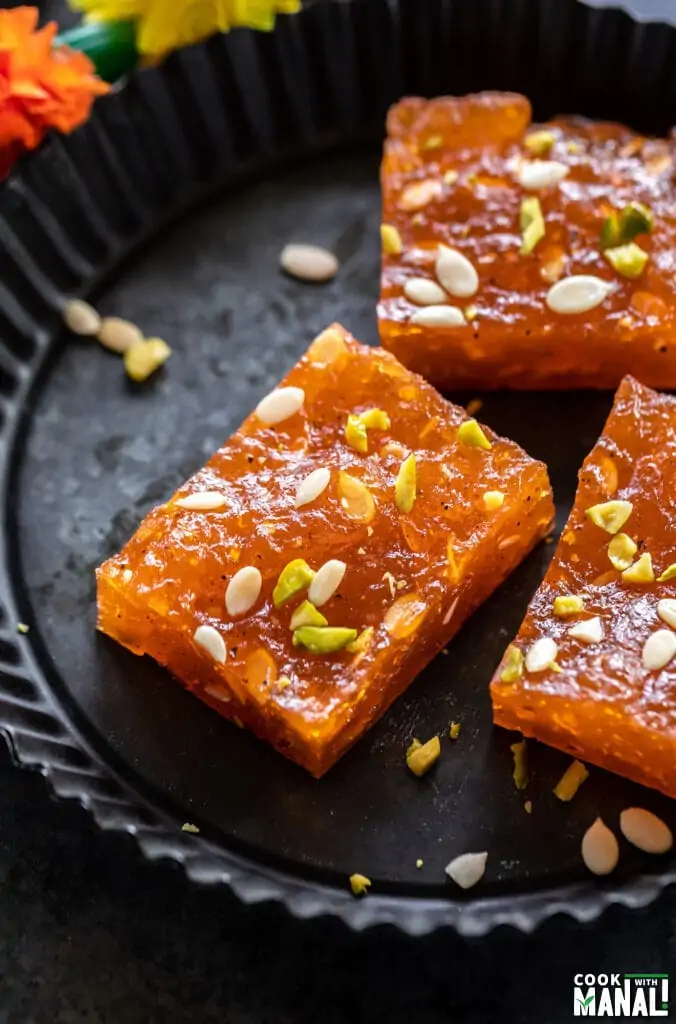 Karachi Halwa is a sweet made with cornstarch, and popular for it's unique chewy texture. Making it at home may be a labor of love, but one bite into this delicious halwa, and the effort will all seem worth it.
I hope you enjoy the easy Indian halwa recipes from this collection and give your loved ones something new to try.
Let us know which one you're most excited to make, and share this roundup with your friends, and when you make it, don't forget to tag #pipingpotcurry.
More collections of Indian Recipes you will enjoy: