Want to eat and enjoy more veggies? This Eat Your Veggies Challenge is an easy 5 day challenge to help you add more healthy vegetables to your diet. With recipes and tips to add veggies to your everyday meals!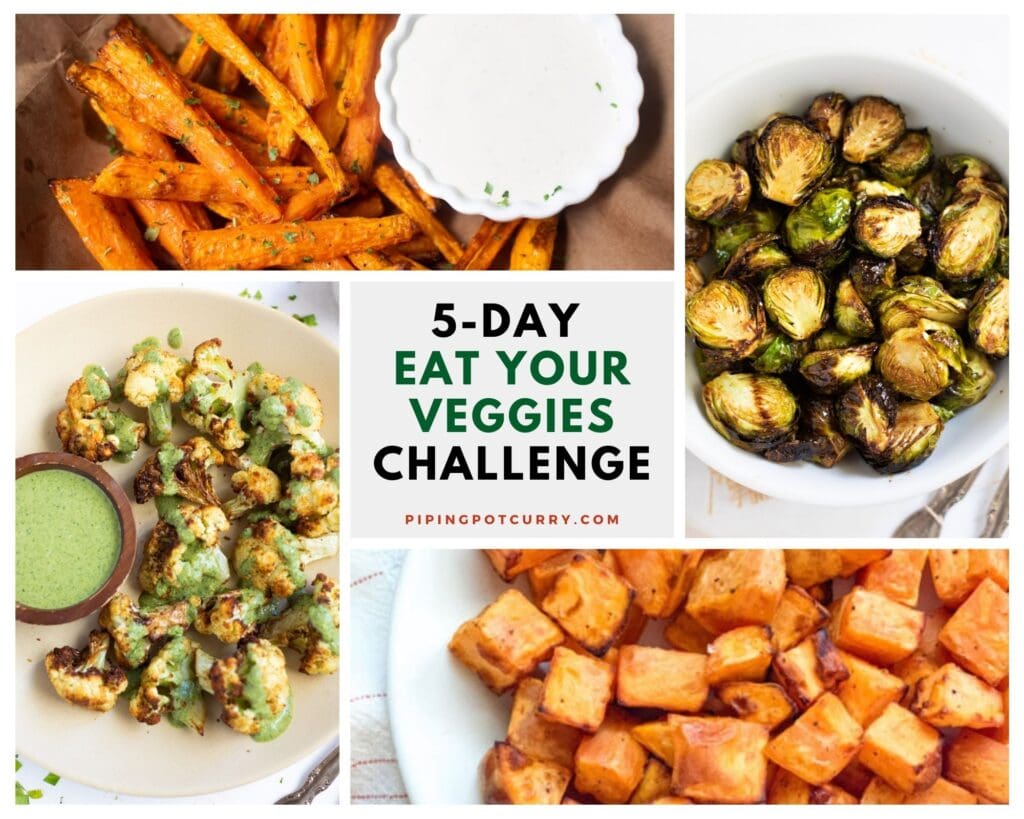 January is here, and I am so excited to share about the 5-day Veggie Challenge with you all! #PPCVeggieChallenge
We have been eating a lot more veggies lately as side dishes or snacks, and I thought it would be a great way to share my love for veggies with you all.
If you have no idea what I'm talking about, don't worry. I'll be breaking it down for you in this post.
It's basically a 5 day challenge to help you eat more veggies and enjoy them. And through this, I am hoping you will find that it is super easy to incorporate veggies in your meals, and start enjoying them!

What is 5-DAY VEGGIE CHALLENGE?
So how does the challenge work!? I have kept it really simple, so it is easy for anyone to participate.
For 5 days in a week:
Eat at least one vegetable everyday.
Try to incorporate veggies in every meal – breakfast, lunch and dinner.
This challenge is not about going meatless or vegetarian. It is just a way to include and appreciate veggies in your everyday meals.
I can understand that #2 above to incorporate veggies in every meal might seem difficult. Here are some ideas – add veggies to your morning egg or tofu scramble, add a soup or salad along with your lunch sandwich, or a side of roasted vegetables to your dinner.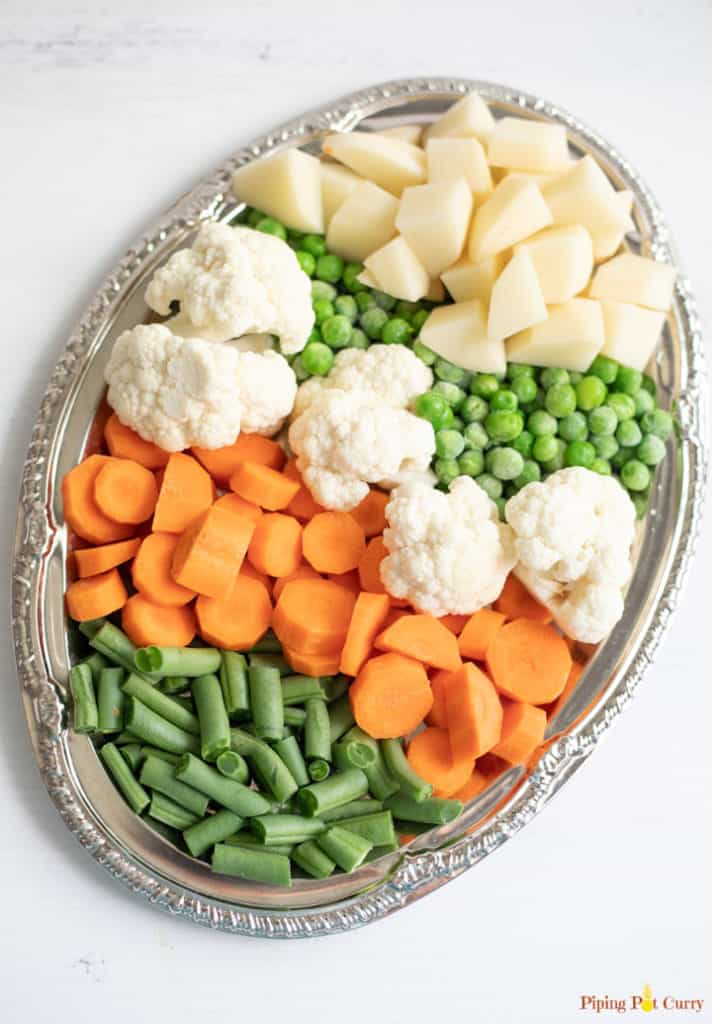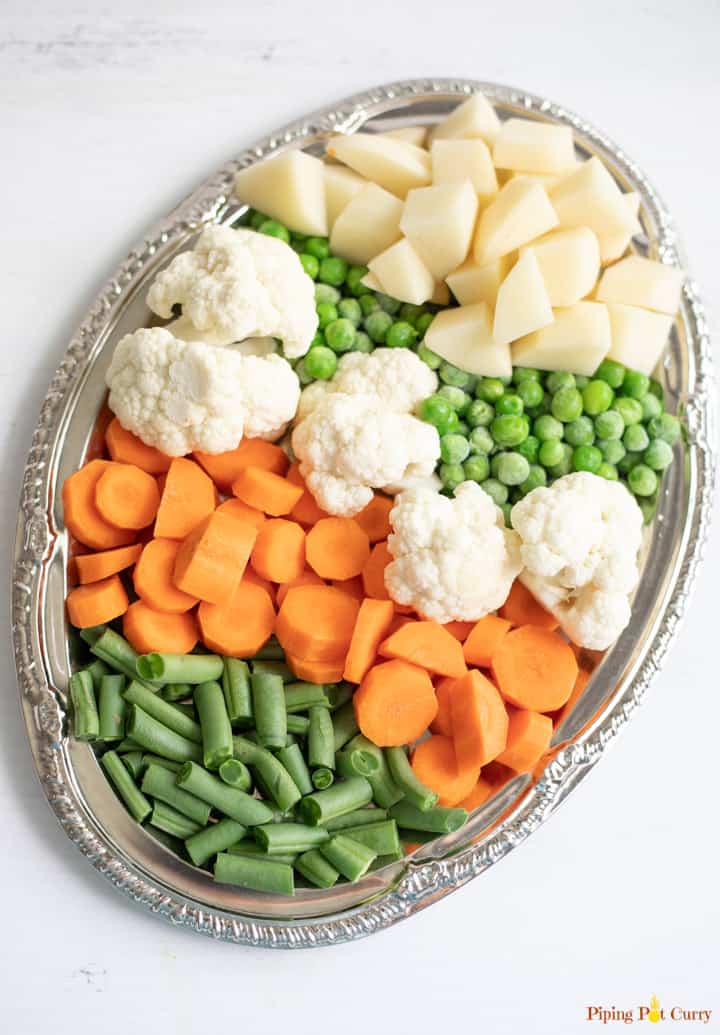 How will I help?
I will be sharing an easy recipe for you to add one vegetable to your meals each day. These are super easy kid-friendly recipes.
I'll be sharing grocery list for 5 days before the week starts, so no worrying about getting the veggies in the middle of the week.
I plan to share easy air fryer recipes, as many of you got a new air fryer on Christmas. I will also give some more options for recipes which do not require an air fryer.
Even though I am sharing a recipe, you don't have to use that specific recipe. You can make the veggies in any way you like. The idea is to eat the vegetable in any healthy nutritious way.
And we will have a giveaway for all the participants at the end of the week!
How to participate in the challenge?
This challenge with start on Monday, January 24, 2022 and run until Friday, January 28, 2022.
Click below to signup for our 5 day veggies challenge. I will email the grocery shopping list and recipes to your inbox.
Sign up here – To join the challenge!
To keep everyone accountable and motivated, you can also do the following:
Share what you are eating on Instagram with #PPCVeggieChallenge (PPC stands for PipingPotCurry). You can share in your posts or stories, or send me a direct message.
Join our Facebook group where I will share daily updates and you can share your food!
Respond to my emails, showing off your meals.
Really however you want to show your food, go for it!
We want to cheer you for joining the challenge and committing to eat more vegetables.
The more you participate and share, the more the chance of winning in the GIVEAWAY I plan to have at the end of the week.
Join me on my Instagram stories to hear more in the week of the challenge.
Some tips to make you successful:
Invite a friend to join: It is easier together!
Plan ahead: Get your groceries before the challenge starts over the weekend.
Trying and Failing is better than Not Trying at all: It is okay if you slip one day and are not able to complete the challenge. Give it your best try!
Get a head start!
If you want to start incorporating the veggies in your diet right now, here are some recipes you can check out!
That is all for now! If you have any questions on #PPCVeggiesChallenge, drop them below in comments.
I am looking forward to see your veggie creations 🥦🥕🍠
If you have signed up and missed any emails, you can find them here.