Instant Pot Chicken Saag (Chicken & Spinach Curry) is a delicious dish from north India. A step-by-step recipe to prepare this in the Instant Pot or Pressure Cooker.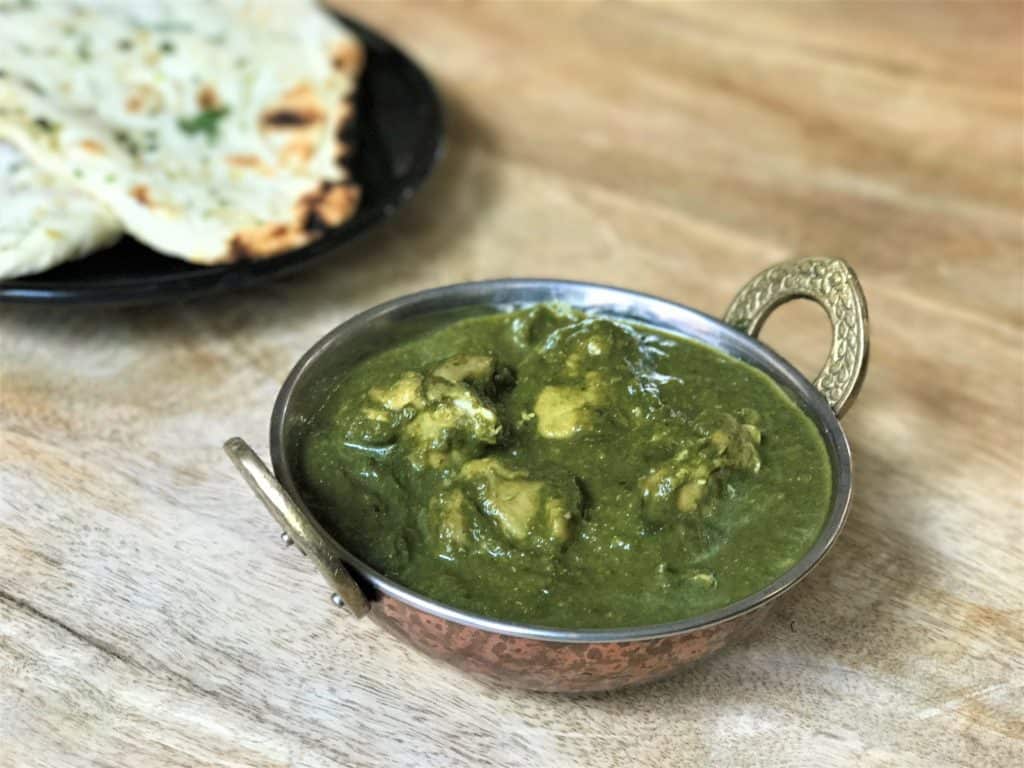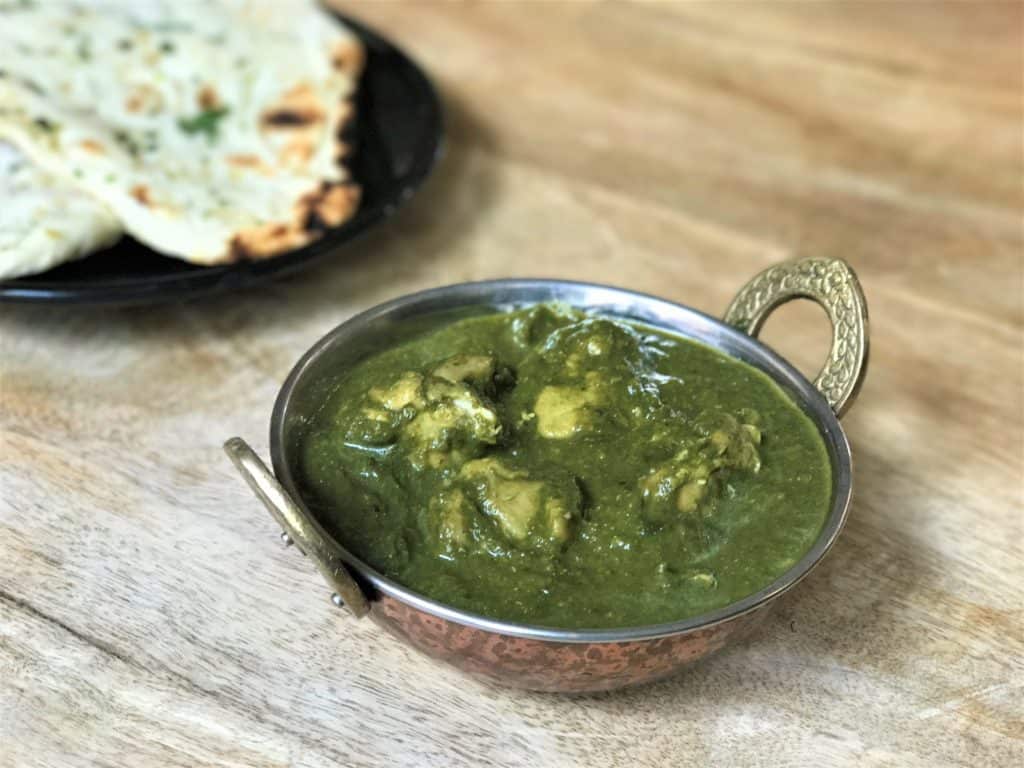 Chicken is simmered in a creamy spinach sauce. Sounds exotic? Don't worry; it is super easy to make. This curry is full of flavor and loaded with nutrients. You will always find some version of this spinach curry in any Indian restaurant, which is a popular one to order.
"Saag" is a Punjabi term used for leafy green preparations. These could be made with spinach, mustard greens, chard, etc. I used spinach in this Chicken Saag, but feel free to use other greens you like. This curry is a healthy way to incorporate leafy greens in a kid's meal.
My daughter loves everything saag, so I make multiple versions – Palak Paneer, Saag Paneer, and Saag Aloo with mustard greens and Vegan Palak Tofu.
Love Spinach? Check out this collection of 21 Indian Spinach Recipes.
How to make Chicken Saag in Pressure Cooker?
This is a very quick, one-pot recipe. Start the instant pot and add in the oil, cumin, ginger, and garlic. Then add in the chopped onions and sauté for a few minutes. The ingredients can be cut into large pieces as we are going to blend them later.
Add the tomato and spices and stir them with the onions. Add water and deglaze the pot (important for newer versions of the instant pot). Then add the spinach leaves and place the chicken on top of the spinach leaves. Cook on manual or high pressure for 8 minutes.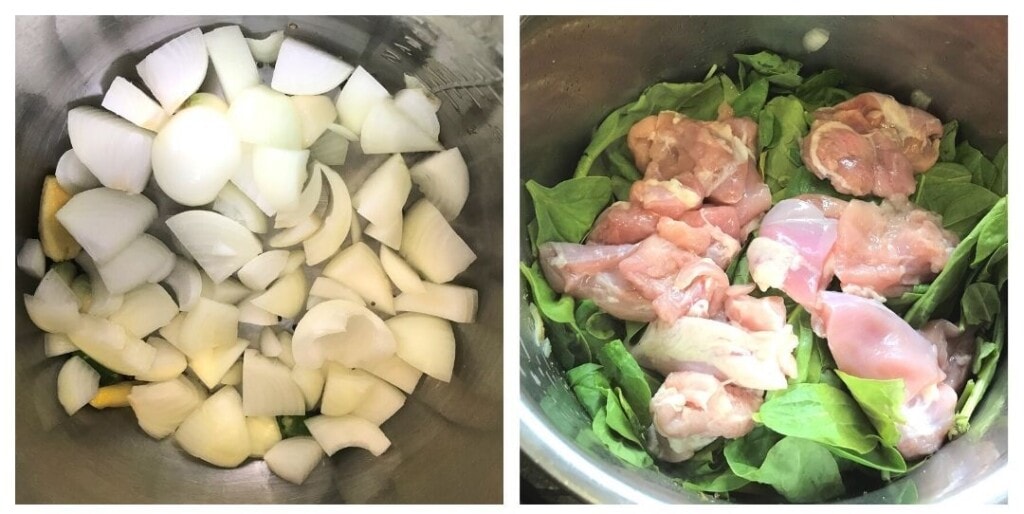 When the instant pot beeps, quick release the pressure manually. Remove the chicken pieces on the top and keep them aside. Then, use the immersion blender to grind the ingredients in the pot to a smooth paste.
You can also use a normal blender to grind and then transfer the saag back to the instant pot. If needed, cut the chicken pieces to the desired size and transfer them back to the saag in the pot.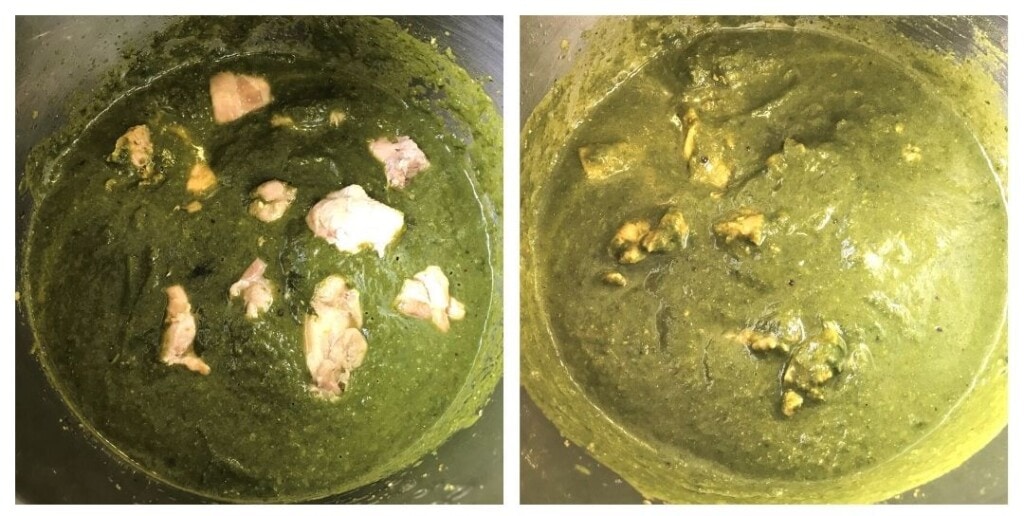 Simmer for a few minutes so the chicken is mixed well with the greens. Use a glass lid when simmering as there could be some splutters when spinach boils. Chicken Saag is ready to be enjoyed with naan or rice.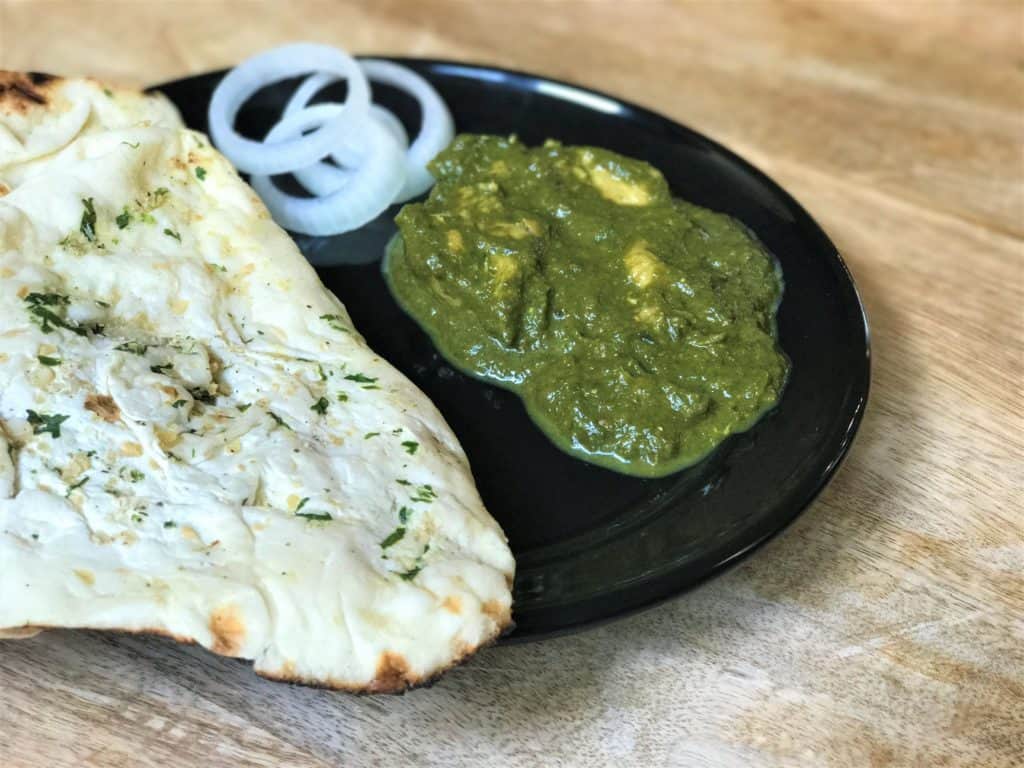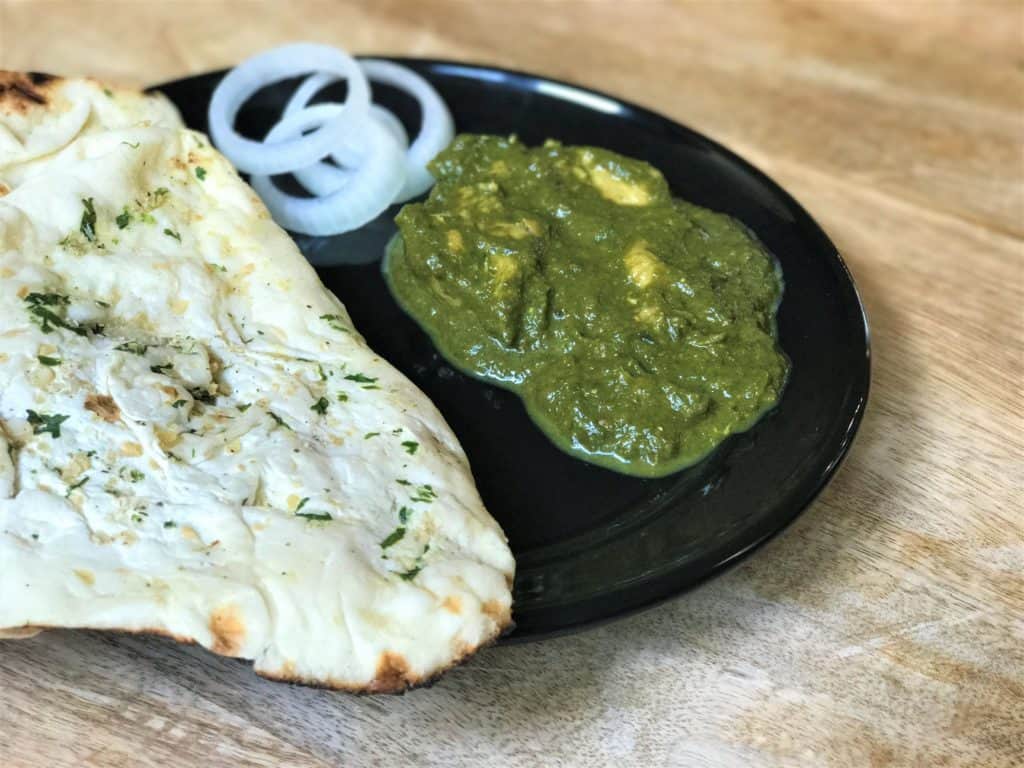 Enjoy the goodness of spinach and chicken in this hearty and healthy recipe. Give this recipe a try, and I am sure you are going to love it as much as we do!
If you are looking for more Indian Chicken Curry Recipes, check out these –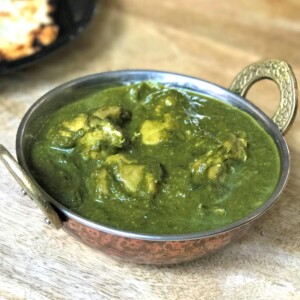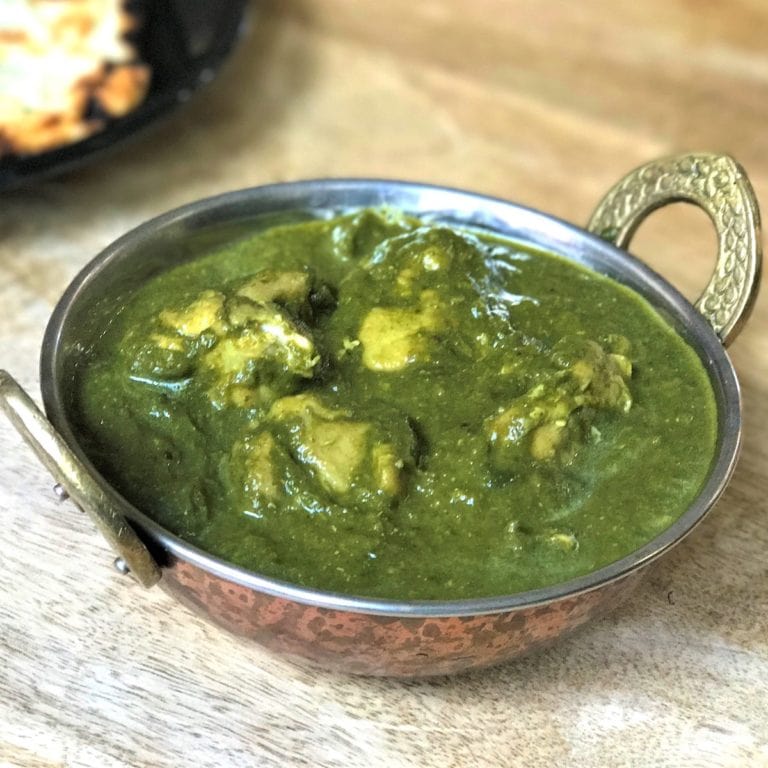 Chicken Saag (Instant Pot & Stovetop)
This one-pot Chicken curry with spinach is one of the delicious north Indian dish. Chicken simmered in a creamy spinach sauce, makes it a nutritious dish for all.
Ingredients
10

ounces

Spinach (Palak)

1

lb

Chicken thighs

,

boneless and skinless

2

tablespoon

Oil

1

tablespoon

Ghee

1/2

teaspoon

Cumin seeds (Jeera)

1″

inch

Ginger,

grated

6

cloves

Garlic,

minced

1

large

Onion

,

about 10 ounces

1

small

Tomato

1/4

cup

Water

1

teaspoon

Garam Masala

2

tablespoon

Cream

,

optional
Instructions
Clean and trim spinach leaves. Wash them thoroughly under cold water.
Stovetop Method
Prepare the chicken and cut it into 1 1/2 inch pieces. Dice or puree the onions based on your preference. If you like a smooth saag, then puree the onion. Puree the tomato. Set aside.

Boil water in a large pot. Add spinach leaves to it and let it boil for 2-3 minutes.

Using a slotted spoon, remove the spinach leaves from the water and transfer them to an ice bath for a couple of minutes. Remove spinach from the ice bath, squeeze out extra liquid, and transfer to a blender. Blend to a coarse paste. It is good to have a little bit of texture to the pureed spinach.

Heat a skillet on medium heat. Add the oil and ghee, and let them heat for 30 seconds. Add the cumin seeds and let them sizzle.

Add the onions and saute for 6-7 minutes until they are golden in color. Add ginger and garlic and saute for another minute.

Add the tomato puree and spices and saute for 2-3 minutes.

Add the chicken, and saute for 5-6 minutes until the chicken changes color.

Add the spinach mixture to the pan. Mix well, then cover with a lid and cook for about 8 minutes. Stir in between at least once. If needed, add water to adjust the consistency.

Remove the lid and give the curry a stir. Add the garam masala and if using, cream to the curry. Cook for another couple of minutes.

Saag Chicken is ready to be served!
Instant Pot Method
Chop the onion and tomato into small pieces.

Start the instant pot in SAUTE mode and heat oil and ghee in it. Add cumin seeds and saute for 30 seconds

Add the onions, ginger, and garlic. Saute for a couple of minutes. Add the tomato and spices. Stir well. Add water and deglaze the pot.

Add the spinach and carefully place the chicken pieces on top of the spinach (you can place the whole chicken thigh or cut it into pieces). Press CANCEL and close the instant pot lid with the vent in the sealing position.

Press MANUAL or Pressure Cook mode for 8 minutes. When the instant pot beeps, do a quick pressure release. PRESS Cancel.

Open the lid, remove the chicken pieces and set aside. Blend the spinach and other ingredients to a creamy texture preferably using an immersion blender.

Cut the chicken into smaller pieces about 1 inch in size and then add it back to the spinach curry.

Add the garam masala and, if using, cream to the curry. Press SAUTE and give the curry a quick boil. This could splutter out, so cover with a lid.

Chicken Saag is ready. Enjoy with naan, roti or rice.
Notes
Greens: I used spinach in this recipe. However, I have made this using a combination of spinach and chard, mustard greens, or kale, and the saag comes out great.
Tomato: I used fresh tomato puree in this recipe. You can also replace it with 1 tablespoon of tomato paste.
Instant Pot Method:
As we are going to puree after cooking for this method, it is okay to chop the onions, tomato, ginger, and garlic into larger pieces.
If you don't have an immersion blender, you could transfer the ingredients to a regular blender, blend them to a smooth paste, and then transfer them back into the instant pot insert.
If the chicken is not well cooked, then boil for a bit longer in step 7.
If using chicken breast, pressure cook for 6 minutes.
Nutrition
Calories:
327
kcal
Carbohydrates:
10
g
Protein:
21
g
Fat:
22
g
Saturated Fat:
5
g
Cholesterol:
111
mg
Sodium:
732
mg
Potassium:
726
mg
Fiber:
2
g
Sugar:
2
g
Vitamin A:
6810
IU
Vitamin C:
25.7
mg
Calcium:
100
mg
Iron:
3.1
mg