Air Fryer is the best way to make easy and healthy vegetable side dishes. Whether carrots, asparagus, green beans, or sweet potatoes, you can perfectly roast almost any vegetable in the Air Fryer! This is your ultimate guide to roasting vegetables in the air fryer.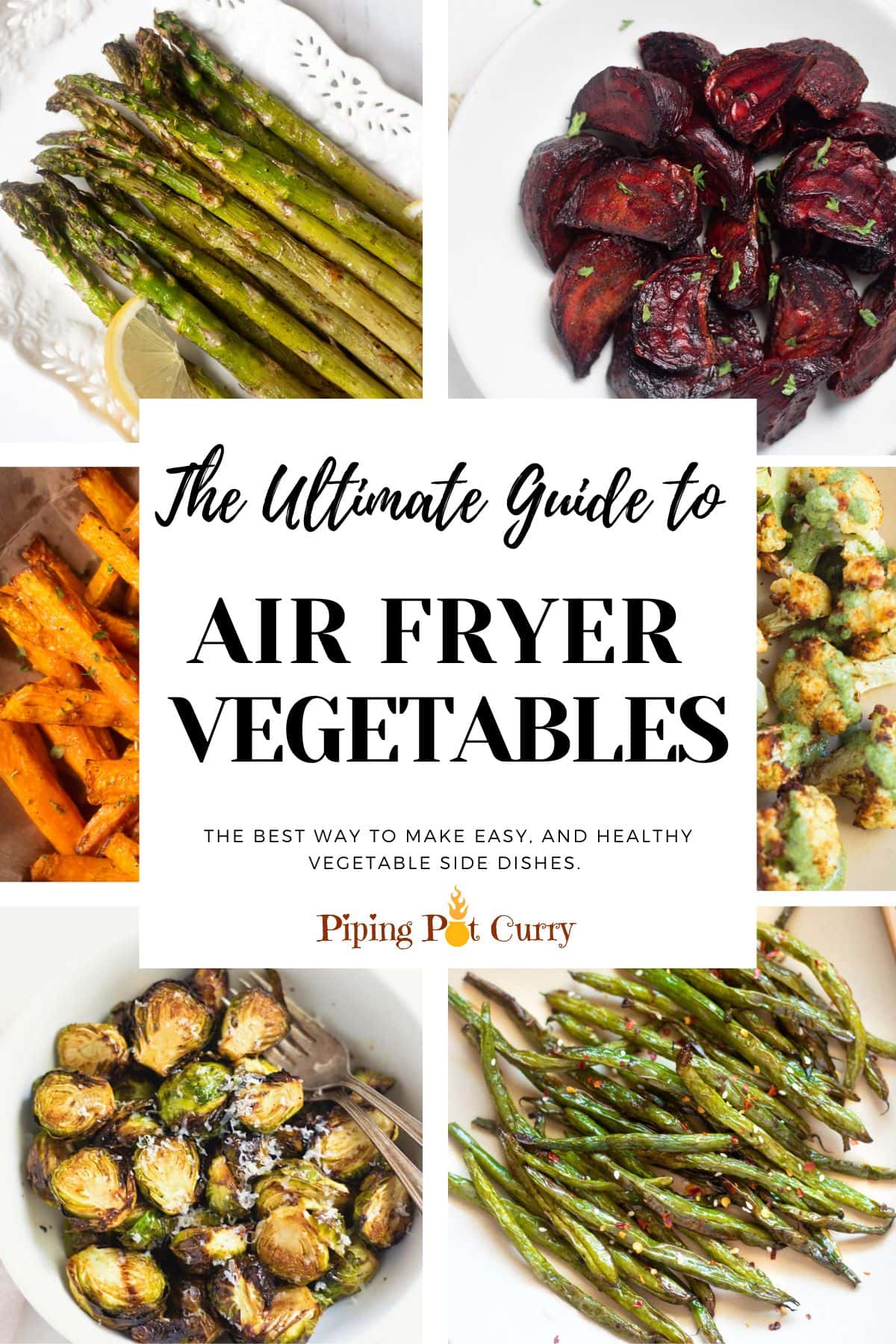 Many people ask me about making fried foods such as French fries in the air fryer. However, I tell them that I use my air fryer the most to roast vegetables for dinner!
Yes, air frying vegetables is one of the best uses of the air fryer. The vegetables are cooked similarly to roasting – a little bit crisper on the outside, which my family loves!
The best part is that roasting vegetables in the air fryer takes half the time compared to roasting in the oven. And you can also skip preheating for most cases.
Also, check the air fryer roasted vegetable medley recipe at the bottom of this post!
If you have still not bought an air fryer, check out my guide on how to choose an air fryer.
Jump to:
Why roast veggies in the air fryer?
✓ Easy (cut, season, and air fry)
✓ Fast (less than half the time of roasting in the oven)
✓ Healthy (uses a fraction of oil compared to frying)
Tips for perfectly cooked Air Fryer Vegetables
Cut veggies into equal-sized pieces. This helps to ensure all pieces are cooked evenly.
Do not add too much oil. Air fryers don't need too much oil to cook the food well.
Put the food in the air fryer in a single layer. Do not overcrowd.
Shake the basket halfway through.
Air Fryer Vegetable Cooking Time Chart
I have created an easy printable chart for cooking times for vegetables in the air fryer. Click below to download it!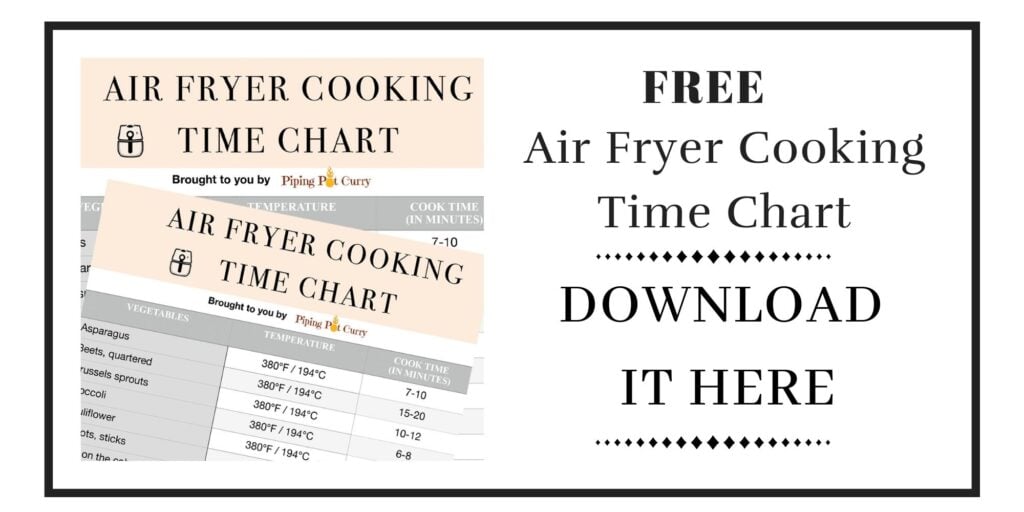 25+ Amazing Air Fryer Vegetables
Air Fryer Roasted Sweet Potatoes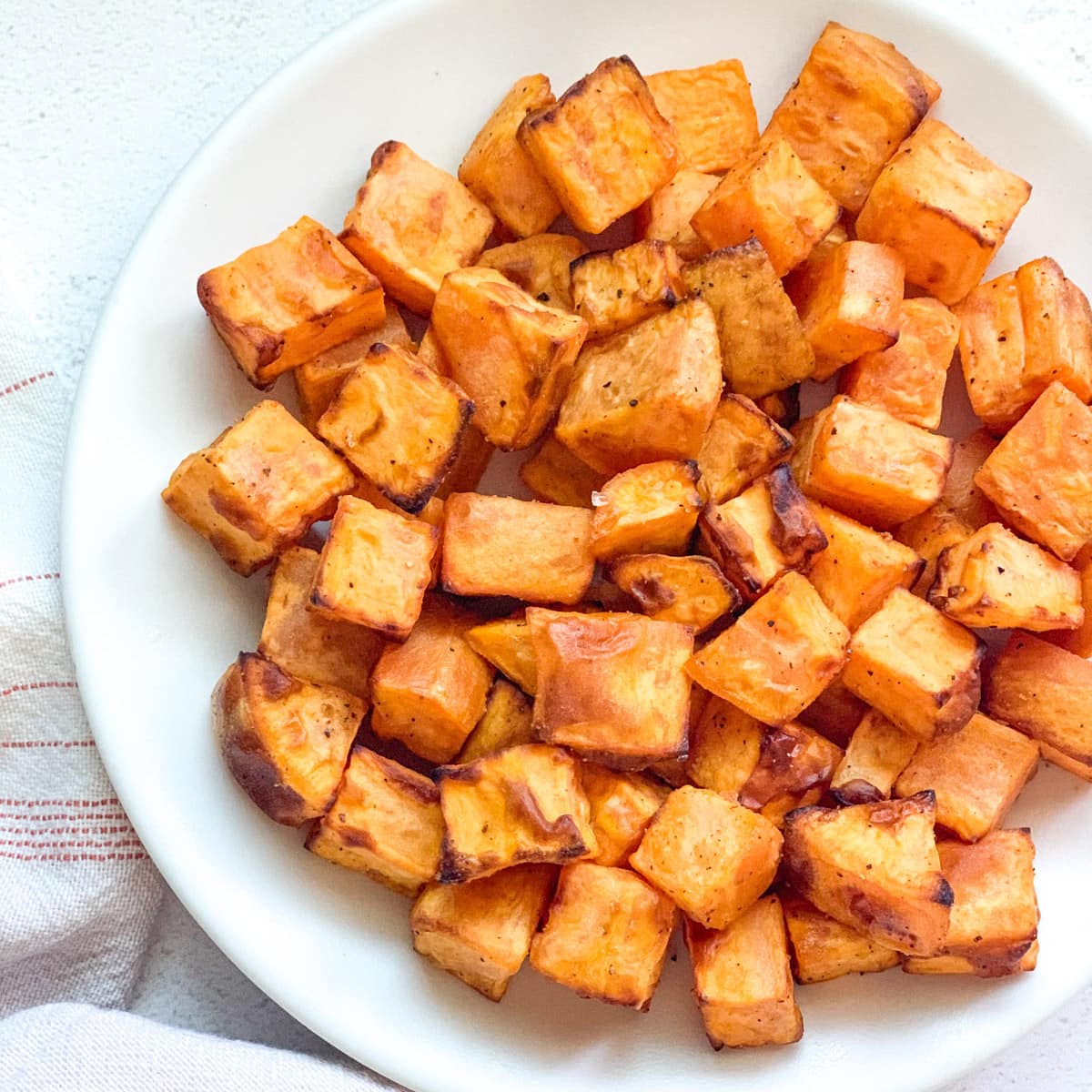 These Air Fryer Roasted Sweet Potatoes are so easy and delicious. They are the perfect side dish with their crisp exterior and tender interior.
Air Fryer Cauliflower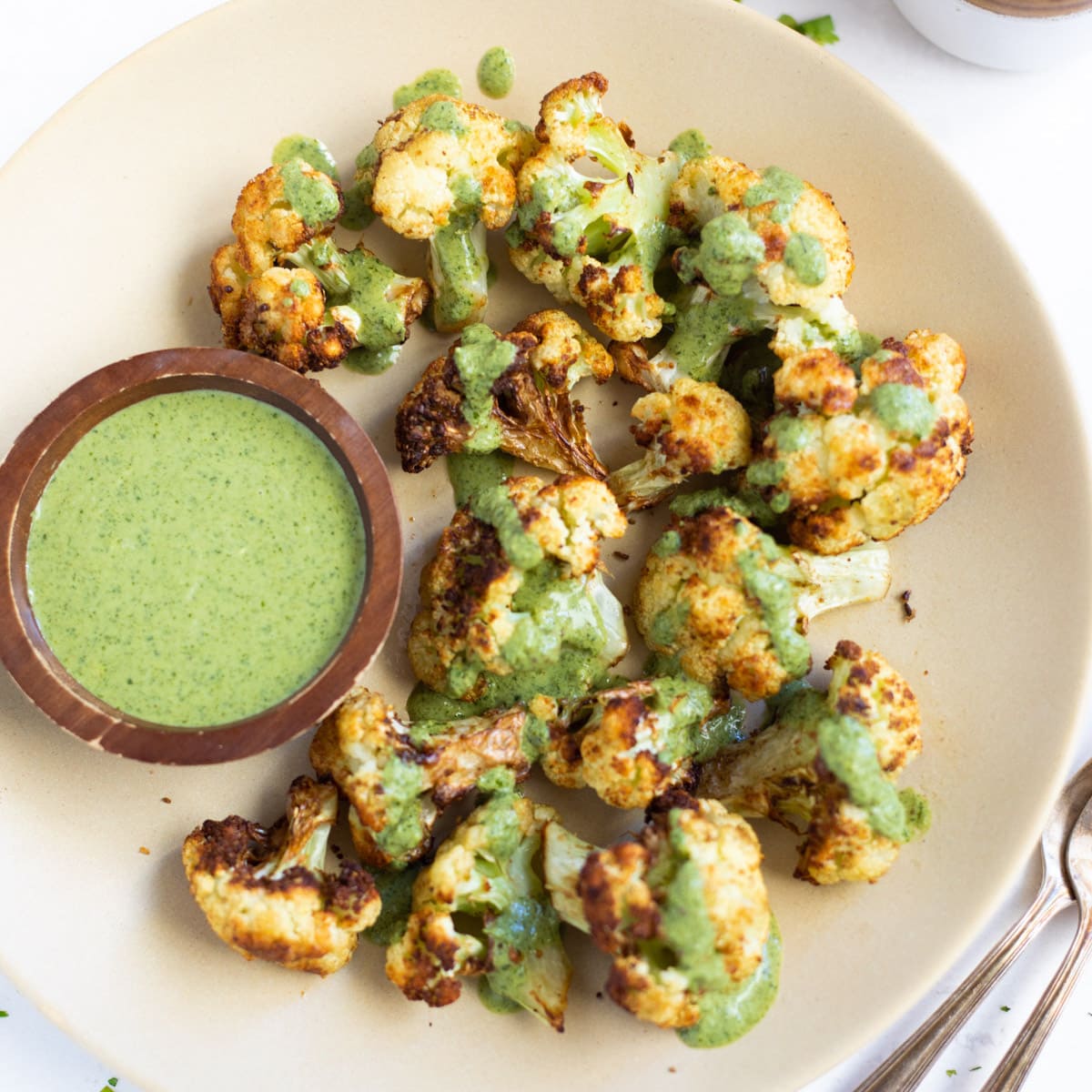 This Air Fryer Cauliflower seasoned with spices is easy to make, and amazingly delicious topped with cilantro yogurt sauce. Enjoy as a wonderful low-carb side dish.
Air Fryer Broccoli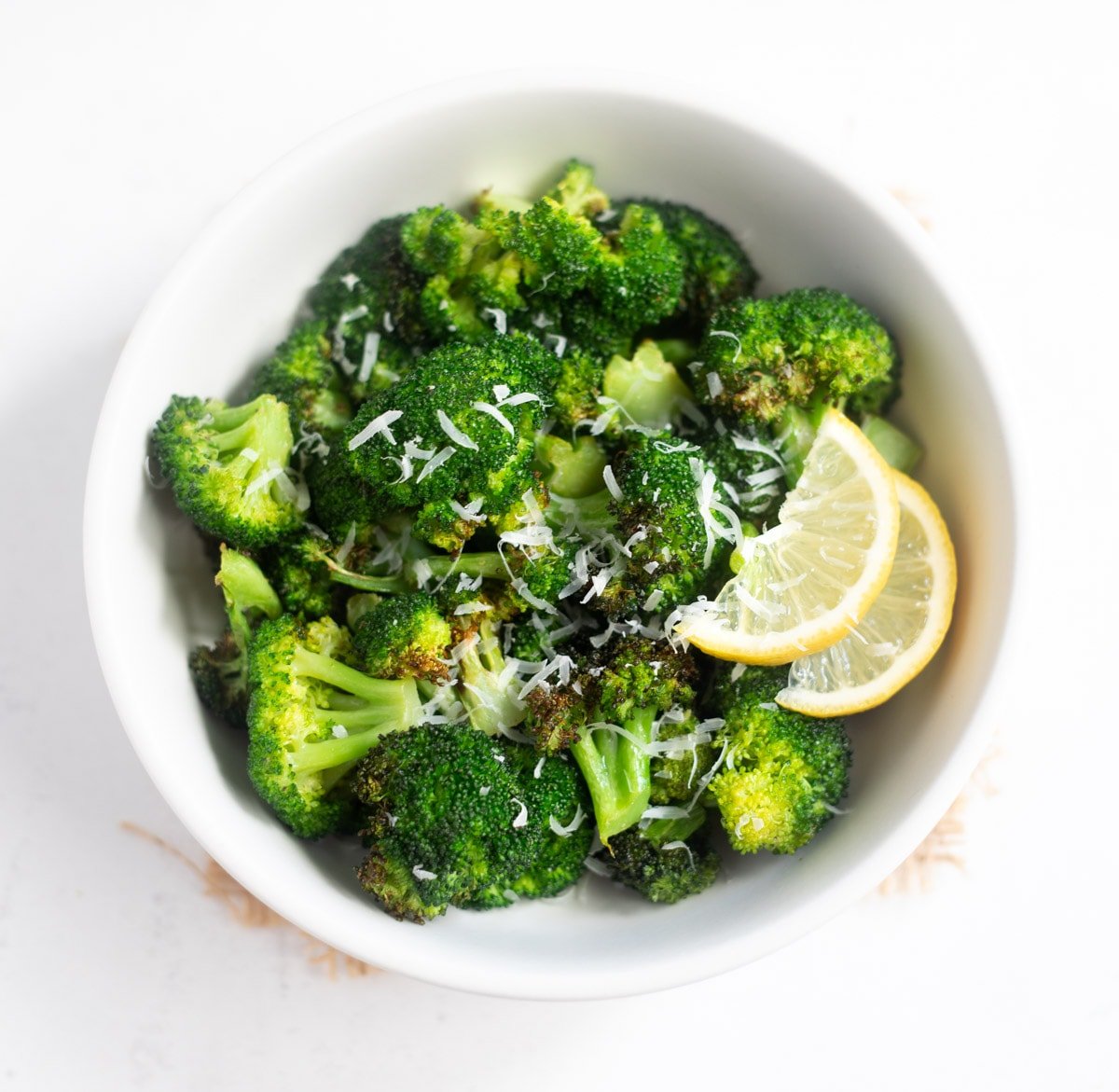 This easy Air fryer roasted broccoli takes just 10 minutes to make. It is tender with roasted edges and so delicious. A perfect healthy side dish that the whole family will love.
Air Fryer Carrots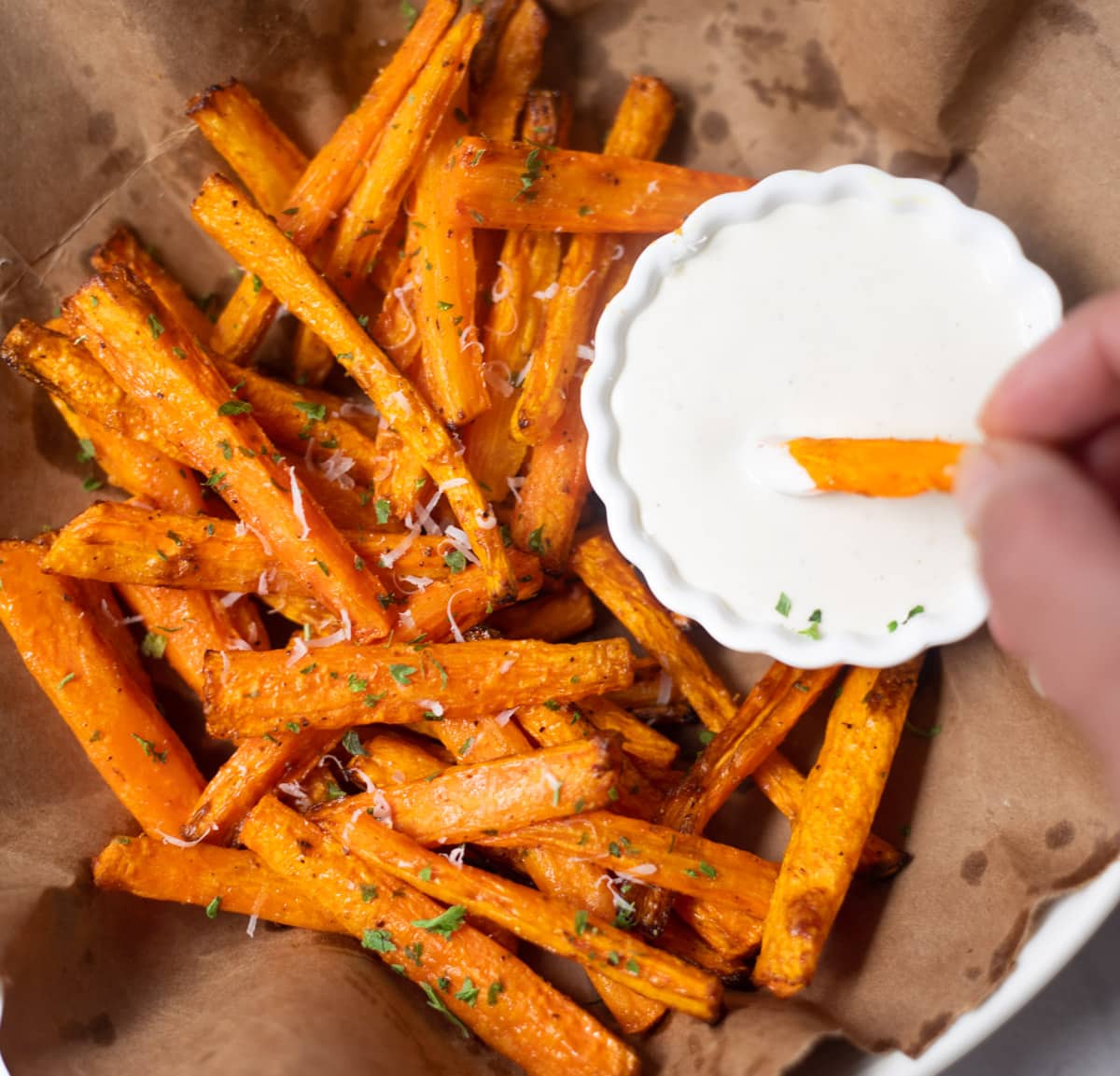 Perfectly seasoned and so delicious, these air fryer roasted carrot fries are a quick healthy snack or side dish. Make these crisp yet tender roasted carrots in the air fryer or oven. They are a favorite for kids.
Air Fryer Beets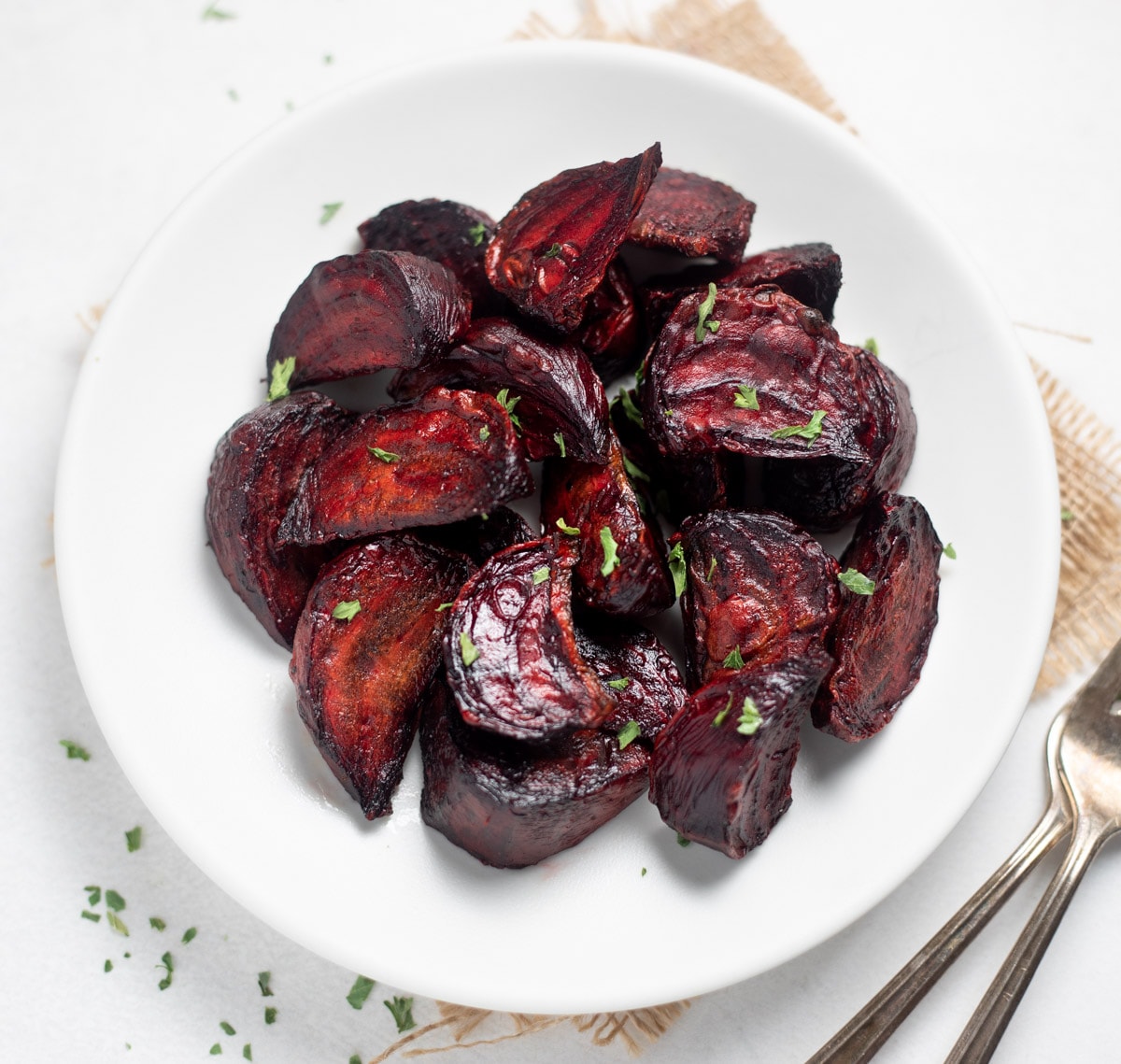 Sweet and tender-crisp Air fryer Beets are a delicious side dish that gets ready in a few minutes. Perfectly roasted, these beets are whole30, paleo, vegan, and gluten-free.
Air Fryer Zucchini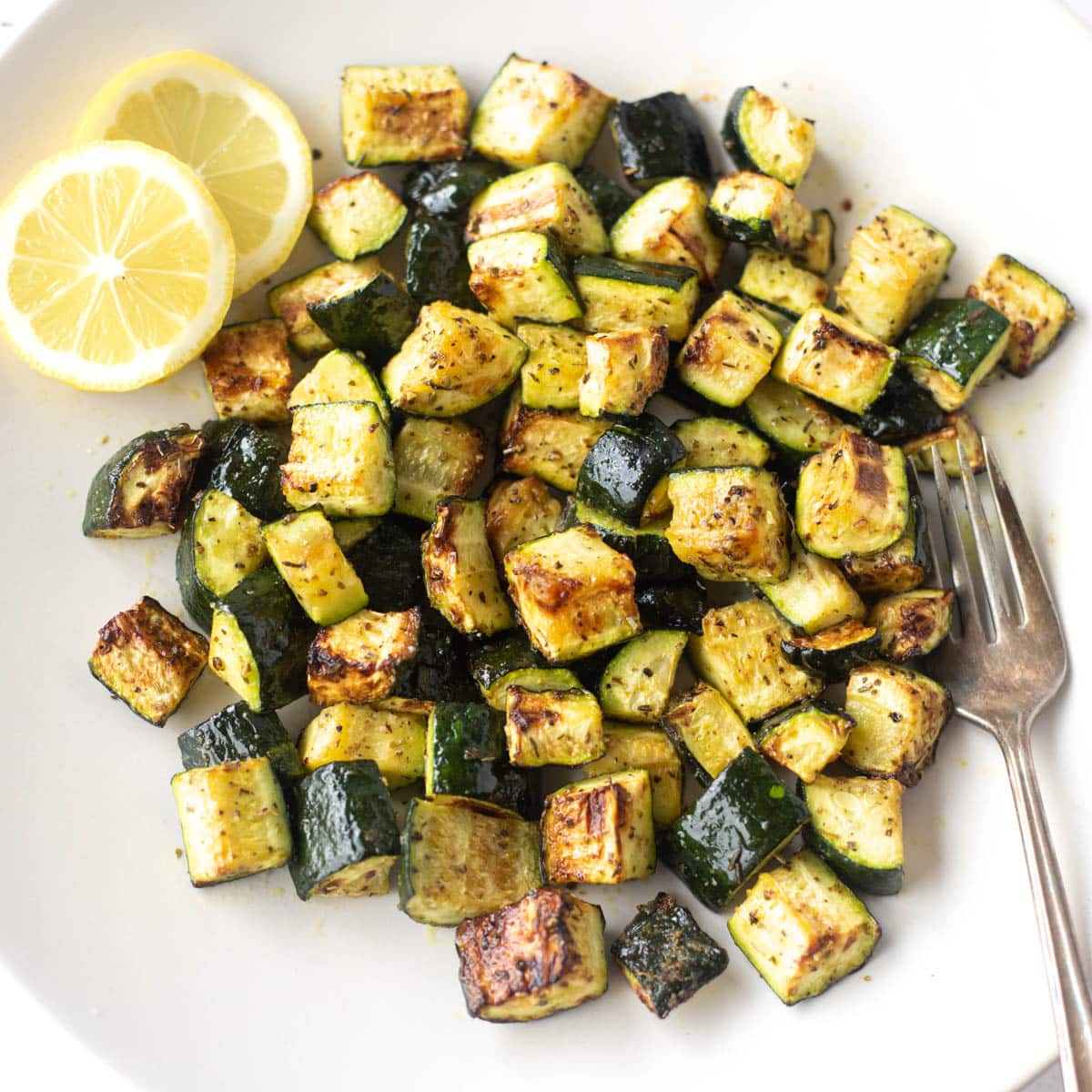 A quick, simple, and wholesome side dish. The combination of basic spices adds so much flavor to the zucchini. This recipe is vegan, gluten-free, low-carb, and keto-friendly.
Spicy Air Fryer Corn on the Cob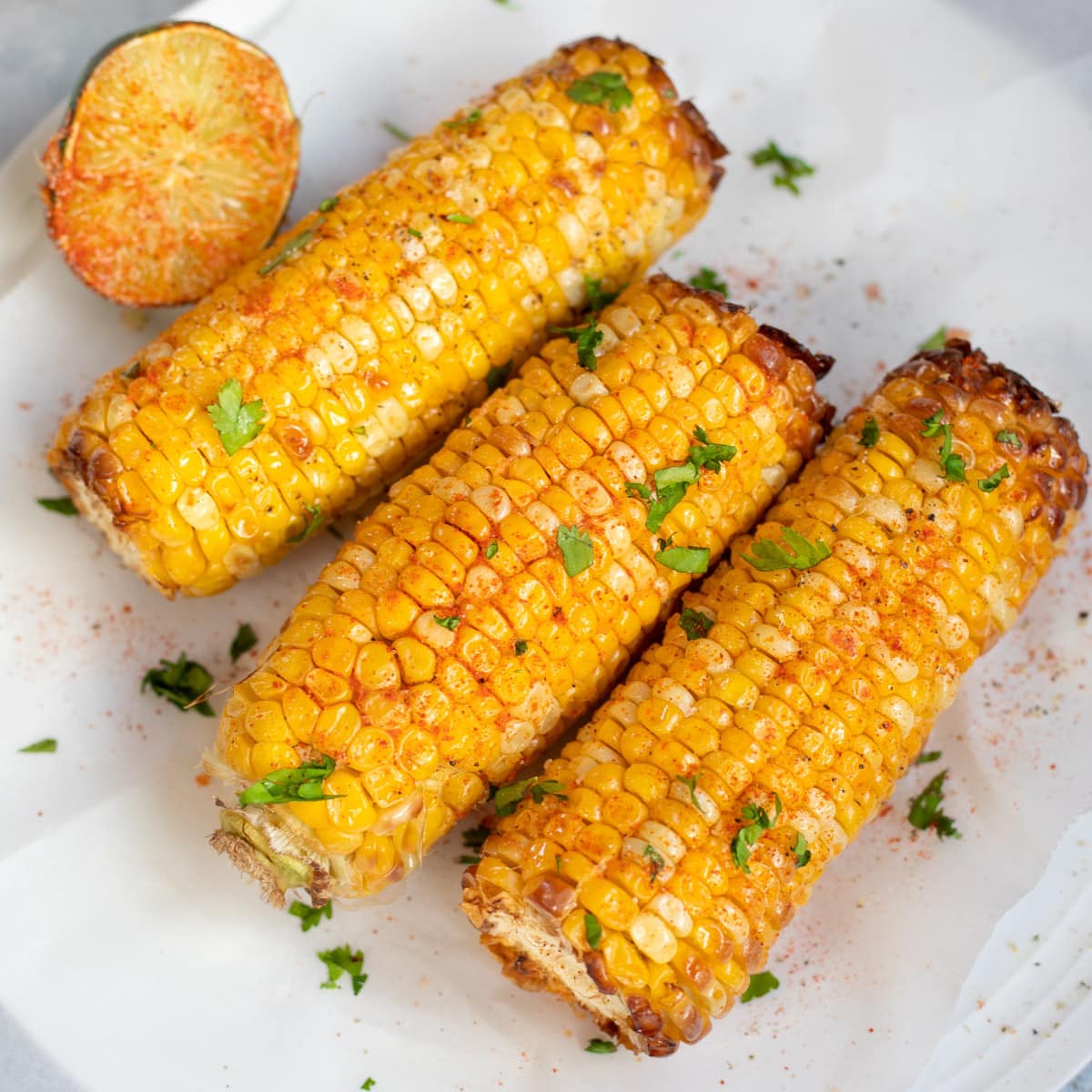 This grilled Air Fryer Corn on the Cob is so easy to make and so good! Spice it up the way you like, and enjoy it as an appetizer, snack, or side.
Crispy Air Fryer Kale Chips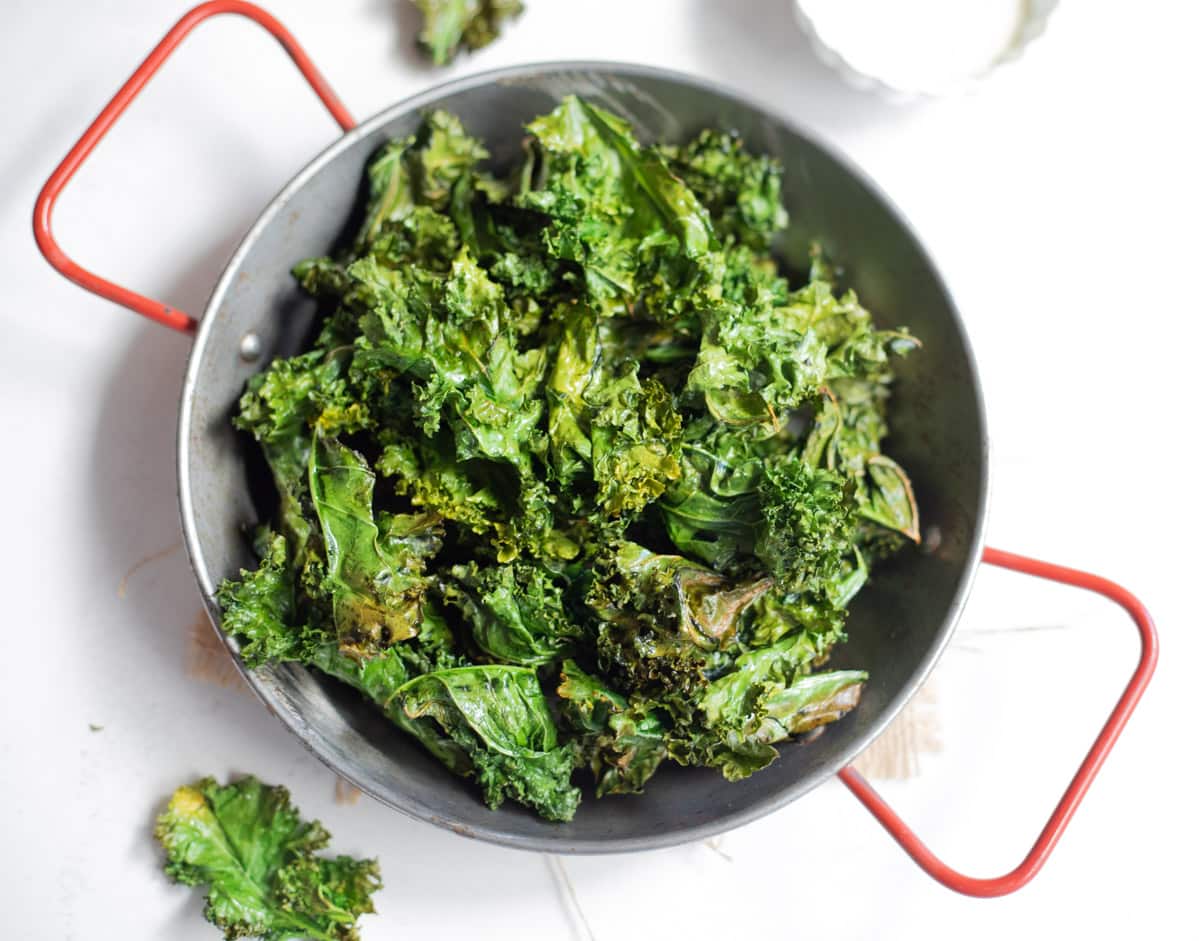 Air Fryer Kale Chips are the best way to enjoy kale! Homemade crispy kale chips are a delicious, healthy, low-calorie snack that can be made in less than 20 minutes.
Crispy Air Fryer Brussels Sprouts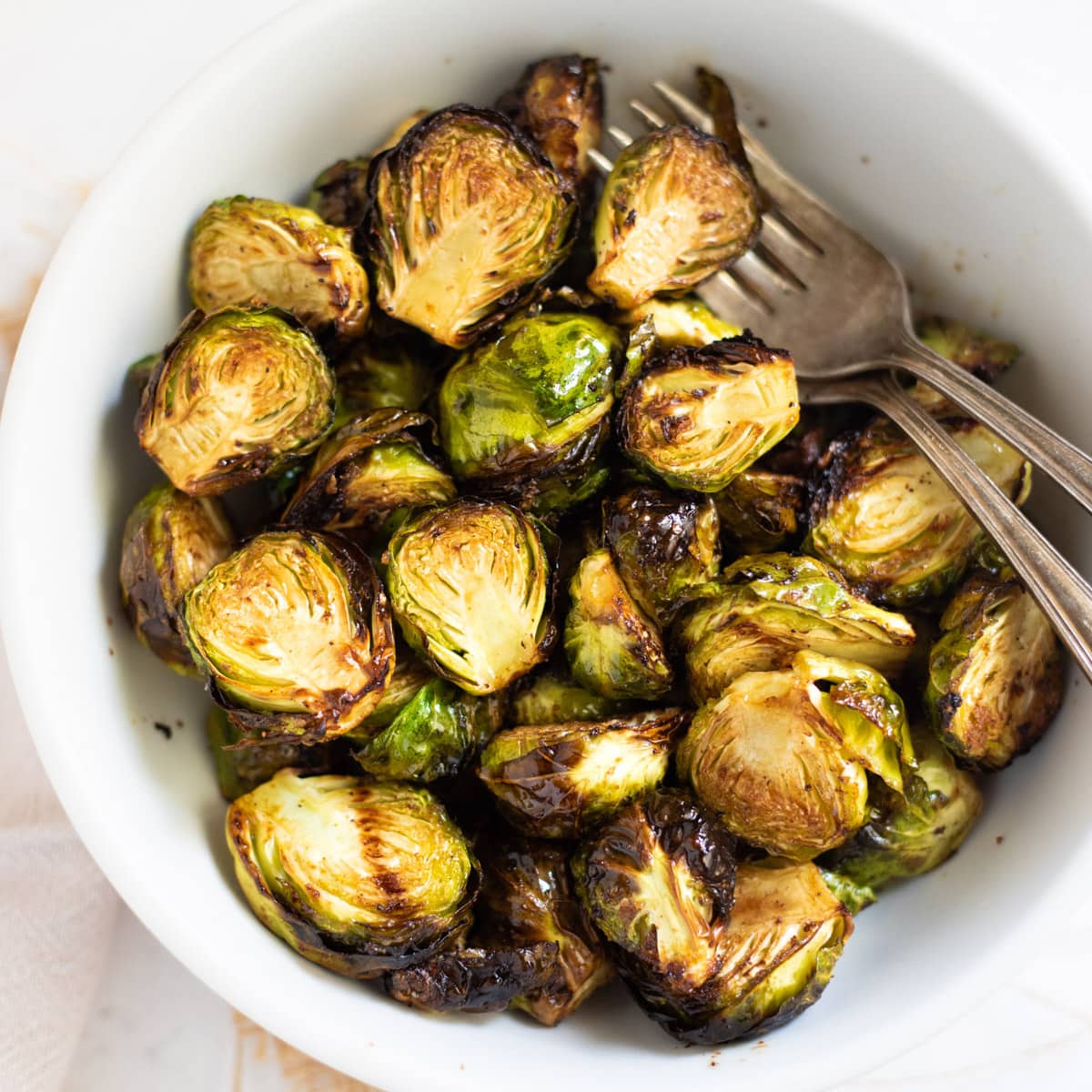 A delicious side dish of crispy air fryer brussels sprouts. Crispy on the outside and tender on the inside, these are a perfect side dish.
Air Fryer Green Beans with Garlic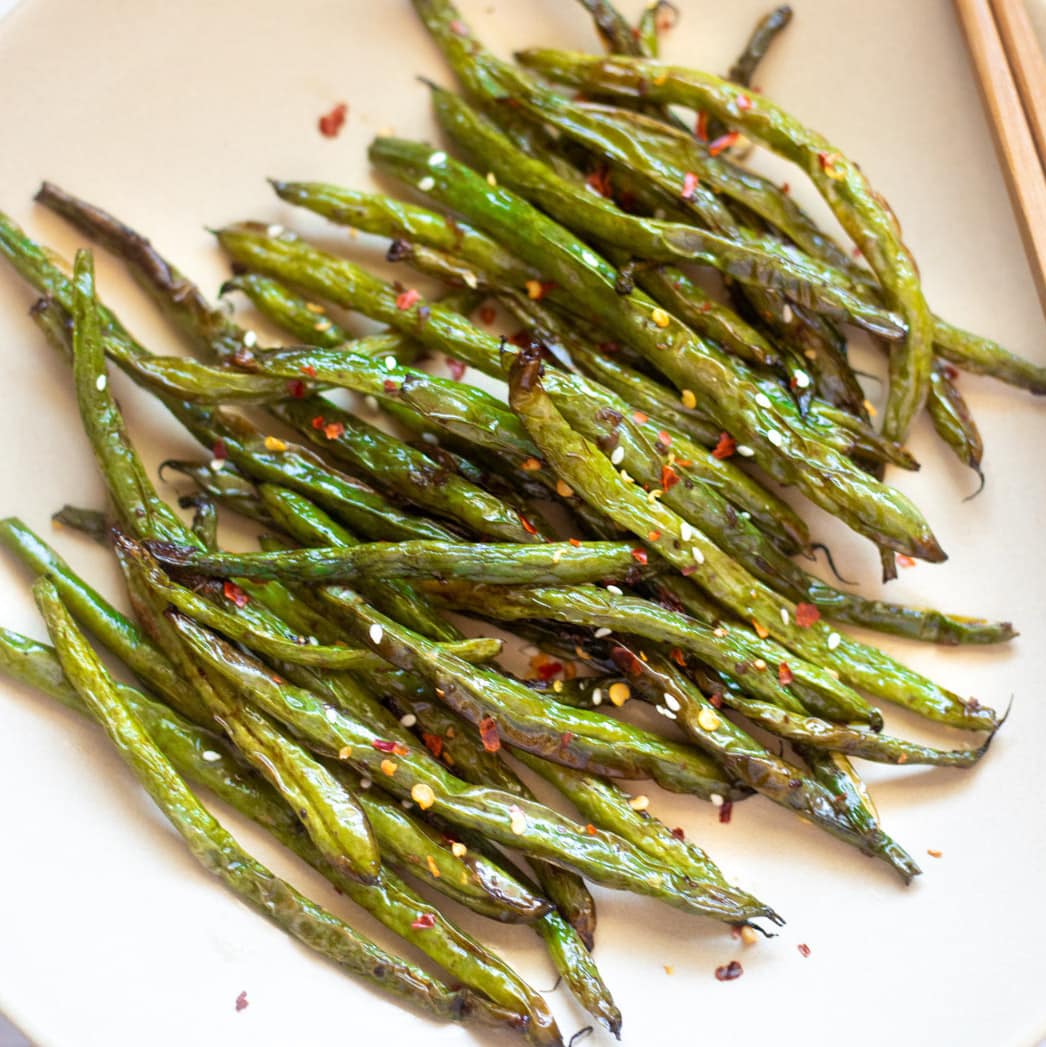 These quick and easy Chinese-style Air-fryer Green Beans are so good! Seasoned with ginger, garlic, and flavorful sauces, these Asian Green Beans are a perfect low-carb, vegan side.
Air Fryer Asparagus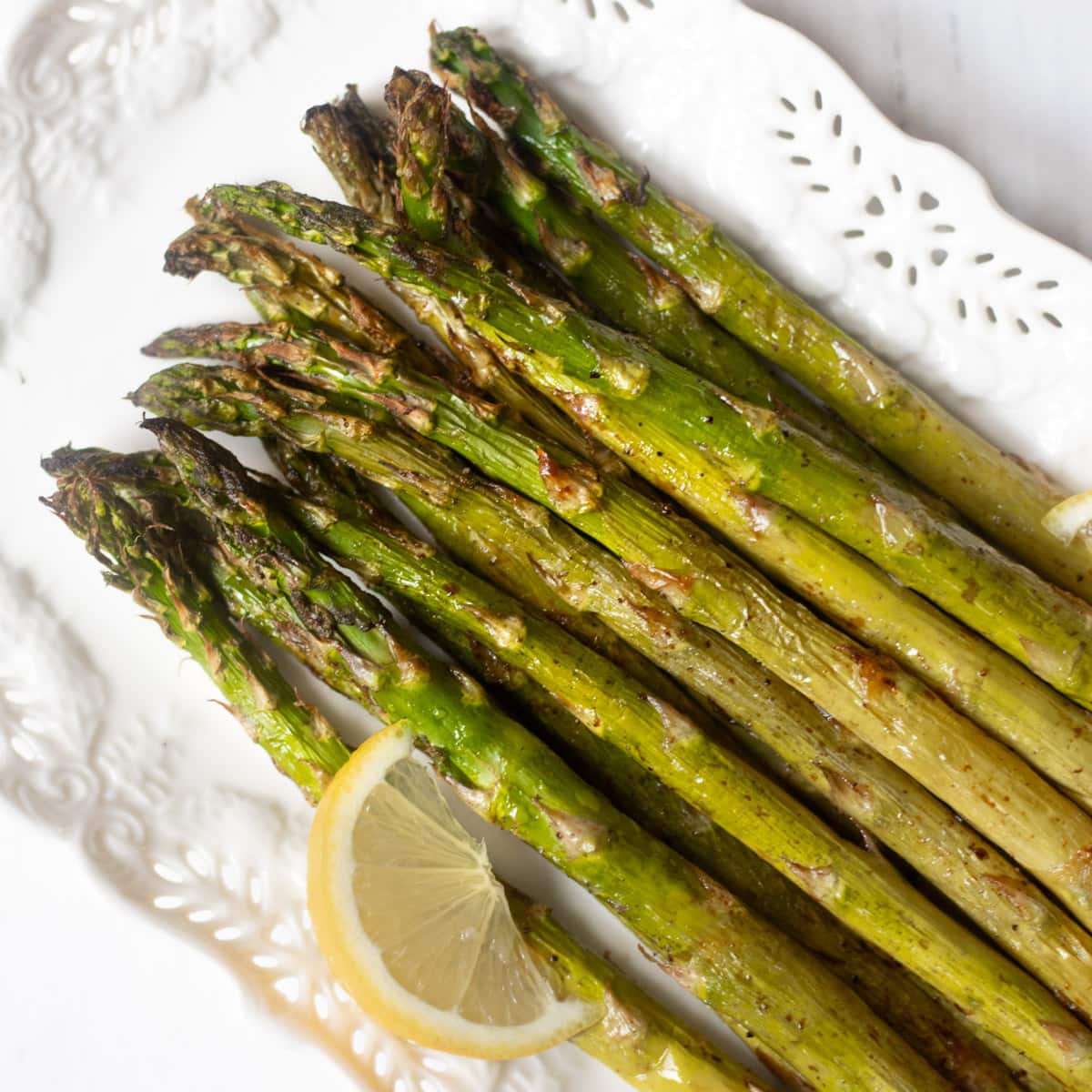 Here is an easy way to cook asparagus and turn it into a healthy, delicious side dish. This Air Fryer Asparagus is perfectly seasoned and cooks quickly while keeping it tender-crisp.
Air Fryer Pumpkin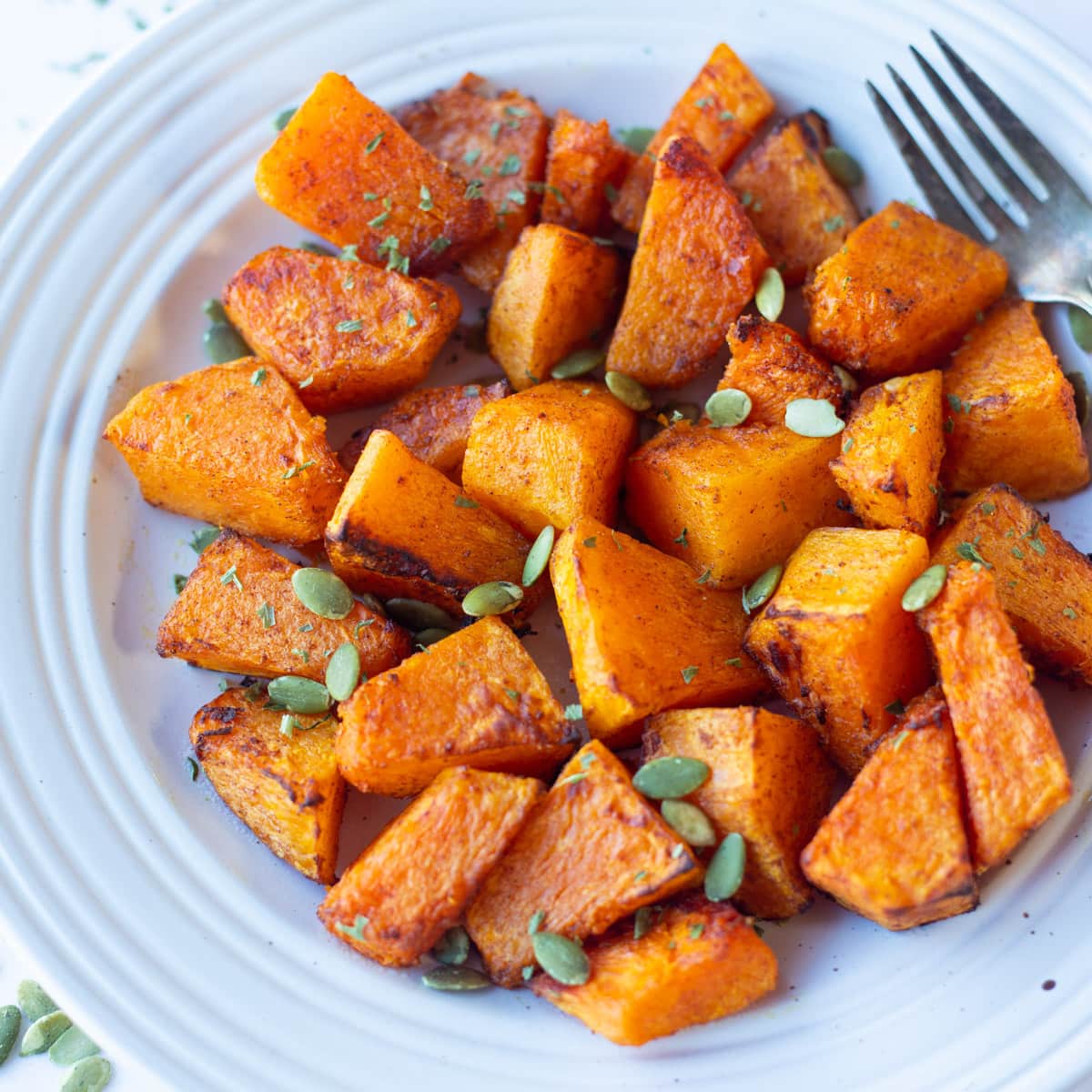 Easy and delicious, this Air fryer Pumpkin is a perfect fall side dish. Learn how to roast pumpkin in the air fryer that is tender with caramelized edges.
Air Fryer Plantains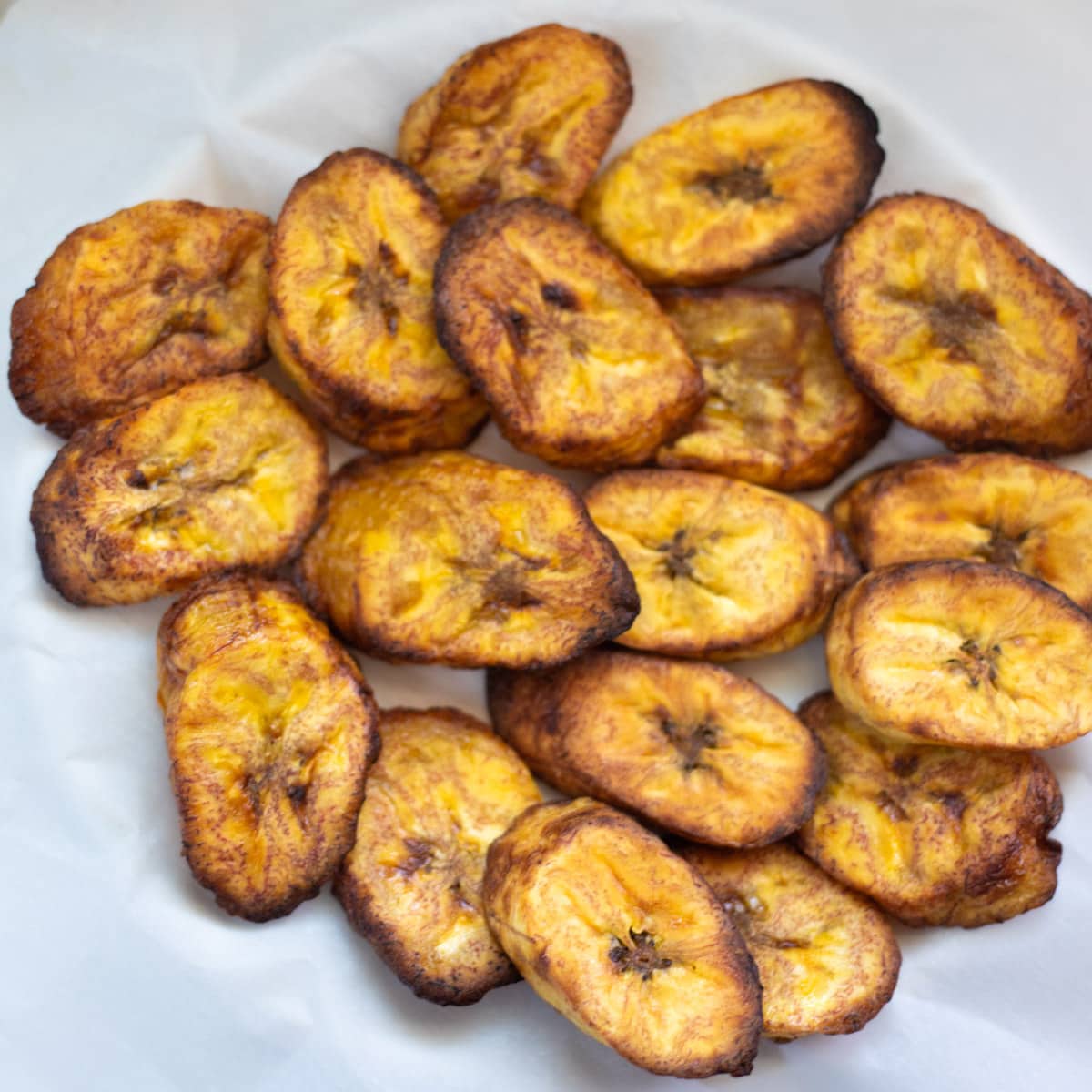 These Air Fryer Plantains are a perfect side dish or snack. Made in the air fryer for a healthier version with much fewer calories compared to the traditional fried plantains.
Air Fryer French Fries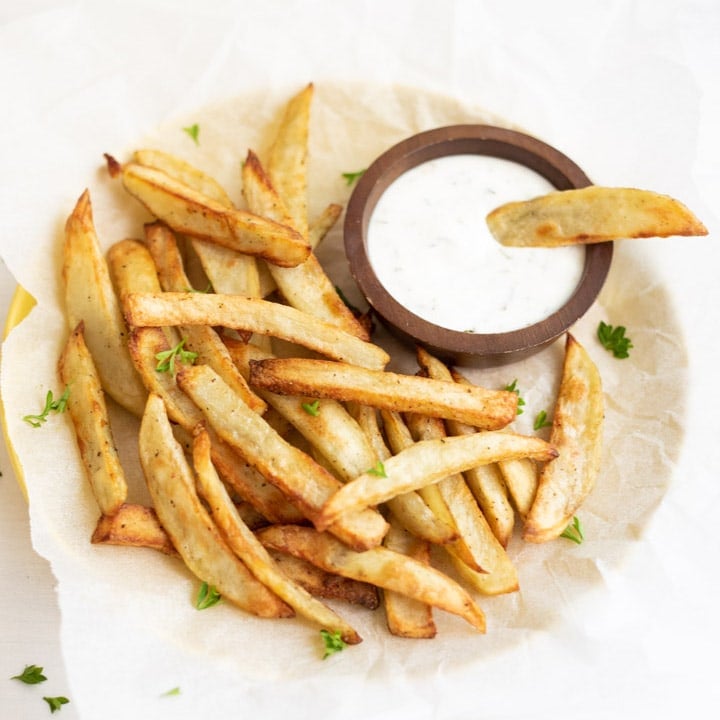 Try these easy Homemade French Fries made in the Air Fryer or in the Pressure Cooker using the Crisplid. They are so good, you will never want to have deep-fried fries again!
Air Fryer Turnips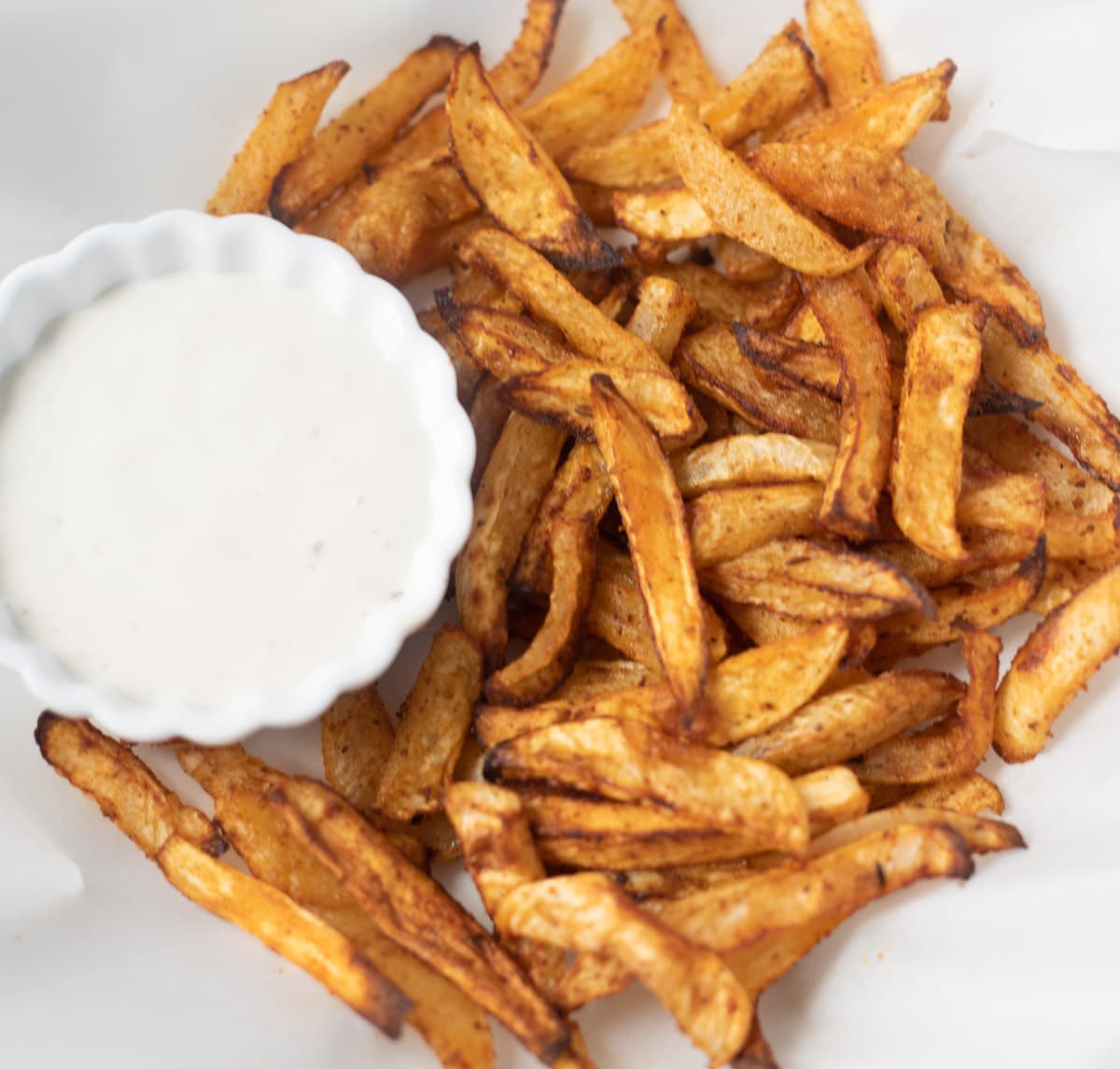 Give a healthy twist to french fries with these low-carb air-fryer turnip fries. These roasted turnip fries are easy to make and are a perfect addition to the whole30, paleo or keto diet plan!
Cheesy Samosa Jalapeño Poppers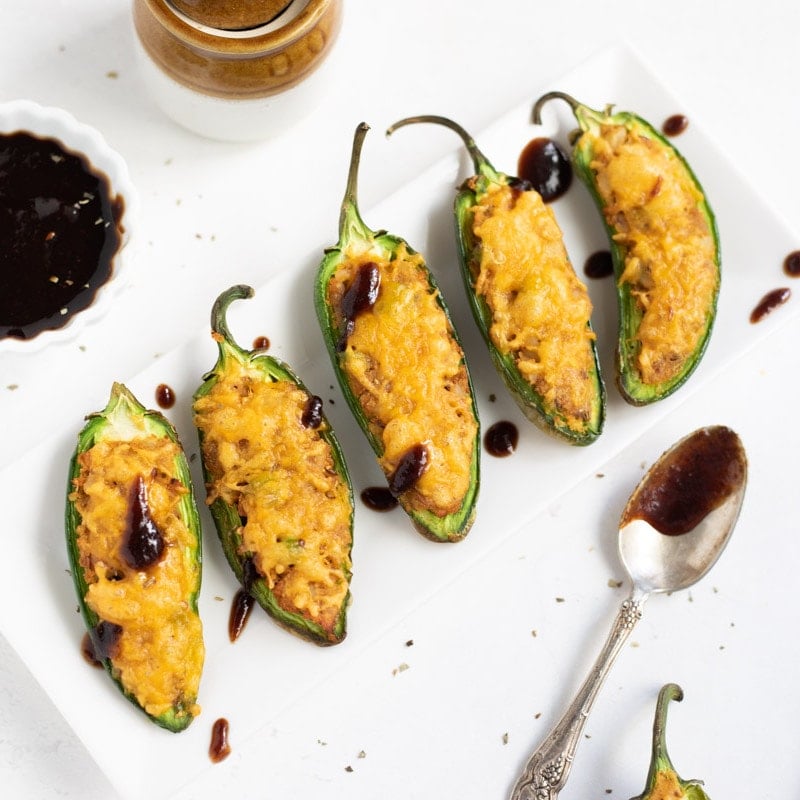 Cheesy Samosa Jalapeno Poppers is an Indian twist to the favorite party appetizer. This is a vegetarian and gluten-free version made in the air fryer for samosa lovers.
Crispy Air Fryer Okra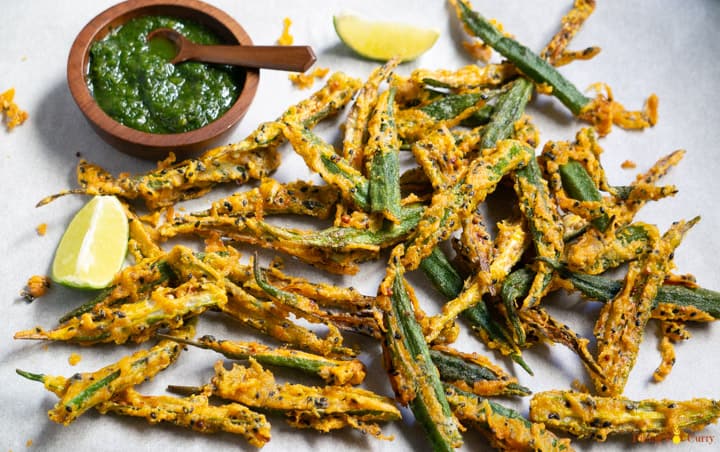 Kukuri Bhindi is sliced okra coated in spices and air fried until crunchy. This crispy okra is so good you cannot stop eating it!
Kung Pao Brussels Sprouts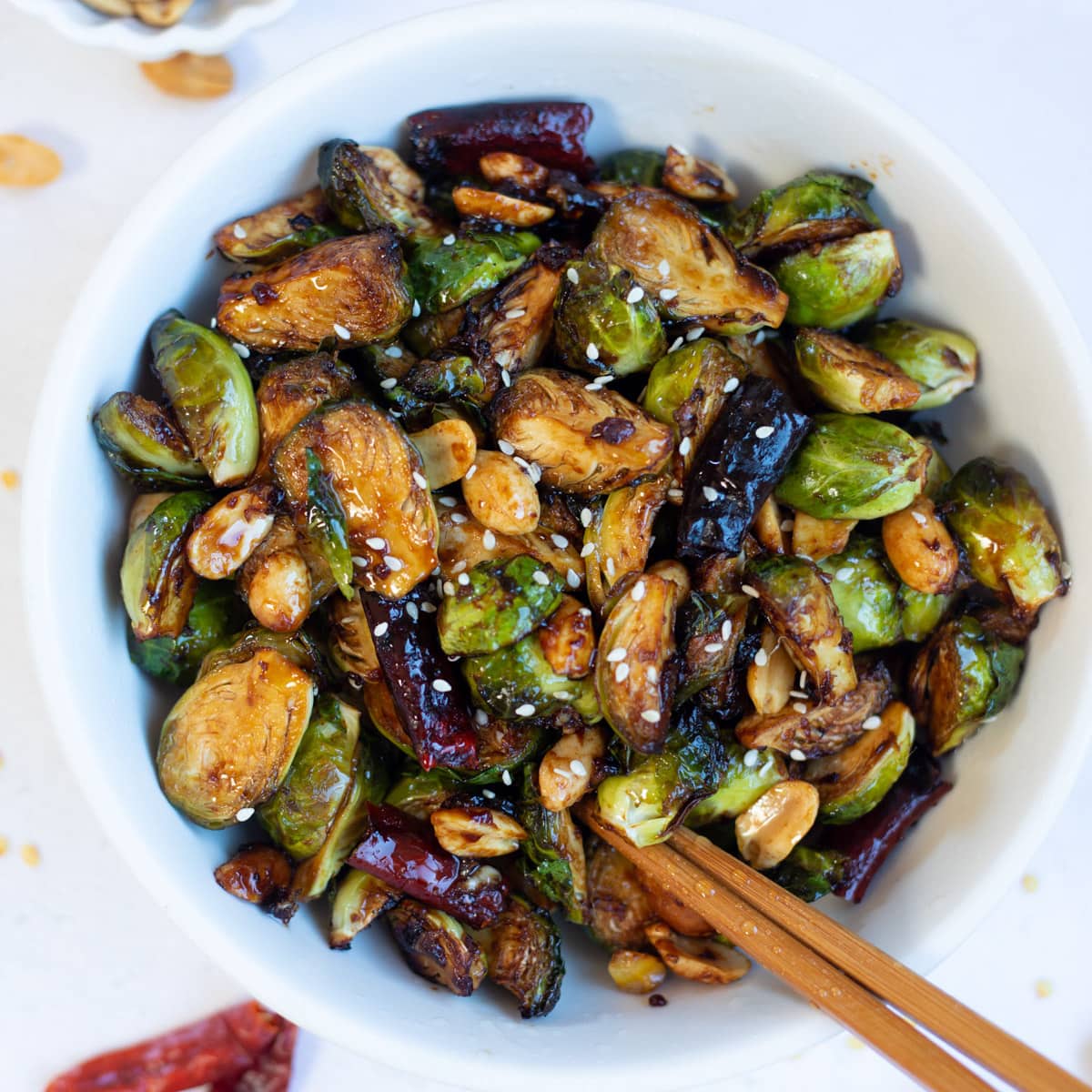 A simple yet delicious side dish, these Kung Pao Brussels sprouts are easy-to-whip-up in the air fryer. Garnished with roasted peanuts and sesame seeds, they can be made in less than 30 minutes.
Roasted Aloo Gobi (Indian Spiced Potato & Cauliflower)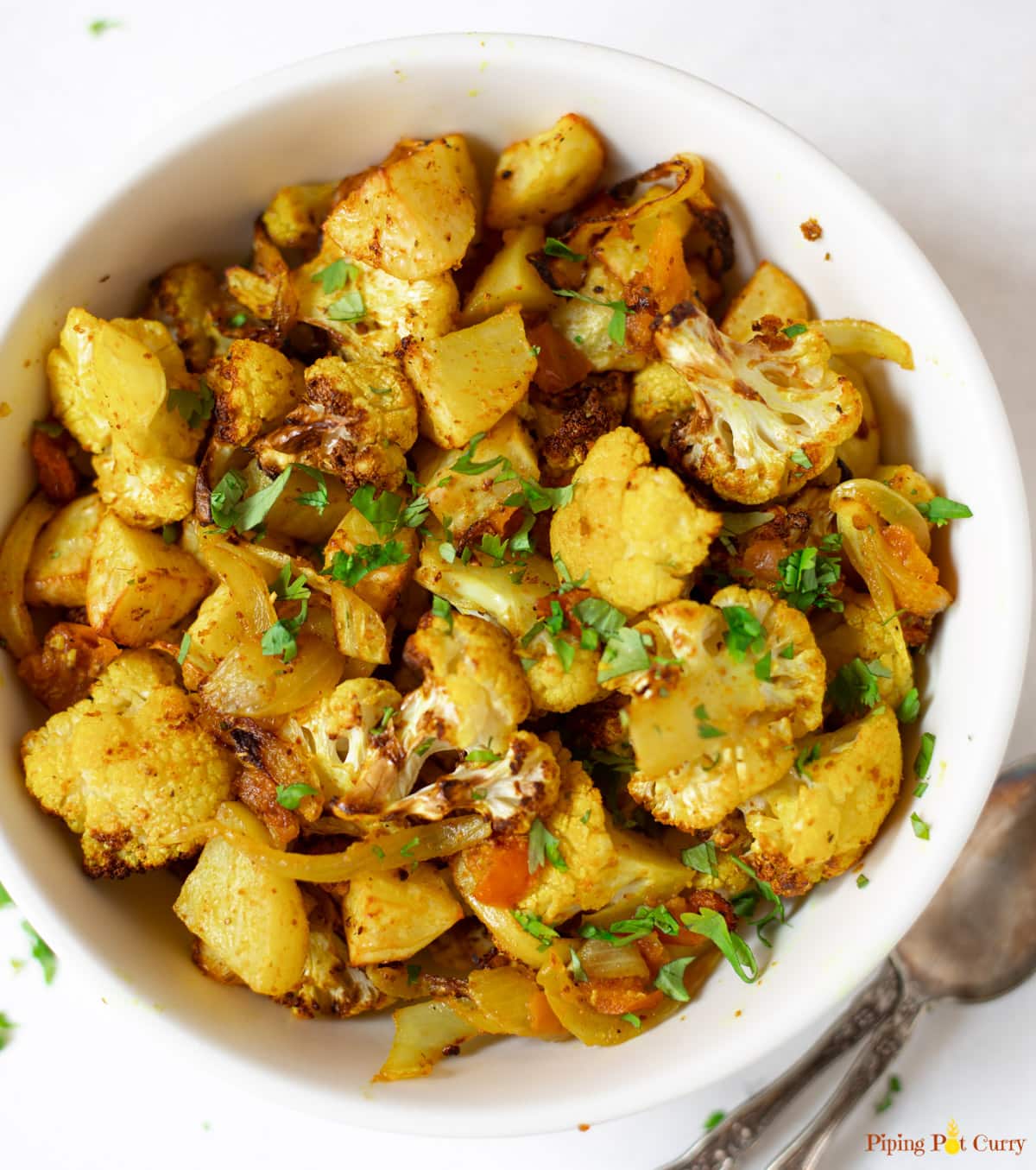 This Roasted Aloo Gobi is so good! All you need to do is toss cauliflower and potatoes in spices, roast in the air-fryer or oven, and have the perfect Indian veggie dish.
Air Fryer Stuffed Eggplant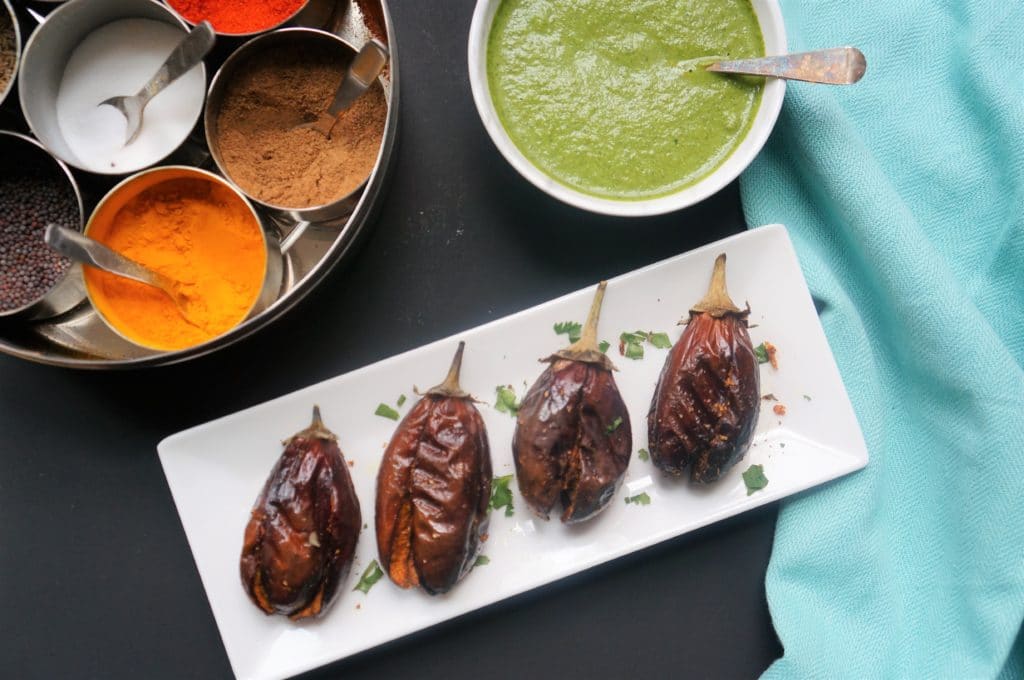 Baby Eggplants stuffed with flavorful and aromatic spices cooked in very little oil in the Air Fryer. A quick and delicious way to enjoy eggplants!
Air Fryer Taro Fries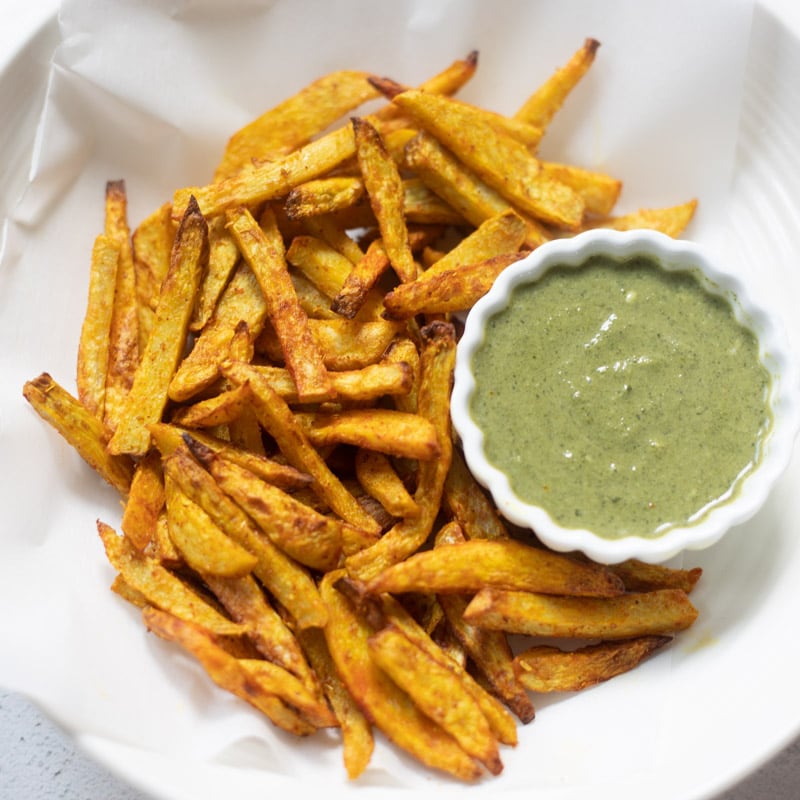 These Taro Fries (Crispy Arbi) made in Air Fryer is so easy and delicious. They are a great variation in taste and nutrition to potato french fries. A perfect snack or side with a cilantro dip!
Stuffed Okra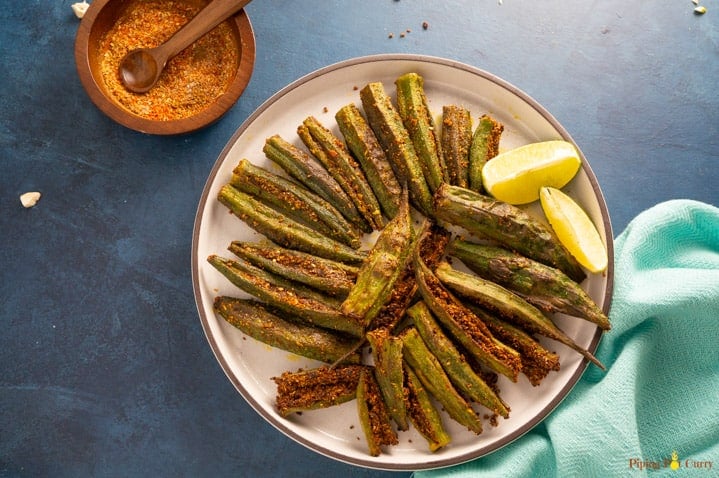 Bharwa Bhindi, which means Stuffed Okra, is a popular Indian side dish where the okra is stuffed with a spicy & tangy filling. This vegan & gluten-free dish is a perfect healthy side dish.
Tandoori Aloo Tikka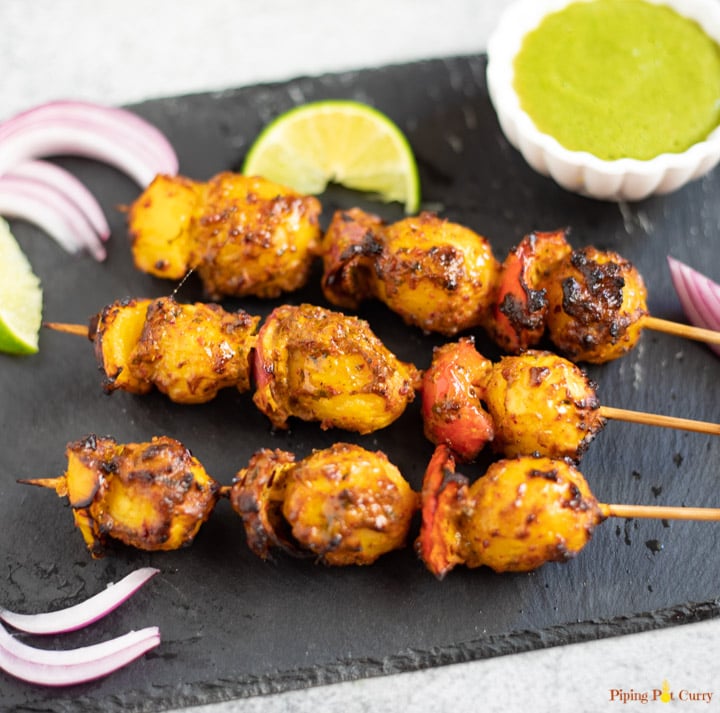 Baby potatoes marinated in a delightful combination of yogurt and spices, threaded to skewers, and cooked to create this heavenly appetizer.
Air Fryer Tandoori Gobi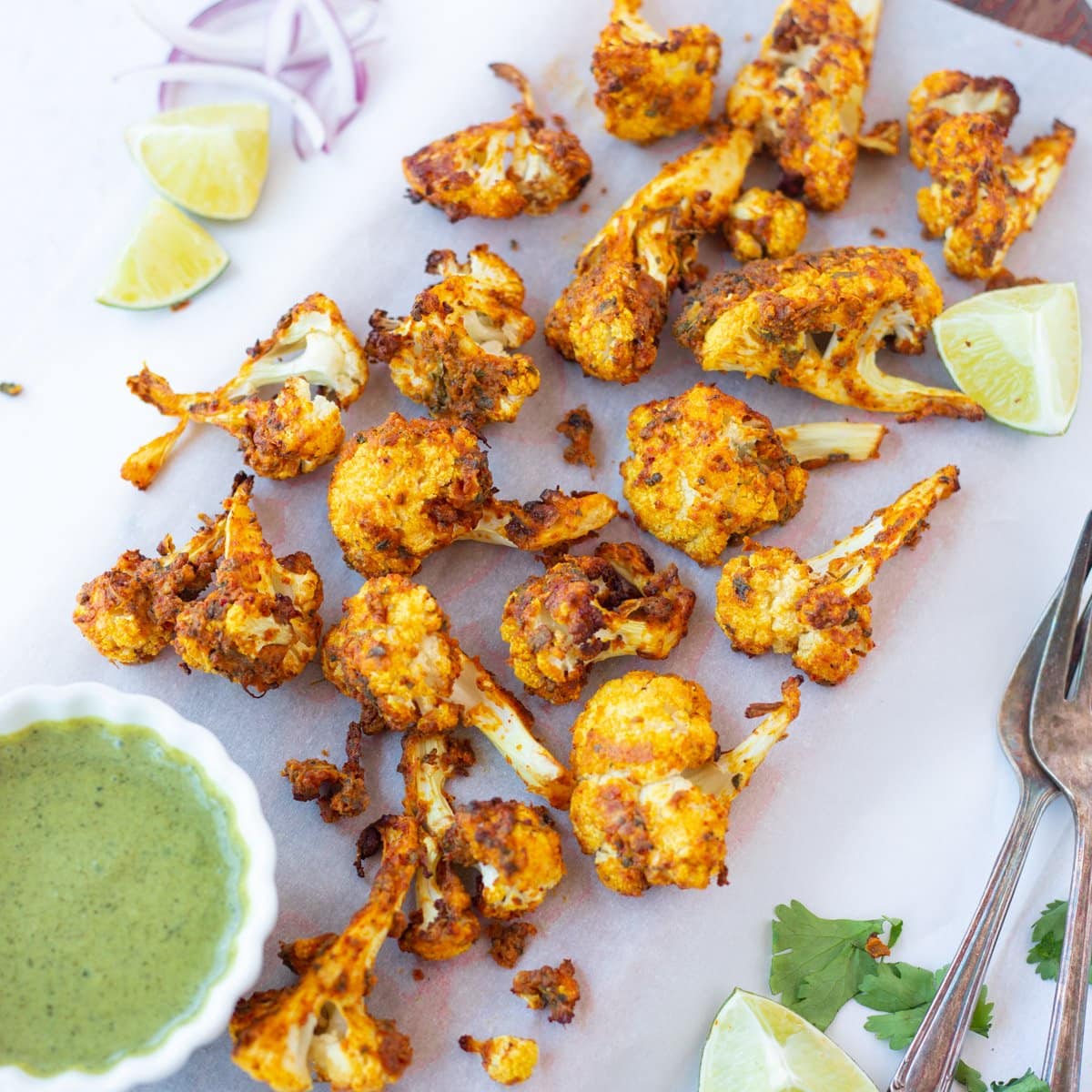 Tandoori Gobi in the air fryer is a great snack or appetizer. A North Indian favorite, made healthy with no oil and so easy to prepare in the air fryer.
Air Fryer Roasted Vegetable Medley
You can also roast mixed vegetables in the air fryer altogether. Make sure to mix either quick-cooking vegetables or root vegetables so that the roasting time matches for them.
Here I paired together bell pepper, cauliflower, red onion, and zucchini.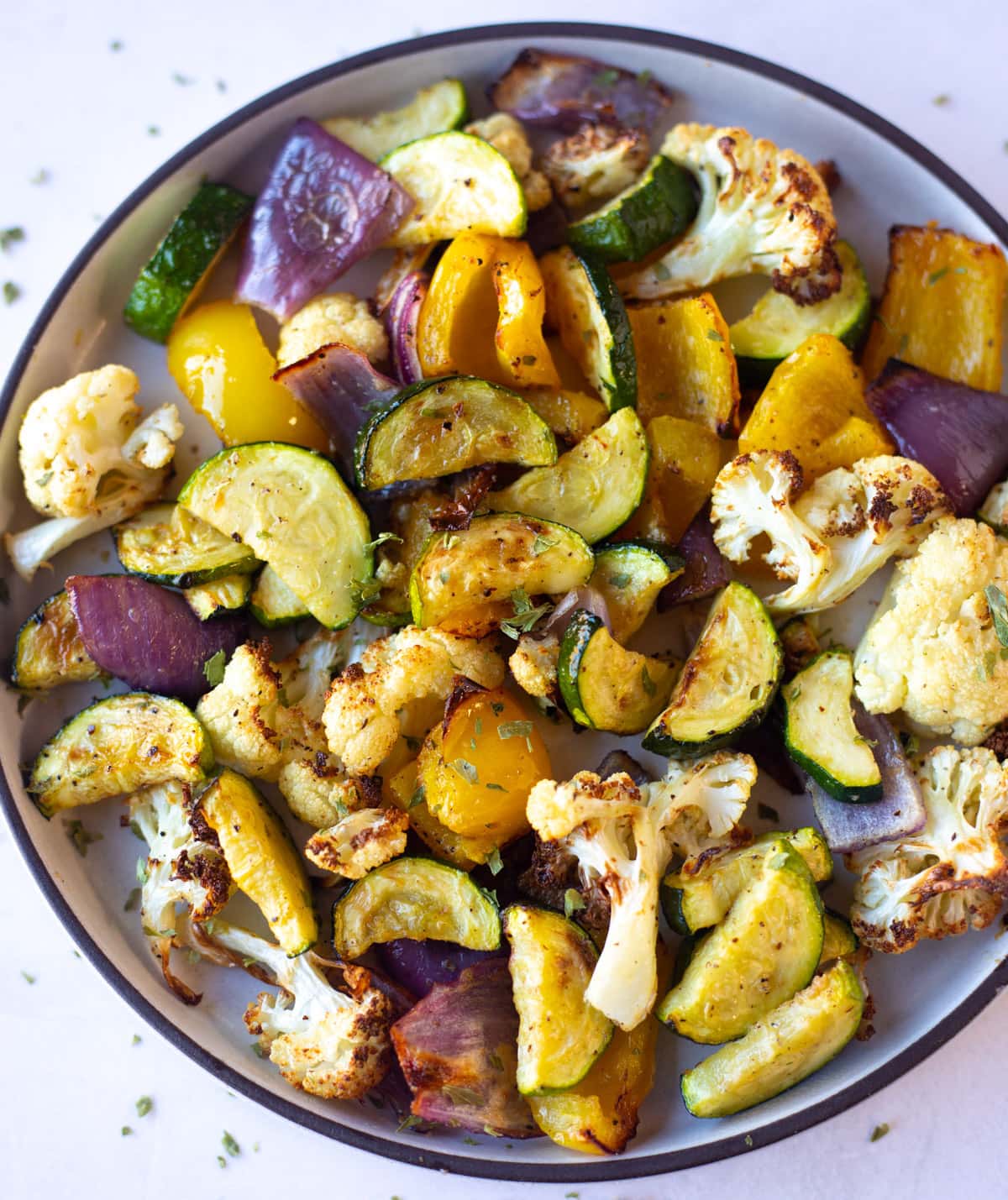 Pair firm root vegetables such as sweet potato, beets, carrots, butternut squash, or pumpkin. They all will cook together well at the same time. See the recipe card below for cooking times.
Looking for accessories for the air fryer? Check out my list of the 10+ Best Air Fryer Accessories
Common Questions
Are air-fried vegetables healthy?
When air frying vegetables, you need to use much less oil than deep frying, meaning fewer calories and fat content. That makes air-fried vegetables much healthier.
Air frying also helps to retain nutrients, as the veggies are cooked for a short period of time.
Can you steam vegetables in an air fryer?
Steaming vegetables is not a common use of the air fryer, as air fryers work by circulating hot air around the food. However, you can put a small amount of water in the outer air fryer basket and food to be cooked within a mesh basket. This helps to retain moisture in the vegetables.
I would recommend considering steaming vegetables in the instant pot.
Can you cook frozen vegetables in the air fryer?
Yes! You can cook veggies that are frozen in the air fryer. Add a few minutes to the cooking time to account for the veggies having to thaw during the cooking process. The circulating air in an air fryer helps to remove the moisture and crisp the veggies. However, they might not have the same amount of crispness as fresh vegetables.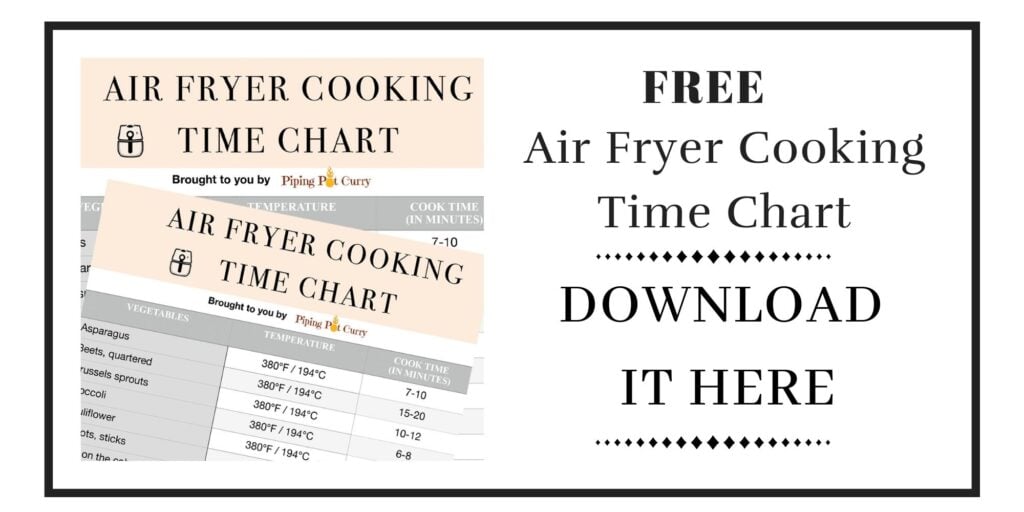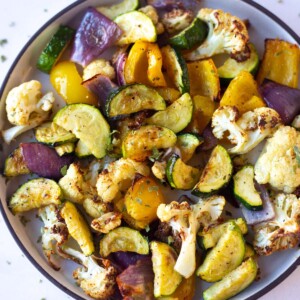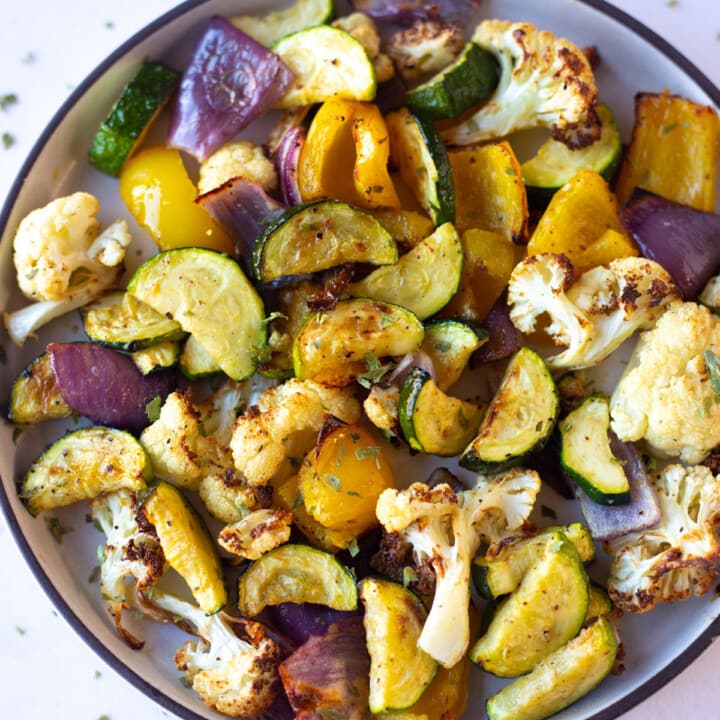 Air Fryer Vegetables
Learn how to perfectly roast vegetables in the air fryer using this easy no-fail method. The veggies are cooked crisp to perfection!
Ingredients
1

cup

Cauliflower

,

cut into small florets

1/2

cup

Bell Pepper

,

chopped

1

cup

Zucchini

,

sliced

1/2

cup

Red Onions
Instructions
Preheat air fryer to 380°F.

In a bowl, toss the vegetables with oil and seasonings. Transfer seasoned vegetables to the air fryer basket, and spread in a single layer as much as possible.

Air Fry for 8 to 10 minutes, shaking the air fryer basket half way through.

Enjoy the vegetables as a side with your meal!
Video
Notes
Cutting Veggies: Cut veggies into equal sizes to ensure they cook evenly. Root & Firm Vegetables: The above cooking time works well for tender vegetables. If you are cooking firm root vegetables such as sweet potato, beets, carrots, butternut squash or pumpkin. Air fry for 15-20 minutes shaking half way through.
Nutrition
Calories:
77
kcal
Carbohydrates:
7
g
Protein:
2
g
Fat:
5
g
Saturated Fat:
1
g
Polyunsaturated Fat:
1
g
Monounsaturated Fat:
3
g
Sodium:
16
mg
Potassium:
305
mg
Fiber:
2
g
Sugar:
4
g
Vitamin A:
861
IU
Vitamin C:
57
mg
Calcium:
22
mg
Iron:
1
mg